Learn all about machine embroidery needles. This guide covers embroidery needle sizes, differences between types of needles, how to pick the right needle for your project, and much more.
While the process of embellishing fabric dates back thousands of years and has seen many changes in the last years, at least one aspect of embroidery remains unchanged. It's a fairly easy process that yields beautiful, complicated-looking results.
It's basically adding art to fabric with nothing more than a needle and some thread, and it's much easier to do than you probably think – especially with today's machine embroidery techniques!
I've made many different embroidery projects. I love machine embroidery over hand embroidery because it allows me to quickly add beauty and personalization to any project – you're only limited by your imagination!.
Using my machines, I've added embroidery to many different items, including clothing, hats, pillows, protective cases, leather items bags, shoes, and more. Check out my machine embroidery projects to get tutorials.
And I've learned an important lesson over time: the quality of your machine embroidery depends on the tools you use. This is especially true of your needles. Today I'm showing you anything and everything you need to know about machine embroidery needles!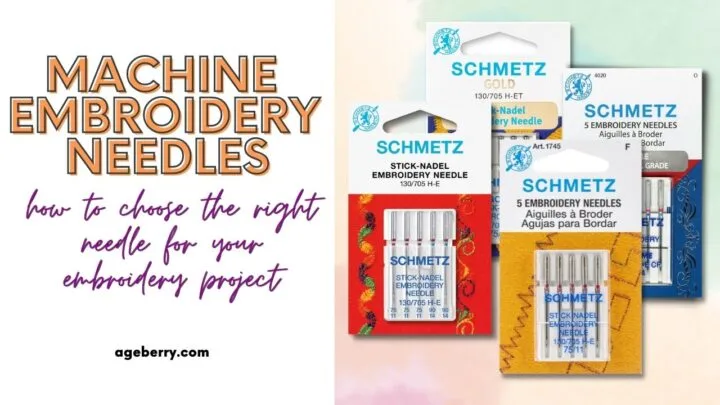 What needles to use for an embroidery machine
Using the right needle is often crucial when it comes to embroidery, so it's essential to know how to pick the right types and sizes of needles so that your embroidery project turns out just the way you envisioned it.
When just beginning with embroidery, however, learning everything you need to know about needles can be overwhelming. So to make it easier, I'm breaking it down for you into an all-in-one guide about machine embroidery needles that I wish I had available to me when I was first learning!
I'm showing you the different types, materials, sizes, and uses for embroidery needles in today's guide. Let's jump in!
Note: Some of the links on this page are affiliate links. This means I will receive a commission if you order a product through one of my links. I only recommend products I believe in and use myself.
Universal Needles vs Machine Embroidery Needles
There are universal sewing needles as well as needles designed specifically for embroidery.
While the two types of needles are similar to each other, there are two main differences between embroidery needles and universal sewing needles.
Those differences are the needle's scarf and the size of the eye. They're both designed in ways to put less strain on your embroidery thread, which is more thin and fragile than regular thread is.
There is another very important difference: embroidery needles are usually more expensive than regular sewing needles. Below is a direct comparison from Amazon of the same brand and size of needles, one regular, the other one embroidery:
The Scarf of the Needle
The scarf is the indentation on the back of the needle that runs from the eye up the shaft. Embroidery needles have a specially designed scarf that's meant to create less strain on your thread which means less fraying and breakage.
The Eye of the Needle
The eye of the needle is the hole of the needle which the thread is channeled through. The eyes of embroidery needles are much larger than the eyes in universal needles to prevent breaking or fraying your thread as the needle goes rapidly in and out through your fabric.
While you can use universal needles for embroidery, I highly recommend using special machine embroidery needles for your embroidery projects as they can cause embroidery thread to fray, snap, or break less often than universal needles do.
Types of Embroidery Needles
When it comes to the different types of embroidery needles, you'll find chrome-plated needles and titanium-coated needles.
Chrome-plated steel needles – this is the most common needle material type. In fact, it's the default needle material, so if your package doesn't specify the needle material, it's chrome. They can be used with most sewing and embroidery projects.
Titanium-plated needles – these needles are much higher quality. They're stronger, more durable, and less likely to warp, bend, or break while your embroidery machine is stitching.
Plus, they contain a coating that makes them not only last longer but also less likely to catch on the material as you stitch. If you are embroidering large designs or using tough or dense materials, then, hands-down, you'll want to use titanium needles.
Titanium is my personal favorite type of needle to use on all my machine embroidery projects!
The finish of SCHMETZ Gold Titanium needles resists wear and heat allowing the needle to glide smoothly through adhesives with slower gummy build-up.
There are special Teflon-coated embroidery needles called anti-glue needles! They are my favorite when I embroider using sticky, self-adhesive stabilizers, or stitching through fusible webs. The needle is also good for embroidering on napped fabrics. It reduces the residues in the thread channel and in the eye.
Needle Points
Embroidery needles fall into 2 basic categories based on their tips: sharp and ballpoint. You choose the needle tip based on the type of fabric and thread that you're using.
Sharp Tip: This tip works well with the greatest variety of materials. Designed for use with fabrics and materials that won't separate to allow the needle through.
Ball Point Tip: Knits require a ball point needle that slips between the fibers and doesn't risk piercing the fabric. This should prevent breakage of the fibers which leads to small holes or runs you may see when embroidering knit fabrics. So if you want to make embroidery on knit fabric use ball point embroidery needles.
BUT: If your needlepoint is blunt you may have puckering in your embroidery project.
---
There are also twin embroidery needles – two embroidery needles mounted on one shank for creating two rows of stitches simultaneously. Have you ever embroidered something with a twin needle? I tried it a few times, you have to use contrast threads for better results. I used it in my Halloween pillow project.
Read my tutorial on how to use a twin needle.
Machine Embroidery Needle Sizes
Yep, like other sewing needles, embroidery needles come in different sizes! When referring to needle sizes, you're really referring to the width of the needle at the point. You'll usually find two numbers for the size: the metric size and the US size.
There are 3 most used sizes of machine embroidery needles: 75/11, 80/12, and 90/14 (for home embroidery machines, not commercial or multi-needle machines).
75/11 size is used for lightweight woven and knit fabric, 80/12 is better for medium-weight fabric (like quilting cotton and linen), and 90/14 is good for embroidery on heavy-weight fabric (on jeans and felt, for example).
Choosing the Best Needles for Your Project
When it comes to machine embroidery needles, there are lots of options to choose from! However, while it may seem daunting at first, the reason for having so many options is due to the fact that you need to use the right needle for the job that you're doing.
There are several factors to consider when choosing the best embroidery needle to use for a project, but when you simplify it down, it comes down to the fabric type, thread type, and the embroidery design that you're using.
If the needle is bent it will break and it's quite dangerous because the embroidery machine has a big stitching speed and the broken needle can fly.
Different Materials
Both threads and project materials will require the use of different types of needles for the best embroidery results.
Metallic Thread: When you use metallic thread for embroidery you better use a special metallic needle that has a larger eye and allows the thread to pass through it more easily. Metallic needles are not special embroidery needles, they can be used not only for embroidery with metallic thread but for sewing with metallic thread. But on the other hand, why would you use metallic thread for sewing? It's mostly used for machine embroidery anyway.
The quality of metallic threads improved a lot in the last few years so a regular embroidery needle can be used with metallic thread without any problem because embroidery needles already have a larger eye to accommodate the metallic thread.
Leather and Suede: Leather doesn't have a weave to allow a needle to pass through. When you work with leather, you'll need a special leather needle with a wedge-shaped point to pass through thick materials like leather and suede. This is also not a special embroidery needle but it's better to use it for machine embroidery on leather.
If you are interested in embroidery on leather check out my tutorial Machine embroidery on leather: how to get it right.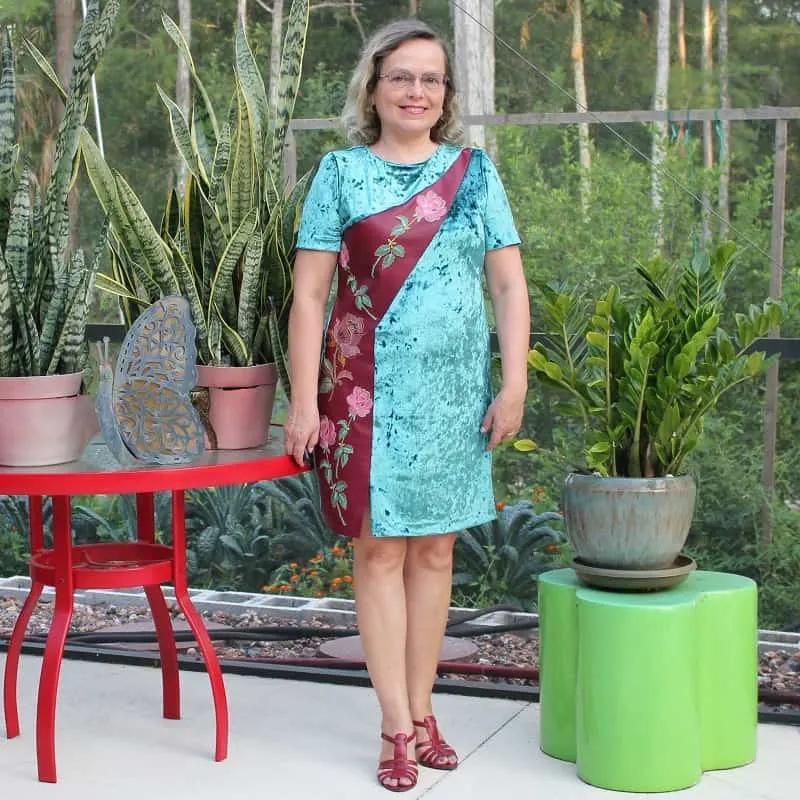 ---
There are also double-eye needles that can be used for some embroidery projects, mostly for decorative seams. The DOUBLE EYE NEEDLE has two eyes. You should thread it with differently colored sewing threads if you want to create an interesting effect. But if you use this needle, lower the speed of your embroidery machine.
Brands of embroidery machine needles
There are many options for needle sizes and types. Even after making the other needle decisions we've covered, it's time to choose a brand. This decision is much easier than picking your embroidery needle sizes and types – I promise!
Most importantly, be sure to check your manufacturer's recommendations before you buy any needles to verify that your chosen needle will fit in your machine. I heard somewhere that some embroidery machines work better with Organ needles and others do better with Schmetz.
There are three prominent brands of embroidery needles that I use. Here's a little bit about each in case you aren't familiar with them.
Schmetz Embroidery Needles
You can see that on Schmetz needles it's written "Stick-nadel". What does it mean? Nadel means "needle" in German.
SCHMETZ Embroidery needles are only available in two sizes for home embroidery machines, 75/11 & 90/14.
Schmetz needles are strong, well-made, and work well with most fabrics and threads thanks to their larger eye size. They're more expensive than other needle brands, but they also tend to last longer than competitors' needles.
Organ Embroidery Needles
Organ is a Japanese company that makes flat shank needles designed to work with several different embroidery threads (including metallic) and different machine brands including Singer, Baby Lock, Brother, Bernina, and Juki. Unfortunately, they're not compatible with all Husqvarna machines.
Klasse Embroidery Needles
I do not have a big experience with Klasse needles but they also have good reviews and I did not hear bad things about them.
Have you ever wondered why your embroidery machine needle breaks sometimes? I had a very bad experience recently with my embroidery machine. I was watching my machine making the design, then suddenly the needle broke and the very small tip on the needle ended up in my lip. I am so grateful it didn't go to my mouth or my eye. But since then I don't watch my machine anymore, I stay away. Because you know, the needle can break anytime, there are multiple reasons for it and it's not always your fault.
What do you do when your sewing machine needle breaks?
So, what do you need to check if your embroidery machine needle breaks?
Did you install the needle correctly with the flat side of the needle going to the rear? Did you push the needle all the way up?
Did you tighten the screw that holds the needle? If the screw is loose when the machine starts the wobbling needle will break.
Did you check your needle? If the needle is bent even a little bit it can hit the needle plate, and the needle will break.
The needle can break if your thread is not moving smoothly. The upper thread might be catching somewhere – on the spool pin or the tiny slot on the spool. Use a special spool cap to hold the thread in place to prevent this from happening.
Some embroidery designs are not properly digitized and sometimes your machine will be repeatedly stitching in one spot making the design very dense in this spot. The needle might break in this case.
Check your upper thread tension, if it is too high the needle might break.
Check if your bobbin is wound properly and correctly installed.
✅ Related article: Why A Sewing Machine Needle Keeps Breaking (21+ Reasons & Solutions)
How Often Should You Change Embroidery Machine Needles?
There are always recommendations in manuals: chrome needles need to be changed out at around 5-8 hours of stitching time, while titanium needles last 3-5 times longer and should be changed out at around 25 hours of stitching time.
However, those are just approximations. How can you notice this time? As for me, I never know for how many hours I used the needle. I am not a professional seamstress, embroidery is my hobby. So I usually change my needle after 2-3 embroidery projects. And if I use different fabrics and threads I change my needle anyway for a new project.
---
---
As you can see, there is a lot of information when it comes to machine embroidery needles. However, it's not complicated information once you know the basics of embroidery needle sizes and other necessary details.
It's not rocket science, so just use my basic guidelines to help you get started. Then, as you gain more experience, you'll naturally pick up a feel for working with machine embroidery needles yourself!
And when we talk about needles, we need to talk also about the needle book. This is a very useful tool and will allow you to organize your needles, both new and used, in a single place from where they are easy to take for use, and where you can return them for safe storage until needed again. Such a book is a very simple project and in my article DIY Needle Book, I am showing how to make one from pieces of scrap fabric.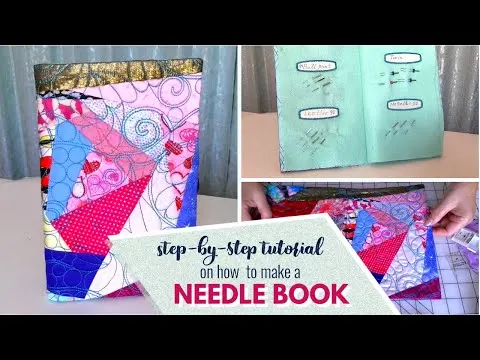 If you are interested in machine embroidery needles, you might like my helpful embroidery tutorials.
Did you find this tutorial helpful? If so, save this pin (see below) on your sewing board so you can come to this tutorial later when you are ready to use machine embroidery needles, and follow me on Pinterest for more tips, tutorials, and inspiration!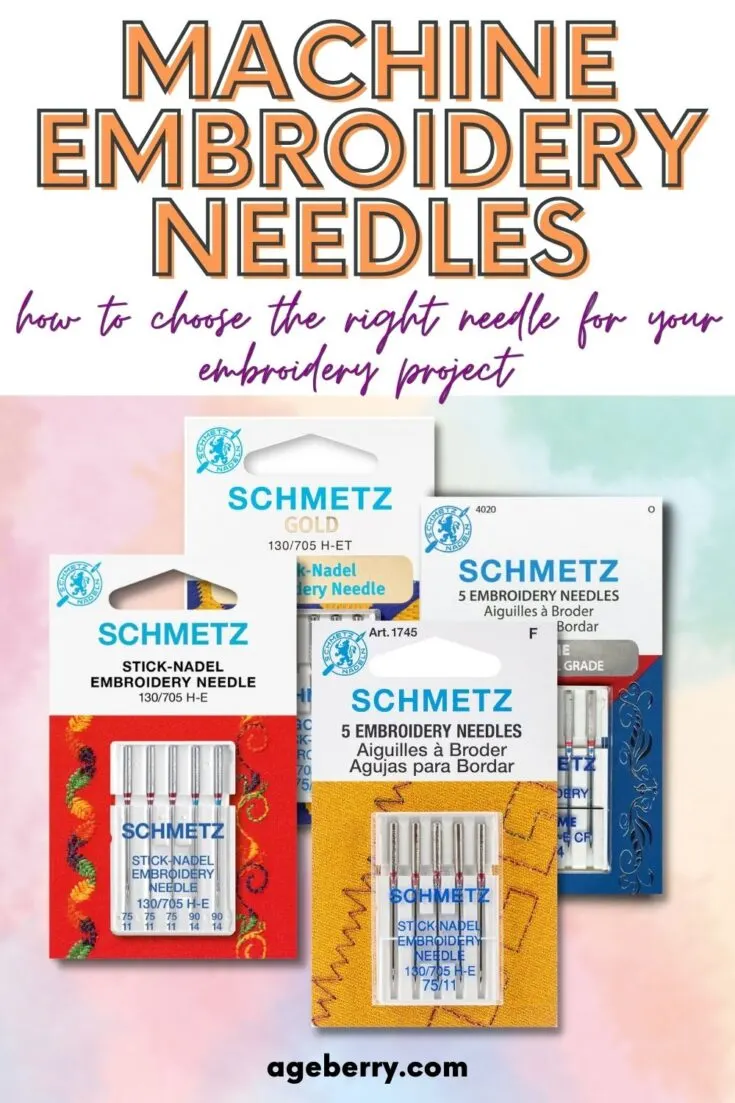 Ready to take the next step in your sewing journey? Check out more step-by-step tutorials from my site and don't forget to share!
---