In this sewing tutorial, I want to show you how to use a twin needle – a very simple tool that expands the capabilities of even the most ordinary sewing machine.
The twin needle is made of two needles that are attached to a single crossbar.
It produces two rows of stitching on the top side and a zigzag stitch (well, kind of) on the back. It's often used for hemming garments made from knit fabric – the stitch looks similar to the hem stitch on a T-shirt.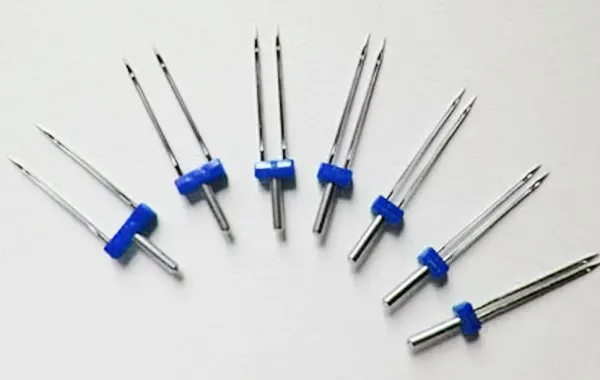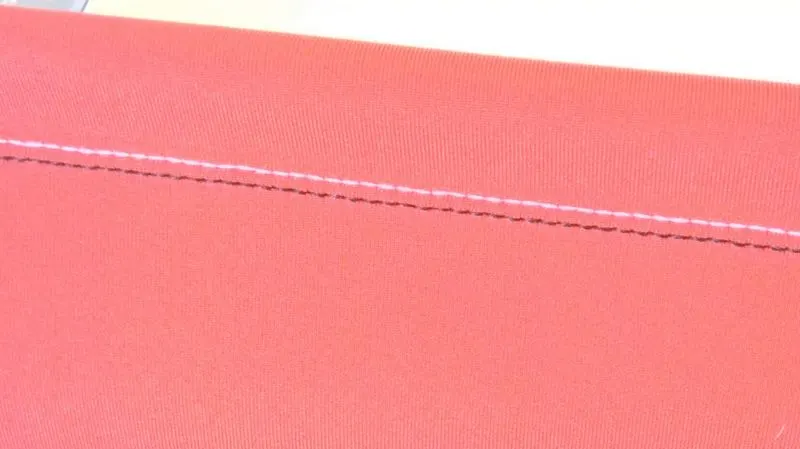 Note: Some of the links on this page are affiliate links. This means I will receive a commission if you order a product through one of my links. I only recommend products I believe in and use myself.
So, if you don't have a special sewing machine to sew this kind of hems (it's called a coverstitch machine) you can use the twin/double needles on your regular home sewing machine if you want professionally finished hems on knit garments.
The only big problem with it is that the seam doesn't tolerate stretching very well.
Twin needles are often used for decorative stitching.
With the twin needle, you can stitch two rows simultaneously creating various decorative effects. They have different distances between the individual needles, and depending on this distance, the appearance of the decorative stitch will change (becoming narrower or wider). A different width between the needles makes it possible to choose the width of the finishing stitch. Therefore, you will probably need to have several types of twin needles.
Below you can check my video – I was using the twin needle to embellish a round pillow I was making from natural silk fabric. I decided to do it with a twin embroidery needle and two different color threads – black and orange. There are so many decorative stitches available! I had to choose one that goes well with the twin needle. These decorative stitches look pretty much like a ribbon.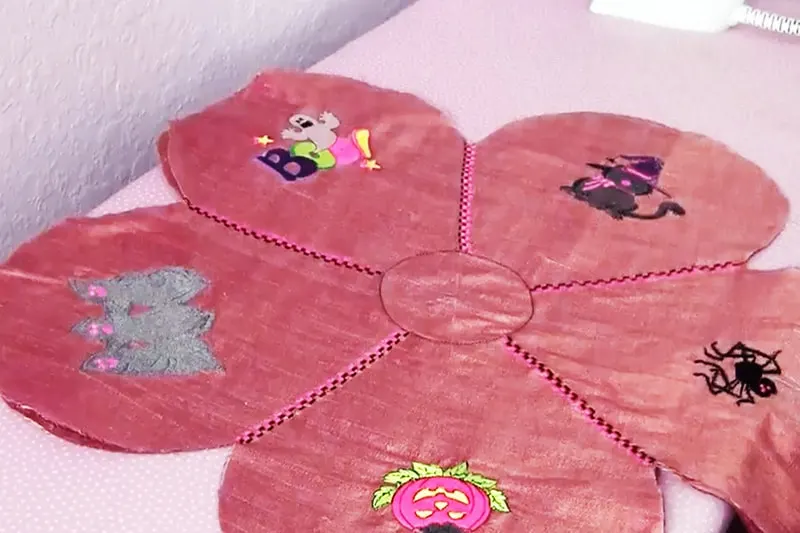 Types of twin/double needles
Different types of double needles are designed to work with different materials.
The needles differ by dimensions (thickness of the needle and the distance between the needles); by the color of the crossbar – the most common are dark blue and red but I saw also white light blue and yellow; by the needle tip shape; by the size of the needle eye.
The most well-known and popular twin needles among consumers are manufactured by Schmetz, Singer, Klasse, and Organ.
UNIVERSAL TWIN NEEDLES
Universal twin needles are great general-purpose needles. They are used for most woven fabrics and some stable knits. The universal needle has a slightly rounded tip so that it slips through the weave of knits easily while still retaining enough sharpness for woven fabrics.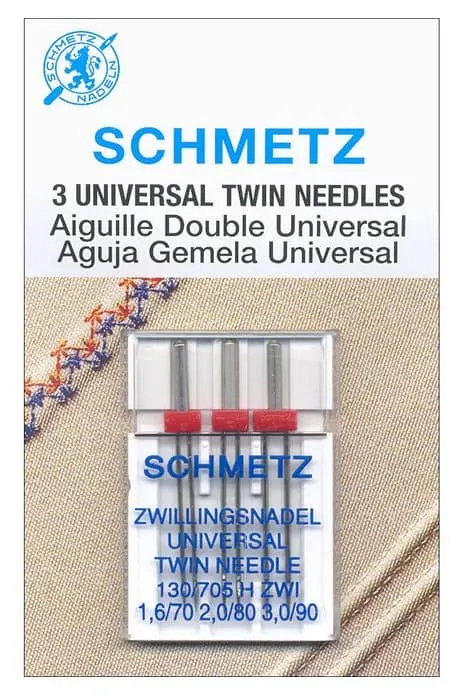 STRETCH TWIN NEEDLES
Twin needles for stretchy knit fabric are usually thinner (size 75) and produced in two types: with an inter-needle distance of 2.5 or 4mm.
Compared with the same size universal twin needle, the stretch twin needle has a more rounded tip called also a "ballpoint". With a round tip, the stretch twin needle does not pierce the material, but spreads the fibers to the sides and penetrates the fabric's surface without tearing its fibers.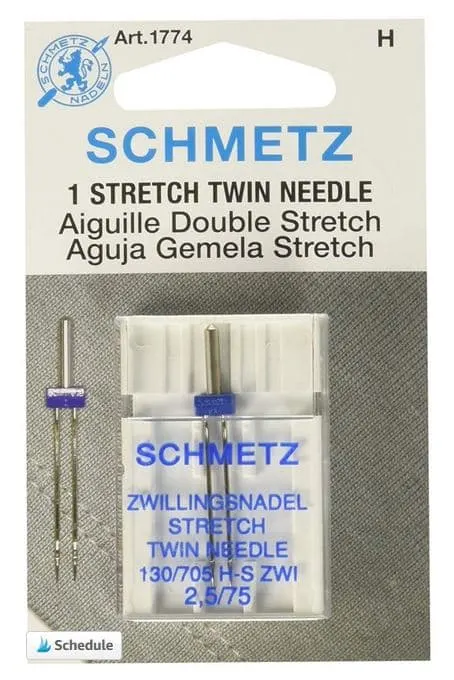 EMBROIDERY TWIN NEEDLE
Embroidery twin needles are distinguished by an enlarged groove and eye, which makes them perfect for decorative stitches.
Embroidery is usually done at a higher speed than regular sewing. Specially coated, the larger eye allows smooth thread flow at higher speeds. This type of twin needles can be used with different embroidery threads – rayon, polyester, and cotton.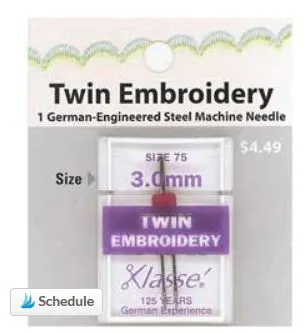 METALLIC TWIN NEEDLES
Metallic twin needles differ from the rest because of their enlarged specially coated eye (2 mm) and a large groove in a shaft that prevents thread breaks.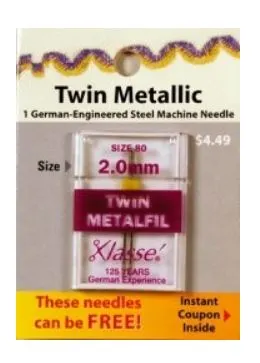 DENIM TWIN NEEDLES
A twin needle for denim, in comparison to a double universal needle, has a sharp, strong point that penetrates dense fabrics.
Naturally, such a tip penetrates into multiple layers of thick material faster. In addition, the size of a twin needle for use on jeans is 100. Such a thick and sharp needle will make stitching denim fabric easy. Also ideal for topstitching woven fabrics.
DOUBLE HEMSTITCH TWIN NEEDLE
Schmetz makes these interesting twin needles – one is a wing needle and the other is a regular needle on a crossbar from a single shaft. It's used for decorative stitching on tightly woven fabrics.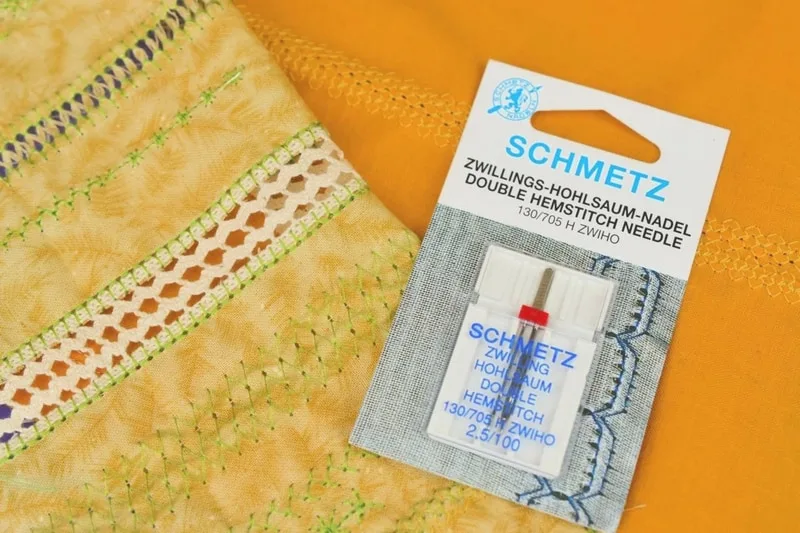 TWIN NEEDLE SIZES
Double needles are most often made in the following sizes: 1.6 mm, 2, 2.5, 3, 4. There are also double needles with a particularly large distance between the needles – 6 and 8 mm.
Like a regular needle, the size of a double-needle is also determined by the thickness of the shaft. The thinnest double needles for knit fabrics are numbered 75. The number 80 is usually for sewing with metallic thread. No. 80, 90, and 100 are universal or embroidery needles. Denim needles have a size of 100.
When you look at the pack of twin needles you usually see two numbers in the size of the needle. The two numbers indicate the space between the tips and the size of the needles, respectively. For instance, a size 80/4.0mm needle is two sizes 80 needles spaced 4 mm apart. And a size 75/2.0mm needle is two sizes 75 needles spaced 2 mm apart.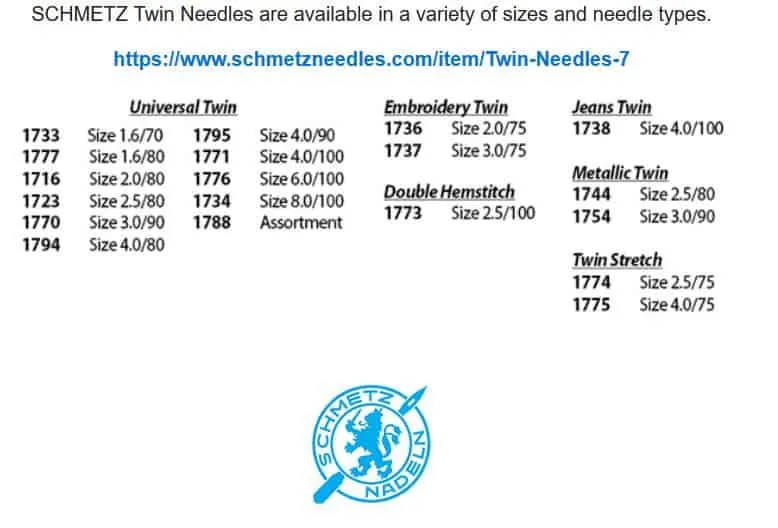 How to install a twin/double needle
The twin needle is easily installed on most models of sewing machines.
Turn the handwheel to put the needle in its highest position. Lower the presser foot or even take the presser foot out. After that, hold the regular needle (if it's there), weaken the fixing screw, and remove the needle from the needle holder. Turn the twin needle with the flat side away from you and insert it in place of the previous one until the needle touches the stopper. Holding the needle with your hand, tighten the fixing screw.
For sewing with a twin needle, two spools of thread are needed. To get a neat and even stitch, the threads on both spools should be the same in terms of quality and thickness. The color, however, may be different. In addition, the threads from both spools should "exit" at the same speed preferably. To ensure such synchronization, it may be necessary to wind the threads on two identical bobbins so that they both fit on the same pin for the spool of thread. But of course, there are other ways to thread twin needles.
Modern sewing machines like Janome, Brother, and Juki have two pins for spools.
The two threads are threaded into the sewing machine in the same way that a single one would be threaded.
Of course, all sewing machines are arranged differently. They have a different design, a different number of options, etc. Yet all sewing machines have thread guides, thread tension devices, and directional levers. Consult your sewing machine manual and thread both threads as if you were threading one.
But at the final stage, separate the threads in different directions and thread the end of each thread separately, one at a time. The bobbin thread, for sewing with a twin needle, is threaded into the sewing machine like it is for normal sewing with one needle.
I heard some advice that the spools must be set so that the threads are unwound in opposite directions, otherwise, they may become tangled when sewing.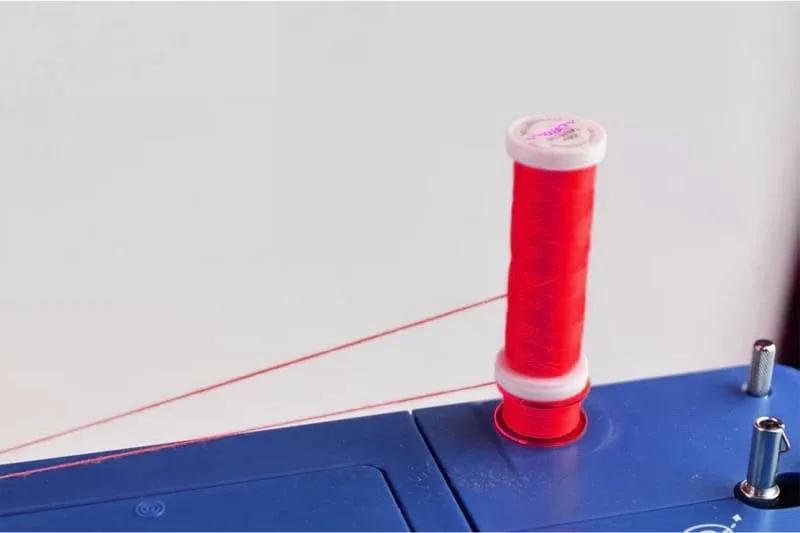 TWIN NEEDLE TROUBLESHOOTING
The most common problem with twin needle stitching is a tunneling effect when the fabric between the two rows of stitching is kind of raised. It happens quite often with a variety of fabrics.
How to avoid tunneling when using a twin needle
1. The tension of the lower thread should be less than the tension of the upper threads.
But it's not so easy to achieve. We don't usually change the tension of the bobbin thread on modern sewing machines with horizontal types of bobbins. And if you put the upper thread tension all the way up it still may not be enough but the big upper thread tension may produce a puckering effect on many types of fabric.
If you have a traditional front load bobbin case like this you would be able to lower the bobbin thread tension easily.
Related post: How to adjust a bobbin tension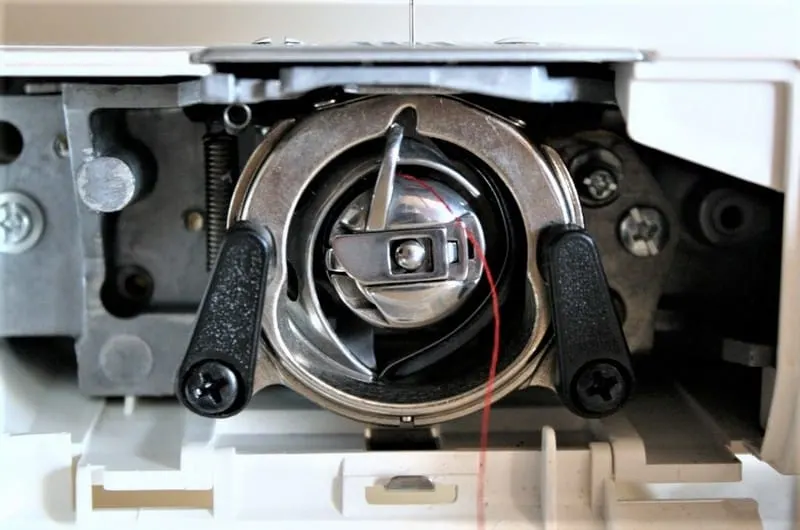 But there is a solution for horizontal top load bobbins also. I just checked on Amazon and they actually sell low-tension bobbin cases for Janome (and my favorite sewing machine is Janome 6600 – read my review) specially marked with a little blue triangle for identification. The regular one has a red mark.
This bobbin holder is specifically set to low tension for free motion quilting and hand-look quilt stitches but it can be used for sewing with twin needles as well because the low tension in bobbin thread will prevent tunneling.
The horizontal bobbin holder also has a screw for adjusting the bobbin thread tension. But you better not fumble with it because you may not successfully set it back to normal. So it's better to buy a spare bobbin holder if your sewing machine is not Janome (they are inexpensive) and set it to low tension.
Of course, you will look for a bobbin case that fits your actual machine, these are only examples.
2. The second thing that may help to prevent tunneling is using stabilizers and interfacing.
You can place a piece of a lightweight wash-away or tear-away embroidery stabilizer right under the fabric (if you decorate a big piece of fabric) when you are sewing with the twin needle. Embroidery stabilizers work well with woven fabrics but removing them may be a problem: you will have to wash the fabric to remove the wash-away, or you may stretch the seams out of proportion while tearing the tear-away.
You also can fuse a piece of knit interfacing to the stretchy knit fabric. I have a tutorial on using fusible interfacing – check it out here.
If you are sewing hems on woven fabrics with the twin needle you can try to use fusible web for hemming. Have in mind that the hem will not stretch at all if you use fusible web.
You can even use ordinary tracing paper. Just place it under the foot, lay a piece of fabric on it, and make a stitch
3. It may help to use stretchable elastic threads.
Did you hear about Eloflex? It's a stretchable thread from Coats and Clarks, and you can use it both in the bobbin and in the needle. I have a review post about the Eloflex thread if you are interested.
Or you can use wooly nylon thread – but this thread can only be used in the bobbin with a regular sewing machine and you will need to wind it on the bobbin by hand so it's not too tight on the bobbin.
Related post: Stretch thread for sewing
4. Try also adjusting a stitch length on your machine – make it smaller or bigger and see what happens. Usually, it's best to sew with a stitch length from 2 to 3 mm.
Related post: What is the stitch length and how to adjust it for different fabrics
5. I heard also that the thickness of the bobbin thread should be a number less than that of the upper threads. So for example, if your upper threads are regular 40 weight you may try to use a size 60 weight thread in the bobbin.
Related post: Sewing thread sizes – how to choose
6. Having finished the stitch, press it with an iron. It always helps to smooth the fabric and the slight tunneling may disappear.
But sometimes the tunneling effect is good and you will want it for decorative stitches – if you make tucks, for example.
Just increase the tension of the upper threads, choose the twin needle with a 4 mm distance between the needles, and sometimes set a special presser foot.
It's better to choose a dense fabric for decorative stitches or stabilized it with fusible interfacing. Otherwise, the stitch may tighten the fabric.
In the images below you see how you can use the tunneling effect to make decorative stitches. The red fabric is quite stable knit, and the other fabric is fancy velvet.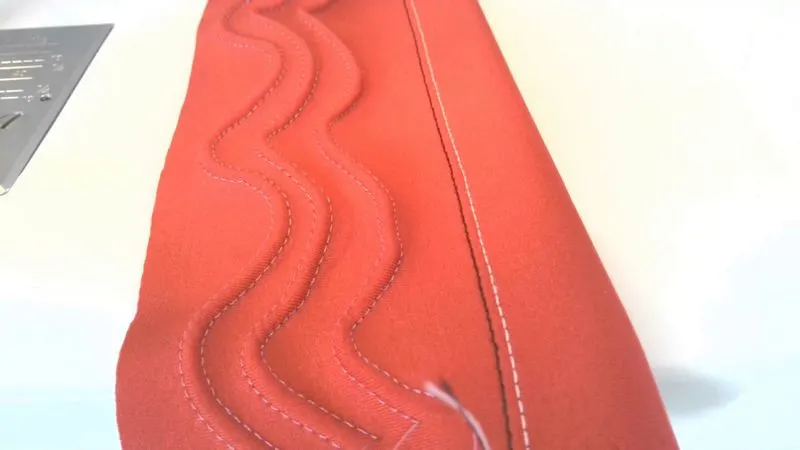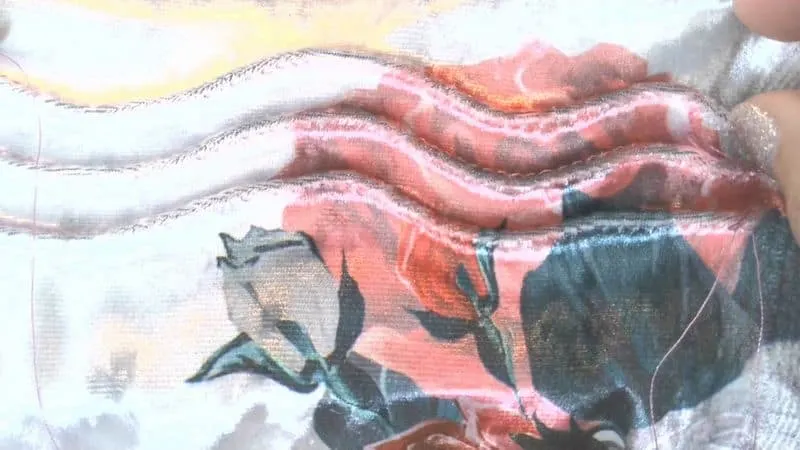 Another problem with twin needles is that stitches on knit fabrics are often popping because seams don't tolerate stretching very well. To me, the best solution was to buy a special coverstitch machine because I sew with knits a lot.
But if you work with knits only occasionally and use the twin needle for sewing hems then you may try the following:
1. Use a stretchable thread in the bobbin – woolly nylon or Eloflex. It will help to keep the seams stretchable.
2. Try sewing with a very narrow zigzag stitch – but for this, you must make sure your machine can use a zigzag stitch with the twin needle. The stitch should fit inside the zigzag foot opening and the needles should fit exactly in the center of the presser foot hole. If there is an offset from the center, then the double-needle may break.
Also, in this case, it's better to use twin needles with a distance of 2, 2.5, or 3 mm between the needles. If you are using a zigzag stitch the distance between the needles should not exceed 3 mm. Otherwise, there is a high risk of damaging the needle.
Anyway, first test the stitch out on scraps and slowly turn the wheel by hand to check if the twin needle works with your zigzag stitches.
In the images below you can see this very narrow zigzag stitch I made on velvet fabric. You can't even tell it's a zigzag, right?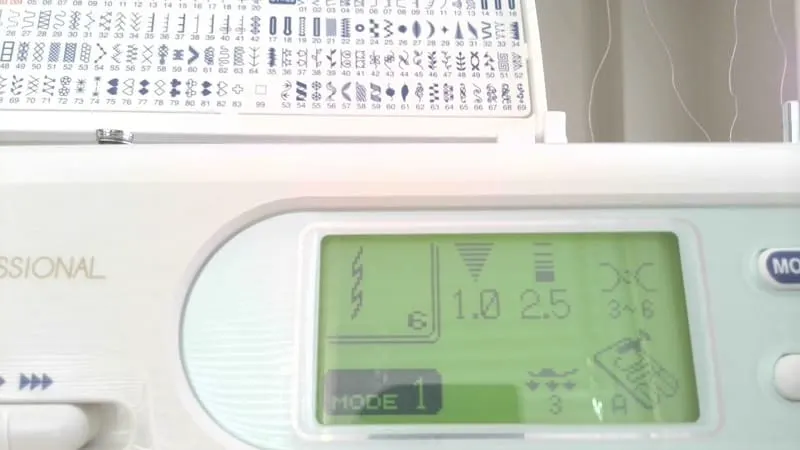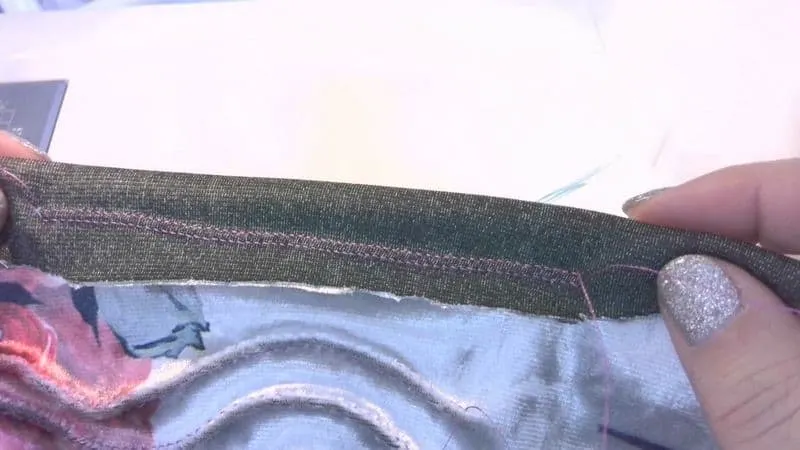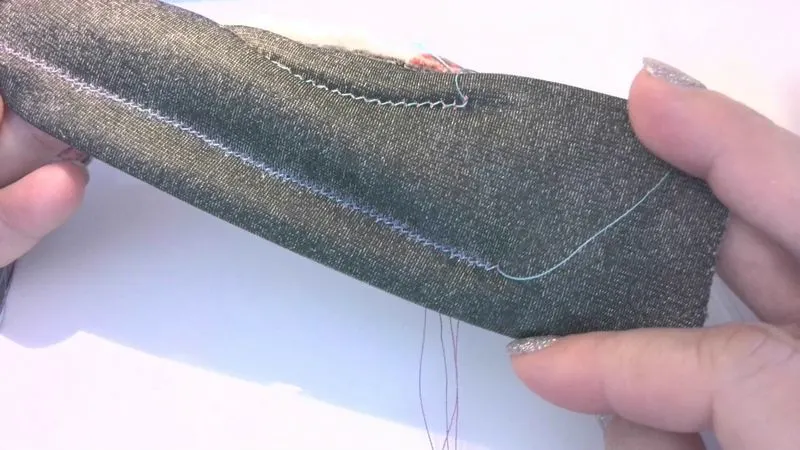 You may experience some other problems while sewing with the twin needle – it may skip stitches, the needle may break, threads may tangle, etc.
1. Skipping stitches is a common problem with double needles when they become dull or the upper tension is too weak.
2. Use a walking foot for avoiding problems. My Janome 6600 has a built-in walking foot and I use it often with the twin needles.
3. Often the reason for skipping stitches is that the needle does not fit the material.
Remember to use different types of twin needles. For example, a stretch double needle is not suitable for all materials; on some, it may begin to skip stitches. There are special twin needles for knit fabrics, woven fabrics, jeans, and for decorative embroidery stitches.
4. Sometimes the 2 thread spools should be unwinding in opposite directions. But this is true only if your sewing machine feeds the threads the regular way. It will not work if your machine feeds the threads from the top. For example, my machine Janome 6600 feeds the threads from the top and for me, this tip is not useful.
But if you are able to do it on your sewing machine place the spools in such a way that they unwind in different directions: one – clockwise, and the other – counterclockwise. This may prevent threads from tangling and twisting during sewing.
5. To get a neat and even stitch with a double-needle, the threads on both spools should be the same quality and thickness.
6. Insert the needle correctly. Check that threading is correct. Check your bobbin if it's filled and inserted correctly.
7. If you select the straight stitch make sure you selected it in the center position. If you move the position of the twin needle to the left or to the right one of the needles will hit the metal plate and break.
8. You need to work with a double-needle at a reduced speed. Do not sew too fast: for beginners, speed greatly affects the quality of the stitch.
9. If the distance between the needles is more than 4mm, then you should use only straight stitch mode. If a zigzag or decorative mode is selected and the distance between the needles is more than 4mm ( there are twin needles with 6 and 8 mm between the needles) the needle may hit the needle plate and break. A plate scratched by a needle will further damage the fabric, leaving puffs on it.
Now I would like to show you some decorative stitches made by the twin needle with metallic threads. I really like to use it to embellish my projects.
Stitching with metallic threads looks very elegant, and even the simplest design sewn on inexpensive fabric will turn it into an exquisite product.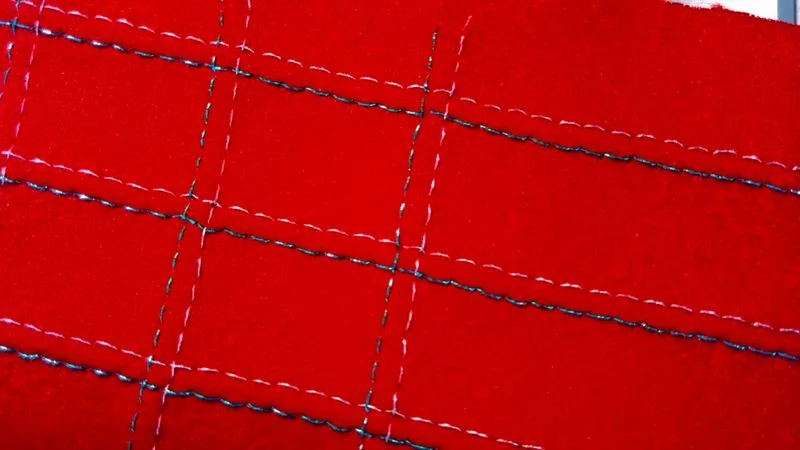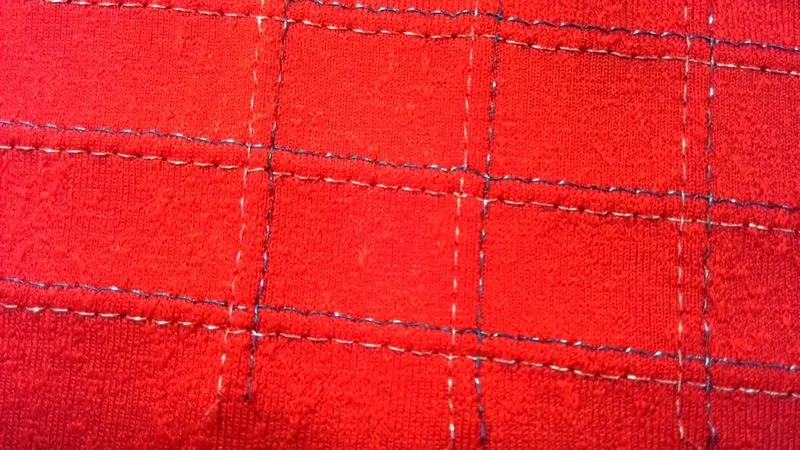 Triple Needle
Needle manufacturers are constantly experimenting to provide us, sewing enthusiasts, with various innovations. Such innovations include triple needles: three needles united by one crossbar.
The triple-needle is threaded into the sewing machine just like the twin needle is (see above). Just like with a twin needle, threads are pulled through the triple-needle eyes. However, you need an additional spool.
In terms of function, triple needles are especially good for decorative stitches.
✅ Related article: How to Use a Wing Needle for Hemstitching
Did you find this tutorial helpful? If so, save this pin (see below) on your sewing board so you can come to this tutorial later when you are ready to sew with a twin/double needle and follow me on Pinterest for more tips, tutorials, and inspiration!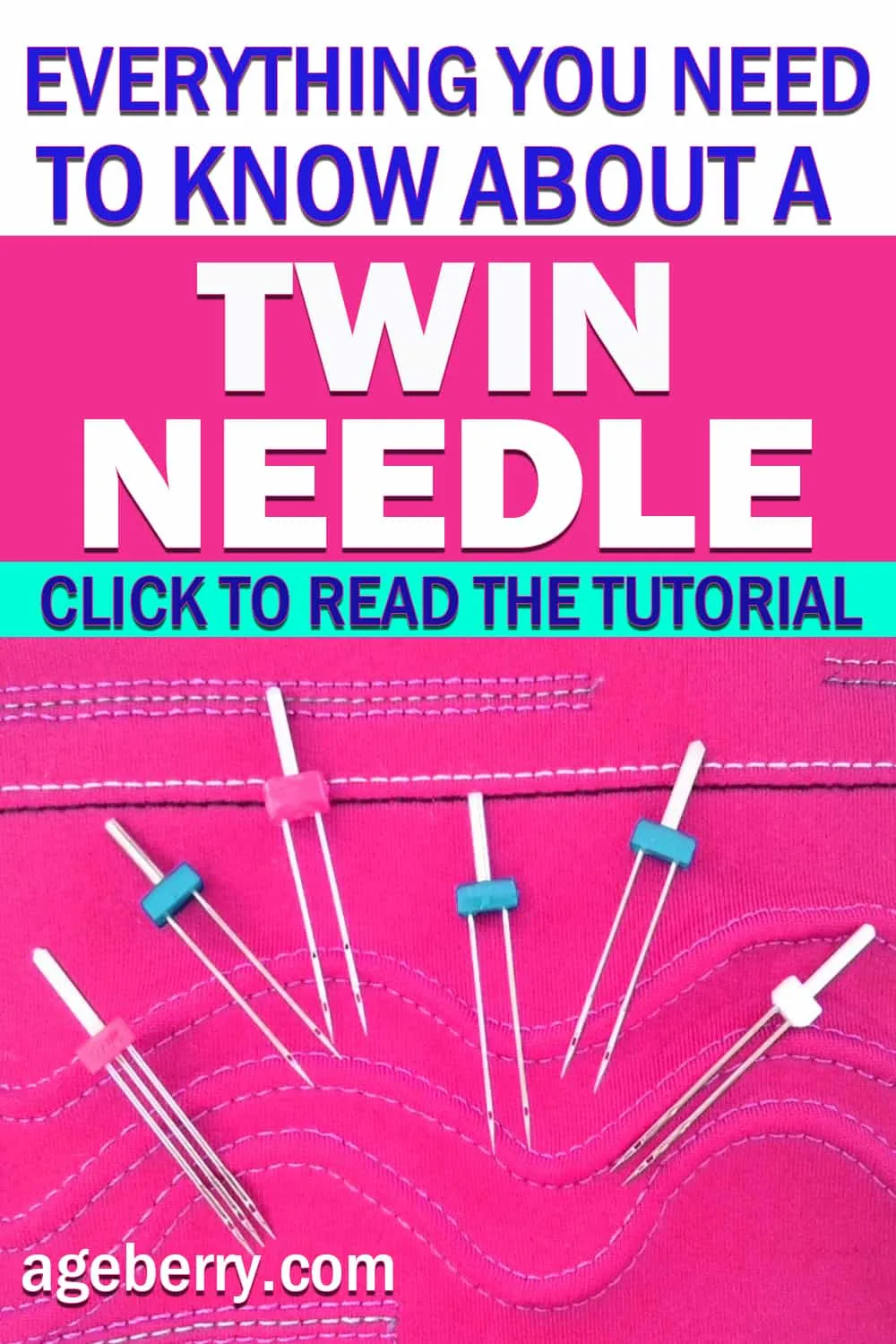 ---