In this sewing tutorial, I want to talk about the TRAPUNTO technique.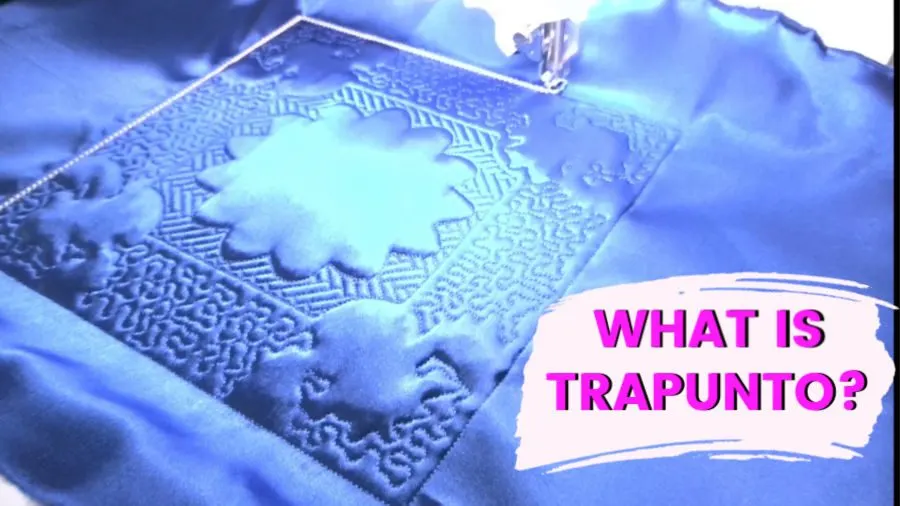 I had these exquisite pieces of fabric, blue and pink, from Fabric Wholesale Direct and I did not know in the beginning what I should do with them. Then I discovered Trapunto: perfect! the colors are rich and excellent for display and the fabric promises to last a long time. The result you will see in this article.
In case you wonder who they are (I often mislead myself by the word "wholesale"): they are an online fabric store and I was amazed at the selection they offer. Their prices are quite competitive too, and shipping to BOTH USA and Canada seem reasonable to me. Here is an image of their main menu (and I had to truncate it, it was too large to fit on one screen).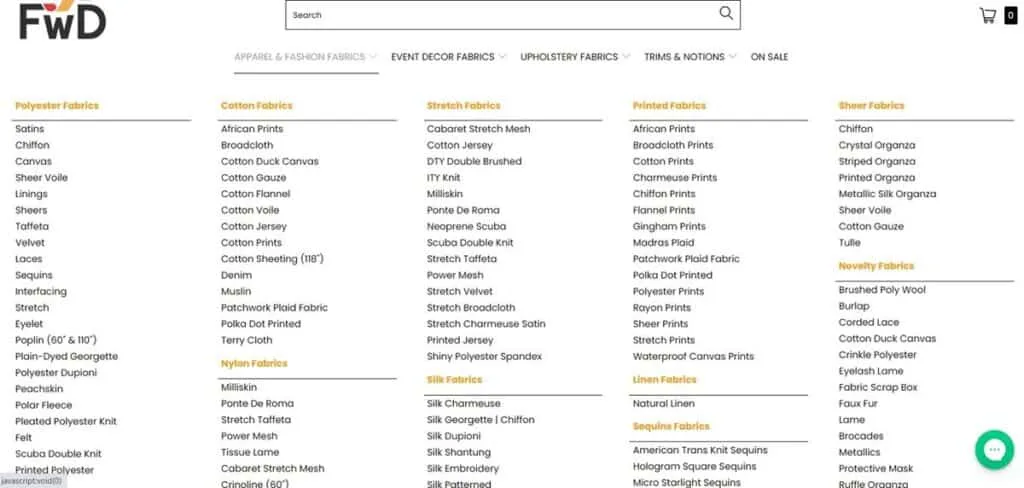 What is trapunto?
If you've ever admired the beautiful embossing on a vintage book cover and wished you could use that same look in your quilts and pillows, you might try trapunto. Trapunto is an Italian term for a style of quilting that creates designs in high relief. What trapunto means is that your quilt features great contrast in the loft of the design, giving it that lovely "embossed" appearance. A very good definition you can find in this article from the Textile Research Centre (Leiden, the Nederlands): Trapunto.
Textiles featuring the trapunto technique date back to at least the thirteenth century. A portion of the oldest trapunto quilt ever discovered hangs in the Victoria and Albert Museum in London. Called the Tristan Quilt, it's from the late 1200s and depicts scenes from the famous Celtic story of Tristan and Isolde.
A second portion of the same quilt is on display at Palazzo del Bargello in Florence. Experts believe both pieces to be segments of the same textile, and both feature early efforts at what we today call the trapunto technique.
Note: Some of the links on this page are affiliate links. This means I will receive a commission if you order a product through one of my links. I only recommend products I believe in and use myself.
But what is trapunto quilting at home? Can you recreate the effect? And how difficult is it? Because there is no question about its beauty.
Trapunto means finding a design you adore and transferring it to fabric for trapunto quilting. You'll find tons of online sources (free and paid) for trapunto designs — for your embroidery machine, for FMQ (Free Motion Quilting), and for trapunto stitching by hand. I've compiled my favorite sources below:


But you can draw the trapunto design yourself. Or design the trapunto embroidery with a digitizing software like Palette 11.
Once you find the perfect trapunto template, learning how to do trapunto quilting is easier than you think. Once you've transferred the design to fabric, you'll love the trapunto embroidery you're able to create on your embroidery machine, but these patterns are suitable for other types of easy trapunto quilting, too.
Trapunto embroidery
What Is Trapunto Embroidery? Using Your Embroidery Machine to Achieve a Trapunto Effect! This type of trapunto technique was developed quite recently.
The supplies needed to do trapunto on your embroidery machine include:
Embroidery Stabilizer (I like to use No-show mesh)
Batting (a few types, see below)
The fabric of your choice. You are not restricted by using quilting cotton, you can use velvet or silk to add an extra dimension to the Trapunto blocks. I used this blue crepe back satin but there are many colors available. At the end of the article look for the same design in pink.
Applique scissors (I like my duckbill scissors)
Generally, using this method, you'll place the batting on your stabilizer and stitch them together in the hoop. Next, you'll add a layer of high-loft polyester batting, Input your embroidery design and watch as the machine transfers your pattern to the hoop.
After the machine has transferred the design, you'll remove the stabilizer, do a second trim around the added batting, and then add your top fabric. The machine will stitch all around the design, allowing the stuffed pieces to "pop up."
There are different ways to do Trapunto embroidery and it depends on the embroidery design you are using. I decided to create the design myself with my Destiny 2 embroidery machine and Palette 11 software. But you can use great Trapunto designs from OESD embroidery online or many other sources.
So let me show you how I make Trapunto quilt blocks with my embroidery machine Baby Lock Destiny 2.
Step 1
Decide what size quilt block you want to make. I've chosen an 8 x 8 inches block.
Hoop a piece of stabilizer and insert it into the machine. What stabilizer to use? I prefer a No-Show mesh stabilizer because the resulting block will be soft and flexible. But I also used a Tear-Away stabilizer, it's also suitable, but the block will be a little rigid.
Step 2
Cut a piece of batting about 9 x 9 inches or bigger (you don't need a perfect square), you need just to cover 8×8 square. Use just a regular batting as you use for a regular quilt block. I use 100% cotton low loft needle-punched batting. If you need to know more about the type of batting for quilting check out my guide at this link.
Place this piece of batting on the hoop with a stabilizer and run a square tacking stitch for the batting ( 8×8 inches).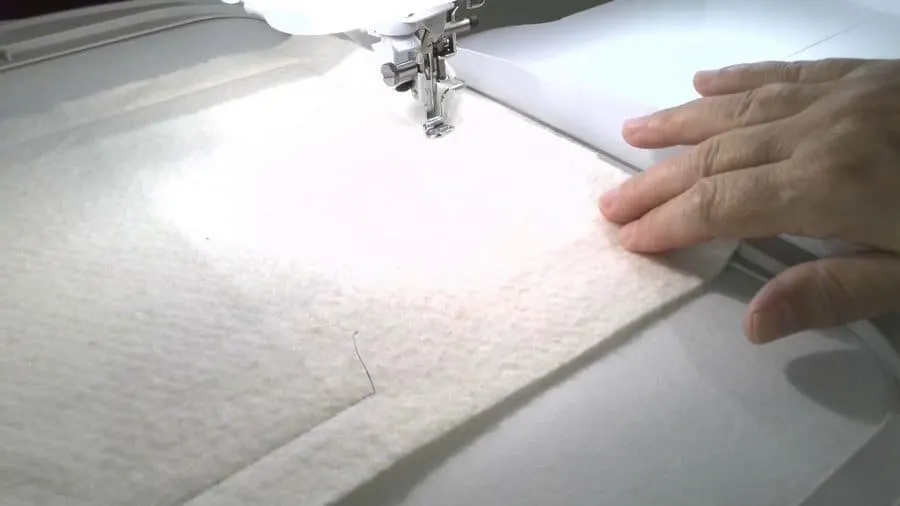 Step 3
Take the hoop out and cut out the excess batting very close to the stitches without cutting into the stitches or into the stabilizer.
Your scissors also matter. Choose small applique scissors that feature either a duckbill design or a curved tip. These will help you cut through your batting without cutting into your top fabric.
I love to use my duckbill scissors for this procedure. This is our quilt block.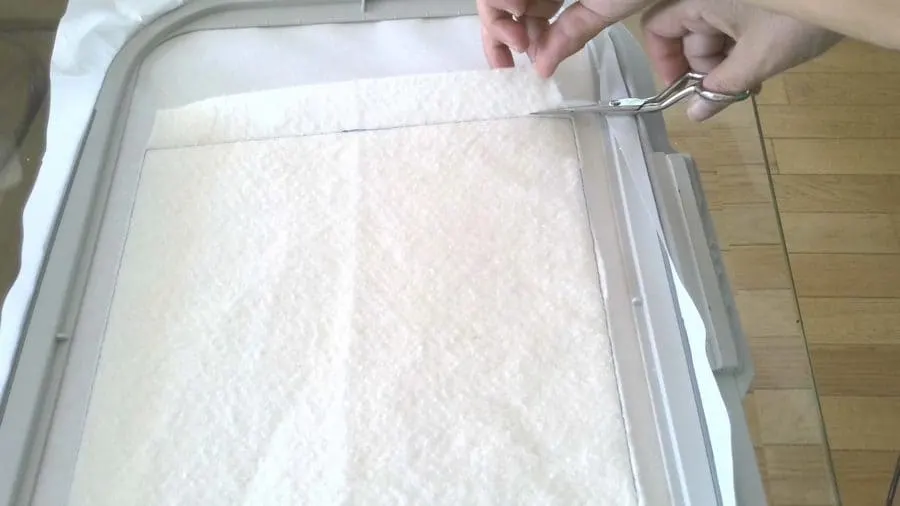 Step 4
Place the other 2 layers of batting over the quilt block. Or if your batting has a high loft and is dense you can use only one layer. I used two layers, they are necessary to create the trapunto effect.
You may have problems with the presser foot getting caught in the batting especially if you use high loft batting. So, if you see that the foot is beginning to get stuck just stop the machine and cut whatever is caught before continuing. Or you can put a water-soluble stabilizer on top to keep the needle from catching.
Your batting needs to be substantial. High-loft polyester batting is a superb choice because it's affordable, easy to use, and provides that pronounced loft you want for trapunto quilting.
Step 5
Sew the tacking stitches for the extra layers of batting.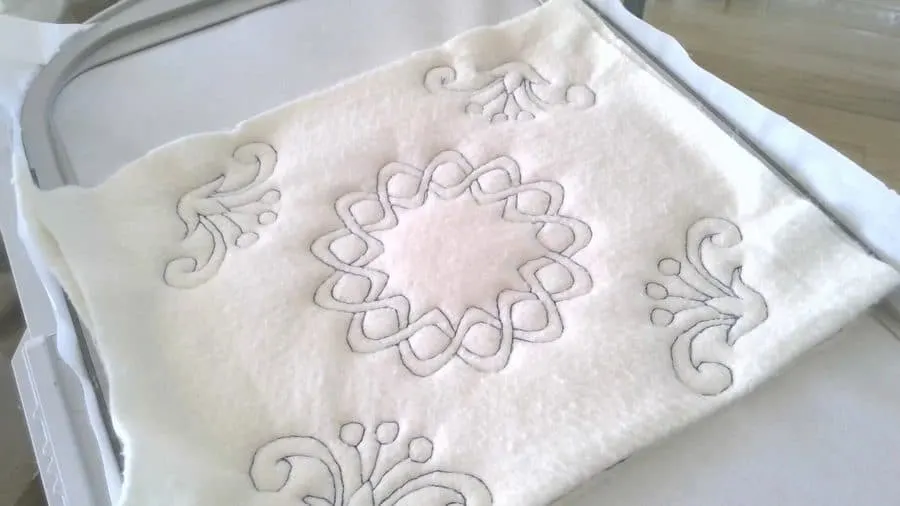 Step 6
Remove the hoop from the machine and cut out the excess batting very close to the stitches. Be careful not to cut the first square layer of batting.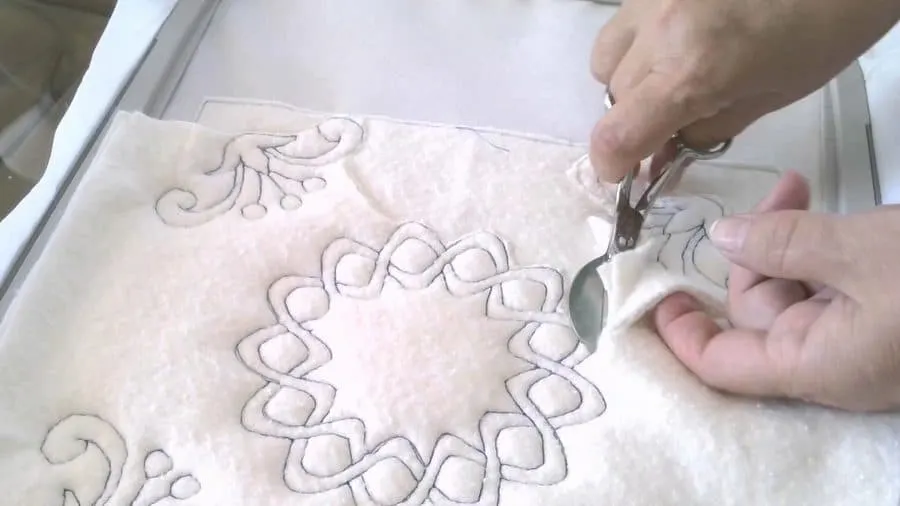 Step 7
Now place your fabric over the quilt block and sew the tacking stitches for the fabric – 8×8 inches square. Or you can just use painter's tape to hold the fabric in place. I used a thread of the same color as my fabric. I also filled the bobbin with the same blue thread.
As for me, I didn't really make a quilt, I wanted to make a decorative pillow cover with trapunto quilting. So I didn't cut the fabric, I used a big piece of fabric and had to be careful to place it straight over the batting.
Step 8
Run the embroidery design. In the end, you will see the trapunto effect when your machine will run over extra layers of batting. I like to use the thread of the same color as my fabric for my filling stitches, and for the main trapunto outline, I used a thread of contrasting color.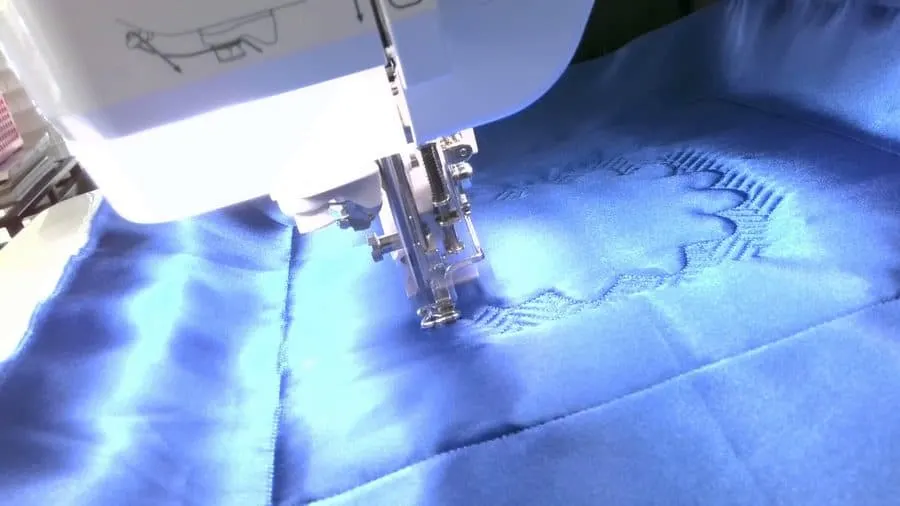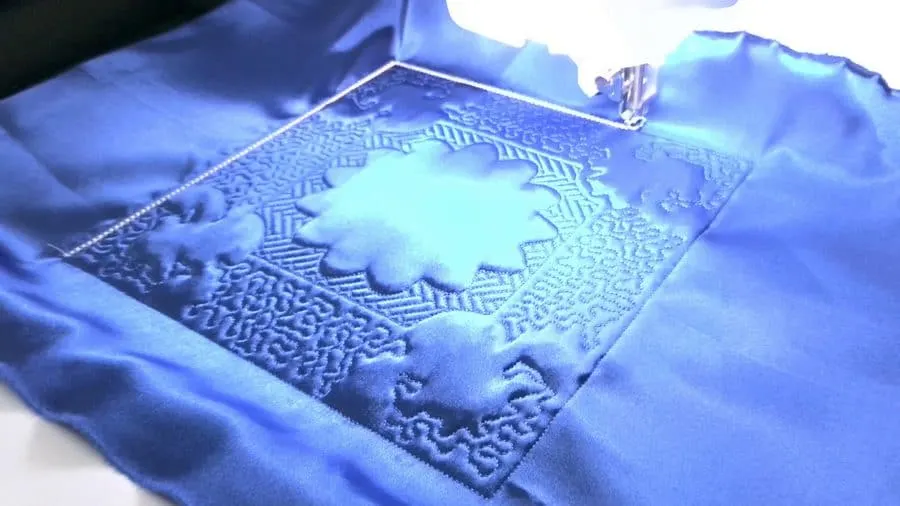 This kind of Trapunto (by my embroidery machine) is so easy to make! And it's fast too!
If you'd like to watch the video version of this step-by-step tutorial on Trapunto embroidery, hit the Play button below.
Below are the images of my quilt blocks with Trapunto designs from Anita Goodesign.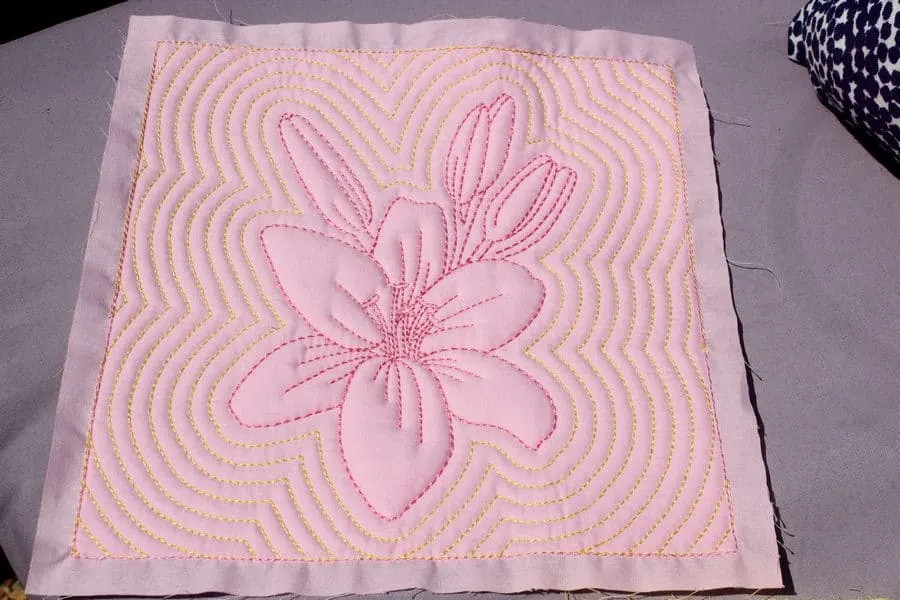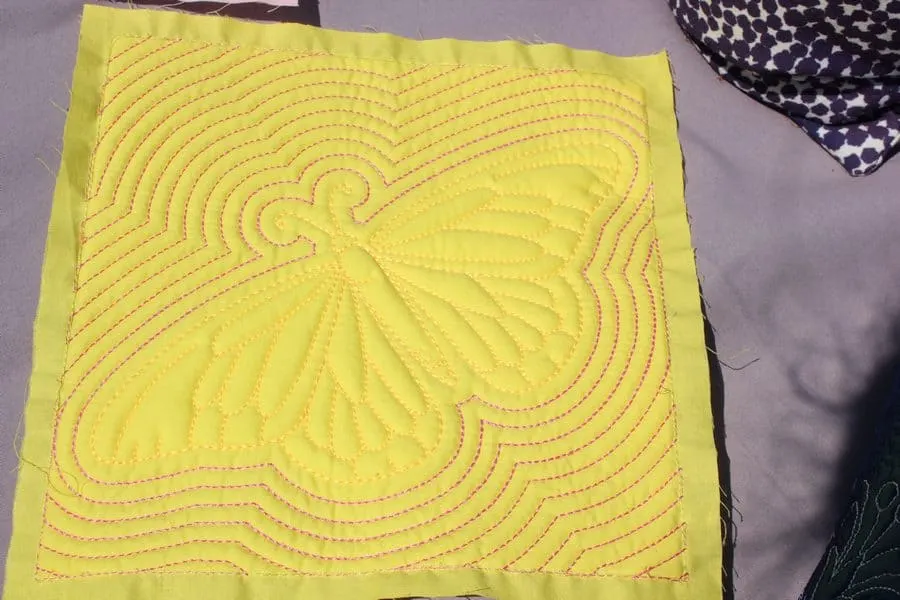 How to Do Trapunto by Sewing Machine: Free-Motion Quilting (FMQ) Method
If you would like to try trapunto by sewing machine, first gather the materials needed. By using the right thread, batting, and backing, you can create your own stunning trapunto art using free-motion quilting. Here's what you'll need:
Water-soluble thread for the top of your machine
Regular cotton thread for your bobbin
Polyester quilt batting, medium-to-high loft
Fabrics of your choice, including cotton, organza, batiste, and more
Applique scissors
Trapunto needle (Jeans needle)
Free-motion quilting foot
Free-motion glider mat
Free-motion quilter's gloves
A glide mat and gripper gloves make life much easier when free-motion quilting because they let you slide the material around in all the ways needed.
There's a great online tutorial for free-motion trapunto quilting on YouTube by Man Sewing. It's a good idea to watch the tutorial before you begin, so you know exactly how this type of trapunto is done.
However, the basic process involves transferring a design onto your fabric, placing a layer of polyester batting behind it, and then stitching around your pattern using water-soluble thread. Afterward, you'll use your applique scissors to snip away the batting around the design.
Next, you'll place a second layer of batting behind your design and sandwich it with a backing fabric just like you would a regular quilt. Use basting pins to keep all the pieces in place while you sew.
The last step involves free-motion quilting around your design. As you sew, the layers beneath your needle depress, making the design puff up. This is because of the extra batting used. If done correctly, you'll be left with a quilt block that features a pretty "puffed" design.
How to Do Trapunto by Hand
Historically, the trapunto technique was done entirely by hand
You'll find a perfect tutorial on how to do trapunto quilting by hand from Noelle Pettit.
Here's what you'll need:
Lap frame
Sewing Awl
The fabric of your choice (I strongly recommend the shiny crepe back satin for a home decor project, it shows beautifully)
Polyester batting
Trapunto by hand uses the awl to punch holes in the backing fabric and stuff parts of the design with small pieces of batting. Afterward, you'll use the tip of the awl to smooth over the holes and push the fibers back into place.
Whichever technique you use to create your trapunto masterpiece, whether by machine-quilting, embroidery or by hand, you'll be truly amazed at how easy it is to make something so visually stunning.
What Is Shadow Trapunto?
Shadow trapunto uses the same process but on sheer fabric. This allows the backing fabric to show through as an element of the design. When creating shadow trapunto, use organza or batiste (like these: Crystal Organza and Cotton Voile) as your top choice of fabric and a bold, contrasting fabric on the bottom.
You will find a great tutorial on shadow trapunto and lots of stunning trapunto designs at this link https://www.getasquiltingstudio.com/2018/10/trapunto-shadow-trapunto-tutorial.html
Trapunto stitching is much more enjoyable when you have the right tools and supplies on hand. Learn how to trapunto quilt today.
Does your room have warm, brown/red colors? Wonder how this will look in pink? I can tell you already: MARVELLOUS! Here is the same article using a dark pink material from the same collection.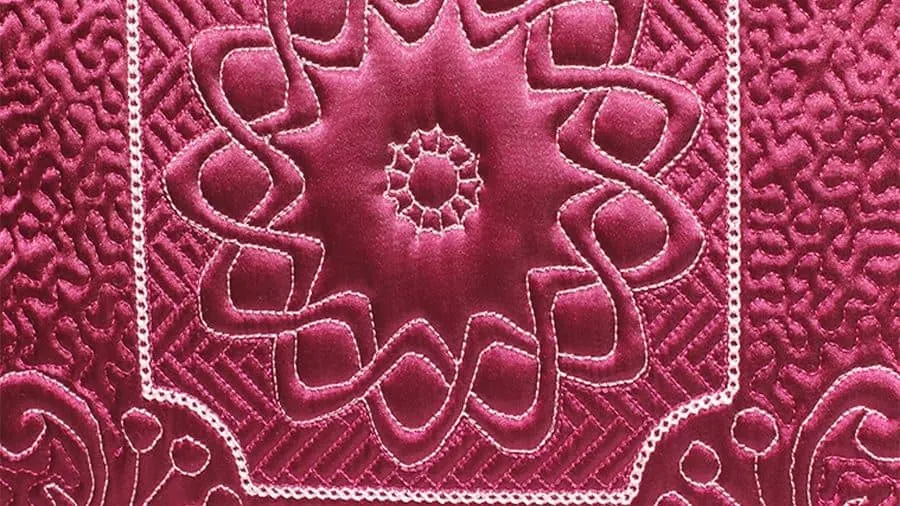 Did you find this tutorial helpful? If so, save this pin (see below) on your sewing board so you can come to this tutorial later when you need the information on Trapunto quilting and embroidery, and follow me on Pinterest for more tips, tutorials, and inspiration!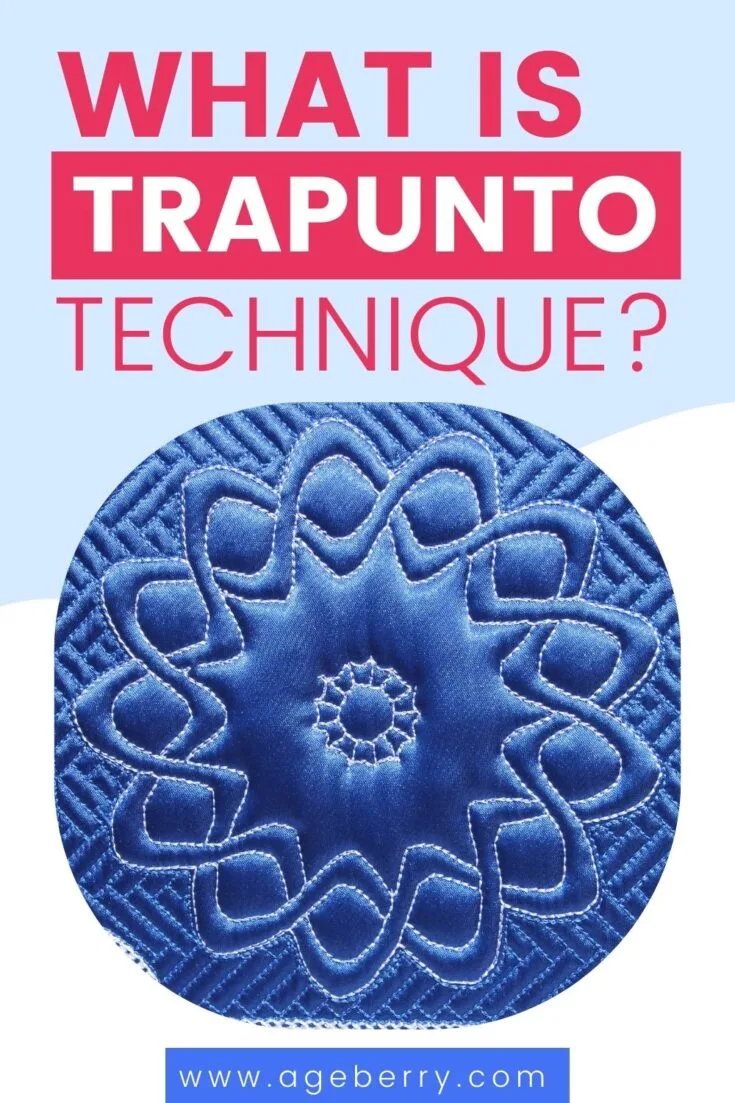 Ready to take the next step in your sewing journey? Check out more step-by-step tutorials from my blog and don't forget to share!
---