Machine embroidery video tutorial: exclusive Halloween decor project to inspire you
Note: Some of the links on this page are affiliate links. This means I will receive a commission if you order a product through one of my links. I only recommend products I believe in and use myself.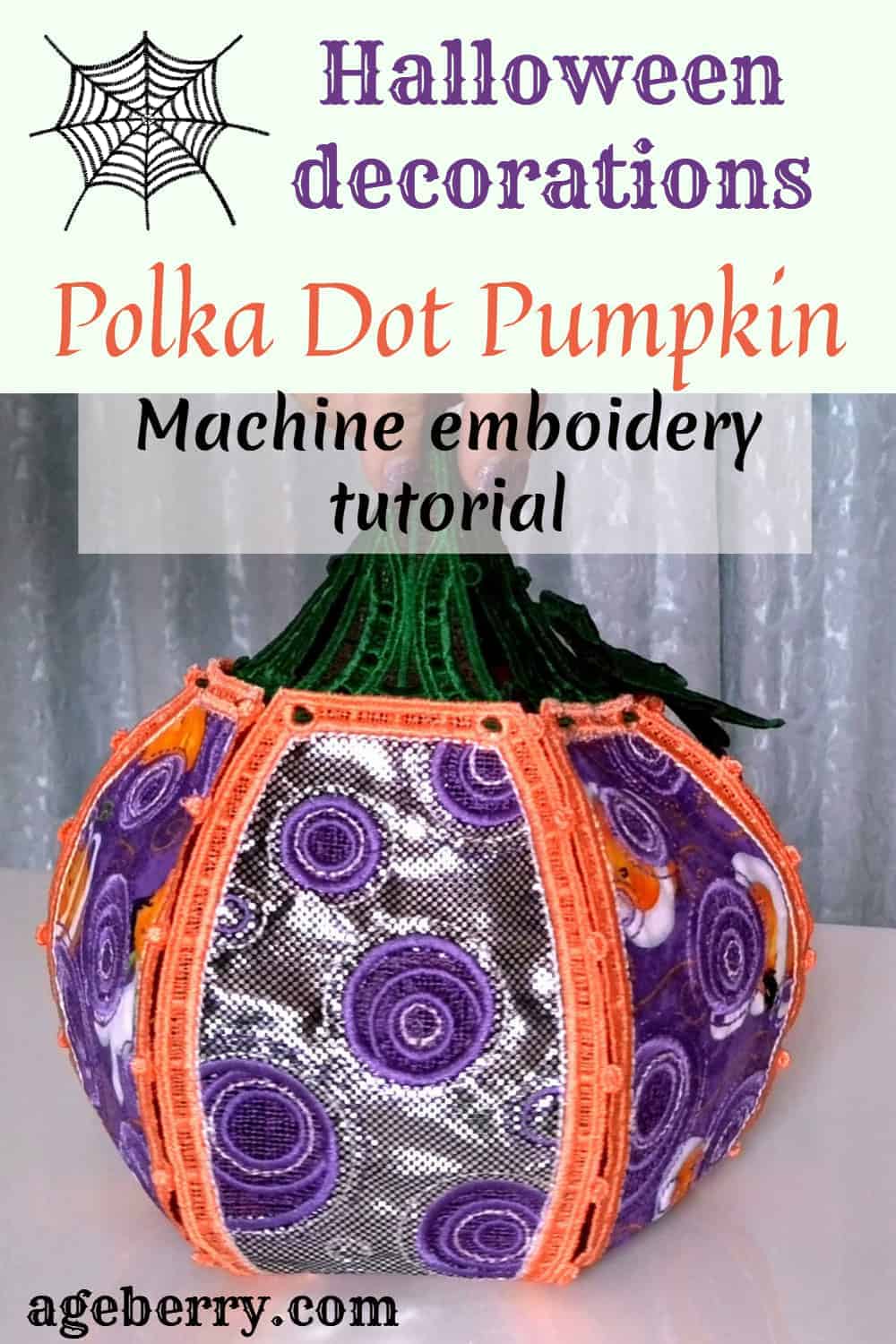 I went to a dollar store to buy a hand sanitizer and was really surprised to see how many Halloween decorations are there: they all look so nice from afar but as soon as I take something in my hand, I can see that they are all so cheaply made. I understand that they are mass produced fast and that's why they cost only a dollar each. 
But I would like something exclusive and really nice like these pumpkin candle holders or this Halloween wreath. 
Those are great but kind of expensive. But wait, I can do something like that myself!
So I went to my favorite embroidery site and look what I found there – OESD Freestanding Pumpkin Patch – a set of awesome embroidered pumpkins.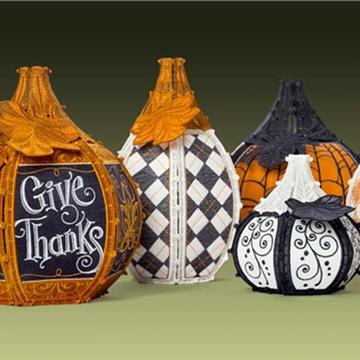 There are 6 different amazing designs!  The set costs only $29 and I can make as many pumpkin candle holders as I want. If you would like to buy this Pumpkin Set from OESD you can follow this link. 
Let me show you step-by-step how I made this pumpkin.
What you may need
Embroidery machine that has at least  6×10 inches embroidery hoop (or bigger). These design won't fit 4×4 or 5×7 hoops. 
Embroidery design files from OESD site (you have to buy them for $29) 
Fabric (2 different colors)
Threads (check below what threads I recommend)
Bobbins
Needle (check below what needles I use)
If you prefer to watch the tutorial GO TO MY YOUTUBE CHANNEL TO SEE THE VIDEO
Step 1.
Download the design files and unzip them
Here is the link if you want to buy the designs. 
You have to know what kind of embroidery files you can use with your machine. For example, for Janome it's JEF, for Brother/Babylock it's PES/PEC, for Husqvarna – HUS, etc. So choose accordingly. 
After downloading the file find the zipped folder on your computer and unzip all the content at once like this:  right click the folder, select Extract All, and then follow the instructions on the screen – usually it asks in what folder you want to extract the files. 
For this Pumpkin Set I got 29 PES embroidery files. But what to do with all those files now?
Step 2.
Prepare everything necessary for the project
Decide what kind of pumpkin you will make ( because there are 6 different pumpkins in the set!), what fabric you will use, what colors and types of thread you want, find water-soluble stabilizer and put a new needle into your embroidery machine. 
As for the needles, I like to use Schmetz Gold embroidery needles, for this project I used size 75/11, but size 80/12 is good also. 
These are the needles
50 Schmetz Gold Embroidery Sewing Machine Needles - size 75/11 - Box of 10 cards
7 new from $41.53
Free shipping
as of February 28, 2021 10:01 pm
Features
System 130/705 H-ET
Fits all "household" sewing machines - Baby Lock, Bernina, Brother, Elna, Janome, Kenmore, Necchi, Pfaff, Simplicity, Singer, Viking, White and many others
50 Schmetz Gold Embroidery needles - 10 cards of 5 needles each
Titanium Nitride coating, slightly rounded point and enlarged eye.
Coarse and densely woven materials. Slightly rounded point and enlarged eye are perfect for embroidery on most fabrics and with the most fragile specialty threads. Titanium coating resists adhesives, improves needle wear and penetration of coarse and densely woven fabrics.
Schmetz Gold Titanium Embroidery Needles Size 90/14
6 new from $7.95
Free shipping
as of February 28, 2021 10:01 pm
Features
Slightly rounded point for embroidery on most fabrics. Enlarged eye accommodates special application threads. Use this product to try these techniques on your project!
You will need to use the same thread in the bobbin as in the needle. That's a must for freestanding lace designs. I used polyester embroidery threads in my project. I like to use good quality threads that don't break easily. After lots of trial and error I finally found this type that I really like. 
My favorite embroidery threads
New brothread 64 Spools 1000M (1100Y) Polyester Embroidery Machine Thread Kit for Professional Embroiderer and Beginner
as of February 28, 2021 10:01 pm
Features
★ 61 BROTHER COLORS INCLUDING 2 SPOOLS WHITE+2 SPOOLS BLACK+2 SPOOLS RED - Considering the white, black and red colors are the most frequently used polyester embroidery machine thread for most embroidery projects, we specially add an additional WHITE, an additional BLACK and an additional RED in this thread kit for you to avoid purchasing white, black and red colors separately or purchasing a new thread kit very soon.
★ 1000M (1100Y) LARGE SPOOLS - Each spool of our polyester embroidery machine thread is 40W.T. and 1000M (1100Y) Length. A great valuable thread kit for professional embroidery lovers or beginners.
★ SPOOL WITH LOCKING BASE RESISTS THREAD TANGLING - Our new generation snapping spool has a locking base, which is specially designed for keeping your thread tails from unwinding. So, thread spools huggers or thread nets are no longer needed for holding your embroidery machine threads tails.
★ 100% POLYESTER MATERIAL - Color Fast, High Strength and Exceptional Lustre, all these Excellent Characters are based on the material of our embroidery machine thread: 100% Polyester!!!
★★ New Brothread 1000M (1100Y) Polyester Embroidery Machine Thread is perfectly compatible for Brother Babylock Janome Singer Pfaff Husqvarna Bernina Embroidery and Sewing Machines. New Brothread always think what you think, do what you do, love what you love. ▶▶【MAKE SURE BUYING FROM "New Brothread" (Sold by) for original WARRANTY!!!】
New brothread 40 Brother Colors Polyester Embroidery Machine Thread Kit 500M (550Y) Each Spool for Brother Babylock Janome Singer Pfaff Husqvarna Bernina Embroidery and Sewing Machines
as of February 28, 2021 10:01 pm
Features
★ 40 SPOOLS PER KIT + COLOR CHART - 40 spools great assorted bright and beautiful colors Polyester Embroidery Machine Thread to brighten and beautify all sort of your embroidery projects. Using Color Chart to find similar Brother Color No. and name, Conversion Chart of Madeira is also available.
★ PERFECT WEIGHT & LENGTH - Each spool has 40 WT and 500M(550Y) length, which makes these spools of Polyester Embroidery Machine Thread ideal for all sort of your embroidery projects.
★ EXCELLENT TENSILE STRENGTH - Lower risks of breaking or fraying, Elasticity and Tenacity of polyester also reduces risks of looping and puckering of Polyester Embroidery Machine Thread.
★ SUPER COLOR FASTNESS - Polyester Embroidery Machine Thread holds up colors even when subjected to commercial laundering, bleaching and other harsh chemicals, desirable features for workwears, uniforms and linens which are often subjected to commercial laundering.
★★ New Brothread Polyester Embroidery Machine Thread always think what you think, do what you do, love what you love. ▶【NOTE: This kit DOES NOT come with wood rack!!!】▶▶【MAKE SURE BUYING THROUGH "New Brothread" (Sold by) for original WARRANTY!!!】
There are very many stitches in the design. So wind the bobbins for the lace part of the design – I used 2 colors purple and orange, and I prepared lots of bobbins with the same threads. 
It's recommended to prewash the fabric in warm water and iron it because if you need to put the water-soluble stabilizer in warm water (for the lace) the fabric may shrink. But I skipped this step because on my stabilizer it's written that it dissolves in cold water. 
For the project I used water-soluble stabilizer.
Also, they recommended to use two layers of heavy weight stabilizer for the applique fabric because it gives the fabric more rigid structure.  Well, I didn't notice that advice and didn't use any stabilizer for the applique fabric. But the project still turned out good, it's not that rigid though.  So, I am going to do it next time I make the pumpkin. 
But now I am thinking that it would be pretty hard to cut inside circles of the applique fabric with two layers of heavy weight stabilizer. Also, the more rigid fabric would not let the light to go through. 
Buy embroidery stabilizer here
Step 3.
Hooping
I decided to use the biggest hoop of my embroidery machine so I could make three pumpkin sides in one hooping. 
I used 2 types of water-soluble stabilizer in my hoop – on the bottom it was just a mesh water-soluble stabilizer and on the top –  film water-soluble stabilizer. The stabilizer should be hooped very tightly.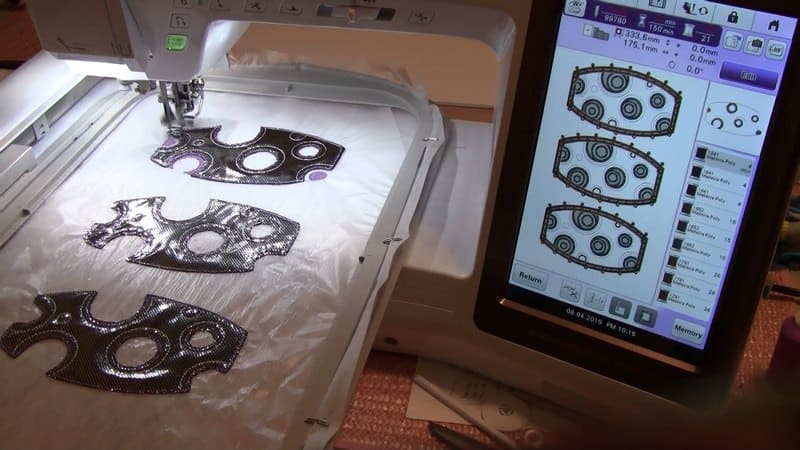 Step 4.
Preparing the machine for embroidery
My embroidery machine is a powerful computer. And it can do magic. Let me show you. 
On my embroidery machine I could easily combine all the same thread colors for my 3 designs. This saves lots of time! Instead of embroidering each design separately the machine goes by colors and embroiders all 3 designs at once with the same color. 
Step 5.
Embroidery 
Embroidery starts with the placement stitches for the applique fabric. The placement stitches should be done right on the water-soluble stabilizer.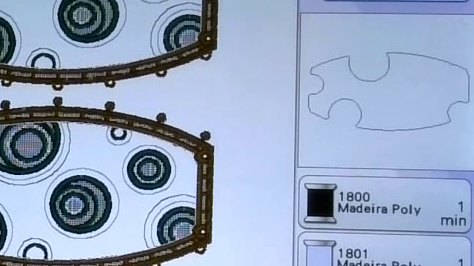 After that I put my applique fabric over placement stitches and made Cut Line stitches. Usually I  hold the fabric in place so it doesn't pucker or bunch up on me.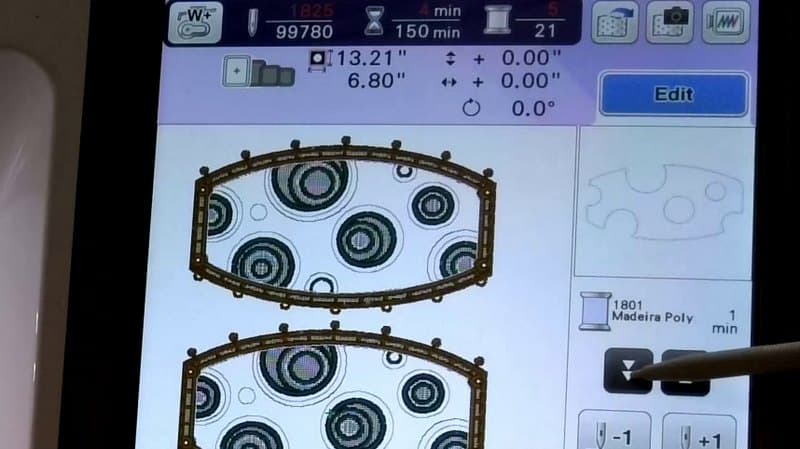 Next I removed the hoop from the machine and cut away the excess applique fabric. For this step I like to use my duckbill scissors – with them I can cut very close to the stitches without worrying that I will cut the fabric or the thread. 
After that I put the hoop back and the machine stitched the remainder of the design for all three pieces. The number of stitches was quite big so it took quite a while to finish the design. I needed to change the thread sometimes and also changed a few bobbins. But with my machine it was easy – it tells me when the bobbin is empty! I don't need to babysit the machine while it's embroidering. 
I did the same with my other fabric – I used cotton (Halloween print) fabric for other 3 pumpkin sides.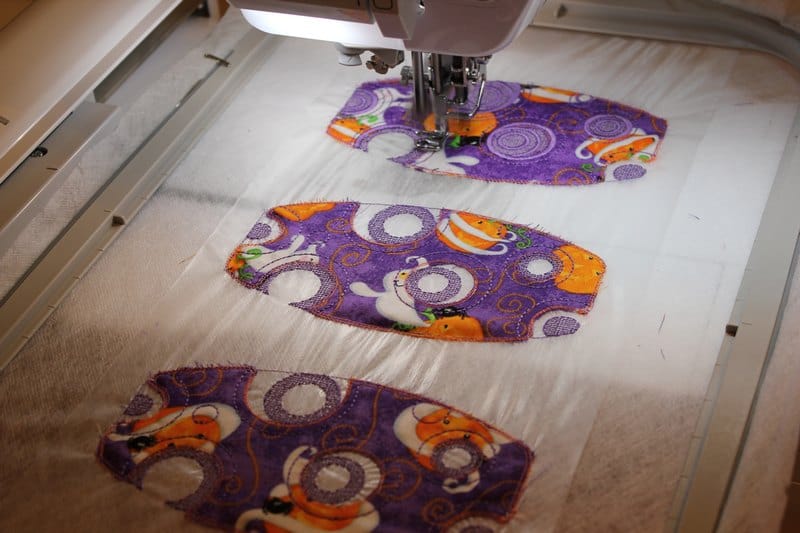 The design set for this pumpkin had also other parts I had to stitch: pumpkin stems (6 of them), pumpkin leaf, base and vine. I did most of them in one hooping. Pumpkin base is also the applique design and stem, leaf and vine are just freestanding lace designs. 
I need to mention here that all designs were digitized very well and I didn't notice any one small mistake.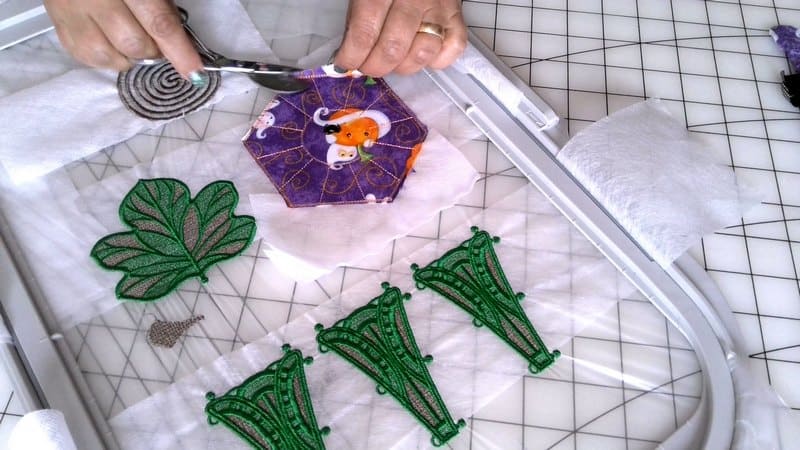 Step 5.
Rinsing the water-soluble stabilizer
The next step after all embroidery is done is washing away the water-soluble stabilizer. I trimmed excess stabilizer from all the pieces and placed everything in cold water. When the stabilizer got dissolved (in about 5 minutes) I took out all the pieces and put them on the flat board to dry. Everything looked a little curved so I had to flatten the pieces out. I covered this board with another one and placed heavy books on it. And they stayed like this for a few hours. After that I uncovered them but they were still damp so I left them as they were for the whole night to allow them to dry completely. 
When I took the pieces out of the water I noticed that the threads changed their colors – they became much darker. But as soon as the pieces got dry the colors became lighter again. 
I didn't rinse away all the stabilizer from my embroidered pieces on purpose because I wanted my pumpkin to be stiff and firm enough. 
Step 6
Connecting  
The last step in this pumpkin making process is connecting all the pieces together so they form the pumpkin. OESD company came with innovative process of connecting pieces together. I made freestanding lace before – for example, check my other tutorial on making a lace hat. Before I was sewing the pieces together and it was not really easy when the lace is stiff and hard to sew through. But now with this pumpkin I connected the pieces pretty fast and easy. Look – one side of the design has "eyelets" and the other side has "buttonettes". I never heard this word "buttonette" before but it's a nice word!
But I had to buy a special tool to connect eyelets with buttonettes called "alligator clamps". This is the tool.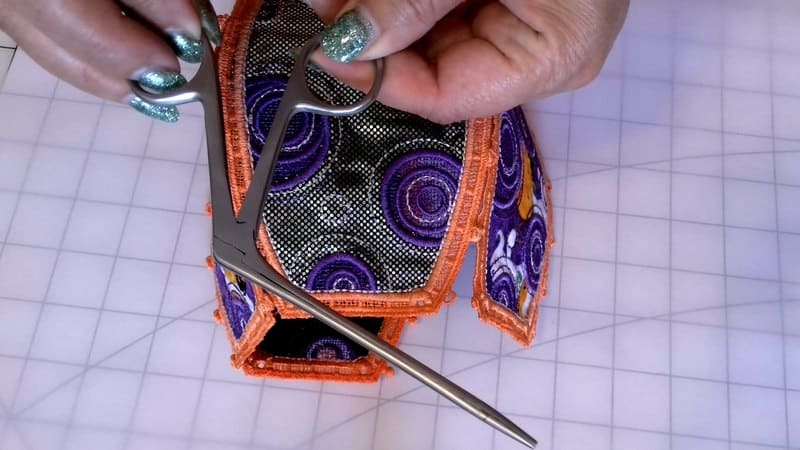 So I had to insert the tip of the toll into the eyelet, grip the buttonette and pull it through the eyelet.
In the PDF file that's coming with the designs you can find detailed instructions on how to "build the pumpkin" and in what order to connect the pieces. 
This is my pumpkin. I think it looks great and the pumpkin is actually a candle holder so I put a candle in it. And I can do the same design over and over again with different fabrics and different color threads for a new look every time.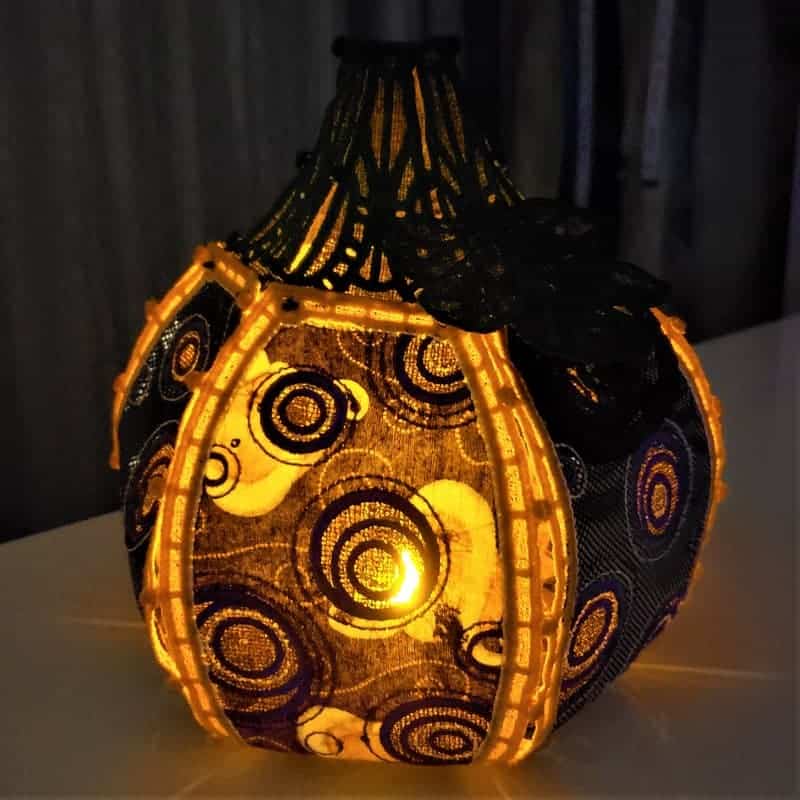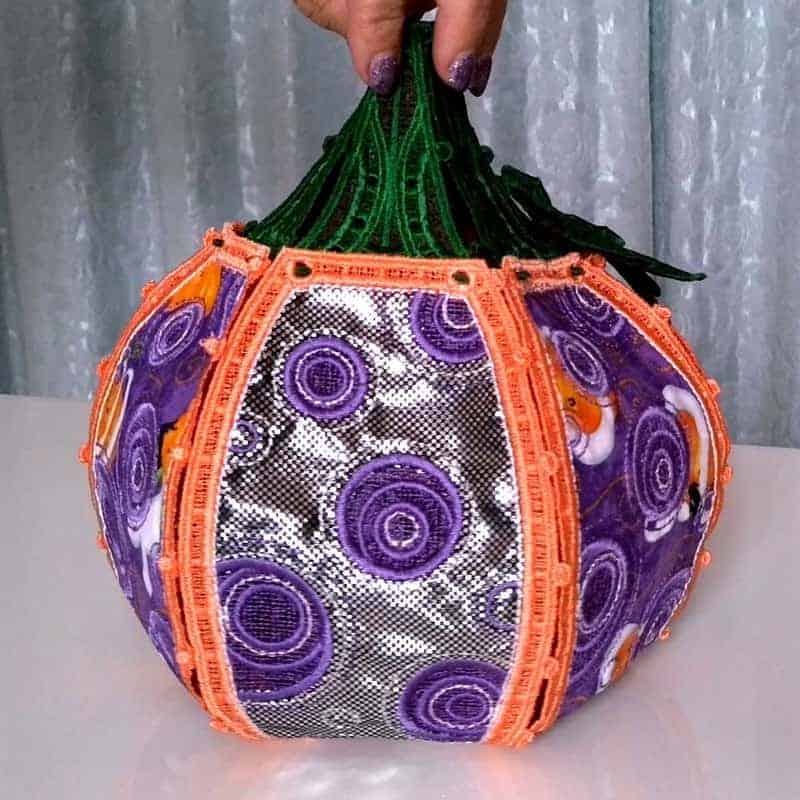 Did you find this tutorial helpful? If so, save this pin (see below) on your sewing board so you can come to this tutorial later when you are ready to make the pumpkin and follow me on Pinterest for more tips, tutorials, and inspiration!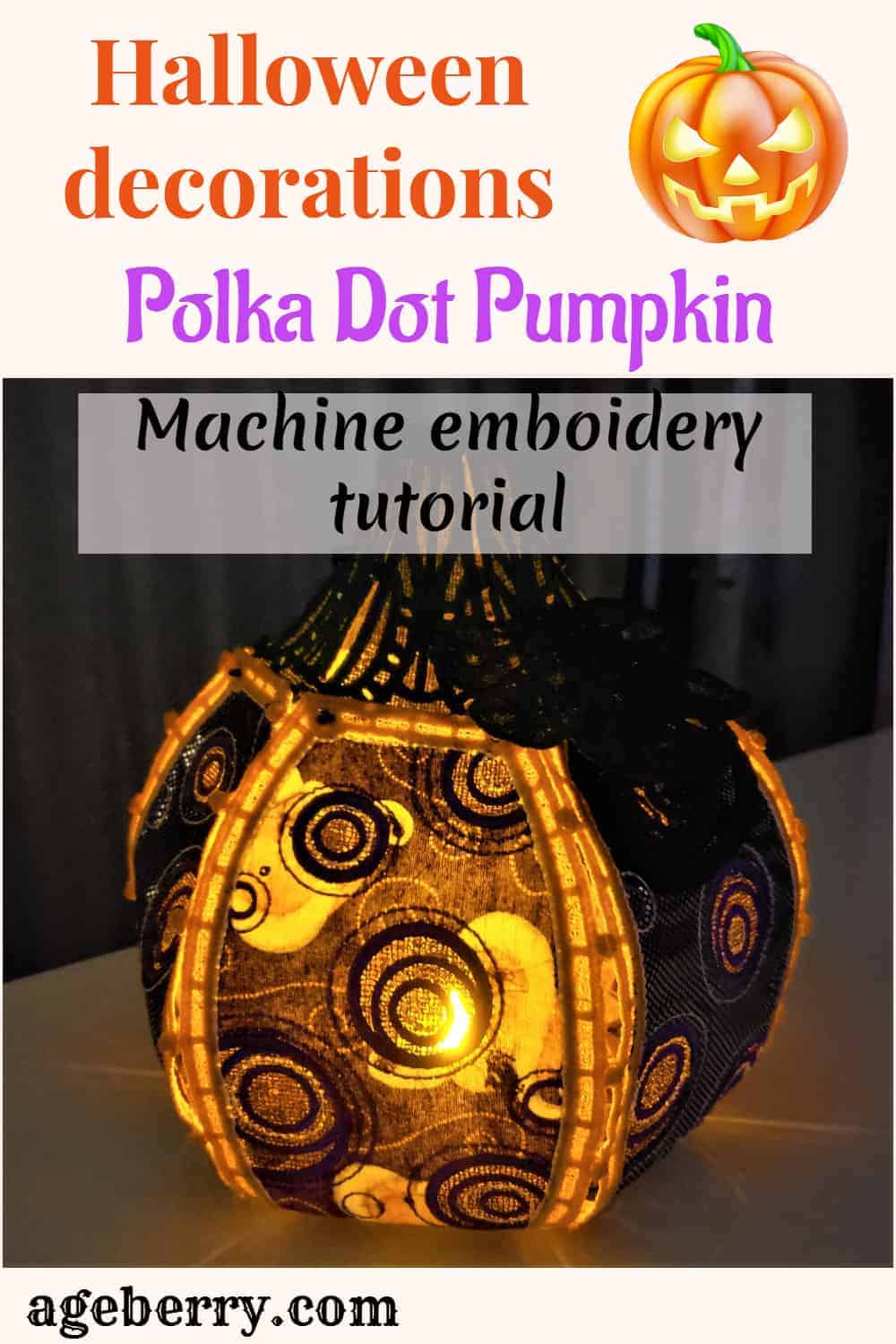 Ready to take the next step in your sewing journey? Check out more step-by-step tutorials from my blog and don't forget to share on Facebook or Twitter!