Your grandmother's sewing machine probably only had a handful of stitches that it could perform. However, modern sewing machines are something totally different. If you have recently purchased a new sewing machine, you may be in awe of how many stitches you can create with it. Zigzag, shell tucks, feather stitches, and scallop stitches are just a few of the wonderful ways you can sew with your machine. If you are new to sewing, read on to learn about the many types of stitches that you can create with your sewing machine.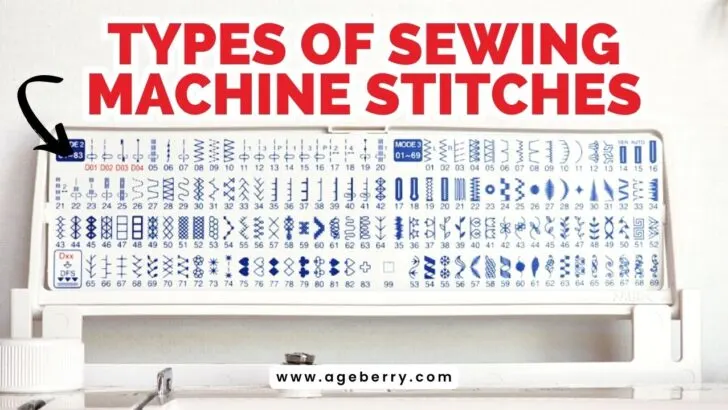 Straight Stitch
The straight stitch was for a long time the only stitch available for home sewing machines. Even today this is the stitch that you are going to use more than any other. In fact, with nothing more than the straight stitch, you can create plenty of objects and clothing items. You can alter the length of the straight stitch to create longer and shorter stitches. This stitch looks like a simple line of plain old stitching.
The most common way to use straight stitching is to join two pieces of fabric but it is not the only one. So you can use it for plain seams, but also for topstitching, darts and tucks. You can sew a straight stitch with a long stitch length to create gathers or ruffles. You can use a straight stitch to create decoration on an item by following pre-marked designs on a piece of fabric. While the straight stitch is simple and basic, you can do a million different things with it. There are so many variations on the classic straight stitch, that it needs its own article, which you can find here: Types of Sewing Machine Stitches: Unraveling the Mysteries of the Straight Stitch.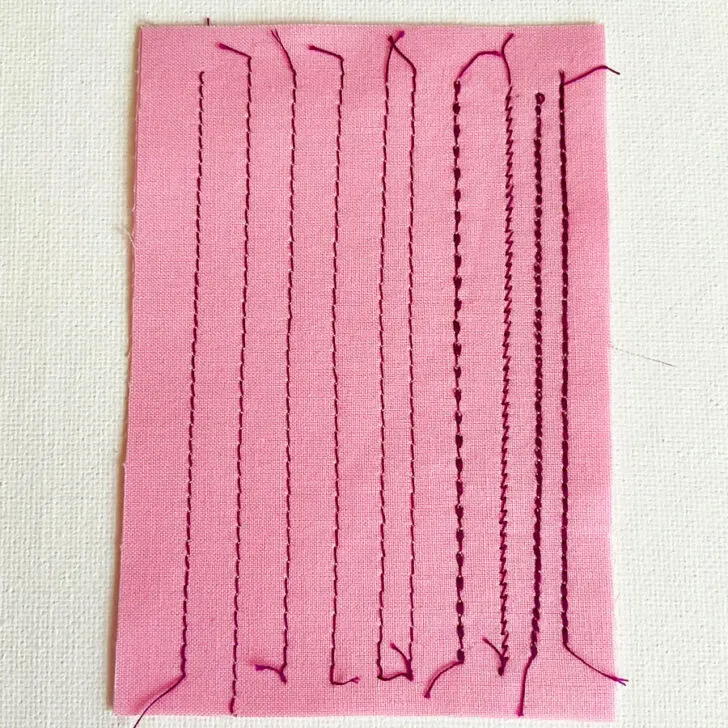 ✅ Related tutorial: How To Topstitch | 17 Topstitching Tips Every Beginner Should Know
A basting stitch is a special kind of straight stitch that some machines have installed on them. This sews a long, loose straight stitch in garment pieces so you can try on your outfit before you do the final stitching. If the fitting isn't exactly right, you can easily alter the garment without picking apart hundreds of tight stitches. Once you have the perfect fit, you will stitch the garment with traditional straight stitches.
However, sewing a straight stitch straight is not something that you should take for granted. Especially longer stitches pose significant problems. I am dealing with the issues of sewing straight in my articles How to sew straight – top sewing tips to help you stitch like a pro and Seam Guide Tutorial: how to sew a straight line and keep seam allowances equal.
Zigzag Stitches
While in 1873, Helen Blanchard invented the zigzag sewing machine stitch, it didn't come to the consumer market until 1932. However, even now, the zigzag stitch is incredibly useful and versatile for the modern sewist.
The zigzag stitch is exactly what it sounds like. It is a sewing machine stitch that is a zig-zag pattern, moving back and forth, making a series of Z's on the fabric. Unlike the straight stitch where you can only select the length of the stitch, for the zigzag you can also select the width of the zigzag.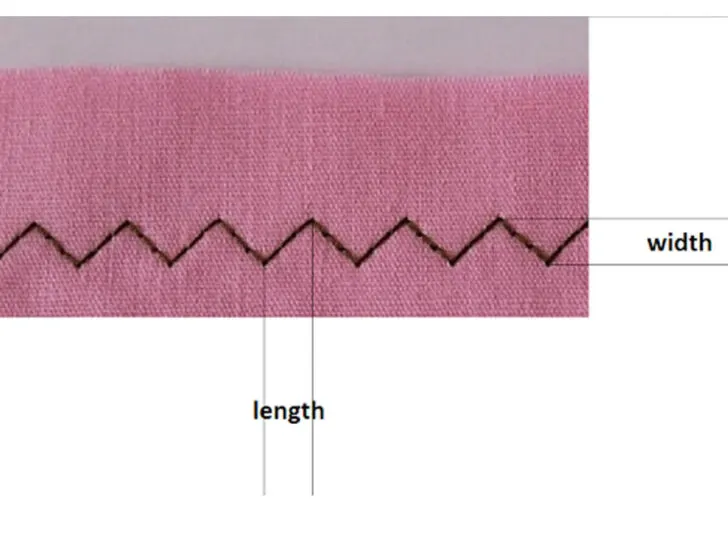 Sewists use the zigzag stitch for many different things. It is perfect for finishing raw fabric edges, since you can zigzag right along the edge of the fabric and tidily seal up loose threads. To use a zigzag for seam finishing, choose a medium width to keep the fabric lying smoothly.
People also use the zigzag stitch to attach applique pieces to a piece of fabric. This is especially popular in quilting circles. You can use fusible webbing to stick the pieces of fabric together and finish the edges of the applique pieces with a zigzag stitch. You should experiment with the stitch width and length to find the one that looks best with your pieces.
Zigzag stitches are very versatile. While there are many types of zigzag stitches, the most commonly used ones are the regular zigzag stitch and the three-step zigzag stitch.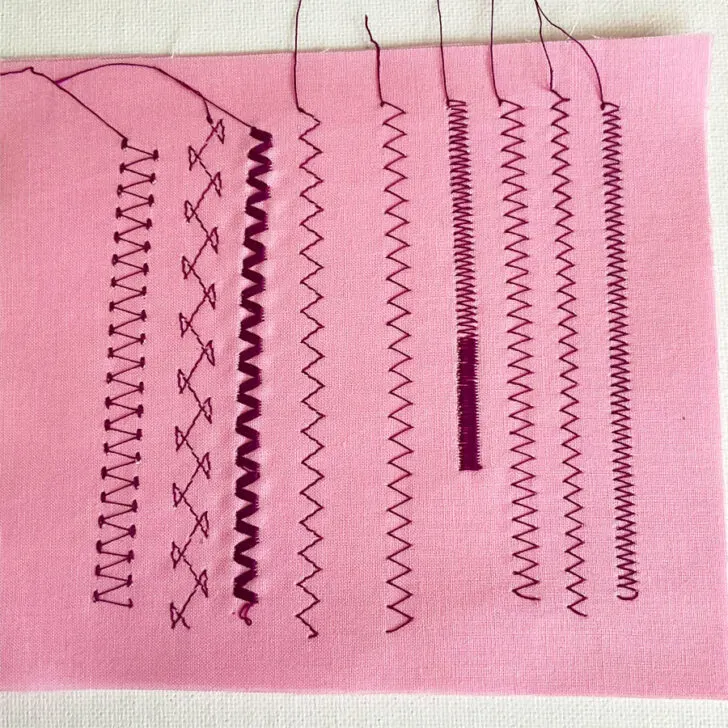 Even a buttonhole stitch is a type of zigzag stitch. I published a tutorial on how to make buttonholes using a zigzag stitch (without a buttonhole foot).
You can also use the zigzag function on your machine to sew buttons on your garments.
Zigzag stitches can be used to create unique fringe stitches but you will need a special fringe foot for that.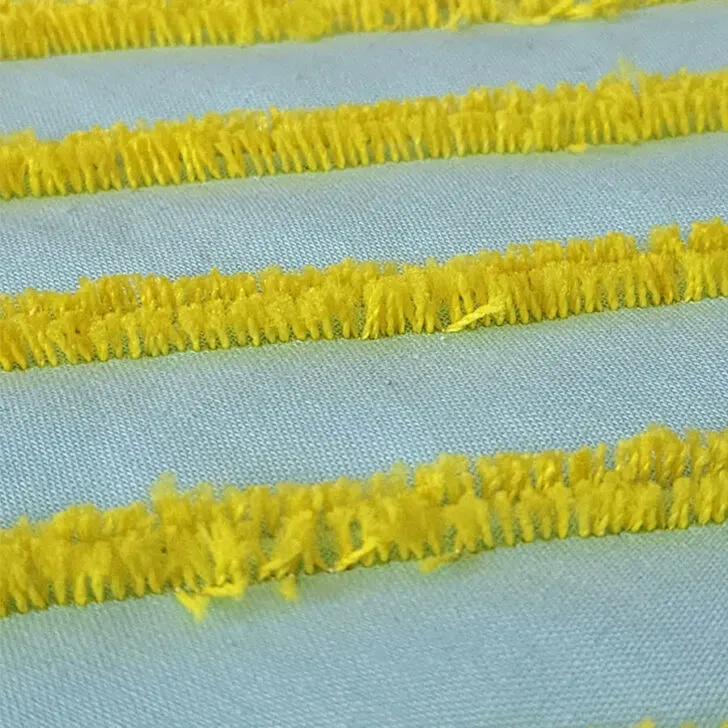 ✅ Related tutorial: Fringe Foot Fun: Adding Textured Accents to Your Sewing Projects
If you do not have special stretch stitches on your sewing machine, the zigzag can be also used to sew knit fabrics.
✅ Related tutorial: Types Of Stretch Stitches On A Sewing Machine And When To Use Them
Remember to use the correct presser foot for the zigzag stitch and to adjust the stitch length and width as needed.
Utility Stitches
Utility stitches are those that have specific functions for particular sewing projects. Your machine may not have all of these, but most machines have at least a few of them.
Overcasting Stitches
Many sewists have sergers, special sewing machines that professionally and securely finish the edge of the fabric as the seam is sewn. However, you can get a similar finish by using an overcast stitch on a regular sewing machine.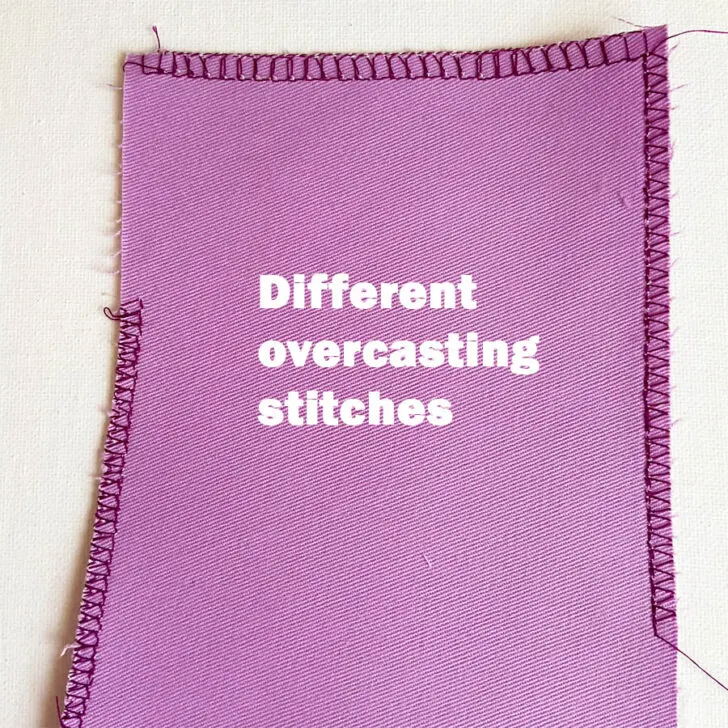 Note: Some of the links on this page are affiliate links. This means I will receive a commission if you order a product through one of my links. I only recommend products I believe in and use myself.
Overcast stitches prevent the fabric from unraveling, keeping the inside of the garment just as tidy and attractive as the outside of the garment. If your sewing machine has an overcast stitch, it may also have come with an overcast sewing machine foot. This kind of presser foot holds the fabric flat, preventing it from curling up as you overcast along the edge of the fabric.
If you do not have an overcast foot for your sewing machine, you can easily buy one that fits your machine online. They are relatively inexpensive sewing machine accessories. Check out current offers on Amazon.
If you want a detailed discussion of how you can finish the edges of your fabrics with an overcast stitch, you can check out my article How to use overcast presser feet for sewing overcasting stitches.
Blind Hem Stitches
Maybe you thought that the only way to have an invisible, perfectly hemmed garment is to pull out the hand needle, thread it, and get to work, stitching by hand the way that your grandmother did. If you think that, you'd be happily wrong once you learned how to use a blind hem stitch on your sewing machine!
A blind hem is an invisible hem. To make a blind hem with your sewing machine, you will need a special presser foot like this one on Amazon. This kind of hem is good for straight or slightly curved hems, but it will not work well on clothing that is flared or circular. Using a blind hem stitch can be a bit tricky, so you probably should check out my article Blind hem foot: How to sew an invisible hem with a sewing machine and practice on a scrap piece of fabric before you get started with your garment.
The most common stitch used for blind hemming looks like three straight stitches followed by one zigzag.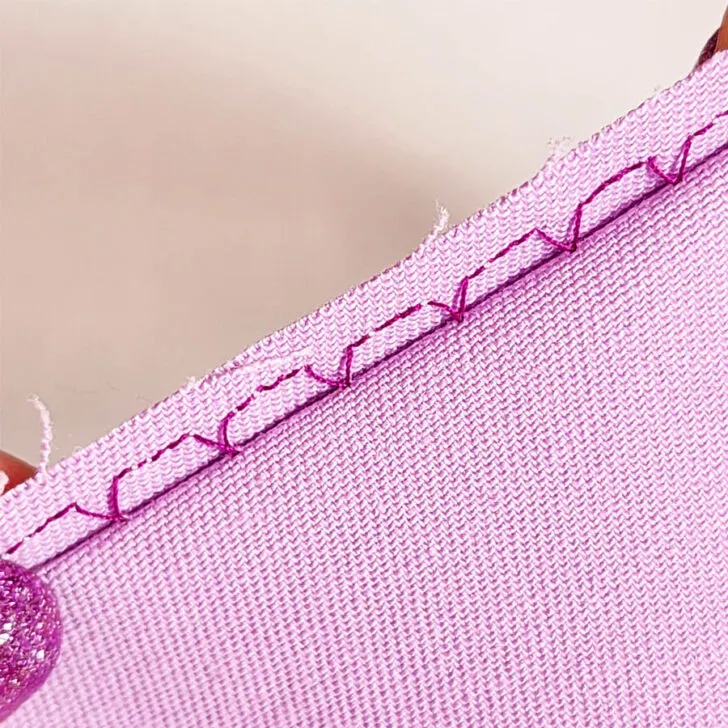 If you sew it correctly you will see small stitches on the right side of the fabric that are barely visible especially if you use an invisible thread or if the thread matches the color of your fabric.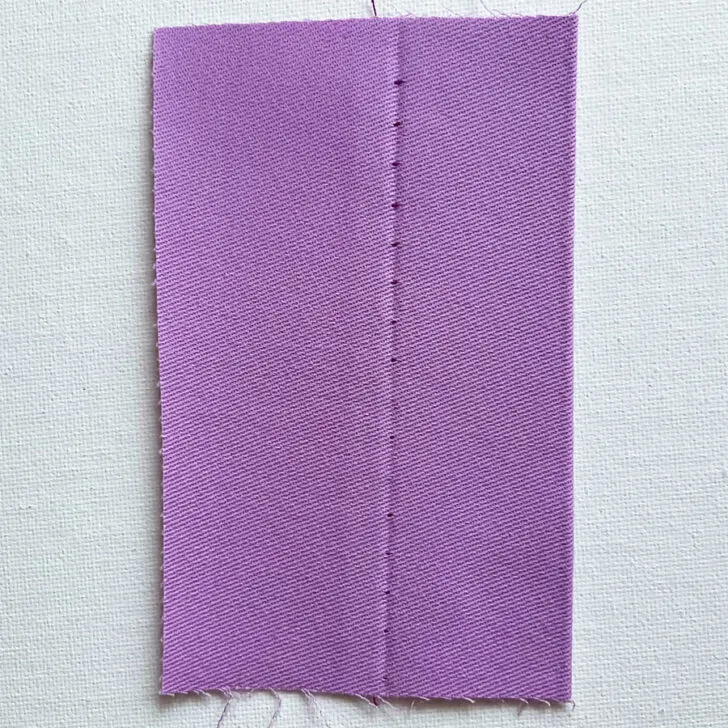 But if the fabric is thick enough, the small stitches may not be visible at all, creating an even more seamless look.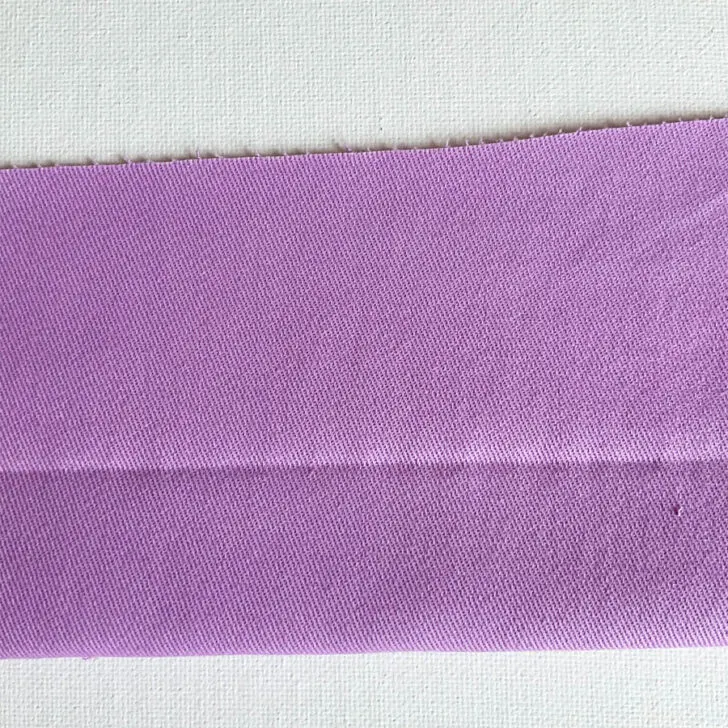 Buttonhole Stitches
Many people start sewing and dread the day that the first buttonhole shows up in a clothing pattern. And, seriously, buttonholes do look intimidating. However, as we all know, looks can be deceiving! When you have a buttonhole stitch on your machine, buttonholes can go from scary to no big deal.
Many machines use a buttonhole attachment or foot to create the buttonhole. One cool thing about these attachments is that many times, the machine automatically adjusts the size of the buttonhole to match the button. Typically, the buttonhole is sewed with tight zigzag stitching on the sides of the buttonhole with bar tacks on the top and bottom of it. If you do not have a buttonhole foot for your machine, here is a convenient link to check the availability on Amazon.
This is an image of a buttonhole foot working on a sewing machine. Note that the button is installed in the foot and gives the size of the buttonhole. I am describing this process in my article Buttonhole Presser Foot 101: What It Is And How To Use.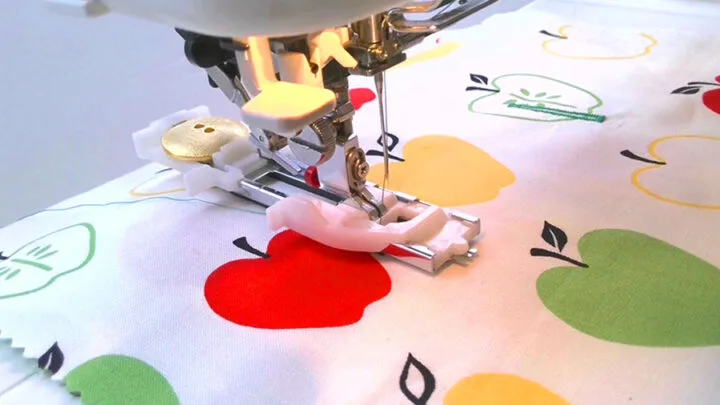 The typical buttonhole is a rectangular one. It's the one that we're most familiar with and it's best for items made of medium to heavy fabric. However, there are a few other types of buttonholes. For lighter weight fabrics, a rounded buttonhole, with one or both ends rounded might be more appropriate. The keyhole buttonhole is for heavy items like coats and jackets. Finally, the stretch buttonhole has looser zigzag stitching and allows for some stretch in the buttonhole without breaking the stitches. The image below shows the various types of buttonhole stitches that one of my sewing machines can make.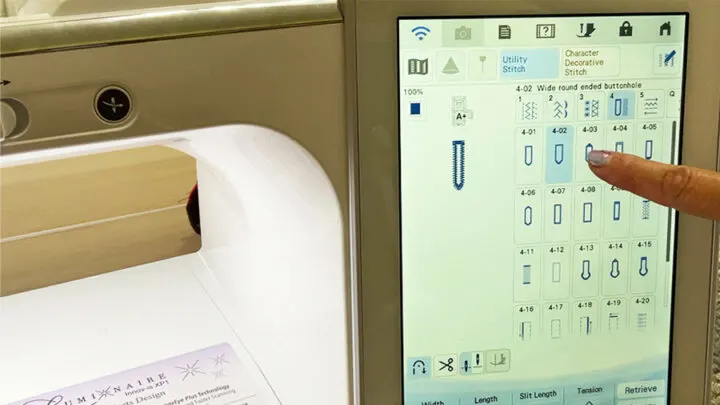 Hemstitches
Some sewing machines come with special stitches that resemble old-fashioned heirloom sewing. You can get a similar effect on your garments and other projects without spending hours bent over an embroidery hoop.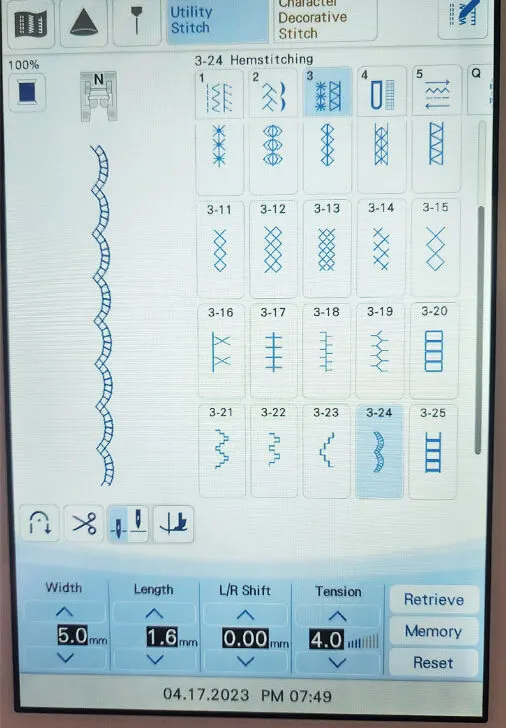 For these projects you are going to want a wing needle like these ones on Amazon. This needle is inexpensive and easy to find, and it makes the most lovely effects in your sewing as the "wings" on the needle punch large holes in the fabric.
Another thing you will want to do is to thread your machine with a smooth-feeding thread. These hemstitches are embellishment stitches and if you are going to go through all of the trouble of using them, you definitely want your work to shine. Iron a bit of stabilizer onto the back of your fabric. You want a stabilizer that can be removed later, like the kind that dissolves in water or tear away stabilizer.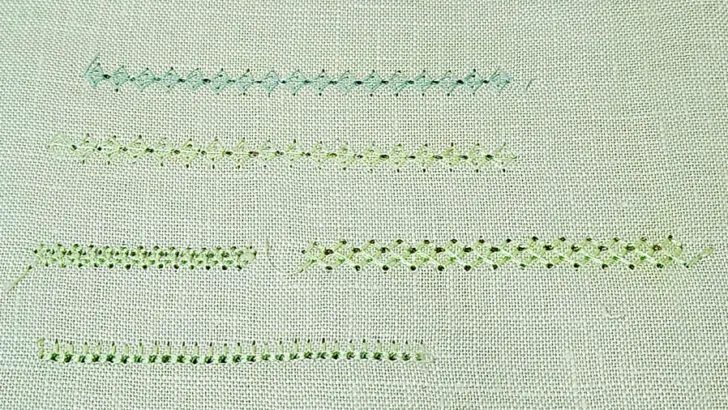 Before you begin sewing on your garment, create some practice stitches in scrap fabric. This is where you will want to play with the stitch length and width until you get it all just right. To stitch with hemstitches, you will need to stitch at a slow, steady pace. Once you've figured out exactly how to do it, you can proceed to your finished product to make a few rows of decorative stitches. I have a tutorial that goes into more detail about using hemstitches here: How to Use a Wing Needle for Hemstitching.
Applique Stitches
Do you like the look of applique? If so and your machine has an applique stitch (also called a blanket stitch), you can use the machine to create lovely appliques. The blanket stitch, often used for applique, has a straight stitch along the outside edge of the fabric piece, and a perpendicular stitch that extends into the applique.
This stitch works best with applique pieces that are fused in place on the base fabric with iron on fusing. You may want to create a sample stitching before you turn to your finished project. On this sample, you can tinker with the stitch settings like length and width until you figure out exactly how you want your stitching to look. Then, once you're ready to get started on your project, just use a slow, steady pace for even stitching that outlines your appliques in an attractive way. You can match the thread to your project, or use a contrasting thread.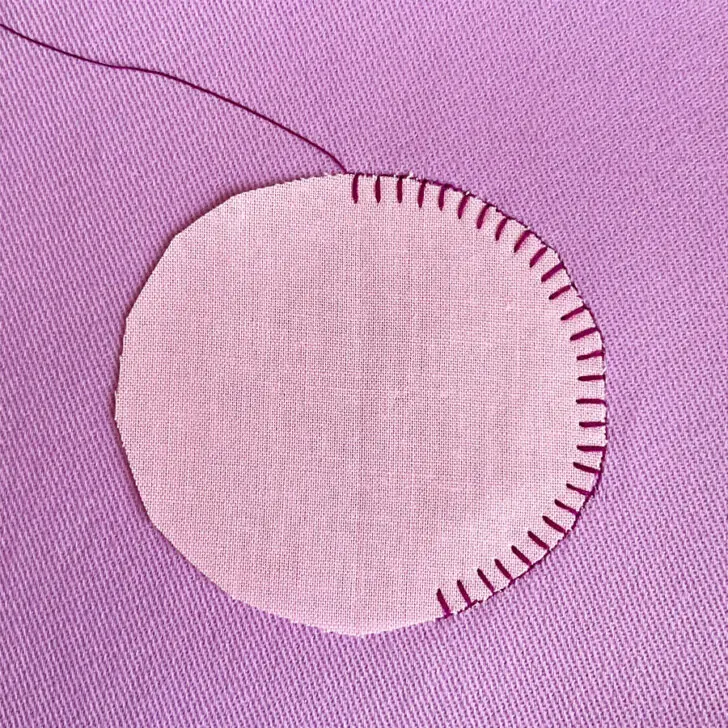 Darning Stitches
While the world of "fast fashion" tosses away garments that are ripped, most sewists don't like to live like that. And with a darning stitch on your sewing machine, you can economically repair a garment instead of having to throw it away and purchase something new. When you know how to darn, not only will that be good for your bank account, it also keeps discarded clothing from filling up landfills way too fast! Additionally, you might find an item at a thrift store that is perfect, except for a tear. Darning can breathe new life into garments like these!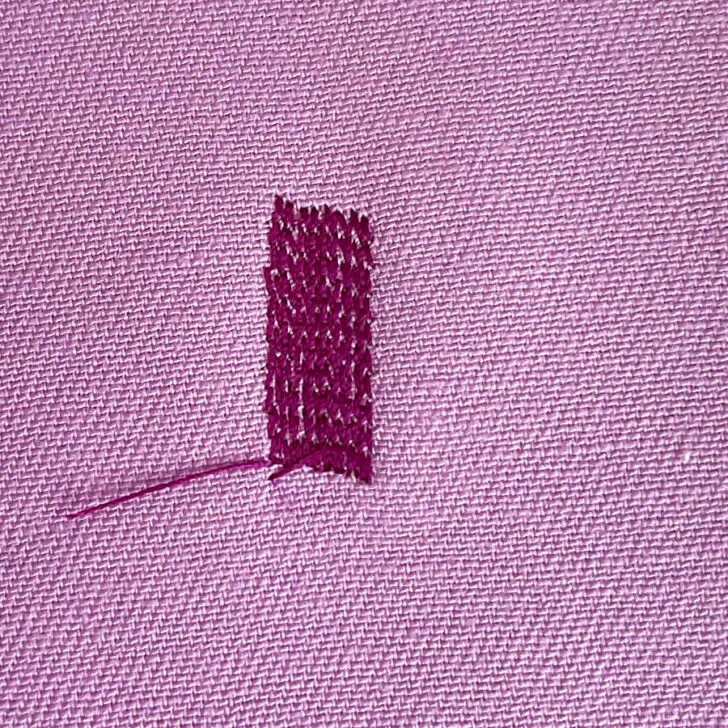 You will simply attach iron on interfacing to the back of the garment. Then, using a thread that matches the color and weight of your garment, you will use the darning stitch on your sewing machine. This stitch will fill the ripped area with tight stitches. For more details on this useful stitch, you can check out my article Darning With A Sewing Machine: How To Easily Repair Holes In Your Clothes.
Bar Tack Stitches
If you didn't know your machine had the bar tack stitch, you may have been missing out on a valuable stitch for your sewing projects.
This stitch is created by sewing a series of closely spaced stitches in a vertical direction, forming a bar-like shape.
A bar tack stitch is very useful as it reinforces certain areas of a garment that are subject to stress or wear. For instance, the pockets on a pair of jeans may need extra reinforcement, so a bar tack can be sewn into place to help these high stress areas hold up better. I also use it for belt loops.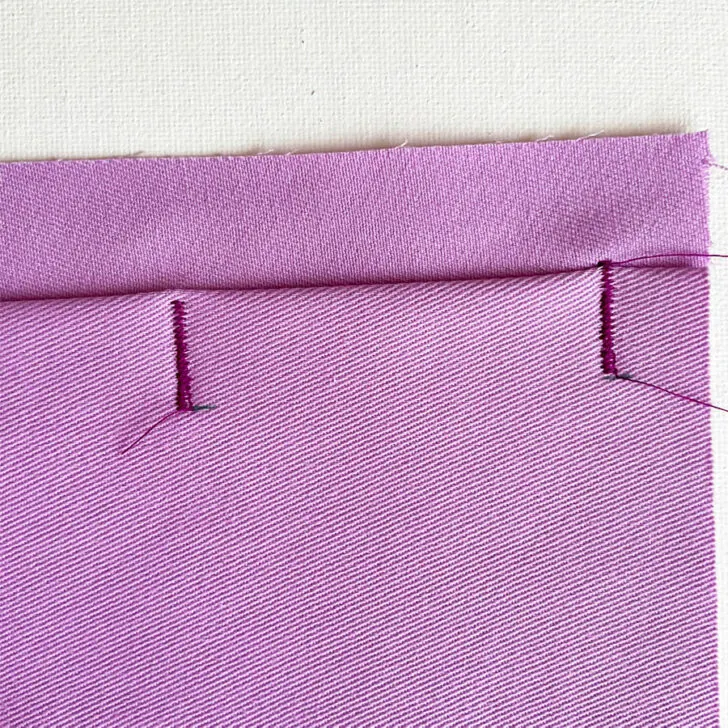 Decorative Stitches
Modern computerized sewing machines come with a plethora of decorative stitches. Personally, I have used decorative stitches on many occasions, but I must admit that I don't use them as much as I should. And most people tend to use only a few of them. Let me share my thoughts on why this is happening.
I think, many people may not know how to use decorative stitches on their sewing machines. They may not be familiar with the stitch menu or how to adjust the stitch length and width and as a result, people may stick to the basic stitches they are familiar with.
Some people may not see the value in using decorative stitches. They may view them as unnecessary or frivolous and prefer to stick to the basic stitches that they know will get the job done.
Also, using decorative stitches can be time-consuming. Depending on the stitch, it may take longer to sew a project using a decorative stitch than it would using a basic stitch. This can be a deterrent for people who are short on time or who want to complete their projects quickly.
Finally, some people may not have access to a sewing machine with decorative stitches. Not all sewing machines come with decorative stitches, and some people may not have the financial means to purchase a new machine with this feature.
However, I think that we should all make an effort to explore the decorative stitches on our machines and experiment with them. Who knows, we may just discover a new favorite stitch that we never knew we needed.
Decorative stitches can be used in a variety of ways: adding a decorative edge to a hem, creating a decorative border on a quilt, or adding texture to a fabric, etc.
Decorative stitches can also be used to cover up mistakes or imperfections in your sewing. For example, if you accidentally cut a hole in your fabric, you can use a decorative stitch to cover it up and add a decorative accent to your project at the same time.
Using decorative stitches on modern sewing machines is relatively easy – select the stitch you want to use from the machine's stitch menu and adjust the stitch length and width to suit your project. You can use embroidery threads on your sewing machine when you use decorative stitches.
Let me present some of my favorite decorative stitches (well, it is not possible to showcase all of them). Some of them have specific names, such as the herringbone stitch, shell tack, scallop stitch, etc. These stitches are often recognizable and have distinct characteristics that make them stand out.
Herringbone Stitch
The Herringbone stitch is often used in embroidery and sewing to create a border or embellishment on a fabric. It is characterized by its distinctive V-shaped pattern, which resembles the bones of a herring fish.
Herringbone stitch is similar to cross stitching, but the crosses are offset a bit. The whole stitch is kind of a wonky looking zigzag. The stitch can be worked in a straight line or in a curved pattern, depending on the desired effect.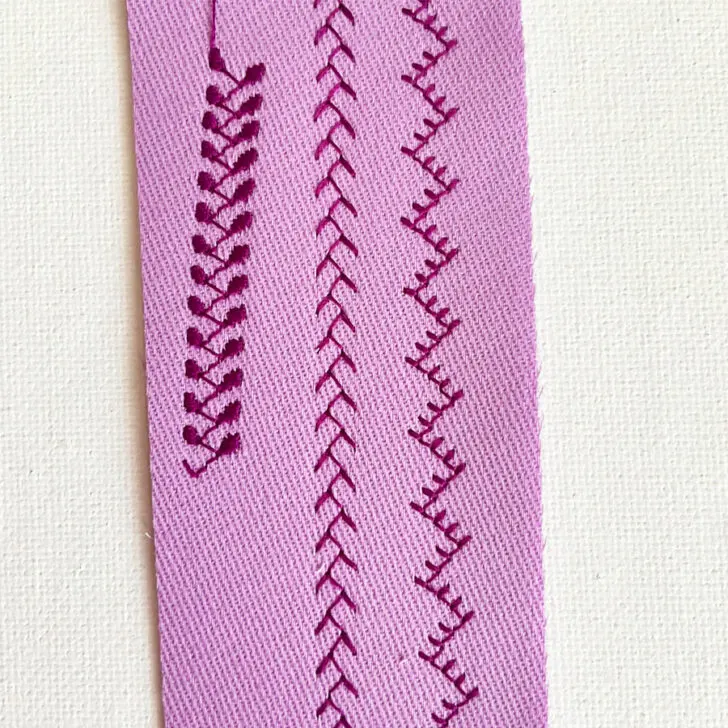 Cross Stitch
Cross stitches are often made by hand, but some sewing machines have cross stitching. Cross stitching is basically a row of X's done in pretty patterns and designs.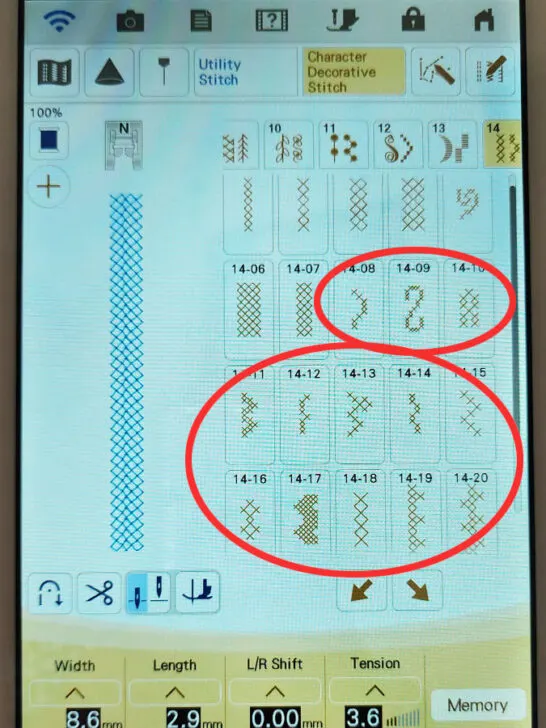 Scallop Stitch
This wave-shaped stitch creates rows of gorgeous scallops. This stitch is particularly effective when used on the edge of fabric. You can use the same color thread for scallops or make the stitching pop with contrasting thread. I often see people use this stitch to decorate also the edges of blouse collars.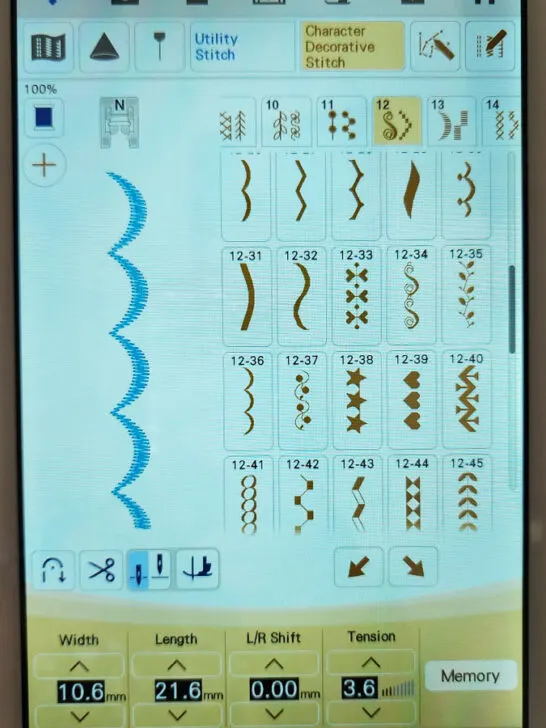 Shell Tuck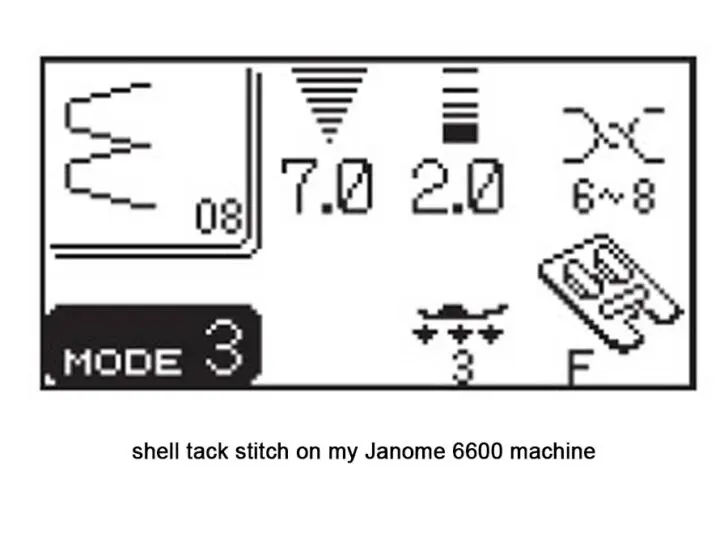 The shell tuck stitch is similar to a scallop stitch in that it makes a pretty scalloped edging. However, in the shell tuck stitch, a small ridge of fabric is tucked up, making it a three dimensional scallop that looks like a shell. I like to use this stitch for hemming knits – looks very pretty.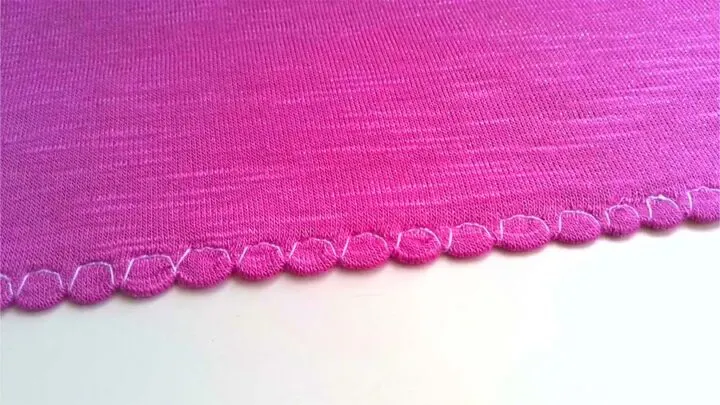 ✅ Related tutorial: How To Hem Knit Fabric
Honeycomb Stitch
The honeycomb stitch is created by sewing a series of closely spaced lines of stitching in a zigzag pattern. The result is a textured, honeycomb-like pattern that can be used for a variety of purposes – for example, for elastic insertion, smocking, and as a decorative stitch on its own.
This stitch can be used to add interesting texture to a sewing project, like the yoke of a blouse or the hem of a skirt.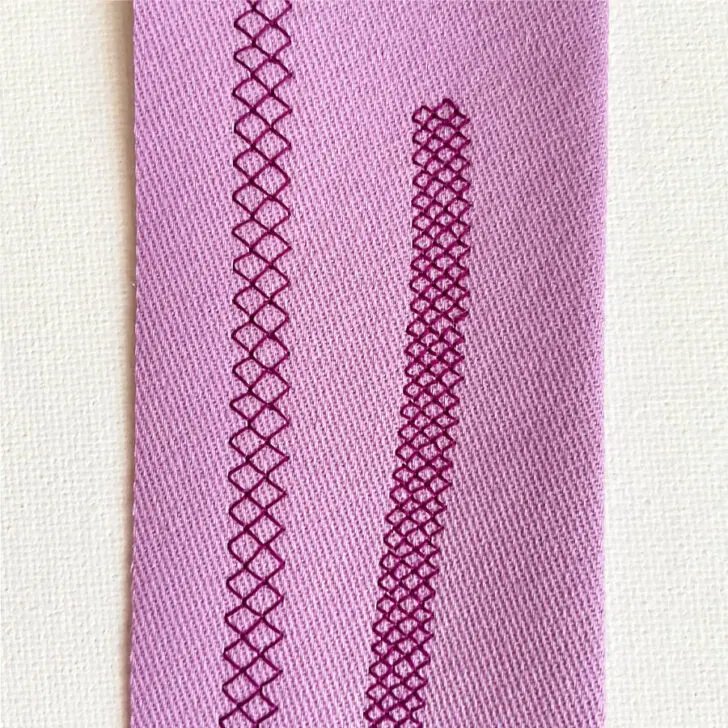 Ladder Stitch
The ladder stitch on a sewing machine consists of small, evenly spaced stitches that resemble the rungs of a ladder. It's different from the ladder stitch sewn by hand. It's used for adding texture and interest to a sewing project.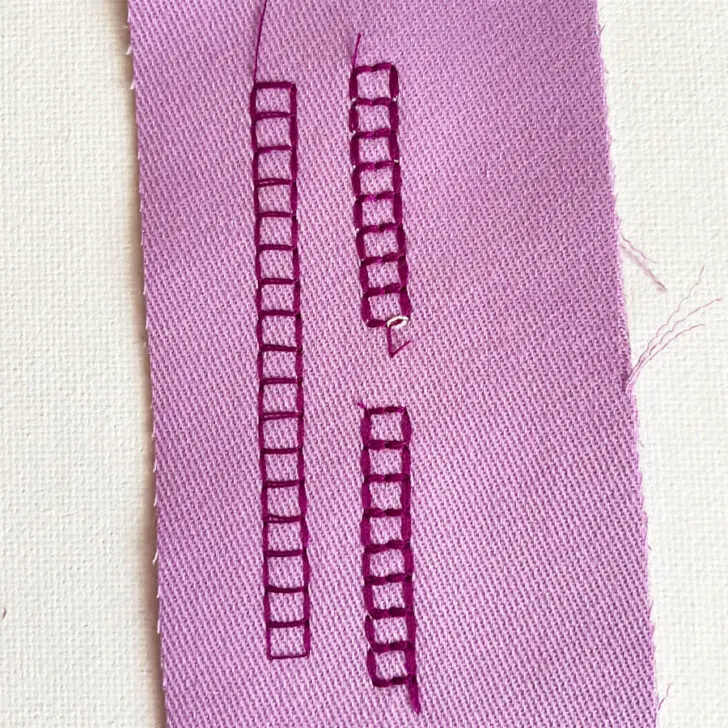 Other Decorative Stitches
The majority of decorative stitches on a sewing machine do not have specific names. They are simply referred to as decorative stitches and vary in design, length, and width.
Here are some of my favorites.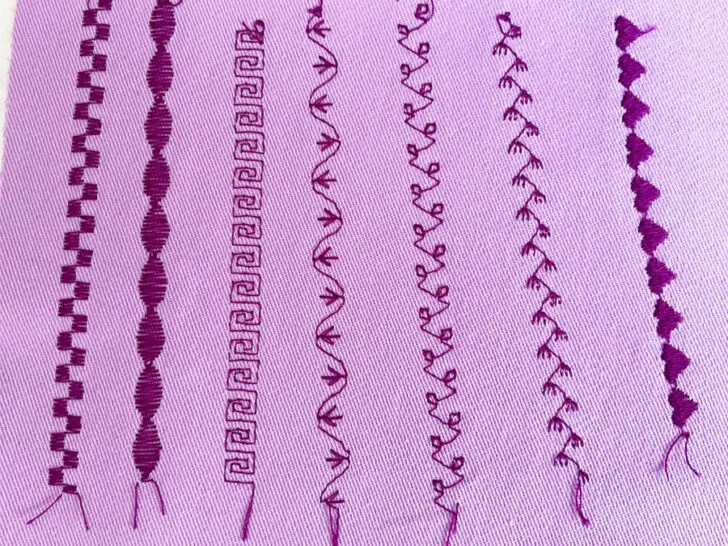 Let me show you some projects where I use decorative stitches.
So, this is a silk robe I made to wear at home.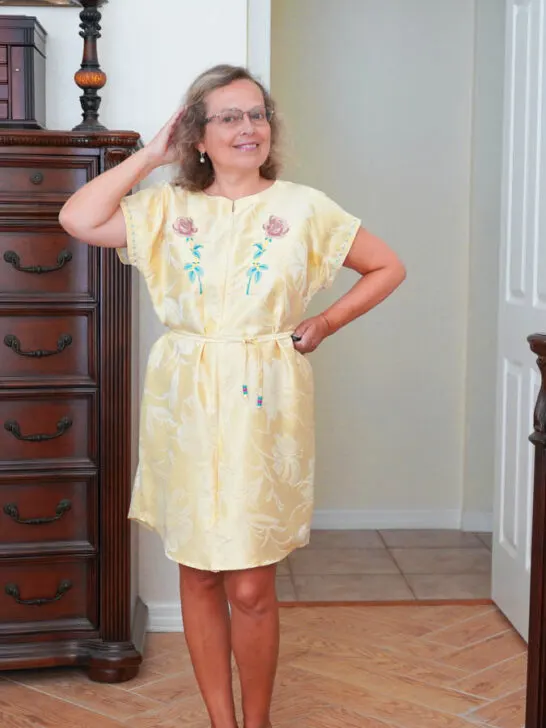 I added decorative stitches to the sleeves. They are visible in this image.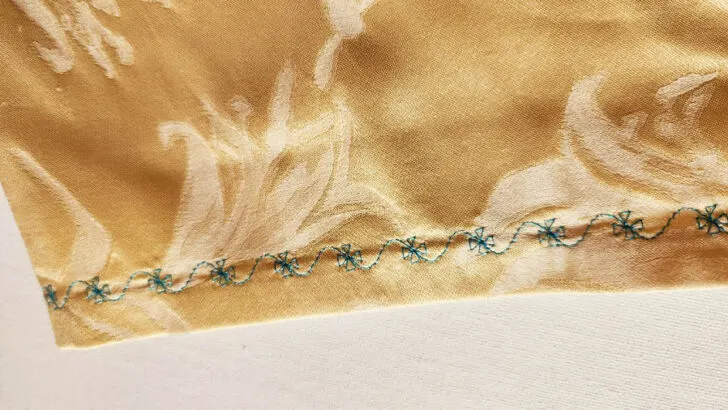 I have a sewing tutorial on my site if you want to make a dress like this – How to make a robe without a pattern from silk fabric / a video sewing tutorial
In addition to using decorative stitches on regular clothing, I also use them for doll clothes. For instance, the skirt of this doll features several decorative stitches.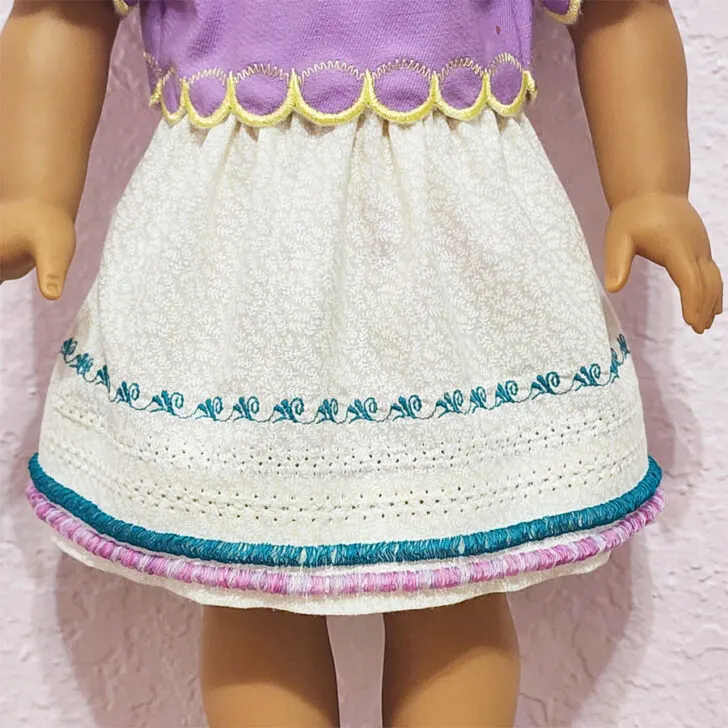 Sometimes I use decorative stitches for home decor projects. For example, I used scallop stitches for my Christmas table runner.
✅ Related tutorial: How To Make A Quilted Christmas Table Runner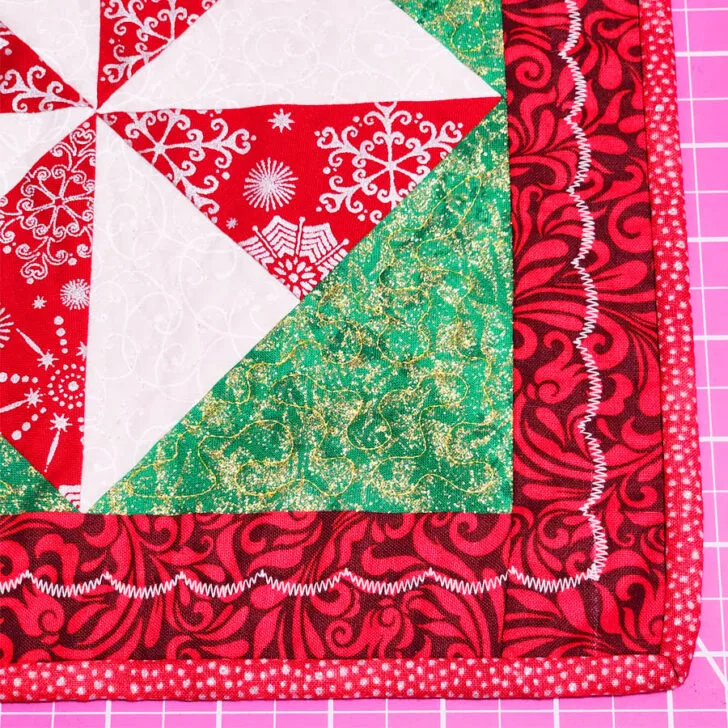 And these stitches in the image below are quite unusual – you can't find them on many machines.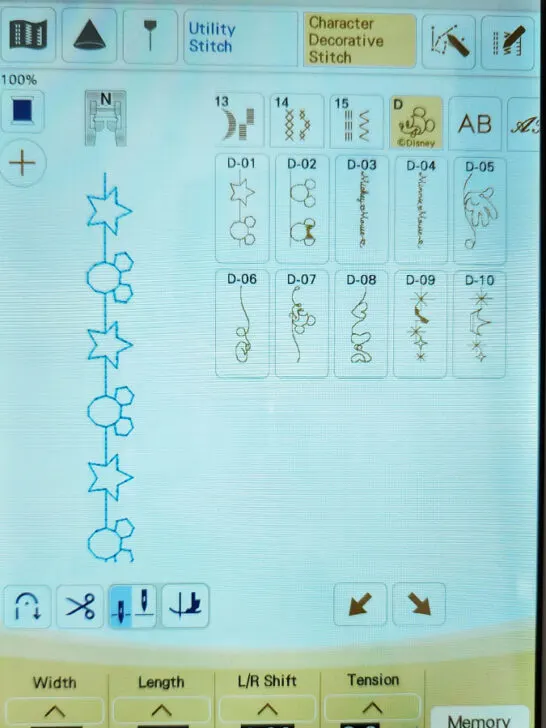 On some high-end sewing machines, users have the ability to create their own unique decorative stitches. It allows for endless creativity and customization, and the resulting stitches can be used to create unique and eye-catching designs.
There are a few ways to create custom decorative stitches on these machines, with one of the most popular methods being to combine elements of different stitches that are pre-programmed into the machine's memory.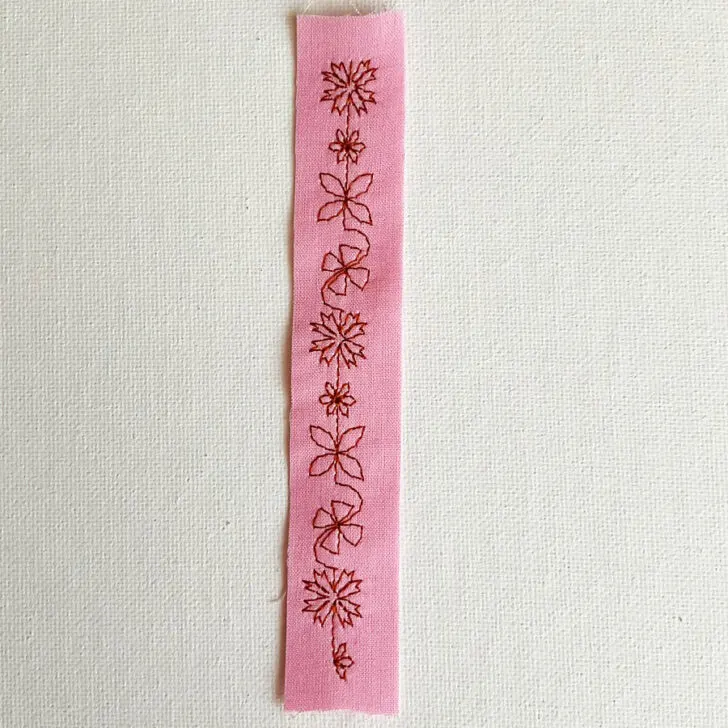 To create a custom stitch, users can select and combine elements of different decorative stitches to create a completely unique design. Once the desired elements are selected, the machine will automatically create the new stitch and save it to the machine's memory for future use.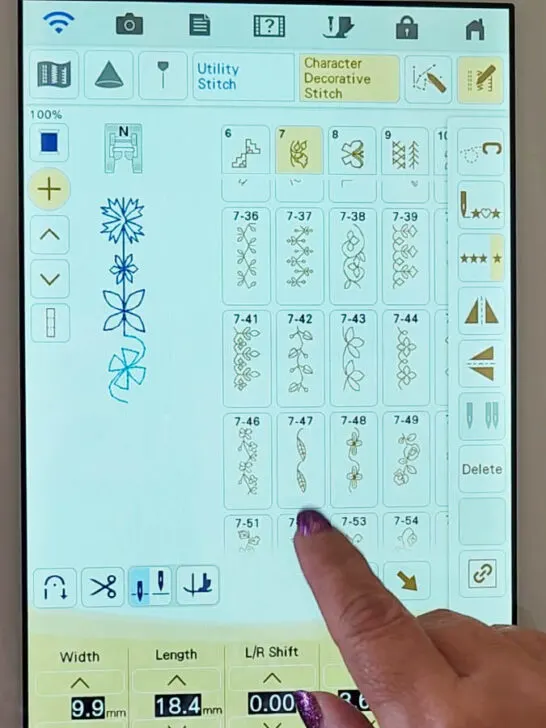 Here is a YouTube short video on how I created one custom decorative stitch.
Another way to create custom decorative stitches on high-end sewing machines is to use letters. Here is one stitch I created.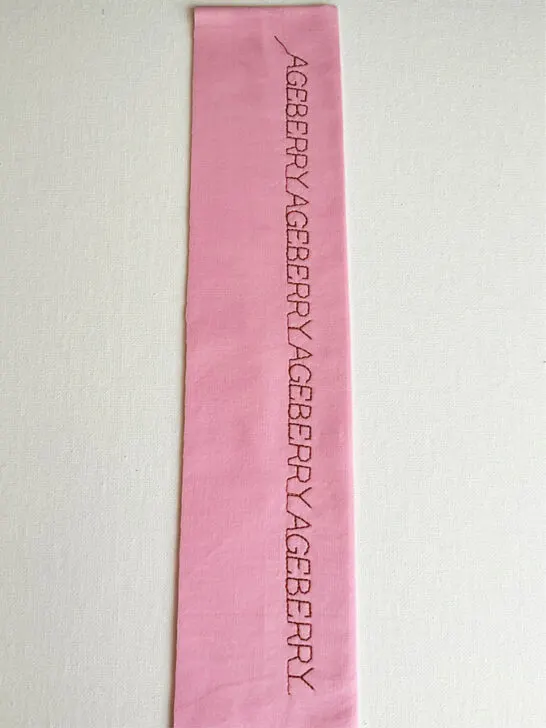 Using A Twin Needle With Decorative Stitches
When decorative stitches are used with a twin needle, the resulting effect can be even more interesting. The twin needle creates two parallel rows of stitches.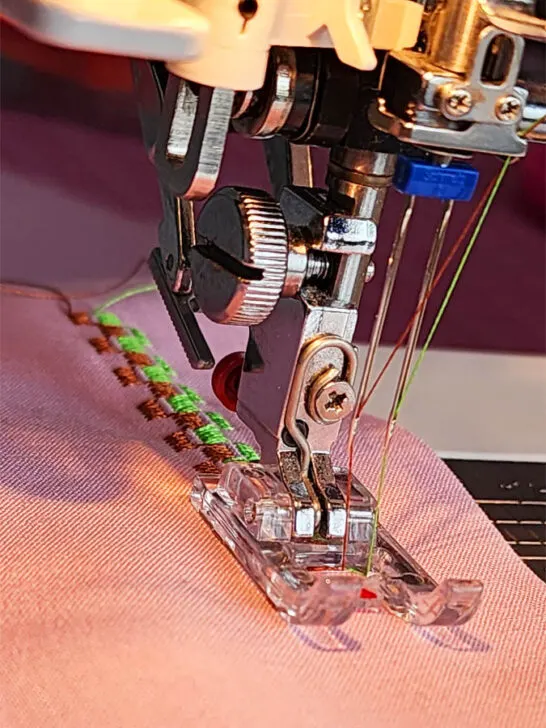 When two different color threads are used with the twin needle, the resulting effect can be even more striking. The twin needle will create a ribbon-like effect on the fabric. To achieve this effect, it is important to choose two colors of thread that complement each other and the fabric being used.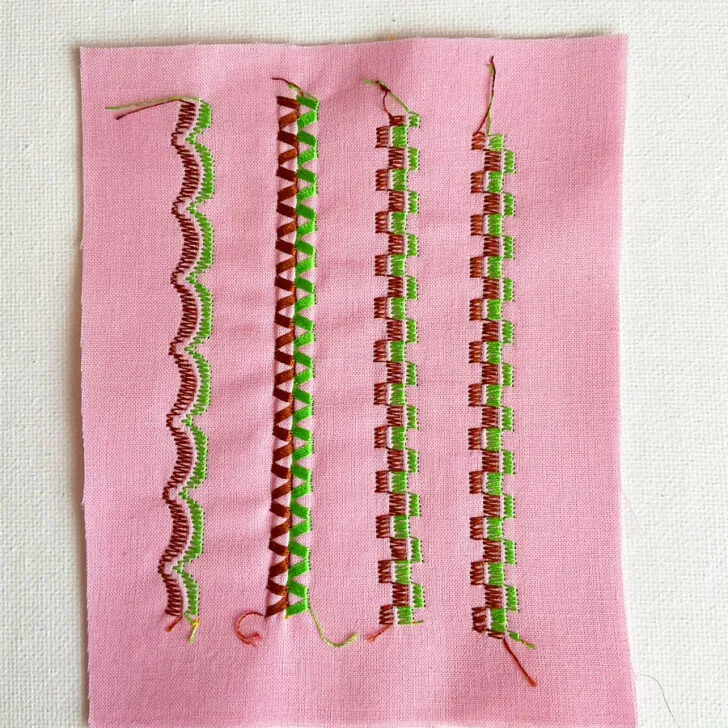 I actually used a twin needle to embellish my Halloween pillow. See the stitches between the petals? They resemble ribbons. But they are decorative stitches made with a twin needle.
✅ Related tutorial: DIY Halloween crafts: how to sew a pillow for Halloween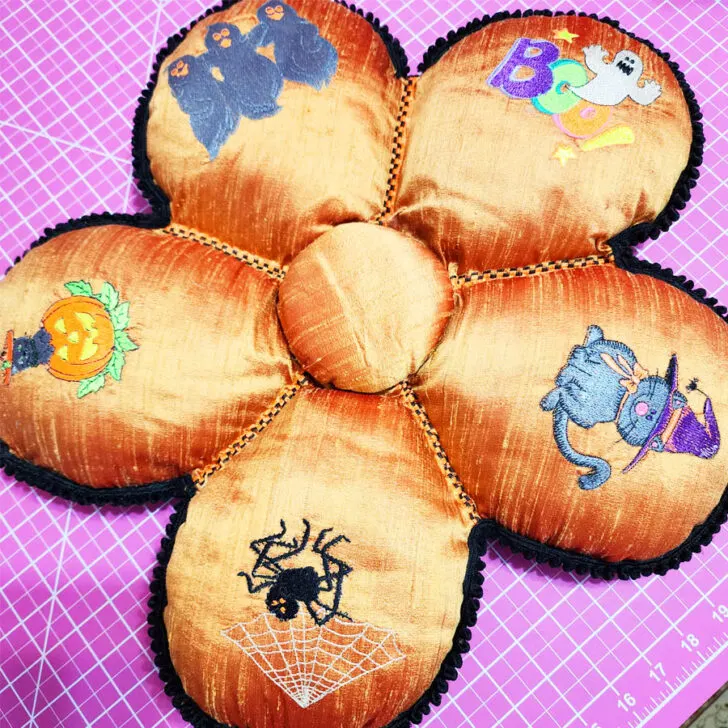 Did you find this tutorial helpful? If so, save this pin (see below) on your sewing board so you can come to the article later when you need this information on types of sewing machine stitches, and follow me on Pinterest for more tips, tutorials, and inspiration!
---