Whether you're a new or experienced sewist, you're familiar with a straight stitch. It's one of the most basic types of stitches on a sewing machine, and every sewing machine offers it. In fact, if you're sewing on a vintage straight stitch machine, this most basic sewing stitch may very well be your only option.
Straight stitches are exactly what they seem — simple stitches of varying lengths. They're functional instead of pretty, but there's still a lot you can do with a straight stitch simply by adjusting its length and tension, including:
Sewing seams
Basting
Top-stitching
Edge-stitching
Under-stitching
Tucking
Gathering
Sewing darts
As a result, these sewing machine stitches are used in quilting, making apparel, making decorative items such as pillows and drapes, and much more. It's the first stitch you'll learn as a beginner sewist, and it's one that will serve you well forever.
Attention! If you like the video format, at the bottom of this post, look for a YouTube video version where there is a short review of straight stitches on two sewing machines Brother Luminaire and Janome Memory Craft 6600P. For a more complete picture, I recommend exploring both versions.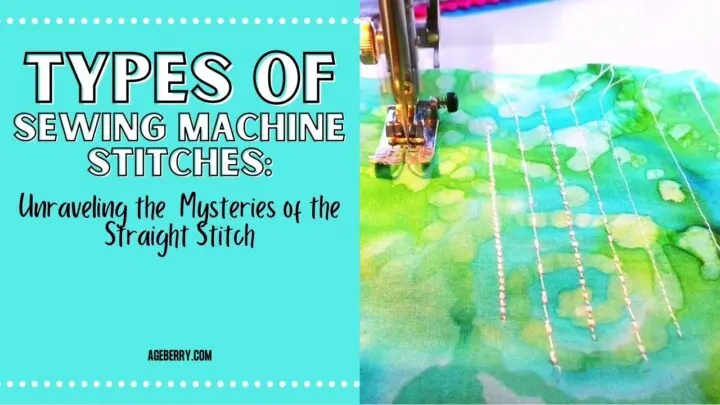 Note: Some of the links on this page are affiliate links. This means I will receive a commission if you order a product through one of my links. I only recommend products I believe in and use myself.
Types of Straight Stitches
If you sew on a newer, computerized machine, you have an abundance of straight stitches from which to choose. Why? Each stitch gives you greater control over how your project turns out. Imagine trying to fix a car with a single tool, with only a screwdriver — no ratchet set, no sockets, no adjustable wrench — and you'll begin to understand why the types of straight stitches are so important.
First, let me show you very interesting straight stitches. I doubt you have seen them before.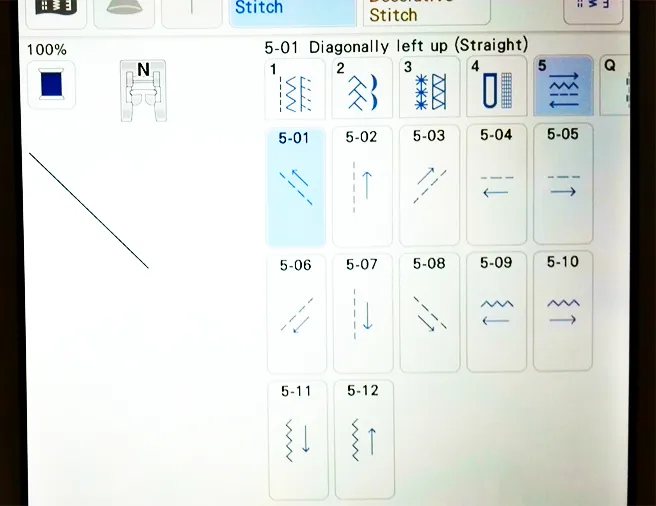 So, my sewing machine can sew diagonally and sideways!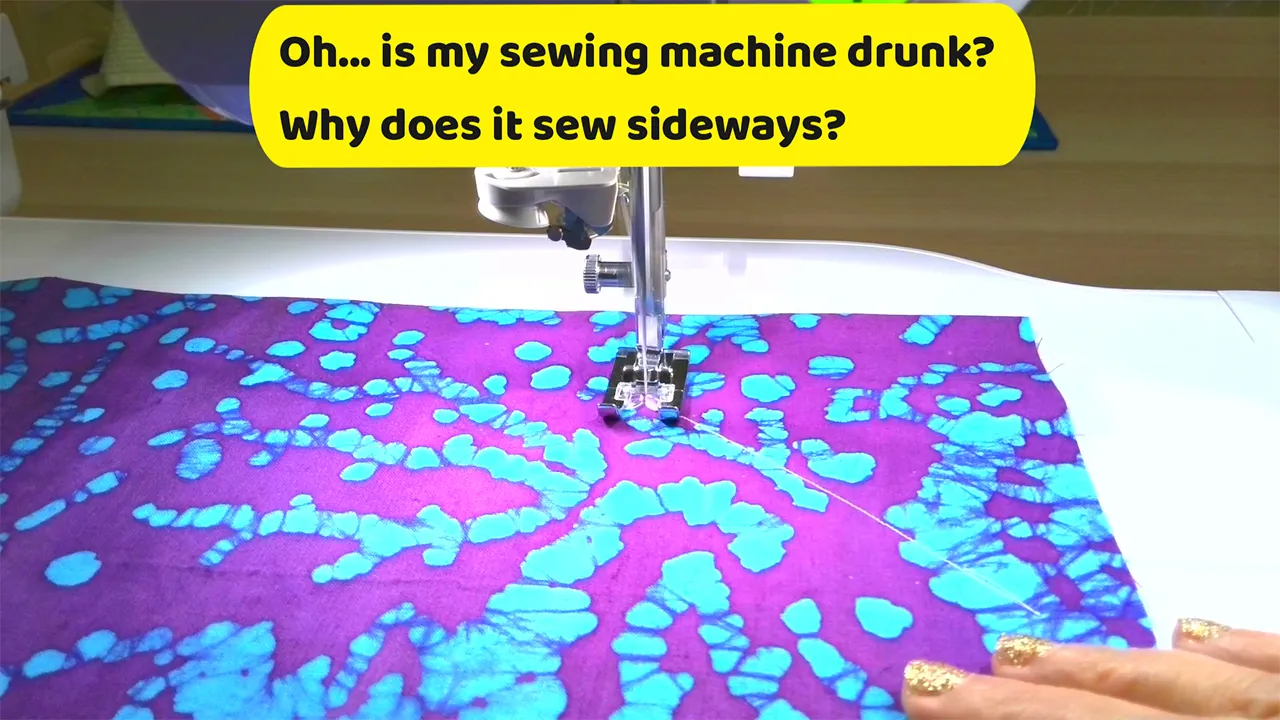 Why would we use THESE straight stitches? Well, they are created for attaching appliques or pockets on tubular pieces of fabric and should be used with a free arm.
Some straight stitches are better for basting. These stitches are longer in length and not intended to hold seams together. Other stitches are meant to keep pieces of fabric tightly connected. These straight stitches must be shorter in length and placed closely together.
Helpful tutorial: How to sew straight – top sewing tips to help you stitch like a pro
Depending upon your task, you'll need to reset the straight stitch on your machine accordingly, and each stitch has its own name that's brand-specific.
For instance, on a sewing machine made by Janome, you'll find multiple straight stitch types that include:
Lock-O-Matic Stitch — Adds a short row of backstitches at the beginning and end of a seam when you press the reverse button.

Locking Stitch — Adds an invisible locking stitch at the beginning of the seam and the same at the end when you press the reverse button.

Triple Straight Stitch — Adds elasticity and strength to the seam. Useful for sewing knits and making armholes and reinforcing the crotch of a garment.

Sculpture Stitch — Allows you to sew decorative outlines

Saddle Stitch — Adds the look of handmade detail when topstitching. Useful for making apparel such as jeans and blazers.

This is only a small sample of what your computerized machine may be able to do with a basic straight stitch, and every machine retailer may have different names for each stitch. For best results, read through your manual to help you better understand how each stitch is used and how it can help you produce a neater, more useful project.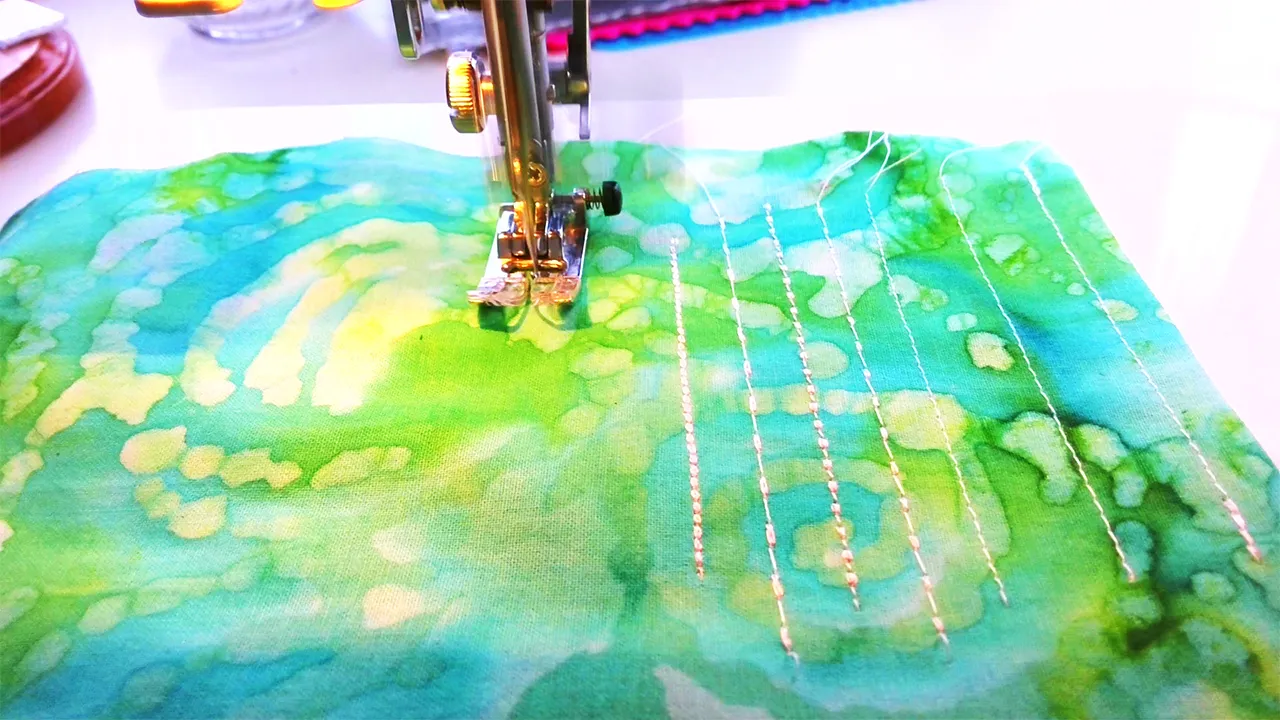 If you haven't already, now is a good time to take a look at your sewing machine and your manual to see what type of straight stitches it offers, and let us know in the comments what you find. And if you've lost your sewing machine manual, or you purchased your machine second-hand without the manual, a free version may be available online. Sites such as ManualsLib: The Ultimate Manuals Library, can help.
Reading your manual is especially important because it not only describes your sewing machine stitches, but it gives you other important information as well, such as when and where to oil your sewing machine, how to change your needle, and more.
Helpful tutorial: How to Adjust Sewing Machine Tension
Best Needle Plate and Presser Foot to Use When Straight Stitching
It's important to note that you'll often want to use a straight stitch presser foot and a straight stitch needle plate when straight stitching.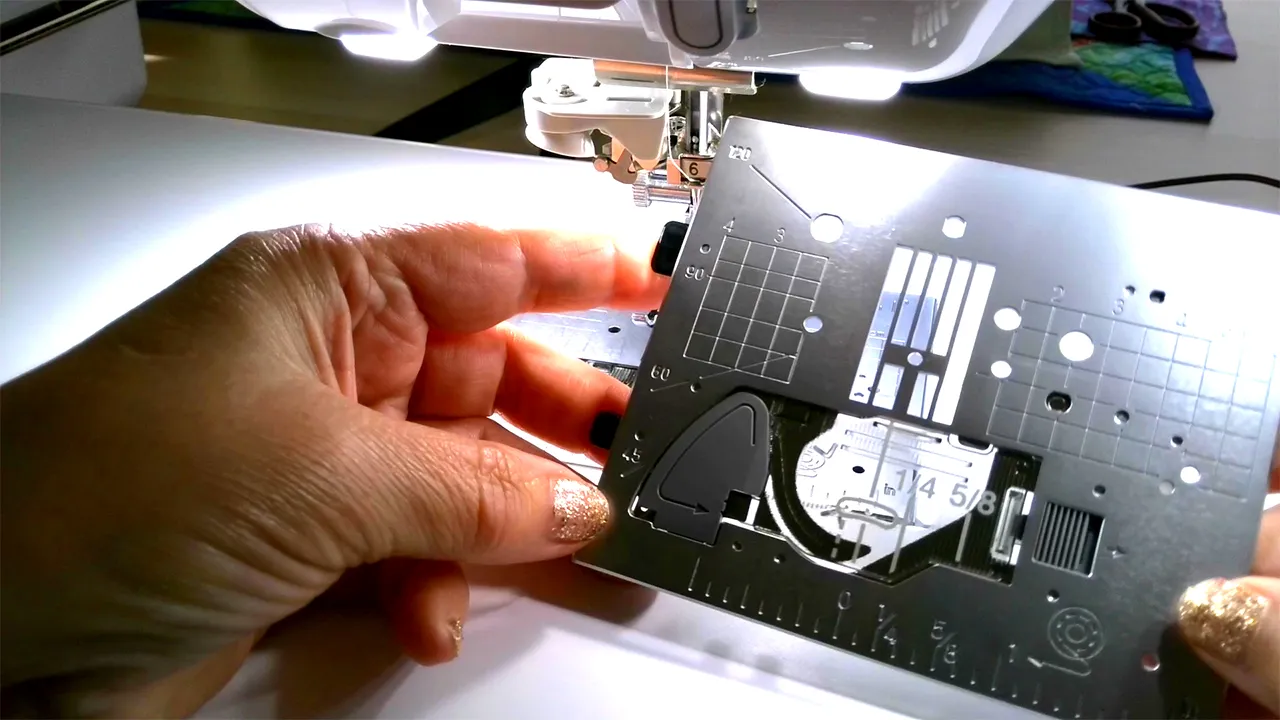 Using these tools in combination works well on especially thin fabrics and especially small pieces. They reduce puckering in the seam, and the design of the foot supports the fabric as it's carried past the needle. Neater seams make for prettier finished projects and stronger, more durable apparel.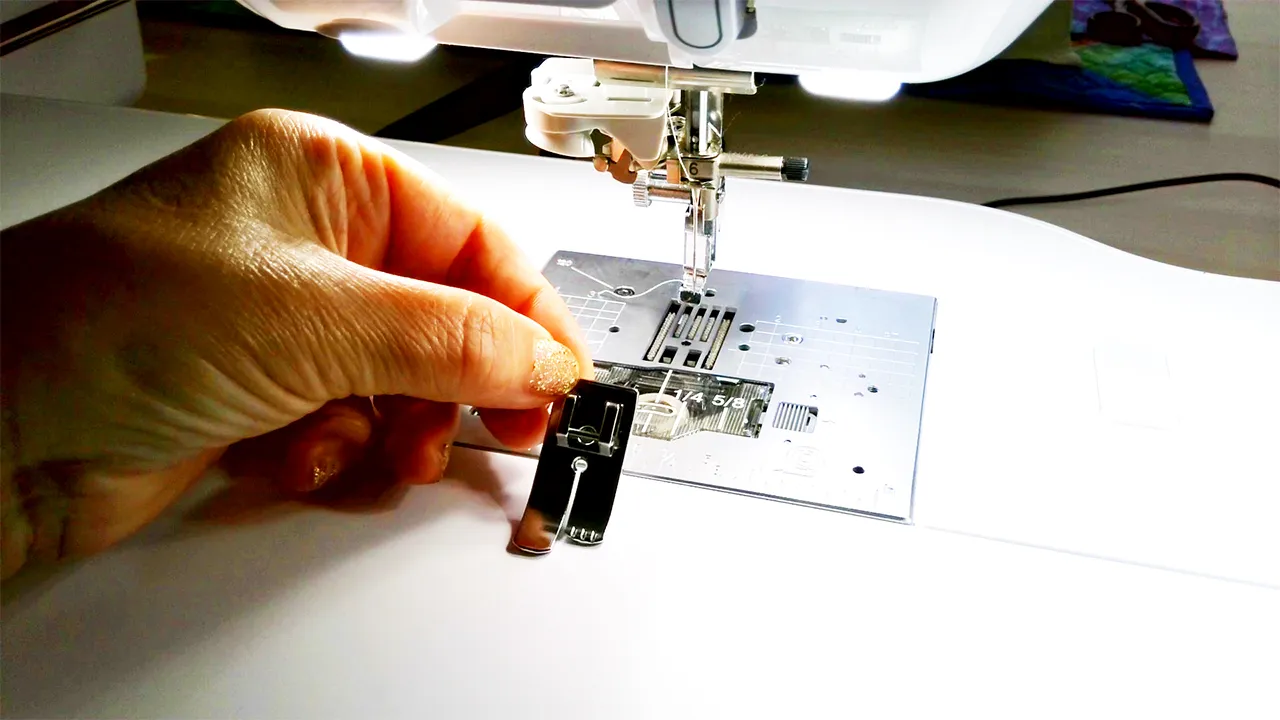 Those new to sewing may not realize that both your presser foot and your needle plate are removable.
Switching out your needle plate is a simple process. Refer to your machine's user manual. Typically, it's a matter of cutting power to your machine, removing any items that might be in the way, such as the needle and the presser foot holder, taking the old plate out, and sliding the new one into place. You will then be ready to select any of your sewing machine's straight stitches.
Needle Position for Straight Stitching: Left, Middle, Right
Sometimes, when using a straight stitch, you must shift the position of your needle to the left, to the middle, or to the right. This is immensely helpful if you're attempting to sew a "scant" quarter-inch seam when piecing. Instead of having to move the fabric over, you can simply set your needle over a notch or two.
There may also be times when you simply need to sew closer to or farther from the edge of your fabric. This is another good time to shift the position of your needle.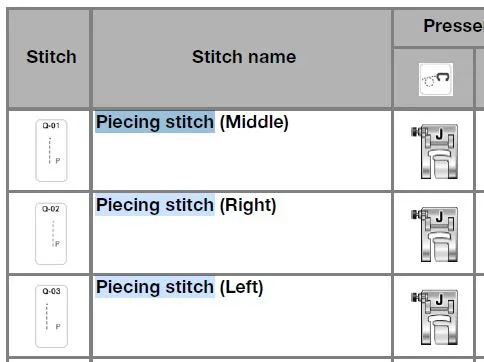 A word of caution: Test your needle after you've repositioned it by turning the wheel manually with your hand to make sure it doesn't descend onto the metal fork of the presser foot. If you fail to do this, and your needle position and presser foot are not compatible, you'll break the needle. And if you break a sewing machine needle at high speed, it can become a dangerous airborne weapon.
What Is a Lock Stitch?
A lock stitch is simply a method of securing your line of stitches so it doesn't work loose during regular use. There are several ways to lock your stitches, either by hand or by using a function on your Juki, Janome, or other brands of sewing machines.
Straight Stitch Vs Lockstitch
A lockstitch on machines such as the Janome Memory Craft 6600P or Juki Exceed HZL F300 computerized sewing machine makes actual knots in your thread, allowing you to place them at the beginning and end of your line of stitching. This is a true lock stitch, and it's popular among machine quilters because it eliminates the need to backstitch.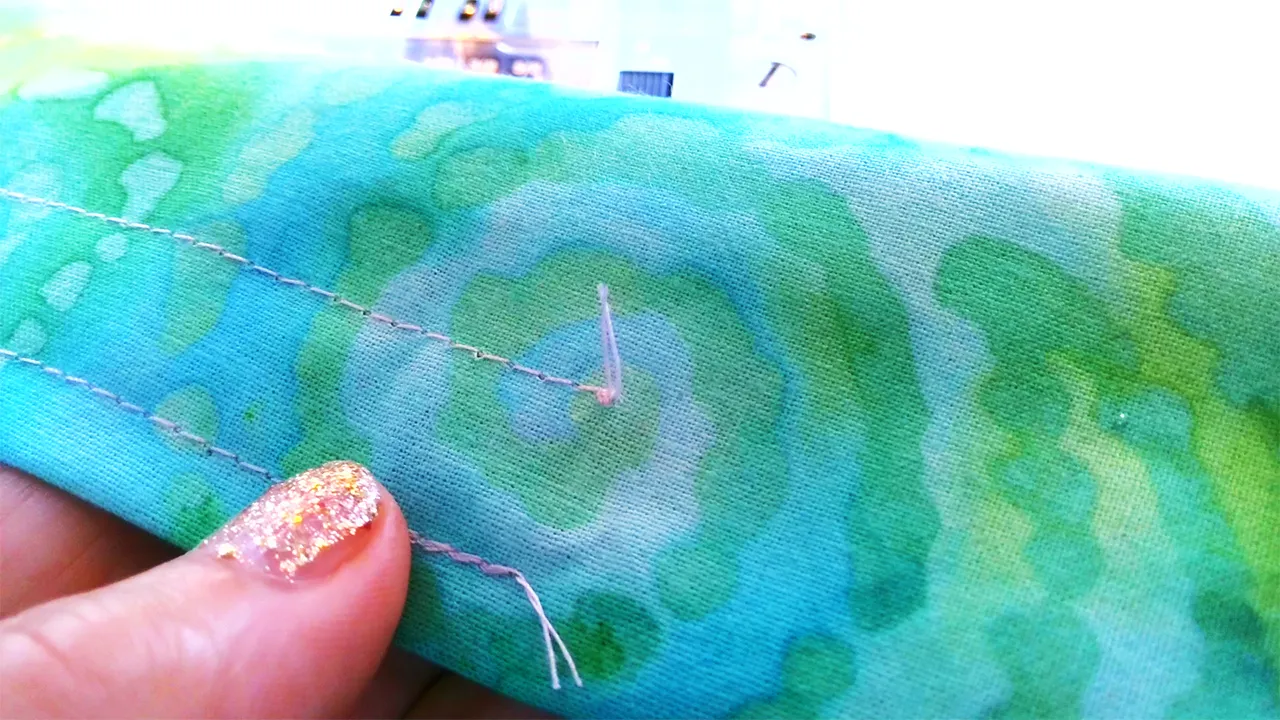 Lockstitch Vs. Backstitch
While a lockstitch ties small knots in your thread, a backstitch merely places a short row of reverse stitching at the beginning and end of your line of stitches. Backstitch is functional, and it will keep your stitches from unraveling, but it can be unsightly and may give your projects an awkward appearance.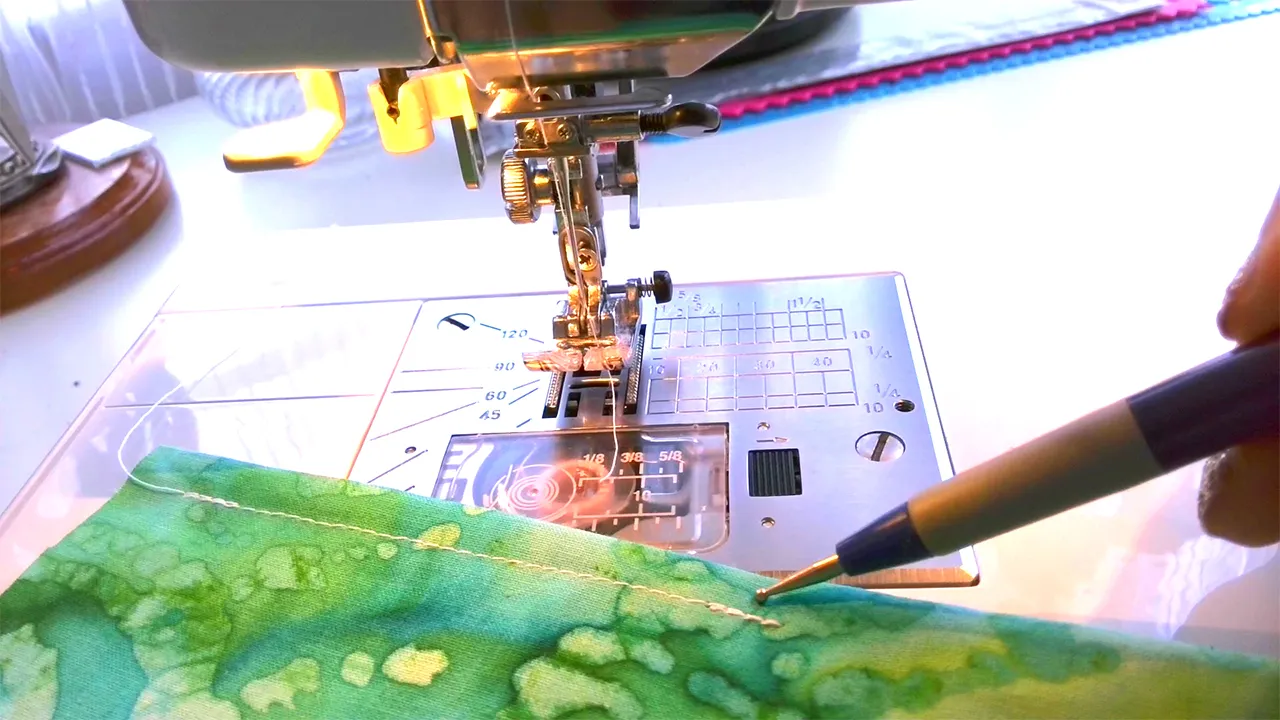 Tied Stitches
Tied stitches are the original method of securing a line of stitches to prevent them from unraveling. To tie off at the end of your line of stitching, use your machine needle to draw the bobbin thread up through the top of the fabric, leave a short tail, and tie the two threads together by hand.
Every sewing machine offers some type of function for locking your stitches. Check your manual to see whether you must backstitch or if your sewing machine offers an actual lockstitch, like the Juki Exceed HZL F300.
What Is a Straight Stitch Only Sewing Machine?
A straight stitch sewing machine sews — you guessed it — only straight stitches. It's a perfect machine to learn on, which makes it a good option for beginner sewists or for older children wishing to learn the craft. This machine isn't computerized. It can't embroider or do many of the functions that a modern computerized machine can do. However, it's easy to use, easy to maintain, and highly affordable to pick up.
If you're looking for a sewing machine that can guide you as you learn how to sew a straight stitch, this most basic machine is a great option.
You may not have realized it, but if you're sewing on an inherited machine, you're probably using a straight-stitch-only version. But that's no problem. Because most sewing projects can be completed using just a straight stitch, there's a lot you can do with a straight stitch sewing machine.
I made a quick video for you if you are the watching type. Check this out if you like to see all types of straight stitches instead of reading…
We hope this has been an informative tutorial to help you better understand the types of stitches on a sewing machine. As a beginning sewist, it's vital to learn how to do a straight stitch. Once you've mastered this, you'll be free to move on to those more complicated stitches that let you customize your sewing project even more.
And if you're working right now with a straight stitch sewing machine, and you're ready to move up to the next level that offers all the bells and whistles, visit a few of the links we've provided to see some of the most popular models available today.
What type of stitches does your sewing machine offer, and do you have a favorite? Let us know in the comments.
Did you find this tutorial helpful? If so, save this pin (see below) on your sewing board so you can come to this tutorial later when you need this information on types of straight stitches, and follow me on Pinterest for more tips, tutorials, and inspiration!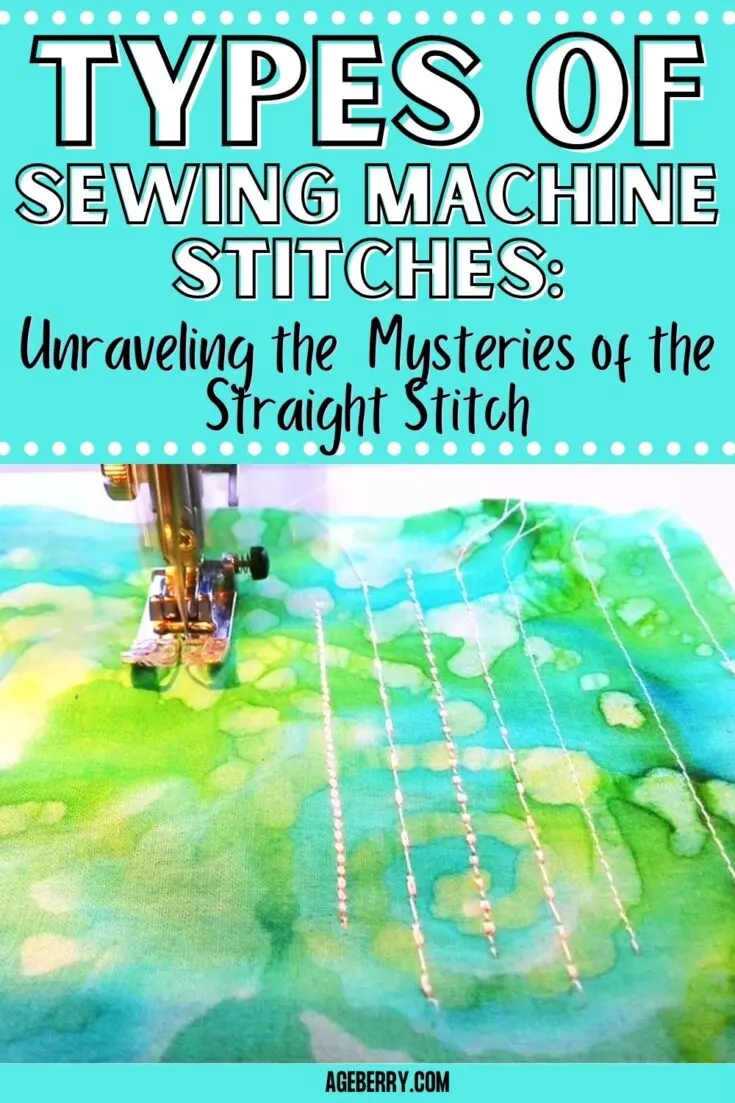 ---