Darning with a sewing machine is a quick way to fix holes in your jeans, tops, shirts, and pants.
Darning holes in favorite garments is a great way to keep them around longer. While traditionally done by hand, modern sewing machines make this task less daunting.
Everybody has had a piece of clothing fall apart on them at some point, and it can be an embarrassing experience. Whether you've got a hole in your jeans or just noticed that the seam is coming undone, there are a variety of ways to fix it up with minimal fuss. One way to darn clothes is using a sewing machine. Don't throw away those old favorites just yet – make them like new again with the help of this tutorial!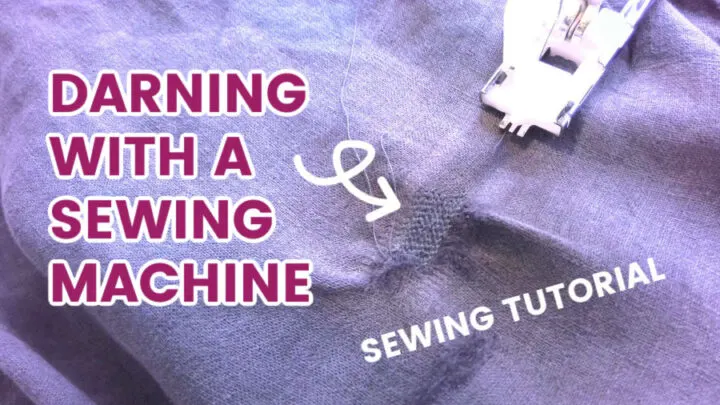 What is darning in sewing?
Darning is the process of repairing holes or worn-out areas in a piece of clothing or home decor by sewing new threads into the existing fabric. The result is a sturdy, flexible "patch" that blends seamlessly with your garment or pillowcase. The goal is to prevent further fraying and keep the item intact for as long as possible. It's not as complicated as it might sound, it's an easy technique that anyone can learn, and if you like sewing, this skill will often come in handy.
In this tutorial, I'll show you how to do an invisible (or almost invisible) repair using a sewing machine – just follow these steps carefully and soon enough your clothes will be as good as new!
Why darn your clothes if you can always buy new ones?
While darning may seem like an ancient practice that is no longer relevant in today's life many people choose to darn their clothes as opposed to throwing them away.
But some people think that it's best to buy a replacement item rather than repairing one because repairing takes time and you need some basic sewing skills. In addition, people are confused about how to repair clothes and have no idea that there are many ways to fix a hole or tear.
If you are wondering why darn holes in your clothes if you can always buy new garments – the answer is simple: it isn't only about money and extending the life of garments, but also about keeping the environment clean and reducing waste – not to mention improving your skills in sewing.
Reclaiming worn-out clothing keeps them out of landfills and they don't contribute to more waste. This reduces energy consumption, saves natural resources, and maintains environmental quality.
With a sewing machine, you can quickly and easily repair worn or damaged clothes and home decors like sheets and pillowcases.
Attention! If you like the video format, at the bottom of this post, look for a YouTube video version where there is a quick tutorial on darning with a sewing machine. For a more complete picture, I recommend exploring both versions.
What you'll need for darning by sewing machine
I don't recommend darning knit garments (that are very stretchy) with your sewing machine. Darning with a sewing machine works best on woven fabrics that are not stretchy.
Note: Some of the links on this page are affiliate links. This means I will receive a commission if you order a product through one of my links. I only recommend products I believe in and use myself.
What thread do you use for darning with a sewing machine?
When you're darning clothes, it's often best to use a thread that is the same material as the garment. But it's not always possible for darning with a sewing machine – you can't use yarn for example. But cotton sewing machine thread is a popular choice because it usually doesn't cause puckering in the fabric. I would avoid using polyester thread.
Recently I bought these threads New Brothread 24 Basic Colors Multi-Purpose 100% Mercerized Cotton Threads 30WT.
And now I'm a big fan of this thread. I was so pleased with these thread sets that I now tell everyone how wonderful it is. Of course, I use these threads not only for darning. I bought all the colors and they are vibrant and beautiful! The thread is very smooth and durable but at the same time very soft and even silky so it is a pleasure to work with. It never breaks. Their sets include all basic colors so you'll be prepared for any project. This multi-purpose thread can be used on natural fabrics like cotton or linen.
The Brothread cotton thread sets are reasonably priced and are as good (if not better) than the higher-priced well known brands.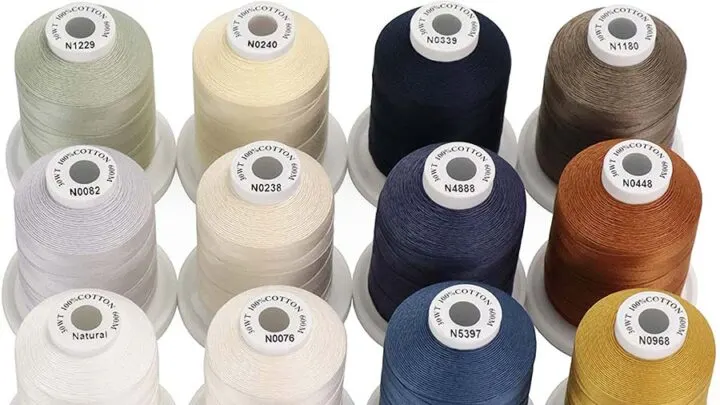 As for the darning with a sewing machine, you can choose between using a general all-purpose cotton thread or one made specifically for delicate fabrics (like 100% silk thread) as a darning stitch applies differently depending on what type of fabric it's being used with.
Choose thicker thread for medium-weight fabrics and thinner thread for delicate clothing.
✅ Related tutorial: Sewing thread sizes – how to choose
There's nothing worse than a precise mending job that stands out against your clothing. Be sure to choose the same color thread as your clothes when you need to darn something! You'll want it to blend in with what's already there.
Fusible interfacing for darning
For darning, fusible interfacing is used as a sort of fabric reinforcement. It won't be visible on the right side.
When darning, try to match the interfacing color to your fabric (white for light colors, black for dark).
Now, fusible interfacing comes in different colors! I've recently seen not only black and white but also red and blue for sale. It's a great idea if you want your interfacing to match the fabric that you're using for a project.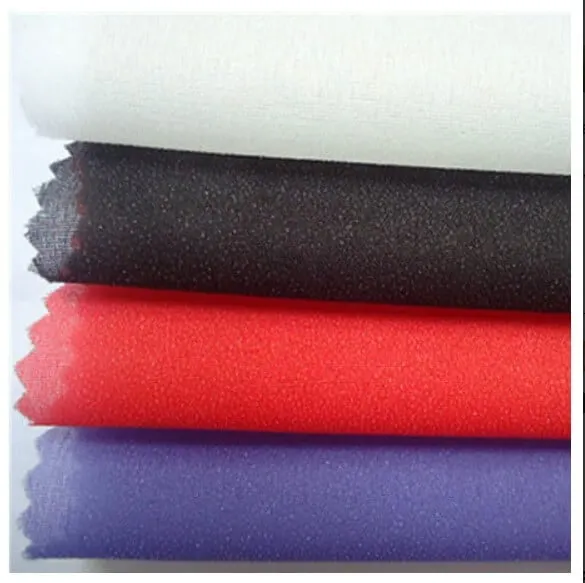 If you want to know more about using fusible interfacing check out my tutorial How to use fusible interfacing
Darning stitch on your sewing machine
Some sewing machines have special darning stitches that you can easily use for repairing holes. You should refer to your sewing machine manual for instructions. My sewing machines Janome 6600 and Brother Luminaire both have darning stitches.
A darning stitch is a stitch that fills in the hole on a piece of fabric.
The machine does it automatically for you by going over the same area.
This is the darning stitch on my Janome.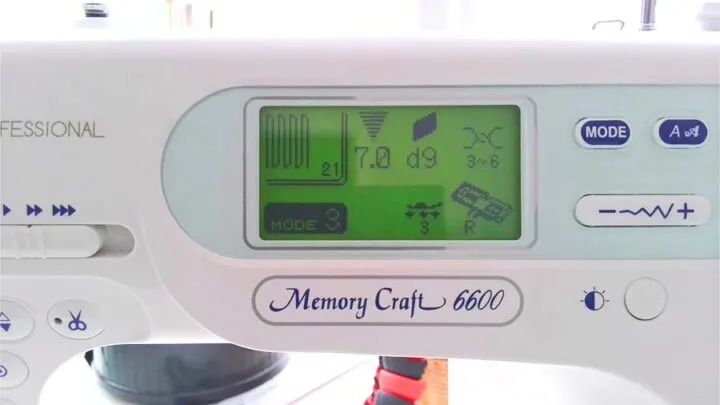 And Brother Luminaire has 2 types of darning stitches.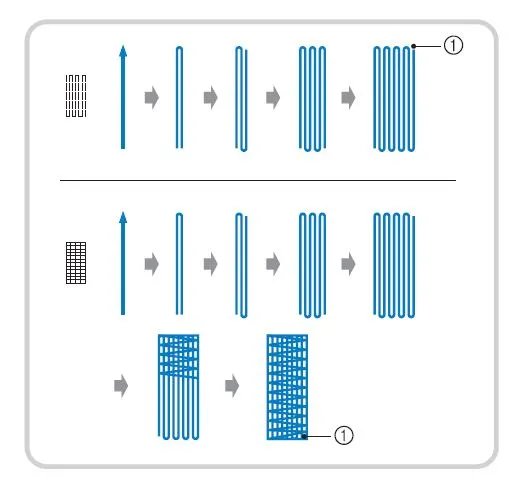 What sewing machines have special darning stitches?
I asked this question in my Facebook group and here is the list of machines with darning stitches. If your machine has a special darning stitch please add the brand and model in the comments.
Janome Memory Craft 6600P
Brother Luminarie
Baby Lock Destiny
Brother Dream Machine
Janome Harmony
Brother NS2750D
EURO PRO PRO-STITCH 8135H
Juki HZL F400
Baby Lock Ellageo
Viking Lily
Buttonhole foot of your sewing machine
To use a darning stitch, you need to insert a buttonhole presser foot.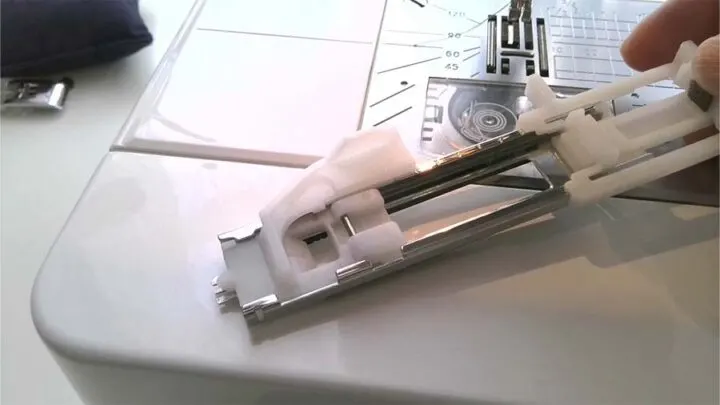 Set the desired length of darning by pulling the button holder to the rear.
For my Janome machine, the maximum length of darning is 2 cm, and for Luminaire the maximum length is 5 cm.
Want to know how to convert centimeters to inches? Use my Fabric Conversion Calculator!
What sewing machine needle to use for darning
Use universal sewing machine needles. The size of the needle should match the weight of your fabric. The heavier the fabric, the thicker the needle you will want to use.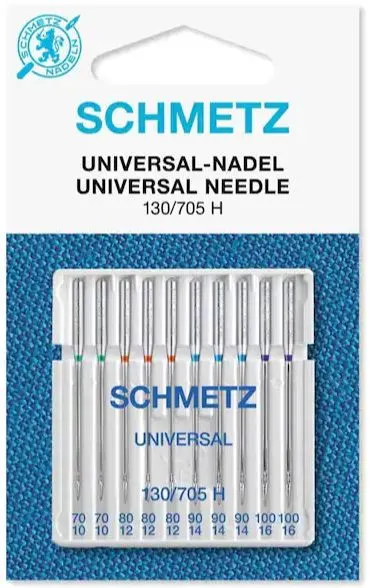 Prepare the damaged area for darning
So, here I have a pair of shorts – my favorite linen shorts of my son-in-law. He just loves these shorts but can't use them anywhere if he wants to have a teaching career. The shorts have 2 noticeable holes in the back.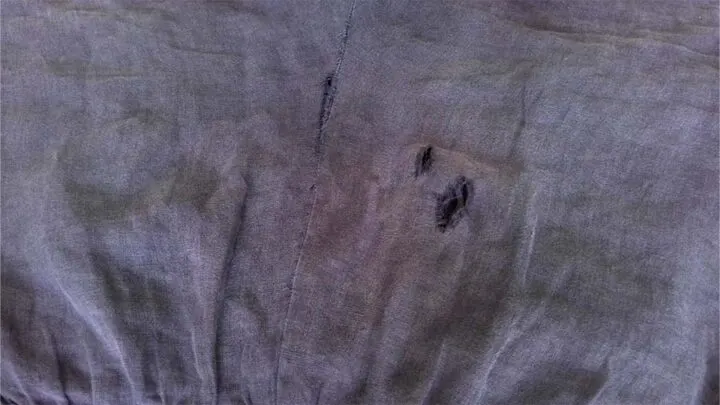 I see very often on Pinterest that the most common way to fix this problem is to sew an embroidered patch on the hole, usually a flower. I COULD do that. But the owner for some reason tells me that flowers and his shorts do not mix, and the time when men were wearing flower embroideries is about 100 years in the past. Men!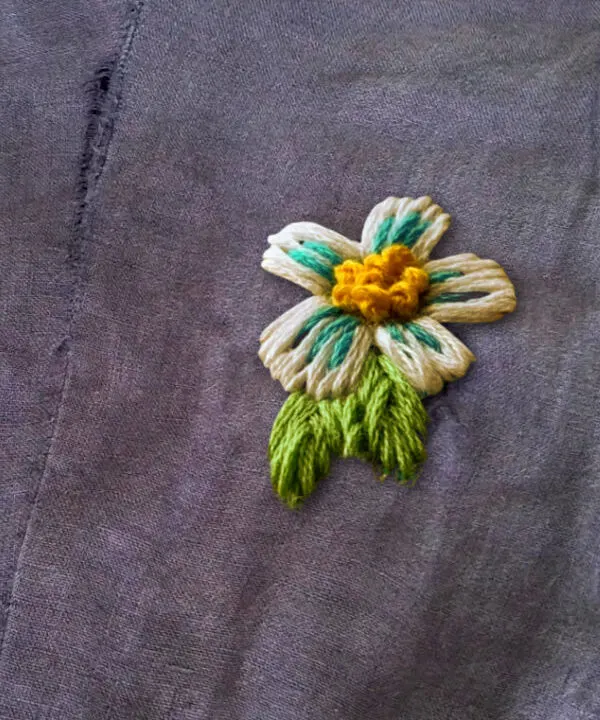 So I have to find another solution, and I am going to do darning with my sewing machine.
Before you begin the darning process, you need to prepare the area. Cut out a piece of fusible interfacing that's a little larger than the affected area you are fixing – this will help reinforce the stitching later on so it doesn't come undone again! Take your hot iron and press down firmly.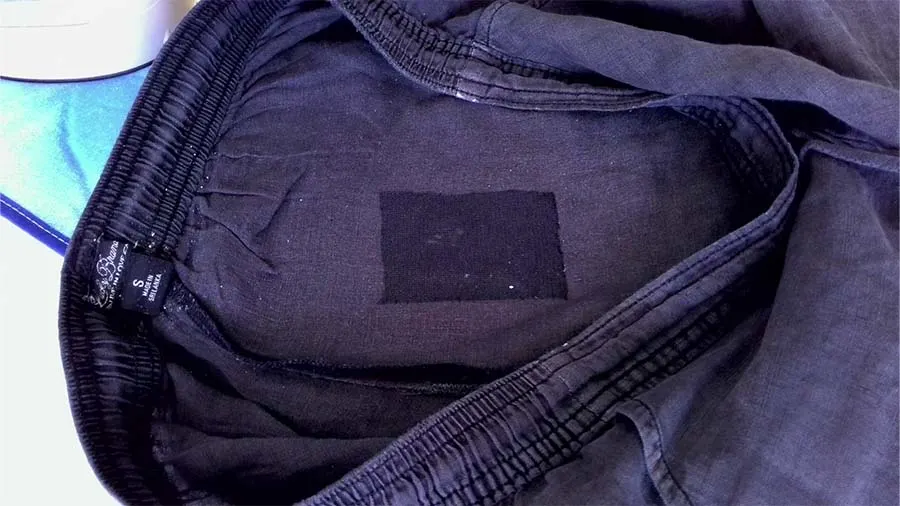 You don't need to cut the loose threads around the holes, they will be glued to the interfacing and the machine will just go over that stuff with the stitching.
Darning stitch step by step
Place the right side of the fabric under the buttonhole presser foot and place the needle down in the fabric just outside the damaged area. It's better to start sewing darning stitches a little outside the hole where the fabric threads are still intact.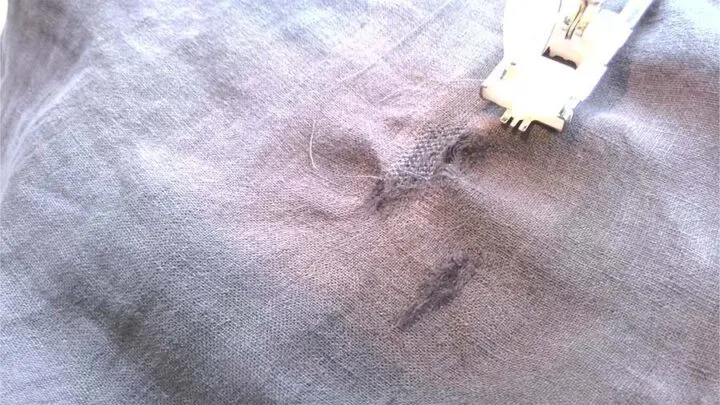 The machine will be going back and forth over the same area and covering all of the surrounding fabric with stitches, basically sewing parallel lines back and forth until you have the whole damaged area covered in your stitches. The stitches will be right next to each other, one row right next to the other.
You can adjust the settings for the darning stitch. Try the stitch on a piece of scrap fabric first. You can reduce or increase the thread tension and make it suitable for your fabric.
You can adjust the evenness of darning stitches because it may vary depending on the type of your fabric, the number of layers, etc. You can correct the unevenness of darning with the stitch length adjusting button. If the left corner is lower than the right side, press on "—" to correct it. If the right corner is lower than the left side, press on "+" to correct it.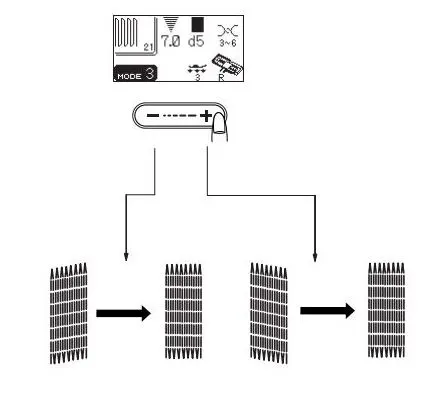 If the hole is big, do another set of stitching next to that, until the stitches cover the hole. Make sure that the hole under your stitches is completely covered.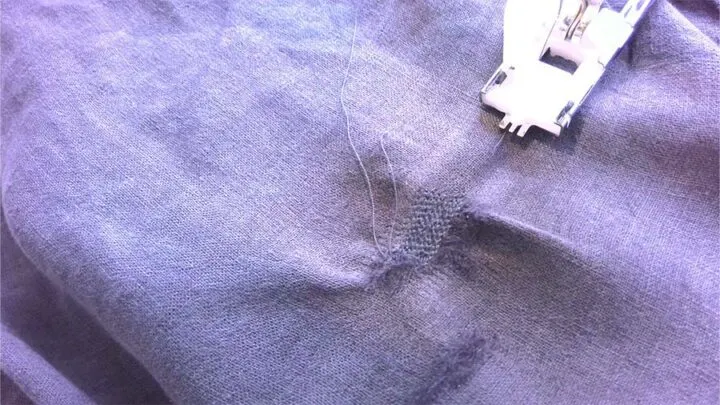 Here's what the darning area looks like when finished. I understand that it's not really visible in this image but that's exactly my purpose – I don't want the darning stitches to be visible.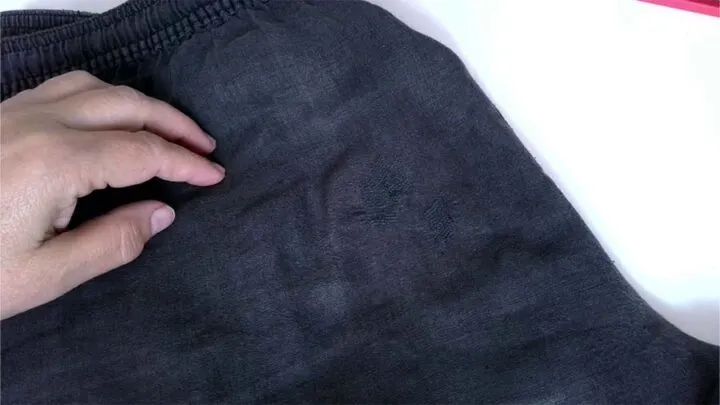 Here is another image, with different lighting – maybe you can see it better here.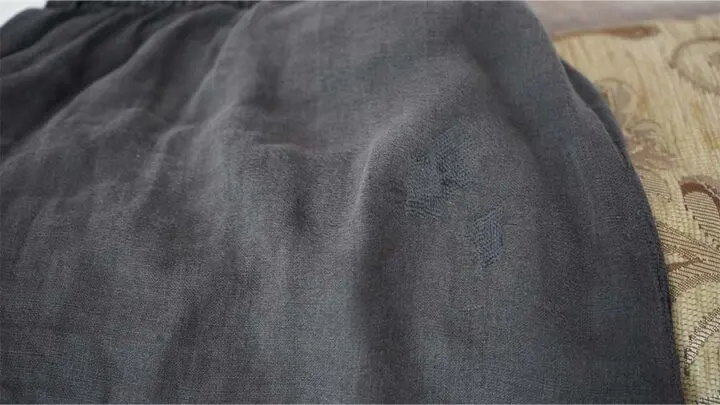 To make the problem area stronger, you can turn your fabric and stitch perpendicular to the first stitching. This will create a thicker patch with more stitches that is stiffer than before. It's a good idea for repairing jeans for example but my fabric is lightweight so I made the stitches go in one direction only.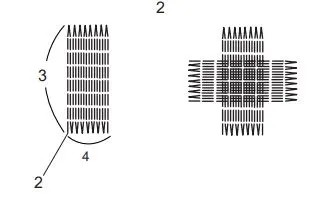 Once you have covered the entire hole, remove your fabric from underneath the presser foot.
Now you need to press the fabric!
The piece of clothing has now been successfully mended by a sewing machine. Good for another few years of hard use.
So here is my YouTube video. Check this out if you like to see how to do darning with a sewing machine instead of reading.
Did you find this tutorial helpful? If so, save this pin (see below) on your sewing board so you can come to this tutorial later when you are ready to do darning with a sewing machine, and follow me on Pinterest for more tips, tutorials, and inspiration!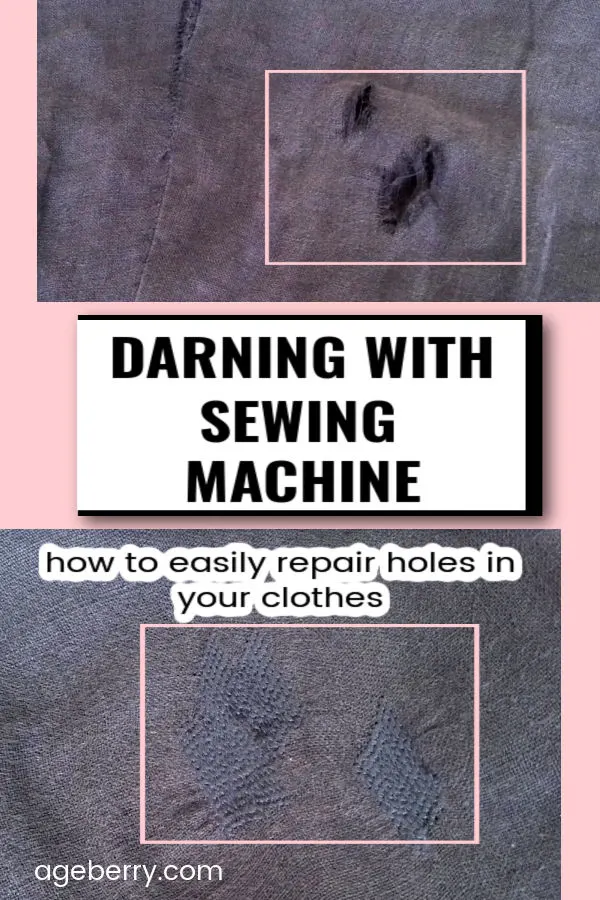 I hope that my tutorial on darning with a sewing machine has been helpful to you. But what about other common clothing issues, like coffee stains and lint? Check out my guides on removing coffee stains from clothes and preventing pilling and getting rid of lint on clothes for tips and tricks on how to tackle these common problems. By taking good care of your clothes and being prepared for any issue that arises, you can keep your wardrobe looking its best.
---