I often get a question from my readers – how to sew straight? For someone who never sews, like my husband, this is a funny subject – what can be simpler than sewing straight lines? But everyone who actually TRIED to sew knows things are not quite what they seem. Sewing straight is one of the most important things, a crooked seam will definitely ruin whatever you sew. Fabric doesn't usually have guides or rulers and it's very easy to either deviate from the straight line.
In this Sew Straight guide, I will show you how to easily keep stitching lines straight. I will talk about topstitching mostly because keeping seam allowances equal is a different topic and I have a separate sewing tutorial on it and on using different types of seam guides – check it out here.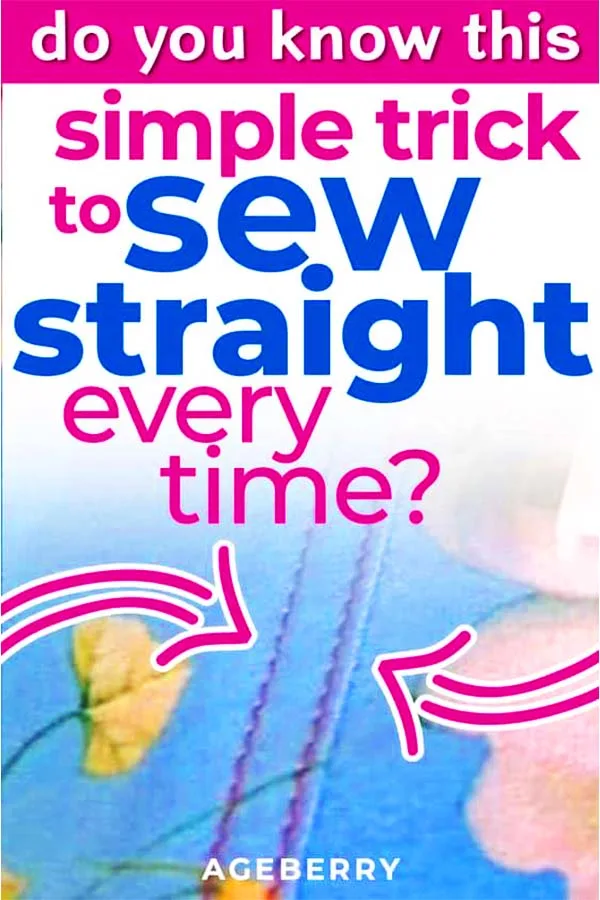 Topstitching and sewing a straight line
Topstitching is an essential skill in the world of garment construction, and it's one that can take a bit of practice. Creating beautiful lines of stitches can totally transform a piece of clothing, giving it extra visual flair or a polished look. Topstitched seams also provide extra strength and support to fabrics as they help hold them together.
To master the art of topstitching, you will need to learn how to create perfectly straight lines. The topstitching must be straight or else it would affect the overall look of the piece.
✅ Related tutorial: How To Topstitch | 17 Topstitching Tips Every Beginner Should Know
Have you ever had problems with crooked stitching lines? I bet you had. Even intermediate sewists are struggling sometimes to do it and had to rip and redo stitching. The example below is very clear: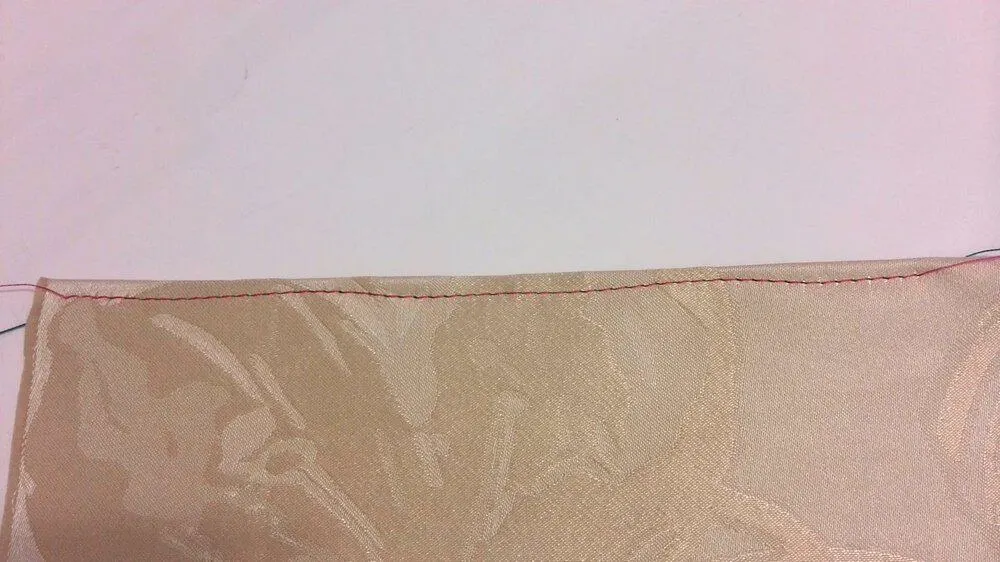 Attention! If you like the video format, at the bottom of this post, look for a YouTube video version where there is a step-by-step video sewing tutorial on how to sew a straight line on a sewing machine. For a more complete picture, I recommend exploring both versions.
It's nice to look at the work of a professional seamstress – all the stitching lines are straight, the seams look perfect. And you always have this feeling that it's so easy to replicate! But as soon as you start sewing you see that it's harder than you thought before and it's unlikely that you will sew straight from the beginning.
To me, it's often enough to look at the topstitching and immediately determine who made the item – an amateur or a pro. I like to wear clothes I made myself but I will never ever wear something if the stitching lines are not straight and done carelessly.
When I learned sewing I used to always worry about making topstitching for my project I worked hard to create. Sometimes I even avoided any topstitching because I was afraid I wouldn't make it right. I was told that I need more experience and practice and then I can always do it properly. But I wanted to have beautiful stitching lines from the beginning. And I think you are the same – you want to sew straight even if you are just a beginner.
Modern technology gives us so many different tools we can use to improve our sewing skills and sewing straight is one in which tools help. It is also very likely you already have the tools, if not they are quite cheap and readily available.
Sewing in a straight line is much simpler than you think. And in this guide, I want to help you to sew straight every time.
First of all, let me show you how to make straight topstitching close to the fabric edges and keep the stitching line parallel to the edge. Remember, the edge itself must be straight.
Of course, we can use a sewing machine throat plate but for me, it works mostly when I am stitching not so close to the edge and mostly for sewing seams not topstitching.
Note: Some of the links on this page are affiliate links. This means I will receive a commission if you order a product through one of my links. I only recommend products I believe in and use myself.
How To sew Straight Using An Edge Guide Foot
I use special presser feet for straight topstitching with ease.
The first foot is called Edge Guide foot (from Janome). My sewing machine is Janome Memory Craft 6600 P, so I tend to use presser feet made by Janome. But this foot works with all low-shank modern machines. I have a Babylock sewing machine and the foot works perfectly also.
The foot comes sometimes with the machine but can also be bought separately, just click on the image below.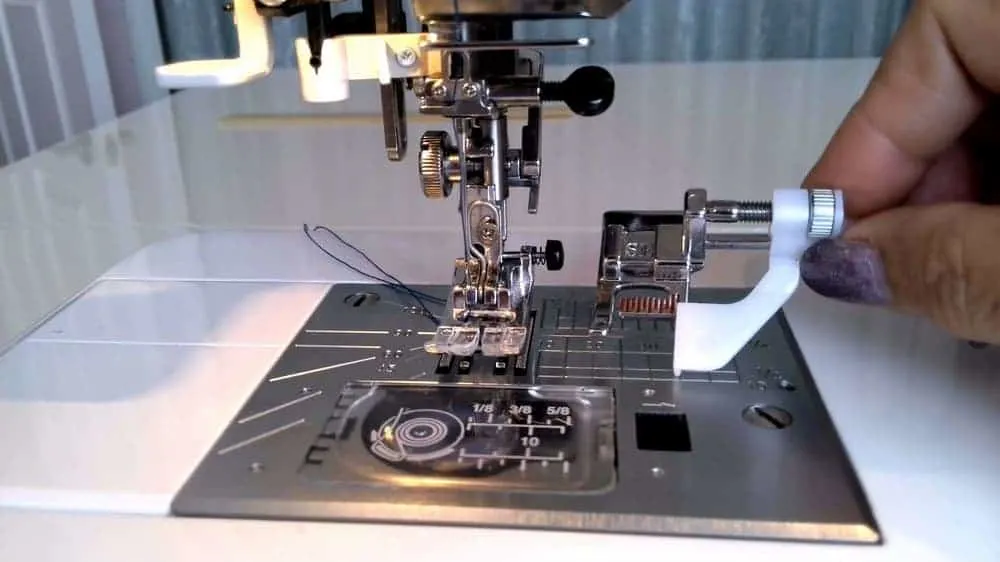 It has a screw that you can turn to adjust a white plastic guide and align it with the fabric edge. It also has small red lines – the distance between them is exactly 1 mm so you can sew as close to the edge as 1 mm, and as far from the edge as 10 mm.
This foot is a snap-on foot as practically all modern presser feet are. Remove the other foot from the sewing machine and install this one – it's really easy. Just clip it on.
Position the needle at the distance you want the stitch to be from the fabric edge, and lower the needle. I want it to be just 1 mm from the edge.
Lower the foot and turn the adjusting screw to carefully align the plastic guide with the fabric edge.
While sewing, keep guiding the fabric edge along the guide – this is really easy to do!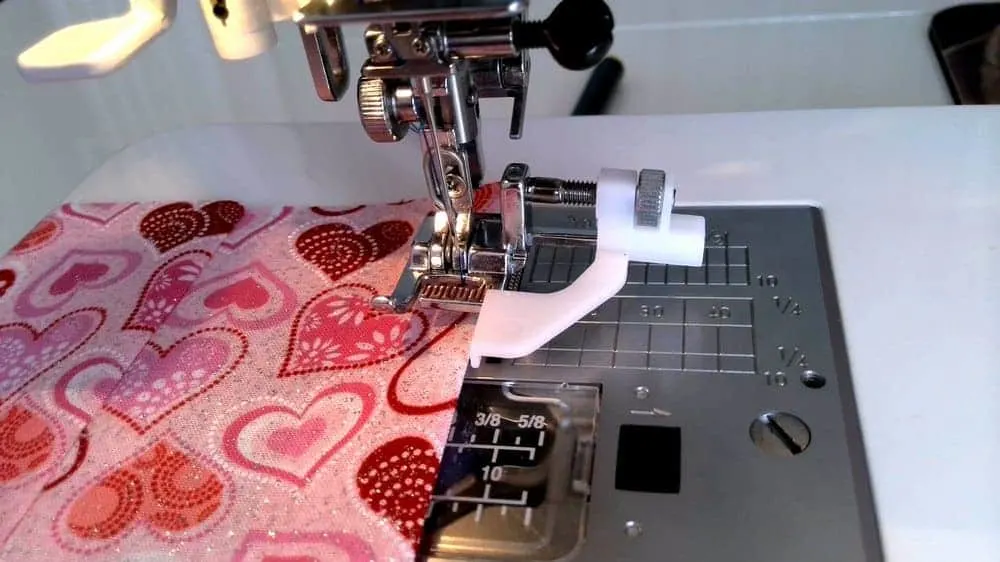 There are some simple rules you need to remember here:
Don't look at the needle, focus on the white guide bar
Hold the fabric lightly – don't pull or push
Don't sew very fast also
It works well even when the distance between the seam line and the edge of the fabric is very small. See for yourself now – I easily created the perfect topstitching line 1 mm from the fabric edge. It's nice and even.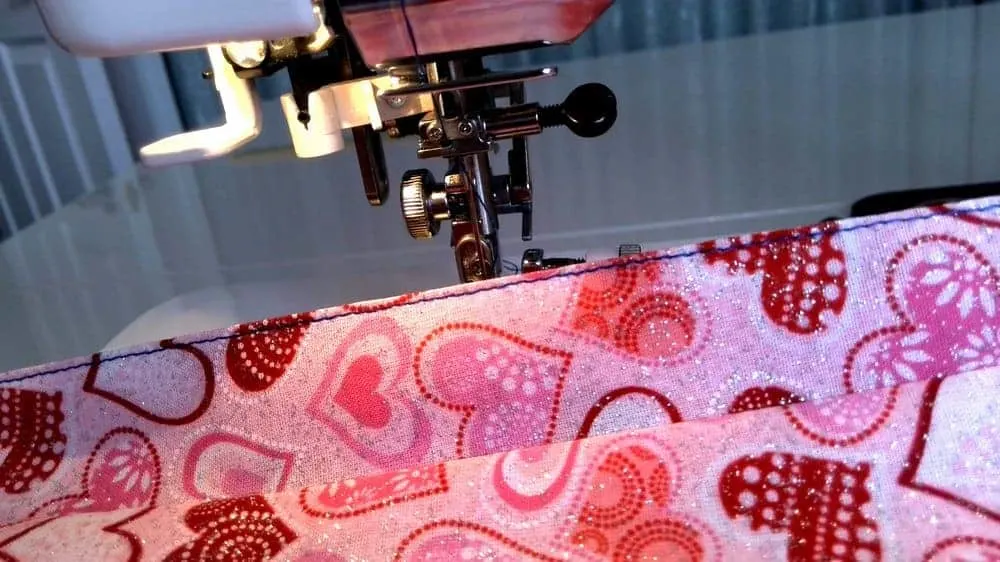 You can topstitch all types of cuffs, collars, belts, hems. The foot can be used with all kinds of fabric – from heavyweight denim to fine lightweight chiffon. In the video clip below you can see how I make straight stitching lines with different fabrics.
Even if I try to stitch badly the foot will not let me – every time the stitching lines are perfectly straight.
If you would like to buy this Edge Guide presser foot check out this link.
And now let's see how we can topstitch along a seam made when we join 2 pieces of fabric together.
Line up the white guide bar with the seam. Stitch at a close distance – 1 mm for example. And after that, you can do the second line very easily.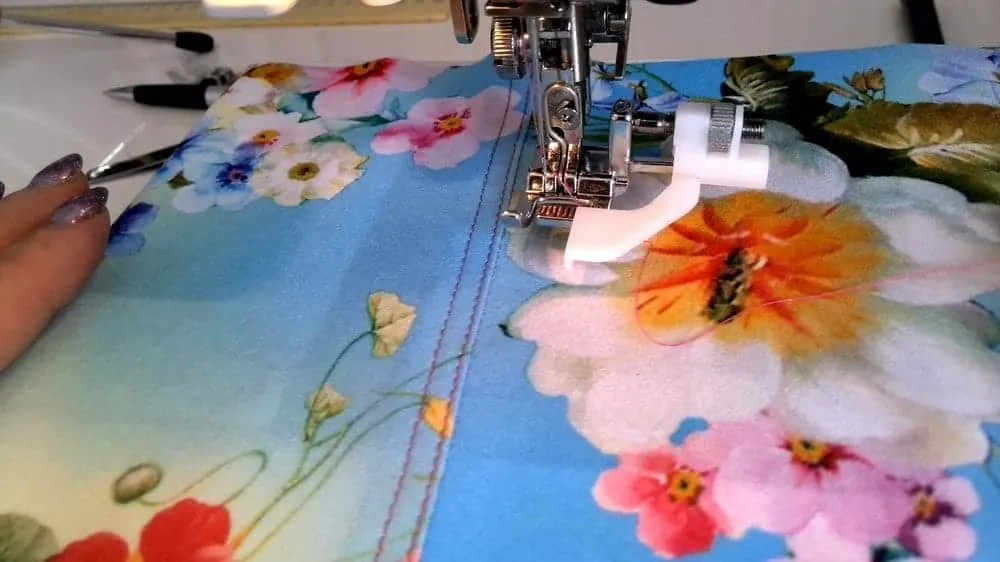 Want to improve your sewing skills?
Get my detailed guide on SEWING MACHINE TENSION ADJUSTMENTS free!
Subscribe to my weekly newsletter with sewing tips and tutorials, free sewing patterns, printable PDFs, and other useful content and you'll find the eBook in your inbox.
Subscriber exclusive offer.
Don't miss the free HELPFUL eBook!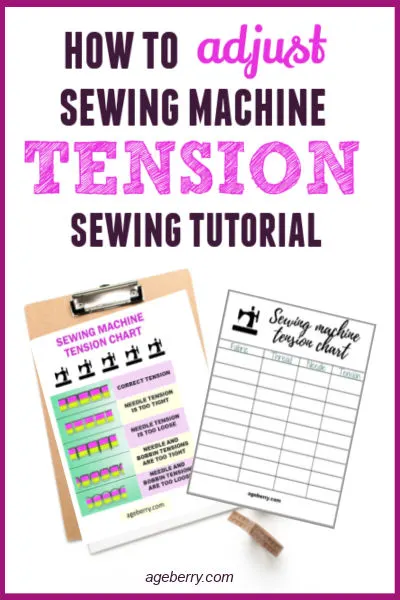 How To Sew Straight Using A Blind Stitch Foot
There are also other presser feet that can be used for the same purpose. They look a little bit different from the foot I have but it seems they work the same. And sometimes they even called differently (like Blind Stitch foot)
I have another presser foot that's called Blind Stitch foot, but I use it for straight even topstitching also.
The fabric guide is metal in this case but there is also a screw and you can move the metal guide with this screw and align it with the fabric edge. How to use this one? It's exactly the same as the previous one.
Install it first. Lower the needle at the starting point. I want it to be 1 mm from the edge. Now align the guide with the fabric edge by turning the screw. Lower the foot and sew keeping the fabric edge along the guide.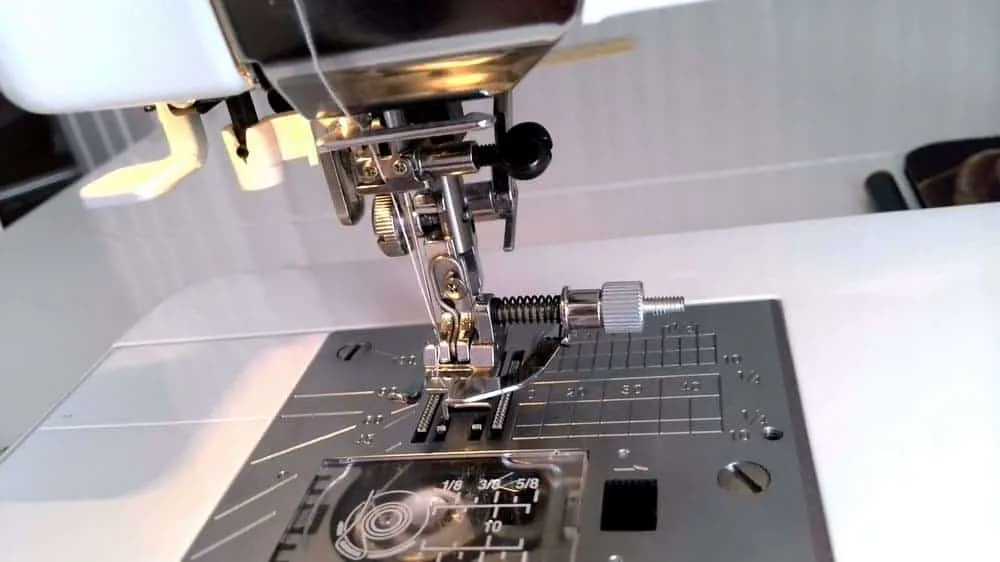 I got a comment on my pin for sewing straight (from Pinterest) – one lady found an easier solution to the problem: "Don't drink and sew". While it certainly can help to sew straight it's all just preference. I personally don't like to have a drink while sewing but as long as you're having fun and not crashing your sewing machine who cares.
In the images below you can see how I use this foot for my 100% silk fabric, I stitch very very close to the edge. I made a blouse and a skirt in vintage style from this natural silk fabric and straight topstitching had to be perfect because you can't rip stitches on silk fabric – you will have holes from needles. I used these magic presser foot and all topstitching was good.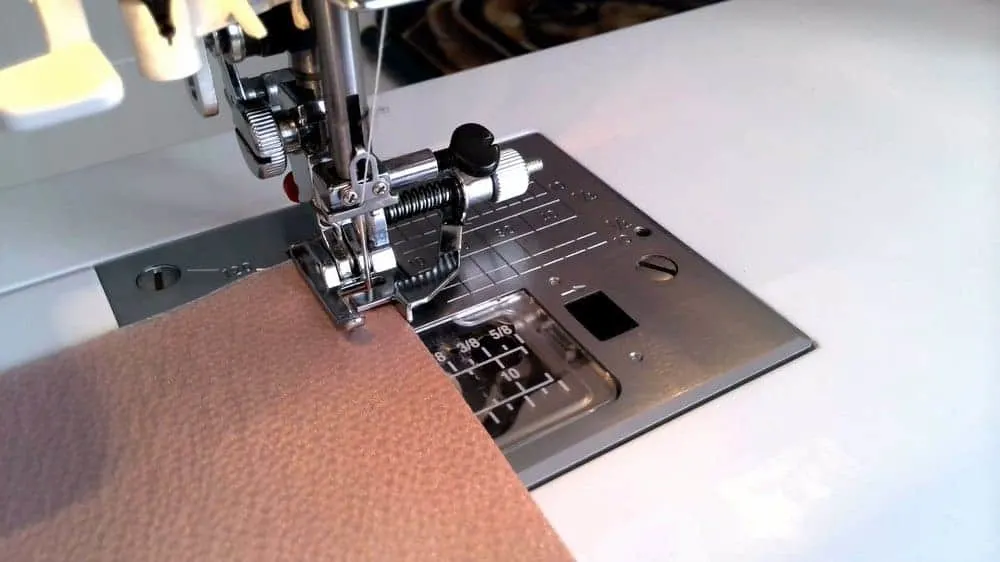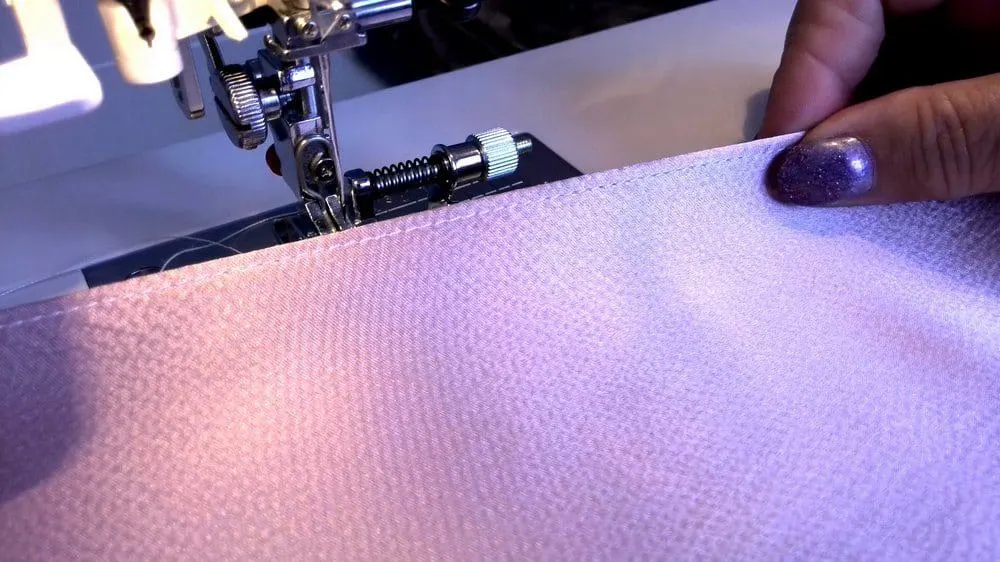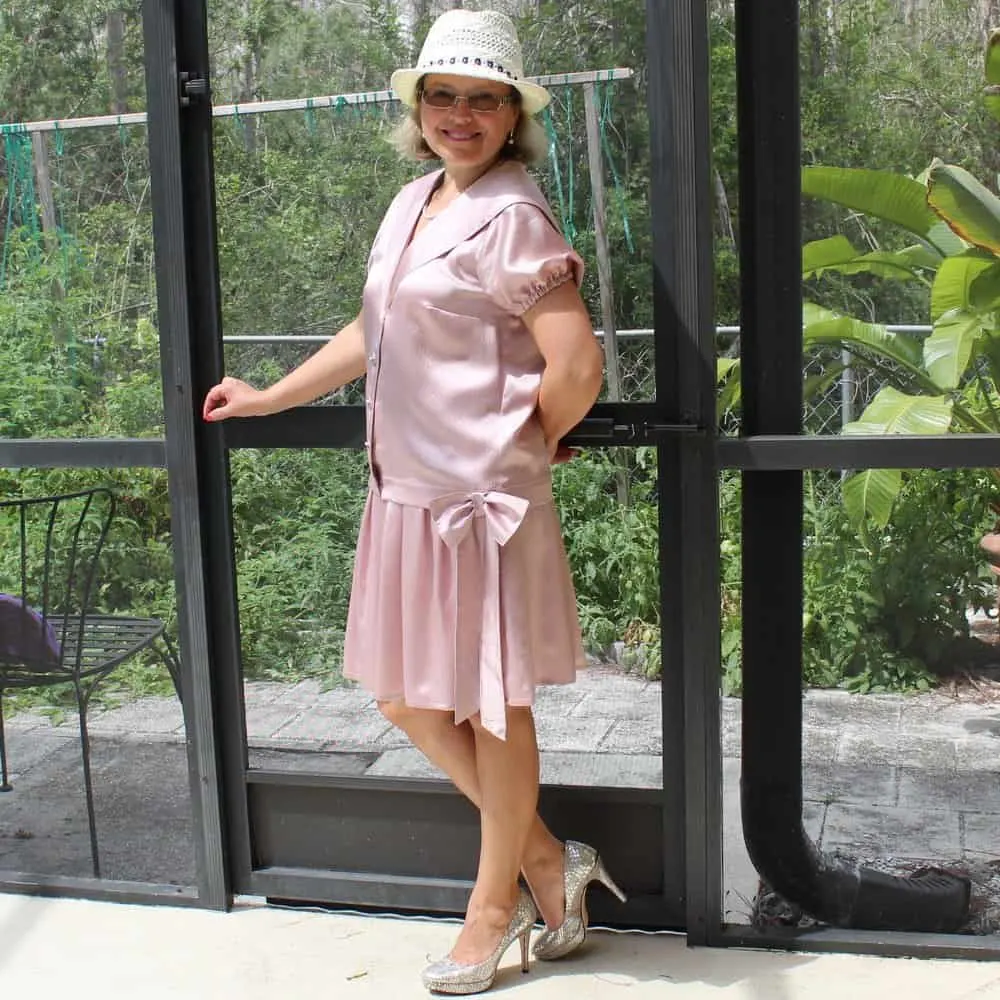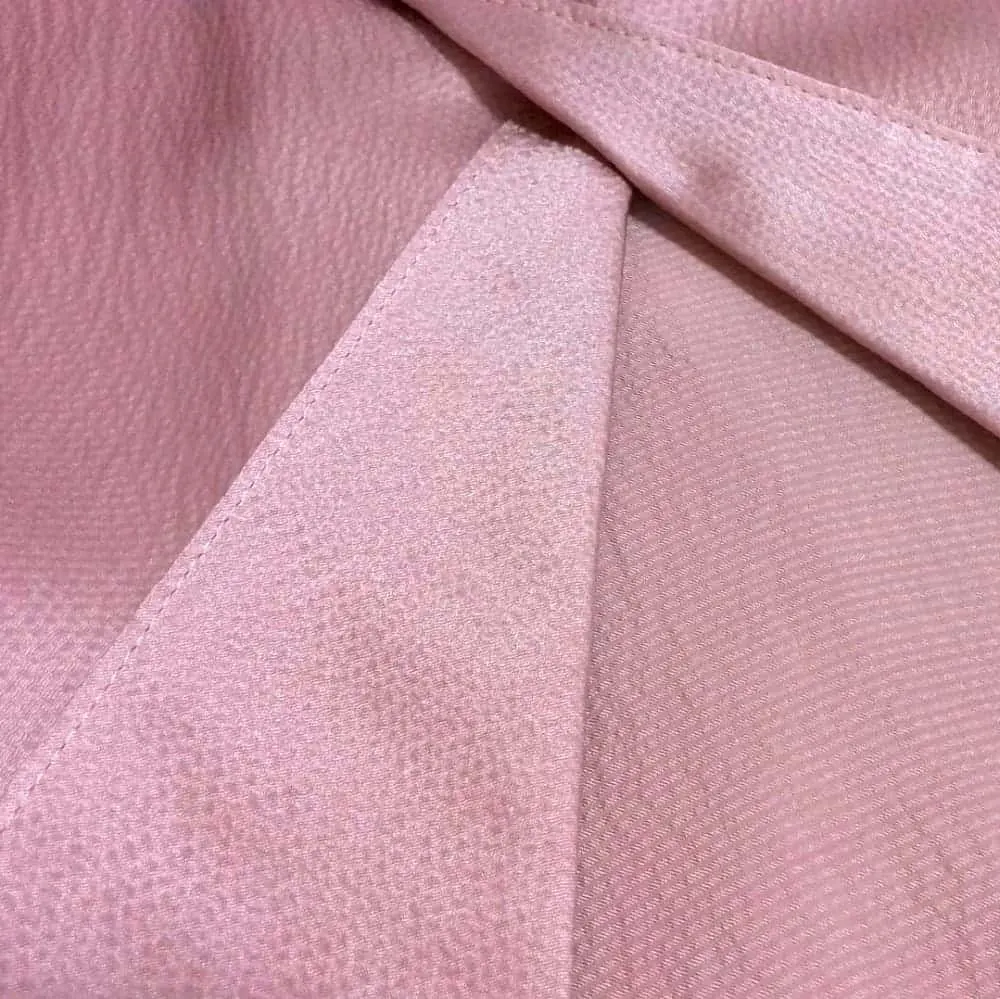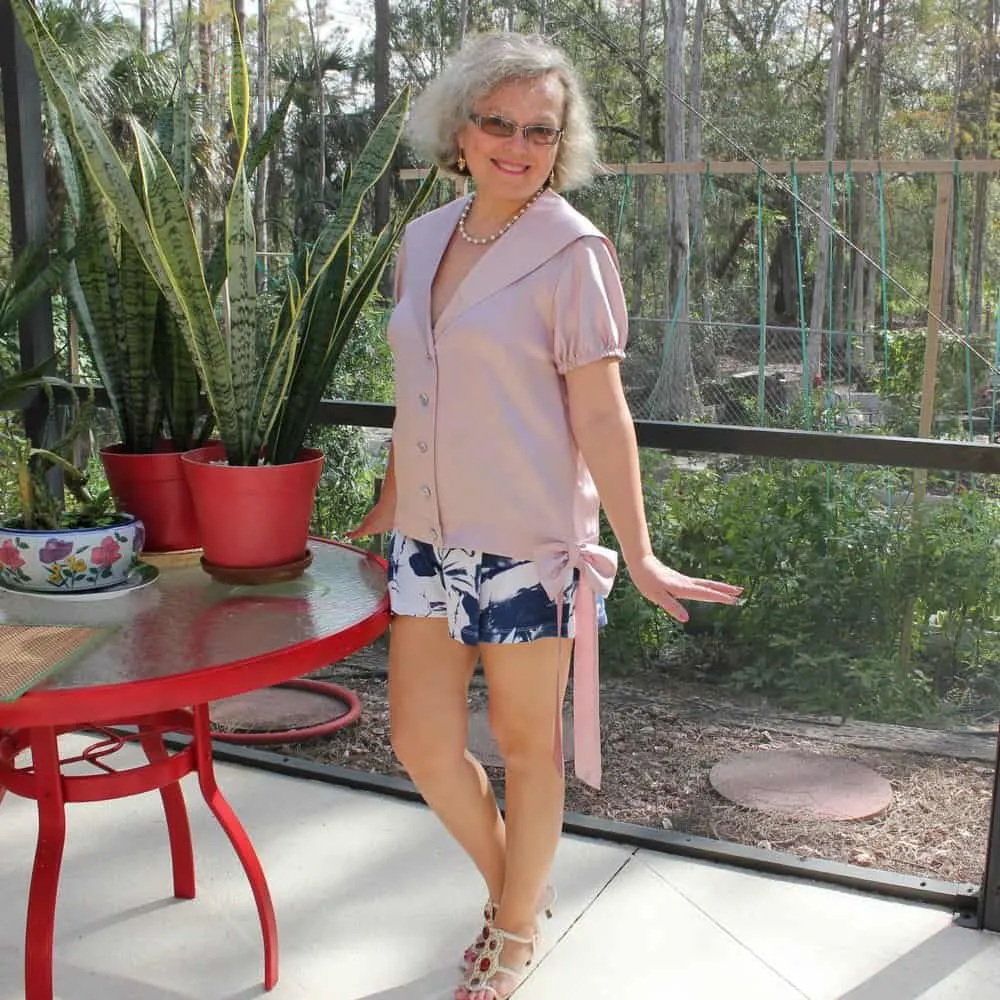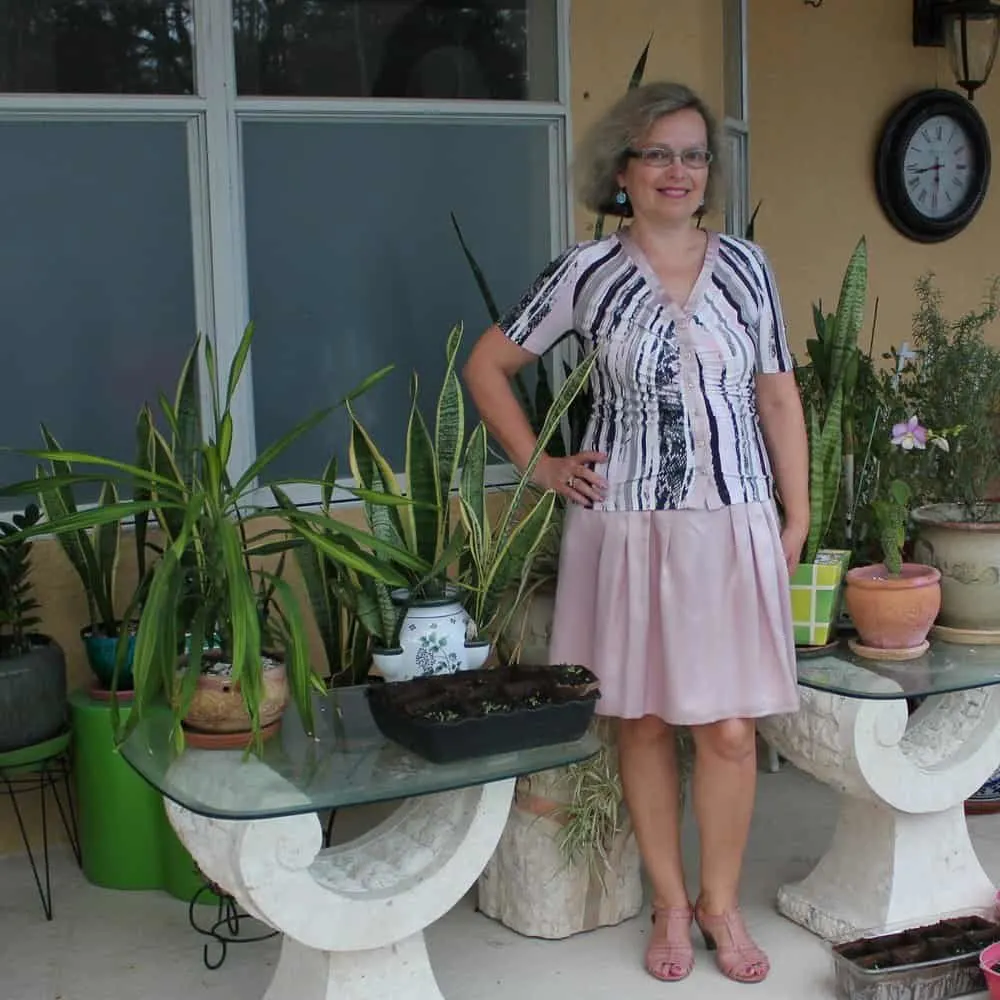 I also have sewing tutorials about other interesting presser feet I use almost daily. Check them out below.
So here is my YouTube video. Check this out if you like to see a helpful video on sewing in a straight line (instead of reading).
Did you find this tutorial helpful? If so, save this pin (see below) on your sewing board so you can come to this tutorial later when you are ready to learn sewing straight and follow me on Pinterest for more tips, tutorials, and inspiration!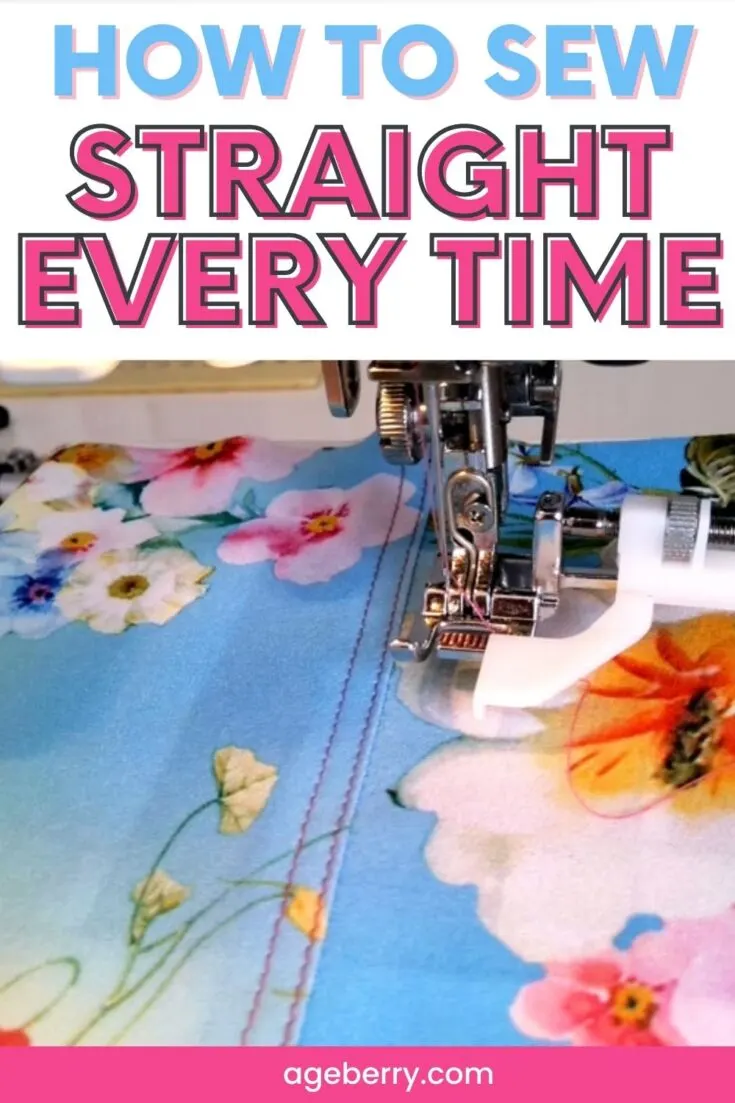 Ready to take the next step in your sewing journey? Check out more step-by-step tutorials from my blog and don't forget to share !
---
---