Since knit fabric behaves differently than woven fabric, you need to work with it differently than you would with woven. Here are my tried and true tips on how to hem knit fabric so you can avoid puckered hems and popped stitches.
I have seen questions from readers again and again regarding how to work with knit fabrics. Experience has taught me just how challenging working with knit fabrics can be for a beginner sewist.
Knowing how easy it is to ruin your knit garment, I've been creating posts specifically around this topic to help beginners sew with knits and hopefully experience far less confusion and frustration than I did when I was just starting.
I began with a few articles on modern types of knit fabric, then came the guide on the tips and tricks you need to cut knits successfully and fix curling edges of jersey knits. Now, we'll continue the project with this guide on how to hem knit fabric successfully.
Knit fabric can be hemmed in a variety of ways – some faster and more effective than others. I'm sharing some of my general sanity-saving tips as well as discussing different types of hems you can use to hem knit fabric.
You don't really need to sew hems in knits because the knit fabric doesn't fray. However, hems do give a more professional look to your garments.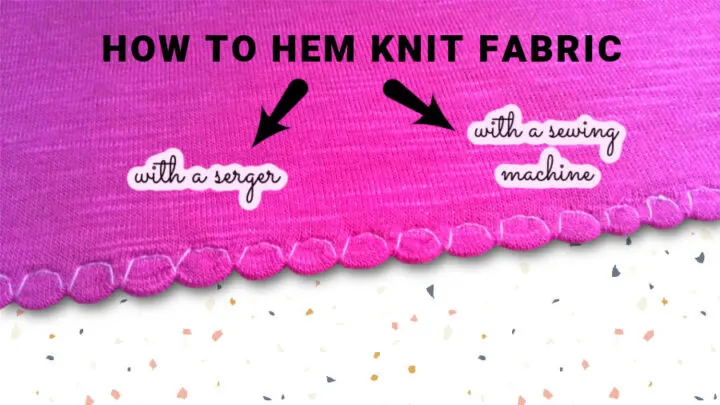 How To Hem Knit Fabric With A Serger
You can use a serger to quickly and easily finish the hem on a knit garment.
You can create perfect hems that are stretchy enough for any knit fabric type. Your finished product will look like it was done in a factory instead of at home.
Sergers are equipped with several built-in stitches that work perfectly for hemming knits.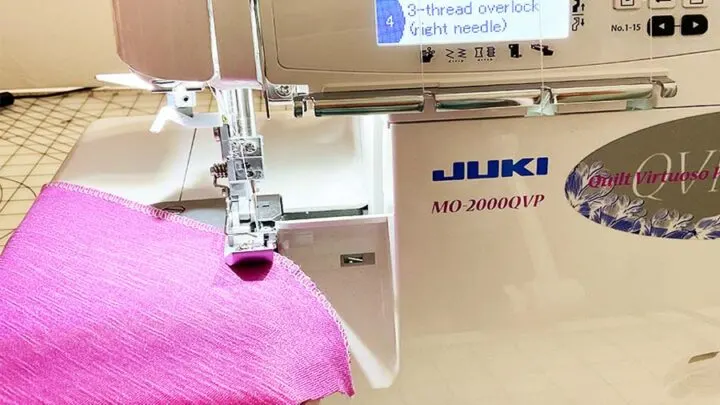 Rolled Hem With A Serger
You can make a rolled hem. Rolled hems where the fabric edge rolls under are great for knit fabric. There is a special rolled hem stitch on a serger that covers the entire fabric edge creating a narrow, dense hem. You will use only one right needle for this stitch and one or both loopers. A serger usually folds the raw fabric edge and the thread densely wraps the folded edge.
Read your serger's manual for correct settings before you start rolled hemming because sergers are a little different in their settings: you will need to change the tension settings, stitch width, stitch length, and maybe even insert a separate presser foot.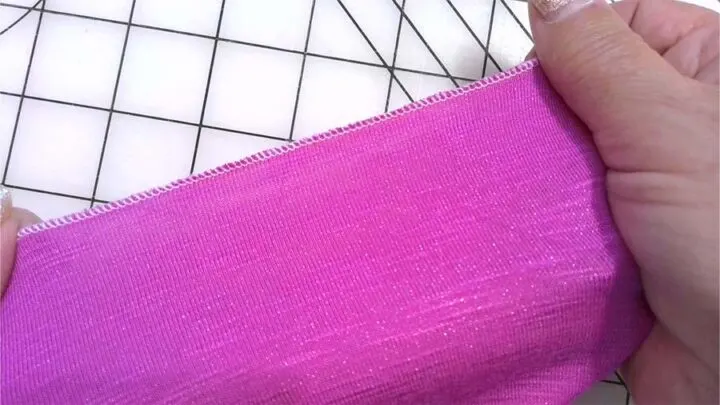 Rolled hem made by serger is a very fast way to hem knit garments. That's exactly what I did when hemming my knit slip dress.
Lettuce Hem With A Serger
The lettuce hem is a kind of hem finishing that resembles lettuce leaf edges. It's an easy way to transform a plain regular hem into an attractive beautiful finish.
The lettuce hem is done with rolled hem settings on your serger. The basis of making the lettuce hem is to pull on the fabric and stretch it as you're making the stitch. Once you allow the fabric to bounce back to its regular form, you will see a wavy effect.
Learn more about the lettuce hem in this tutorial: How to sew a lettuce hem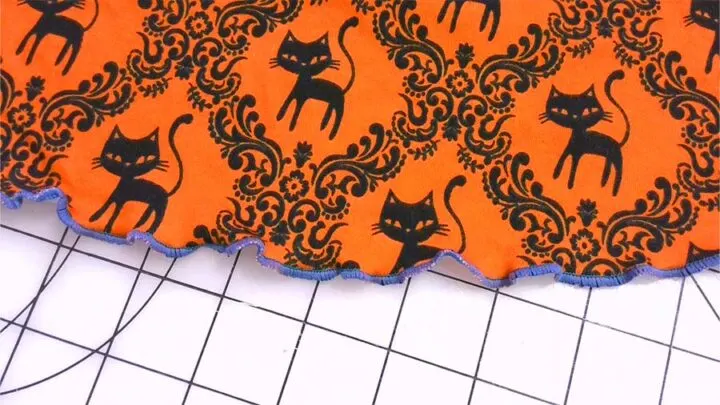 Blind Hem With A Serger
You can make a blind hem on your knit fabric with your serger. You will need to make it as invisible as you can. There are special blind hem presser feet for different models of sergers. But you can do it with a regular presser foot too.
You can find detailed instructions in this tutorial The Quickest & Easiest Way To Blind Hem with Serger Machines.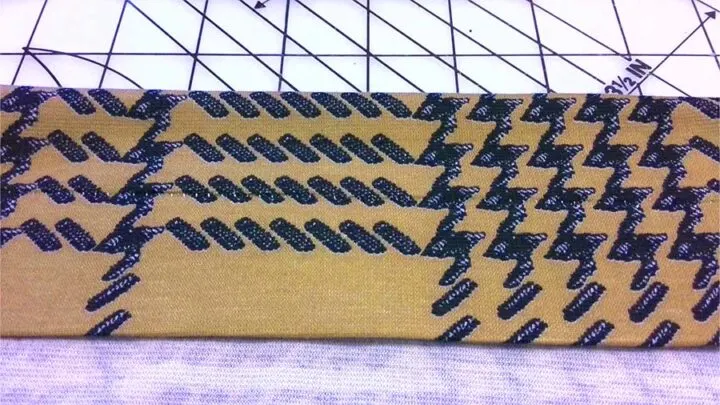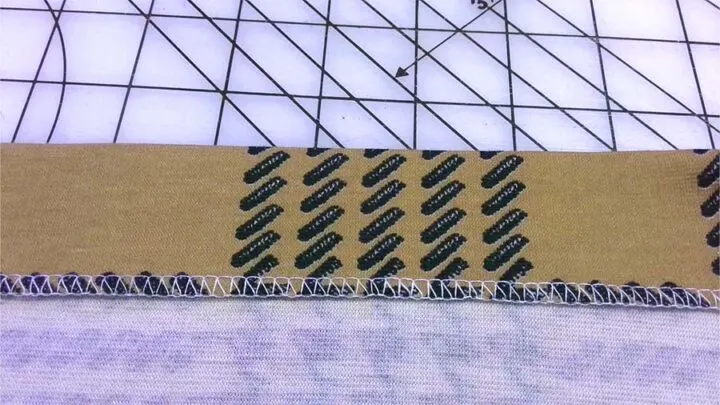 Regular Overlock Stitch
You can also hem knit fabric with regular overlock 3 or 4-thread stitches.
But there are a few ways to do it.
The first way – just to finish the raw fabric edge with 3-thread overlock stitches and fold it over to make a hem. But in this case, you will need to continue to sew the hem by hand or with a sewing machine.
The second way – use a decorative thread in the loopers. In this case, you don't need to fold the hem under. The decorative thread will leave a nice finished edge.
For example, I used silver metallic thread to make this hem (in the image below).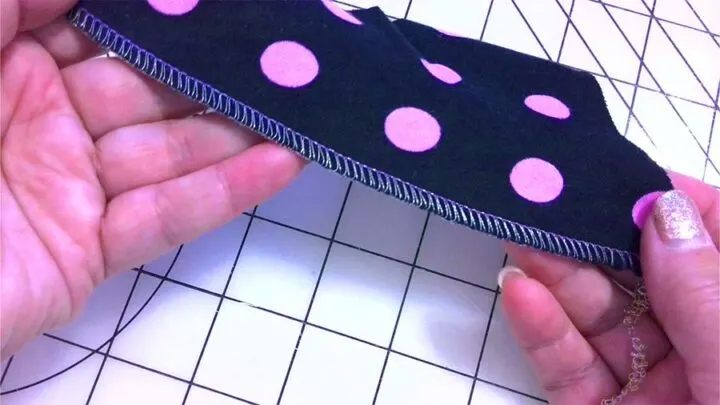 Note: Some of the links on this page are affiliate links. This means I will receive a commission if you order a product through one of my links. I only recommend products I believe in and use myself.
Coverstitch Hem
The coverstitch is often the type of stitch you'll see on store-bought knits because it allows for maximum stretch. Some Serger models are equipped with a coverstitch function, but if yours isn't, you can affordably buy a coverstitch machine.
Check out my guide on the difference between Sergers and Coverstitch machines to see which is best for you.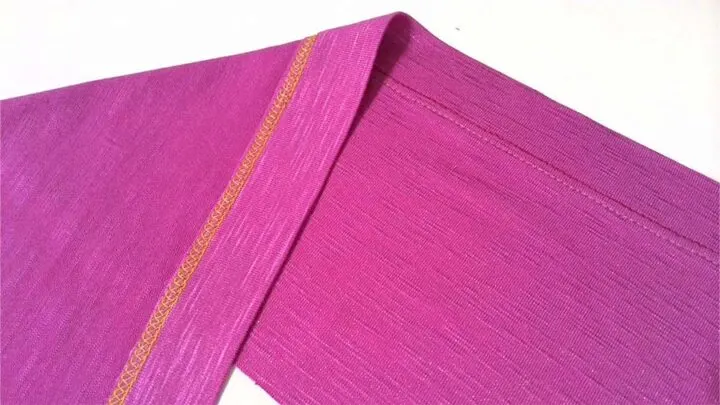 Finish With Fabric Bands
Fabric bands are separate pieces of fabric that are folded in a band shape. They're great when you want to finish hems without stabilizing the fabric and are commonly used for sleeves or the bottom hem of a shirt or pants.
Fabric bands can be made from rib knit fabric. It's a super cute way to finish your hems.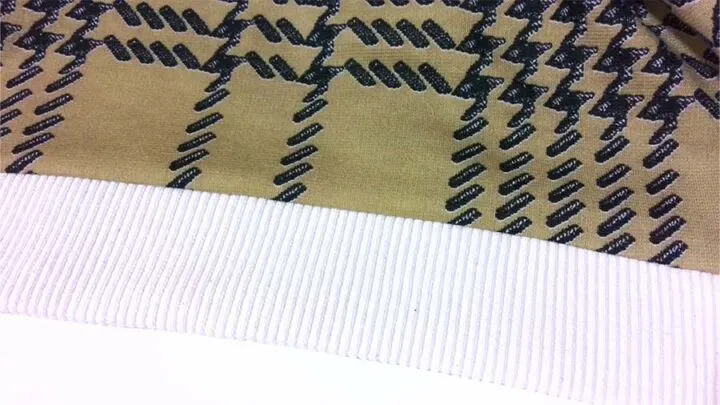 How To Hem Knit Fabric With A Sewing Machine
If you don't have a serger you can sew hems on knit fabric with a regular sewing machine.
I'm going to show you the stitches that are best for this purpose.
If you are making a garment from a stretchy knit fabric jersey or interlock, it will be difficult to use a regular straight stitch because when the fabric stretches the threads might pop. So we need to use special stitches for knits. They allow us to sew without puckering the fabric and they create an elastic seam that won't pop when stretched.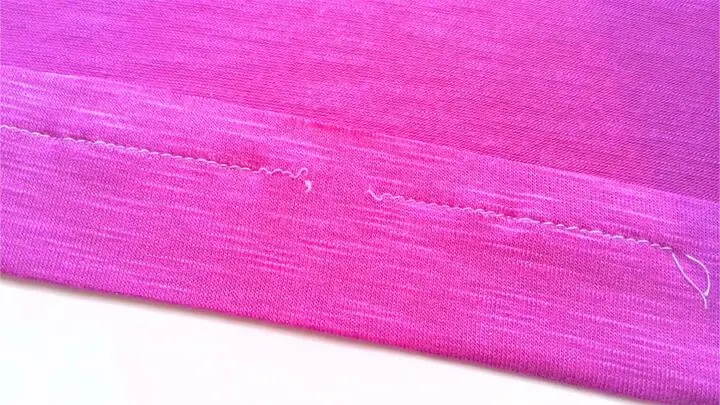 Zigzag Stitch For Hemming Knits
The zigzag stitch is great for hemming stretch knits because the very design of the stitch allows for movement and stretching without popping stitches.
If you are hemming knits without a serger, I recommend using the zigzag stitch because the stitch is available on any regular sewing machine. If you set your settings to a medium width (around 3.0) and a medium stitch length (2.0-3.0), then gently feed it through the machine, you should have a moderately stretchy stitch. Don't forget to use your walking foot!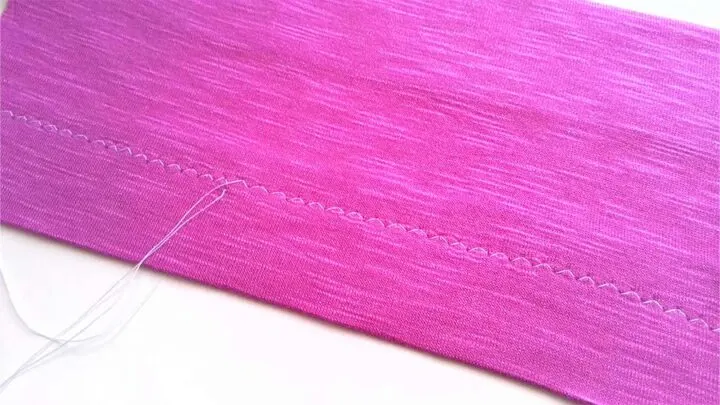 3-Step Zigzag Stitch ( or Tricot Stitch)
A normal zigzag stitch is created with a single stitch from point to point. Unfortunately, sometimes, with lighter-weight knit fabrics, it can produce a tunneling effect or bunch up.
If you want to prevent this, try using a 3-step zigzag stitch which is a series of 3 small straight stitches from point to point, running diagonally from each other. You still get that overall "W" pattern but with a flattering stitch.
This stitch works well for stretch knits when you need a wider stitch, and it's great for ultra stretchy fabrics like lycra and "slippy" fabrics such as nylon tricot, lingerie, and swimwear hems.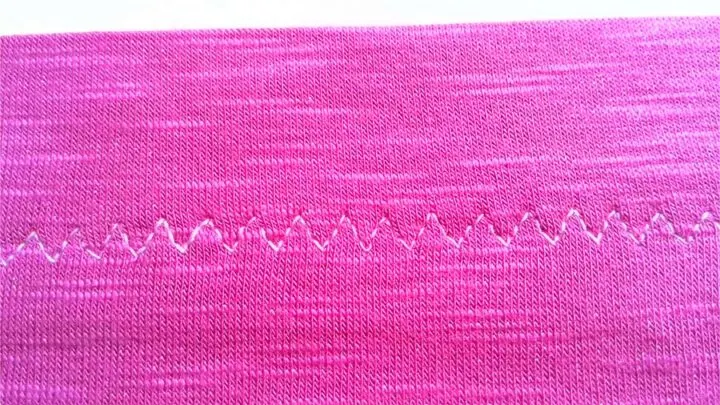 Twin Needle Hem
This is one of the most common uses of twin needles.
If you want to create a professional-looking hem but don't have a professional-level coverstitch machine, try hemming knits with a twin needle. It will create a hem with a zigzag stitch on the bobbin thread side and parallel stitches on the right side, giving you a nice stretchy hem. The stitches are more secure and the hem is stretchier…perfect for all types of knits. Make sure you are using a ballpoint twin needle.
Related: How to use a twin needle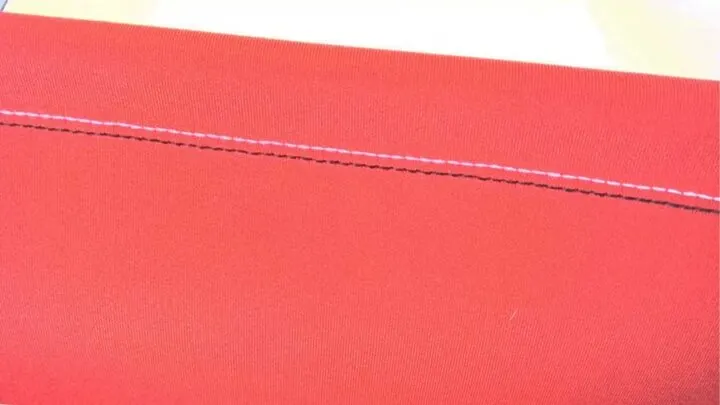 Stretch Blind Hem
Blind hem means invisible hem. For this, you will need to use a special blind hem presser foot and a special blind hem stitch for knit fabric.
This stitch may not be your go-to for knit fabrics, but it can work well to create a stretchy invisible hem. Check out my video tutorial on blind hemming to learn more about how to use this stitch.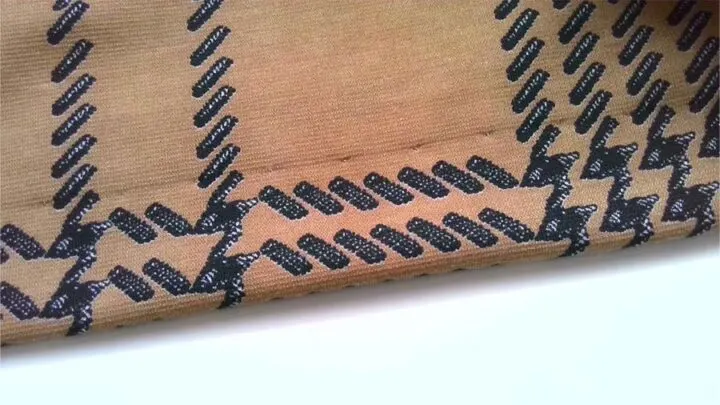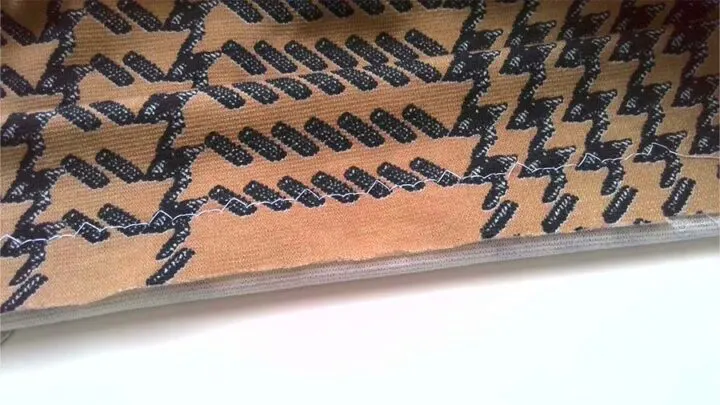 Scalloped Hem
Some machines may have stitch options that allow you to make this decorative hem on knit fabric. Look for this stitch on your machine and adjust the stitch settings.
This is a very interesting finish for lightweight knit fabrics. It provides a small scalloped edge on the fabric. On my Janome 6600, it's called "shell tuck". This stitch has to be sewn on the edge of the fold. It's perfect for hems and armholes on knit garments.
Fold the seam allowances under, then stitch along the fold so that the "straight" part of the stitch sews within the hem, and the "point" sews almost off the edge of the fold. You can adjust the stitch length and the stitch width.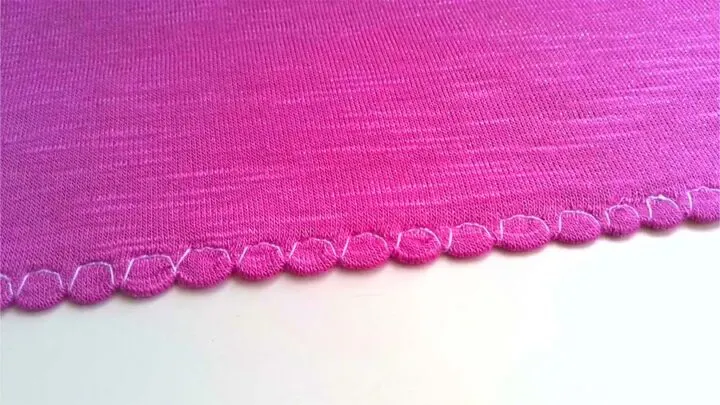 For more details about hemming with a sewing machine please refer to my article How To Hem A Dress With A Sewing Machine.
Hemming Knits By Hand
You can easily hem your knits by hand. Hand sewing is an easy way to get the job done without having to purchase any special tools or equipment.
Simply fold the edge over, sew along the edge, then give it a gentle press. Consider adding hemming tape to the hem's wrong side to prevent stitches from puckering.
Sewing hems by hand takes more time than using a machine, but if you need an invisible hem or don't own a serger, this technique works great. In fact, it is actually easier than trying to use your sewing machine or serger especially if you need to repair the ripped hem on a knit garment.
If your garment has a hem that's coming undone, then it's time for some quick mending. It's easy to fix this problem by hand in just a few minutes using only a needle and thread.
I like to hem by hand garments made from velvet knit fabric. Here is an example.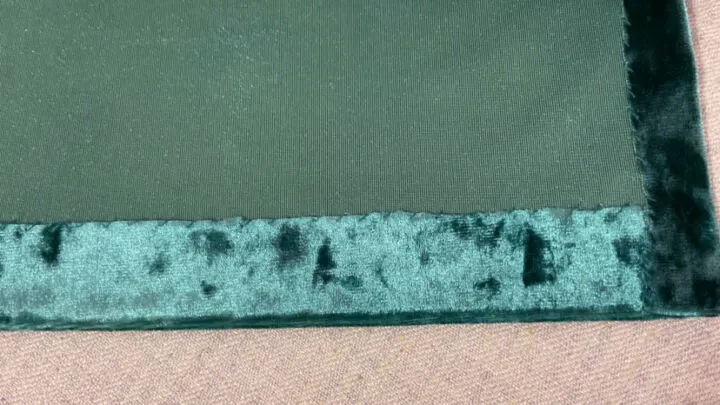 General Tips For Hemming Knits
In every aspect, working with knit fabric is different than working with a woven. If you treat knits the same way as woven fabrics, you'll find yourself feeling frustrated when your project doesn't turn out well.
Here are a few helpful tips for hemming knits.
Choose The Right Sewing Needle
There are many different types of sewing needles, and they have different purposes. When it comes to working with knit fabrics, you do not want to use any type of needle with a sharp point. If you do, you risk poking the needle through the fabric fibers and tearing your fabric.
Instead, when you work with knits, use ballpoint needles. Ballpoint needles have a blunt tip that slides in between threads of your knit fabric instead of breaking them.
Choose The Right Sewing Thread
Using standard cotton thread for sewing knits will result in the sound of stitches popping at the first stretch of the fabric. Cotton thread simply doesn't stretch enough to use with stretchy knit fabrics.
You can use polyester thread combined with stretchy stitches in some cases, but there are even better alternatives.
You want to match stretchy fabric with stretchy thread. I highly recommend using:

Wooly Nylon Thread: This thread is stretchy because of the way it's constructed. Instead of being one single, very long thread, it's made of many individual fibers that aren't fully extended until they're put under tension. If you use a serger wooly nylon thread should be used in loopers. And if you use a regular sewing machine for hemming knits use the wooly nylon thread in bobbins (just fill the bobbin with the thread by hand in this case). Read more about the wooly nylon thread here.
Eloflex Thread: This looks and acts like a normal thread does; it just happens to be stretchy too. Here is my review of the Eloflex thread.
Tip: For a more invisible finish on your knit fabric hems, color match your thread to your fabric.
Use Hemming Tape (Knit Stay Tape)
You can use hemming tape to stabilize hems on knits. But it must be special and made for KNITS. Hemming tape for knit fabric is called KNIT STAY TAPE and it's stretchy.
Fusible knit stay tape holds your knit hem in place while you sew. It helps prevent puckering so that you get a nice, smooth hem.
I mostly use it to fuse it to a knit hem before I sew a coverstitch hem or use a twin needle to make a hem.
Use A Walking Foot On Your Machine
When two layers of fabric feed under the foot of your machine at different rates, you end up with a wavy hem. Thanks to the stretchy quality of knit fabrics, this issue is even more likely when sewing knit fabric.
Using a walking foot (especially in addition to other stabilizers such as knit stay tape) on your sewing machine will help feed both layers of fabric evenly to help create a beautiful flat hem.
Related: How to use a walking foot
Uncurl The Hem
Knit fabrics may not fray, but their ends tend to curl mostly toward the right side of the fabric. So you will need to uncurl the edges.
If the fabric is particularly persistent about wanting to curl, spray the ends with starch to help them stay straight. The starch easily rinses out when you wash your final product and doesn't stain the fabric.
Check out my YouTube video tutorial on how to fix curling edges.
Use Ballpoint Pins
Pins are very helpful for holding your fabric together and in place as you sew – for both wovens and knits. However, the difference is that with wovens, you can use pins with sharp tips, but you don't want to do that with knits (for the same reason you don't want to use sharp needles).
Instead, use ballpoint pins, so the blunt ends slide between the threads rather than puncturing them.
Avoid Stretching Your Fabric While Holding It
The biggest hurdle to sewing a knit hem is not to stretch it as you sew. Pulling, tugging, or even simply letting knit fabric hang down over the edge of your sewing table will cause it to stretch and your garment to misshapen.
The best technique that I've found is to allow your fabric to sit on the table or possibly in your lap in addition to the other tips above.
———————————————–
Now you know how to hem knit fabric with a serger or sewing machine. We hope this information has been helpful and that it will help save some time when completing your next project from knit fabric. Let us know if you have any questions about the process in the comments section below, we would love to hear from you.
Did you find this tutorial helpful? If so, save this pin (see below) on your sewing board so you can come to this tutorial later when you need this information on how to hem knit fabric, and follow me on Pinterest for more tips, tutorials, and inspiration!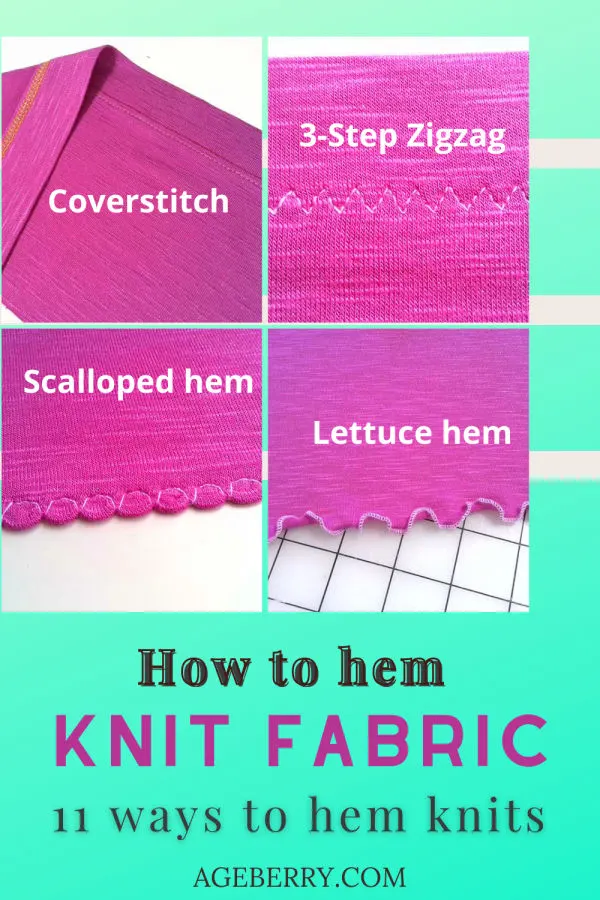 ---