It's no secret that I am a big fan of embroidery machines. They can be a lot of fun to use. But what can you do with an embroidery machine, exactly?
Maybe you've seen some cool designs online and you think it would be fun to try your hand at machine embroidery. Or perhaps you're looking for a new hobby that's both creative and productive. Sure, you can use it to add a personal touch to blouses, towels, and other things. But that's just the beginning. With an embroidery machine, you can also create one-of-a-kind home decor items, personalized gifts, and even works of art.
In this article, I'll discuss some of the nearly endless possibilities. Whether you're a beginner or an experienced sewer, I think you'll find something useful here.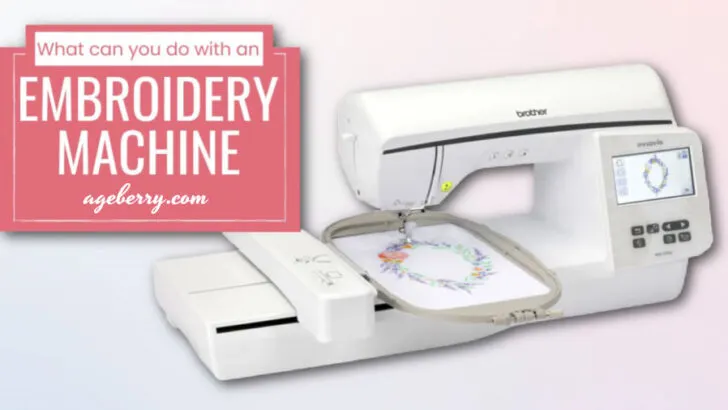 Embroidery has a long and rich history with origins that date back thousands of years. It is believed to have begun in China as early as the 5th–3rd century BC, and since then, it has expanded and evolved into many diverse styles throughout the centuries.
Today, different types of embroidery can be found all around the world, incorporating vibrant colors and unique patterns specific to the culture it originates from. With its multi-dimensional design capability and timeless beauty, there is no wonder that embroidery remains to be an immensely popular craft today. It's clear that embroidery will continue to be part of our lives for years to come.
Machine Embroidery vs. Hand Embroidery
Technology now offers us a new way of approaching the art of embroidery – with an embroidery machine.
If you're new to the world of embroidery, you might be wondering what the difference is between machine embroidery and hand embroidery. Both have their own unique benefits.
The Pros of Machine Embroidery
#1. It's Faster Than Hand Embroidery.
If you're looking for speed, machine embroidery is definitely the way to go. These machines can stitch a design very fast and they're designed to create a much fuller and richer finish in a fraction of the time it would take to do by hand. Not to mention, once you've set up your design, you can walk away and let the machine do all the work—leaving you free to work on other things in the meantime.
I am watching YouTube videos when my machine is embroidering.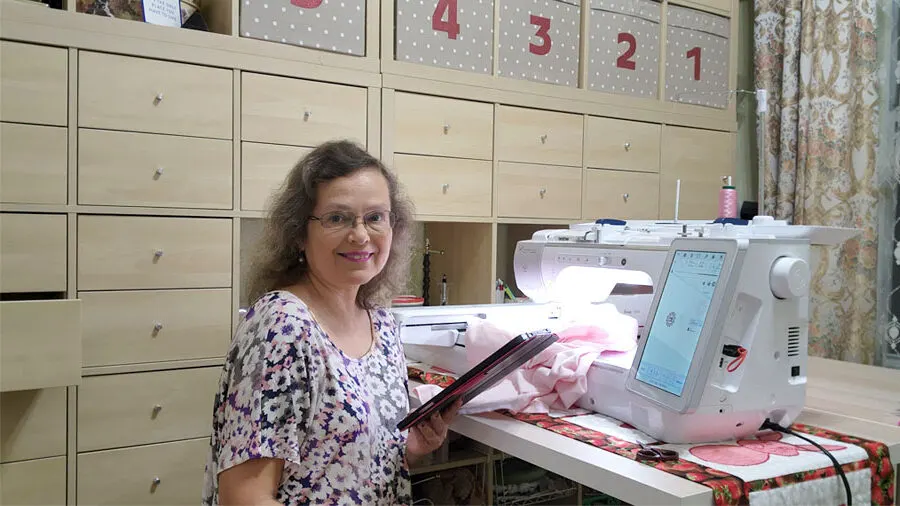 #2. It's Very Detailed.
With its fully automated processes, an embroidery machine can give your projects far more details than could ever be achieved with hand stitching alone. Resulting in pieces that have incredibly fine details and tactile nature that no longer require long hours of tedious work to complete.
#3. You Have More Control Over The Final Product.
With an embroidery machine, it's easier to ensure that each item looks exactly the same because the machine does all of the work for you – meaning less room for human error.
#4. You Have More Stitch And Sesign Options.
Many machines come with built-in stitches and designs that exceed what is possible with hand stitching alone – meaning that your final product can be even more beautiful and intricate than if it were sewn by hand. Apart from that, you can buy thousands of designs or even create your own designs with different fonts and sizes, making your work completely customized.
What Can You Do With an Embroidery Machine?
I remember the day I bought my first embroidery machine. It was a Brother with a 4" x 4" hoop, and I thought it was the best thing ever. I could put embroidery on everything! The speed was amazing, and with all the different embroidery threads available, I could do so many different designs.
But now, 20 years (and a few different embroidery machines) later, I have an embroidery machine (Brother Luminaire) that costs more than my first car. With this machine, I can do things that were impossible before. A few years have gone by since my acquisition of this wonder machine, but I'm still in awe every time I pick up the thread.
It's an absolute delight to work with. It can take large hoops, meaning large designs. A large design can have upwards of 40,000 stitches, even 50,000 sometimes, and the machine has a high maximum speed.
So, let me show you what you can do with an embroidery machine.
#1. Embellish and Personalize Clothes and Shoes
One of the first things people think about when they buy an embroidery machine is personalization. Who doesn't love a beautifully personalized item of clothing?
Embroidery machines are a great way to take your wardrobe or accessories up a notch. With an embroidery machine you can take any outfit from simple to special with beautiful designs or interesting phrases that allow you to stand out from the crowd.
With an embroidery machine, your wardrobe will become one of a kind.
Small children love anything with their names on it, and with an embroidery machine, you can make any sweater, jacket, or hoodie very special.
Of course, personalization isn't just limited to things with people's names on them. Do you have a relative with a penchant for butterflies, flowers, hummingbirds or something else?
What about that friend who can never find anything with her favorite animal on it? Whether she loves armadillos, koalas, or bearded dragons, with an embroidery machine, you can make her a one of a kind article of clothing that reflects her own personal style and taste, no matter how quirky and unusual it is.
My pictures provide some examples of what you could create if you decided to take the plunge and try out machine embroidery. No matter which design you choose it's sure to be an instantly recognizable piece in your wardrobe.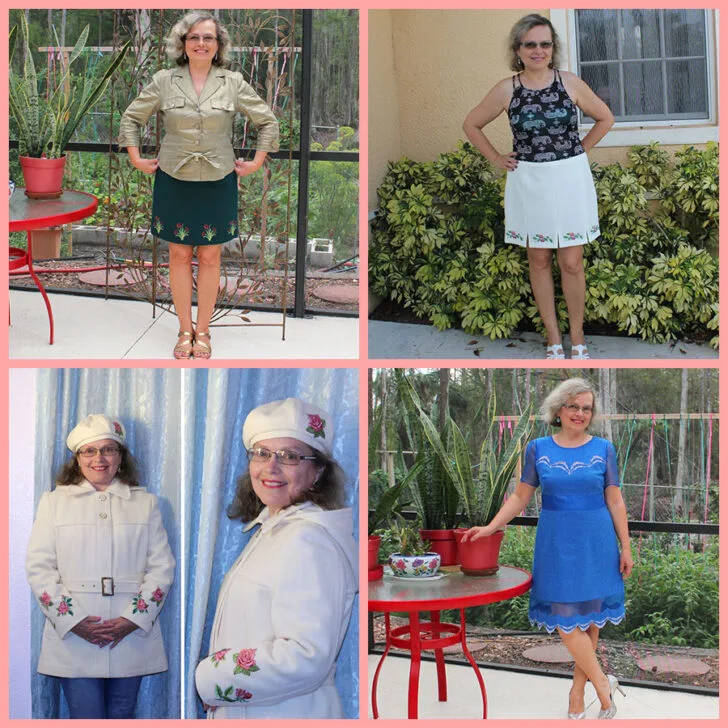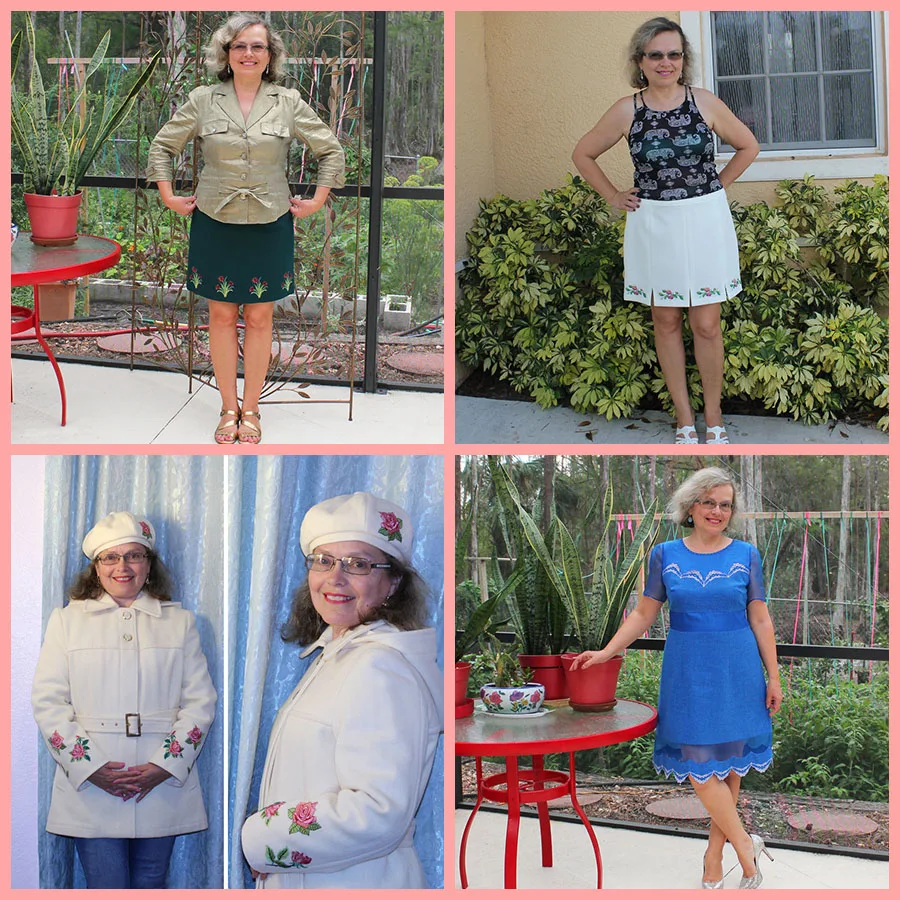 Here is one of my machine embroidery tutorials where I am showing how to embroider 3D flowers to brighten up a plain knitted cardigan. And my daughter agreed to model it.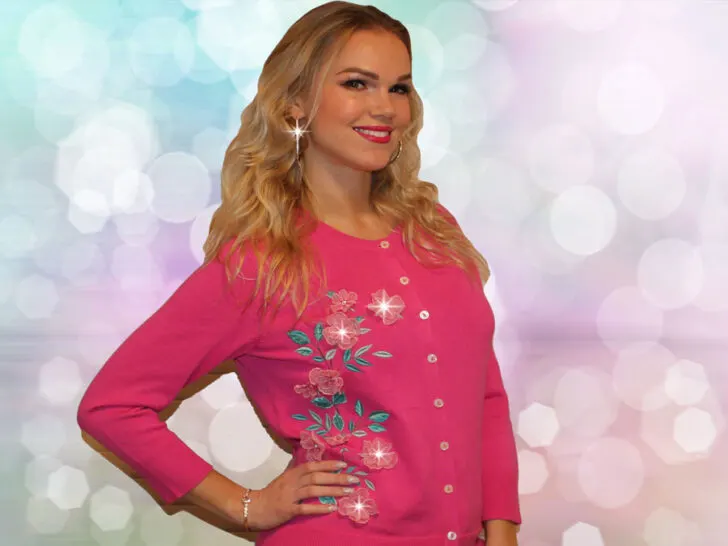 Now let me show you how I embroider on leather. Have you ever tried embroidering on leather? It can be quite tricky as it involves learning different techniques, as well as knowing which needles and stabilizers to use. You also have to think about how to properly hoop the leather for embroidery. Through this machine embroidery tutorial, you can learn all the secrets and nuances of embroidering on leather.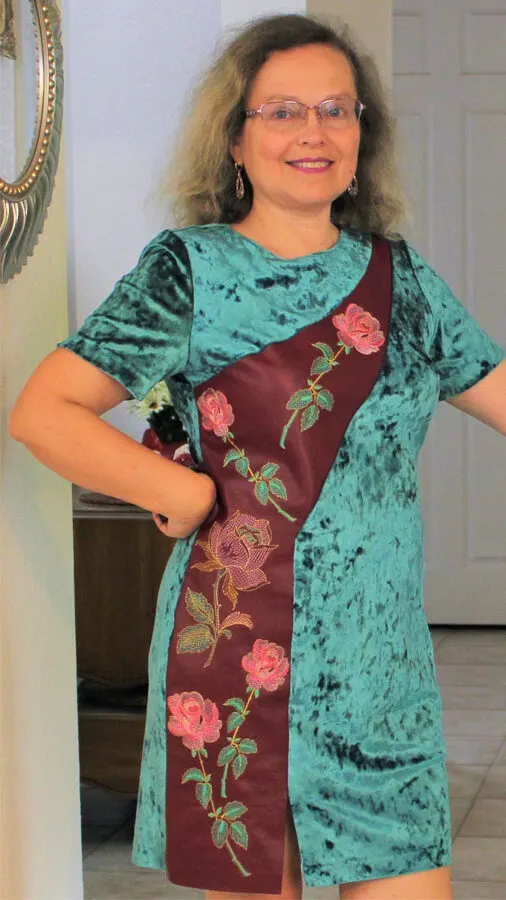 I'm sure we can all agree that it's always extra exciting when we can find an unexpected project to do with our crafting skills. So when I discovered a way to customize my shoes using free-standing lace embroidery, I was beyond thrilled. In this article, I offer tips on how to turn your plain sandals into something wonderfully unique and leave no doubt that your embroidery machine can be used for far more than decorative stitches on fabric.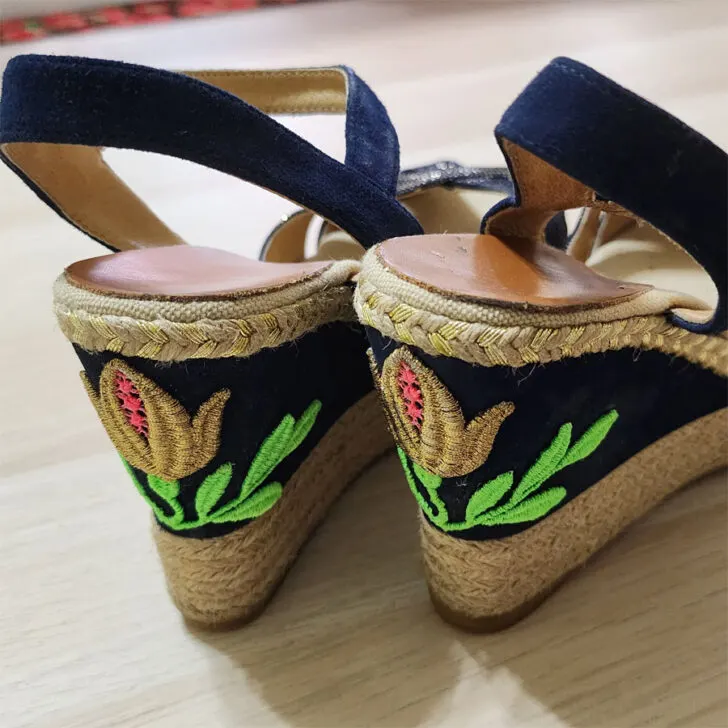 If you would like to know more about how to embroider clothes with a machine check out this article.
#2. Embellish Home Decor
Having an embroidery machine in your home allows you to create things that suit your own personal style and preferences no matter what is currently in fashion.
You can decorate throw pillows, pillowcases, kitchen towels, bath towels or any other item for your home with beautiful designs. This way, you are sure that the things you create reflect exactly who YOU are instead of copying design trends set by a design consultant in a big city.
An embroidery machine opens up endless possibilities for you to make both functional and decorative items to showcase your true personality and give life to your home without being limited by the current fashion trends.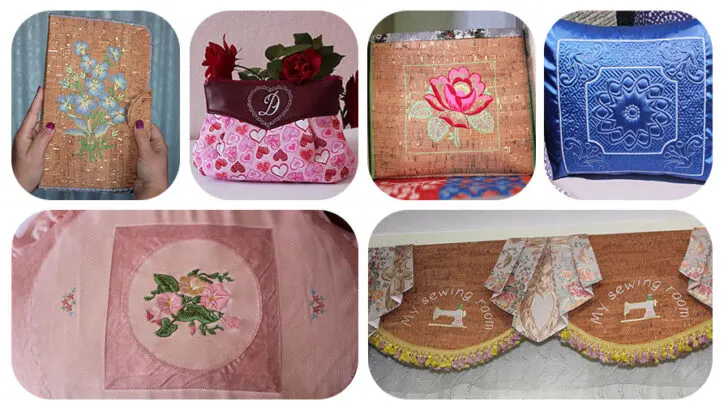 I put embroidery practically on everything in my home and sometimes even write about that on my site. For example, here is a tutorial (and an embroidery design) on making an unusual Unicorn Christmas stocking.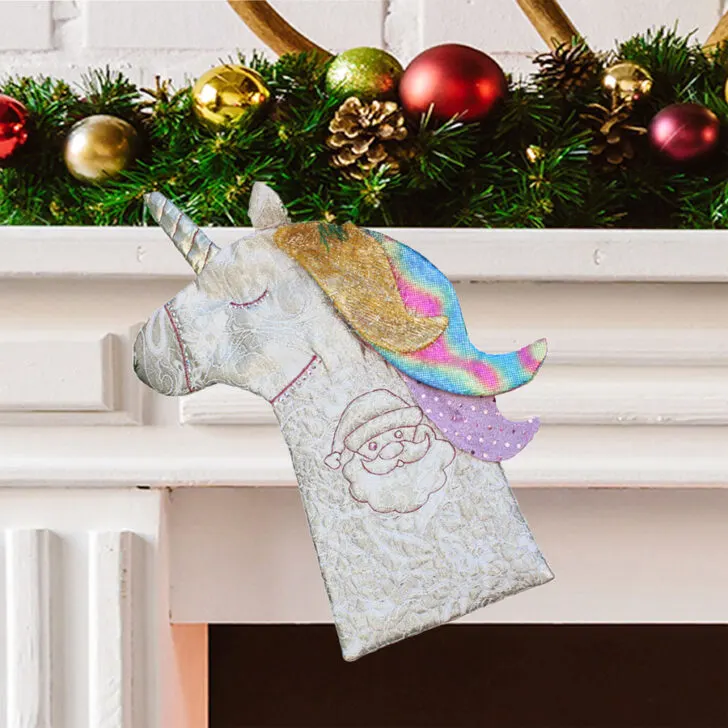 And the next project is a way to decorate your home for Halloween. This round pillow from natural silk fabric is adorned with Halloween motifs.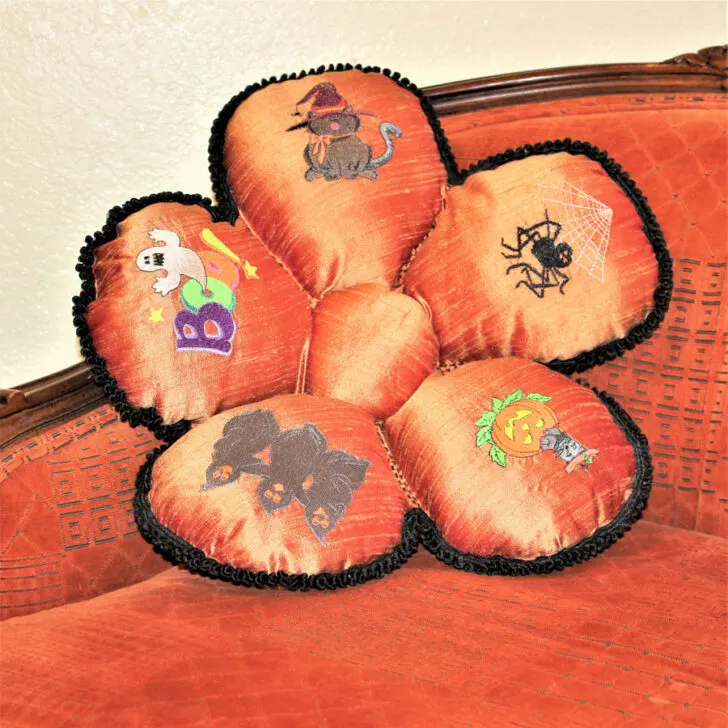 This is a fun and easy Brother Luminaire tutorial: how to make a mug rug (or maybe it's better to call this thing a pot holder). You can use many other modern embroidery machines to make this mug rug, for example, Babylock Solaris, Babylock Destiny, Brother Dream machine, etc.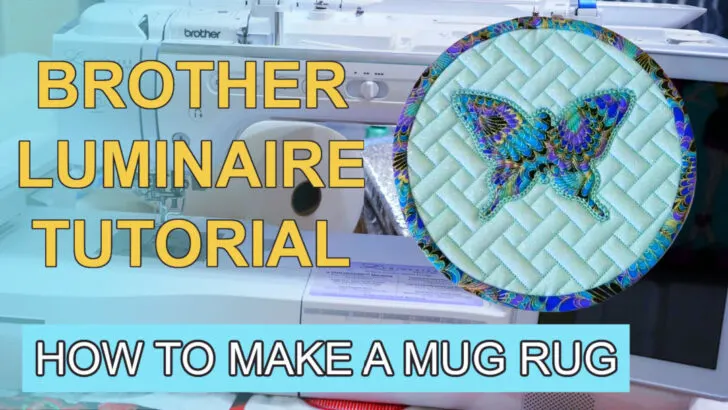 Note: Some of the links on this page are affiliate links. This means I will receive a commission if you order a product through one of my links. I only recommend products I believe in and use myself.
If you're looking to take your embroidery skills up a notch, then this site – Creative Fabrica – is the perfect companion. With hundreds of awesome designs to choose from, you'll never run out of ideas for what to stitch next. You can find designs for every skill level and taste – from cute animals and garden motifs for beginners, all the way up to intricate lace inserts for professional seamstresses. All the designs are easy to follow with step-by-step instructions and explanations.
#3. Making Special 3D (Three Dimensional) Items
If you want to get really creative with your embroidery machine, you can make three dimensional items like Christmas ornaments or children's toys. You can even make things like hats or shoes by using freestanding lace embroidery.
Ok, here is a pumpkin candle holder and a step-by-step tutorial. I used a design from the OESD Embroidery library called Polka Dot Pumpkin. You'll love the way it looks displayed among your traditional Halloween decorations, or as a centerpiece all on its own.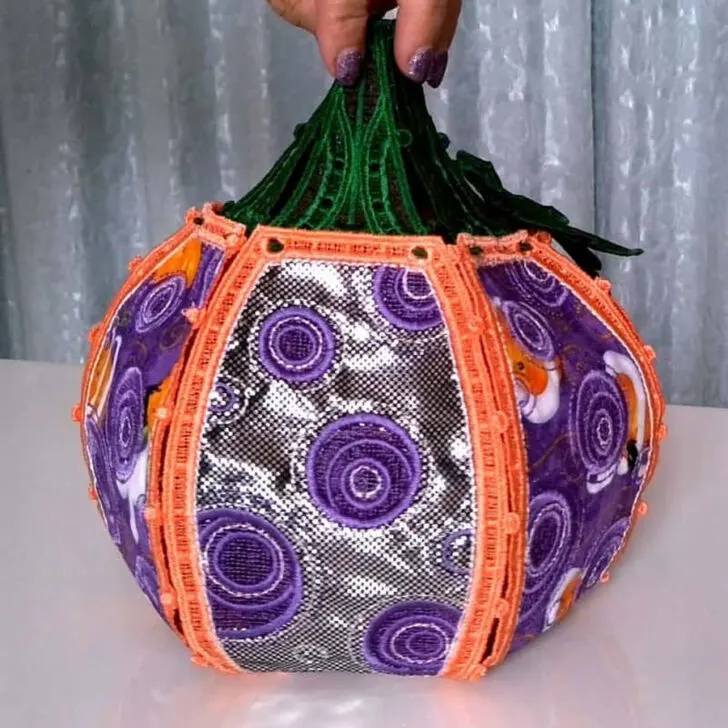 The next on my list are Halloween treat bags. They are surprisingly easy to make and they are super cute too! These would be perfect for handing out candy or other treats during the trick-or-treat season. You could even use them as gift bags if you wanted to give someone a small present instead of candy. They're also great for Halloween parties where people need goodie bags.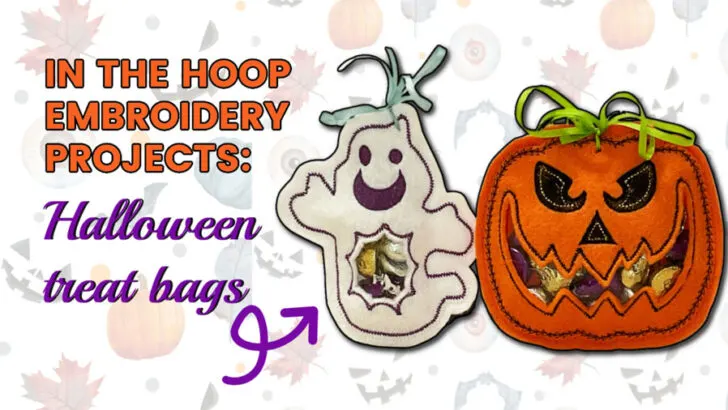 I'm absolutely in love with free standing lace embroidery! I find it a perfect way to express my creativity while making something beautiful and unique. With my fun project, a hat, I decided to use this lovely technique. I have a step-by-step tutorial too so you can follow along with me and create something like this on your own.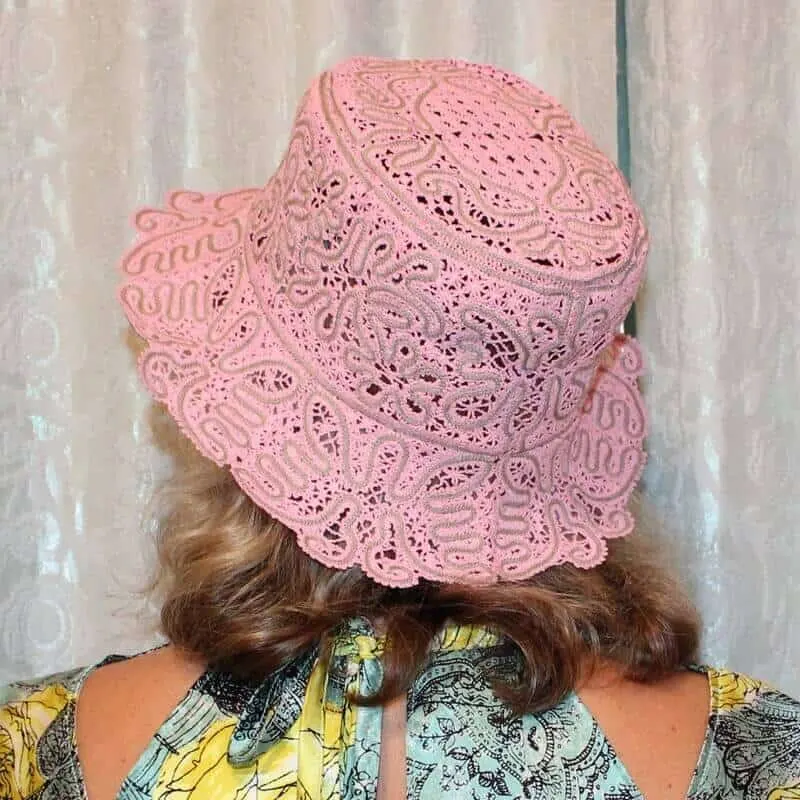 Here is another example of free standing lace embroidery – baby shoes. Are not they awesome?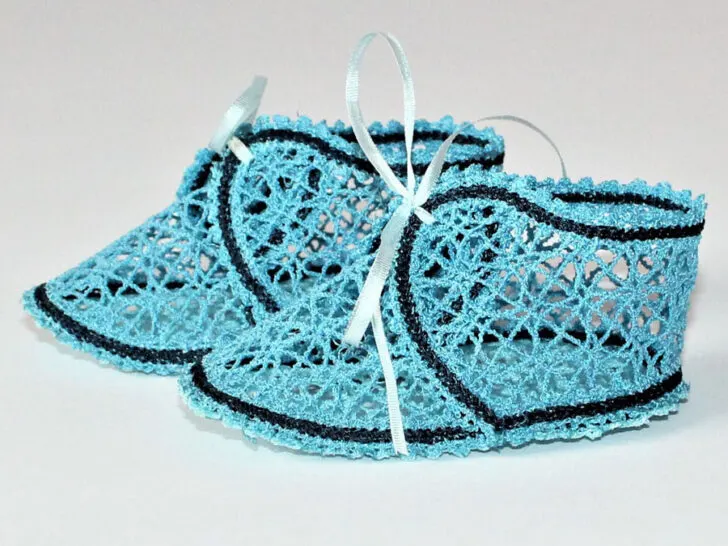 #4. Monogramming
Monogramming has become an increasingly popular form of machine embroidery in recent years, allowing creativity and personalization to be injected into any item. Monograms are usually created from a combination of letters, symbols or motifs stitched onto a variety of items such as jackets, towels, bags, hats, scarves, etc.
The process of creating monograms involves loading a design onto the machine, selecting the right thread colors and the desired size and style before beginning to sew the design onto the base material. With modern advancements in technology, this embroidery method can be completed quickly with exceptional levels of accuracy. And you are able to choose from a range of fonts and sizes. Monogramming may be exactly what you need to give your wardrobe that extra touch.
Monogramming also offers a great way for those with an embroidery machine to make some extra money – since it typically only requires small amounts of thread and very little time.
I haven't created any tutorials on monogramming yet, but I can highly recommend giving it a try. I use monograms in my sewing projects. This is one of them – a zipper pouch/make-up bag with the initial of my daughter embroidered on the front. It was such an enjoyable way to show her just how special she is to me. And I have s step-by-step tutorial on how to make the zipper pouch without dented corners.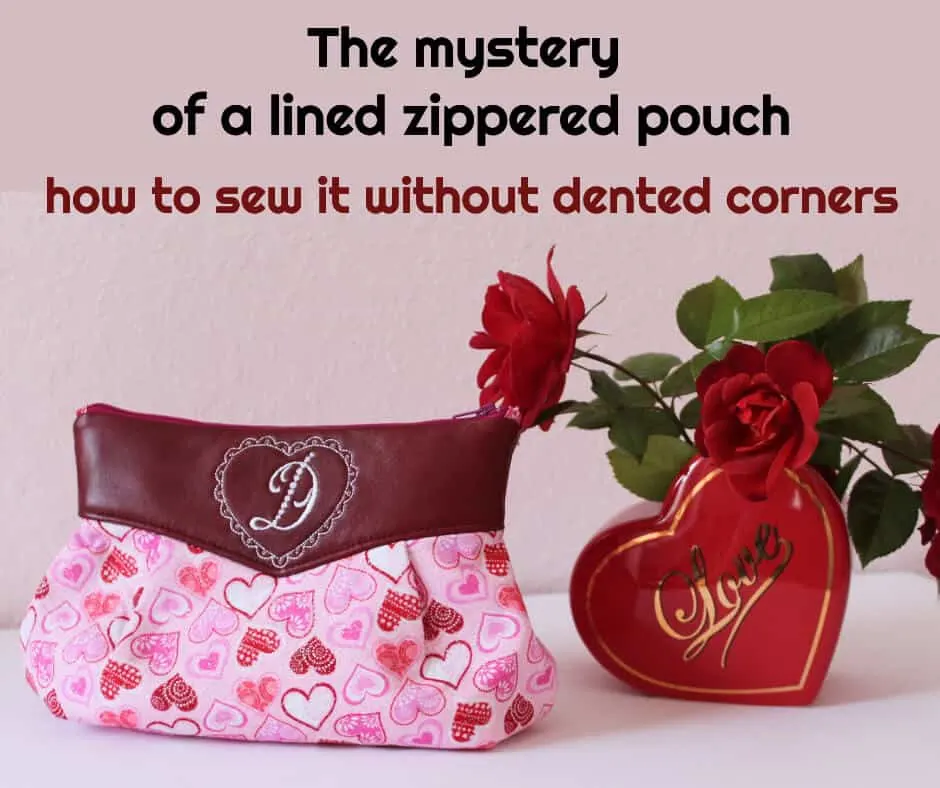 If you're looking for unique and exciting monogram embroidery designs, Creative Fabrica is a great place to explore.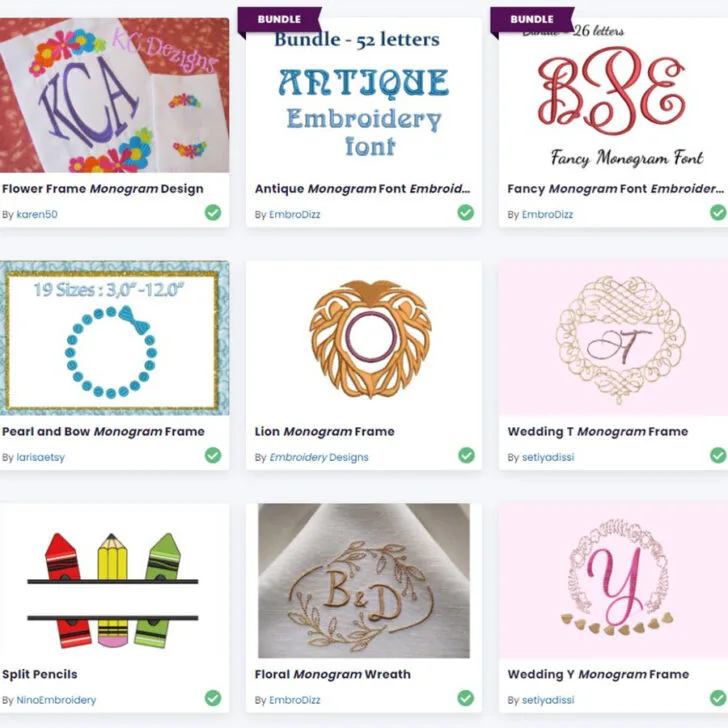 #5. Logos
What do bakeries, Little League teams, and auto parts stores all have in common? Well, most of them have business logos embroidered on shirts, hats, and other things that make everyone's team spirit come to life. If you have a friend, co-worker, or relative who really loves a particular sports team, business, or cookie brand, you can embellish items with the emblem that they love.
Alternatively, you can earn money embroidering polo shirts for local businesses, sports clubs, or churches.
Embroidering your own logo onto a polo shirt is quite a feat, and something that I just recently accomplished. Now that I have my logo on my shirt, I'm proud to wear it and show it off, haha!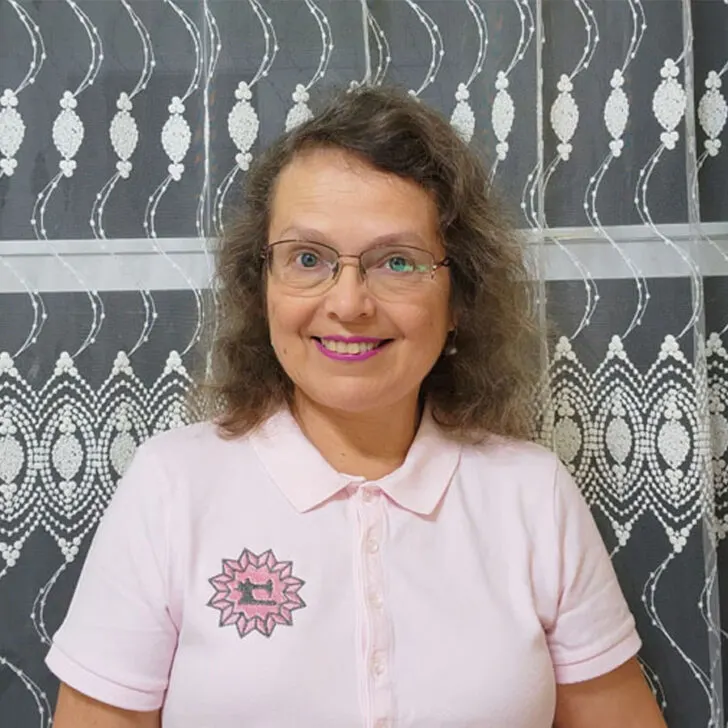 #6. Quilting With The Embroidery Machine
Did you know that if you have an embroidery machine with a large enough hoop, you can even do machine quilting with it? You can make lovely wall hangings, quilted bags, and or even a full-sized quilt. You can quilt pieced designs or allow the quilting to be the star of the show by quilting things in fancy patterns.
Here is my tutorial on quilting with embroidery machine. Creating quilt blocks has never been easier – modern sewing and embroidery machines are new wonders of the world. Spend 5 minutes – and you are done with your one-of-a-kind quilting design. Another 5 minutes – and your wonderful block is ready. Make as many exactly the same blocks as you want.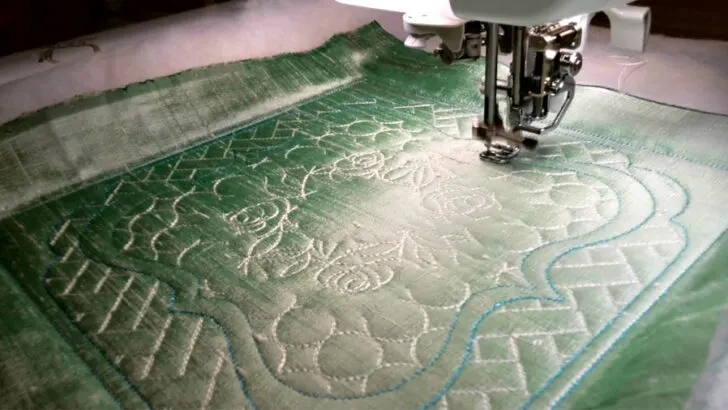 I like to quilt with my embroidery machine. There's no need to buy a complex quilting machine, some basic equipment (like a magnetic hoop) along with your trusty embroidery machine will have you making quilting projects in no time. For example, this Christmas pillow sham is the perfect combination of quilting and embroidery art. And I also have a step-by-step tutorial on how to make it from start to finish.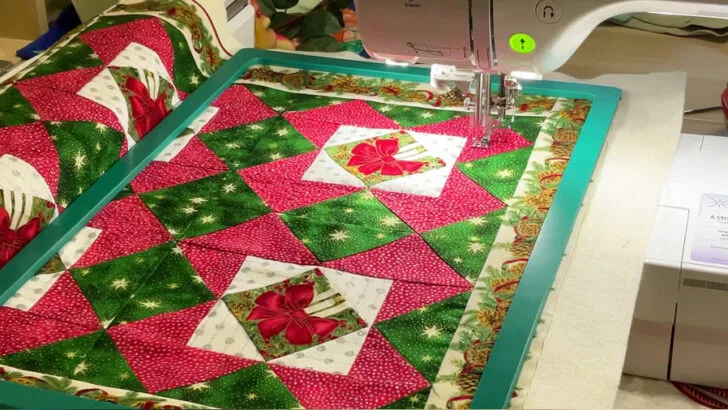 And here is another example – I am quilting a Halloween placemat. I chose stippling stitches on my machine for the quilting design. To make this placemat as durable as possible, I used 100% cotton embroidery thread, which is known to withstand high heat from the cotton setting of my iron. I actually have a masterclass with images and videos on how to make 2 simple patchwork quilts from start to finish. If you're looking for a project that makes your October special, this one should definitely be on your list.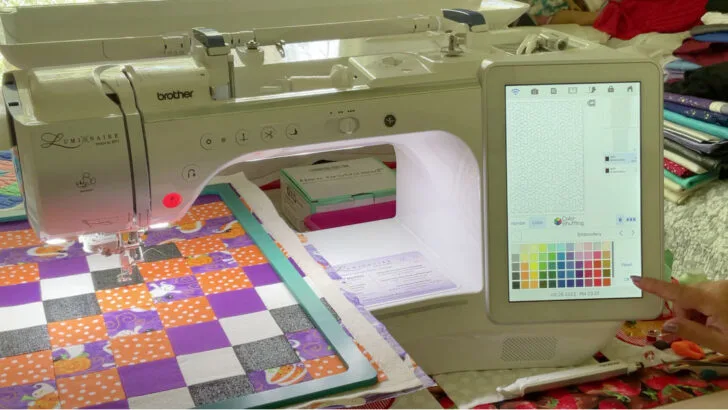 #7. Making Appliques With an Embroidery Machine
Making appliques with an embroidery machine is a wonderful way to express your creativity and personalize everyday items. It's so easy once you get the hang of it. Unlike traditional applique techniques which require hours of meticulous hand stitching, an embroidery machine can do the work in a fraction of the time.
With an applique, you can customize anything you want with beautiful designs and patterns – just think of all the wonderful possibilities! From wedding dresses to purses, backpacks, iPad cases, and more – the options are limitless for personalizing your style. Getting started is easy – just invest in an embroidery machine and have fun exploring this fascinating art form.
I have a detailed tutorial to show you how to applique with an embroidery machine.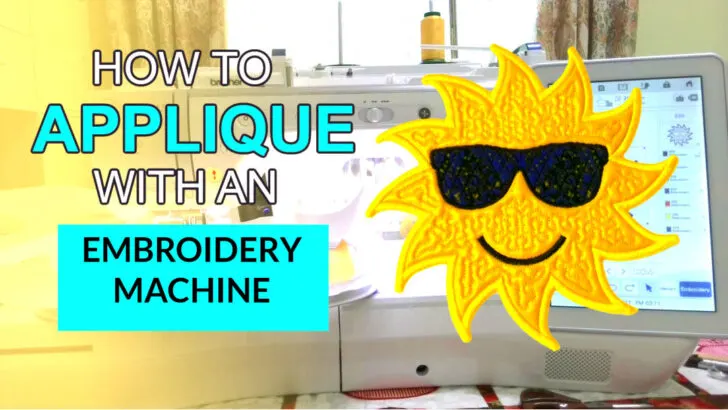 And here is another one – Sewing machine cover tutorial.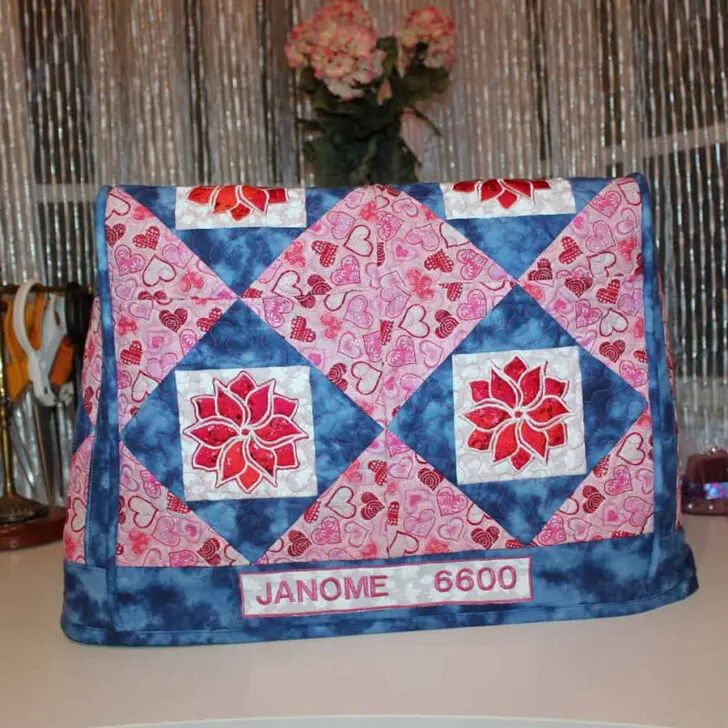 And another project using this technique is a Christmas tree baby bib. You can download this free design from my Shop.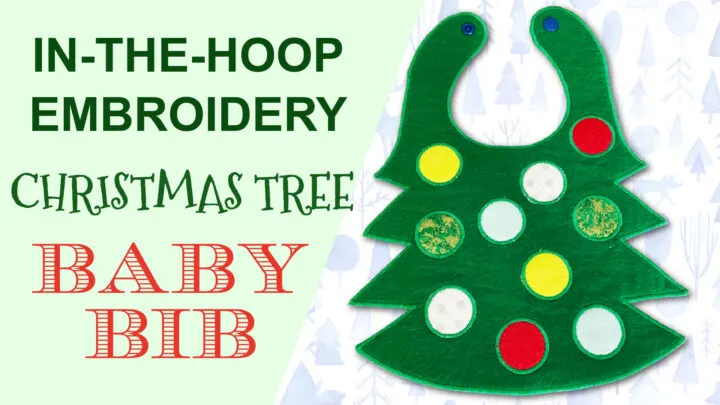 #8. Making Jewelry
Have you tried making jewelry with your embroidery machine yet? Start by getting water soluble stabilizer specifically designed for embroidery projects. Then, choose a design and set up your machine. Select thread colors that will complement each other and create a striking design. When your item is complete, rinse away the stabilizer and attach it to earring hooks or a chain to make stylish jewelry pieces. They make great gifts too!
Maybe I am too old for this kind of earrings (see the image below) but I still make them with my embroidery machine. I think it's a great way to have fun, no matter your age. And you can customize every pair to suit any style you like.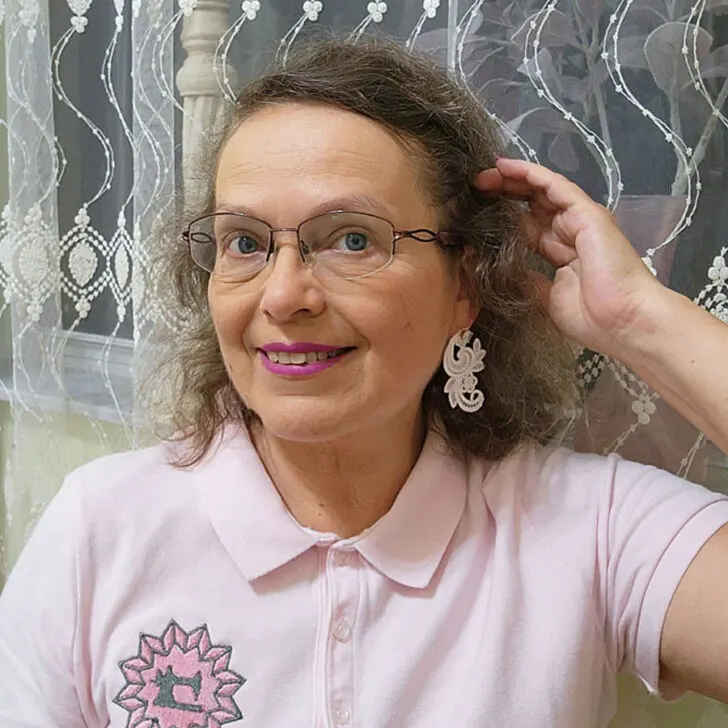 I can tell you that Creative Fabrica is the perfect resource for all your DIY jewelry needs. They really have a stunning selection of embroidery designs for making earrings, necklaces, and bracelets. Their designs come in a range of styles from delicate florals to bold abstract patterns, so there's something sure to fit any aesthetic preference or project need.
The powerful search tools allow you to easily find the exact design you want without having to weed through endless pages of irrelevant results. So go to Creative Fabrica and see for yourself if you want to create eye-catching and one-of-a-kind jewelry pieces.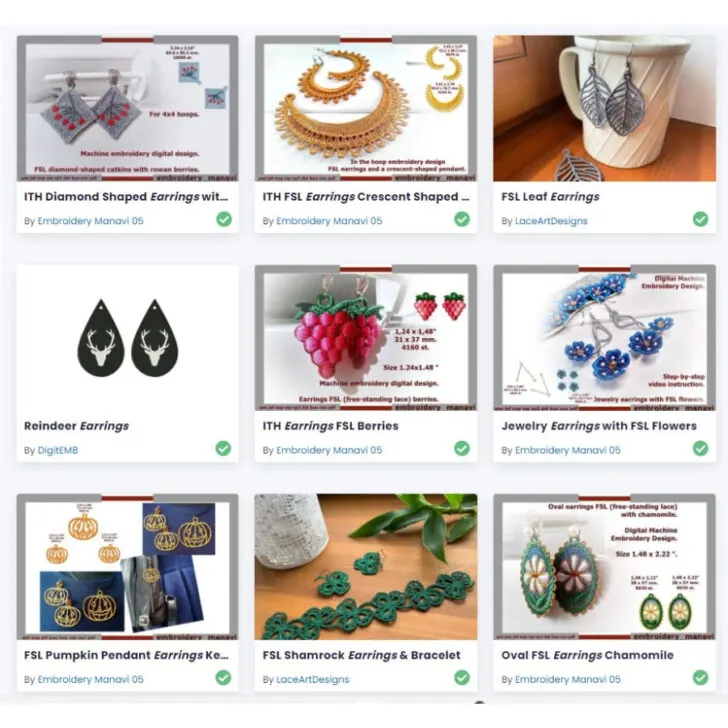 If you want to read more about making jewelry with your embroidery machine check out this tutorial.
#9. Mending (creating patches or covering holes with embroidery)
Mending is often thought of as a quick fix you do to hide holes or tears in clothing, but embroidery machine offers so much more. A creative way of mending a favorite garment is by patching over a hole or tear using embroidery.
To do this, affix a stabilizer to the back of the clothing item first, and then set up the machine with whatever designs or motifs you wish to stitch into it. This means that not only will your beloved items be repaired, but they can also become more eye-catching and fun than they were when they were new. Embroidery mending can definitely give your wardrobe some extra pizzazz!
When it comes to my wardrobe, I love pieces that are classic and timeless. One of those is my favorite 100% linen blouse. Unfortunately, I accidentally snagged it and created a small hole in the front. And I realized that an easy fix is to use embroidery as a way to cover up this small hole and end up with an artistic result. Of course, you can go for simpler solutions such as using a patch or even simply sewing the rip shut but it won't look as lovely as when you take your time and get creative with the embroidery. If done right, no one will be able to tell that you once had a tear in the fabric.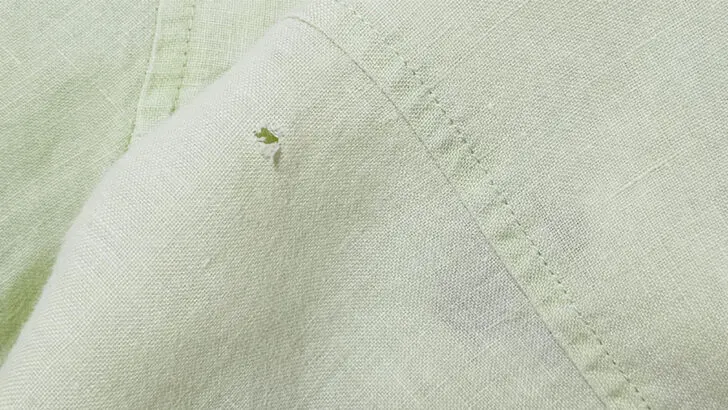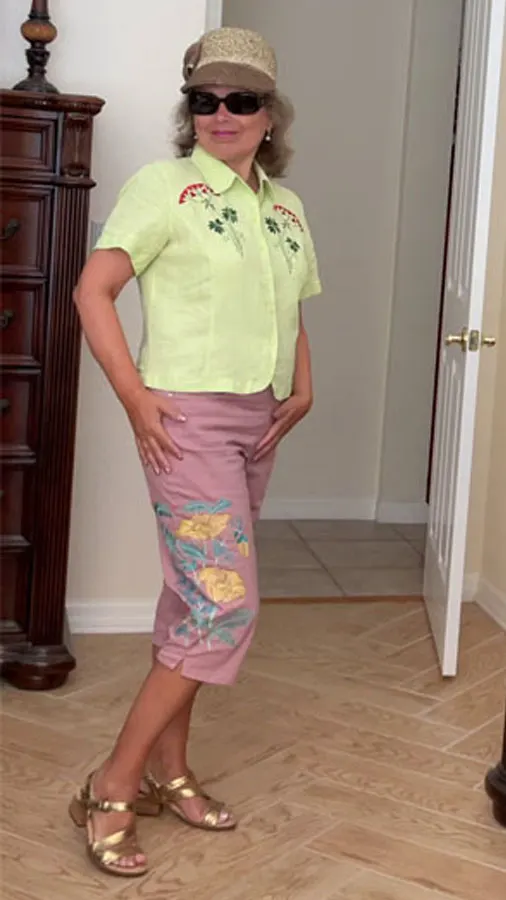 And here I have very comfortable capris. After spilling some coffee on these pants, I thought all hope was lost until I remembered I have an embroidery machine! Even though there was a few brown spots caused by the spill, after a few stitches tightly securing the fabric together, no sign of the spots remained. It was such a satisfying feeling seeing these pants transformed through my effort and ingenuity.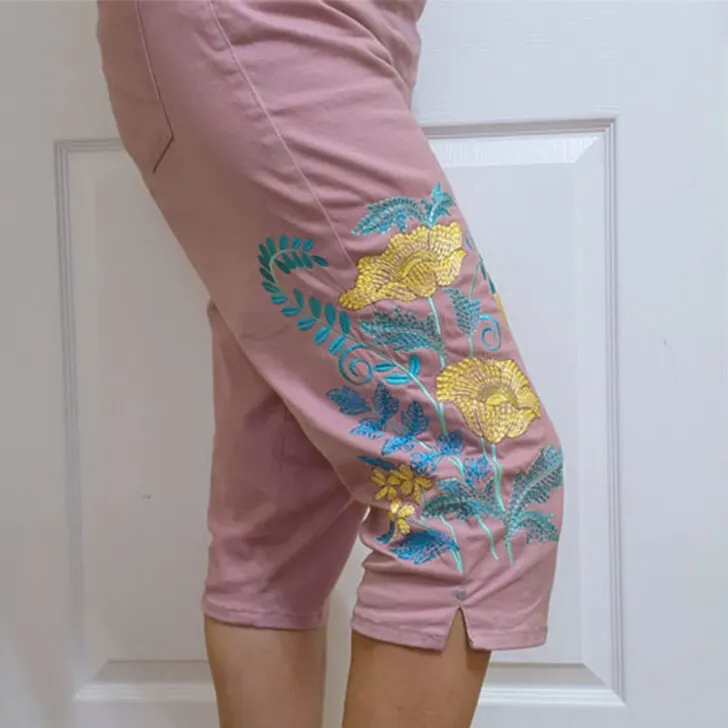 #10. Making In The Hoop Projects For Adults or Children
An in the hoop embroidery item is a project that is made completely in the hoop. This means that once you finish with the embroidery machine, the project is pretty much done. These projects come together quickly and often use up fabric scraps that you might have lying around your sewing space. Pouches, coasters, bookmarks, photo frames, Christmas ornaments, children's toy, etc. are just a few of the things that you can create completely in the hoop.
I have made many in the hoop projects. Let me show you some of them. Here I have candy bags – they can be Christmas ornaments or just stand alone bags filled with chocolate. I digitized the embroidery designs myself and you can buy them in my shop for a small fee.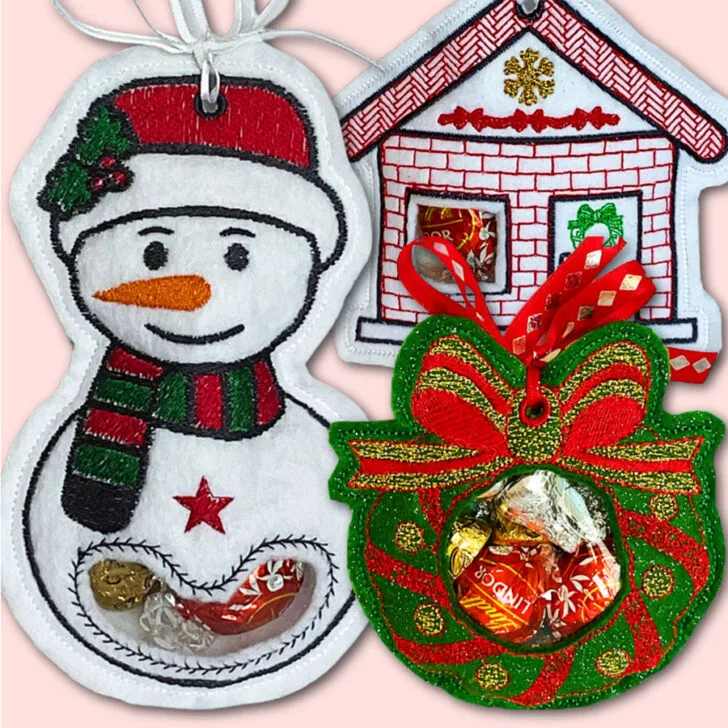 Here I have a unique project – coasters made in the hoop. The embroidery design is free to download from my Resource library for my subscribers. So if you love decorating your home with unique and stylish items you'll love to make a set of DIY fabric coasters that look great and protect your furniture at the same time. These little gems are also really fun to make.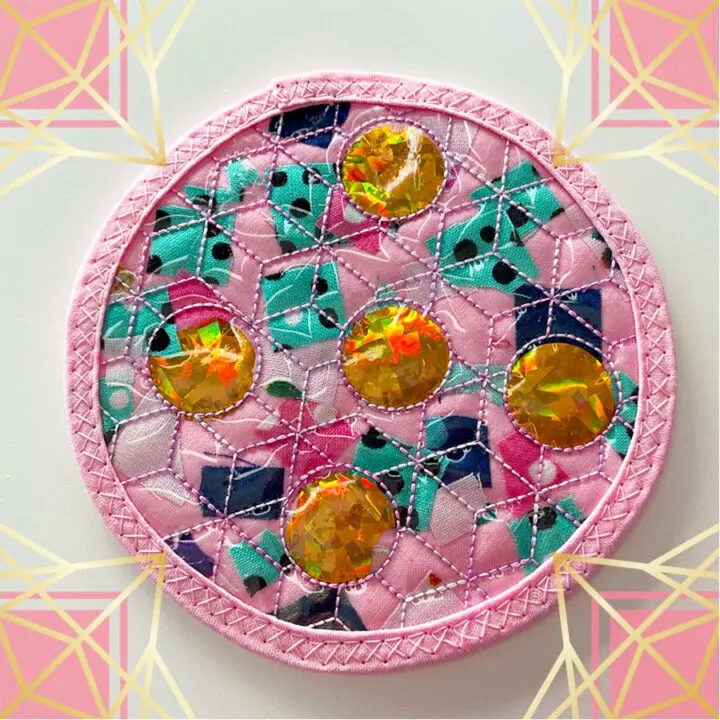 I also like to make in the hoop zipper pouches. Here is the one I made a few years ago and I have a YouTube step-by-step tutorial on how to make it in the hoop. I am using it a pencil case. The embroidery design is also free to download.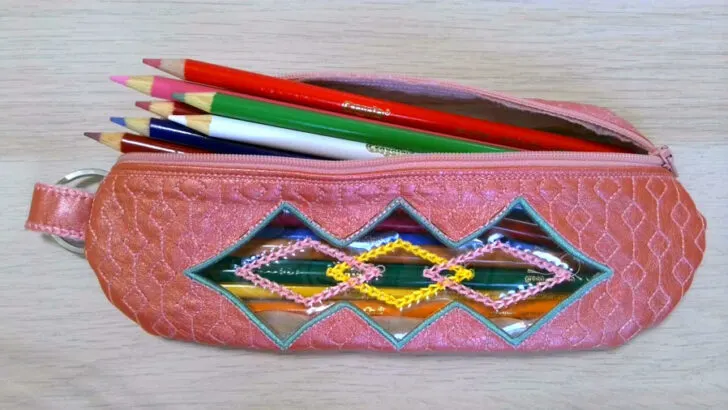 #11. Making Things For Your Pets
For many people, their pets are a part of the family. So, if you are a person who has a "fur baby," of course you will want to use your embroidery machine to make things for your favorite furry friend. Whether you create a personalized sweater for your pup or embroider a name on the cat's bed, your embroidery machine can be used to make all kinds of goodies for your pets.
Embroidery for dogs is definitely gaining more and more popularity, especially with the cute slogans people come up with. Just recently, I was in a boutique and came across two hilarious items that caught my eye. The first one said 'STARBARKS' – simply put it made me chuckle! The other one was in reference to the iconic fashion label (Louis Vuitton) 'CHUWY VUITON'– I found it's worth sharing. Although I have not tried embroidering anything for my own pup yet, these two designs certainly leave me inspired to create something funny yet stylish for any pup parents out there who are looking to keep their four-legged "children" looking sharp.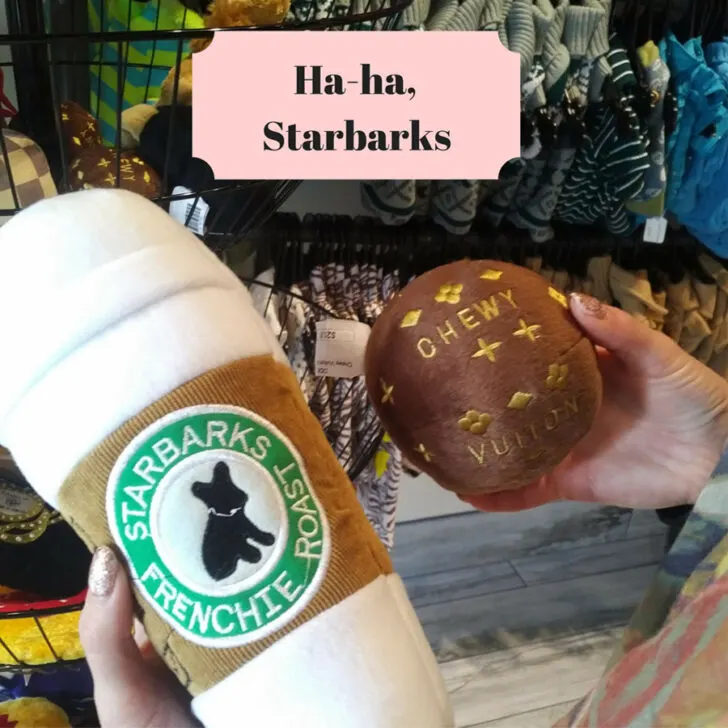 #12. Making Gifts
Making gifts with an embroidery machine is the perfect way to give someone a one-of-a-kind present. Instead of scouring the store shelves trying to find something that matches their personality or interests, you can use your embroidery machine to easily create unique and helpful items for your lucky recipient. Create custom clothing with their favorite animal, sports team logo, hobbies or any other symbol that holds meaning. Give them a gift that perfectly encapsulates who they are without worrying about spending too much time or money on finding the right item in a store. You can use the machine to make whatever you decide, and your special person is sure to appreciate the thought that went into the gift.
Additionally, making children's toys has never been easier, and with an embroidery machine, you can design professional-looking teddy bears, dolls, and other toys for the little ones in your life.

For example, here is what I made for a baby with my embroidery machine – a lovey blanket, an ultra soft snuggly lovey with a cute plush bunny head. Babies like to cuddle with their security blankets, the lovey blanket eases them into sleep quickly, provides a sense of comfort, and becomes a first treasured toy for toddlers. The DIY bunny lovey helps babies to feel safe regardless of where they are. You can download the embroidery design and the pattern free from my Resource library if you are a subscriber.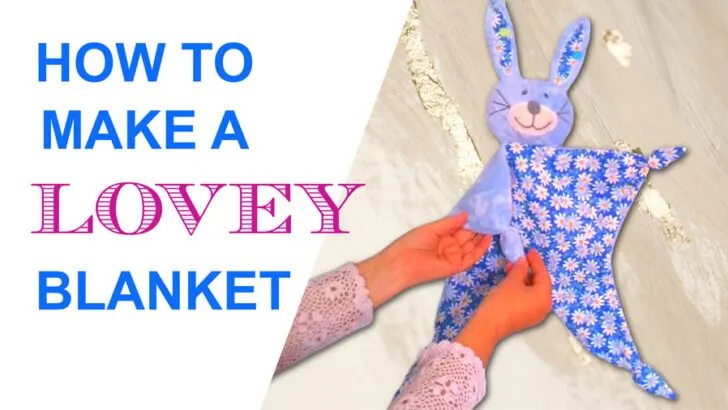 #13. Sewing With An Embroidery Machine
Combination machines are a great way to dip your toe into the world of machine embroidery. If you are unsure about whether or not you want to invest in an embroidery machine, buying a 2 in 1 machine is a great way to get started. You can sew with this machine and embroider smaller projects. Over time, if you find that you love the embroidery aspect of the machine more and more, you may want to invest in a fancier embroidery machine.
But also you can actually sew even with an embroidery unit attached! I would say sewing with an embroidery machine is an innovative way to take your sewing projects to the next level. A few handy ideas include: attaching zippers to make zipper bags, adding pockets for functionality, making sleeve tabs for accents, or stitching buttonholes for closures.
For example, I have a tutorial where I show how to make sleeve tabs. It's very common for blouses and pants to have rolled tabs. You know what I mean. I have many blouses with rolled tab sleeves. This design detail helps to make one of the most flattering sleeve lengths. I like to make these tabs with my embroidery machine, it's so much easier and faster. It's not so easy to make this shape with a regular sewing machine.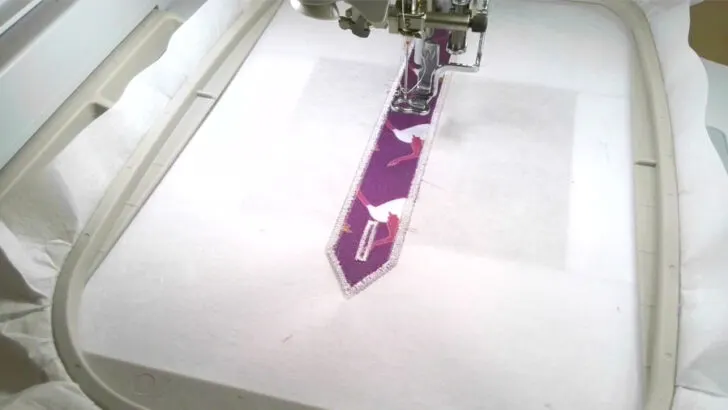 And in this image you see me attaching a pocket to a cape with my embroidery machine.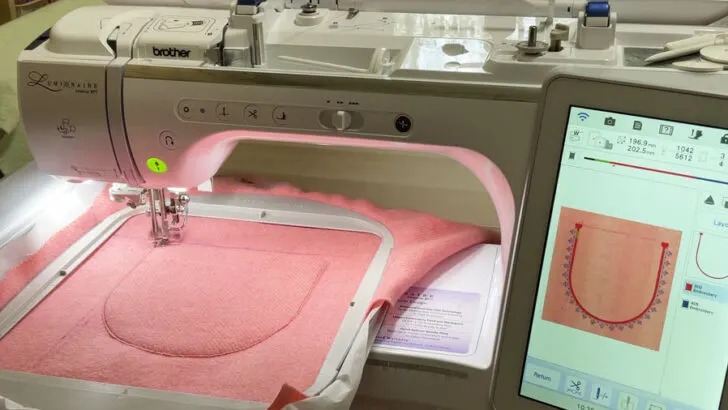 #14. Making Greeting Cards
Besides sewing on fabric, your embroidery machine can be used for paper crafting as well. You can make greeting cards with your embroidery machine. You will likely want to use cardstock or watercolor paper so that it will withstand the embroidery. You'll also want to choose embroidery designs that are specifically for paper crafting. Typical embroidery designs may not work so well.
Use cut-away stabilizer in the hoop and then use spray adhesive to attach the paper to the stabilizer. When you are done embroidering, you can trim the threads and stabilizer and glue another piece of cardstock to the back of the embroidered card to camouflage the unattractive back side of the embroidered piece.
You may get started by checking out the vast selection of Etsy's machine embroidery designs for making personalized greeting cards. Whether it be for a special birthday, retirement, or simply just to show someone how much they mean to you, Etsy has an array of beautiful designs that make sure your card stands out from the rest.
#15. Creating Wall Art
Creating wall art with machine embroidery is a great way to add a personal touch to your space. You can use traditional embroidery or create abstract wall art with thread. You can embroider meaningful or humorous sayings and create a wall art piece that inspires you or makes you smile. All it takes is some imagination and an embroidery machine!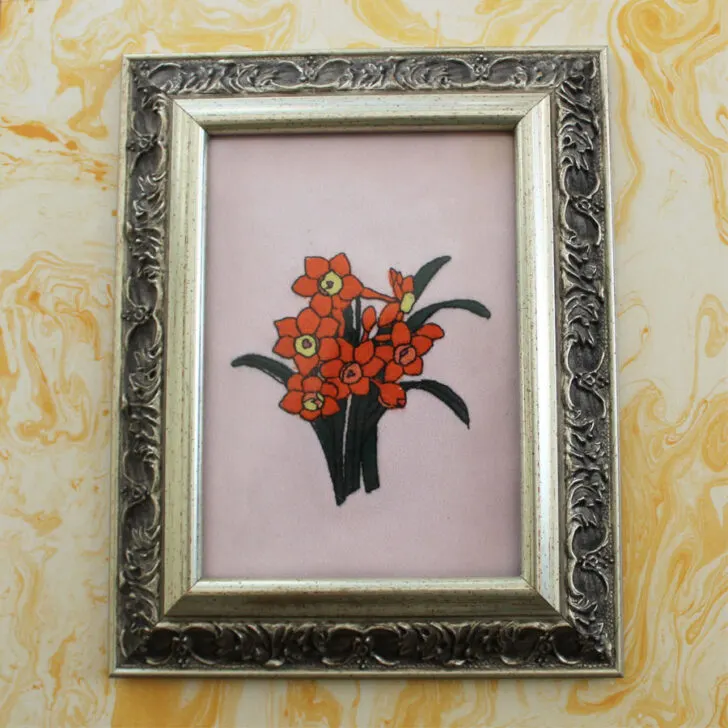 #16. Creating Coloring Designs for Kids
Do you have a child in your life who loves to color? With your embroidery machine, you can create coloring pages for him or her. The child can use fabric markers to color in between the lines and have a one of a kind piece of artwork that they made themselves.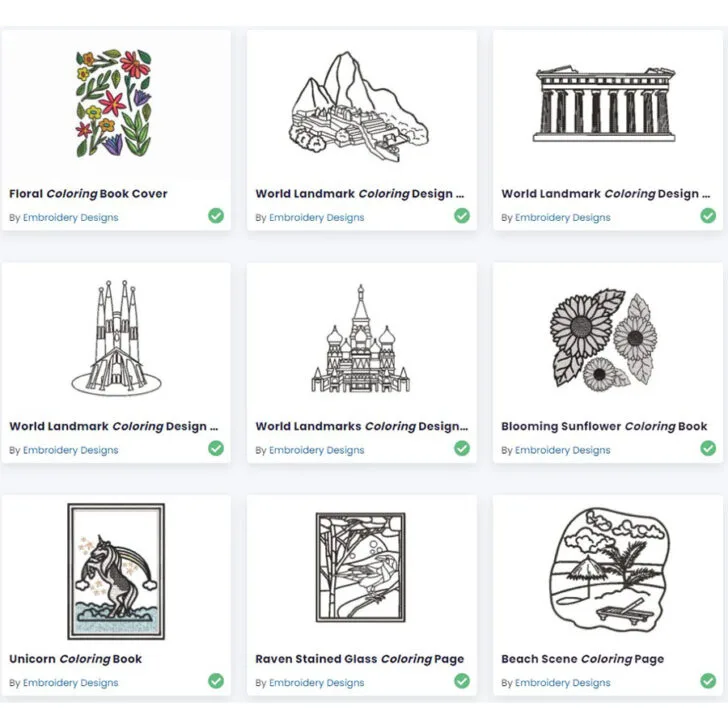 #17. Starting A Home-Based Embroidery Business
Do you need a bit of spare cash or a side hustle to help make ends meet? Starting a home-based embroidery business can help you make some cash without ever having to leave home. People are willing to pay good money to have business logos embroidered on polos, t-shirts, and other items. Other organizations, like cheerleading teams, are always looking for skilled embroiderers to embellish items for their team members. While many people start home-based embroidery businesses to help pay for their hobbies, these ventures can occasionally turn into a full-time gig once enough business contacts are made.
——————————————
There are plenty of embroidery machines available on the market. Modern embroidery machines come with all the latest technology, making it easy to create perfect designs in no time. They also have user-friendly features, such as color LCD displays and innovative needle threading systems. Furthermore, their long-lasting components help ensure consistent results for many years to come. It's important to do your research prior to purchase, but in general, these embroidery machines will serve you wonderfully when it comes to your creative projects. Check my favorite store to see what's available today.
Did you find this tutorial helpful? If so, save this pin (see below) on your sewing board so you can come to this tutorial later when you are ready to embroider with your embroidery machine, and follow me on Pinterest for more tips, tutorials, and inspiration!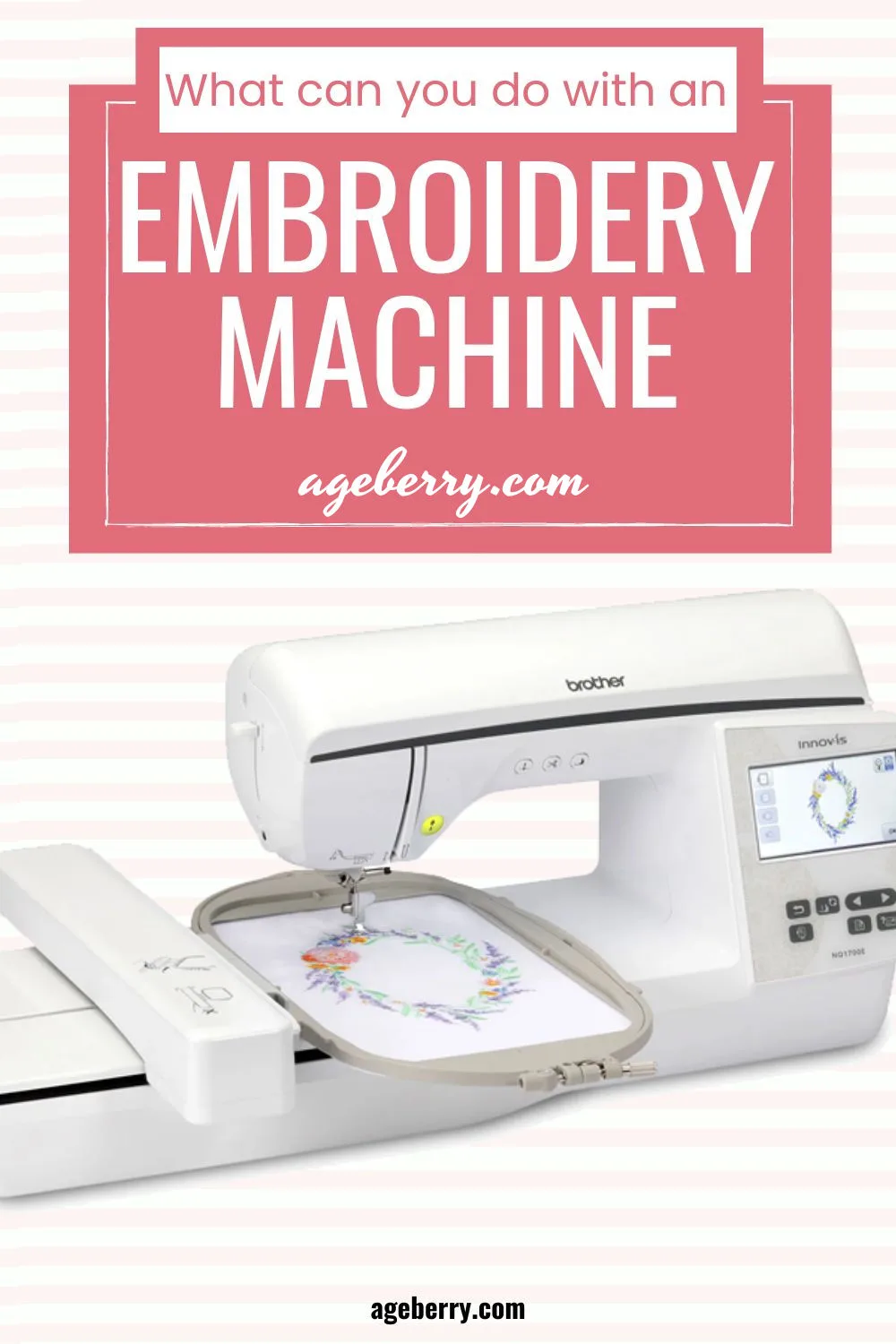 ---