In this sewing tutorial I will show you how to make a Unicorn Christmas stocking. There is a printable stocking sewing pattern and step-by-step instructions so even a beginner sewist can make it easily. The pattern is available for sale for a small fee in my Etsy shop.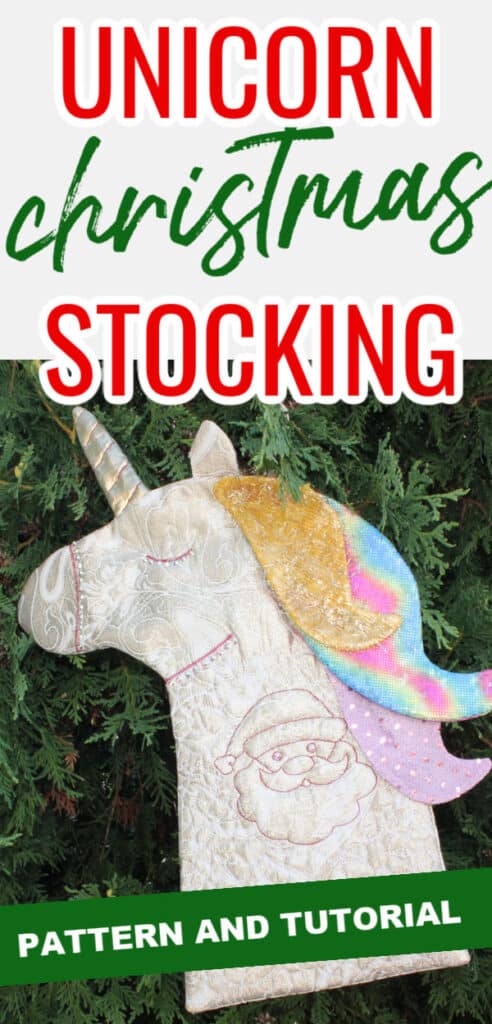 Christmas stockings have long been an integral part of the winter holidays. Of course, everyone understands that the history of Christmas stockings is just a beautiful fairy tale, but this method of giving gifts has not lost its relevance, and largely due to the fact that Christmas stockings become a bright element of the holiday decor.
A mantel decorated with stockings will complement the interior, help create a special atmosphere, give the feeling of a fairy tale and a festive mood.
Christmas stockings can be very different, there are no rules for making them or restrictions related to their appearance. But since Christmas is a bright family holiday, for a long time it has been customary to make them in an original way, abundantly decorate and make them bright, so that Santa Claus will certainly notice it and put the gifts inside.
You can buy Christmas stockings, or you can do it yourself and there are a lot of options. Make something to be treasured. If you wish, it can be personified – signed with the names of your family members, because gifts are different for everyone.
In this tutorial, you will find detailed and hopefully easy-to-implement instructions on how to make a DIY Christmas stocking. But I decided to turn a classic stocking into a Unicorn stocking. I think Christmas stockings can be anything you want, and it all depends on your imagination. You can come up with any style, change the color and fabrics, decorate them with crystals, etc.
So read on, see photos of the Unicorn Christmas stocking, get inspired and decorate your home! Here is how the back of the stocking (with a pocket) looks like.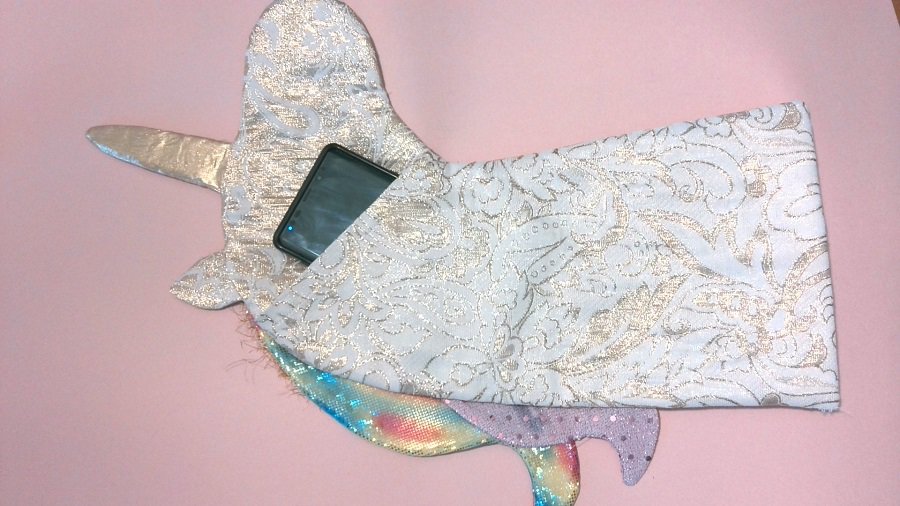 If you would like to see more Christmas stocking ideas, see my article Free Quilted Christmas Stocking Patterns
---
---
Before choosing the color and style of your stocking, you need to decide what fabric to use.
I think it's better to choose fabrics with sparkles so the Unicorn stocking can become the focal point of Christmas decorations. Try to pick some fabrics that won't fray easily and are not difficult to work with. Choose some "rainbow" colors for the mane pieces. I have selected some pieces from my collection, but similar is available for sale also.
Maybe you don't even need to buy fabric specifically for this purpose, you can simply use scraps left from previous projects.
A wide variety of fabrics can be used as a base: cotton, linen, burlap, fleece, felt, etc. However, it is worth remembering that the stocking must keep its shape well, therefore, in addition to the main fabric, a layer of fusible interfacing and batting may be needed to strengthen the stocking.
Colors can be vary, but I would use especially bright ones associated with fun and a festive atmosphere.
What you'll need
Fabric (I used 5 different fabrics for the stocking)
Fusible interfacing
Batting (small piece)
Fabric glue
Small piece of wire for the horn
Sewing machine
Regular sewing notions
Hotfix crystal tool for attaching Swarovski crystals to the stocking (optional)
Below is a list of all items you will need except fabric. For the wire (horn) you can use any wire you have in house, not very soft, not very hard to bend. I used craft wire bought in a dollar store, but you can also use a piece of electrical wire, or even some pipe cleaners twisted together. If the wire is too thin, just twist two strands together.
Print the pattern and arrange it for cutting. You can buy the printable PDF pattern (on 8 pages) in my Etsy shop for a small fee.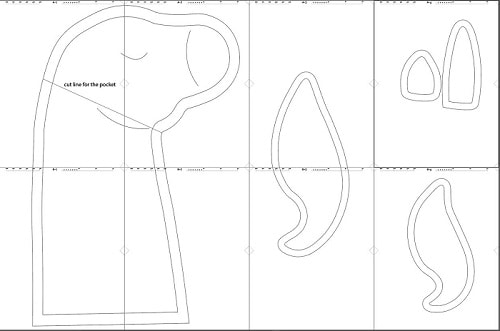 Cutting
I think cutting the fabric for the stocking is the biggest part of the process.
Unicorn stocking body
cut 2 pieces on fold from main fabric
Cut 2 pieces of interfacing on fold
Cut 1 piece of batting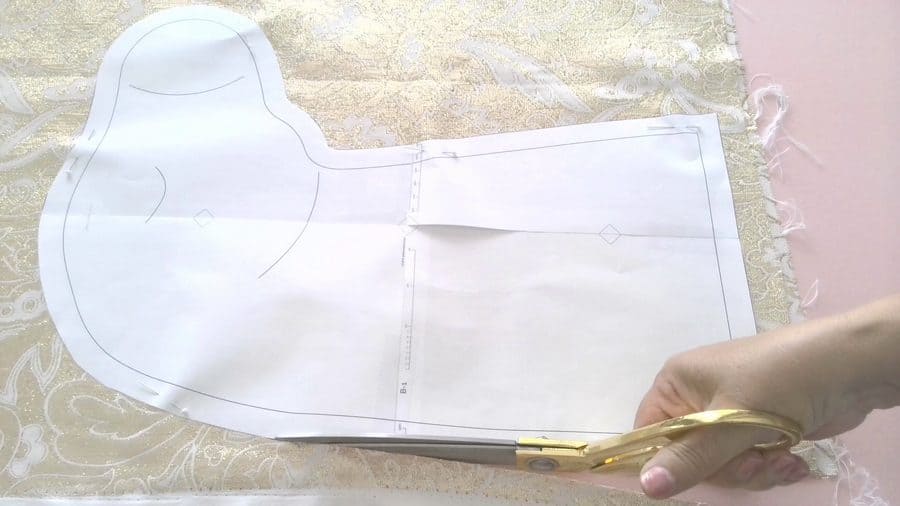 Pocket – cut 1 piece from main fabric
Cut 1 piece of fusible interfacing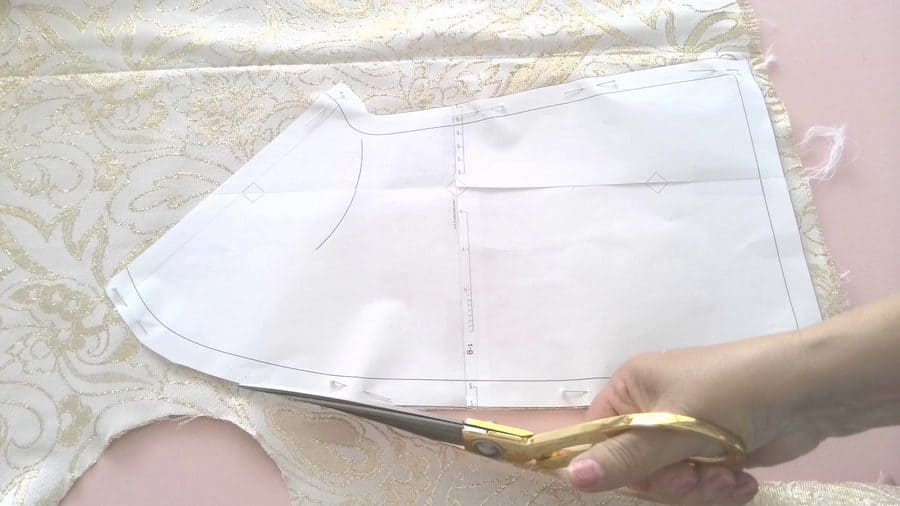 Horn – cut 2 pieces of interfacing
Cut 2 pieces of batting
Cut 2 pieces from fabric (I have chosen gold metallic fabric for the horn)
Ear – cut 2 pieces from fusible interfacing
Cut 2 pieces from main fabric
Mane
There are 3 pieces for the mane
Mane 1 – cut 2 pieces from fusible interfacing
Cut 2 pieces from fabric of your choice
Mane 2– cut 2 pieces from fusible interfacing
Cut 2 pieces from fabric of your choice
Mane 3 – cut 2 pieces from fusible interfacing
Cut 2 pieces from fabric of your choice
Step-by-step instructions
Decorate the front piece
I think this is the most interesting part.
Fuse interfacing to the main parts and decorate the front piece with anything you fancy. I have a detailed tutorial on how to fuse interfacing correctly, check it out. I also had a batting piece for stabilizing the stocking.
I decided to use Trapunto embroidery and quilting (check out my tutorial on how to do Trapunto). At this step you can decide to embroider a name or message on the stocking.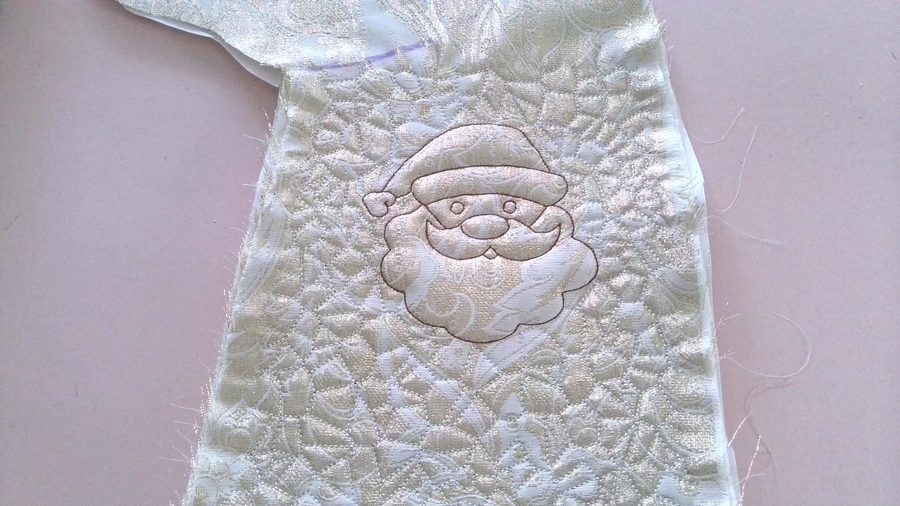 Mark and sew all the face details – the closed eye, the muzzle and the neck.
Maybe this will make the Unicorn stocking even more magical!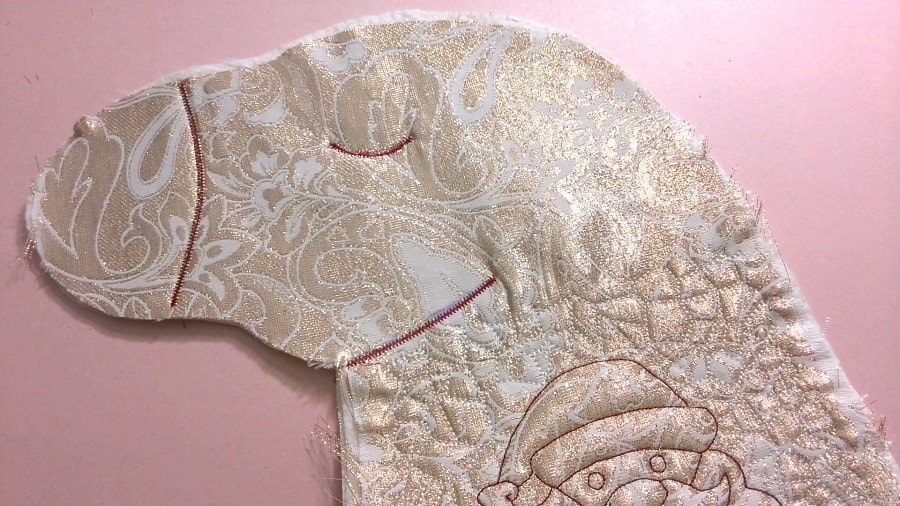 Sew all small pieces together
First make the horn – fuse interfacing to the horn pieces and attach them to the batting pieces. Sew necessary lines on the front piece of the horn. Place the pieces right side together and stitch. Turn the horn right side out.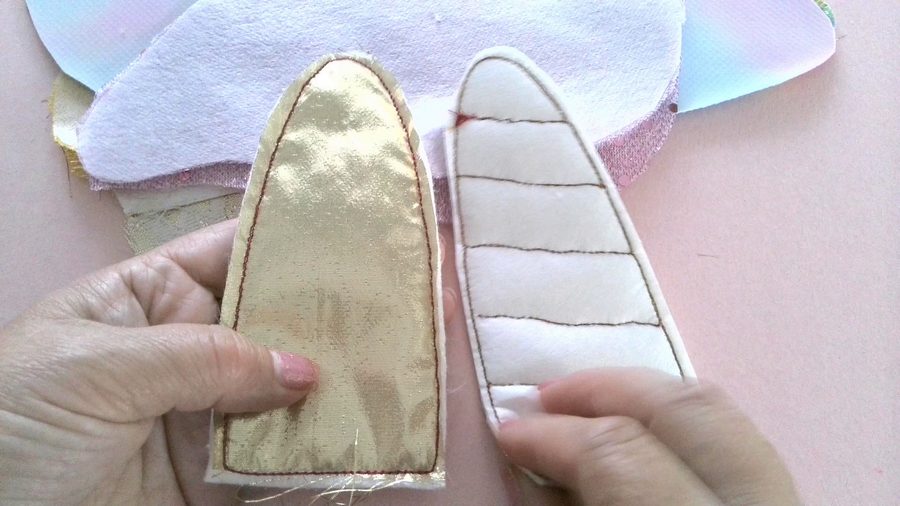 It's better to reinforce the horn with some metal wires so it stays up when the stocking is placed on the fireplace. Just insert the folded wire inside but be careful – keep seam allowances free from the wire so your sewing machine needle doesn't go over the wire.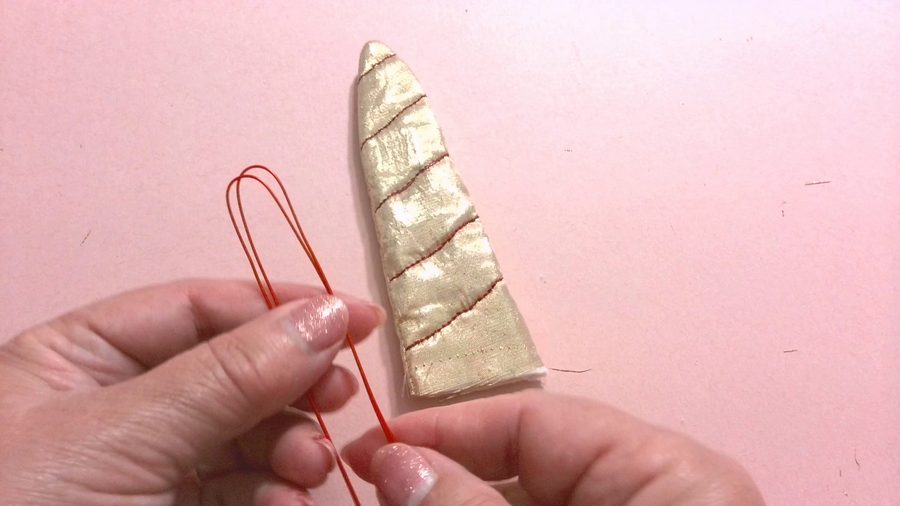 Fuse interfacing to all the small pieces, place them right sides together and stitch all around leaving small unstitched parts for turning them right side out. Sew the openings by hand sewing after turning them over.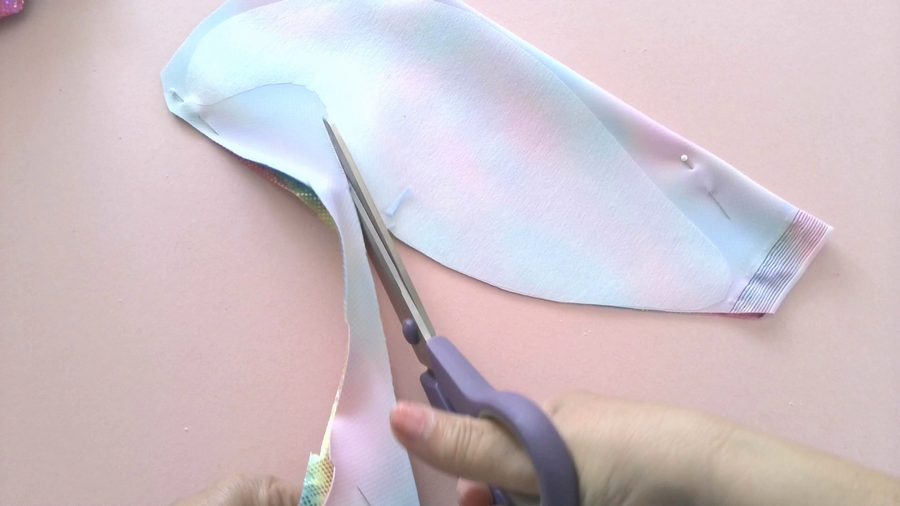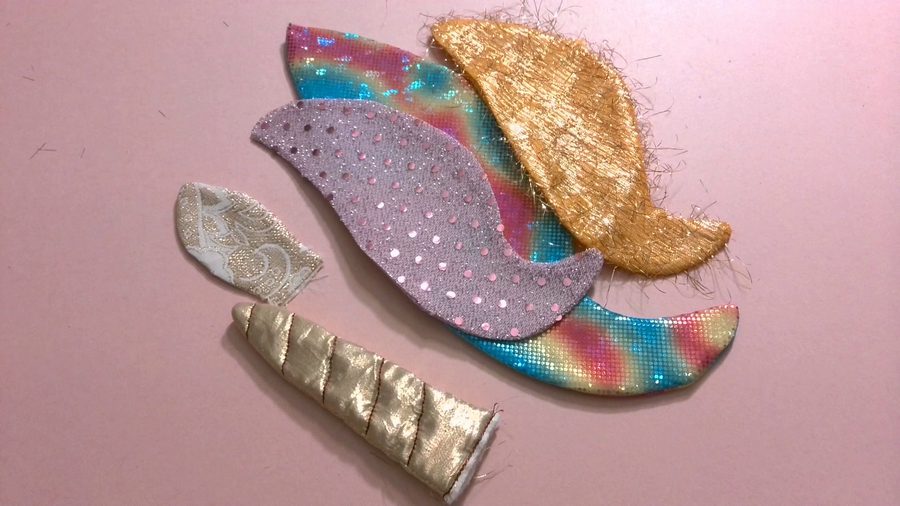 Sew a small strip for the loop.
3. Sew the pocket for the stocking.
Fuse interfacing to the wrong side of the pocket. Finish the raw edge of the pocket – double fold it and stitch.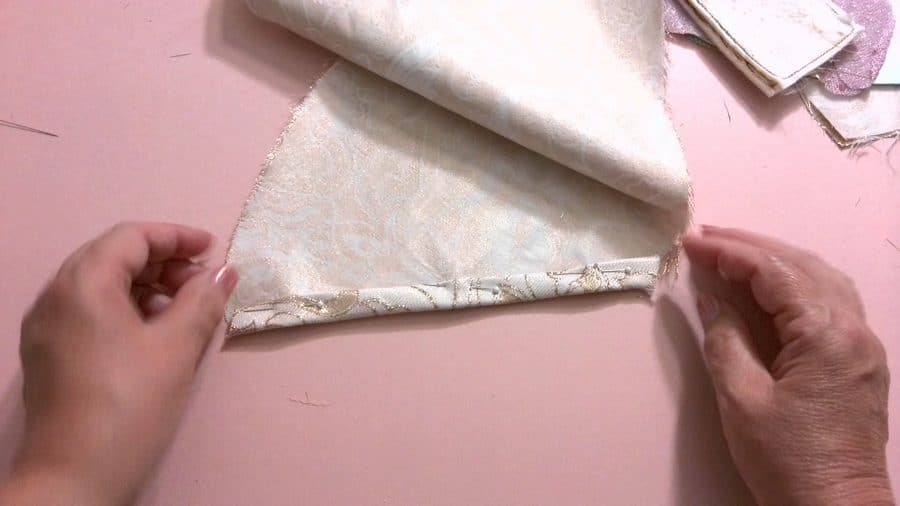 4. Sew the Unicorn body and turn it right side out
Place the horn and the ear on the front piece as you see in the image below. Use pins to hold them in place.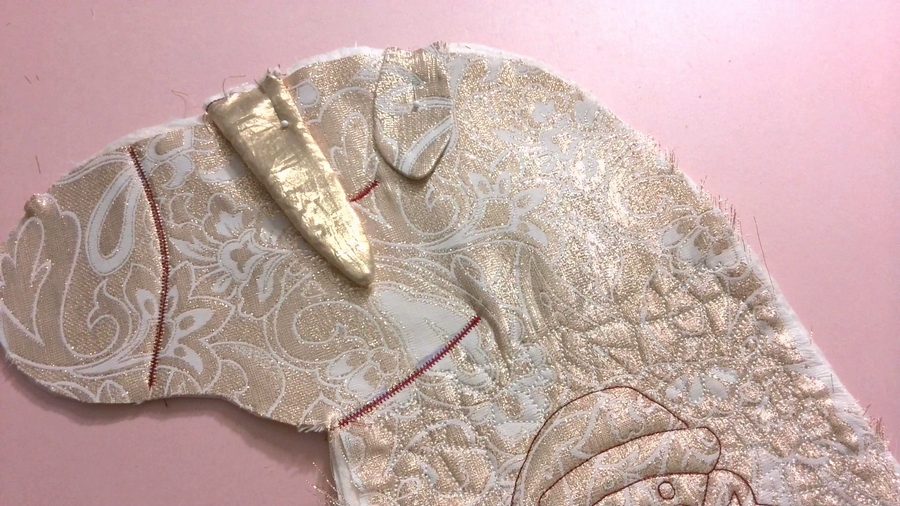 Place also the loop piece somewhere near the ear. I forgot to put the loop in place before stitching and had to rip a small part to insert the loop later. That's why you don't see it in the image above.
Place the pocket over the back piece of the stocking (wrong side of the pocket to the right side of the stocking). Use pins to hold the pocket in place.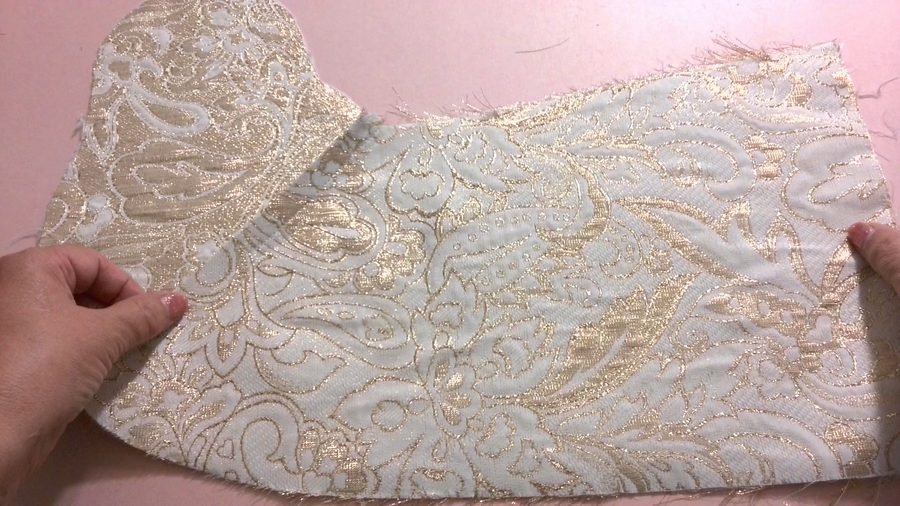 Place the front piece on top of it (right sides together) and stitch leaving a small part unstitched for turning it right side out.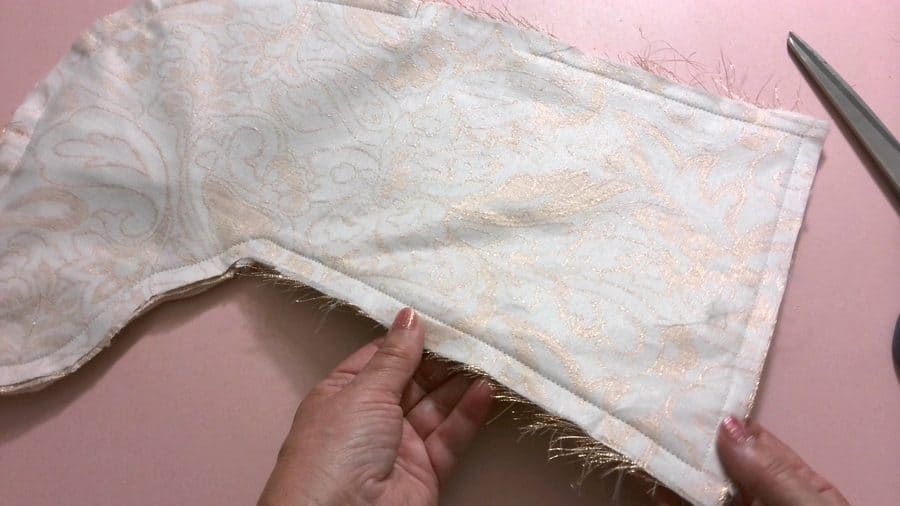 Now we have our stocking stitched on the wrong side. Before turning it over we have to trim the seam allowances close to the stitches and it's very important to make slits in the curved seam allowances every inch or so. Just be very careful not to cut the threads. so that the finished product does not wrinkle or deform.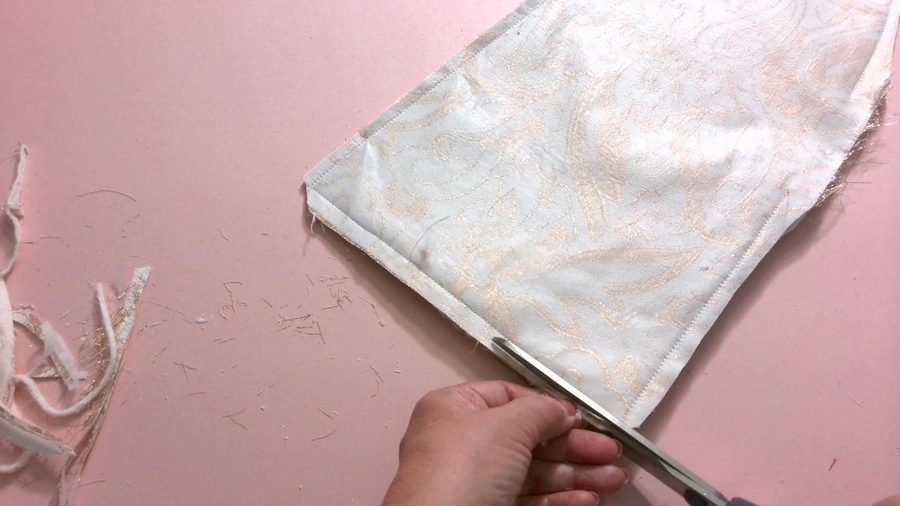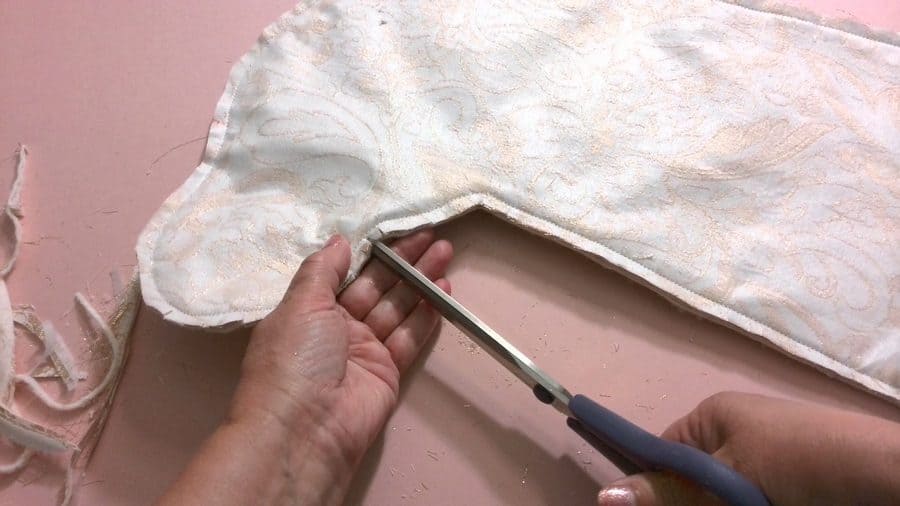 Turn the stocking right side out and press. Close the opening by hand sewing a few invisible stitches. I have a detailed tutorial on how to sew invisible stitches, check it out.
5. Attach the mane pieces.
Arrange the mane pieces as you like and use fabric glue to attach them to the stocking.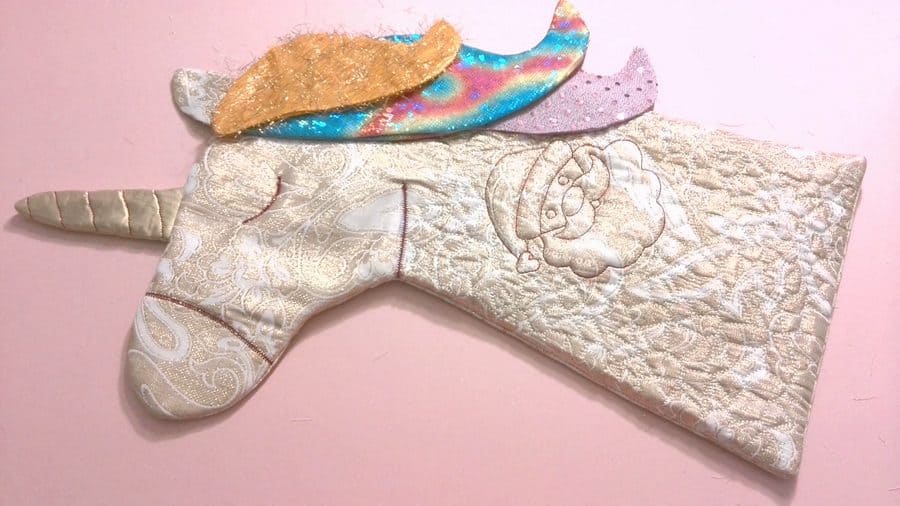 6. In the end I decided to decorate the stocking with Swarovski crystals.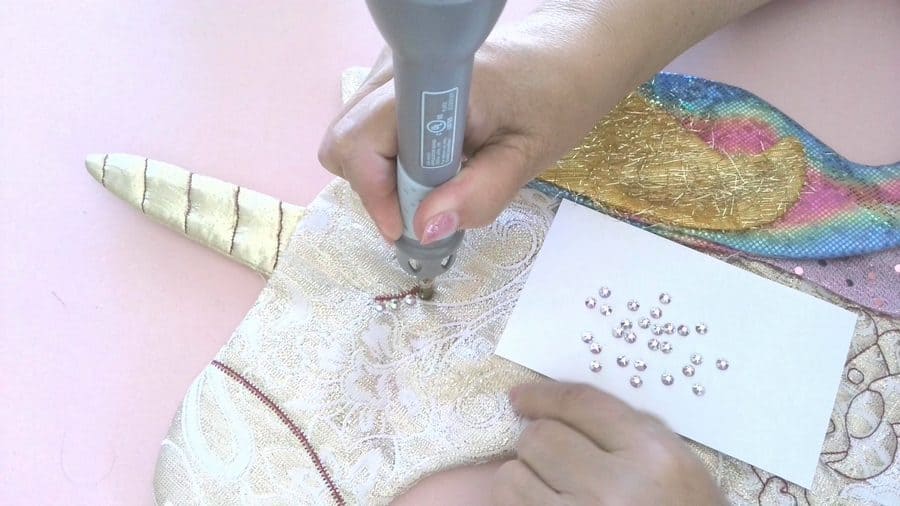 Some useful tips:
If the family is large, then you can sign all the stockings by attaching pieces of paper or fabric with names to them.
Usually stockings are hung over the mantel, but not every house has a fireplace, and even more so not every apartment. But there are no clear rules and places, so hang them anywhere, for example, on the door. In addition, the stocking can become an interesting Christmas tree decoration.
Show your imagination! Perhaps you will end up with something more interesting than the options described above.
Have a great holiday season! And let a Unicorn Christmas stocking decorate your home!
I hope you have found some helpful information in this sewing tutorial on how to make a Christmas stocking. Want to remember this tutorial? Post this pin to your favorite Pinterest board so that you can find the instructions later.
Like sewing tips? I have other popular tutorials on my site that might be interesting for you. Check them out below.