In this sewing tutorial I will show you how to use fusible interfacing. You will learn what is interfacing, which side of the interfacing is fusible, is fusible fleece the same as interfacing, how do you clean fusible interfacing from an iron, etc.
What is fusible interfacing?
Fusible interfacing is a very interesting material used for sewing, quilting and craft projects with all kinds of fabric. You fuse it to the wrong (unseen) side of fabric to give it additional strength, support or required shape. It's commonly used to stiffen collars and cuffs, reinforce facings and buttonholes, strengthen waistbands in garment construction. It's widely used in sewing bags and purses, it's also essential for quilters, it can be used for preventing fabric fraying, etc.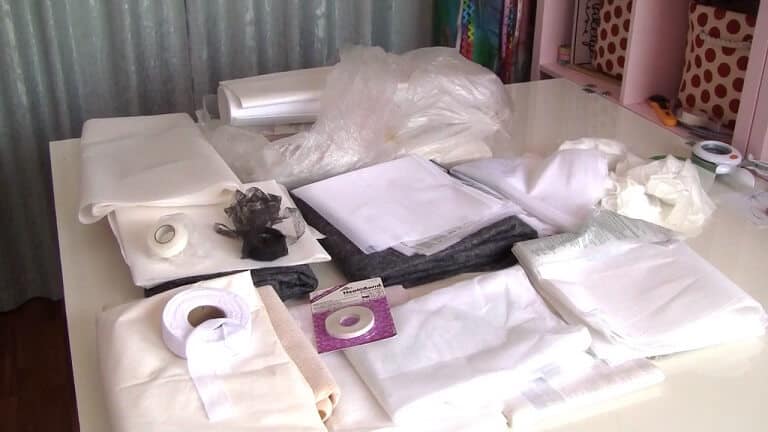 Attention! If you like the video format, at the bottom of this post, look for a YouTube video version where there is a step-by-step tutorial on how to use fusible interfacing. For a more complete picture, I recommend exploring both versions.
Types of fusible interfacing
Before applying the fusible interfacing we have to know what type of interfacing is suitable for the particular project and for the fabric.
When I started to sew 30 years ago I had only ONE type of fusible interfacing available to me (well, maybe there were different types then also, but they were not available for home sewing).
Now I have at home maybe 20 different types and most of the time when I need interfacing it turns out I don't have the exact type that I need so I have to buy it.
All types of fusible interfacing have a heat activated adhesive material on one side or on both sides which bonds to the fabric when ironed. Fusible interfacing can have different structure and thickness in order to be used with different fabrics.
So, what are the types of fusible interfacing we can use for our projects?
Note: Some of the links on this page are affiliate links. This means I will receive a commission if you order a product through one of my links. I only recommend products I believe in and use myself.
Non-woven fusible interfacing is the most common type everybody uses. It's a pure product of the chemical industry – it's not fabric, it will not unravel. Usually, it has no grain, and because of this, it can be cut in any direction which is great because you can use every bit of it in a very economical way. But sometimes it has the grain though and then manufacturers advise to cut it according to the grainline. It doesn't have any stretch, and can be used with any woven fabric. I don't recommend using it for knit fabric unless you want to reduce fabric stretch.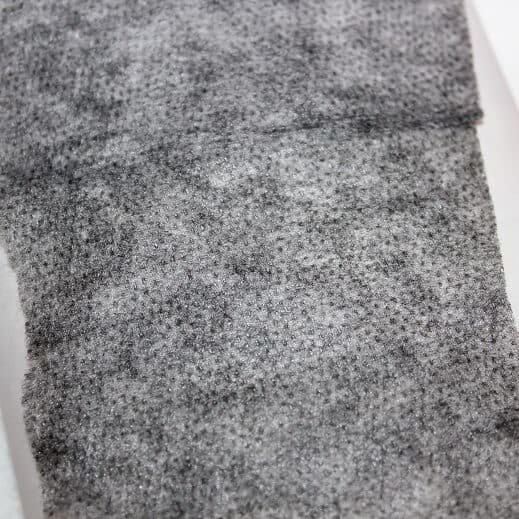 2. Woven fusible interfacing is a kind of fabric – it has a lengthwise and crosswise grain. It's made from warp and weft fibers interwoven together. It's not widely used in home sewing. Most of the time they make it not stretchy but sometimes it can have some stretch property also. This type works well with woven fabric.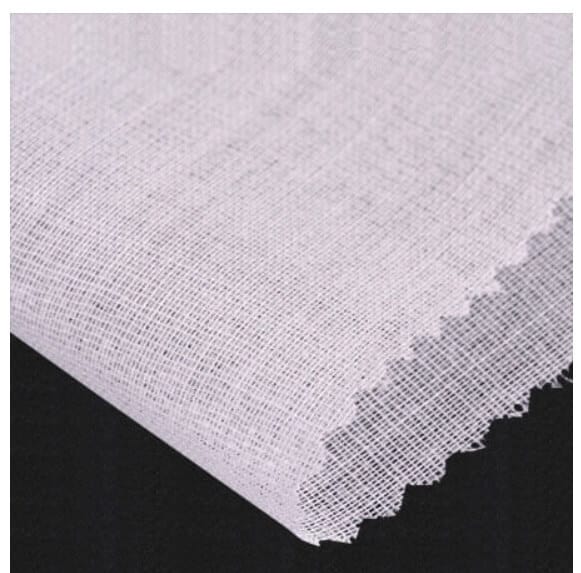 3. Knit fusible interfacing is stretch like knit fabric and used mostly for stretch knit fabric. It's made by knitted fibers together.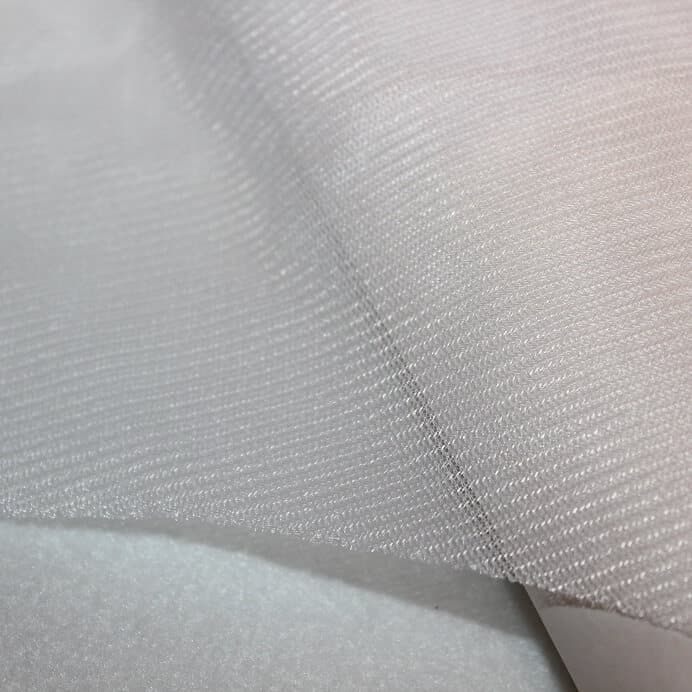 4. All the above types of fusible interfacing can be further classified as lightweight, medium weight and heavyweight.
Lightweight is used with lightweight delicate fabrics to add strength and durability.
Medium weight works for a wide variety of fabrics and heavyweight is great for adding structure to purses or brims of hats.
Generally, the heavier the fabric you are using, the heavier the interfacing you need. However, your interfacing should be slightly lighter weight than the fabric you are using.
Fusible fleece. Is fusible fleece the same as interfacing?
Yes, fusible fleece is another type of interfacing. It's quite thick, thicker than regular fusible interfacing, 100% polyester fleece with adhesive on one side. It's used for the fabric to hold a specific shape. It easily adheres to fabric.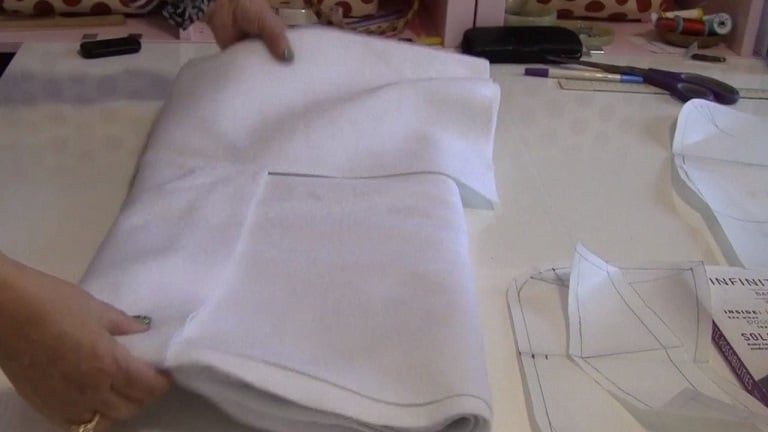 Fusible web vs. fusible interfacing
I often hear these questions: What is fusible web? What is fusible web used for? Is fusible web the same as interfacing?
I think fusible web is another type of non-woven fusible interfacing which has adhesive material on both sides and glues two layers of fabric together.
Usually, non-woven interfacing looks like paper with glue dots. Fusible web is a little bit different – it looks like a web, really. It melts from the hot iron and adheres two pieces of fabric together. Fusible web is intended to be permanent and can't be removed from fabric.
Sometimes it has paper backing that you need to peel off before using. It's available in various weights also.
Fusible web is used mostly for applique and for hemming.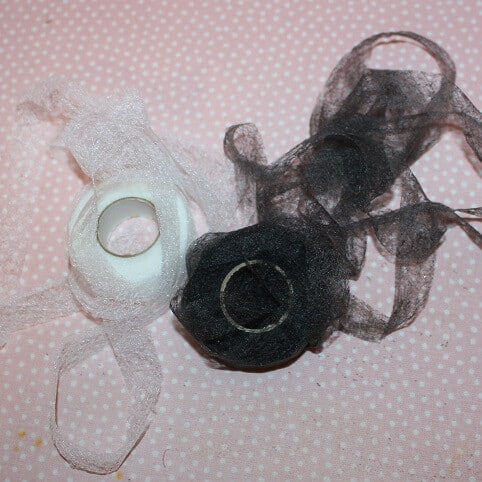 ✅ Related tutorial: How to use fusible interfacing for face masks
How to fuse interfacing
It seems so easy to fuse interfacing. First I want to show you the common way (but not necessary the best way) to do it and after that, we will see what problems you may have in the process and how we can solve those problems.
Pre-wash the fabric if necessary and press it so the fabric is smooth and flat.
Place your fabric on the ironing board wrong side up.
Find the adhesive side of the interfacing ( I'll show later how ) and place the fusible side of the interfacing on the wrong side of the fabric.
Press with a hot iron. Apply firm, even pressure and keep the iron in place for a few seconds, like 10-15 seconds. You can use steam or use only dry heat – as recommended by the manufacturer.
Lift the iron and place it back down in a new position, slightly overlapping the previous areas. Repeat until all areas of the interfacing have been fused to the fabric. Do not slide the iron across the fabric, as you may shift the layers of fabric and interfacing and this can cause distortion.
Once you've pressed from the interfacing side, flip the fabric over and repeat from the right side of the fabric to ensure a good bond.
Check if interfacing has adhered properly and if you see that it's not glued well, press it again.
Don't use interfaced pieces while they are still warm because interfacing can be distorted. Let it cool down.
Seems easy, right?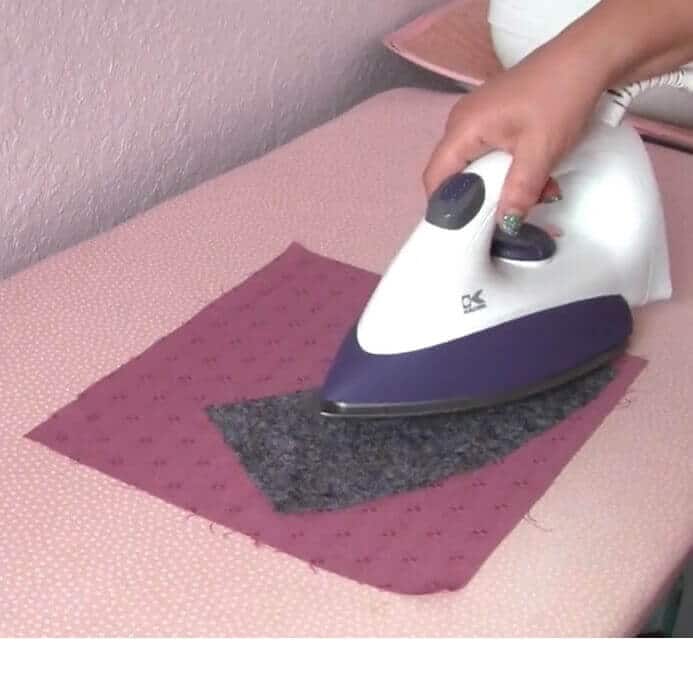 ✅ Related tutorial: Iron buying guide
The other common way to do it is to attach the adhesive side of the interfacing to the wrong side of the fabric and place them on your ironing board with fabric right side up. Press with a hot iron. You can do this if you are afraid the interfacing will stick to the iron. I will talk about this in detail later.
In most cases, it's advisable to use a pressing cloth and sometimes it's absolutely necessary if you are using some special fabric like silk or leather.
Here I would like to show you something cool. Do you know what I use as a pressing cloth? 100% silk organza! It's a perfect material – it withstands the hottest iron temperature and steam and I can see very clearly through it when I am ironing.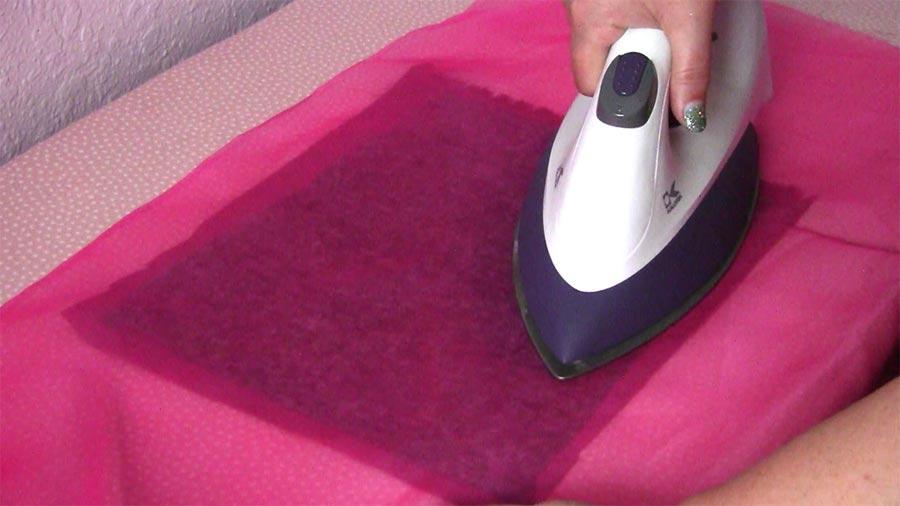 Sometimes you can fuse the interfacing with a steam iron and other times you will need to turn steam off and use dry iron — follow manufacturer's instructions (as they say). And where do you find those recommendations? Well, it's not always possible. I am used to keeping the paper from a manufacturer with a piece of interfacing. If you don't have any instruction for your particular interfacing – just use a pressing cloth and press through it with steam. It always pays to test the fabric, more about this later.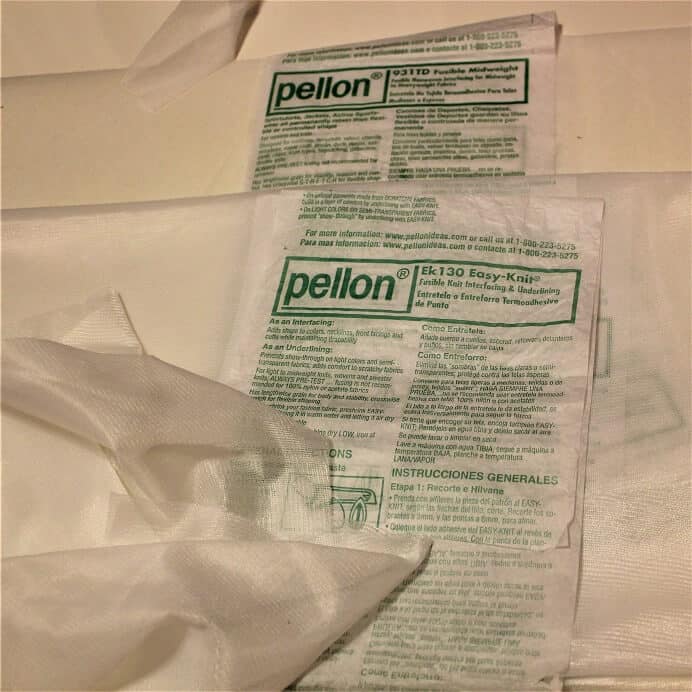 Fusible interfacing problems
Now let's see what can go wrong.
1. Fusible interfacing not sticking
Some finishes applied to the fabric in the manufacturing process can prevent fusible interfacing from adhering to the fabric. Try to pre-wash the fabric before starting your project.
It can be simply just because your iron is not hot enough and you just need to keep the iron longer on the fabric. Most times we need to put the temperature on the "wool" setting. But if you are using a pressing cloth then you can put a heat setting slightly higher.
Don't think that the hotter temperature is always better for fusing the interfacing. Sometimes an iron too hot burns the glue off or glue melts completely and your interfacing won't stick. Again, it always pays to test.
It can also be because the type of interfacing you want to fuse is not suitable for your fabric.
Is your fabric very textured? The adhesive will not stick well to the textured fabric. Use sew-in interfacing instead of fusible.
Is your fabric slippery? The adhesive will not stick well to leather and vinyl so you can try to keep the hot iron longer on the fabric.
2. You didn't find the adhesive side of the interfacing and the glue stick to the iron, not to the fabric.
Which side of the interfacing is fusible?
Usually, if you look at fusible interfacing really closely you will notice specks of glue on the fusible side of the interfacing and sometimes you can tell the fusible side by the slightly bumpy texture of the adhesive. The fusible side of interfacing has a slight shininess from the glue.
But still, everybody guesses wrong from time to time and makes a mess on the iron.
How do we solve this problem?
Easy – mark it: once the adhesive side is identified, place a piece of a painter's tape on the adhesive side of the interfacing when you have enough light and you clearly can see the shiny glue and take it off right before pressing. You can use the painter's tape to mark the wrong side of the fabric also (when the difference between right and wrong sides is not obvious).
How do you clean fusible interfacing from the iron?
There are many products for cleaning irons. I like the best this one: Faultless Hot Iron Cleaner. Check the video below if you want to see how it works.
3. Small pieces of the fusible interfacing glued to the iron or to the ironing board.
Well, you better be careful and protect your fabric and ironing board from any excess adhesive.
Use a pressing cloth to prevent getting the glue on to your iron. And place a scrap piece on the ironing board underneath your fabric.
You can also use parchment paper – it doesn't' stick to the interfacing. Place it under your fabric on the ironing board or above the interfacing to prevent it from sticking to the board or to the iron.
How do you remove interfacing glue from the ironing board?
There is no guarantee you will be able to remove it from the ironing board especially if you used fusible web. But you can try to do this:
Dampen a piece of scrap fabric and place it on top of the adhesive left behind on the ironing board. Press with an iron on the highest temperature and steam settings. If something else will be left, try to use rubbing alcohol to rub the remaining glue. And if all fails, make a new cover for your ironing board.
4. Fusible interfacing can't be used with some fabrics or they require some special attention.
Fabrics that can't be safely ironed like fabrics with nap (velvet and fur), sequins and metallic fabric, some types of vinyl, laces, mesh and some sheers are better interfaced with sew-in interfacing because they can be ruined by the hot temperature required to fuse the interfacing.
But sometimes I use the fusible interfacing with vinyl and leather.
5. Sometimes fabric can be distorted or wrinkled.
Use an iron temperature that is suitable for both the fabric and for the interfacing.
I have just used fusible fleece for the first time to make a lined zippered pouch and when I tested it on scrap 100% cotton fabric it was all wrinkly on the fabric side. I placed it glue side up and then fabric on top and ironed with a dry iron on cotton setting. The piece got wrinkled all over even if I used a pressing cloth. The reason for this is the iron temperature – fusible fleece needs to be pressed on lower settings than the cotton. Just keep pressing longer with the lower iron temperature.
6. Interfacing wrinkles.
Don't glide the iron – just press. Apply firm, even pressure and keep the iron in place for a few seconds, like 10-15 seconds.
7. Interfacing melts or you damage your fabric.
The iron temperature is too hot. Put the iron temperature on the "wool" setting and use a pressing cloth.
Other useful tips and tricks
1. Do a test before applying the fusible interfacing to your project so you can see how your fabric fuses to the type of interfacing you have chosen. Use a scrap piece of fabric for this. If you see that the fabric becomes too stiff or the interfacing melts you can change the interfacing or temperature settings of your iron.
2. For garment sewing – usually, we cut pattern pieces and then cut coordinating pieces from fusible interfacing.
I do it a little bit differently – I fuse a big piece of interfacing to the fabric and only after that cut pattern pieces. It's not really the economical way to use interfacing because you will have to place pattern pieces in accordance with the grainline of the fabric. But it saves so much time!
3. Can you wash fusible interfacing?
Sometimes manufacturers advise to pre-wash ( and therefore pre-shrink) fusible interfacing. Don't be afraid to do so – the water will not dissolve the glue! Put it in hot water, let it sit there 5 minutes, take out, gently squeeze to remove excess water and allow it air dry afterwards. It's not necessary to pre-wash every interfacing but some of them really need to be prewashed.
The interfacing will stay fused after you wash your garment or quilt, within reason. If you washed 1000 times then it may come apart of course.
4. Can you sew through fusible interfacing?
Yes, you can sew through fusible interfacing. It will be no problem for lightweight and medium weight interfacing but if you use heavyweight one you may need to change your needle for a bigger size (for example it's necessary if you are using fusible fleece which is thick).
Sometimes if you are using fusible web, melted glue can gum up your needle. There are special needles that go through glue without any problems – non stick Teflon covered needles. They have an anti-adhesive coating, move through the sticky stuff more easily than regular needles and don't get fuss balls usually.

But if you are using a regular needle you may need to clean it as soon as you finish stitching.
5. How do you remove fusible interfacing from fabric? Can fusible interfacing be removed?
It may happen that you fused wrong pieces. It happened to me – I needed to fuse interfacing to my skirt's yokes and I fused one piece to the wrong side and another piece to the right side of coordinating pattern pieces (yokes) because the difference between right and wrong sides was not big. To prevent this use a piece of painter's tape and mark the wrong side of the fabric with it (see above)
But if it happened, most of the time you have no choice but cut the pieces again. Interfacing is supposed to adhere to the fabric permanently.
But sometimes we can remove fused interfacing if you didn't put it properly in the first place.
6. Fusible interfacing typically comes in white or black, so it won't show through the dark or light fabric for your sewing project. I have never seen colored fusible but on a manufacturer's website, I found also red, blue, green, pink interfacing so I guess we may see it for sale for home sewists also.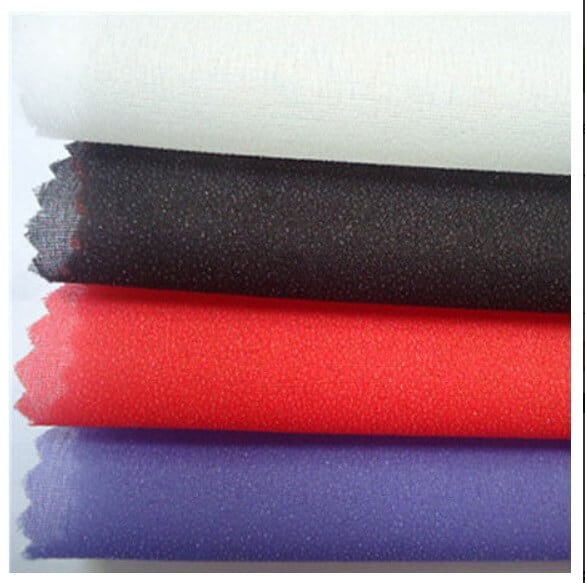 7. Does fusible interfacing prevent fraying?
Yes, fusible interfacing can stop the fabric from fraying very well. That's why it's really good to use with applique.
8. How to choose proper fusible interfacing for your project
One thing to consider is the properties of your fabric. It seems obvious that for lightweight fabric we choose lightweight interfacing and for heavyweight fabric, we chose heavyweight interfacing. They say that interfacing has to be lighter weight than your fabric (not heavier).
But it's not always clear how to do it. Is fusible fleece heavyweight interfacing? It certainly is thicker than the cotton we want to use it for. And any heavyweight fabric is certainly heavier than any heavyweight interfacing. It seems to me interfacing doesn't have any real weight. I can see the different amount of stiffness when I touch interfacing. Does it mean that the stiffer the interfacing the heavier it is?
For example, I have this stretch interfacing and this piece of knitted jersey silk. Which one is heavier? Can't be sure.
So how to choose proper interfacing in this situation?
I use the manufacturer's instructions. For example for this stretch interfacing – I can read that it can be used "for light to medium weight knits, wovens and sweater knits". And also if you are using a commercial pattern you can read pattern instruction about the interfacing you need to use for the project.
Another thing to consider is the amount of stiffness you want.
So if you have a few different types of interfacing you can test your fabric and see what works the best for your project.
Popular Brands of fusible interfacing
It can be sheets, rolls, or small tapes. They sell it by the yard in fabric stores, or by packaged sheets or rolls. The most well-known brands are these:
Pellon
Bosal
Clover
Heat 'n Bond
Steam-a-Seam
There are some specialty in the world of fusible interfacing.
There are some companies that sell patterns together with printed fusible interfacing – full-size panels of cut lines and sewing lines printed on fusible interfacing so you can complete a project easier. One of the brands is called Quiltsmart. People say that "Printed interfacing eliminates curved piecing, and is faster, easier, and more accurate than templates, tracing, or freezer paper. These patterns are designed for all quilters, from novice to expert."
Another specialty interfacing is fusible with a grid or dots so you can trace a design onto it. Or it can be perforated.
There are also precut fusible interfacing pieces – pre-cut for waistbands or purse straps.
So here is my YouTube video. Check this out if you like to see how to use fusible interfacing instead of read…
Do you make these 15 mistakes with your serger?
Enter your email in the box below to download your free eBook and find out which mistakes you should avoid!
Subscribe to my weekly newsletters with sewing tips and tutorials, free sewing patterns, printable PDFs and other useful content and you'll find the eBook in your inbox.
Subscriber exclusive offer.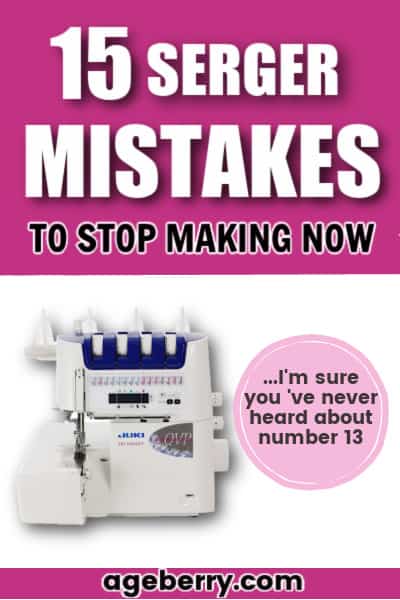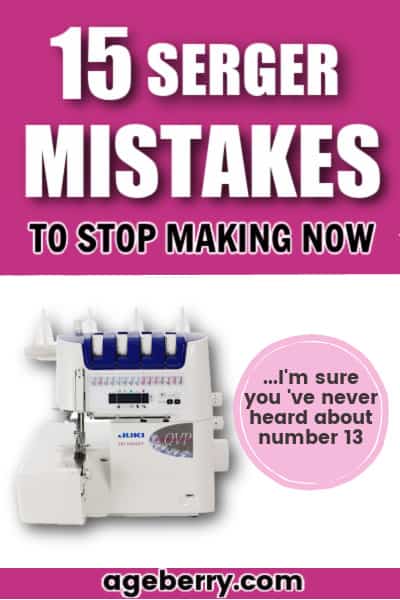 Did you find this tutorial helpful? If so, save this pin (see below) on your sewing board so you can come to this tutorial later when you are ready to use fusible interfacing, and follow me on Pinterest for more tips, tutorials, and inspiration!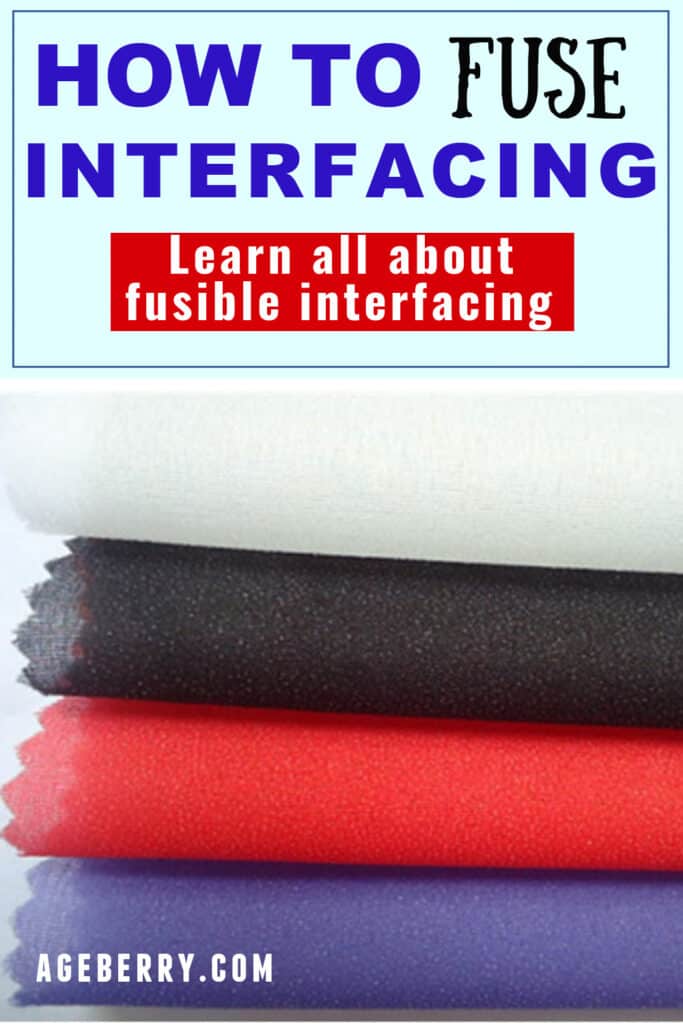 Ready to take the next step in your sewing journey? Check out more step-by-step tutorials from my blog and don't forget to share!