A shaped facing is used to finish raw edges of a garment at the neck, armholes, and other front and back openings. This kind of facing is usually shaped to match the shape of the edge to be finished.
It generally consists of several sections that are sewn together and cut out (using a pattern) to the same shape as the edge it's supposed to finish. After the facing is attached to the garment, it's turned to the inside and should not be visible on the outside.
I used the shaped facing to finish the neckline of my silk robe which I made without a pattern. Let me show you how to sew the shaped facing. It's really a very easy part of garment sewing and you can do it without any problem after reading (and watching) this sewing tutorial.
✅ Related tutorial: How to make a robe without a pattern from pure silk fabric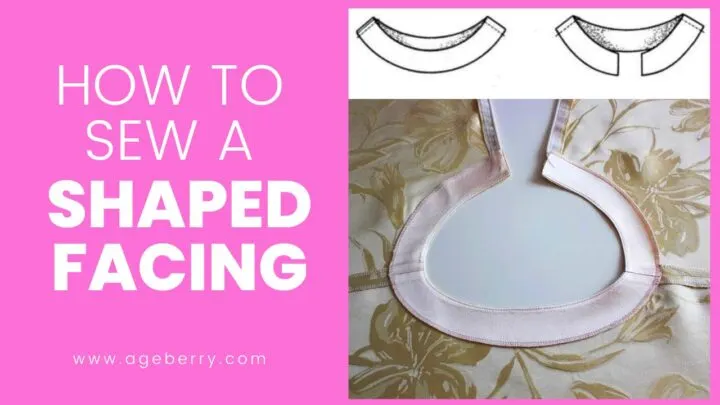 Note: Some of the links on this page are affiliate links. This means I will receive a commission if you order a product through one of my links. I only recommend products I believe in and use myself.
What you may need
Fusible interfacing – it's always recommended to use interfacing (fusible is easier) for sewing facings
Serger (for finishing raw fabric edges) – optional OR
Overcasting feet for your home sewing machine – for finishing raw fabric edges – optional
Fabric scissors
Sewing machine, threads, needles, pins
Attention! If you like the video format, at the bottom of this post, look for a YouTube video version where there is a step-by-step tutorial on how to sew a facing. For a more complete picture, I recommend exploring both versions.
Do you make these 15 mistakes with your serger?
Enter your email in the box below to download your free eBook and find out which mistakes you should avoid!
Subscribe to my weekly newsletters with sewing tips and tutorials, free sewing patterns, printable PDFs, and other useful content and you'll find the eBook in your inbox.
Subscriber exclusive offer.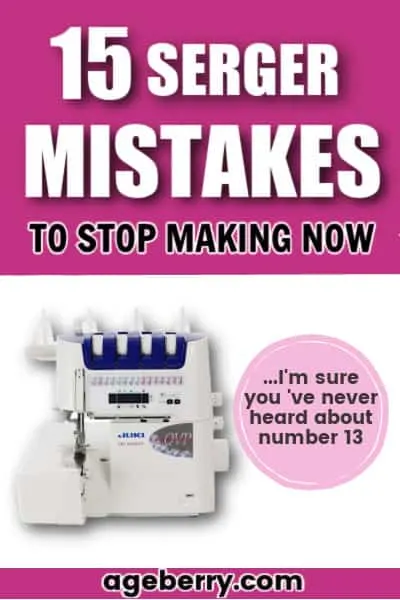 Step 1.
After cutting my silk fabric I noticed that it was fraying a lot, so I decided to finish almost all raw fabric edges with my serger. I don't need to do that and I am pretty sure clothing manufacturers don't do it but I am not in production, it's just home sewing so I can afford to do it. And after all, the edges are finished I can work with my pattern pieces without them falling apart.
✅ Related article: Serger vs. sewing machine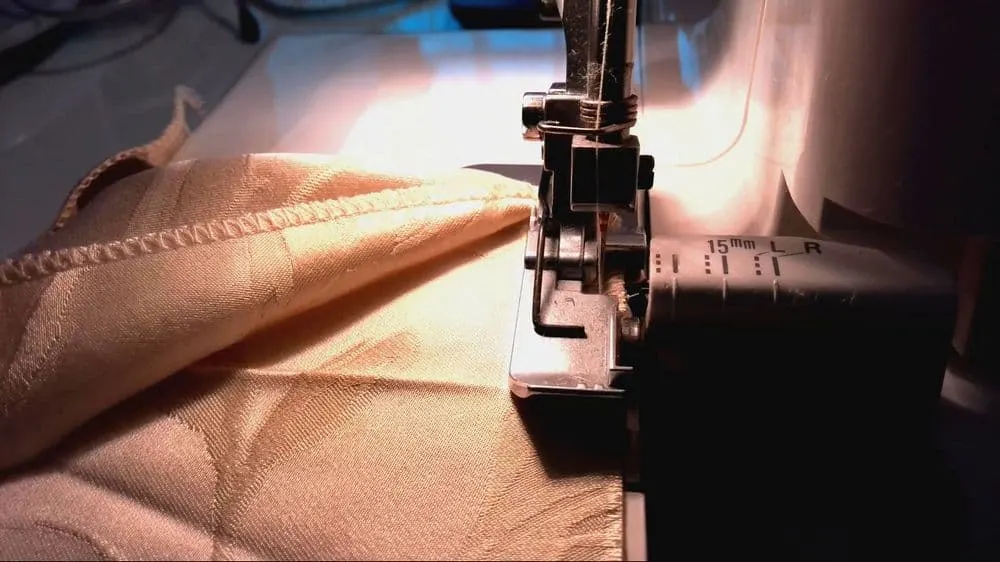 Step 2.
Why do you need interfacing for sewing?
For my shaped facing, I am going to use fusible interfacing. Any shaped facing should be interfaced to help the garment to maintain a clean finish. So it's necessary to know the different types of interfacing and their uses when sewing facings.
My fabric is 100% silk, and for this fabric, I like to use Pellon sheer-knit specialty apparel fusible. This interfacing is 2 way stretchable, it's made for soft knit fabrics but it's compatible with a wide range of fabrics. I like to use it for woven silks also. It doesn't require pre-shrinking.
I don't cut facing pieces from the interfacing separately. I cut one bigger piece and fuse it to the piece of fabric from which I am going to cut facing pieces. Maybe it's not very economical but again – I am not in production and I can afford to lose some interfacing.
As you can see I drew a grainline on my interfaced fabric with a marker. It's important to follow the grainline when cutting facing pieces.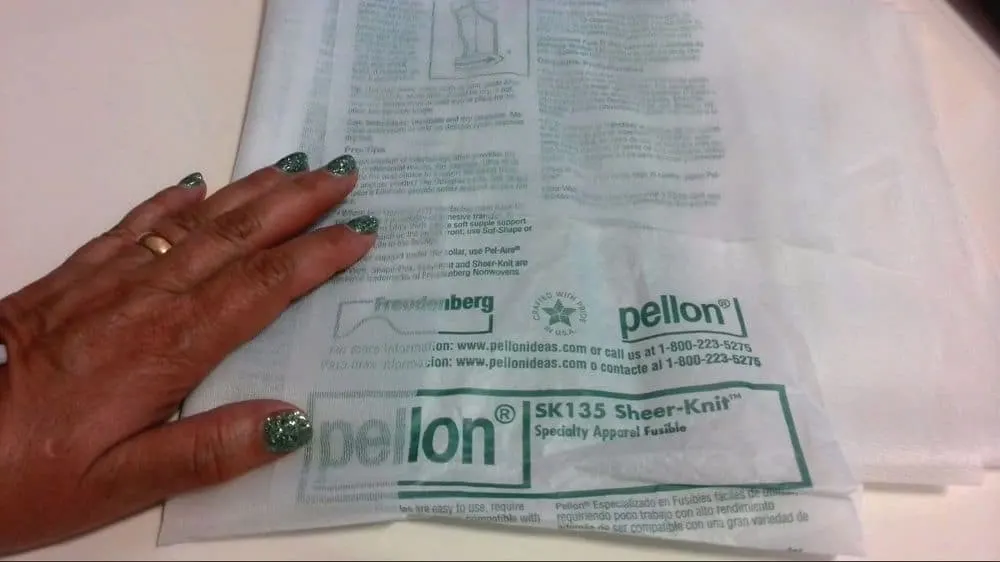 Step 3.
Is stay-stitching necessary?
Before actually making facing pieces, I stay-stitched the neckline on the back and front pieces. You can see this green thread. Stay-stitching prevents the curved neckline from stretching. Don't ignore it, it really helps to make great garments. Sew it ¼ in (or 6 mm ) from the edge and make the stitch length around 2.5 mm.
Stitch from the edges toward the center front, you can see that I have cut threads in the center – that helps to keep the neckline even on both sides. Don't backstitch the stay-stitching, we don't need to secure the stitches this time. I will take the green thread out later.
✅ Related tutorial: Types of Sewing Machine Stitches: Unraveling the Mysteries of the Straight Stitch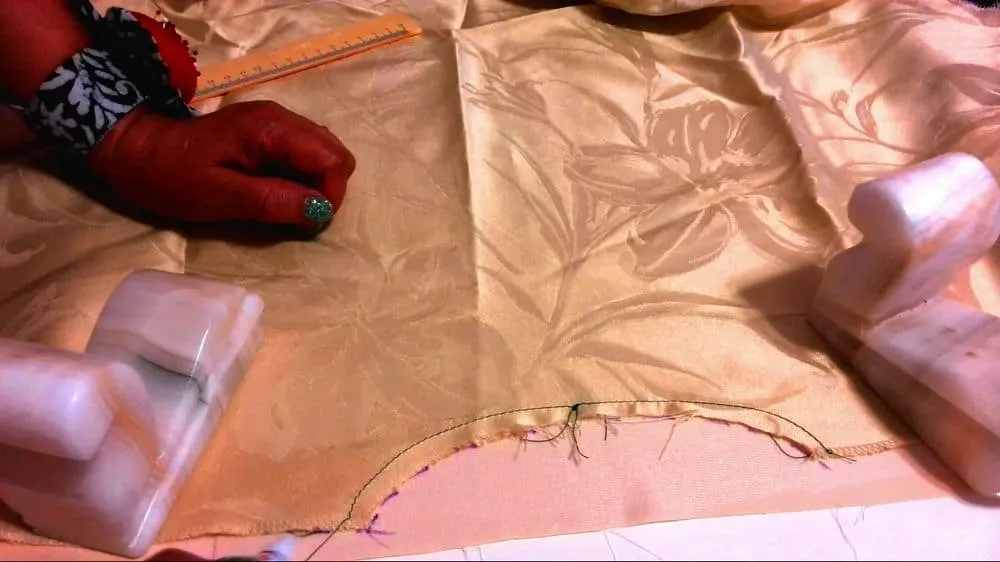 Step 4.
If you bought a commercial pattern you would have the facing pattern pieces in the pattern envelope. So you can skip the next step where I am going to make the facing pattern pieces for the silk robe I am making without a pattern.
How to cut facing for a neckline
So, place your back bodice on the interfaced fabric and draw the neckline using a disappearing ink marker. I like to use it for all my sewing projects. Now take a ruler and measure around 5 cm (or 2 in) from all edges. If you want you can make the facing deeper at the center back – for example, for putting a label there. This is going to be the facing for the back.
Now put the front piece and make the facing for the front.
Cut using sharp sewing shears.
You have to make 2 facing pieces for the front: one for the left and another one for the right front bodice.
I don't think we need to stay-stitch the facing pieces because they are cut with fusible interfacing and it keeps them from stretching very well.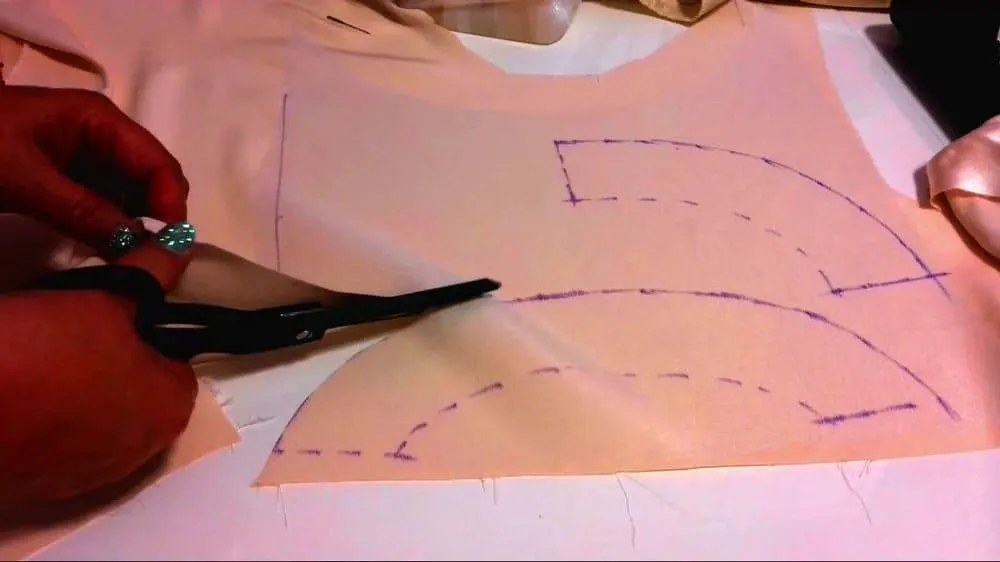 Step 5.
After cutting pin them at the shoulder seams and sew the front and back facings together – seam allowances are 1 cm or ⅜ in.
Stitch also shoulder seams of the garment. Seam allowances are the same 1 cm or ⅜ in.
Press seams flat after stitching and then press them open on the garment and on the facing. You should press a garment after each construction step.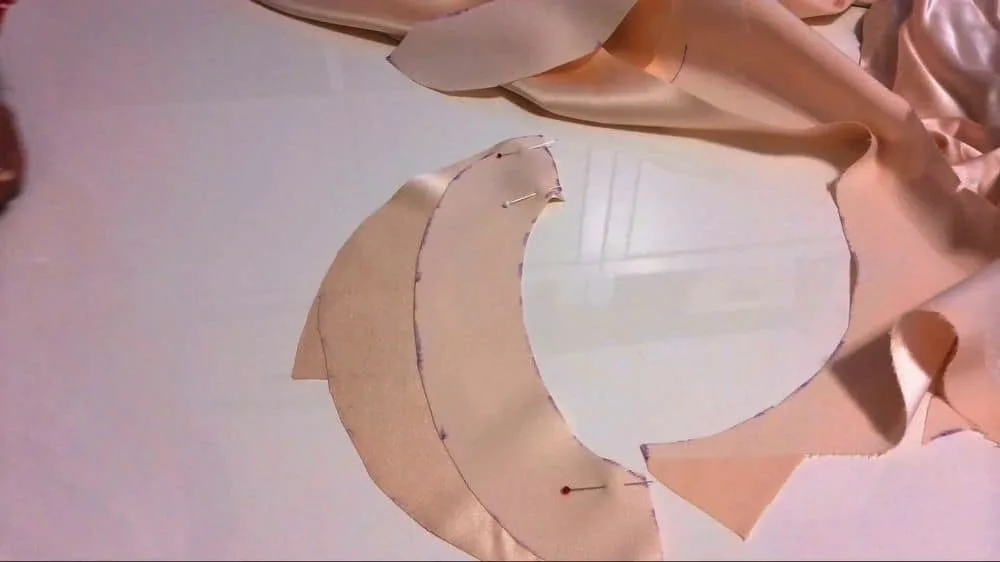 Step 6.
How to sew neckline facing
Now let's attach the neck facing to the garment's neckline. Place them right sides together with the raw edges even, pin them first at the shoulder seams and at center back. Stitch with seam allowances 1 cm or ⅜ in. Don't make the stitch length on your sewing machine too small because it can shorten the neckline and you may have some puckering.
I need to remove stay stitching threads because I use green thread but if you used matching thread you can leave it where it is.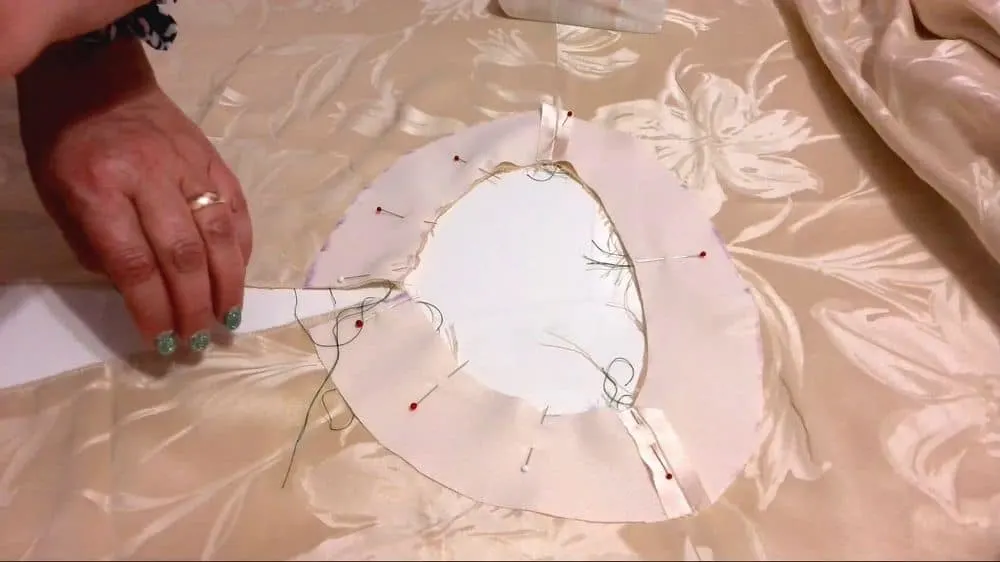 Step 7.
Now we have to clip the seam allowances and I prefer to use pinking shears. They are really great for making necessary clipping. Cut the seam allowances using pinking shears close to the stitches.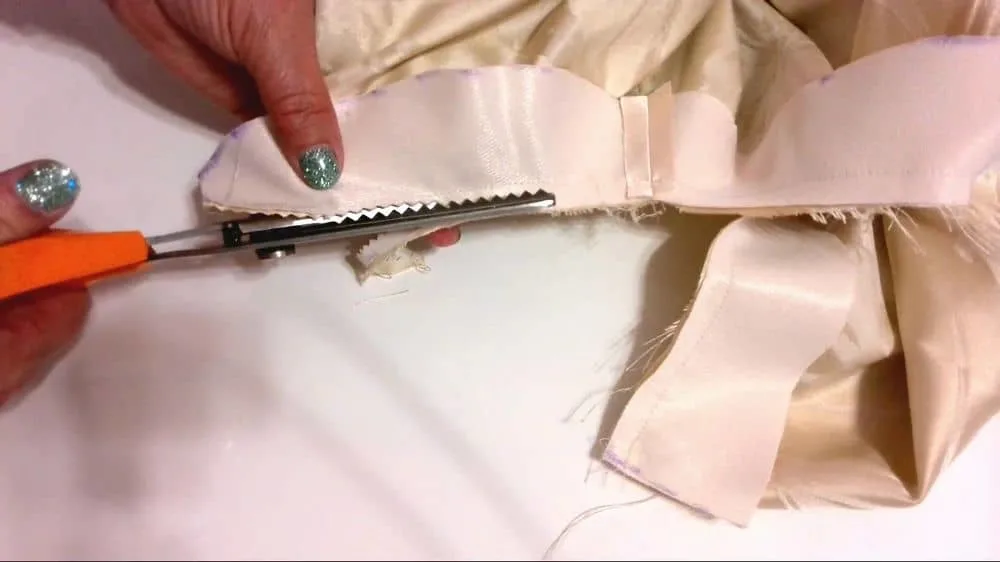 Step 8.
What is Understitching used for? Why is Understitching used?
The next step is called Understitching. It's necessary for keeping facing from rolling to the outside of the garment. Pull the clipped seam allowances away from the bodice, they should stay under the facing. You have to make a stitch through the facing and seam allowances close to the seam line. I stitched ⅛ in away from the seam line. Here is what it looks like after understitching.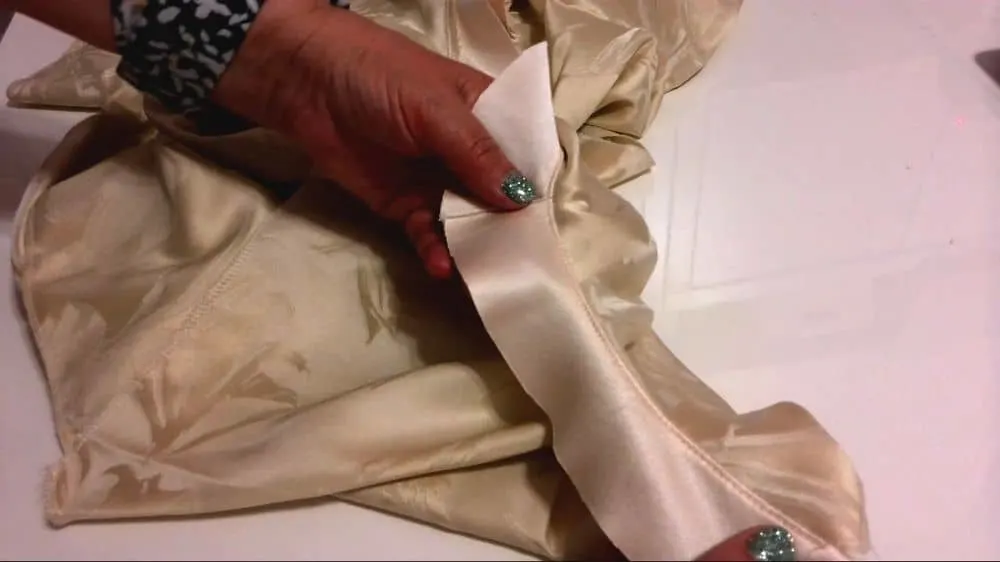 Step 9.
Turn the facing to the inside of the robe, and allow the seam line to roll inside slightly. Press along the neck edge.
The next step is finishing the raw edge of the facing. I used my serger for that. That's what the facing looks like after pressing.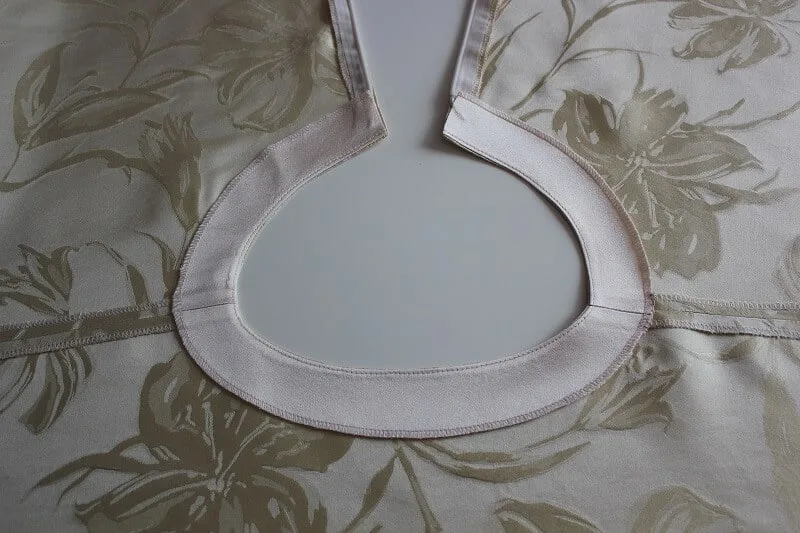 Step 10.
Now let me show you how to finish the facing around a zipper.
Turn the facing over the pressed fold line and pin it like this, right sides together. Stitch close to the zipper teeth. Seam allowances are 1.5 cm in this case or ⅝ in. Cut the seam allowances on the facing and cut at the corner for turning it on the right side. Repeat the same on the other side of the robe. You have to make sure that the neck seamlines will align with each other when the zipper is closed.
Step 11.
How to hand tack facing
The last step is hand sewing the facing to the shoulder seams of the garment. I like to start hand sewing without a knot. It makes a really clean finish. Thread your needle with double thread, start sewing and insert the needle in the loop as you see in this video below.
With facing and garment seamlines aligned at the shoulders, sew facing in place catching only the facing edge and seam allowances of the garment.
So here is my YouTube video. Check this out if you like to see how to sew a shaped facing instead of reading…
Did you find this tutorial helpful? If so, save this pin (see below) on your sewing board so you can come to this tutorial later when you need to make a shaped facing, and follow me on Pinterest for more tips, tutorials, and inspiration!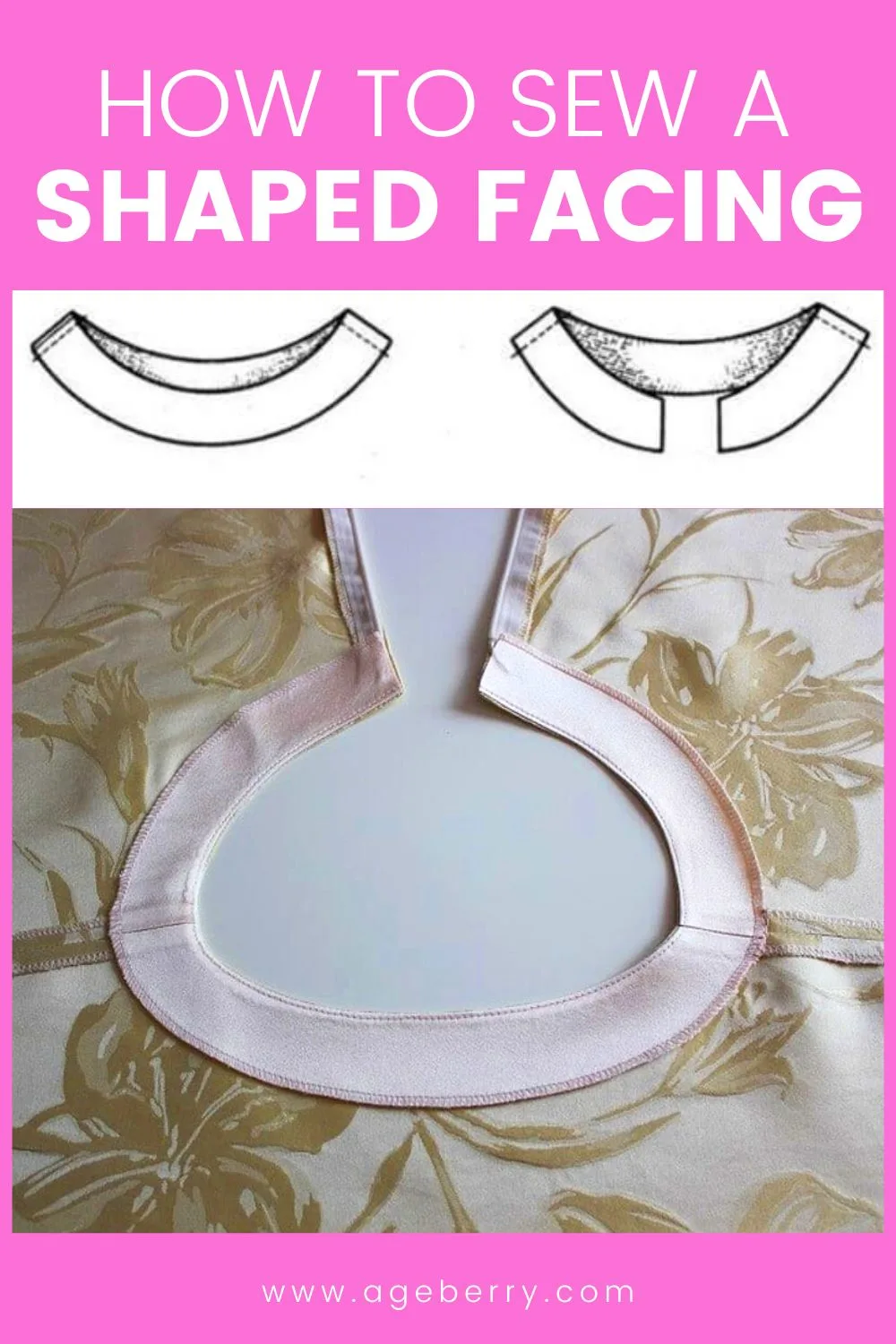 Like sewing tips? I have other popular tutorials on my site that might be interesting for you. Check them out below.
---