For most people who sew, irons are the second big expense after a sewing machine. I have put together this iron buying guide to help you navigate the process of choosing (and buying) your next iron. Getting an iron can be as complicated as figuring out which sewing machine would suit you best. So I compiled some information and advice, backed by my sewing experience.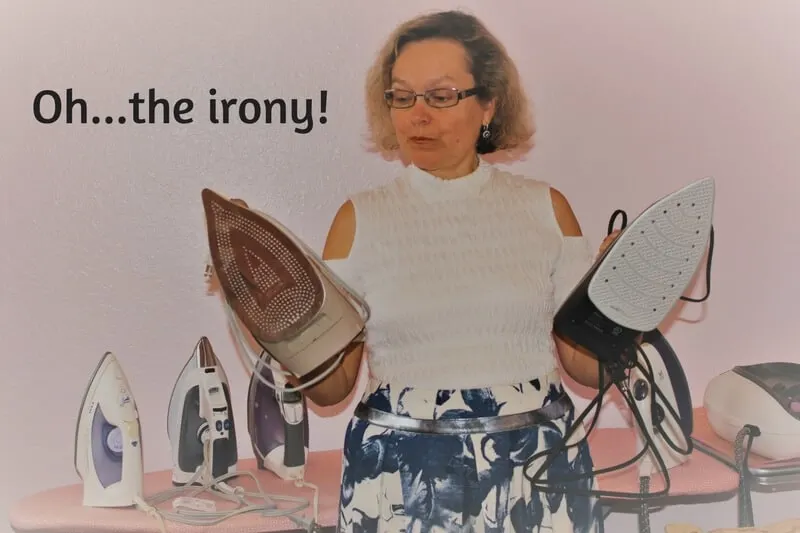 If you are only interested in a buying guide, please jump to this link where I summarize my recommendations.
There is no sewing without pressing (ironing). Every seam you made by hand or by a sewing machine must be pressed. In this article, I will use the words "ironing" and "pressing" interchangeably, even if there is a slight difference in their meaning.
Ironing is a part of every step in sewing: from preparing fabric for cutting and applying fusible interfacing to finishing a sewing project. While sewing, I find myself reaching for my iron every couple of minutes. If you do that often enough you will realize that yes, there IS a difference between a good iron and a mediocre one. The iron is really an essential tool for a successful sewing project. I think it's not less important than a sewing machine.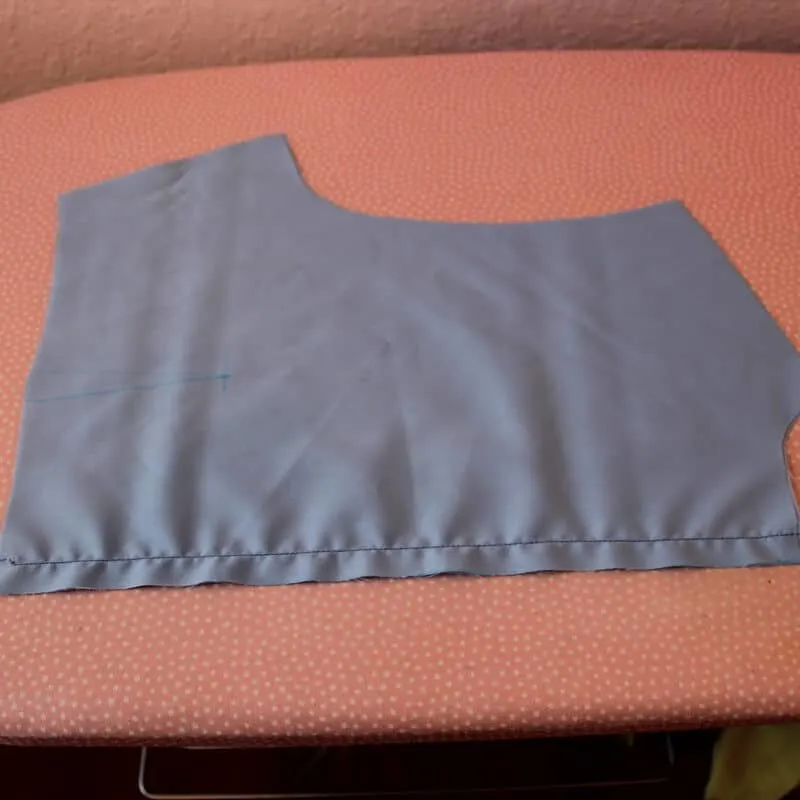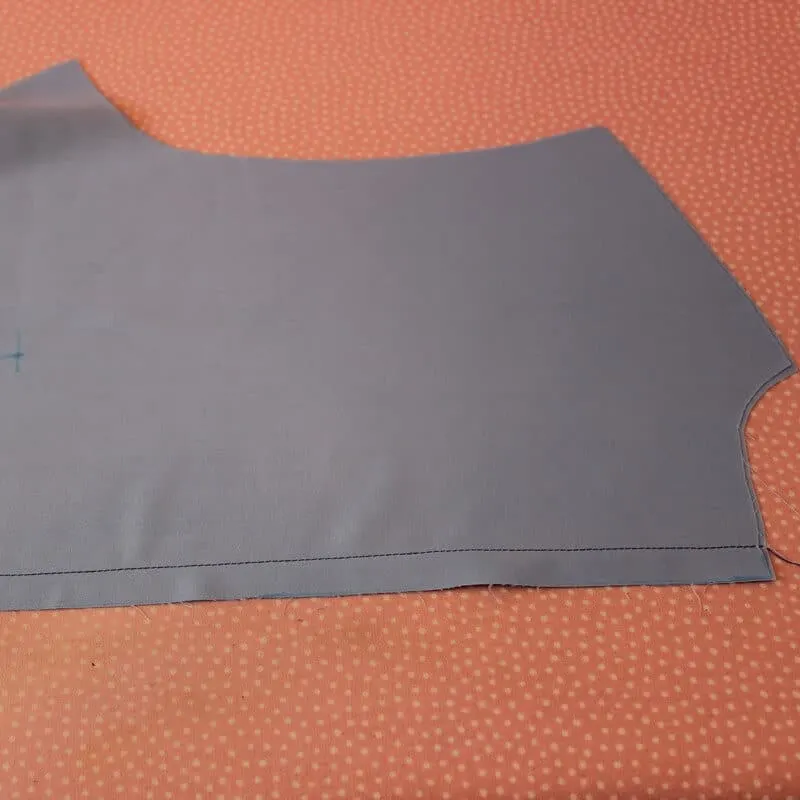 So, how to choose an iron, and what to look for in an iron?
I heard a joke that seems to apply here: choosing an iron is pretty much like choosing a husband since the selection follows the same criteria: it should be hot, always ready, easy to handle, adjust to the woman's preferences, and use only water!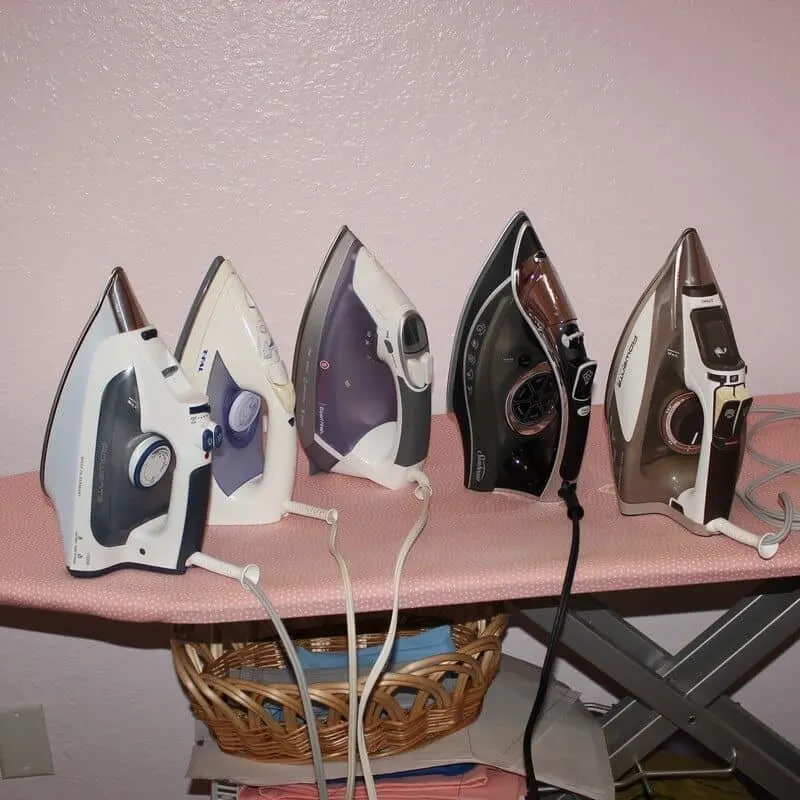 But let's put the joke aside and discuss the iron features to look out for if you sew.
I will only discuss here steam irons. I found that as a sewing enthusiast I can't even consider a different kind. If I were to infrequently iron only cotton sheets I would not be picky, but this is an essential tool for me, so only steam irons.
Power (wattage)
Let's talk about power now. The higher the wattage, the more powerful the iron, and the faster it heats up meaning less time spent waiting. Also, this means a better capacity to produce steam in a sustained mode.
Generally, the higher the wattage, the quicker and hotter the iron gets. For example, my Sunbeam Classic 1200 Watt iron takes longer to heat up and reach the desired temperature than Philips GC2820 2000-Watt iron which heats up in half the time.
However there are downsides for higher wattage irons: a normal house circuit is wired for 15A in the USA ( sometimes 20A ) and an iron 2600W would exceed that, meaning that a special power circuit might need to be designed for it, and even if not, using extra appliances on the same circuit is a no-no.
Did you ever notice that when iron comes on, if there are lights on the same circuit, the lights are slightly dimmer? I did. There is a reason for this: no, the voltage in your home did not go down. But in the circuit where the iron is connected because of the high current, there IS a drop in voltage due to losses on the circuit itself. All these losses will translate into heat.
NEVER exceed the power a circuit has been designed for, this is a very real fire hazard. In older homes, where the fuses are the older type (actual fusibles), and even in newer ones it is possible to replace the fuse with one rated for a higher current, but the problem is not the fuse – it is the circuit inside the wall, which might heat and catch fire.
Perhaps you will think this is overkill, why do we talk about fire hazards in a sewing article? Because overloading the circuits is one of the major causes of electrical fires in North America where the low voltage of the residential power network (therefore higher current) and predominant building material (wood) are contributing factors. In Europe, the same 2600W iron would draw only half the current.
Naturally, a more powerful iron also tends to be more expensive but it should give a better ironing experience overall with higher heat output. I have found myself that iron around 1700W is usually good for my purposes.
Water reservoir
I found that it is an absolute must to be able to see the water level in the iron. I had one iron (and it was Rowenta from Costco) with a dark red-colored water tank and I couldn't see the water level so I returned it to Costco after using it for only 2 days.
Also, the size of the water reservoir is important to me. It must be large enough to accommodate a reasonable amount of work. 8 ounces of water in the iron are finishing very quickly and I really don't like to refill the iron every 10 minutes of work.
Every manual says that you need to turn off the iron while you are filling the water reservoir so you will spend a lot of time with your iron turning it off, filling it with water, and turning it on again. And if the hole for the water is not big enough the water can bubble up out of the filling hole and will run down on the ironing board or on the floor which will slow down my sewing for sure.
For me, NONE of the classic irons have enough water capacity and that is one of the reasons I am using the Kalorik ironing station as my main device because it has a separate (and really big) water tank.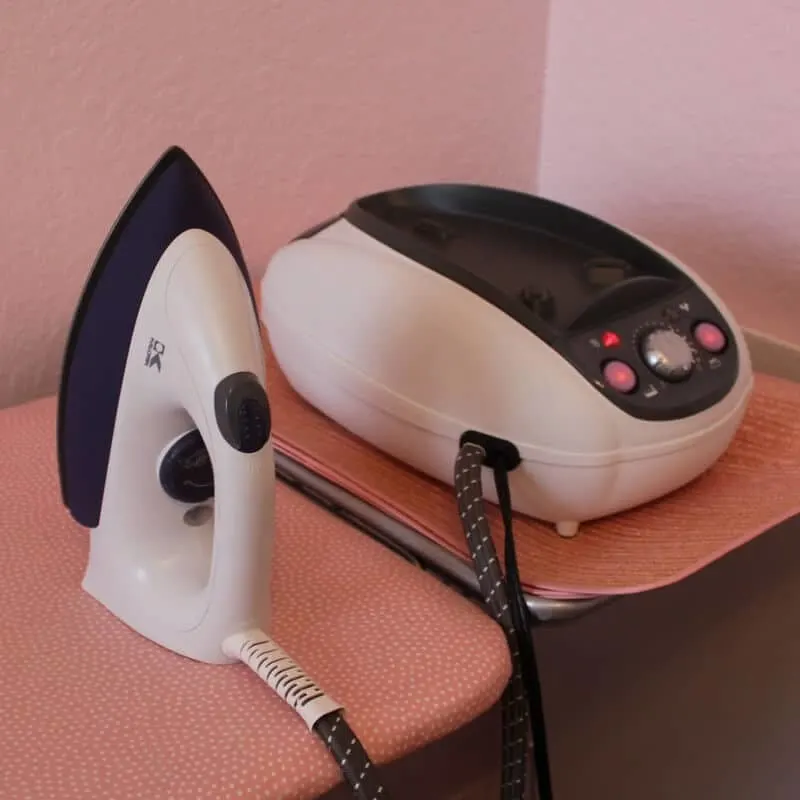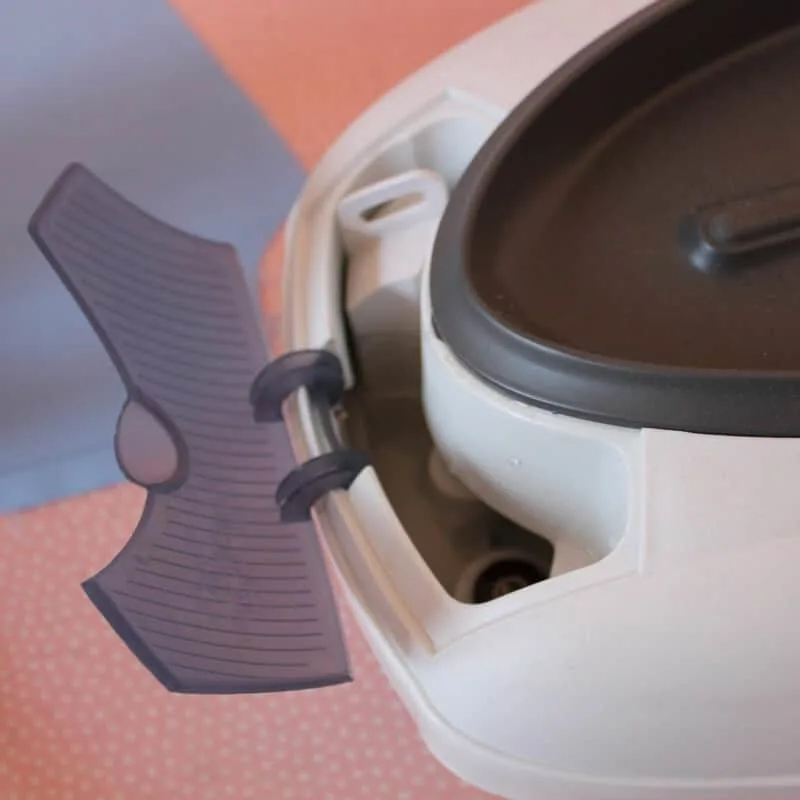 Note: Some of the links on this page are affiliate links. This means I will receive a commission if you order a product through one of my links. I only recommend products I believe in and use myself.
My Kalorik is an older model and not available anymore but there are well-rated alternatives available like the ones below:
Temperature control
What about iron temperature and fabric selection? Here also not all irons are equal and the problem is compounded because not all manufacturers agree regarding the optimal temperature for each fabric type.
There is no absolute guide here, you will just have to make sure that the iron DOES have both low and high-temperature settings and then you will have to remember always to test the temperature setting on a scrap before ironing a good piece. In a short time, you will see what that particular iron does and as long as it can be adjusted for both high and low-temperature settings you can be sure you will find a good position for any fabric.
We are most familiar with the temperature controls in the form of a dial. Nowadays there are digital irons where you can change the temperature by pressing a button (and a small LED display will show you the type of fabric that goes for this temperature).
I had some irons that seemed to me not hot enough for ironing cotton and linen. One of them was T-Fal iron, and it was quite annoying to press and press and press and the wrinkles were still there.
Remember though that the steam function can't be used at low temperatures. If you do, you can be certain you will get drops of water on your fabric. You will have to learn what is the minimum temperature for a particular iron for using steam, most modern irons have it marked.
In the images below you can see what happens if I use the steam function on the wool setting, you get water on your fabric as in the first image. This water leaves unsightly marks after it drys out, quite visible in the second image.
Cord length
How long should the cord of iron be? All my irons have a cord of about 8 feet (2.5 m) which is enough for me. Barely. Of course, you have to place your ironing board within that distance of an outlet but if not, you can always use an extension cord. Beware though, the extension cord can't be the cheap type you buy for next to no money in discount stores, it must support a high current ( 20A or more ) for extended periods of time.
The same applies to the outlet itself, it must be in good condition, not moving and the cord must be connected properly to the outlet. A loose connection is very dangerous. I suggest periodically checking the cord and outlet and seeing if they get warmer than usual, any temperature above body temperature is probably signaling a problem. When ironing you are right there and most modern irons have an auto shut-off function in case you leave them unattended, but I believe it is better to prevent problems rather than fix them afterward.
A very real danger is inherent to the high temperatures the irons are capable of: you may touch the cord with the iron, and at certain temperatures, the cord might be damaged. It happened to me, it probably happened to you too. THAT CORD MUST BE FIXED or replaced, even if you do not see wires protruding, the insulation is no longer intact and moreover, you don't know if the wires inside are still insulated.
There are newer cordless irons, and I have heard good things about them, but I have never tried one. Below are some of them.
Weight
The weight. There are irons on the market with a weight anywhere from 1.5 pounds to 5 pounds ( 0.7 kg to 2.3kg ). All other things equal, what to choose? This is a very tricky point. A heavy iron has very obvious advantages: it stores more heat, giving a more stable temperature and a bigger burst of steam. It will cool slower if the auto shut-off kicks in. It also needs less force when pressing difficult or very wrinkled items.
Disadvantages? Plenty also. It is usually bigger and for narrow spaces and small items will behave like an elephant in a room. If you lift it 100 times per day you will find that you no longer need to go to the gym, you ache all over anyway from the effort.
Recommendation? Go somewhere in between. My Rowenta iron which I also like is about 3.5 pounds (1.6kg) and I find it relatively easy to manage and heavy enough for usual work.
Soleplate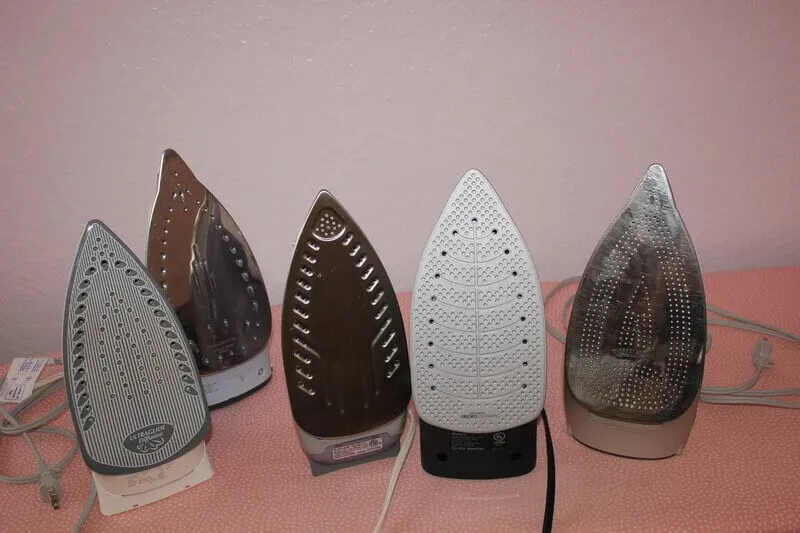 What is the best soleplate for an iron? Stainless steel, ceramic, non-stick (Teflon, mostly), titanium, and I am sure there are others out there. Which is best? I had many of them, and I managed to make things stick to all of them.
Teflon? I was happy with this soleplate until it was scratched when I went with the iron over zippers and buttons. Happiness interrupted. Also, fusible interfacing sometimes sticks happily to Teflon, or at least I managed to do it.
Ceramic? Sure, until you manage to fuse something to it. And I did. Careless ironing over polyester, or a material that is not labeled correctly and has some nylon in it, you name it, it will happen.
Steel? Most common, and works equally well or badly, depending. I would venture to say that the surface material should not be a very important factor in choosing an iron. All of them have pluses and minuses, and none of them is perfect. I would take any soleplate in an instant, given the assurance the iron will not leak – now THAT is a very important issue!
The shape of the soleplate can also differ from one model to another. I like that my Rowenta has a precision tip for ironing in small places, and I even saw irons that have an elliptical shape with double tips like Panasonic NI-W810CS Multi-Directional Iron which I did not try (I like my irons a little more powerful) but it has very good reviews.
Steam feature
What about the position and the number of steam holes in the soleplate? I am not sure if the amount of steam holes contribute to better results. Maybe if iron has as many of them as possible more areas will be covered at a faster rate? In my opinion, it is important to have steam holes evenly distributed and not only in the top so the steam is more evenly spread out. My Rowenta has 400 micro steam holes and Kalorik has only 25 steam holes in its soleplate but it produces more steam and I do not find it inferior.
I do not consider the number of holes as a very important factor either.
Beware that not all holes will give the same amount of steam for all irons, and if you notice the steam distribution is more uneven than usual, then probably your iron has internal mineral deposits that need to be cleaned.
Anti-drip
An anti-drip function is also a must for a steam iron because it will prevent water droplets to fall on the fabric at lower temperatures when there is no steam. This is of course not an absolute guarantee and you should be always careful when using steam but without the anti-drip function, the iron would leak like a sieve whenever its surface is horizontal and it is not hot enough. The anti-drip function simply stops water from reaching the sole plate when the iron is not hot.
Auto shut-off
Modern irons come usually with the auto shut-off feature for safety so if you somehow forgot to turn the iron off, it will shut off automatically after a few minutes. But if your iron powers down after 5 minutes of being left idle when you walked away to your sewing machine it can be really annoying and can slow down your sewing considerably. So this is another point to consider – the amount of time it takes before the iron turns itself off. Having a longer interval is a good feature for me.
Some other features to consider
Steam irons have now many features that we could not have dreamed about in the past.
LCD displays? Check. Do you need it? Frankly, I am not sure, unless it shows me some really useful info like actual soleplate temperature ( none of the irons I have seen does that ).
Vertical steam? Check. Do you need it? Not so much, better get a specialized device for this like PurSteam Full-Size Steamer or a portable one like this one Handheld Garment Steamer. They are cheap and better at the job and I am sure you already own one.
Sprinkler function? Check. Probably most irons have it. Do you need it? Rarely to never, I certainly do not need it that much and if I ever will, I am sure I can find a sprinkler bottle for this. None of these add-ons should count for much in your selection process.
I think we can discuss here also what kind of water to use in a steam iron. Some manufacturers even mention that distilled water is NOT to be used, and they might have their reasons since distilled water is much more corrosive than regular water and may attack your iron internally. On the other hand, distilled water does not leave mineral deposits meaning the iron will not need de-scaling and if it leaks it is less likely to stain the fabric; it is all give and take. I personally use now distilled water for my Kalorik iron and I do not see yet adverse effects after 5 years or more as of autumn 2020 – it works for me.
By the way, if you do decide to use distilled water and run out, you can also use water from a good reverse osmosis system. My reverse osmosis gives water very close to the distilled quality and I did use it on occasion in my irons.
Brand
There are many brands of irons. The most popular are Rowenta, Panasonic, Oliso, Reliable, Sunbeam, T-fal, Shark, Maytag, Black & Decker, DeLonghi, and Hamilton Beach. The tool has certainly advanced in the last 100 years, I still have somewhere the hot coal iron my grandmother used when she was young! Look at this image.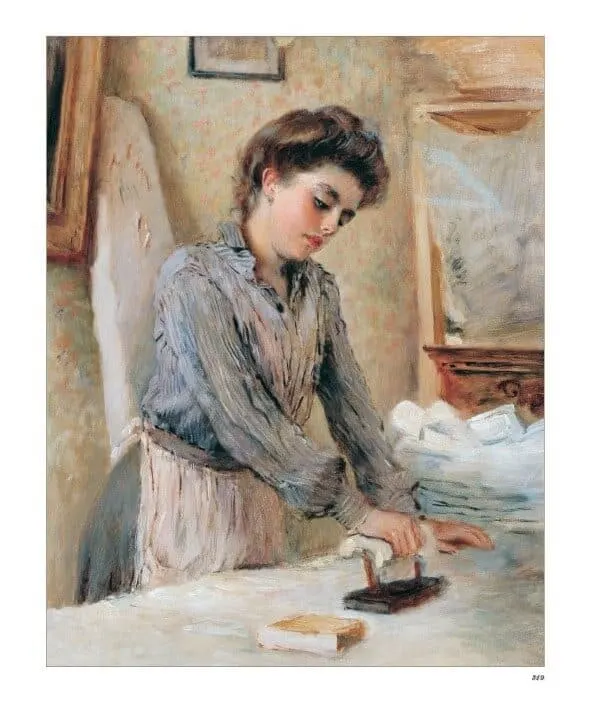 The painter is Konstantin Makovsky and the original title is "Гладильщица" (the woman who irons clothes, 1900). Can you point at the temperature setting, steam control, and LCD display?
I made a survey and I see that most sewing enthusiasts prefer Rowenta irons; I like them too, within reason. The top-rated one on Amazon is Rowenta DW5080 1700-Watt Micro Steam Iron. It has 4.5 out of 5 stars as of Autumn 2020 and about 11000 reviews. I have this iron and I used it for more than a year. After that it started to leak. Not too much but enough to spoil my silk fabric. But I am a heavy user of irons so maybe a year of excellent work is good enough for an iron.
I had during my sewing years many irons ( many I still have) and some of them were good, some not so much. I reviewed them based on my own sewing experience in my article "Pressing tools I use for sewing". Bottom line: always guard an iron, beware when it begins to leak (all will, at some point), be careful when handling it, be careful with its electrical connections. Clean it regularly, use with care and remember that having good tools will save you a lot of aggravation in your work.
And a final recommendation: use a wide ironing board if possible. I find that a larger surface (17 – 18″, about 45cm) to work on is much better than the the regular 13″ (33cm). Here is my ironing board: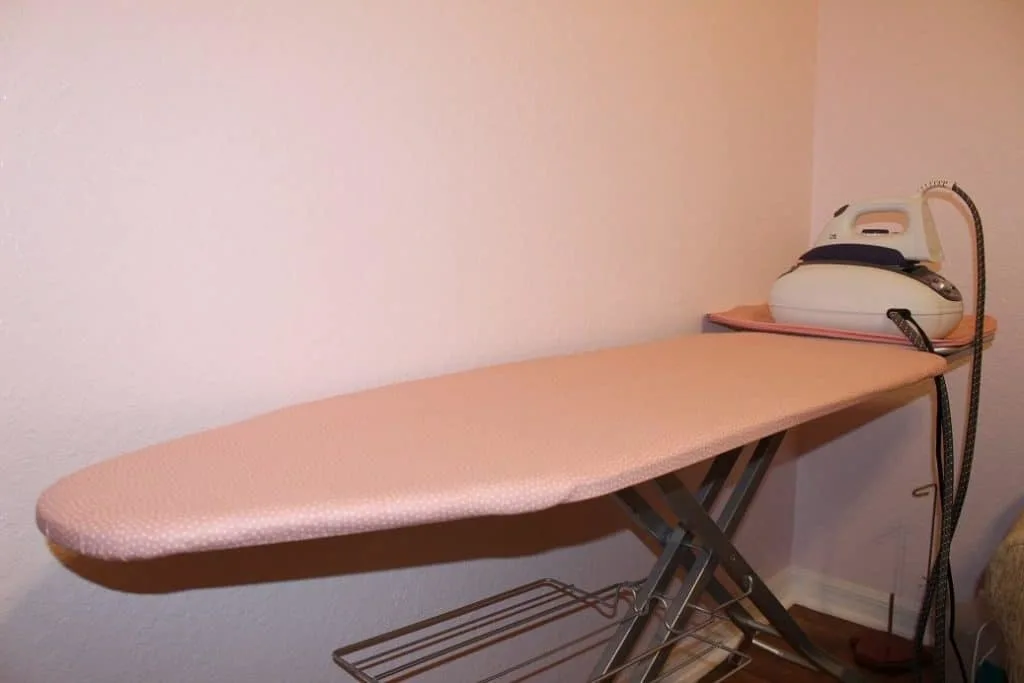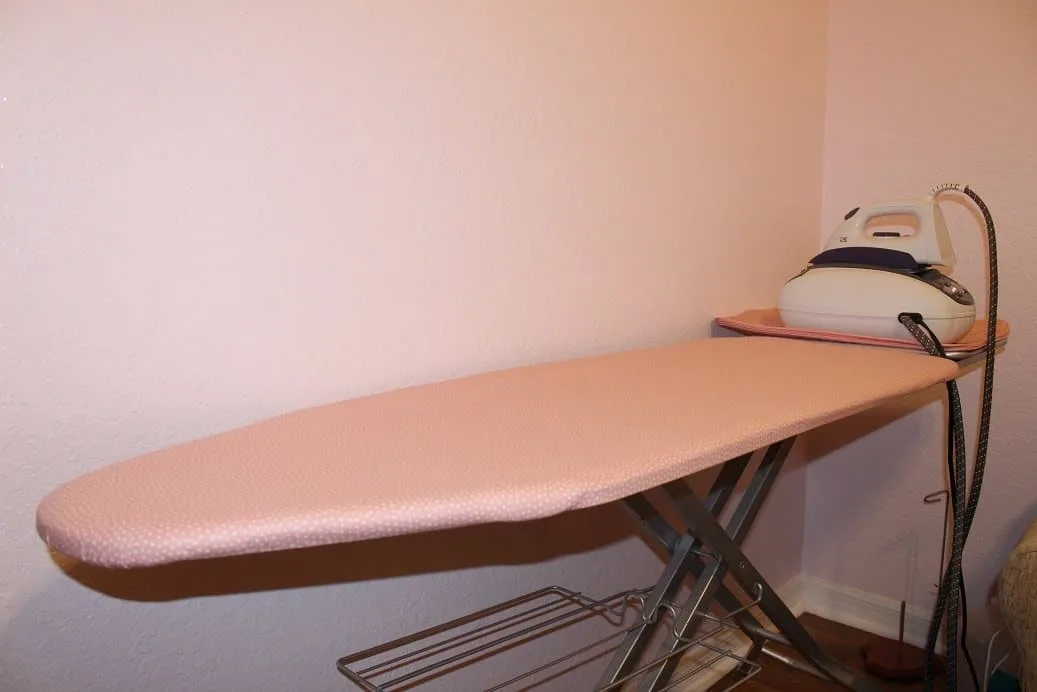 They are available on Amazon like the one in the image here. Added bonus: the larger board is also more solid and more stable.
So in my opinion, the best iron features for people who like to sew are
higher wattage (at least 1700 W),
high continuous amount of steam,
large water tank
hotter temperature settings
longer auto shut-off
Other features such as weight, type of soleplate, and cord length are also important but not that much.
With a good iron in your hands, you will make better sewing projects in less time.
My recommendations
Reliable Maven 120IS Home Ironing System
Panasonic 360 Degrees Freestyle Cordless Steam and Dry Iron – Available in Different Colors (NIWL602)
Check out also my article on steam presses here: Review of Singer Intelligent Steam Press model ESP26O. You might just be inspired to consider a steam press also!
Did you find this tutorial helpful? If so, save this pin (see below) on your sewing board so you can come to the article later when you need this information on stay stitching , and follow me on Pinterest for more tips, tutorials, and inspiration!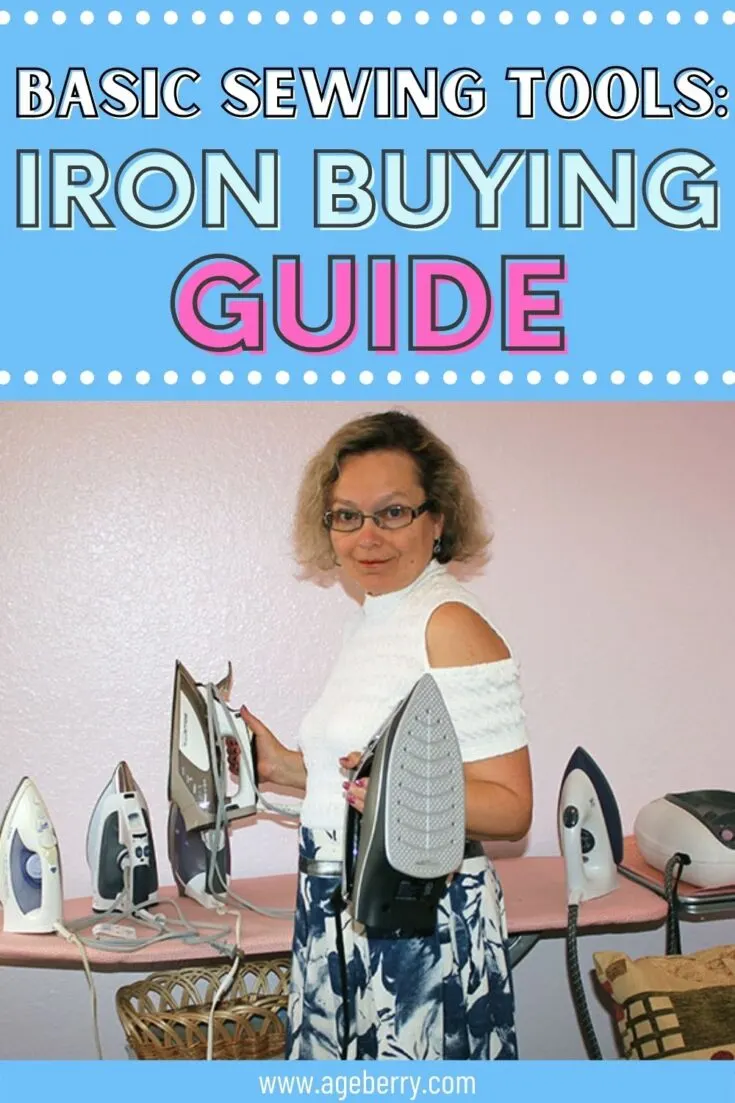 Ready to take the next step in your sewing journey? Check out more step-by-step tutorials from my site and don't forget to share!
---