Have you ever had an iron that leaks? I am sure leaky irons are the bane of any quilter's existence. I learned this the hard way when I was sewing my first mini quilt. Everything was fine until I was making a final press with my old iron. But the iron started dripping water onto the fabric. And somehow the drops made spots on the newly made quilt. I couldn't take the spots out of white fabric. I was so disappointed in my iron.
I decided then and there that I needed to find a good iron for quilting that wouldn't drip water when in steam mode. After doing some research, I found the perfect iron (or better say a few great irons) and I haven't had any issues with water spots since.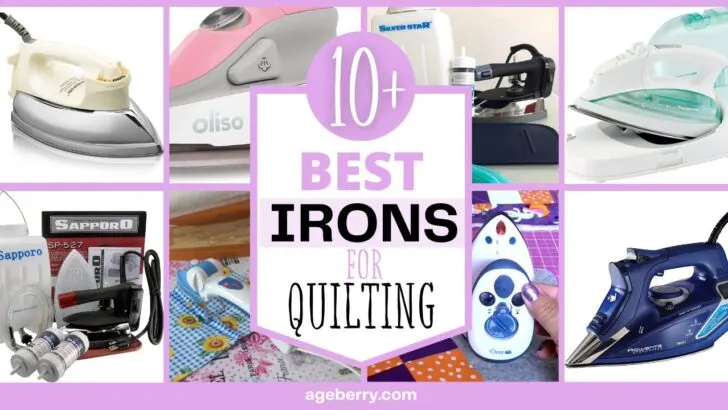 What Makes An Iron Rank As The Best Iron For Quilting?
There are many qualities that a good iron should have in order to be suitable for quilting and sewing. First and foremost, it should not leak. A leaky iron can ruin fabric and cause permanent stains.
The best iron for quilting and sewing projects needs to be able to handle a variety of jobs. In fact, you may need to have a couple of irons, to ensure you have the best tools at hand to give you seamless results every time.
Based on your individual needs, your best iron for quilting should be able to deliver all or most of the following characteristics:
Varied temperatures so that it can be used on a variety of fabrics without damaging them but also high enough temperature for cotton and linen (I had some irons that were not hot enough)
Both dry heat and steam
A comfortable grip
Easy to maneuver, so that you can use it for long periods of time without fatigue
Sufficient weight to lighten your load bearing pressure
An easy plate surface, preferably non-stick, that glides easily over fabric
A precision tip for points and narrow seams
Auto shut-off (this is optional though as some quilters prefer no auto shut-off)
Budget-friendly price point and
Adequate surface area for the project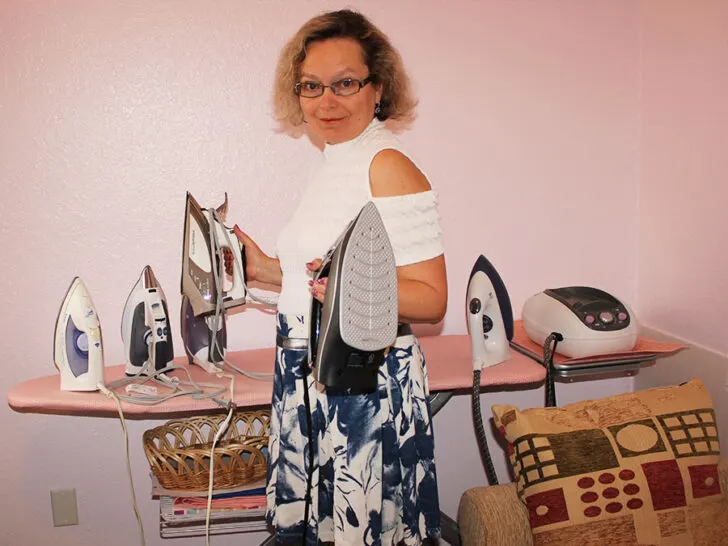 ✅ Related tutorial: Basic Sewing Tools: Iron Buying Guide
What Are Some Problems To Look For When Choosing An Iron?
I have read lots of reviews on Amazon and I see that irons marketed as quilting and sewing irons tend to have some common problems, and customers are not shy about sharing bad experiences when things go wrong! You have to be careful and look at the percentages though.
If an iron has a 4.9/5 rating and only one or two people had a bad experience, it could be that one bad product slipped through quality control or that one person didn't follow directions. However, look for these issues that could signal the product is not a good choice.
Irons that leak – messes to clean up and wasted time
Temperature controls that do not work – damage to delicate fabric
Limited water reservoir – too much time spent refilling the water storage tray
Unbalanced design – easily tips over when not in use, safety hazard
No precision tip
No compatible wattage available
Temperature control awkward to use
Overheating
OK. Now, let's look at the top ten best irons for quilting gathered from my personal experience and customer reviews. I will start with gravity feed irons.
Note: Some of the links on this page are affiliate links. This means I will receive a commission if you order a product through one of my links. I only recommend products I believe in and use myself.
Best Steam Iron For Quilting
If you're looking for the best steam iron for quilting, look no further than a gravity feed iron.
Gravity feed irons are unique in that they have a large external water reservoir (as opposed to a regular steam iron). This design allows gravity to do its work and slowly feed water into the soleplate as needed.
There are a few reasons why gravity feed irons are the best choice for quilting. Because they have a higher water capacity, gravity feed irons will produce more steam than other types of irons – and as any quilter knows, more steam equals less ironing time. You can quickly and easily remove wrinkles from fabric.
You can iron continuously without having to stop and refill the water tank as the reservoir is quite big. Gravity-feed irons usually don't leak like standard irons.
They tend to be more durable than traditional irons since they don't require as much maintenance.
Gravity feed iron is great for those who need to iron large quantities of fabric or who need to iron for long periods of time. Most of these irons have no auto-shutoff.
Gravity feed irons are also typically lighter in weight than other types of irons, which makes them easier to maneuver around fabric.
These irons are perfect for any quilter who wants professional results without any fuss.
However, gravity feed irons can often look outdated compared to other models on the market, so it's important to decide whether looks or performance is more important to you.
Be sure to check out my top three picks for the best gravity feed irons on the market.
This gravity feed iron is a true workhorse! This model is designed to provide all-day steam on an "industrial" level with five temperature controls and a comfortable thumb operated steam switch.
Pros
Soft grip handle
Lightweight (4.5 pounds)
As powerful as similar machines costing 3X as much
Large suspended water storage tank
Cons
Some plastic parts get very hot
Takes up a lot of space
No auto-off feature
Steam holes in the plate can snag fabric
A little pricey
Like the Goldstar Silver Star Gravity-Feed steam iron described above, this one is also a workhorse. But this one has auto shut-off feature.
Pros
Affordable
Properly weighted
Temperature settings 1-5
220V available for international use
Optional shoe demineralizer
Auto shut off
Cons
Short cord
Almost gets too hot to hold
User instructions are limited
This is an industrial strength gravity feed steam ironing system that delivers tons of steam. Users give the system a 4.3/5 rating.
Pros
High quality components
Simple operation
Large plate surface
Large water reservoir
Heats up fast
Easy to direct steam
Comes with some spare parts
Cons
Short cord
Requires a lot of space
Price
Non-stick coating is thin
Best dry iron for quilting
Before discussing the best dry iron for quilting, let's talk about why you might want a dry iron rather than a steam iron in your quilting room.
Well, dry irons are usually lighter than steam irons. They have fewer features. No water tank, for example. Also, the plate is typically smooth, no holes or sharp edges to snag delicate clothes, because you don't need escape holes for steam.
Dry irons are suitable for most fabrics, but especially for low-heat and moisture-unfriendly fabrics. Think – silk, wool and some rayon blends.
Dry irons are excellent for quilting, too. Remember, that Gravity feed irons are not only steam, they are also dry. Without water, you still have an excellent iron.
Rated 4.3/5 stars, I recommend the WASING Lightweight Portable Dry Iron because it is a reliable dry iron with the simple features you need and expect from a dry iron. Multiple heat settings, consistent temperature control, and easy care stainless steel soleplate.
Pros
Properly weighted
Affordable
Smaller size
Gets hot fast
Cools down fast
Cons
Area around handle overheats
Tips over easily
No auto shut off
Best Mini Iron For Quilting
While regular irons are essential during the fabric prep and finishing stages of quilting, having a mini iron around is perfect during the piecing phase of your quilting projects.
✅ Related tutorial: Mini Irons For Sewing And Quilting
One of the biggest advantages of having a mini iron around while piecing is that it's much more convenient – you can use them right at your sewing machine, which means less time spent walking back and forth between your ironing board and your machine.
Being able to press the seams right after stitching them will save you a lot of time and hassle in the long run.
This is especially true when you are putting together tiny little scraps or matching points. You can use a smaller tip to get the job done.
It is also lightweight and easy to maneuver. And because they are so small, you can easily store them away when you're not using them.
Plus, packing an overnight bag with a mini iron and a few squares is undoubtedly lighter than taking a full-sized Rowenta Steam Iron along.
I have two mini irons. The Dritz Mighty Travel Iron and the Dritz 29500 Petite Press Portable Mini Iron,White.
Here's what you need to know about both.
#5. The Dritz Mighty Travel Iron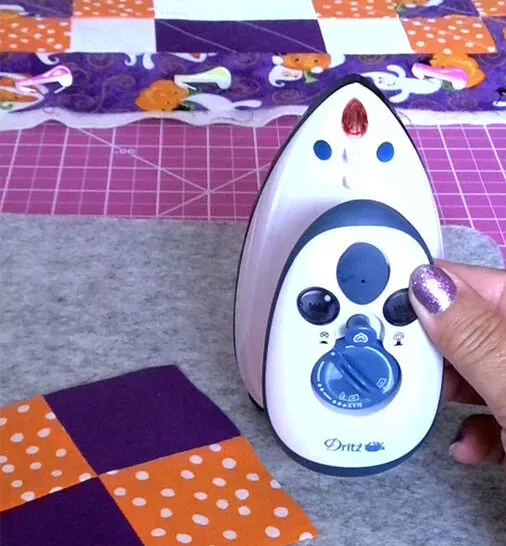 Rated 4.6/5 stars, the Dritz Mighty Travel Iron is easy to hold. Its 5 1/2 x 3 1/2 x 3 ergonomic shape is perfect for people with arthritis. 260W-420W US. I recommend this mini iron as the best small iron for quilting and the best mini iron for traveling because it is a value-priced iron that has a lot of features with very few issues.
Pros
Don't leak
Heats up quickly
Priced right
Excellent steam
Lightweight
Gets super hot
Cons
No auto shut off
Have to refill water often, like, very often
#6. Dritz 29500 Petite Press Portable Mini Iron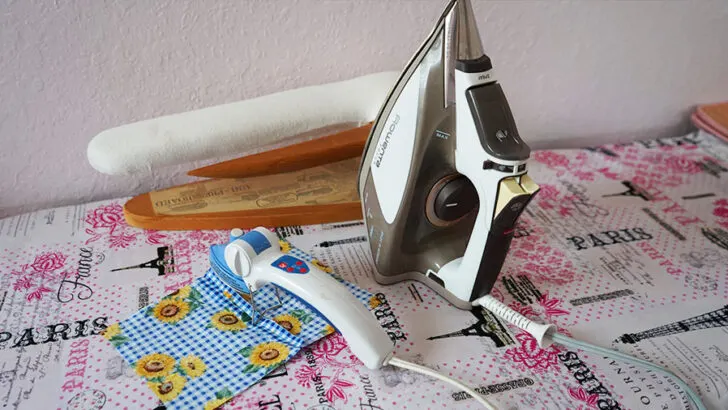 This mini iron has an unusual shape as you can see. It's so easy to use. And, like all minis, you do not have to get the ironing board out, so you can iron out those small seams quicker and easier than getting the larger iron out. Plus, it has a digital control panel.
✅ Related tutorial: Wool Pressing Mat: How to Use, Pros and Cons, Best Brands, Sizes
Pros
Lightweight
Ergonomic handle
Compact
Multiple heat settings
Rapidly heats up
Adjustable head
Cons
No steam
Expensive (but often on sale)
Extremely small
Best Cordless Iron For Quilting
Cordless irons are becoming increasingly popular so I bought one and decided to test it.
A cordless iron is exactly what it sounds like—an iron that doesn't have a cord. But it still has a base for charging and the base has a cord and needs to be plugged in.
Cordless irons are designed for portability, so they're usually smaller and lighter than standard irons. They are easier to maneuver than a standard iron. This makes them ideal for getting into tight spaces or getting around obstacles. You don't have to worry about the cord getting tangled or someone tripping over it.
#7. Panasonic NI-L70SR Cordless, Portable 1500W Steam/Dry Iron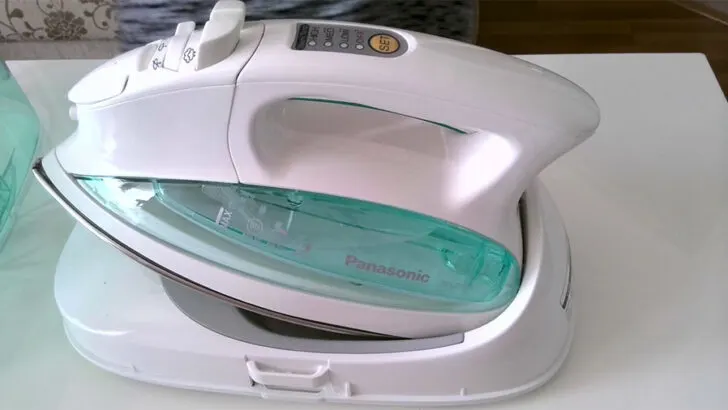 Having a portable combination steam/dry iron like the Panasonic NI-L70SR Cordless is a fantastic addition to any quilting room.
I have one of these and I absolutely love it. The stainless-steel soleplate is super smooth and heats quickly. And, touch-bottom controls make it easy to switch from dry to steam, as well as increase or decrease temperature almost effortlessly.
The Panasonic NIL70SR is definitely in the running for an award as the best cordless iron for pressing quilting blocks, in my opinion.
Pros
No cord ironing
Don't leak
Automatic shut off
Comes with a portable case
1500W (120 V charger base)
Lightweight
Moderately priced
Cons
Does not maintain consistent heat for long periods
Smaller than corded models
The base still needs to be plugged in
✅ Related tutorial: Pressing tools I use for sewing
Best Small Iron For Quilting
When it comes to quilting, a small iron can be a very handy tool. It's great for getting into small spaces and corners, and for pressing small fabric shapes. A small iron is much easier to maneuver than a large iron, making it simpler to achieve precise results. Small irons are also lightweight and won't tire your arm out as much as a large iron.
The Oliso M2 Mini Project Steam Iron is a dual voltage iron (120 / 240) with a diamond ceramic soleplate. I think this is probably the best travel iron for quilting.
It comes with a high-temperature silicon stand that protects your ironing board and fabric from scorching when the iron is left in a face down position.
Pros
3-year warranty
Pivot cord enables left and right hand ironing
Lightweight
Compact
Precision tip
Cons
Cannot use silicon pad on higher settings
More expensive than some mini irons
Markings are small and hard to read
Might leak if used incorrectly
Best Rowenta Iron for Quilting
Rowenta irons are known for their quality and performance, making them a great choice for quilters. There are a variety of Rowenta irons to choose from, each with different features to suit your needs.
Rowenta irons have a reputation for being durable and reliable, so you can be sure that your iron will last for many years. If you're looking for a high-quality steam iron, Rowenta is a great brand to consider.
Rowenta irons are some of the most popular on the market, and for good reason. They offer a variety of features that make them ideal for both everyday use and also sewing and quilting.
However, I have had mixed results with Rowenta irons. My first Rowenta iron worked well for several years, but eventually started to leak, leaving water spots on my quilts. I decided to upgrade to a newer model, but found that the water reservoir (which was dark blue) was difficult to see, making it hard to tell how much water was left. As a result, I ended up returning the iron.
But I see now that the newest model of Rowenta - Rowenta DW9280 Digital Display Steam Iron - is a very popular model.
This iron has almost 15,000 positive reviews and a 4.3/5 rating on Amazon, with users noting its efficient performance and great value for the price.
Here's why. It is a powerful steam force with 400 steam holes built into the stainless-steel soleplate. And, at 1800 watts, the iron heats up quickly. It also allows vertical steam, so you can erase those wrinkles from your projects if you are using a vertical quilting frame and periodic manual adjustments.
Pros
The anti-drip system helps prevent spitting and leaking
Extra large water storage tank
One-touch steam and temperature control
Continuous steam output
30% deeper steam penetration compared to similar irons
Auto shut-off
Digital display
Cons
Manufacturer recommends emptying the water reservoir every day
Somewhat pricey
✅ Related tutorial: Review of Singer Intelligent Steam Press model ESP26O
FAQ About The Best Irons for Quilting
Thankfully, there are dozens, maybe hundreds of irons for quilters on the market today! Make sure you look for the features that are most important to you before buying anything. That way, you are sure that you have something you know will suit your needs.
I hope this post answered your basic questions about finding the best irons for quilting projects. Did you get the answers you need to make better buying decisions? If so, follow me on Pinterest, for more tips on finding the best sewing accessories, fabrics and patterns.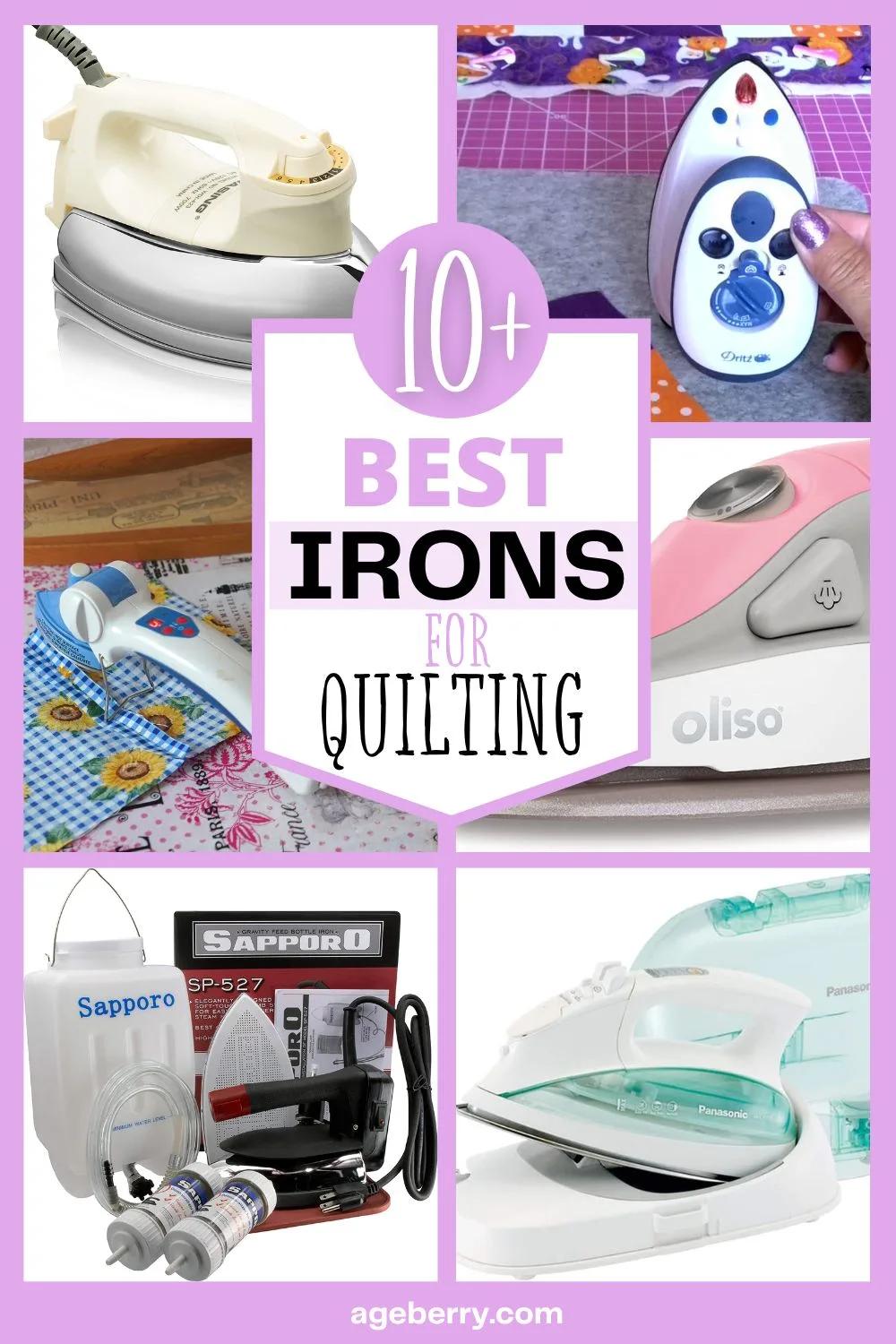 ---