Vinyl fabric is an ultra-strong synthetic material that comes in a large variety of styles, colors, and textures. It offers many benefits, including durability, easy care and cleaning, and water-proof qualities. If you're looking for a fabric that can take a beating or to use for outdoor projects, here's an in-depth guide to types of vinyl fabric.
Unfortunately, many sewists shy away from working with vinyl because it has a reputation of being difficult to work with. It's true that sewing vinyl has a learning curve because it behaves differently from the woven and knit fabrics that sewists typically use. However, its beneficial qualities make it worth learning how to work with it.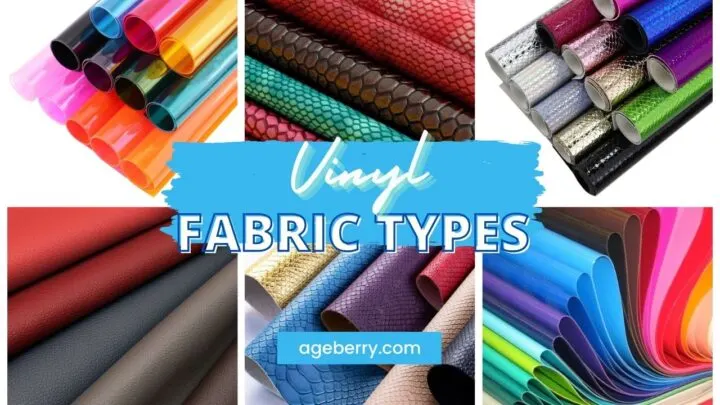 What is Vinyl Fabric?
Vinyl is a versatile synthetic fabric that sewists (well, and manufacturers too of course) use for a wide range of indoor and outdoor projects. Since it's not a naturally occurring material, let's do a quick history lesson to cover its origins.
A German chemist named Eugen Baumann first invented polyvinyl chloride (PVC) in 1872, but he never applied for a patent, and no one found it helpful at the time. It wasn't until 1926 when Waldo Lonsbury Semon plasticized vinyl and began making useful products (shoe heels and golf balls) with it, that people saw the benefits of vinyl.
Now vinyl is used to make many different products we use every day, and it's a material that many home sewists use to make sturdy, durable projects.
Common Properties We Love About All Vinyl Fabrics
There are so many reasons to love vinyl material. Here are a few qualities to put in the "pros" column:
Easy to clean – You only need to wipe it off with a damp cloth of warm, soapy water most of the time.
Durable – Its unique molecular composition makes vinyl long-lasting and not fraying material.
Weatherproof – Many types of vinyl repel water and moisture and are also abrasion-resistant.
UV and fade resistant – This is a property of marine-grade vinyl. Because it lasts a long time and resists fading in the sun, marine-grade vinyl is an ideal material for outdoor projects.
Flame resistant – The material's chlorine base makes vinyl non-flammable because any flame will stop once the flame source is removed.
No grainline – Most vinyl lacks a grainline. But still, if you use fabric-backed vinyl, you'll need to pay attention to the grainline of the fabric.
Versatile – Vinyl is one of the most versatile fabrics. Use it for indoor products like furniture, bags, garments, or outdoor products such as barbeque covers, awnings, seat cushions, etc.
Downsides To Vinyl
Everything has its "cons." So, here are the downsides of vinyl:
Permanent creases – Folding vinyl can cause permanent and unsightly wrinkles.
Can be tricky to sew – Vinyl material is naturally "sticky" and can cause problems for home sewing machines. But there are lots of tools to avoid this problem – special needles, special presser feet, etc. to keep the fabric moving smoothly through the machine.
Stitch holes are permanent – If you make a mistake and have to pull stitches out, those holes will never go away.
It's not breathable material – Vinyl is a plastic material, so air doesn't flow through it. That can make vinyl less than ideal for certain garments or other products that need to "breathe."
Note: Some of the links on this page are affiliate links. This means I will receive a commission if you order a product through one of my links. I only recommend products I believe in and use myself.
Fabric vs. Vinyl vs. Vinyl Fabric
Fabric is a cloth that consists of fibers that are woven, knit, or felted together. Fabrics vary in texture, weight, and use, but they are limited by the properties of the fibers used.
By contrast, vinyl (Polyvinyl chloride) is a type of plastic that is made from petroleum. Vinyl can be used to produce an endless variety of products including ​pipes, doors, windows, wires, appliances, floor tiles, paints, plastic bottles, non-food packaging, food-covering sheets and surface coatings. Vinyl is one of the most produced plastics in the world and is used in a wide variety of industries. While it is frequently used in construction and manufacturing, it is also becoming increasingly popular in the medical field.
Finally, vinyl fabric is a kind of flexible vinyl that is manufactured for use in sewing applications (both commercially and by home sewists). You can find it in any color as well as various finishes (clear, matte, or opaque), textures, and weights. Other standard terms for some vinyl fabrics include imitation leather, faux leather, and pleather.
Types Of Vinyl Fabric For Sewing
There are many different types of vinyl available on the market, each with different properties that make it more or less suitable for different projects. For example, some vinyls are more durable than others and can withstand more wear and tear. Others are more flexible and can be easier sewn into different shapes.
So when you're ordering vinyl fabric for a project, it's important to know the advantages and disadvantages of each type so you can pick the right one for your needs. Here's a rundown of the most common types of vinyl fabric that sewists can use (I am not talking about industrial production) and buy.
There are some manufacturing distinctions between vinyls: non-backed, backed with some kind of fabric (for example, flannel-backed or knit-backed) and so-called "expanded".
Non-backed vinyl looks similar or the same on both sides. It's thinner vinyl and very easy to sew.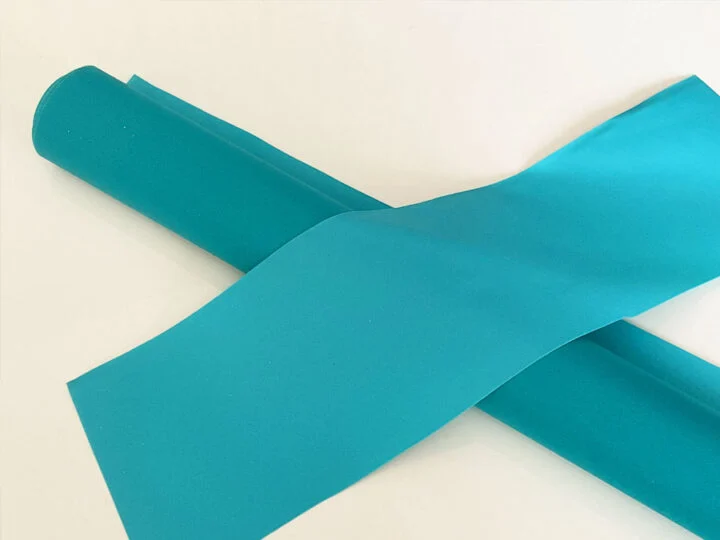 In contrast, backed vinyl has a backing on it, such as cotton or polyester, etc., to supply additional strength.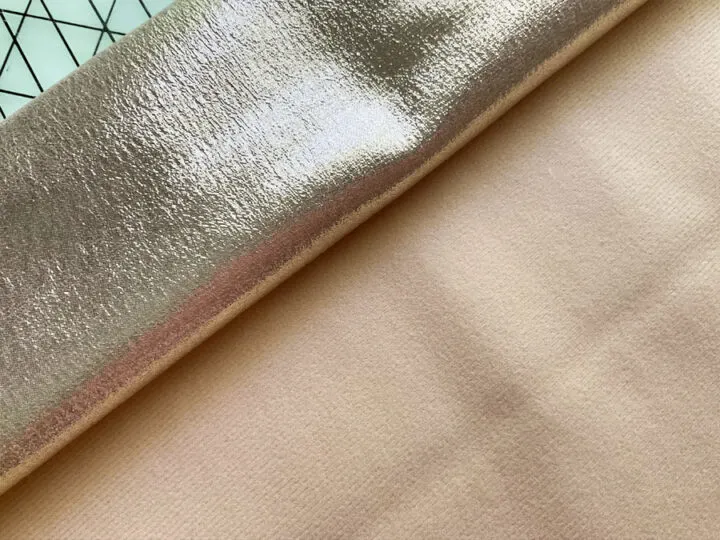 Finally, expanded vinyl has an extra layer of foam on the back of the material to supply additional strength and stability for heavy-use items. It's thicker vinyl that requires special tools to sew.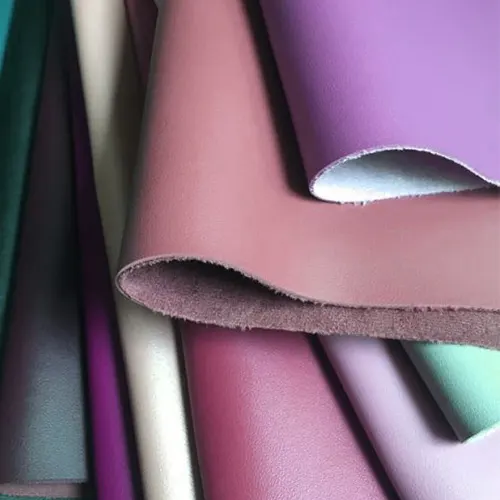 And because of this, there are also different thicknesses of vinyl, from thin sheets to thick, padded fabric. The thickness you need will depend on the item you're covering and how much wear and tear it will experience.
Each type of vinyl uses a different combination of chemicals, treatments, or backings to prepare it for the application for which it's the best fit.
Vinyl Upholstery Fabric
There are many benefits of upholstery vinyl that make it a popular choice for both commercial and residential purposes.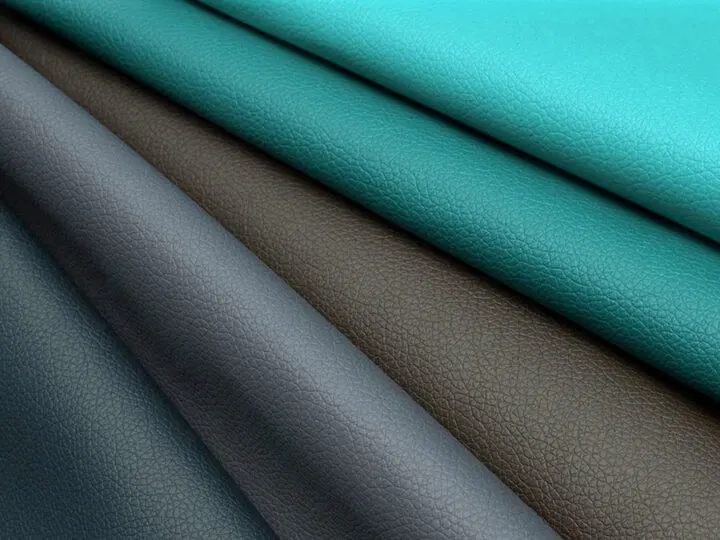 First and foremost, modern upholstery vinyl is very durable and can withstand a lot of wear and tear, much more than regular polyester upholstery fabric.
In addition, upholstery vinyl is easy to clean and maintain.
Finally, upholstery vinyl can be manufactured in a variety of colors and designs to match any décor. This makes it a versatile choice for both indoor and outdoor furniture.
Manufacturers can make it look like real leather, and it's often stain-resistant, mold and mildew-resistant, and much more affordable than genuine leather.
I reupholstered a stool in my sewing room using upholstery vinyl, and I was really pleased with the results. It was easy to cut with scissors and it didn't fray, making it easy to work with. It was 15 years ago, and it still looks like new. I would definitely recommend upholstery vinyl for anyone looking for an easy-to-use upholstery fabric.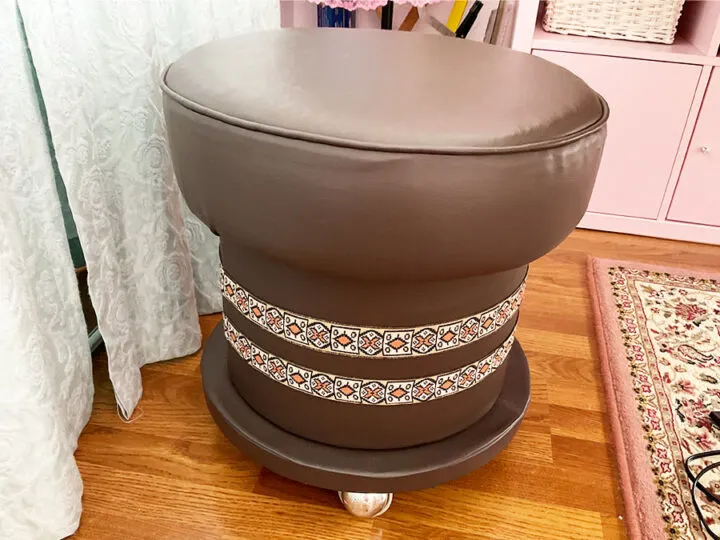 Marine Vinyl Fabric
Marine vinyl is a type of high-quality vinyl that is specially designed to withstand the tough conditions found on boats and in other marine environments. In addition to being durable, stain-resistant, and easy to clean (as all vinyls are), marine vinyl has some extra weatherproof features that make it an ideal choice for boat seats and cushions.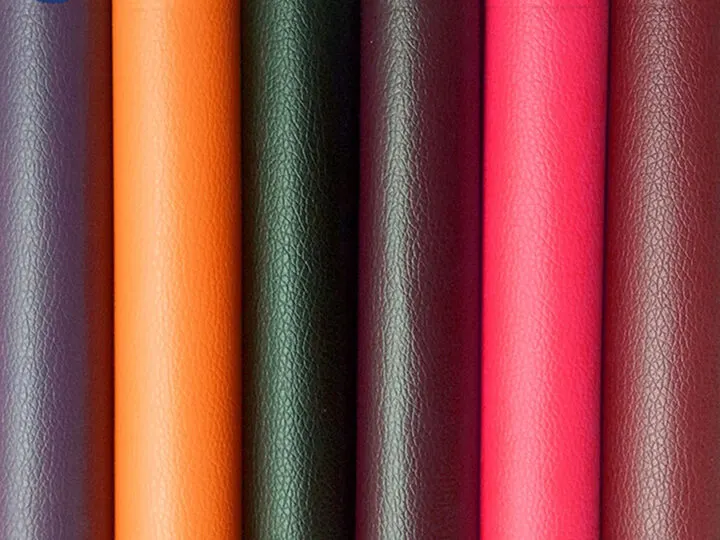 Marine vinyl has additional UV protection to prevent the color from fading in sunlight. Marine vinyl has additives that make it waterproof and mold and mildew resistant. It can be also coated with antimicrobial chemicals and some additives that make it salt-proof. It also can withstand freezing temperatures without cracking.
In addition to its marine applications, marine vinyl is an excellent choice for any application where long-term exposure to sunlight or moisture is a concern: outdoor furniture, car seats, patio umbrellas, awnings, barbeque covers, etc. I know people who used it to make homemade canopies, recover motorcycle seats, or create a breeze flap for a window.
But you can use marine vinyl for indoor furniture, for example, to reupholster chairs. Marine vinyl is also commonly used in RVs, as it is easy to clean and maintain.
Clear Vinyl Fabric For Sewing
Clear vinyl is becoming increasingly popular among sewists. You can use clear vinyl to make all kinds of zipper pouches, tote bags, beach bags or shopping bags. You can use clear vinyl for any project for which you need to be able to see inside, such as a clear makeup bag or a clear pencil case.
And because it's clear, it's also perfect for covers and other projects where you want to see the underlying fabric.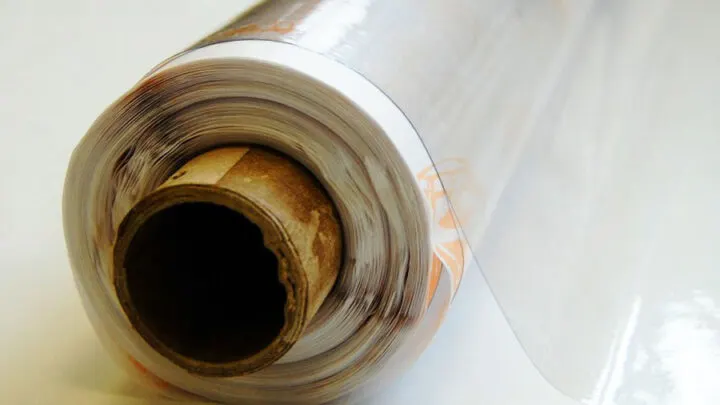 Clear vinyl is easy to cut with scissors, rotary cutters, or Cricut machines, and it's relatively easy to sew if you have the right tools. Plus, clear vinyl is a great choice for embroidery projects.
Clear vinyl is measured and sold according to gauge numbers. The higher the gauge number, the thicker and stiffer the vinyl is.
Often you'll find a range of 6-20 gauge clear vinyl in online shops, although some shops will carry as low as 4-gauge, and some upholstery or marine businesses may carry vinyl up to 60-gauge.
Now they make clear vinyl of different colors and even translucent!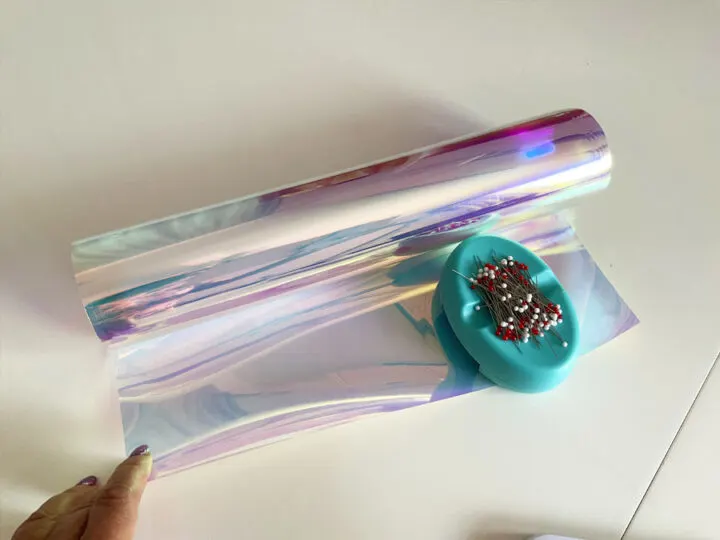 I use clear vinyl for my projects all the time. For example, here is a pouch made from clear vinyl that's perfect for carrying around your essentials while still being able to see what's inside.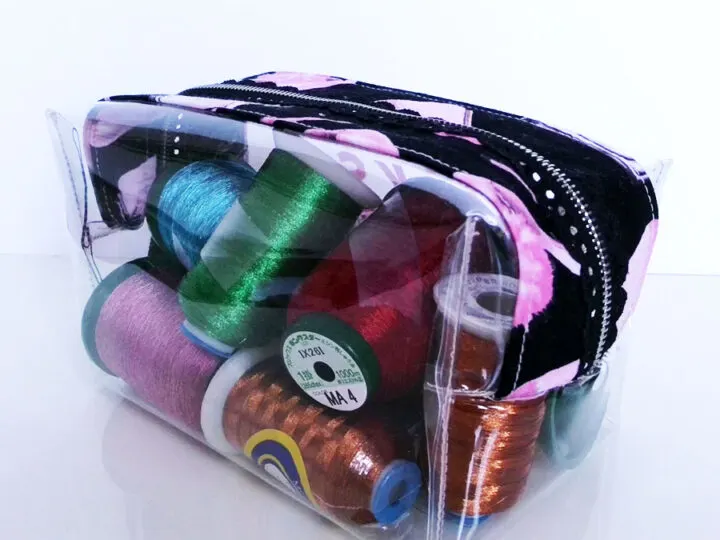 And these coasters are made with clear vinyl too and I am pretty sure you have never seen this kind of project before (it's interesting!).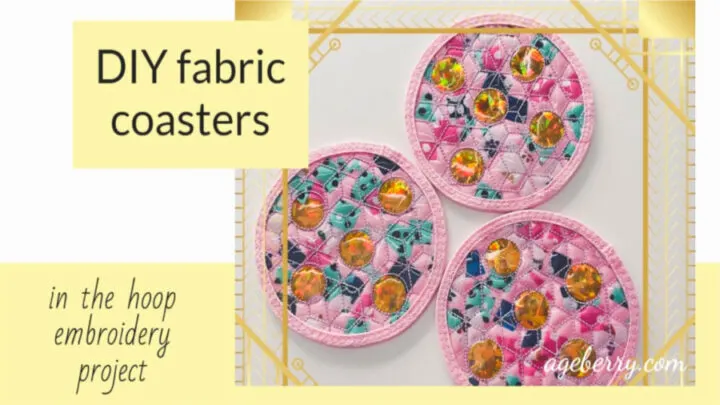 PVC Vinyl Fabric
PVC is not a different type of vinyl fabric but a different name. The scientific name for vinyl is Polyvinyl Chloride, or simply PVC.
PVC is a common type of plastic that has become ubiquitous in the modern world. It's in our cars, our homes, our clothes and even our food (which is of course not good). Plastic is durable, lightweight, easy to produce and relatively cheap, making it the perfect material for a wide variety of applications from packaging and construction materials to medical devices and textiles.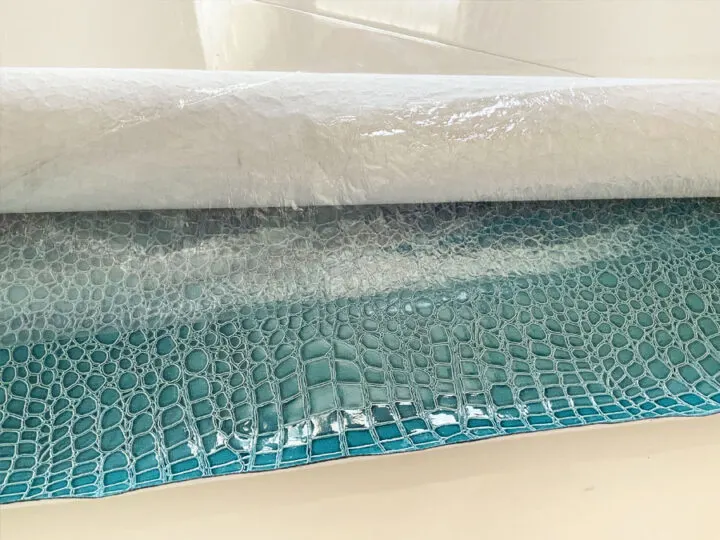 However, PVC is not an environmentally friendly material. PVC production emits harmful pollutants into the air, and the PVC fabric is not biodegradable. As a result, PVC can be a major contributor to environmental degradation.
Despite its widespread use, vinyl can be a pretty toxic material that has been linked to some illnesses and is responsible for a significant amount of environmental pollution. Some types of vinyl contain a number of harmful chemicals. These chemicals can leach out of vinyl products and enter the environment, where they can cause serious health problems. In addition, vinyl is also one of the most difficult materials to recycle, which contributes to the growing problem of plastic pollution.
So while PVC fabric has many benefits, its negative impacts on the environment can't be ignored.
Vinyl Leather Fabric (Faux Leather)
Vinyl fabric that looks like leather is called faux leather (or synthetic leather, pleather).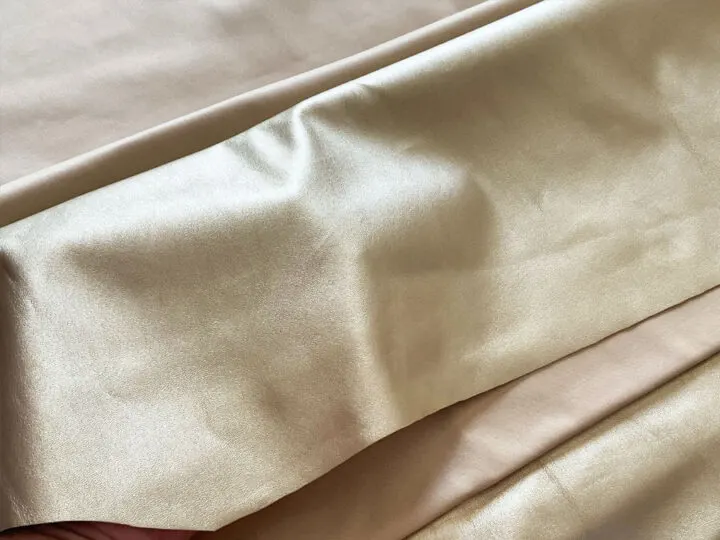 I like to use both natural leather and faux leather in my sewing projects. When I decided to reupholster a stool in my sewing room I chose vinyl, because natural leather would cost me an arm and a leg. But for clothes, I always choose natural leather and made a number of skirts which I really love to wear.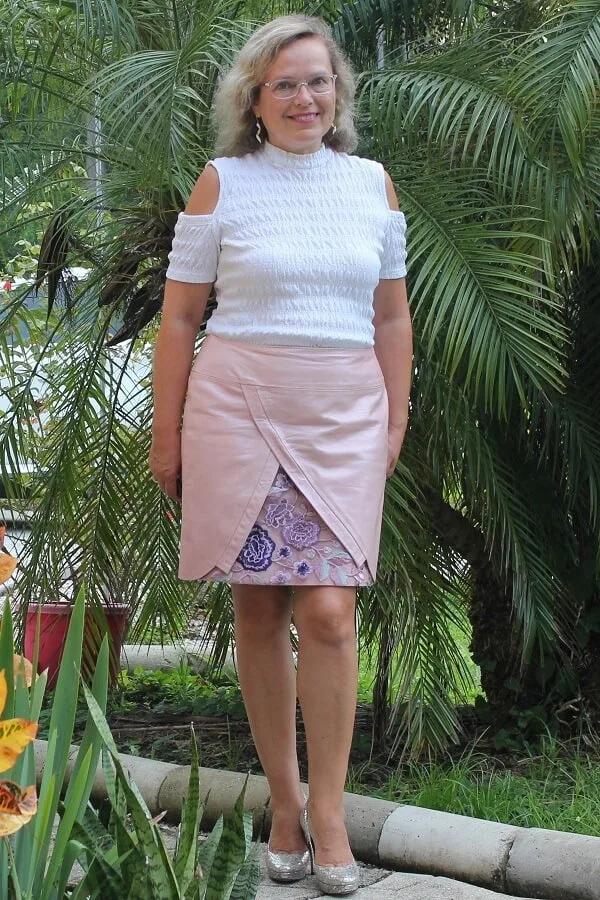 Natural leather is undoubtedly a beautiful natural material, but it isn't without its drawbacks. Because it is made from animals, it isn't suitable for people who don't eat meat. It is also costly, making it a prohibitive choice for many people.
However, there is an alternative to natural leather: faux leather. Faux leather is made from synthetic materials that mimic the look and feel of natural leather. It is usually more affordable than natural leather, and it doesn't require the use of animals in its production. As a result, faux leather is a great option for people who want the look of leather without the high price tag or ethical concerns.
In the past, vinyl had a bad reputation as imitation leather because it looked plastic and cheap. However, vinyl's quality has improved dramatically over time, and it's now as good (or sometimes even better) as genuine leather.
Since real leather comes from treated animal skins, it's expensive. On the other hand, vinyl leather is much cheaper and can be made to look exactly like leather. In addition, it's soft, durable, flexible, easy to clean, doesn't stretch, and is weather resistant.
Vinyl leather has a fiber base (usually polyester or cotton) that is covered with PVC and treated to create vinyl leather fabric.
That said, there are some potential environmental benefits to real leather, for instance, it can be a byproduct of the meat industry: humans eat meat every day and it's only natural to process aminal skins (instead of throwing them away) and use them. Leather is also a natural material that decomposes.
I bought some faux leather sheets (8 x 12 inches) on Amazon recently, and I highly recommend them: vivid colors, easy to sew. They look like brand-name fabric but they are not. It will be so fun to use them for small projects. I plan to make a dog poop bag holder with some of them.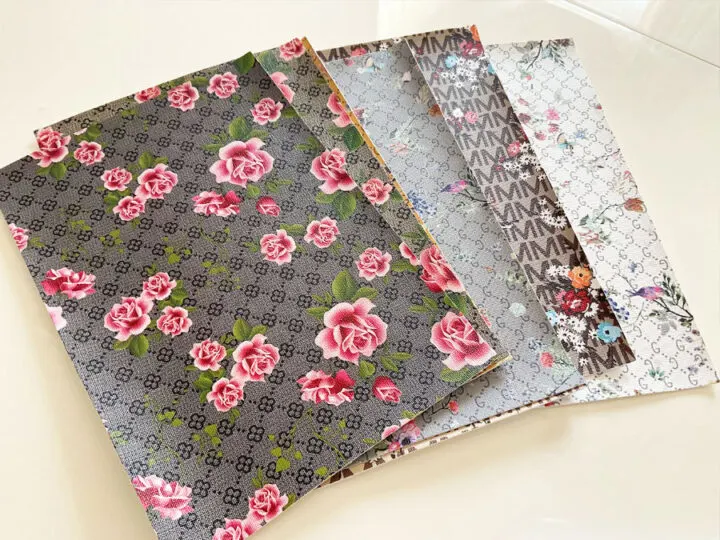 Outdoor Vinyl Fabric
Outdoor vinyl fabric is a synthetic material made from polyvinyl chloride (PVC). PVC is combined with stabilizers, lubricants, pigments, and other additives to produce outdoor vinyl fabric. It's an ideal material for outdoor use because it's strong, durable, UV resistant, waterproof, and easy to clean. Most of the time outdoor vinyl is marine-grade vinyl.
Marine vinyl is a PVC-coated fabric made to withstand constant exposure to sunlight, moisture, and abrasion. It's commonly used for outdoor upholstery on boats and patio furniture. Unlike regular outdoor fabrics, marine vinyl won't fade in the sun and is less likely to mildew or mold.
When shopping for outdoor vinyl fabric, pay attention to the thickness of the material. Thicker outdoor vinyl is more durable and resistant to tearing, but it can also be more difficult to work with. Choose a thinner fabric if you're looking for something that's easy to sew or cut.
Outdoor vinyl comes in a variety of colors and patterns, so you can find an option that suits your style. Whether you're looking for a solid color or a fun pattern, outdoor vinyl is a versatile material that can help you create beautiful outdoor spaces.
The most common outdoor vinyl fabrics are used in the manufacture of outdoor upholstery, tarpaulins, awnings, and canopies. Outdoor vinyl fabric is also used in the production of footwear, clothing, and outdoor curtains. It is also used in the automotive industry for flooring and upholstery in vehicles. It is also popular in the RV industry.
Vinyl Mesh Fabric
Vinyl mesh fabric is a type of vinyl fabric with an open weave. Vinyl mesh fabric is known for its unique texture, which can add interest to a project.
It is popular in the production of chairs, because it is strong and durable but has some give, making it comfortable to sit on. If you're serious about sewing, then you know that having a comfortable sewing chair is important. After all, you're going to be spending a lot of time sitting in it!
I've tried a few different types of sewing chairs over the years, but my favorite is made from mesh vinyl. It's extremely comfortable, and it's also helped to reduce the back pain I used to get from sitting in an uncomfortable chair for long periods of time (I used just a dining room chair for a while). If you're looking for a sewing chair that will make a big difference in your comfort level, I highly recommend checking out one made from mesh vinyl.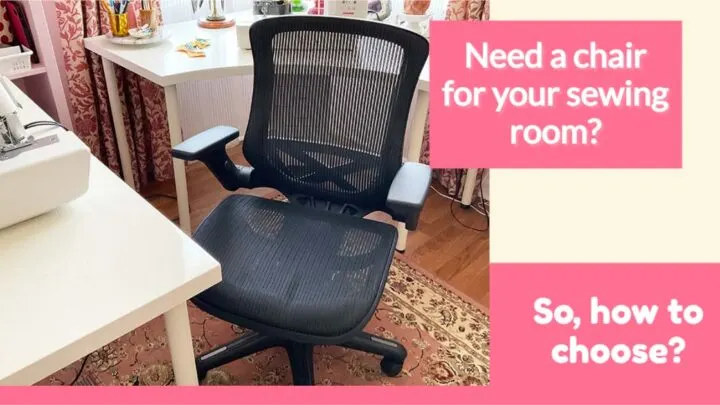 The vinyl mesh fabric is lightweight, flexible, and has a variety of uses. You can make non-slip shelf liners and bath mats, mesh screens, windscreens, tablecloths and placemats, beach and sports bags. Vinyl mesh fabric is also popular for some outdoor applications because it is resistant to UV radiation and mold.
Vinyl mesh fabric is not used very much by home sewers, because it can be difficult to sew with and not many patterns are designed for it. However, vinyl mesh fabric is versatile and can be used for a variety of projects, from bags to clothing. If you are interested in working with vinyl mesh fabric, it is important to familiarize yourself with its properties and how to best sew with it.
I used mesh vinyl once to make a non-slip sewing machine pedal pad. I needed a pedal pad for my sewing machine that would be both non-slip and easy to clean, so I decided to try using mesh vinyl. I was pleasantly surprised at how well it worked! The vinyl grips the pedal firmly, preventing it from slipping.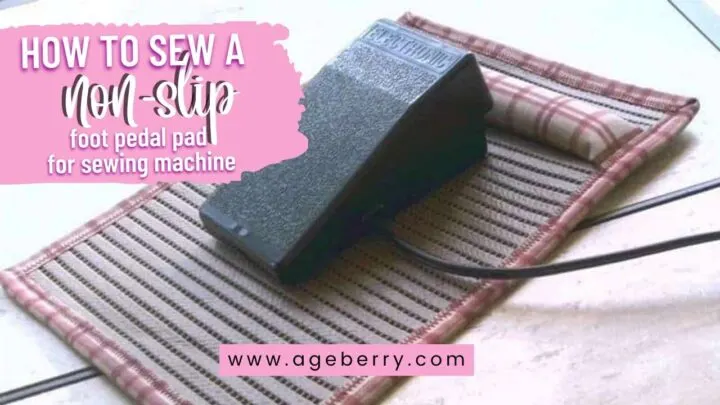 Flannel-Backed Vinyl Fabric
Flannel-Backed Vinyl Fabric is a type of fabric that has a cloth backing (usually flannel, but sometimes fleece or woven linen) permanently bonded to it. This fabric is very versatile and can be used for a great variety of purposes. It is often used for upholstery, tablecloths, and placemats. Flannel-Backed Vinyl Fabric is also commonly used in the automotive industry. This fabric is very durable and can withstand a lot of wear and tear. It is also easy to clean and maintain.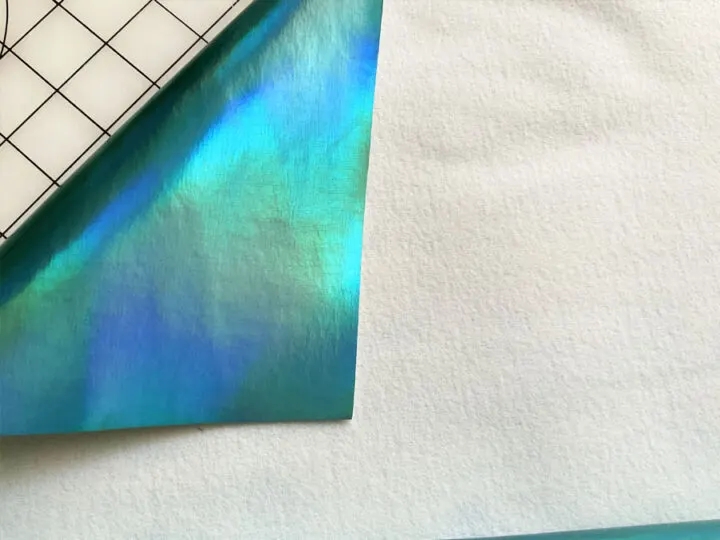 Quilted Vinyl Fabric
Quilted vinyl fabric is a vinyl material that has a quilted or padded appearance. It can be used for a variety of home decor projects ( upholstery, headboards, etc.) and making purses and bags. Quilted vinyl fabric is often used in home decor because it has a luxurious look and feel. It is also easy to care for and durable. Quilted vinyl fabric comes in a variety of colors and patterns, and it's an affordable way to add style and comfort to your home.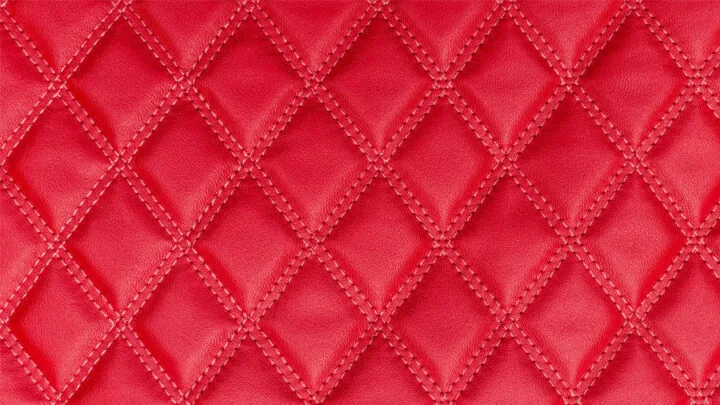 I like to make quilted vinyl from regular vinyl myself with my embroidery machine. And here is a journal cover that I made with quilted vinyl.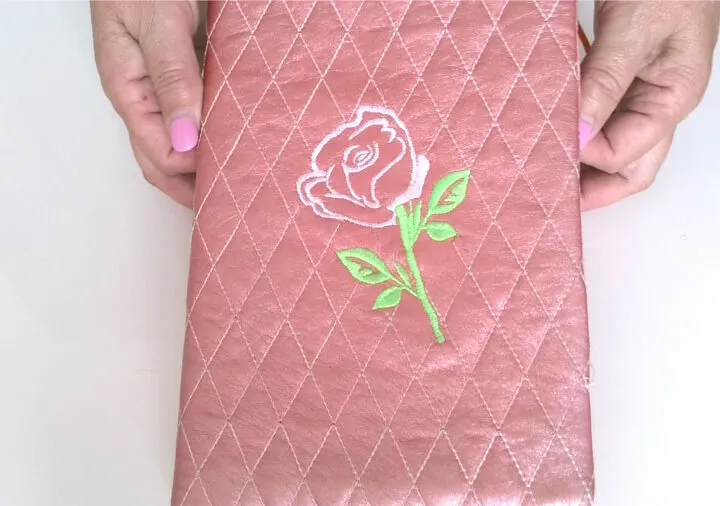 Vinyl-Coated Polyester Fabric
Vinyl-coated polyester fabric is made by coating a polyester fabric with a thin layer of PVC (vinyl). This gives the fabric a number of benefits, including increased durability and water and UV resistance.
Vinyl-coated polyester fabric is a popular choice for a variety of applications, ranging from outdoor clothes to boat covers. The vinyl coating provides excellent UV and water resistance, making it ideal for use in harsh weather conditions. In addition, the fabric is very strong and durable, yet still relatively lightweight. As a result, it is perfect for applications where high performance is required. Vinyl-coated polyester fabric is also very easy to clean and maintain.
It is often used in the manufacturing of outdoor clothing and equipment, as it is highly water-resistant and durable. Vinyl-coated polyester fabric can also be used for upholstery, industrial purposes, and more.
Vinyl-coated polyester fabric is available in a wide range of colors and patterns, making it a popular choice for a variety of applications.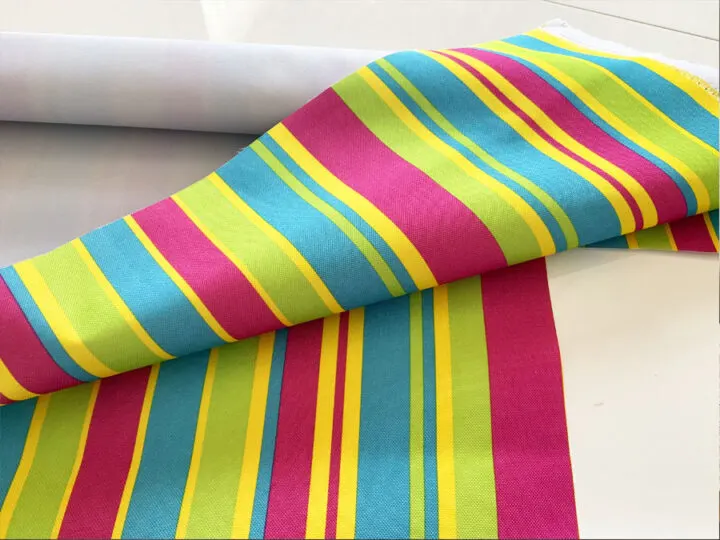 Knit-Backed Vinyl
Knit-backed vinyl is a vinyl fabric that has knit fabric permanently bonded to its back to give it more durability, while also helping to prevent tears. It also has a bit of stretch, which can be helpful in certain applications. This type of vinyl is common for upholstery, as it can withstand a lot of wear and tear. If you're considering using knit-backed vinyl for a project, be sure to check that it's compatible with your intended use.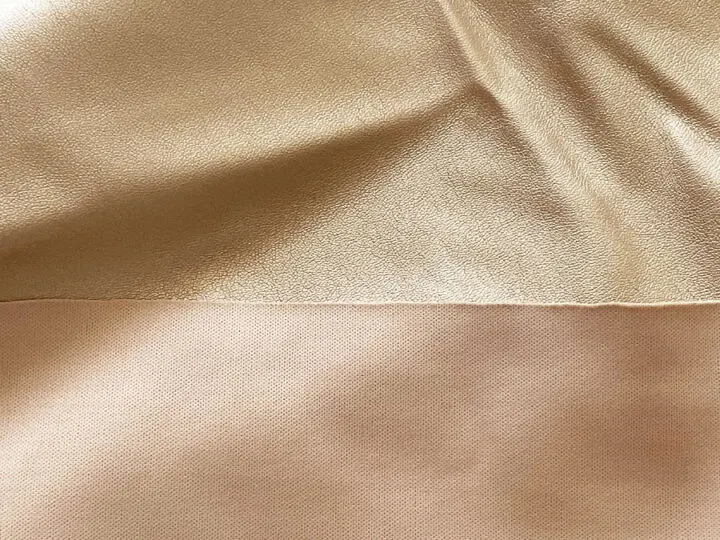 Craft vinyl
They may look similar, but craft vinyl and vinyl fabric are two different products. Craft vinyl is a type of plastic that comes in thin sheets (or small rolls) and is used for die-cutting purposes. It can be used with a Cricut or Silhouette cutting machine to create all sorts of projects, from decals and labels to iron-on transfers and more. Unlike vinyl fabric, craft vinyl is not typically used for clothing or upholstery.
Vinyl fabric, on the other hand, is a textile made from polyvinyl chloride (PVC) that is often used for clothing, upholstery, and other applications where a durable, water-resistant material is needed.
So, while craft vinyl and vinyl fabric may appear to be similar, they are actually quite different.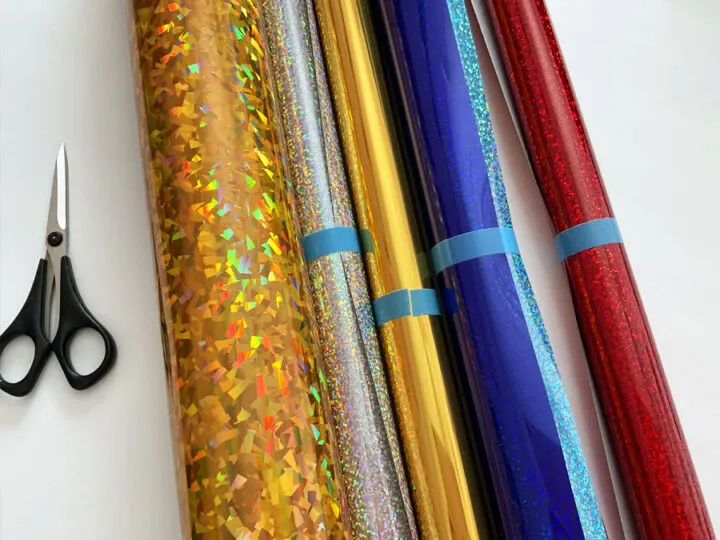 Uses Of Vinyl Fabric
As I've mentioned, vinyl's versatility lends itself to a wide range of uses at home as well as in the heavy-duty commercial and construction worlds. Some items that you might see home sewists make with various kinds of vinyl include:
Clothing – Vinyl is an excellent option for certain types of clothing. Faux leather is great for things like jackets, coats, raincoats, and more.
Furniture – Vinyl fabric is a great option for furniture because it's durable, abrasion-resistant, and easy to clean. If you have pets or kids, vinyl is a terrific (and affordable) choice!
Curtains – In the household, the most common vinyl curtains you'll find are shower curtains and shower curtain liners.
Outdoor items – Items that sewists will make with vinyl include outdoor furniture cushions and pillows, awnings, umbrellas, tablecloths, placemats, and more.
Accessories – Use vinyl for lunch bags, food storage bags, sports bags, handbags, shoes or boots, belts, watch bands, pouches, etc.
Where To Find And Buy Vinyl Fabric
Even though vinyl is a versatile fabric with many uses, you might not be able to find the specific type of vinyl fabric you're looking for at your local JoAnn Fabrics store. However, Hobby Lobby is a great place to check out because they often carry a selection of vinyl options since it's a craft store with a sewing section. If you can't find the type of vinyl you desire or need locally, there are plenty of options available online at Amazon.
Now that I have shown you the different types of vinyl available, it's time to start using this versatile fabric in your sewing projects. If you're new to working with vinyl, be sure to check out my other tutorial Sewing Vinyl: 17+ Expert Tips For Beginners. In that tutorial, I cover everything from how to choose the right needle and thread to how to prevent sticking and creasing. Armed with that knowledge, you'll be ready to tackle any vinyl sewing project you can dream up. So go ahead and give it a try – I think you'll be surprised at just how easy it is to work with this durable and stylish fabric.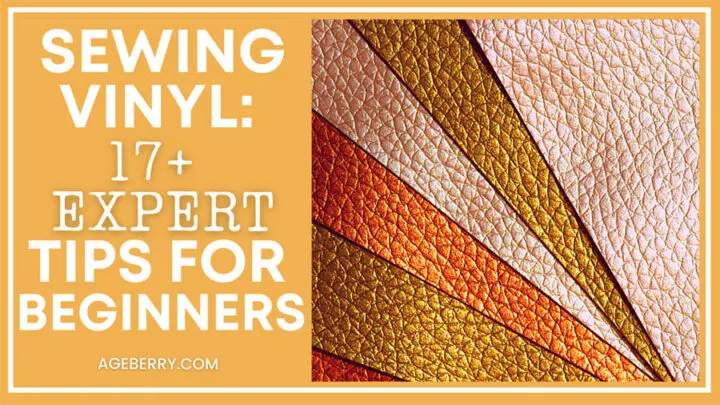 Did you find this tutorial helpful? If so, save this pin (see below) on your sewing board so you can come to this tutorial later when you need this information on types of vinyl fabric for sewing, and follow me on Pinterest for more tips, tutorials, and inspiration!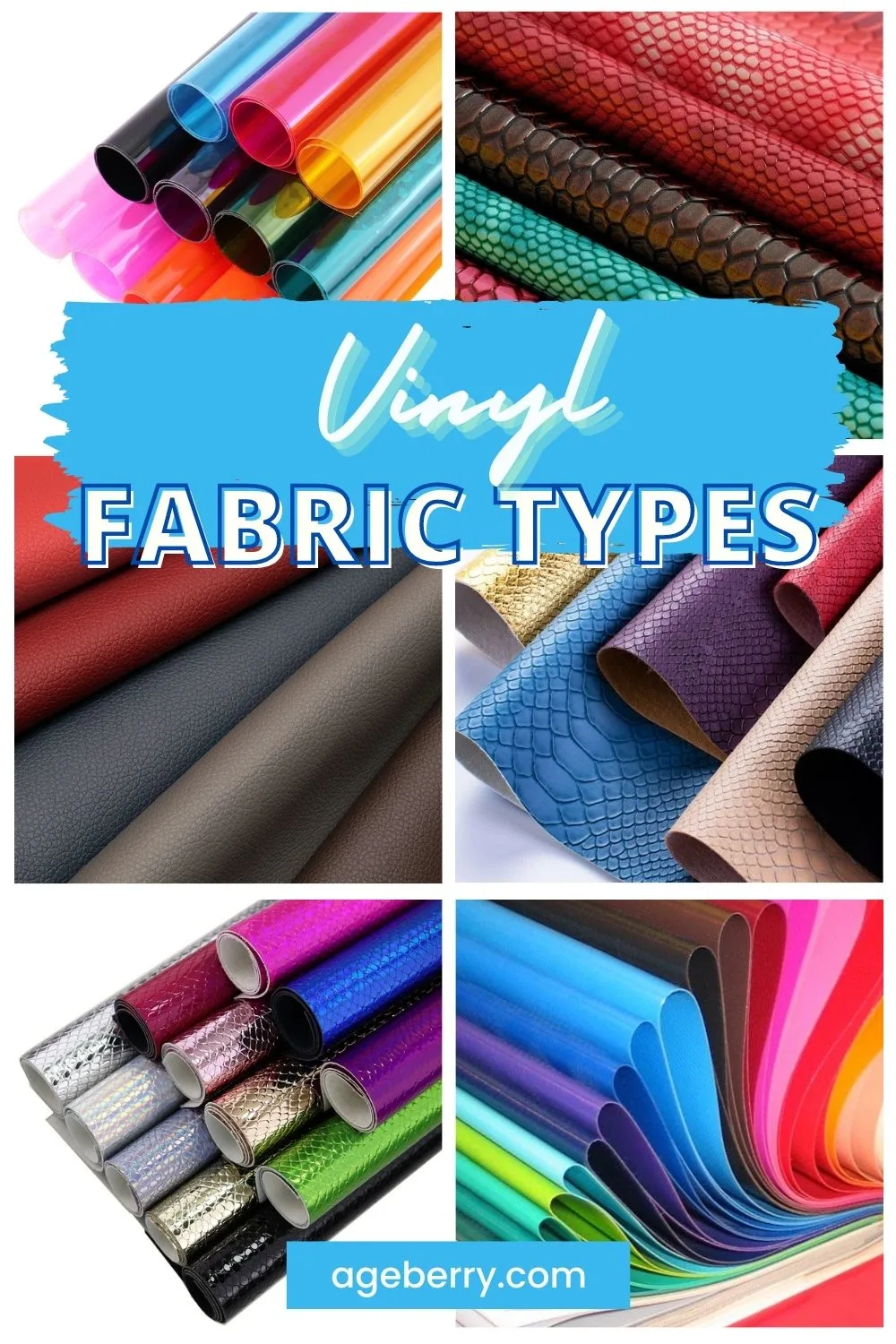 ---