I have decided to write about fusible interfacing for masks because it seems the new "normal" from now on will be that we will need to wear a face mask at least for some activities. I am not sure if this is good or bad, but frankly, would you want a person sneezing on your vegetables in a supermarket, even if he/she is not really sick with the Covid-19 virus? I would not, even the common cold is bad enough. So perhaps it is not really bad that we are becoming a little more careful with the way we spread germs around.
A friend of mine sent me a very, very suggestive image about mask use. In the image below you can see how the exhaled air spreads between two people who are a couple of feet apart (about 4ft, 1.2m my estimate). I think this is an excellent way to advertise the NEED to wear a mask! I do not know if the image is copyrighted or not, but I am including it here anyway because I believe it to be very helpful in convincing everyone that MASKS ARE GOOD.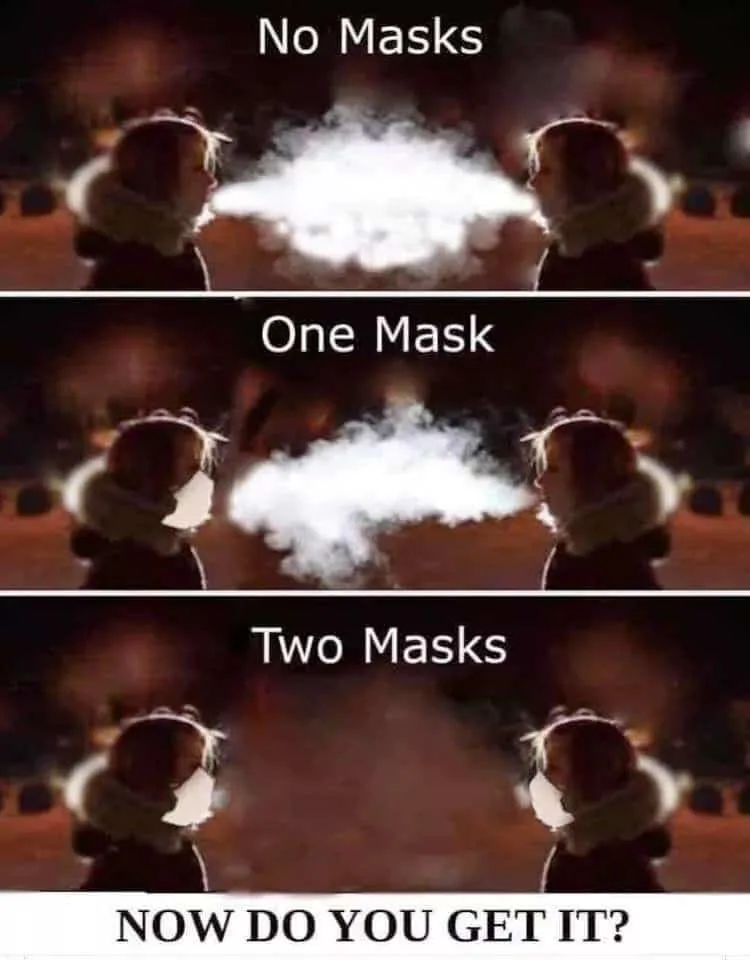 Of course, if we wear a face mask we will want to have one that is beautiful, one that fits well, and first and foremost one that works well.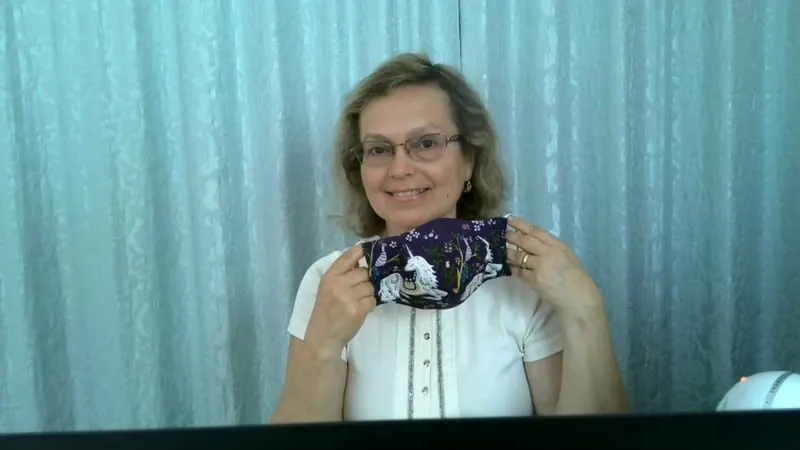 There are two ways to make face masks better: improve the fit on the face, not allow the outside air to come in around the filter, and improve the mask material for better filtering. And one way of improving the filtering capabilities is to use non-woven interfacing.
The following is a condensed list of frequently asked questions that I had to answer since I published the tutorials for DIY fabric face masks. Most of the questions were about the use and type of interfacing that is suitable for the face mask. The list gives summary answers, clicking on the link in the question title will take you to a more detailed answer.
Note: Some of the links on this page are affiliate links. This means I will receive a commission if you order a product through one of my links. I only recommend products I believe in and use myself.
What is interfacing
Interfacing is a layer of material added to the fabric to stiffen, stabilize, and allow easier handling of the fabric while sewing. Some fabric types need extra support in certain areas (for example, buttonholes, where the stitch density is high), others need to be kept in shape and avoid stretching – in cases like these we need to strengthen the fabric and interfacing is the way to do it. For masks though, we use interfacing not because of sewing reasons, but because studies say that non-woven materials are better as makeshift filters than almost anything else.
What interfacing should I use for a face mask?
Any non-woven interfacing is suitable for use in a face mask. Woven interfacing is not better for filtration than any other regular fabric because a woven material inherently has gaps between the fibers which are quite large, comparable with the thread size.
Interfacing is not the only type of non-woven material that can be used, in one of the mask designs I have used also cotton batting as an extra layer with good results.
Is fusible interfacing good for face masks?
Yes, lightweight fusible interfacing is good for face masks and this is what I used when I started making masks for my own use. Later, I received comments that the heat-activated glue is an extra chemical that you might not want near your face; that is absolutely correct and I should have thought of it myself. The glue can easily be eliminated without penalty by using non-fusible interfacing.
However Pellon representatives commented in a user group discussion on Facebook (which I have read, but I lost the link to it) that fusible interfacing has a long history of being used in masks and other apparel that touches the skin, like ski masks, and no harmful effects or allergies have been observed. And indeed I have not observed any adverse effects while wearing these masks.
What about non-woven interfacing for face masks
Yes, all non-woven materials are very good for filtering small particles. There are not many non-woven materials, aside from interfacing, which can be washed and reused. Some masks have pockets for inserting single-use filters and in that case, single-use paper filters can be used and then discarded (similar to the ones used in vacuum cleaner bags). I prefer to use materials that can be washed and sanitized, like interfacing and cotton batting.
Is Pellon interfacing good for face masks?
Yes, Pellon non-woven interfacing is suitable for use in face masks. Pellon is only one trademark/brand, there are other brands, less known. But since interfacing is relatively inexpensive, and for a mask, you do not need a large piece, I usually stick with the brand name if available. I have written mire about Pellon in my article "DIY 3D Face Masks – Q&A" where you can find a short description of the Pellon name and some articles about its history.
What does "non-woven" mean
All regular fabric is made out of threads that are weaved together in a pattern. Because the fabric is after all made out of individual threads, many things can go wrong – threads can separate, become overlapped, etc. Non-woven material is NOT made out of threads and not made by weaving; what exactly is the process, it depends – there are many ways to bond together individual fibers. Fibers are much smaller than threads, threads themselves are usually made by spinning together multiple individual strands. In case you still wonder, I have found a very good article about the weaving process here and a very interesting article on Wikipedia about non-woven materials here.
Can I get a free pattern for a face mask on ageberry.com?
Yes. The site has two types of face masks, each with a free downloadable pattern and a YouTube how-to video. The first type of mask uses a three-layer design and the second one is a four-layer. Below are the images of the masks and the links to the tutorials. The pattern is free to all subscribers to my newsletter (the download instructions are in my newsletters) but for convenience, a printable version of the articles which includes the pattern also can be purchased for a small fee from my Etsy shop.
How to make a face mask with interfacing
Below is a short video tutorial showing how I used interfacing when building a mask. Nothing complicated here!
Is a face mask better with or without interfacing
Using interfacing as a filter makes the mask better because the interfacing will add to the filtration properties of the mask. I have mentioned above that all non-woven materials are also good for this purpose, and masks with pockets for one-time use filters also exist so while a mask with interfacing backing one layer of fabric is better than one without, there are other ways to improve filtration without interfacing. Especially people with severe allergies should consider the cotton batting alternative, the interfacing is a man-made material.
Is fusible interfacing safe for face masks?
Pellon fusible interfacing has been used for a long time for face masks and there is no proof that it causes problems. However, there are opinions that non-fusible interfacing might be more suitable. Fusible interfacing has in its composition heat-activated glue which is a potential source of allergens for some people. I do not know of any cases when this happened (allergies because of interfacing) but this does not mean it will never happen.
Is fusible interfacing the same as iron-on
Indeed fusible interfacing is iron-on interfacing, there is no difference. In fact, the process of ironing the interface on a piece of material is often referred to as "fusing the interface". Iron-on or fusible interfacing has on one side a layer of heat-activated glue that will melt and bond with the fabric when the hot iron is applied.
For a how-to guide on fusible interfacing please refer to my article "How to fuse interfacing – tips and tricks" which talks about this in detail.
Where to buy interfacing
Practically every fabric store will sell interfacing, both woven and non-woven, fusible or not. Also, online retailers like Amazon or Walmart sell it, and online sites like eBay and Etsy sell it too. Below are some links for convenience:
Links to buy interfacing on Etsy for US readers: fusible and non-fusible
Links to buy interfacing on Etsy for UK readers: fusible and non-fusible
Buy on Amazon
---
Did you find this article helpful? If so, save this pin (see below) on your sewing board so you can come to this tutorial later when you want to sew face masks and use fusible interfacing for masks and follow me on Pinterest for more tips, tutorials, and inspiration!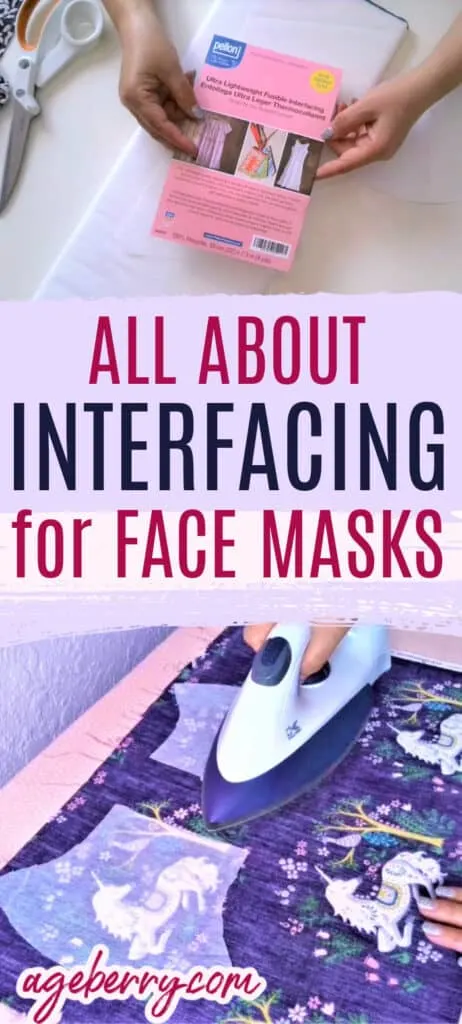 ---
If you found this article interesting, perhaps you will also like my articles dealing with the differences between a regular sewing machine, sergers, and coverstitch machines. Links below:
---