There are many different types of knits, each has its own unique properties that you may want or need for your project. The first step is to identify what type of knits you're working with. Is it very stretchy? How much does it stretch? Does it have any special features like wicking, anti-pill or other performance benefits?
For example, if you're looking for something super stretchy to make athletic wear out of, then performance knits might be perfect for you. If you're looking to sew some cozy winter hoodies, then maybe anti-pill fleece is more up your speed. Once you understand your needs, you can find the perfect fabric for your project.
You can find knit fabrics with all kinds of different features – from thin jersey to thick fleece – so there is always one that fits your needs perfectly.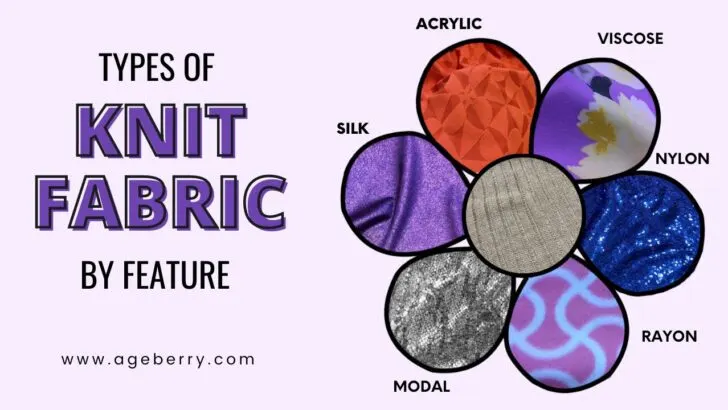 In my previous article, I discussed the different types of modern knit fabrics by category: jersey, interlock, rib, boucle, DTY, Ponte, etc. In this one, we will look at their features/properties and how you should use them in your projects.
Read this guide now if you're interested in learning more about different knit fabric types.
Note: Some of the links on this page are affiliate links. This means I will receive a commission if you order a product through one of my links. I only recommend products I believe in and use myself.
Anti-pill
Anti-pill is a treatment that's applied to fleece fabrics to prevent them from developing unappealing 'balls' with repeated wear and washing. Cheaper fleece fabrics may not feature anti-pill technology.
Anti-pill fleece is a polyester fabric that has been chemically treated to resist pilling when used in clothing. Anti-pill fleece retains its appearance longer than regular fleece, which will pill when abrasion occurs. This means the fabric pills when rubbed against different surfaces like other clothing, shoes, or skin.
Anti-pill fleece is good to sew winter clothing, and winter hats and is frequently used for sweatshirts and sweatpants also as a lining material, it's often used to make baby blankets.
I used regular fleece and anti-pill fleece for my sewing projects and the difference is clear.
This is regular fleece fabric. See how much lint it has after only a few washing. That's why I don't like this fabric.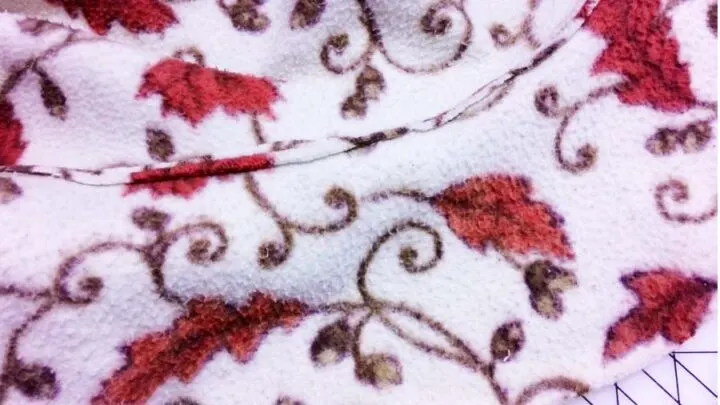 And this is an anti-pill fleece. Looks nice for now but I didn't make anything from it yet.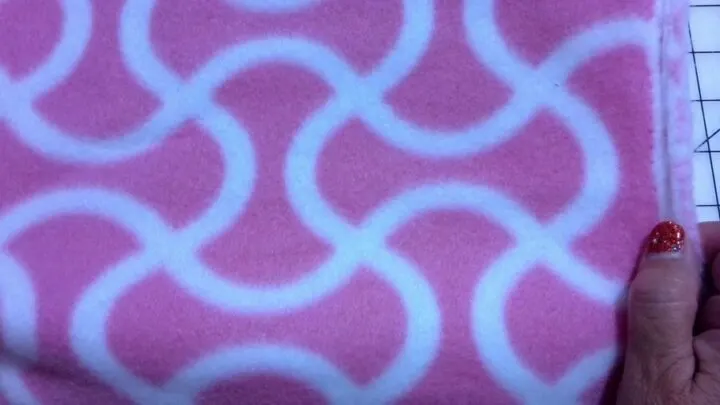 ✅ Related tutorial: How to prevent pilling and get lint off clothes
Brushed/sueded
Sueded fabric has been brushed or 'peached' to give it a soft, fuzzy texture that's similar to peach fuzz. This fabric feels exceptionally soft and luxurious.
Brushed knit fabric is a type of knitting whose pile surface has been brushed. Brushing gives the fabric some "fuzz" that provides increased warmth and coziness. The degree of this brushing process determines how much of the fabric surface becomes fuzzy, and how soft it feels.
Brushed knits are suitable for kids' clothes that need to feel lightweight but still offer plenty of warmth. They can also be used in dresses and skirts, but make sure they are not sheer when you hold them up to the light.
Brushed knits may be made in either single or double-knit constructions. Double-knit fabrics have less stretch than their single-knit counterparts. Keep this in mind when you are choosing a sueded/ brushed knit fabric for your sewing project.
Here I have interlock knit fabric with some "fuzz" – this is brushed knit fabric.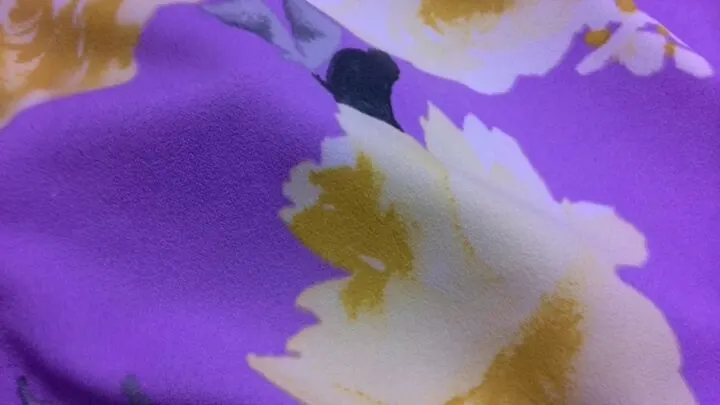 ✅ Related tutorial: How To Cut Knit Fabric: Ultimate Guide
Burnout
Burnout is a technique often used on velvet or jersey knits. It uses a chemical process to create a transparent pattern against a solid background.
Fabrics that are "burn out" have areas of sheer material. The sheer portion of the fabric has been rendered semi-transparent by adding chemicals or applying heat.
Take a look at this image: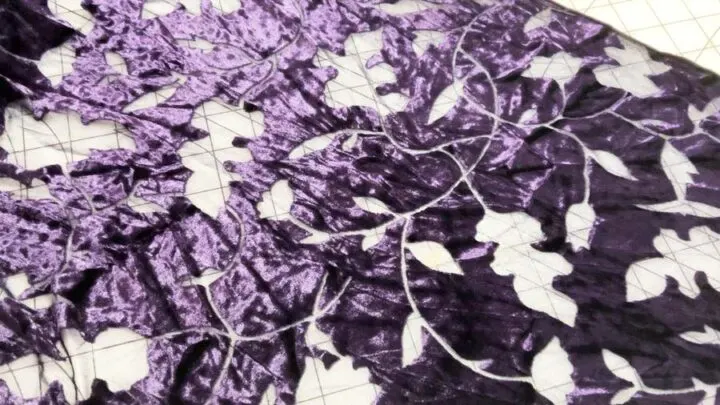 It's an example of the popular burnout fabric that is in today's fashion. These fabrics are light and airy. They can be used to make all kinds of clothing. They are perfect for summer wear because they add style and flair to your outfit. Just imagine how your wardrobe will pop with a few outfits made from this fun and beautiful fabric. The design possibilities are endless! But have in mind that when you wear clothing made from burnout fabrics, your undergarments will need to be color coordinated with whatever you are wearing!
Digitally printed
Digital printing can be done on most types of fabric including knits. It's the process of transferring a digital print from a computer onto fabric using high-pressure rollers. I think this is the future of textile.
There are many benefits to this process, here are a few – the perfect alignment of prints, perfect colors every time, no need for screen cleaning between prints, fast turnarounds, and increased efficiency.
There are colors (or screens) to combine with digital printing. Fabric can be printed from any picture you see on a computer, just as your desktop printer does with paper.
The digitally printed fabric is made by using an inkjet printer to print on fabric or by sublimation; the second method promises an image that resists better and is less prone to fading. The digital file can be supplied by you or generated from existing artwork. The digitally printed fabric is created using mostly cotton, polyester, and silk. It can also be easily printed on light and dark-colored fabrics. The material is selected depending on the end use of the fabric and design style.
Most often digital printing methods make use of a proprietary pigment ink technology that is water-based and free of heavy metals and other toxic materials, so it's not hazardous, and even biodegradable.
I didn't use any service to make digitally printed fabric yet.
You can read more about digitally printed fabric here.
Double-faced or double sided
Double-faced knit fabrics are easily reversible as they have two attractive surfaces. Soft, stretchy, and forgiving, many double-faced knits have the same face on each side or they vary in pattern or color. These fabrics can easily be used for reversible garments including dresses or skirts.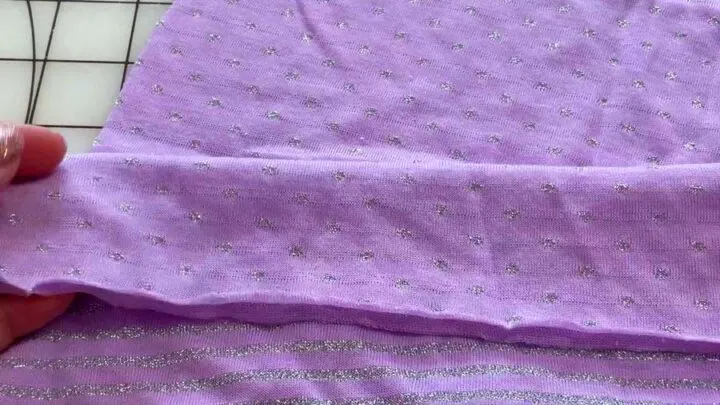 Double-faced knit fabrics are reversible since they have two "right" sides or faces. Many double-faced knits feature the same face on each side or a different pattern or color. These knits can be used to make reversible clothes.
I made a beanie from this kind of fabric and you can watch my YouTube video tutorial on How to sew a beanie.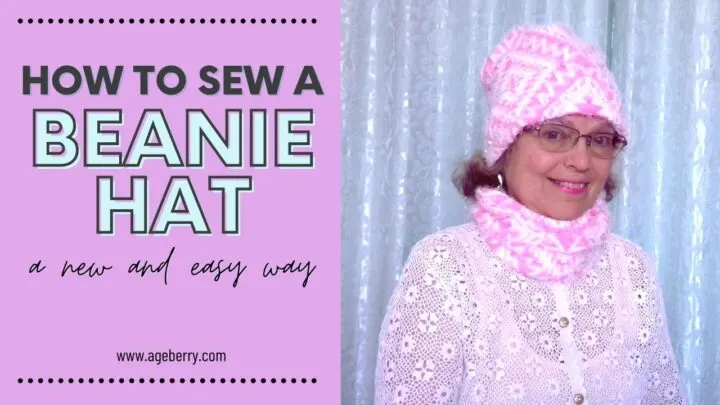 Embossed
Embossed knits are fabrics with intricate patterns that are raised or "embossed".
The embossing process leaves finely detailed patterns on the fabric, bumping it up from plain and simple to fanciful and intricate.
Embossing patterns on the fabric add dimension, giving both texture and visual interest without even needing beads or other embellishments- it's all "embossed" right into the material.
You can find the largest variety of embossed knits at this site – Ocean Textile.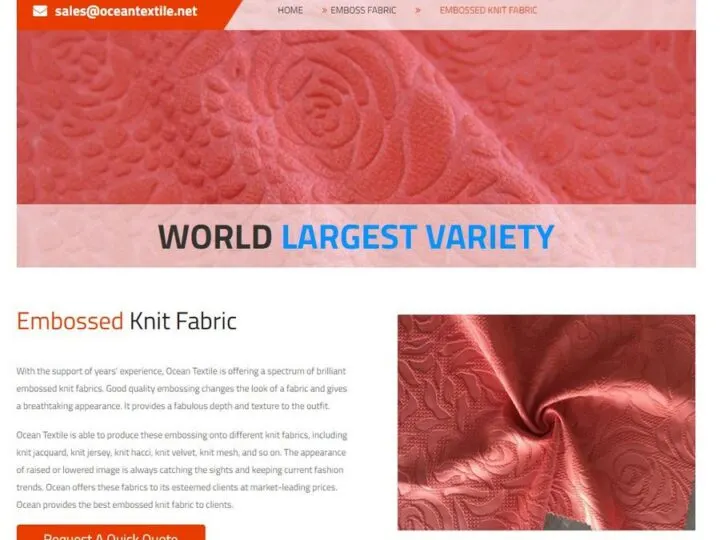 Glitter Fabric
As the name indicates, glitter fabric literally has glitter in it to make it shimmer and sparkle when it moves. There are two different types. The first is the sparkly sheer knit fabric with fine glitter that is commonly used to make dance costumes and other garments and garment overlays. The second type is with large chunky glitter that's commonly used for crafts and home decorating.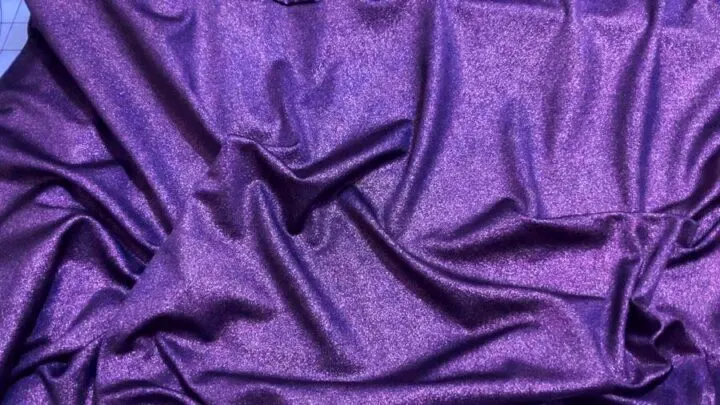 Iridescent
Iridescent fabric is simply fabric that has a shiny reflective finish added to it. The term refers to the actual shiny finish because the fabric can be several different types ranging from sheer organza to satin, silk, or spandex.
Iridescent fabric is most commonly used for high-end women's fashion, but I've also seen it used for:
Window treatments
Party fashion
Wedding Fashion
Costumes
Table coverings
And more!
Here is an image of iridescent knit fabric from amazon.com.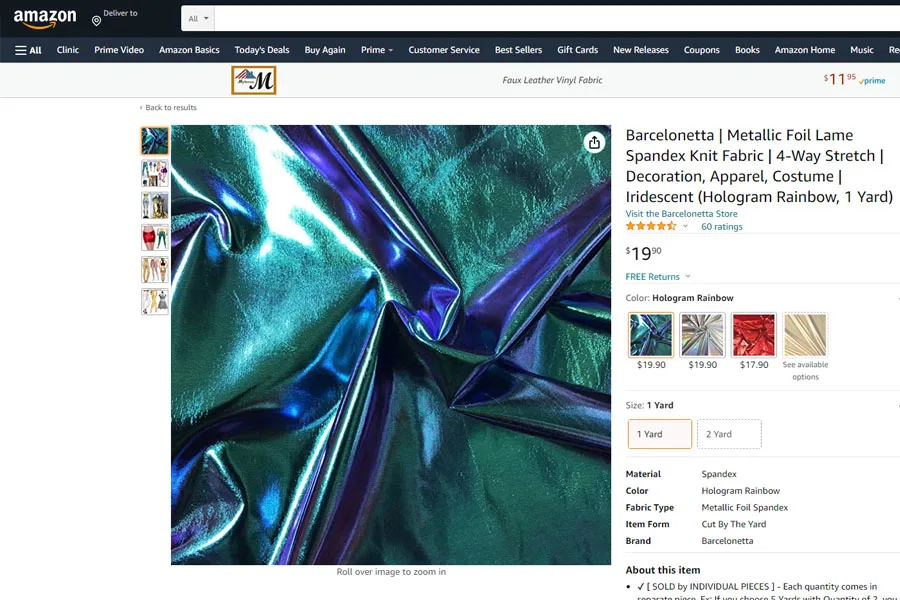 Metallic
Metallic knit fabrics often use metallic yarns (commonly made with polyester and aluminum) in varying amounts. Sometimes a small amount of metallic yarn is used, which creates an accent effect with the metallic pieces woven intermittently among non-metallic yarn. Or metallic yarn can dominate the garment, creating a more uniform look that's similar in sheen to the iridescent fabric.
Examples can include lamé, which is stretchy, has a high metallic content, and comes in a variety of weights. Foil fabric is another example, and this fabric has a layer of foil added to the finished fabric with heat and glue. The foil layer can be a large solid piece or a pattern.
Metallic knit fabric is often used in high-end women's fashion and cocktail dresses, costumes, and other garments.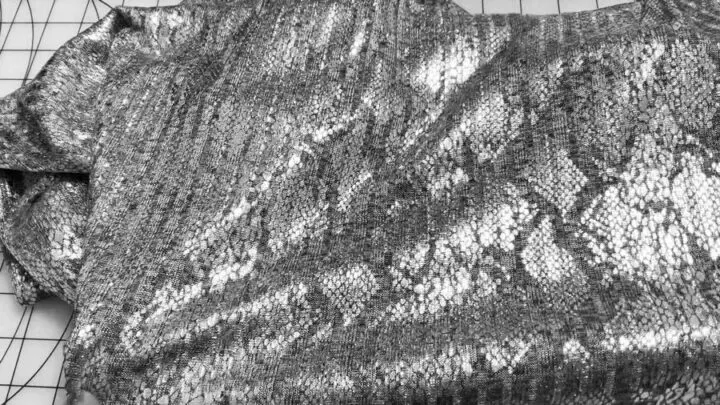 Neon
When you want an eye-catching, bright, bold color, use neon fabric. Like iridescent fabric, the term neon refers to the fabric's coloring rather than the actual materials used. The fabric can be jersey knit, spandex, made from polyester, rayon, and more. Neon fabric is typically used in children's clothing, women's clothing, costumes, trims, and crafting.
Here is an image from Amazon.
Organic
Organic knits are eco-friendly fabrics that are made with soft organic cotton. The organic fabric is usually made from cotton that's been grown without the use of harsh chemical fertilizers, pesticides, or other agricultural chemicals.
For those who are environmentally conscious and embrace green products, organic fabrics can be a very attractive option for bedding and clothing since they're both durable and comfortable. In addition, organic fabrics tend to last longer than non-organic alternatives and they're also known for being soft and breathable.
In addition, organic fabric is a great choice for those who have sensitive skin since it's totally natural and hypoallergenic. In fact, if you suffer from allergies or eczema, organic clothes can be helpful in keeping your symptoms at bay by limiting the number of irritants that come in contact with your skin.
Use it for anything you would normally use cotton knit fabric to make:
Baby Clothing
Loungewear
Dresses
Tops
Leggings
Skirts
Robes
Diapers
Blankets
I have some organic cotton knits from fabric.com but of course, the image can't show that the fabric is organic.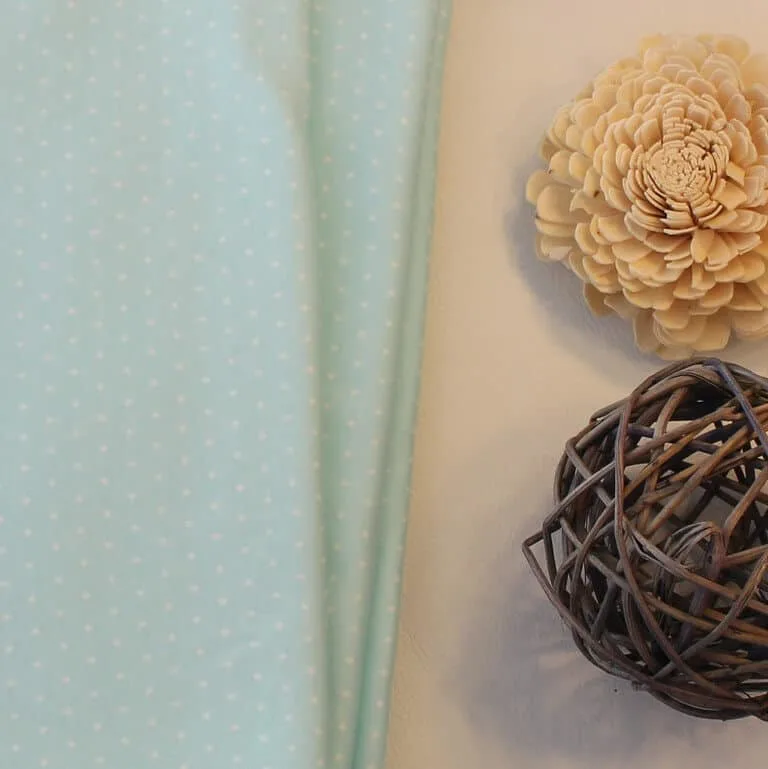 Panel
Panel knit fabric is a small cut of fabric with an image or design printed on it (more like a picture rather than a pattern). It's designed to be used in a way that highlights the image, which is different from working with visual patterns. Panel knit fabric can be a beautiful way to adorn a simple dress pattern.
Use panel knit fabric when making:
Tops
Hoodies
Leggings
Tees
Dresses
Undergarments
Cardigans
Leotards
Pajamas
Blankets
Bags
Appliqué
Quilts
Here is a listing from fabric.com. Apparently, panel knits are not a very popular type of knits right now and there are not so many for sale.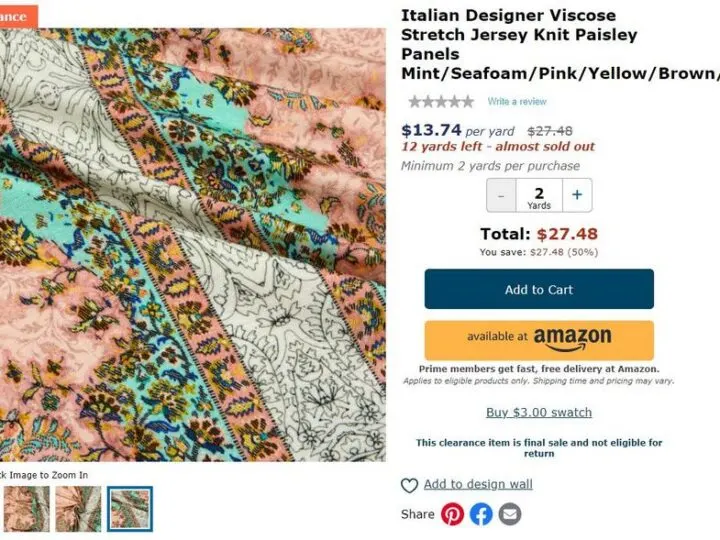 Performance
Performance knit fabrics are designed to be very stretchy, soft, moisture-wicking, and very comfortable. In other words, just as the name implies, their main purpose is to help athletes (or people simply working out) perform better. In addition to being moisture-wicking, they can also provide compression to help improve circulation.
Performance knit fabric is a new kind of lightweight material that has recently begun to fill the shelves of fabric stores. Performance fabrics are generally made with lightweight fibers like polyester or nylon, and sometimes they have a perforated surface. This surface is made by tiny holes punched out of the fabric which lets air pass through.
Use performance knits for:
Leggings
Workout tops
Shirts
Yoga Clothing
Dresses
And more!
Quilted
Quilted (or textured) knit fabric has a pattern formed through altering needle movements to create tuck and miss stitches in stitching. This creates a texture in a similar manner that quilting does. Quilted knit is not 'padded' as one might think of it. This fashionable design effect is created by 'puckering' the fabric without having to insert actual 'padding', or using different fabrics for each layer. The quilted pattern varies from very simple to more complex.
Quilted knits are used for making coats, jackets, and suits and can be seen on runways of top fashion designers.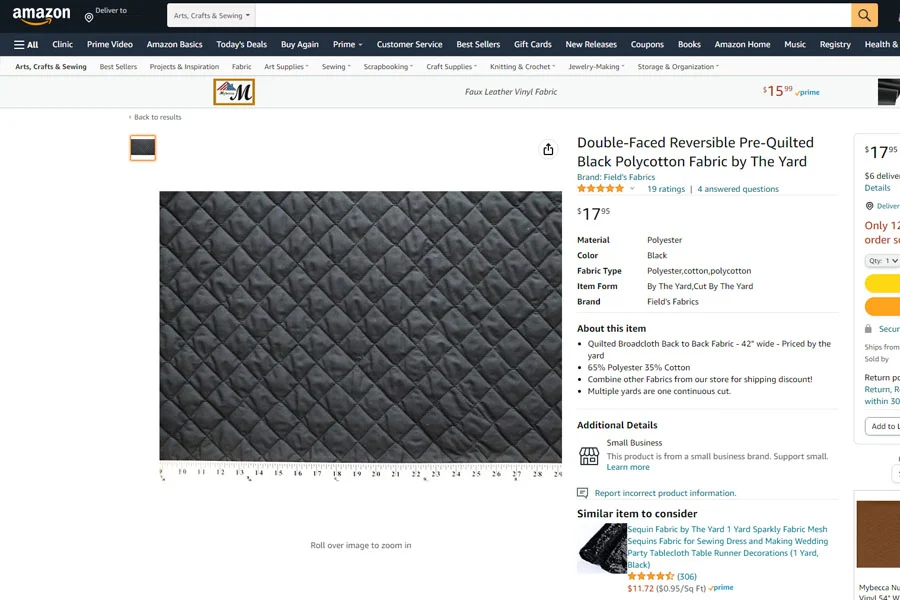 Recycled
Polyester is the most commonly used fabric on the planet, but it's a fabric that's not eco-friendly to create because it involves the use of large amounts of water, chemicals, and even fossil fuels. Recently, however, some companies have been making significant progress with creating polyester fabric out of recycled polyester fiber and even recycled plastic bottles.
You can find recycled knit fabric on Amazon and you can use recycled fabric in any pattern or project where you would typically use polyester.
Reversible
This is a fabric that has the ability to put the two best "feet" forward. In other words, it may have a pattern on one side and a solid color on the other, but both sides can be worn on display. It's popular for children's apparel, women's apparel, and accessories.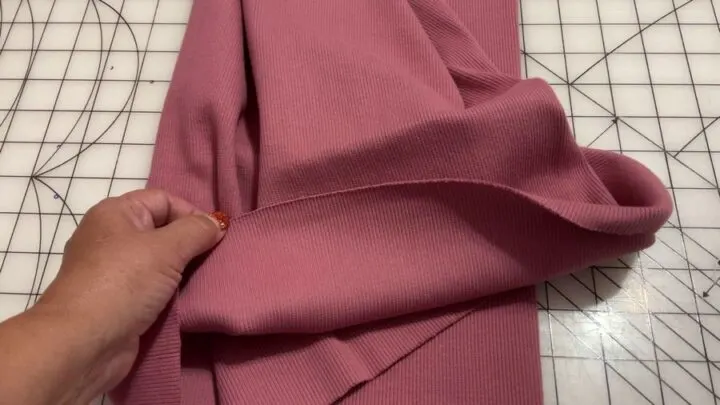 Sequins
Sequin fabric has sequins sewed all over the fabric to create a shiny and textured appearance. It can be used as a small design detail or cover the entire garment. It's generally used for dressy tops, skirts, or dresses, as well as leotards and costumes.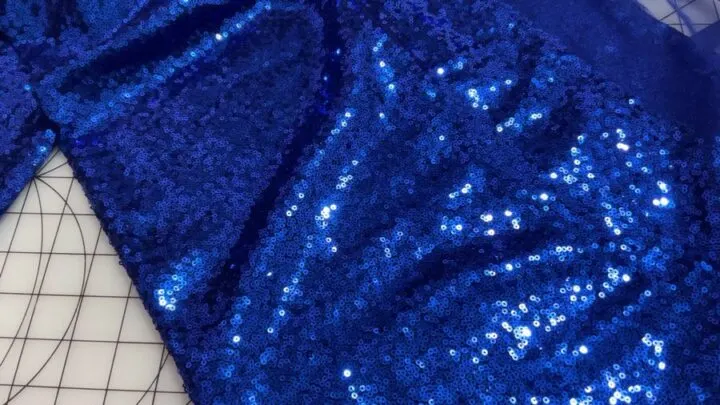 Sheer
Sheer refers to knit fabric that isn't opaque. It is transparent, so people can see through it. Sheer fabrics can be natural (silk or cotton) or synthetic (nylon or rayon). They're popular fabrics for lingerie, underwear, and clothing. Sheer fabrics can be used on their own for clothing details such as sleeves or cutouts. But they can also be paired as overlays with opaque fabrics to create a large range of beautiful styles.
Single Napped
Single napping is a fabric finishing process that is applied to one side of the knit fabric. The fiber ends are mechanically raised to the surface of the fabric and then either left out, brushed flat, or clipped smooth. Single-napped fabrics are smooth on one side and have a pile on the other side. The pile direction is different for each fabric. This process creates a softer and warmer fabric. Single-napped knits are considered to be less elastic than most types of knit fabrics.
Types Of Knit Fabric By Percentage Of Stretch
When you're choosing fabric for your sewing patterns, check the pattern to see what stretch percentage it recommends using. You might see something like 25% stretch or even possibly a percentage of spandex (ex: 5% spandex).
For example, this jersey knit fabric from amazon.com has the following description:
This ultra soft jersey knit fabric is brushed on both sides and feels heavenly against the skin, with 4-way stretch (50% on the grain and 20% on the vertical) for comfort and ease.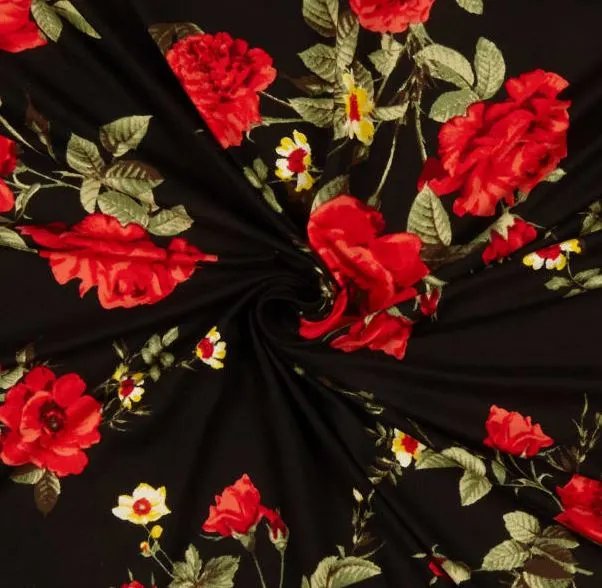 You probably know that knits stretch, but do you know how much they can stretch? What's the difference between a 25% stretch jersey and a 40% stretch tricot? And what about different types of fabrics within the same category of knit fabric (like jersey vs rib)?
Why is it important to be able to distinguish the different knit fabrics by their stretch percentage?
Imagine you've got a beautiful jersey dress pattern picked out and you go to choose your fabric, only to find that the one you like isn't stretchy enough for your design. You can either pick another fabric or modify the pattern to include more ease (and potentially compromise the fit).
Or, you might have an amazing stretch lace dress pattern picked out and want to use it, but your favorite lace is too stretchy. You'll end up with a less-than-perfect fit unless you alter the design to accommodate for all that extra fabric.
You can find stretch percentage charts on pattern envelopes. For example, every McCall's pattern envelope has this chart if the recommended fabric is some kind of knit.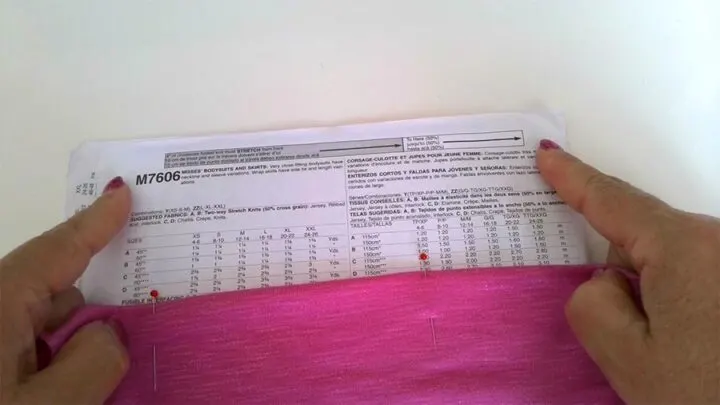 I made my own chart and you can download it from my Resource Library if you are a subscriber. The chart looks like this: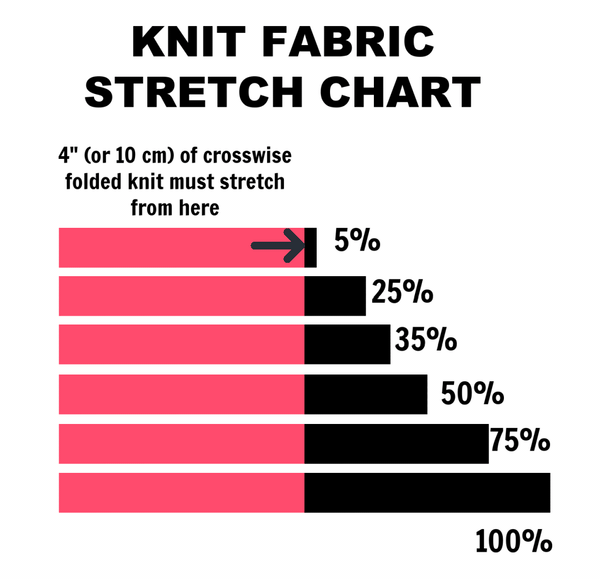 ✅ Related tutorial: How to make a slip dress from knit fabric
Learning how to choose the right fabrics according to the stretch percentage is important because the more your fabric stretches, the larger the garment will appear. Here's a very basic guide on typical stretch percentages and the typical fabrics that fall within each category.
5-10% – these knits hold their shape a little better and can be treated almost like woven fabrics. They include French terry and interlock knits.
10-25% – these are stable knits and include many types of knit fabrics such as fleece, velvet, and faux leather for example.
35-50% – these are stretchy fabrics (for example some jersey and interlock knits)
50-75% – These are very stretchy fabrics (for example, hatchi knits)
75% and above – these are super stretchy fabrics, for example, some rayon knits, rib knits, spandex, and tricot. These knit fabrics stretch easily to twice their original size. Fabrics with about 90% stretch are great for anything that needs to fit tightly while still accommodating a little bit of giving. It's used in leggings, swimsuits, tops, and dresses alike.
2-way stretch – 2-way stretch means that the fabric can only stretch lengthwise (parallel to selvages) or crosswise (perpendicular to selvages) but not both. These knits don't stretch as much as 4-way.
4-way stretch knit fabric has four different ways it can stretch. It stretches well both vertically and horizontally. The percentage of stretch in 4-way stretch knit fabrics affects its overall comfort, and ability to hold its shape and recover from stretching.
---
Figuring out the differences between different knit fabrics can seem confusing at first, but a little experience will help you get the hang of it in no time. I hope this post helped to highlight the different types of knit fabric and gave you some ideas on how to use them!
Did you find this tutorial helpful? If so, save this pin (see below) on your sewing board so you can come to this tutorial later when you need this information on different knit fabric types by features, and follow me on Pinterest for more tips, tutorials, and inspiration!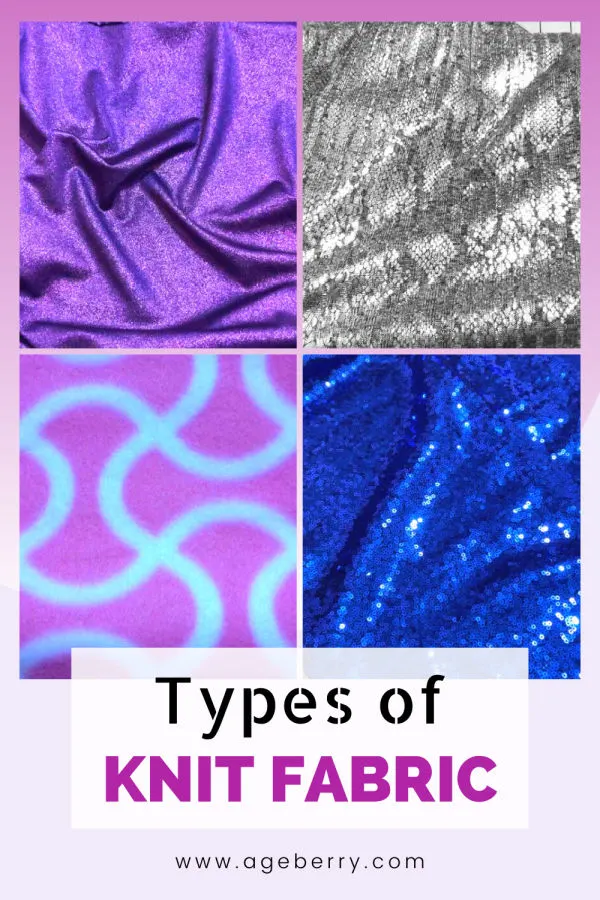 ---