Many quilts are made from squares, but sewing them together can be a problem. Many people find it challenging. But it doesn't have to be. You'll never have to worry about mismatched seams again when you use this tutorial. I'll show you how to do it quickly and easily, so your quilt will look amazing.
When it comes to sewing quilt squares together, there are a few different methods that quilters can choose from. Let me show you a few most popular options. The first one is called chain piecing, the second one is called nesting seams and the third one doesn't even have a name yet – let's call it row-by-row piecing.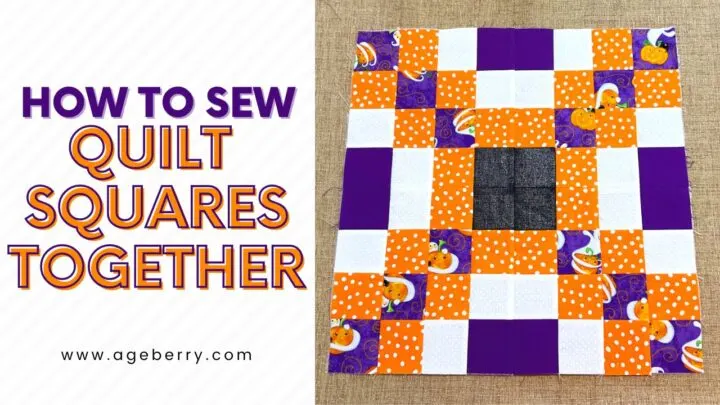 How to chain piece quilt squares
As any quilter knows, piecing quilt squares together can be a time-consuming task. One way to speed up the process is to chain-piece the quilt squares. This technique involves sewing the squares together in rows without cutting the thread or lifting the presser foot in between blocks.
If you're sewing a quilt with many small squares, it can be time-consuming to start and stop your machine to cut the threads between each pair of squares. A more efficient method is to sew the squares in an assembly line fashion, without cutting the threads between each one. To do this, simply feed the paired squares through the machine, aligning the edges as usual.
When using this method, there is no need to backstitch. This is because you will be crossing over each seam when you sew the rows together. This will prevent the seams from unraveling and coming apart. So, don't worry about backstitching, just sew the squares together and then cross over the seams when you sew the rows together. This will give you a strong seam that will not come apart.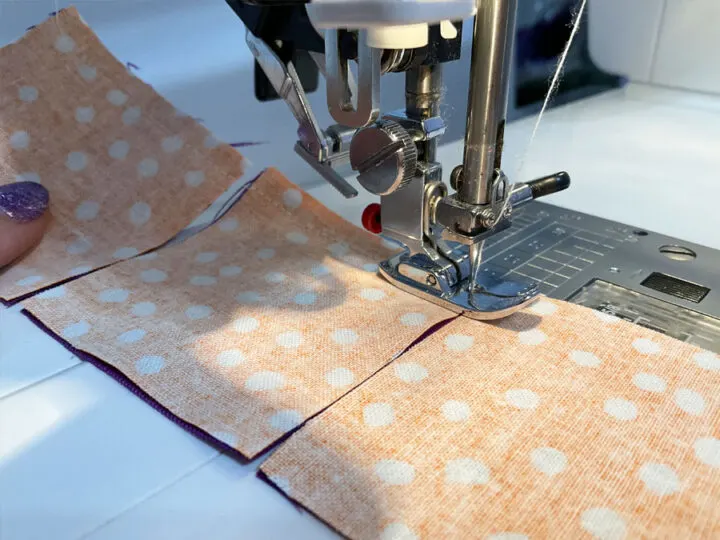 Note: Some of the links on this page are affiliate links. This means I will receive a commission if you order a product through one of my links. I only recommend products I believe in and use myself.
By chain piecing the squares, you can quickly and easily assemble the quilt top. Chain piecing can prevent errors and ensure that the squares are all aligned correctly. As a result, it is a valuable time-saving technique for any quilter to master.
The quilters usually use ¼ " seam allowances. There is a special presser foot that makes it easy to achieve perfectly accurate ¼" seams – it's called a quarter-inch foot. Just keep the edge of the fabric along the edge of the presser foot when you sew.
Once you have your fabric squares arranged in a pattern, take every two squares in the first column and put them right sides together, aligning all sides. You can pin them together in place if you want, but quilters usually don't pin small squares.
Next, stitch every two squares together with ¼" seam allowances. And then just continue adding squares.
Nesting seams when sewing quilt squares together
Nesting seams are a great way to achieve precise intersections of quilt squares and can be especially helpful when working with complex patterns. It's a relatively quick and easy technique once you get the hang of it.
This simply means that the seams of each block should nest perfectly into the seams of the other block.
To do this, first press the seams in opposite directions.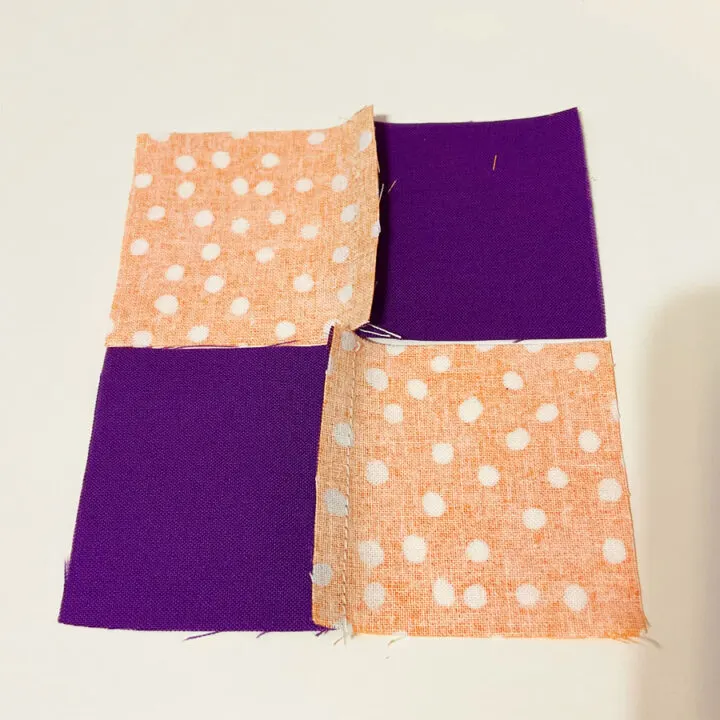 Then, place two rows right sides together and move the seams between your fingers until you feel them 'lock' together. They should fit tightly since you pressed the seams in opposite directions.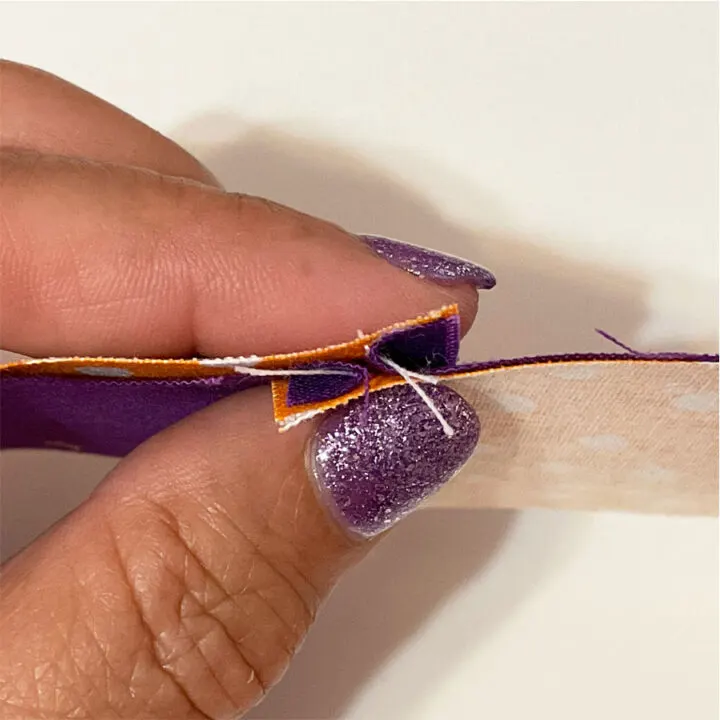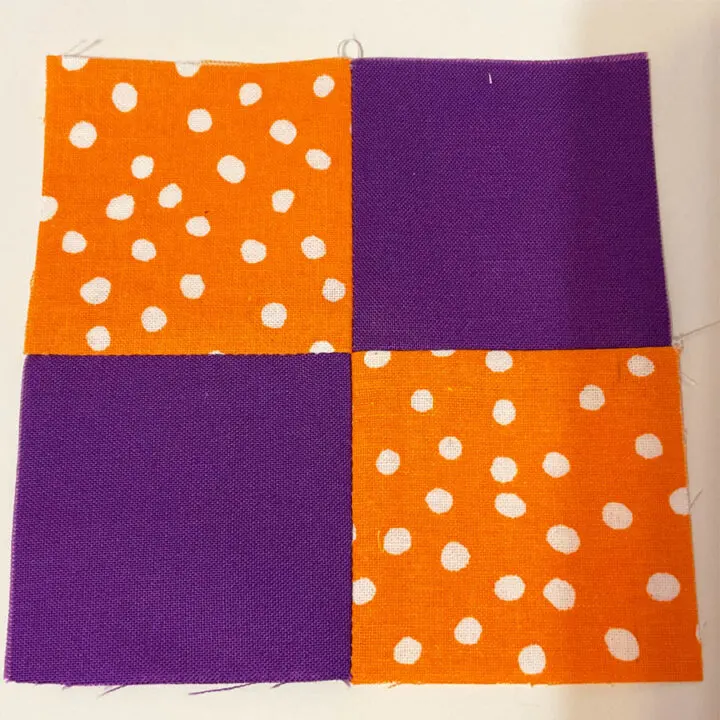 How to sew quilt squares fast using row-by-row piecing
One of the most frustrating things about trying to create perfect square quilt blocks is getting the corners to match up perfectly. It seems like no matter how hard you try, there's always a little bit of discrepancy, right?
However, there is a simple trick that can help you get matched corners every time. Let me show you.
For this method, you will need a piece of fusible interfacing. It should be very lightweight.
Prepare the pattern you want to use and cut your quilt squares.
I am using an Accuquilt Go fabric cutter to cut my squares. I decided to go with a 2.5" square for my quilt so the machine cut 24 fully identical squares in just one minute (or maybe even less).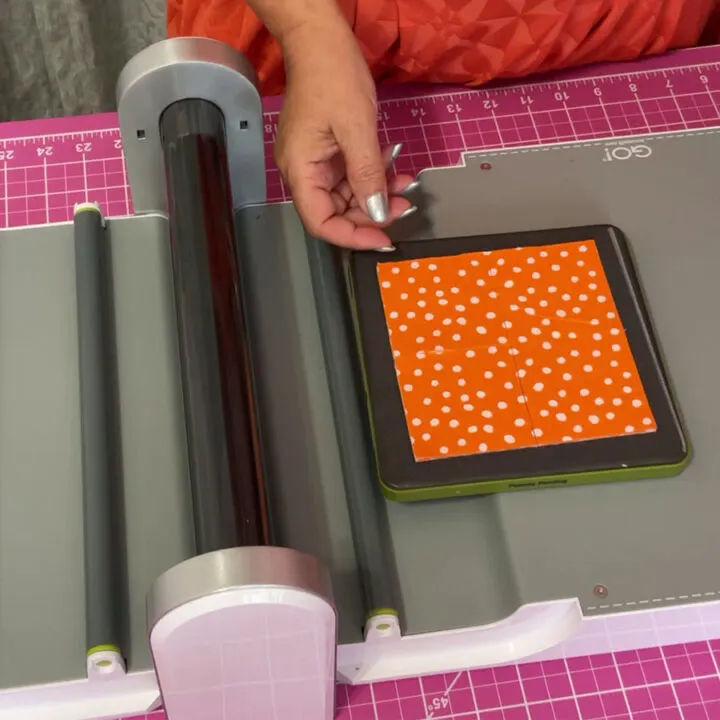 Step 1. Arrange the squares on a piece of interfacing according to your pattern
Once you've cut a piece of interfacing, lay it out on your work surface with the adhesive side up. Do it on a flat and smooth surface for example, on a wool pressing mat because later on, you will need to press the prepared fabric squares with a hot iron. An ironing board might be too small for the squares to fit.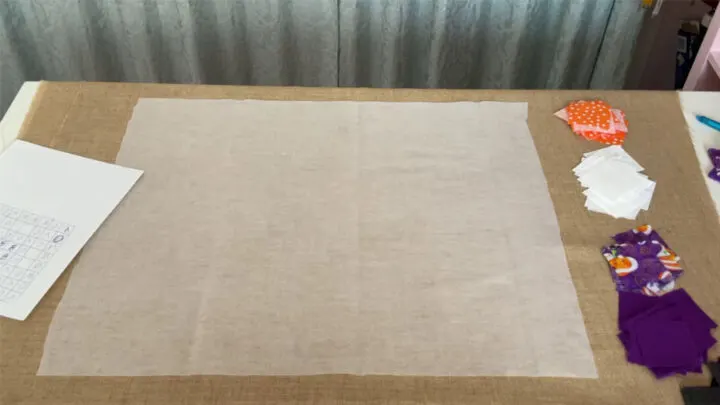 Next, arrange your fabric squares on top of the interfacing in rows and columns, making sure you are following the quilt pattern. Fabric edges should be put very close together without overlapping. Try to keep the rows and columns as straight as possible.
The top side of the interfacing piece is straight so start putting your squares right at the top.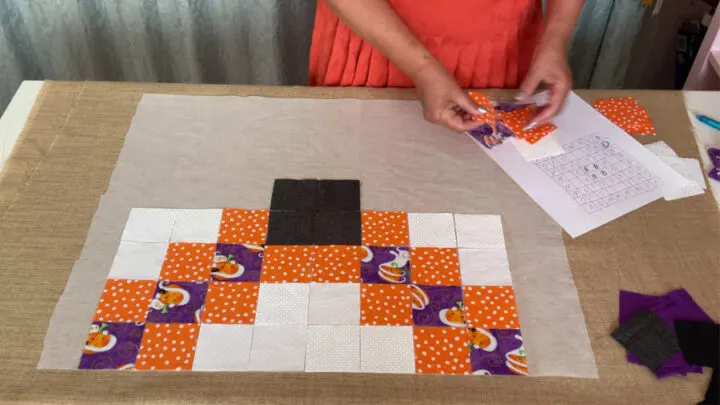 You'll also want to make sure that all the squares are smooth before you begin pressing. If there are any creases or folds, they will become permanent when you press them with the iron.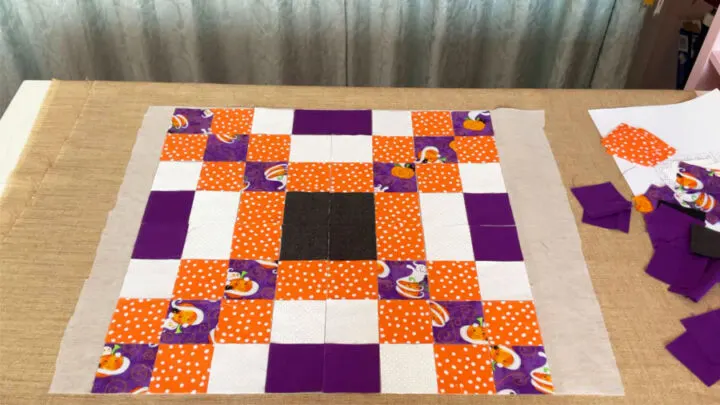 Step 2. Fuse the interfacing to the prepared squares
Now that you have your fabric squares arranged and ready to go, it's time to press them with a hot iron. Simply press the iron down onto the fabric for a few seconds, moving it around until the entire surface is fused. Once you're done, let the squares cool completely before you begin using the sheet.
You can use a pressing cloth This way, if any glue comes off of the interfacing, it will be absorbed by the pressing cloth instead of sticking to the iron. But try not to touch the interfacing with the iron.
Make sure that the iron is set to the appropriate heat level. You don't want to damage the fabric. I kept my iron on medium heat (or wool setting).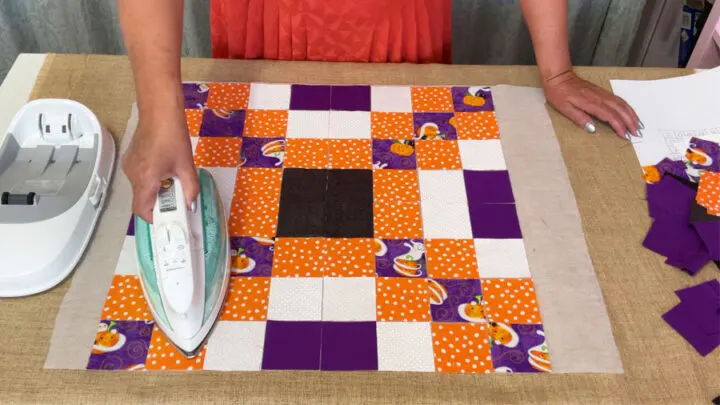 Once you've finished fusing the interfacing, trim away any excess interfacing.
✅ Related tutorial: Iron buying guide
Step 3. Sew row by row in one direction
Now that you cover the entire sheet with fabric squares, it's time to move on to the next step.
Fold the first row of squares right sides together with the whole sheet, and stitch along the fold using ¼" seam allowances.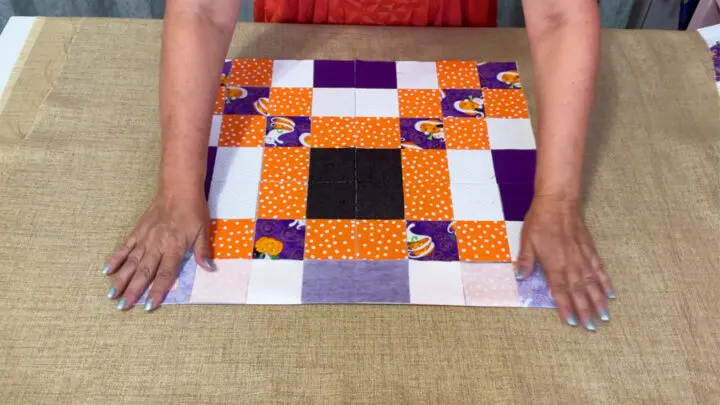 Continue until all the rows in one direction are stitched together.
It's very important to keep the same seam allowances (¼") over the entire piece. But it's very easy to do if you use the special quarter-inch presser foot.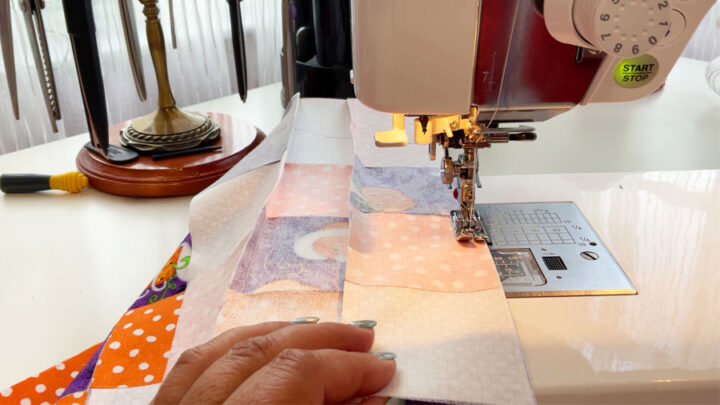 Step 4. Open the seams and press
It's very easy and fast to open the seam allowances on each row. Just use a seam ripper and cut the interfacing between the seam allowances.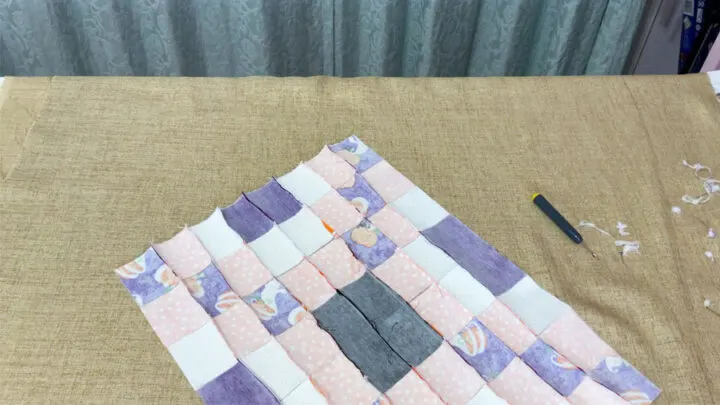 Fingerpress the seams open. I like to use a special finger presser to do that. And after that, press with a steam iron making sure the prepared sheet with squares is completely flat and there are no wrinkles or folds.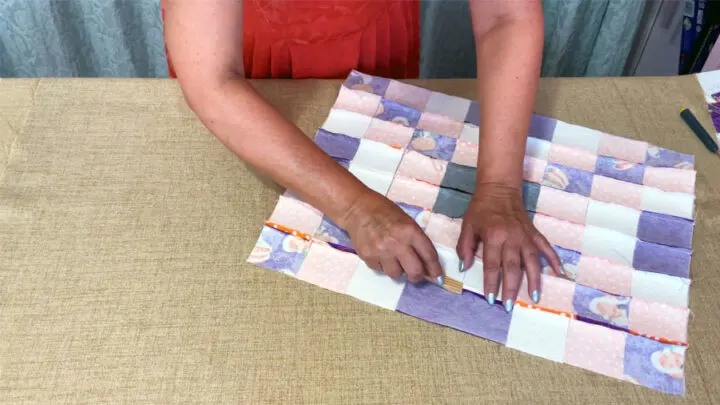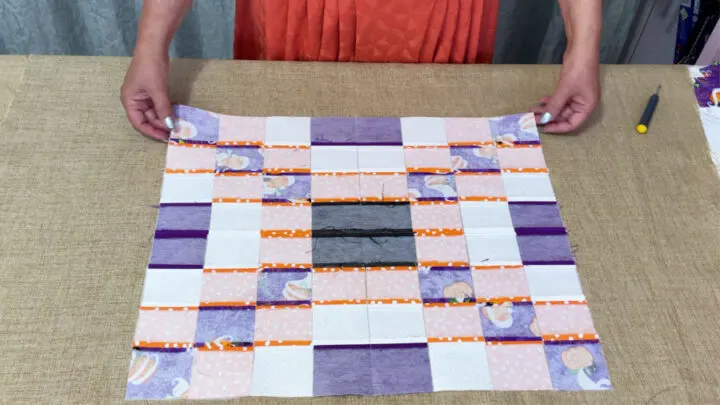 Step 5. Sew rows of squares perpendicular to the already sewn rows
Now it's time to sew the remaining rows. To do this, simply fold down the first row so that the right sides are together with the sheet, and then sew along the fold in the same manner as you did with the previous rows. Work your way across the whole piece until all of the rows have been sewn.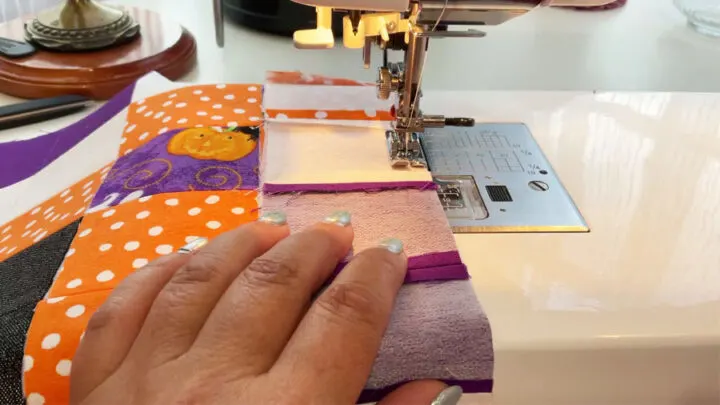 It's very important to keep the same seam allowances over the entire piece.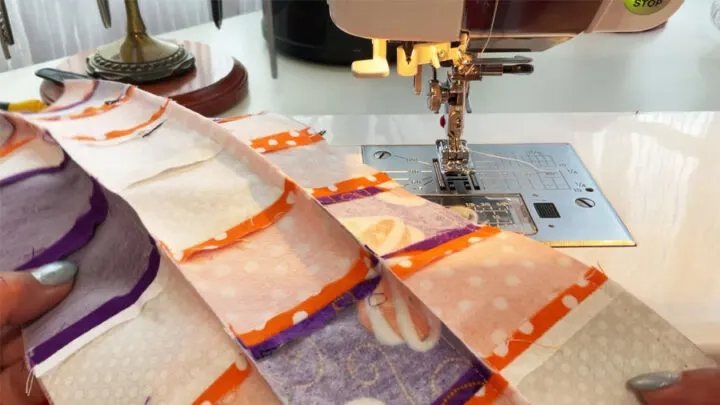 Step 6. Press the seams
These seams don't need to be open. Press them on one side all in the same direction. Use a finger presser first and after that, press with an iron. It's better to do it from the front side of the block.
And this is the result. Now you can see that all squares in this quilt block are exactly the same size and the corners are perfectly matched.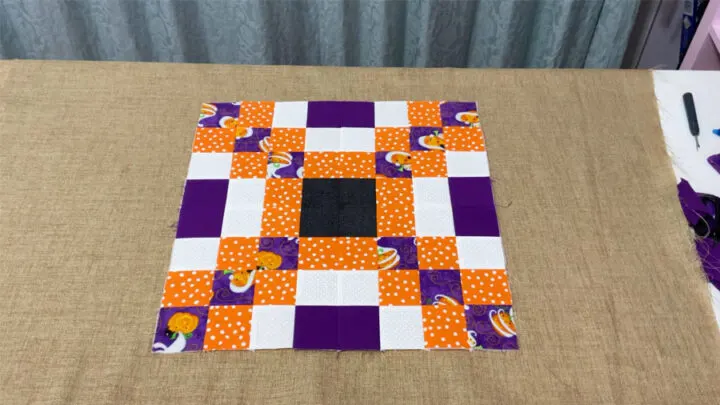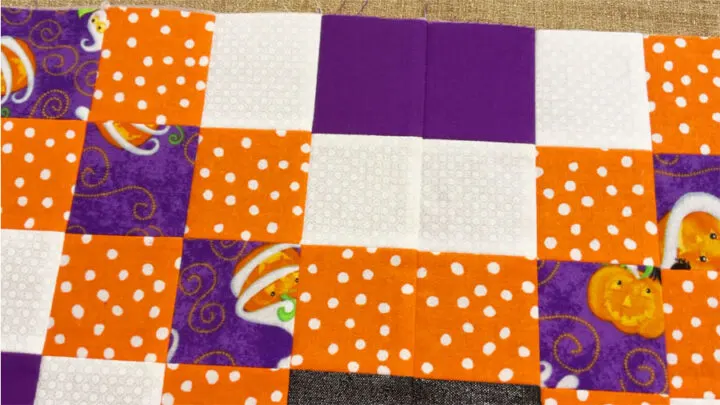 In conclusion: Now that you know how to sew the quilt squares together that have matched corners, you can use this same method to make other quilt blocks, too. With a little practice, you'll be able to use this method to make any kind of quilt block you want, and your quilts will be better than ever before.
By the way, what fabric do you use for your quilting projects? I have a guide that covers everything you need to know about quilting cotton fabric, from thread count and fabric weight to pre-washing and using it in all kinds of sewing projects: Quilting Cotton: The Essential Fabric for Quilters.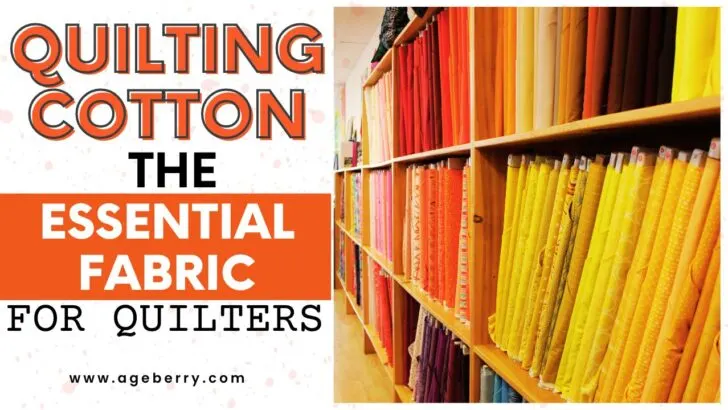 ---
Did you find this tutorial helpful? If so, save this pin (see below) on your sewing board so you can come to this tutorial later when you need this information on how to sew quilt squares together and follow me on Pinterest for more tips, tutorials, and inspiration!
---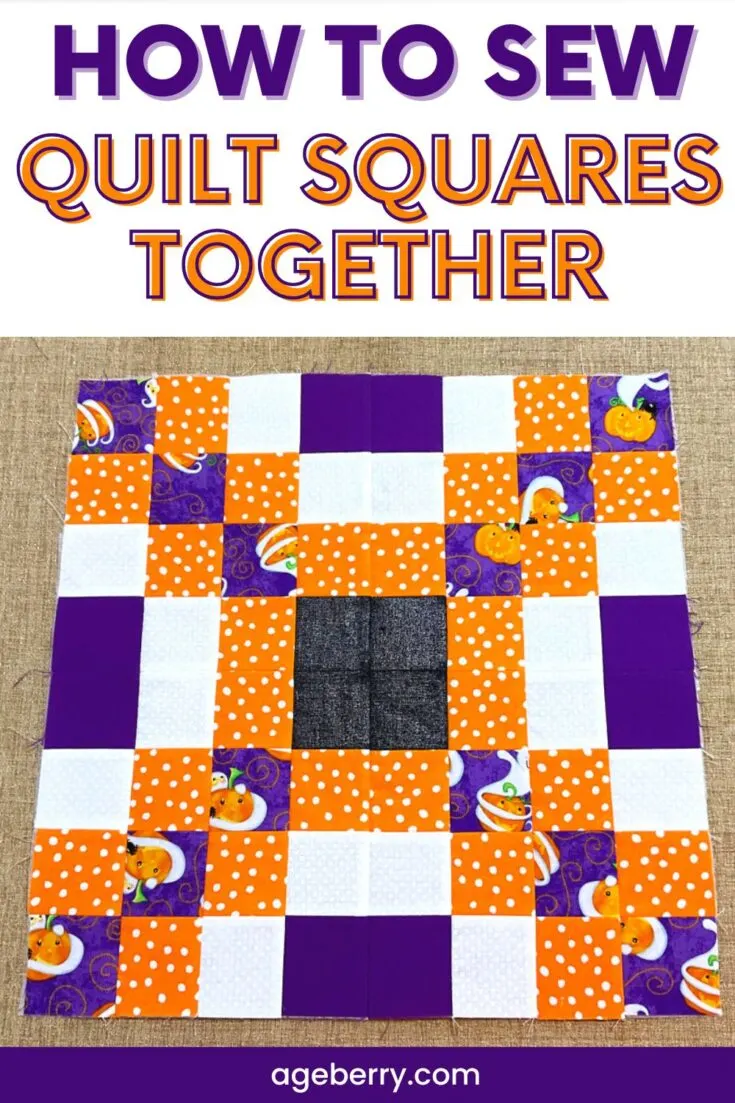 ---