Learn everything you need to know about heat-resistant fabrics. Why do home sewists need to recognize and work with flame-resistant fabrics? You're about to find out.
A few years ago I was in Joann Fabrics for some supplies and noticed a few 100% cotton flannel fabrics with adorable prints on them. As I was looking at the cute animals, adorable colors, and well, cute everything, I was thinking about how these fabrics would be perfect for baby clothes.
Until I noticed a warning on every single bolt that read "not intended for children's sleepwear." Huh? These prints were clearly geared towards very young children – and what do babies and young kids do? They sleep!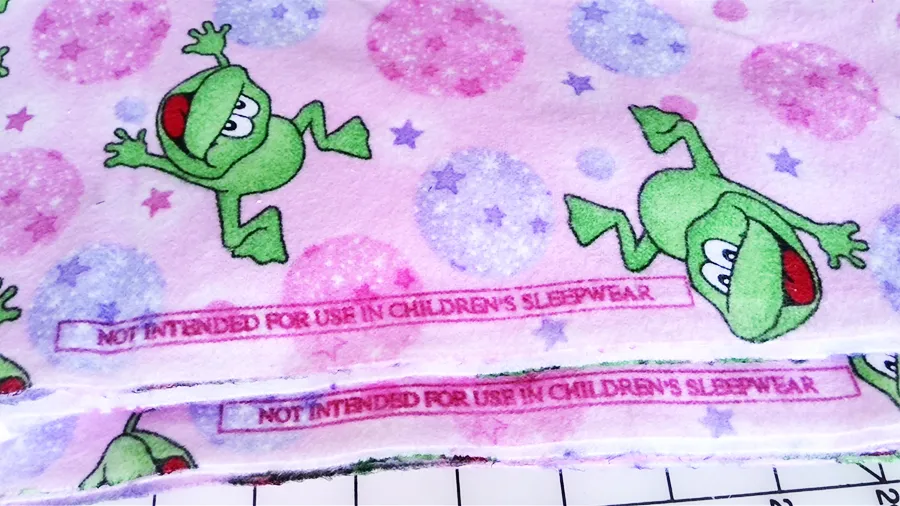 I couldn't figure out why these adorable prints would have that warning on them. So I did a little more investigating, and what I found out was fascinating. In fact, it's so interesting – and important to know – that I'm sharing it with you in today's guide on fire retardant fabrics.
Disclaimer: I have no legal or fire safety training and do not intend for my personal opinions to be taken as any kind of professional or legal advice.
Flame Retardant Fabrics vs Heat Resistant Fabrics
If you're like me, you may be wondering "what is flame retardant fabric" or "what are heat resistant fabrics." I certainly was – I mean, I know what 'heat resistant' means, but what I didn't know was how the term relates to fabrics and what does it mean for me as a sewist?
First, let's go over the difference between the terms. They sound (and are) similar, but there are definite differences that anyone who works with fabrics should know.
Heat Resistant Fabric – This term means the fabric provides thermal insulation. Heat-resistant fabric offers some protection against extreme temperatures.
Flame Resistant Fabric – Flame-resistant fabrics are those specifically made with naturally nonflammable fibers (such as polyester) to help prevent the spread of fire. These fabrics are not produced with 100% flame-resistant materials, so they can burn but will do so slowly and possibly self-extinguish.
Flame Retardant Fabric – these fabrics are chemically treated to make them slow burning or self-extinguishing.
Using Heat Resistant Fabrics
Industrially, these fabrics can be used in several different ways. Heat-resistant fibers can be used to make coveralls and bibs, blankets, outerwear, and even heat-resistant clothing. For people who work in conditions that could expose them to dangerously high temperatures, these fabrics can act as a protective measure.
What Home Sewists Need to Know about Fire Resistant Fabrics
What about at home? Most people who don't normally work with high temperatures probably only think of flame-resistant fabric at home when it comes to children's sleepwear. In order to understand why we need to take a look at the history of the problem and the government regulations put in place.
Back before the 1970s, children were getting burned and (in some cases) dying from fires when they would get up and roam unattended while their parents were sleeping. The Consumer Product Safety Commission (CPSC) created regulations in 1972 stating that children's sleepwear purchased from stores was required to be fire resistant in clothing sizes 9 months to 14 years.
Once the CPSC instituted these flame retardant sleepwear regulations, those injury numbers dropped significantly. However, the chemicals used to treat those fabrics were found to affect children's DNA. So in 1996, the regulations were changed to allow for sleepwear to be made from natural fibers, like cotton, as long as the pajamas were tight-fitting (loose, baggy PJs were more likely to catch fire).
That's the condensed version. If you want to learn more, check out the CPSC website.
So, this is what I learned about using/not using 100% cotton flannel fabric for children's sleepwear:
You can use it for kids younger than 9 months old. CPSC website says this: "The rules cover all children's sleepwear above size 9 months and up to size 14".
You can't make PJs and other sleepwear for children from 100% cotton flannel TO SELL (think about liability!)
If you decide to make it for your own kids – make it tight fitting, absolutely no loose fitting PJs. That can be a problem though – tight-fitting clothes are made from stretchable knits, not from woven flannel. But you have to make sure that there isn't excess air space between the clothing and the skin. Here is what the CPSC paper says about it:
"Tight-fitting sleepwear garments must

(1) not exceed the maximum dimensions specified in the regulations for the chest, waist, seat, upper arm, thigh, wrist, or ankle;

(2) have no fabric ornament or trim, such as lace or ribbon, which extends more than ¼ inch from the point at which it is attached to the garment;

(3) have sleeves that taper from the shoulders to the ends of the sleeves

(4) have pant legs that taper from the thighs to the ends of the pant legs;

(5) if they are 1-piece, taper from the chest down to the waist and from the seat up to the waist;

(6) if they are 2-piece,

(a) have an upper piece that tapers from the chest to the bottom of the piece,

(b) if the upper piece has fastenings, have the lowest fastening located within 6 inches of the bottom of the piece, and

(c) have a lower piece that tapers from the seat to the top of the piece;

(7) bear a permanent label stating size of garment.

(8) bear a hang tag alerting buyers that the garments are not flame-resistant and should be worn snug fitting because loose-fitting garments are more likely to catch fire

(9) comply with all of the flammability requirements for clothing textiles and vinyl plastic film."
4. I absolutely don't like using either polyester fabrics or chemically treated cotton fabrics for kids (or anyone for that matter). What could happen? Yes, these garments are less likely to catch fire. But just imagine kids wrapped in layers of polyester as they absorb all those nasty chemicals while they sleep. I think that constant exposure to toxic chemicals is more of a hazard than the chance of a fire. I would use organic cotton fabric whenever possible, not woven flannel but 100% cotton knit fabric. Make sure the PJs are tight fitting. And don't forget to install smoke detectors.
Related Post: The Chemicals We Wear Everywhere
Related Post: Organic Cotton Benefits
One example of absurdity is connected to this topic. Some time ago I bought this pattern Butterick 4910. It's PJs and nightgown patterns for kids.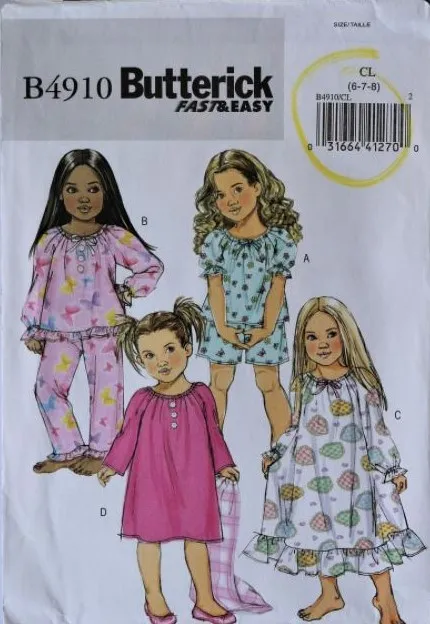 And what do you think I found on the back of the envelope in bold? "Note: Garments in this pack are not intended for sleep apparel"! What? PJs and nightgowns are not for sleeping?! Crazy, isn't it?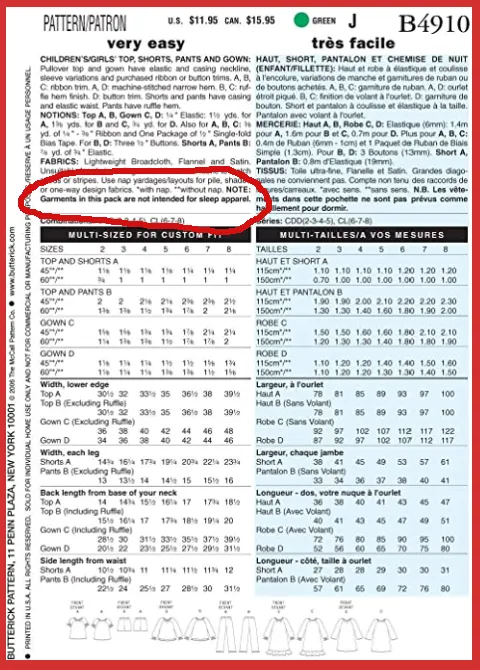 Note: Some of the links on this page are affiliate links. This means I will receive a commission if you order a product through one of my links. I only recommend products I believe in and use myself.
Flame Resistant Fabrics for the Home
Children's sleepwear may be what many people think of when it comes to flame-resistant fabrics in the home.
There are several other items in the home that a sewist may make and should use heat and flame-resistant fabric for including drapes, potholders, hot pads, oven mitts, lampshades, and ironing board covers.
You can find and purchase these fabrics online on Amazon and other fabric store sites or at Joann Fabrics. Make sure to read labels carefully if you want to purchase heat-resistant fabric for your projects to verify you are buying the product you intended to…
Here are a couple of examples of heat and flame-resistant fabric that you can buy and use.
Therma-Flec
Therma-Flec is a heat-resistant fabric mostly made of 100% cotton batting material and is heat resistant up to 360 degrees Fahrenheit. You can find Therma-Flec fabric on Amazon and Etsy. It's a common fabric for:
Hot pads
Oven mitts
BBQ accessories
hot dishes
Ironing boards or ironing board covers
Homemade costumes
Many different craft applications
Insul–Bright
Insul-Bright is a common flame-resistant fabric that's been around for quite a while. It's made with hollow polyester fibers and is machine washable and dryable. This fabric contains no glues or resins, and you can cut it to size when working with it.
If you plan to use it for a high-heat purpose, consider using two layers of this fabric or layering it with standard cotton batting.
You can find Insul-Bright fabric at The Warm Company (the maker of Insul-Bright), in fabric stores, or on Amazon.
Therm fleece
I use Therm fleece for my projects that require heat-resistant fabrics. Them fleece is another heat-resistant material that is used for hot and cold insulation and provides protection from hot surfaces up to 340 degrees Fahrenheit.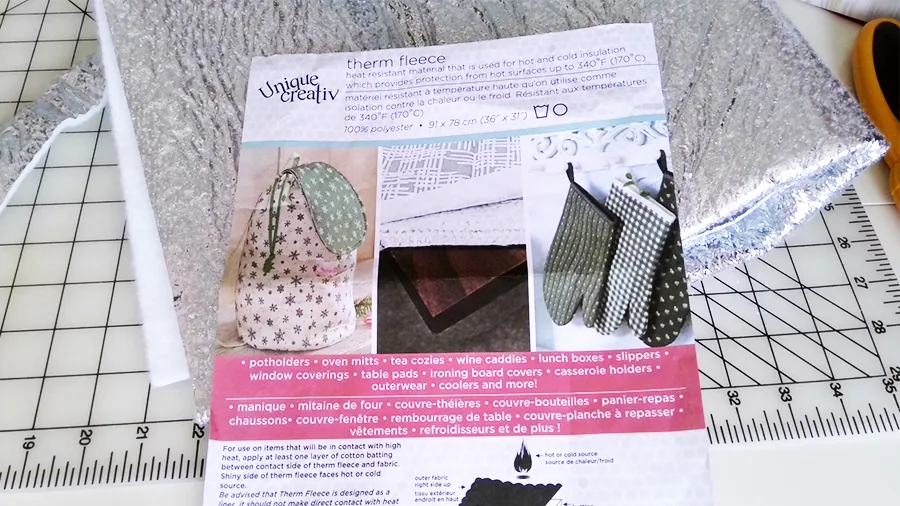 It's designed as a liner material and should not make direct contact with heat sources. It has white fleece on one side that allows for machine or hand quilting with dimensional effects and the silver lining on the other side that reflects heat back to the source.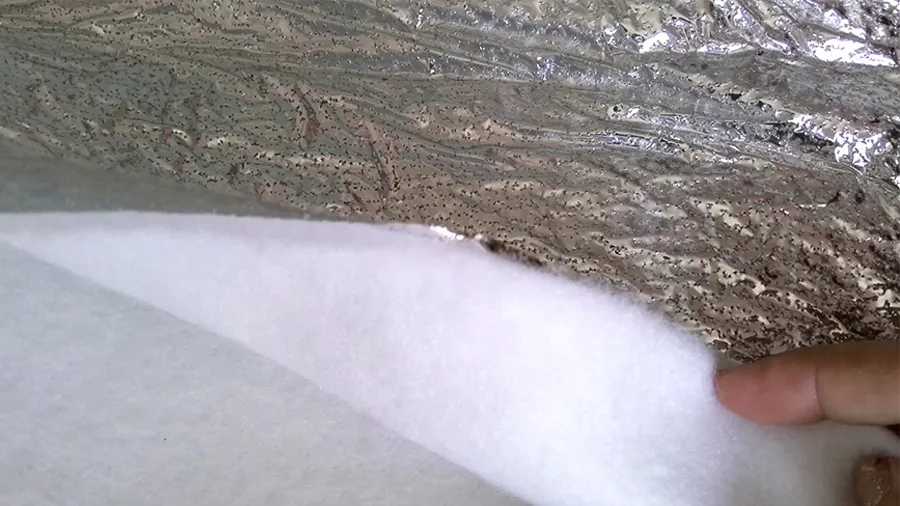 Note: For added flame protection to keep fires from spreading (or at least spreading quickly) in your home, you can purchase fire retardant spray to spray on your lampshades, drapes, etc. That way you can use cotton or other more flammable fabrics for those items but still have that flame-resistant benefit.
Flame Retardant Fabric FAQs
It's only natural to have questions when you read about a topic like this one. I certainly did! Here are some of the most common questions I've seen and their answers.
Which Fabric Can Withstand High Temperatures?
For industrial purposes, fabrics that can withstand high temperatures include wool, Kevlar, silica, and some other special textiles. Home sewists likely won't use these fabrics, with the exception of wool. Instead, look for fabrics coated with silicone, ceramic, neoprene, or refractory.
Is Cotton Heat Resistant?
Naturally, no, cotton is not heat resistant. However, once treated with a flame retardant, it becomes heat resistant – although I wouldn't willingly hold it next to a flame to test it out!
What Fabrics are Non-Flammable?
Polyester, wool, nylon, and silk are generally flame resistant due to the structure of the fabrics and the way they're woven. They usually don't need to be treated with special chemicals. Nylon, polyester, wool, and silk are all generally self-extinguish and difficult to ignite.
Is Wool Fire Resistant?
Yes, due to the natural structure of the fabric and the way it's woven.
Can 100% Cotton Batting be Used in the Microwave?
Yes. Note that when creating products to use in the microwave, they need to be made of 100% cotton, batting, and thread. Because synthetic fabrics are artificially produced, they can have varying levels of plastic in them which will melt in the microwave.
Is Cotton Batting Flammable?
Naturally, yes, it's very flammable. However, when treated with a fire retardant, it becomes much more flame resistant.
Will Polyester Melt in Microwave?
Polyester is a synthetic fabric that contains some level of plastic. So what happens when you put polyester in the microwave? It will melt. For this reason, it is not considered safe to microwave polyester, acrylic, nylon, or spandex.
Can You Use Flannel for Potholders?
Yes. 100% flannel or 100% wool is good for potholders, and make sure to use several layers.
What is Insul-Bright Used For?
Insul-Bright keeps cold foods cold and hot foods hot. You can use Insul-Bright for many different projects, including potholders, ironing board pads, lunch bags, shopping bags for cold/freezer foods, and coffee cup sleeves.
Is Insul-Bright Washable?
Because it's made with hollow polyester fibers, Insul-Bright is machine washable and dryable, and heat-resistant. However, keep in mind that this fabric isn't heat-proof. So if you're using it for high-heat projects like a potholder or ironing board cover, make sure to add at least one layer of cotton batting. Because this material doesn't shrink, you don't need to prewash it.
Is There a Right and Wrong Side of Insul-Bright?
No, there's not! You can use it with either the dull side or the shiny side out.
Can Insul-Bright go in the Microwave?
No, because Insul-Bright contains metal fibers.
If you've never used heat-resistant fabric before, there's no time like the present. Will you start by making a hot pad, or a potholder? I did! Here are my potholders. I made them with my embroidery machine. I used Therm Fleece to make them.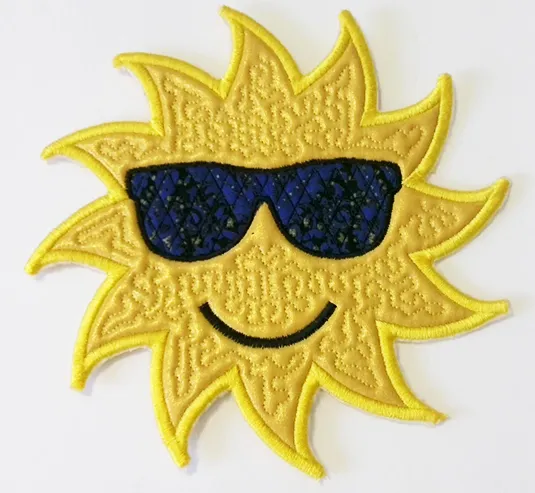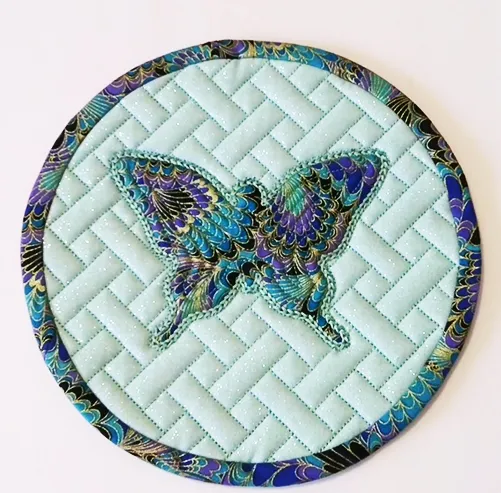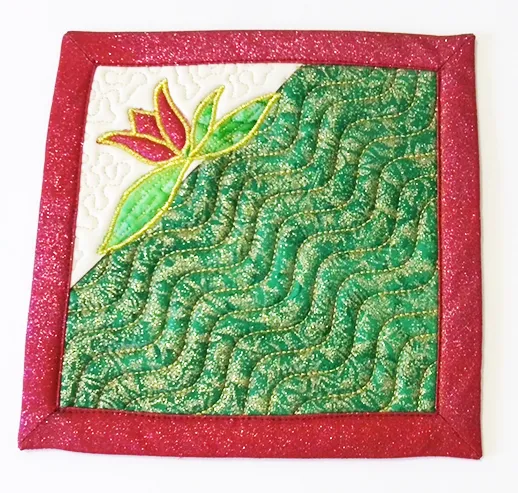 I don't know about you, but noticing that warning on those cute bolts of fabric became an eye-opening, learning experience for me! Try to learn something new every day, right?
Did you find this tutorial helpful? If so, save this pin (see below) on your sewing board so you can come to this tutorial later when you are ready to use heat-resistant fabric, and follow me on Pinterest for more tips, tutorials, and inspiration!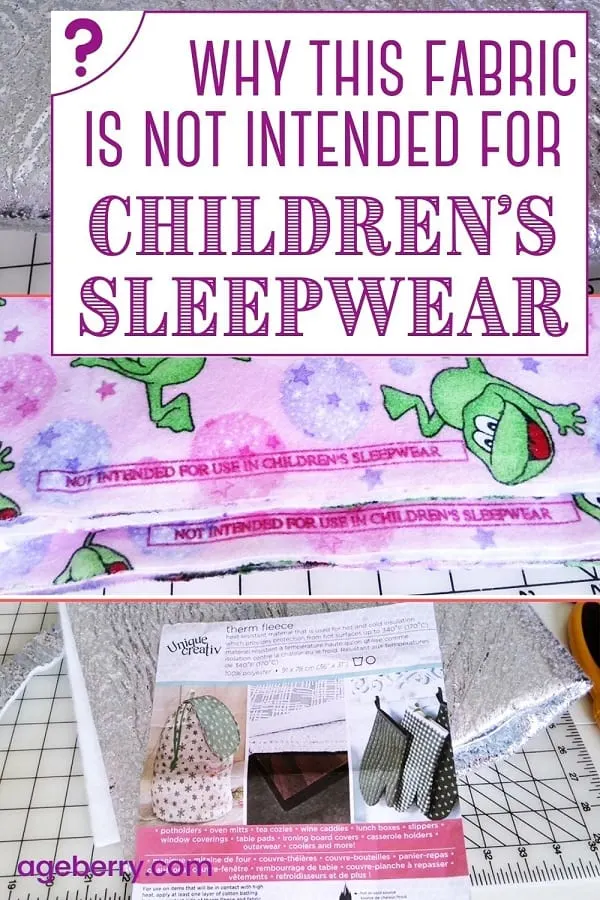 Addition: I have received a number of comments and suggestions on this article, indeed this is an interesting subject.
Diane B. had a very interesting addition to which I have to say that my common sense tells me to agree:
I've always had problems with chemically laden fabrics, for all human beings. The fire-resistant fabric worst of all. I asked my uncle, a fire chief, and other firemen: "Won't the smoke get to the children before the fire?" YES. Smoke kills more children than fire does. (for example) We insist on having infants in raised cribs, but the safest place for them is a lowered crib, where the smoke takes longer to do any harm. They also curse the retardant fabric, which gives off odors that could damage delicate lungs (even without a fire). Cheap cribs give off dangerous fumes… think of all the Items in a room where the child sleeps. Any of it, burning, will harm the child long before the pajamas catch fire. That's from a fireman's perspective. People just don't see the big picture anymore. Trust yourself to THINK, rather than letting the companies protect you with "safe" fabrics. It takes a Parent to protect a child, not a company. We don't trust ourselves to think anymore.
Thank you, Diane! I fully agree we should find other ways of protecting our kids, poisoning them to protect them from another danger is not the solution!
---