Cording Foot – what it is and how to use it
In this video sewing tutorial I will show you how to use a cording foot for sewing an elastic cord and making decorative trims.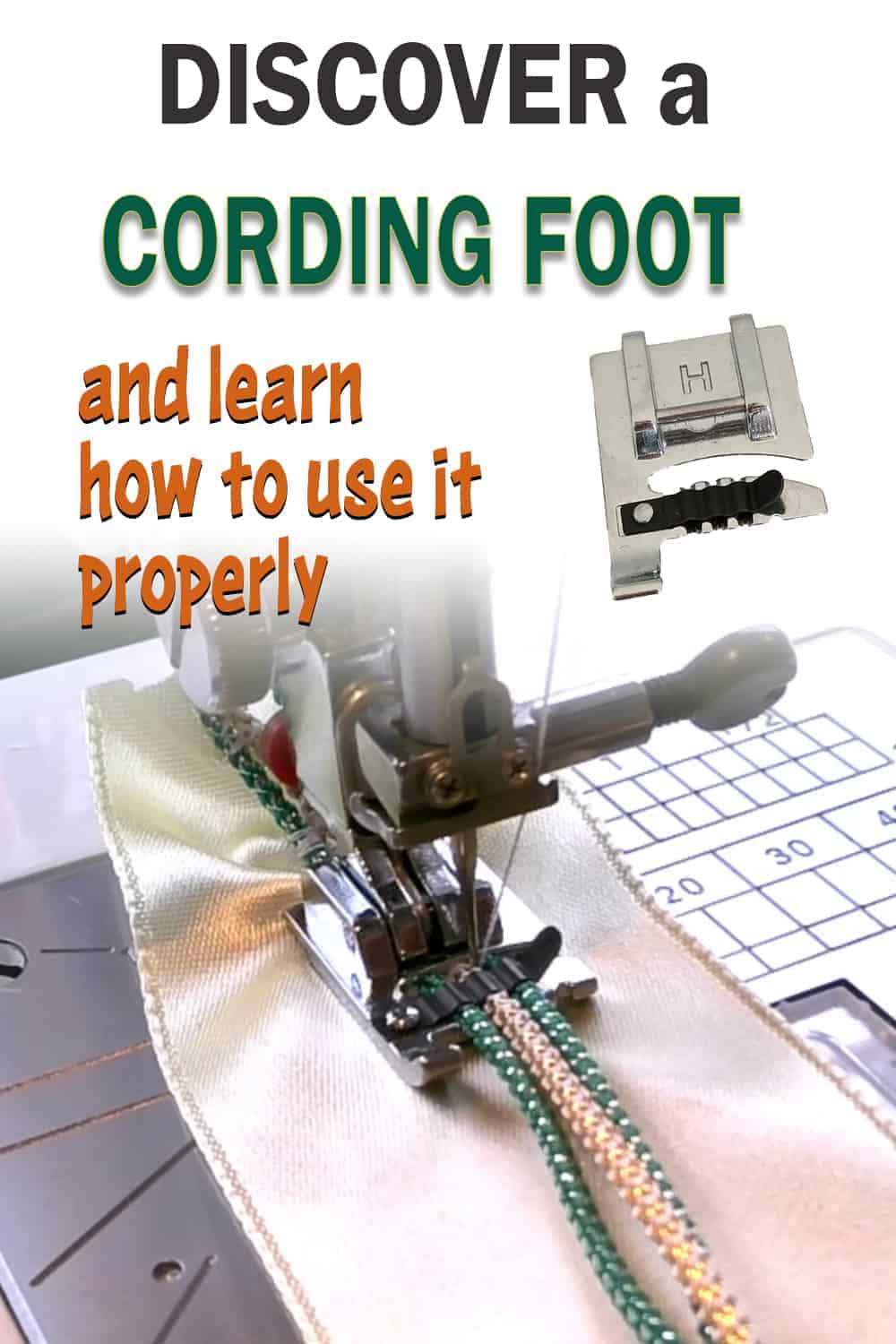 What is the cording foot?
I use  cording foot H mostly – it's from Janome, but there are other brands and types available. This one is a 3-way cording foot for attaching 1,2 or 3 cords. The foot has grooves on the front and on the back where the cords can be inserted. There is also a small metal bar to fix the cords so they don't move and stay right under the needle. 
This is a snap-on presser foot so attaching it to the sewing machine is really easy and it's good for any low shank machine that takes snap on feet – including Brother, Babylock, Elna, Janome, Juki, etc.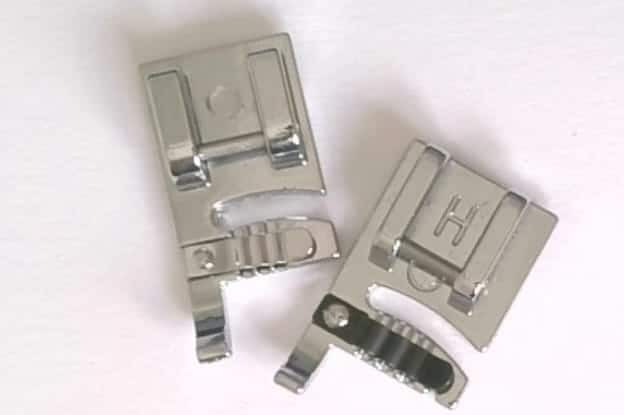 What does a cording foot do?
I am going to use the foot for attaching an elastic cord for the waistline of the dress I am making for my friend. 
I just place the cord into the center grove and bring it behind the foot. 
Note: Some of the links on this page are affiliate links. This means I will receive a commission if you order a product through one of my links. I only recommend products I believe in and use myself.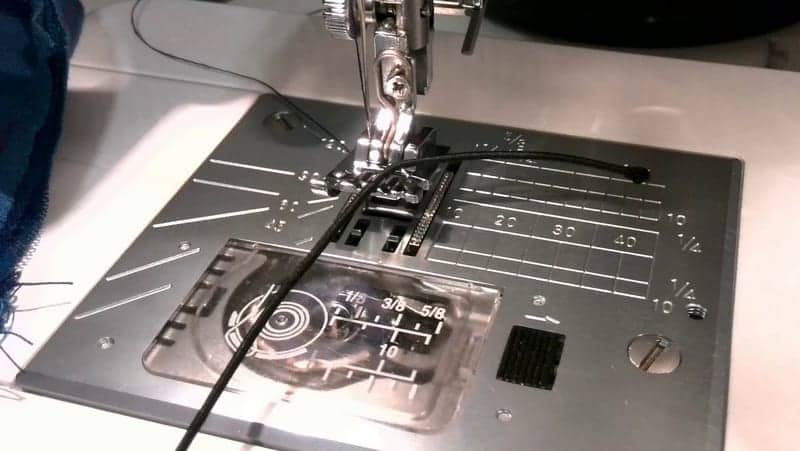 Buy elastic cord here
Bingcute 1.0MM White Beading Elastic Cord, 100 Yard (White)
as of February 26, 2021 8:17 am
Features
elastic cord Beading Cord
Beading Cord Great for any craft project.
100-yd spool. 1.0mm thickness Beading Thread
Good For Beads For Kids
100% Satisfied, If Not Full Refunds Without Asking
100 Yards 2 mm Elastic Cord Stretch String Elastic Beading Cord Craft Thread for Jewelry Making (Black)
5 used from $8.99
Free shipping
as of February 26, 2021 8:17 am
Features
Quantity: 1 roll (100 yards); Each roll of elastic cord measures 100 yards in length, and the cord is 0.08 inches in width, suitable sizes for jewelry making and so on
Flexible: elastic cord made of polypropylene fabric is of good elasticity, you can cut them into various lengths according to your needs
Paper spool: elastic cord comes with a paper spool, so it is easy to use, wrap the cord around the spool can help to keep them organized, which is convenient for your next usage
Wide usage: can be applied as hair bands, travel notebook wrapper, decorations, etc. or you can use stretch string to making bracelets, toys, keychain ring, necklaces and other DIY craft projects
Note: be careful of the risk of entanglement; 100 Yards' elastic cord can meet your basic needs for making crafts and so on, good as DIY supply
Outus 1 mm Elastic Cord Beading Threads Stretch String Fabric Crafting Cords for Jewelry Making (Rainbow, 100 m)
2 new from $8.99
1 used from $6.12
Free shipping
as of February 26, 2021 8:17 am
Features
Suitable for making your own elastic bracelets and necklaces
Can also be applied as organizing cords
Stretchy elastic cord covered with fabric
Color: rainbow; Length: 100 m/ 109 yards; Diameter: 1 mm
Suitable for DIY crafts
What stitch to use? I will use a regular zigzag stitch. Just make sure the width of the zig zag stitch is big enough for the cord so the stitches are not catching the cord but just go over it. 
I use this kind of elastic quite often, for waistline seams mostly, and without this foot it's almost impossible to sew over the elastic cord without catching it in the seam. But with the foot you can insert the elastic cord fast and easy.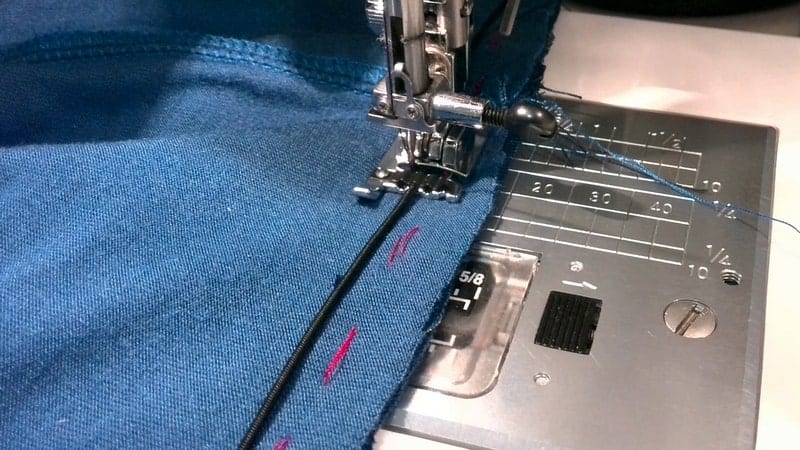 After you are done with stitching pull the cord to gather the fabric, adjust it as you want it and secure the cord by tying the ends with a knot. 
This how it looks like in the end – this kind of waist seams is really comfortable and very simple to make.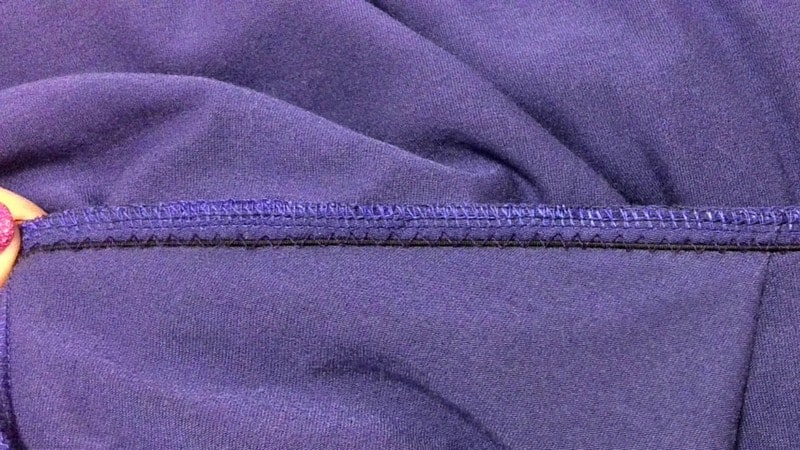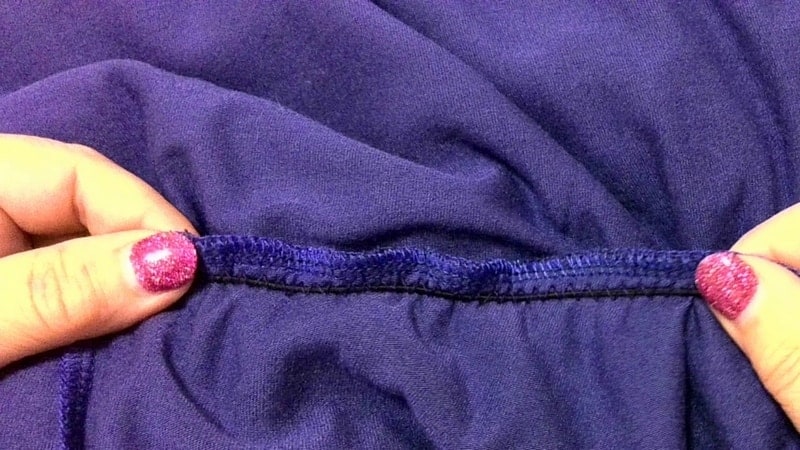 This foot is good not only for elastic, it can also be used for decorative sewing. For example, I can easily transform a plain ribbon to the fancy one.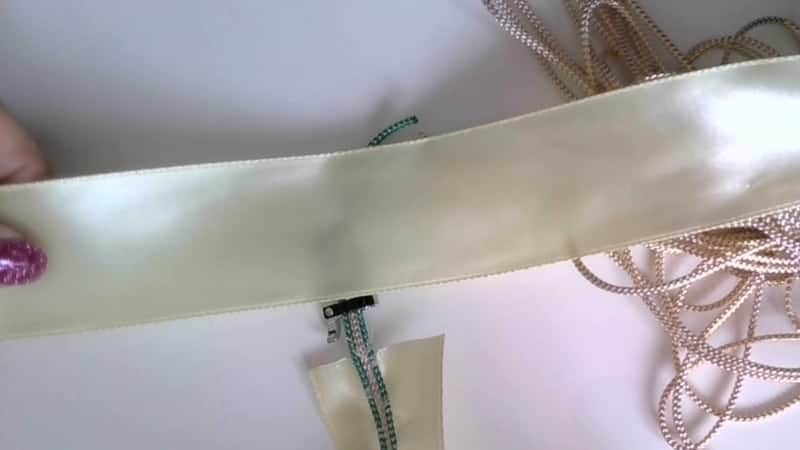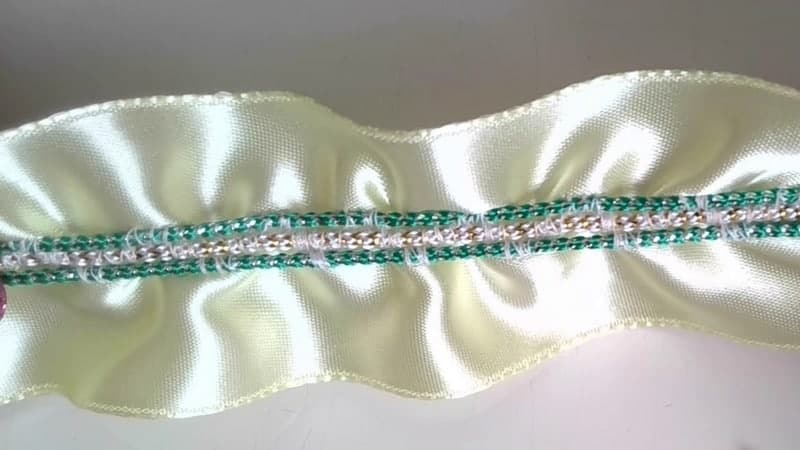 Just use some nice cords. The cords have to be thin enough to go to the grooves on the top of the foot. You can choose multiple colors that go well with each other, or use the same colors (I use two green and one yellow with some gold threads in them). 
Select a special stitch – this one. Each cord has to be attached to the fabric.  Experiment with different stitch widths and lengths.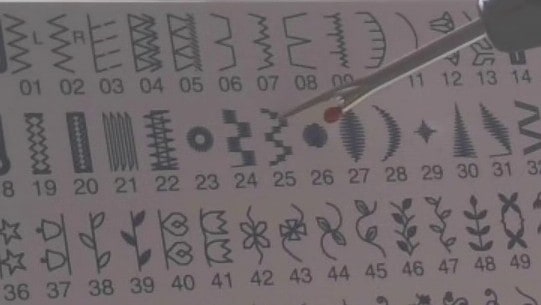 Insert the cords one by one into the foot before you put it on the machine. Load the left cord first, then the center cord and finally the right cord. 
Snap it on and start sewing. Make sure that the cords that lie in front of the foot are not twisting. Keep them aligned so they feed smoothly and don't pull them. But the cords can't be twisted if they are already in the foot – cording foot eliminates tangling. 
You can mark the fabric so you see where you need to place the cords. Sew slowly to prevent mistakes because it's not easy to correct them. You can see that the cords lie perfectly flat and parallel to each other.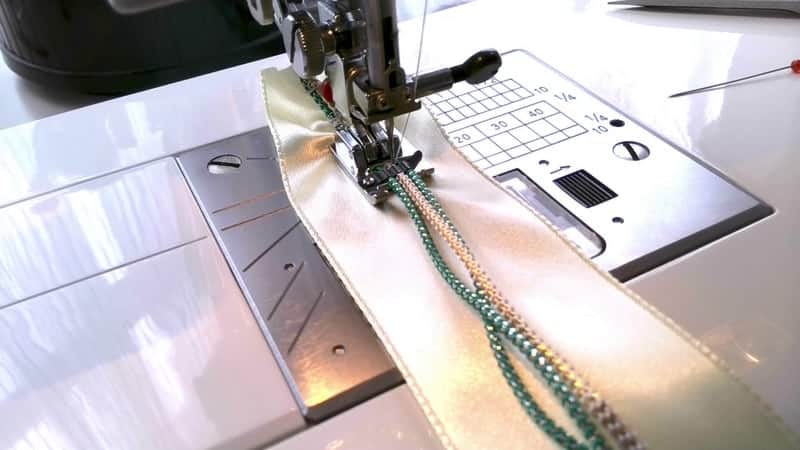 But a cording foot here
SINGER Sewing Machine Cording Snap-On Presser Foot for Low-Shank Sewing Machines
3 new from $14.99
Free shipping
as of February 26, 2021 8:17 am
Features
The Cording Snap-On Presser Foot is used to add surface embellishment to fabrics with cords, thin braids, embroidery floss or yarn. Experiment with decorative stitches and cord types for ultimate creativity.
The Cording Foot may also be used to gather fabrics!
Genuine SINGER Accessory in carded blister pack.
For use with low-shank sewing machines, including brands Babylock, Bernina, Brother, Elna, Euro-Pro, Husqvarna Viking, Janome, Juki, Kenmore, Necchi, New Home, Pfaff, Simplicity, White.
Downloadable instructions and video tutorial available on this product page!
Janome 3-Way Cording Foot for #200345006 Horizontal Rotary Hook Models
out of stock
as of February 26, 2021 8:17 am
Features
3-Way Cording Foot For #200345006 Janome Horizontal Rotary Hook Models.
The 3-way Cording foot will hold one, two or three fine cords or threads. Because they are attached to the foot, the required design can be easily followed and the cords are perfectly places. A variety of utility or decorative stitch can be sewn over the cords to couch them onto base fabrics. The choice of cord, thread, and stitch are all contributory factors to the final effect.
Fit Janome Models : 49018, 5812, 6100, 712T, 8077, DC1050, JNH7700, MC6600P, MC6500P, 6300P, Schoolmate S-3015, Classmate S-750, 712T, Jem Gold 660, JNH 720, Sewist 500, HD3000, Magnolia 7325, Magnolia 7318, Hello Kitty 15822, MyStyle100, DC1018, DC1050, Hello Kitty 18750, Magnolia 7330, Magnolia 7360, DC2013, DC5100, JNH2030DC, 3160QDC, 4120QDC, 5812, 8077, 49018, 49360, DC2012, DC3050, DC4030P, JW7630, DC2015, Schoolmate S-7330. Janome Model #200345006
Genuine Janome parts.
We "Cutex, Inc." are an authorized Janome dealer. All our Janome sewing products are ship from our shop located in New York.
Kalevel 3-Way Cording Foot Sewing Machine Presser Feet Fits for All Low Shank Snap-On Singer Brother Babylock Janome Elna Euro-Pro Simplicity White Kenmore Juki New Home and More (3 Holes)
as of February 26, 2021 8:17 am
Features
⭐ Functions -- Sewing cording foot allows you to attach thin cording, yarn or ribbon neatly and precisely to sewing projects. Besides, it can also be used for gathering and shirring fabrics.
⭐ Notch Design -- Notch in the presser feet can hold 1 to 3 fine cords or threads, eliminate tangling to ensure that cords lie flat and perfectly parallel to each other. (Cording diameter: less than 2mm)
⭐ Ease of Use -- High quality sewing presser feet provides users with ease of use for tasks they could be extremely tedious if done by hand.
⭐ Material -- Snap on pressure foot is made from durable metal, anti-rust, durable and bright in color.
⭐ Compatibility -- Low shank presser foot is compatible with most snap on Singer, Brother, Babylock, Euro-Pro, Janome, White, Juki, New Home, Simplicity, Necchi and Elna.
You can easily embellish fabric and ribbons by combining different decorative stitches with different color cords.  You can even use an invisible monofilament thread in the needle so the stitches over the cords will be invisible. 
Get more info on invisible thread here
YLI Corporation Wonder Invisible Thread Size .004 1,500 Yds: Clear
4 new from $5.92
Free shipping
as of February 26, 2021 8:17 am
Features
Wonder Invisible Thread Size .004 1;500yd-Clear
Gutermann Invisible Thread 274yd, Clear
14 new from $2.47
Free shipping
as of February 26, 2021 8:17 am
Features
Made in China
Package height :5.334 cm
Package length :2.54 cm
Package width :2.794 cm
Superior Threads - Monopoly Clear Spool - 2200 Yards
out of stock
as of February 26, 2021 8:17 am
Features
THREAD SPOOL: Features one 2,200 yard spool of Superior Threads MonoPoly 100% polyester thread that is extra fine at 0.004" (.1mm) in diameter (90 denier)
FINE THREAD: Superior Threads MonoPoly thread is extra-fine 100% polyester which makes the thread heat resistant, iron and dryer safe (medium heat), strong with low stretch, soft and pliable, and will not discolor or become brittle over time
INVISIBLE THREAD: Strongest invisible thread on the market, MonoPoly is commonly referred to as an invisible thread due to its fineness and reduced-sheen, great for the bobbin or top
PERFECT FOR CRAFTING: MonoPoly threads are great for quilting, appliqué, apparel, or wherever reduced sheen invisible thread is required
MACHINE USAGE: For best results with home machines, use Topstitch #70/10 needle - lower top tension; For best results with longarm machines, use #14 needle (MR 3.0) - lower top tension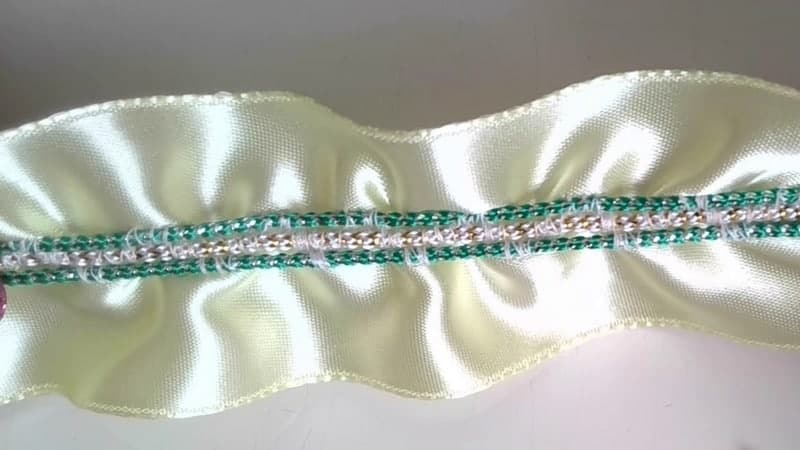 Cording foot H (that I have) doesn't have a screw and this black bar can't be adjusted but I see that the cording foot from Madam Sew kit has the screw on the left of the foot and you can loosen the screw when working with larger cord and tighten it when working with fine yarn.   
There are other types of cording feet available – with 5 or even 7 holes for cords/ yarn, but I don't use them because it seems to me it's not easy to manage 5-7 cords at once. 
Get more info on Madam Sew presser feet kit here
Madam Sew Presser Foot Set 32 PCS - The ONLY One with Manual, DVD and Deluxe Storage Case with Numbered Slots for Easy and Neat Organization
2 used from $55.19
Free shipping
as of February 26, 2021 8:17 am
Features
GREAT TO HAVE, GREAT TO GIFT, as seen in Threads Magazine Gift Guide. This 32-piece sewing machine presser foot kit puts all the most popular presser feet at your disposal without breaking the bank. Compatible with Singer, Brother, Janome, Husqvarna, Viking and Kenmore sewing machines, their superior design and top quality construction ensure long-lasting durability.
PRICED AT 50% OFF the retail price. 32 PIECE SET includes essential craft sewing presser feet for gathering, zipper insertion, darning, edge joining and more. Expand your possibilities and impress your family with homemade sewing crafts using our presser foot kit.
RISK FREE GUARANTEE ensures that you can return the Madam Sew Presser Feet Set if it is incompatible with your sewing machine. Universal Design allows Madam Sew Presser Feet to fit all popular low-shank sewing machines, with our included bonus adapter if required.
SNAP-ON INSTALLATION is quick, easy and hassle-free. Every Madam Sew Presser Feet Kit includes digital and printed full-color manuals that identify each presser foot and its uses. You will learn how to get the most out of every presser foot with our helpful manuals.
ORGANIZER CASE lets you quickly find the right attachment in a blink. This heavy-duty plastic case with its snap-locking lid protects pressers from drops and impacts by securing them safely in their own form-fitting recesses.
I also have sewing tutorials about other interesting presser feet I use almost daily. Check them out below. 
Did you find this tutorial helpful? If so, save this pin (see below) on your sewing board so you can come to this tutorial later when you are ready to use the cording foot and follow me on Pinterest for more tips, tutorials, and inspiration!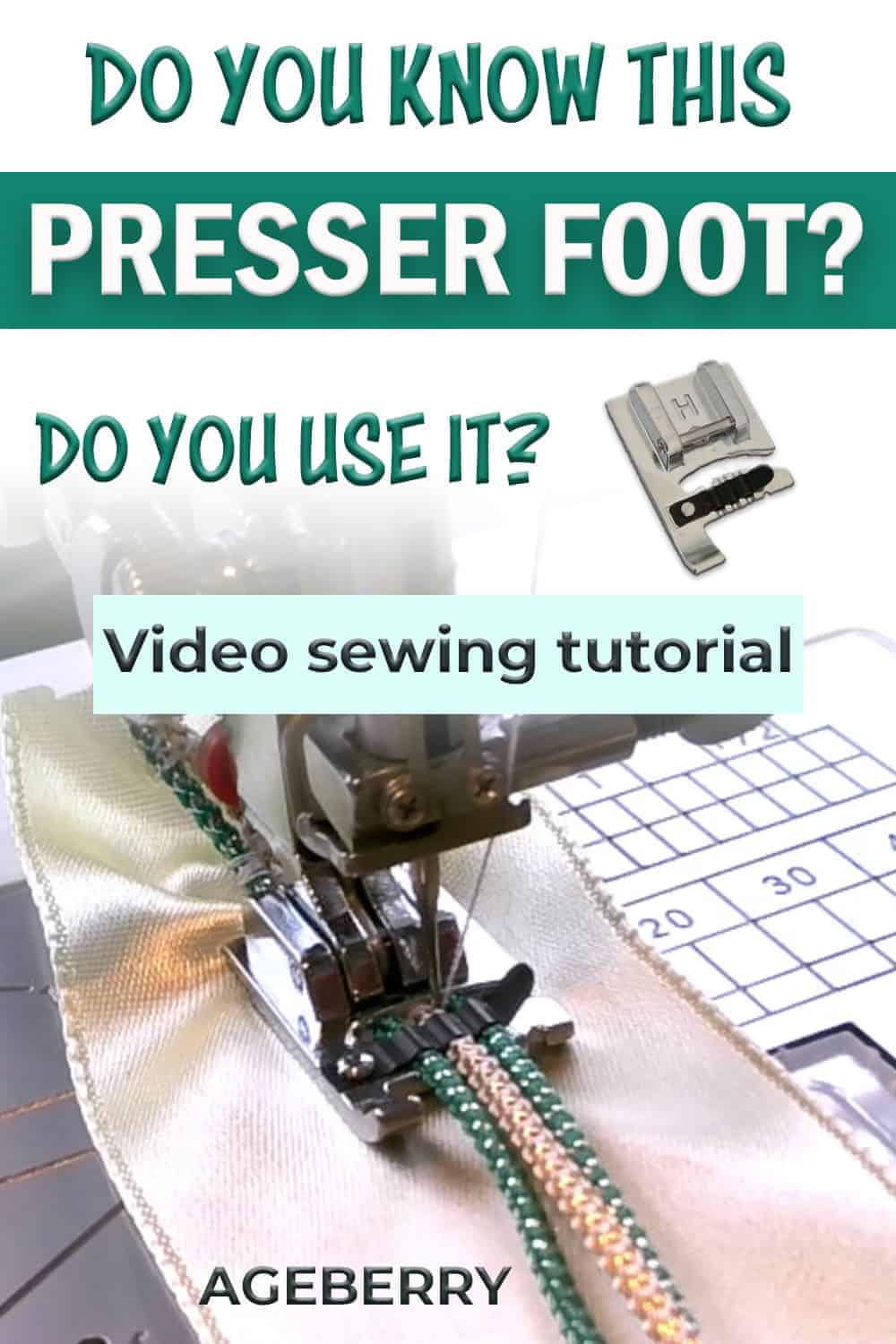 Ready to take the next step in your sewing journey? Check out more step-by-step tutorials from my blog and don't forget to share !