Stretch thread is a relatively new addition to home sewing even if it was used for much longer in industrial sewing. Stretch thread is a great help when sewing stretch fabric.
A printable version of this article which includes the pattern (if one exists in the article) is available in my Etsy shop or my site shop.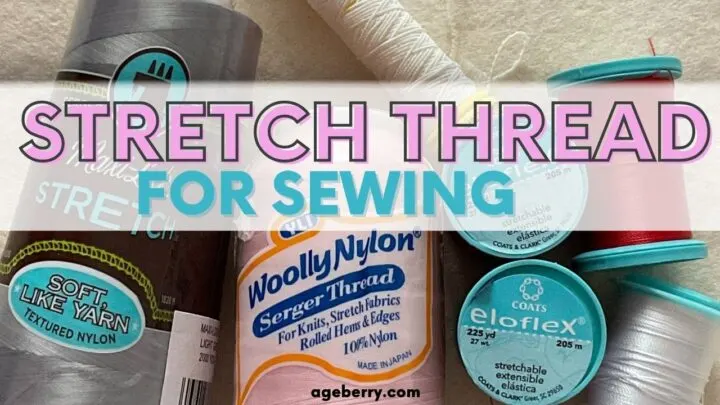 Note: Some of the links on this page are affiliate links. This means I will receive a commission if you order a product through one of my links. I only recommend products I believe in and use myself.
There are three types of stretchy thread for sewing
Elastic thread. This is in fact a thin piece of elastic, very similar to the regular flat elastic that we use daily. it's however circular and thin. This thread is not used for regular sewing but for shirring/gathering.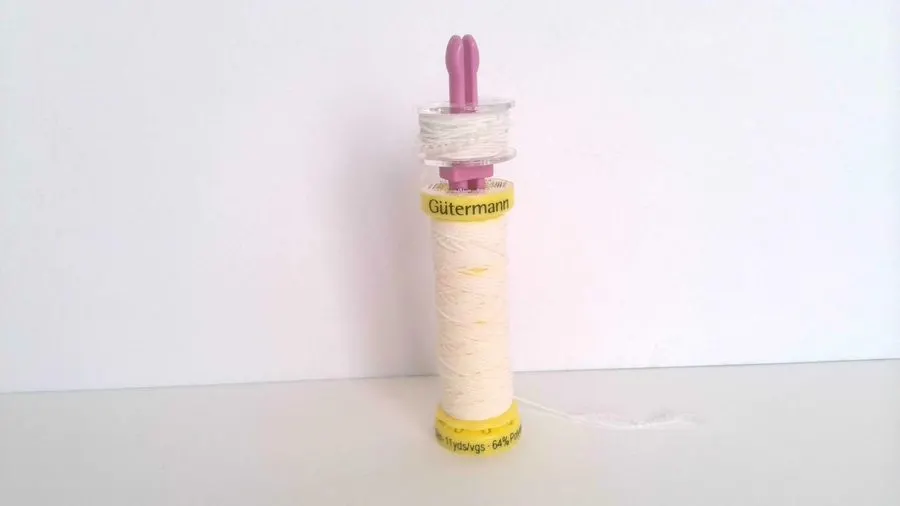 Wooly Nylon thread (or woolly)/ textured nylon. This is a thread that is stretchy because of its mechanical properties. The thread is thick and fuzzy, made out of individual fibers that are not fully extended unless the thread is under tension. This is often called "fuzzy nylon thread" because of course it's made out of nylon and it's fuzzy.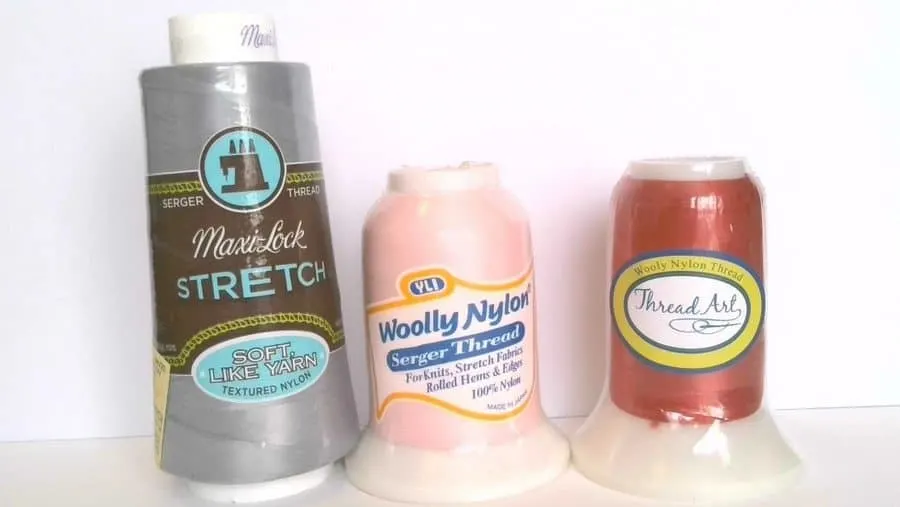 Eloflex thread. This looks like a regular sewing thread and behaves like a regular thread. What do they say, if it looks like a duck and quacks like a duck, then it's a duck. Same here: Eloflex stretch thread is a regular thread, just that it's stretchy.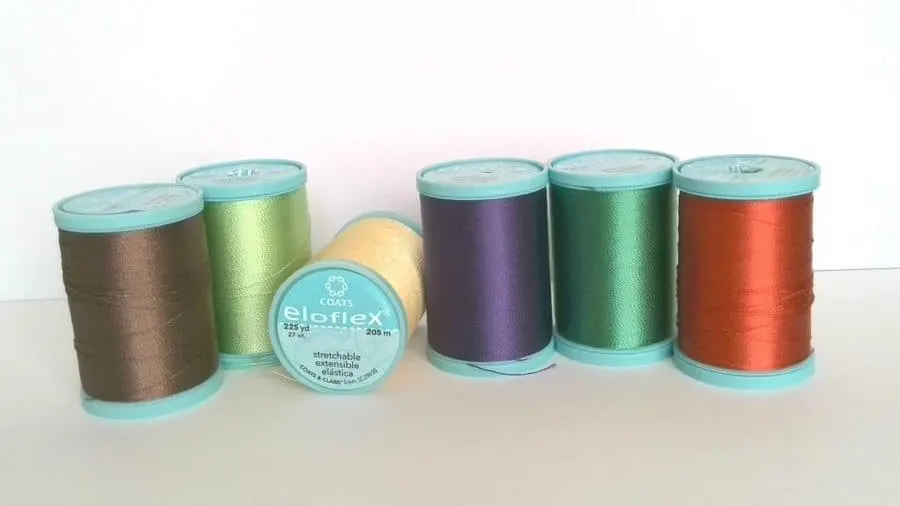 We will talk about each separately below and to make it easier, I will present each thread in a series of questions and answers.
Elastic thread
What is an elastic thread?
It's a thin round piece of regular elastic 0.5mm and thicker (0.75mm, 0.8mm, 1mm, 2mm, etc.). I have not seen this type of stretchy thread marked in inches, but for reference, 0.75mm is approximately equal to 1/32".
When to use elastic thread?
This type of thread is used for gathering (to create ruffles and frills) and for shirring (to create several rows of gathers in garment sewing)
I like to sew with elastic thread. Below you can see one of my creations made with elastic thread – a simple halter neck knit top. I made shirring in the back for tight-fitting.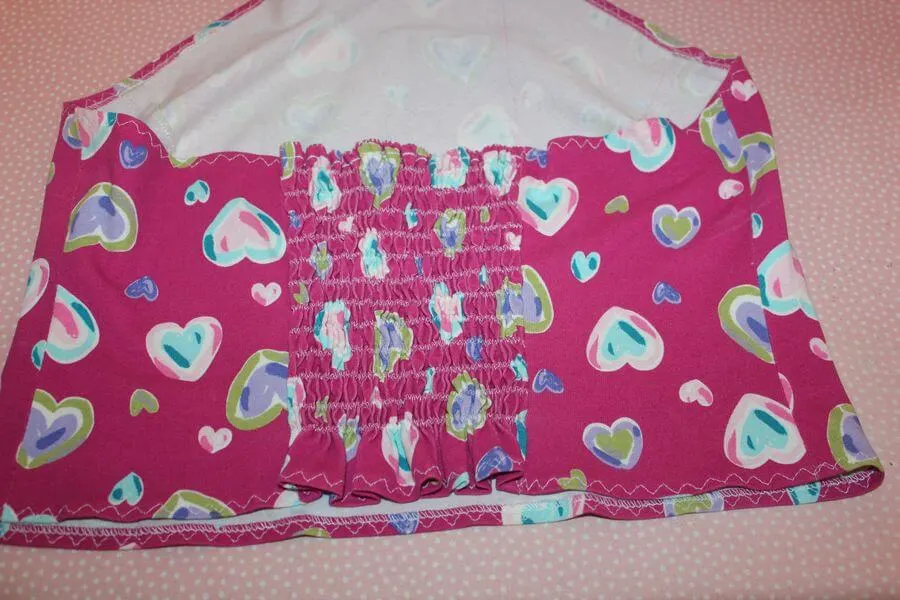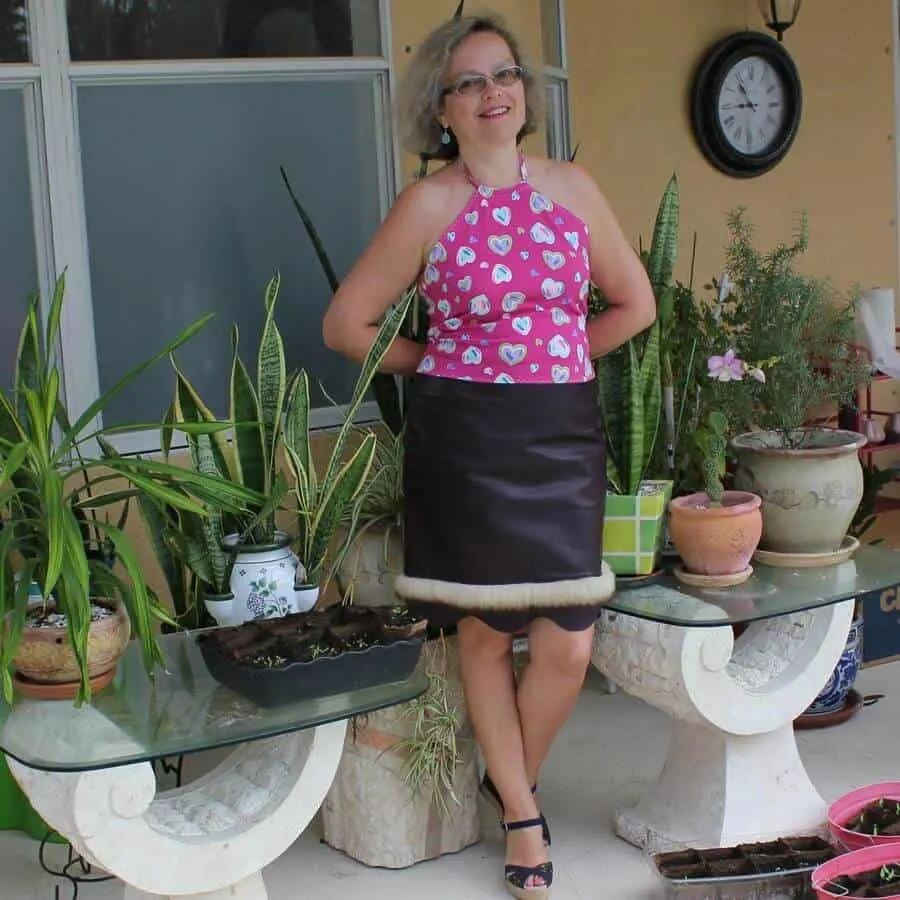 How to use elastic thread?
The thread is used for bobbin thread ONLY in a regular sewing machine.
Elastic thread is also used (under the name "elastic cord") to create bracelets, necklaces, and other crafts created with beads arranged together on a string.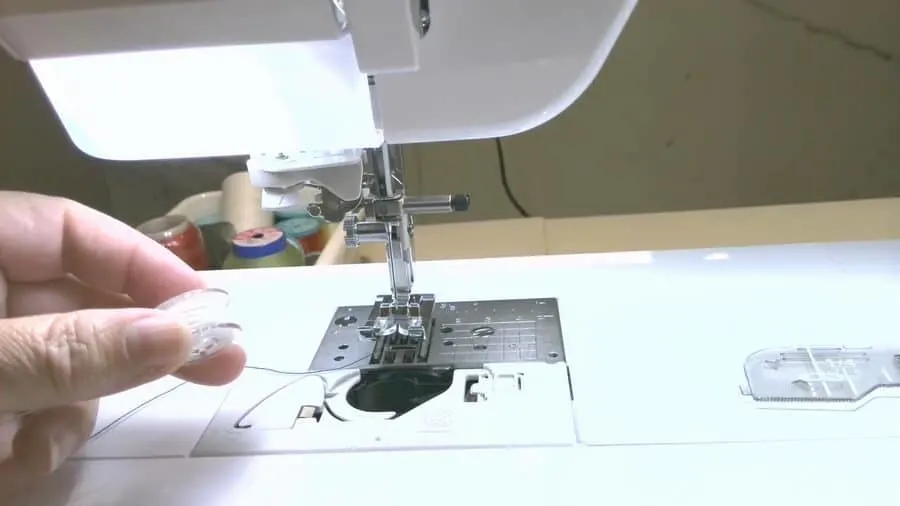 How to sew with elastic thread step by step
Thread the machine with regular thread in the needle.
Wind the bobbin manually with the elastic thread you need to use. If you want to know how to thread a bobbin by hand check out my tutorial "How to thread a bobbin".
Make sure the elastic thread is not stretched when winding. That is why the winding has to be done manually and not on a bobbin winder of your sewing machine.
Allow some length of elastic outside before starting sewing. 2" (5cm) should be enough.
Use a long stitch, 3 or longer. You can use a zig-zag stitch also but it's not common.
Prepare your project. The garment will be stitched in its "unstretched" position.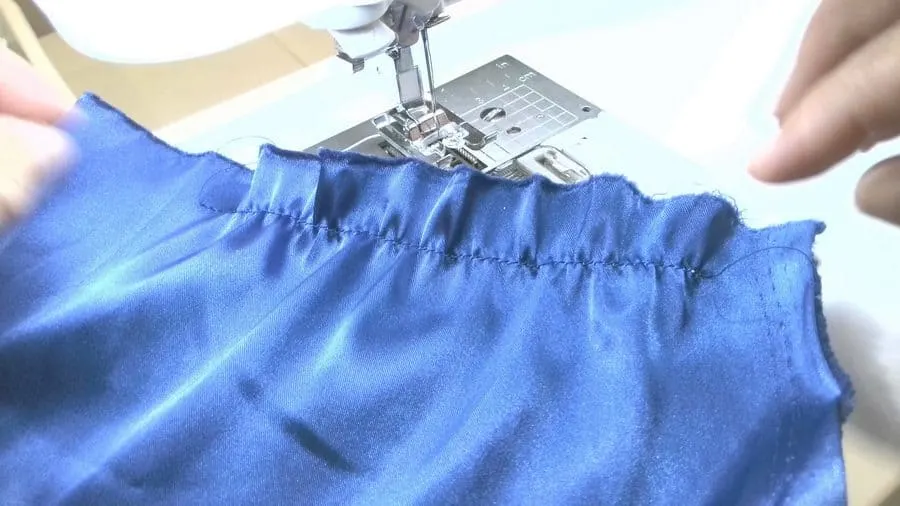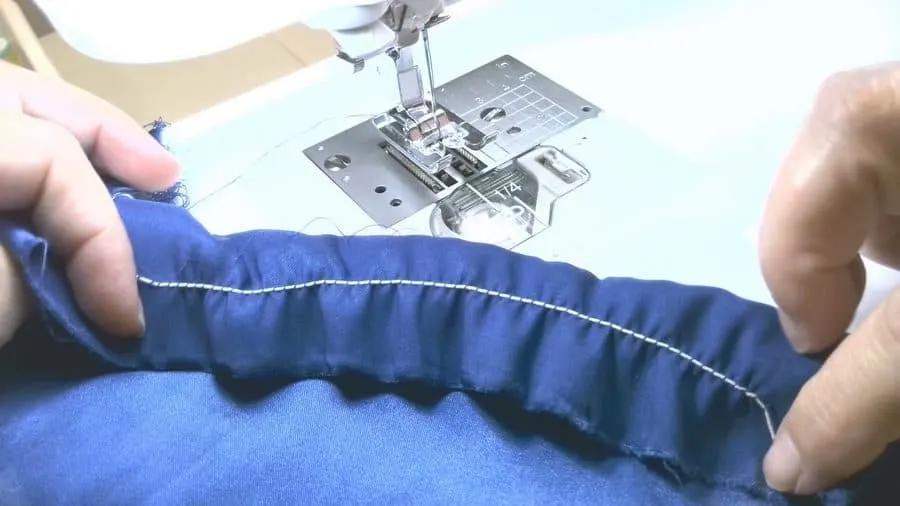 7. At the end of the stitch do not use the automatic thread cutter of the machine when sewing with elastic thread. The automatic cutter will cut the thread too close to the bobbin and this may allow the elastic to retract inside.
8. When cutting, always allow again a couple of inches of thread free, or again you risk the elastic retreating and ruining your seam.
9. You can secure the elastic thread stitch, as usual, with two or three backstitches at the beginning and the end of the stitch.
10. Or just tie a knot manually.
11. If you want to have even more compacted gathers use steam from your iron. Just keep the iron with steam above the elastic thread and you will see how it shrinks.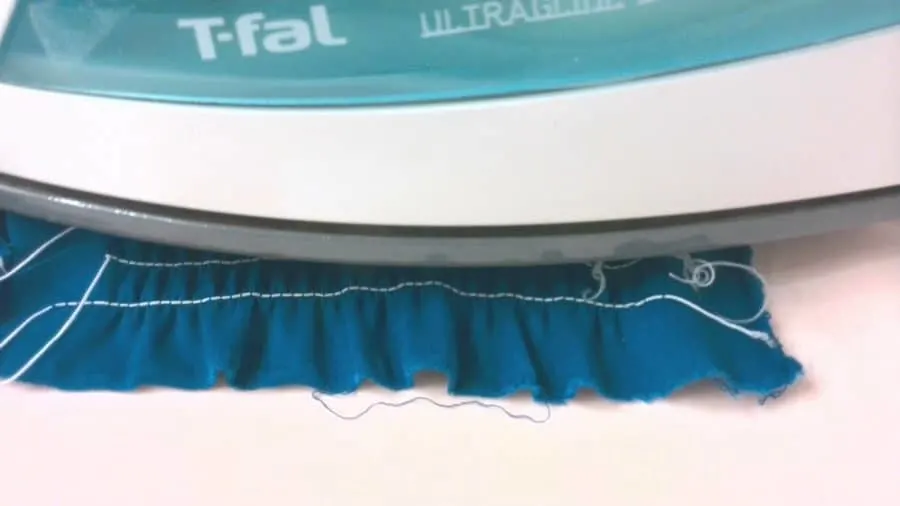 What size needle for an elastic thread?
Elastic thread is not used in the needle therefore use whatever needle is necessary for the upper thread and for the fabric.
Any problems with elastic thread?
Indeed. The elastic thread may:
Lose its elasticity in time
Be damaged by a high-temperature wash or iron
Break, and then the gathers become loose
What to look for when using elastic thread?
Avoid old elastic thread that has been in the bin for ages. Avoid leaving the thread in direct sunlight. Avoid if possible high-temperature washes, and chlorine bleach. Anything that would damage rubber will damage the elastic thread also.
For what fabric can an elastic thread be used?
Gathers are much better created on lightweight fabric, sometimes on medium-weight fabric. Thick fabric does not allow rich gathers and will require thicker elastic. Usually, thick/heavyweight fabric is not used with this procedure.
What are the brands and types of elastic thread?
Gutermann is the best-known brand name. Another very good quality elastic thread is made by Dritz. There are many others but I really recommend paying the small extra price because the quality and endurance for the brand name are much better. You may get lucky and get a good no-name product but more often than not you get what you pay for.
Usually, elastic thread for home sewing is sold in only 2 colors: white and black. But I noticed they sell elastic threads in many different colors recently but I haven't tried it yet.
Where to buy elastic thread?
Your local retailer probably sells it. Walmart sells it, but I am not sure about the quality. Every online thread retailer sells it. Below are some Amazon links.
Wooly Nylon thread
What is wooly nylon thread?
Wooly nylon thread is a stretchable serger thread and makes an especially attractive serger stitch.
Wooly nylon is a textured thread in which the fibers are somewhat loose and not twisted together closely. Because the fibers are loose the thread has a "wooly" appearance when not under tension. When tension is applied, the fibers straighten, they come close together and the thread gives the appearance of being thinner and stretched. It's only an impression, that the fibers themselves are not stretched and they do not become thinner, they simply show their real length because of stretching.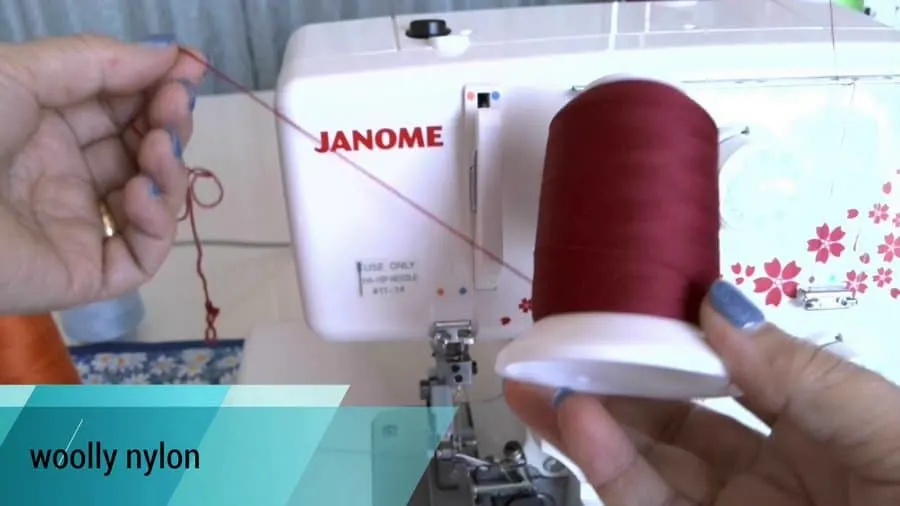 Because it's nylon, the thread is light but very strong even if it's quite thin when stretched. Also because the elasticity of the thread does not come into play here (the thread is stretchy because of its construction method, not because individual fibers are stretched) the thread does not lose its properties when getting older as regular elastic does. Nevertheless, older nylon thread is subject to other factors, for example, decay because of exposure to light, heat, and corrosive agents.
What is wooly nylon thread used for?
Wooly nylon is generally used in serger loopers (lower thread) for sewing stretch or knit fabrics. It's best used for very stretchy fabrics like spandex for example for sewing swimwear, activewear, lingerie, etc. I use it sometimes for sewing Minky fabric. Its soft finish is very comfortable on seams that will be worn next to the skin, it helps to reduce bulk in the seams and also provide good stretch compared to regular non-stretchy polyester serger thread.
Because of its wooly/thick appearance, it can also be used on a regular sewing machine but as with the elastic thread presented before, it can only be used in the bobbin, never in the needle on a regular sewing machine.
How to use wooly nylon thread on a home sewing machine?
Wooly nylon thread can be used ONLY in a bobbin on a regular sewing machine. And in the needle, you should use a regular polyester thread of matching color. It's great for a little soft stretch on any seam!
Wind a bobbin with the thread and use for the needle thread either a clear thread (which allows the wooly nylon to show) or a thread the color of the fabric.
I have read that people use the wooly nylon thread in the bobbin when sewing hems with a twin needle (and of course, the twin needle is threaded with regular sewing thread). The hem sewn this way should be quite flexible and the threads shouldn't pop when the fabric is stretched.
But my sewing machines absolutely don't like the wooly nylon thread in the bobbin and just refuse to make nice stitches with the woolly nylon thread even if I try to adjust settings. So I keep the wooly nylon threads for my serger where it works perfectly.
How to use wooly nylon thread on a serger?
The wooly nylon thread works great with any serger I tried.
But you may have a bit of a problem threading sergers with wooly nylon thread.
This thread has a fuzzy appearance and the end is not neat. It can't easily go into the thread guides, and needle eyes, it also can't easily go into the big looper eye.
So how do we thread it? Use needle threaders or dental floss.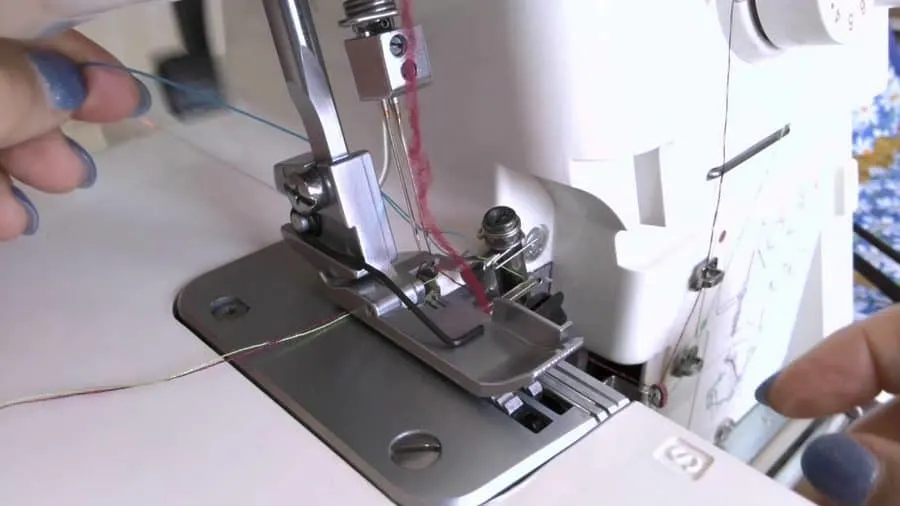 If you want to use wooly nylon thread in loopers then use the Quick-Change Threading technique.
Usually, I thread the loopers with wooly nylon and the needles with regular thread. But it's also possible to thread serger needles with wooly nylon. The thread tension must be set adequately, depending on the fabric. Always test on a piece of scrap to make sure the seam is exactly what you want it to be!
What is the difference between wooly nylon and Maxi-lock thread?
"Wooly nylon" is a trademark owned by a South Carolina corporation. Maxi-lock is a brand (American & Efird) and makes under this name both textured nylon threads (which is what a wooly nylon thread is) and spun polyester. Look at its fiber content: textured nylon Maxi-lock thread IS for all practical purposes wooly nylon while spun polyester Maxi-lock thread is regular serger thread.
What fabric is wooly nylon good for?
If you are working with wooly nylon for practical purposes (making a seam, finishing a hem, for example) you would use it for all stretch fabrics. It will also be used for sewing all knit fabrics. But it's especially good for VERY STRETCHY fabrics like spandex and rayon, stretchy lace, etc.
If you are looking at wooly nylon thread for embellishments, any fabric can be used.
Can you iron projects made with wooly nylon thread?
The answer is yes, but carefully. The same applies to polyester thread, high temperatures might melt it. One way of making sure the thread is not damaged is to use a press cloth (not the iron directly). Also, use a lower temperature setting and – again – test before if possible.
Where to buy wooly nylon thread?
All sewing supply stores sell textured nylon thread, it may or may not be under the name "wooly nylon" though. Do not rely on a search to show you good results, all online retailers that I have seen present BOTH stretch and non-stretch threads for all searches. Always look for "textured nylon", or "wooly nylon" in online searches.
Eloflex stretch thread
What is the Eloflex thread?
Eloflex is a relatively new type of thread that looks like a regular thread, can be used in a regular sewing machine both in the needle and the bobbin, and is really stretchy. I don't know exactly when the thread appeared on the market, I found the trademark for "Eloflex" was filed in 2013. Myself, I did not see it until sometime in 2017 so it's indeed a new product.
I have reviewed the thread here: "How to use Eloflex thread". I liked it very much and I am using it on a regular basis. For example, check out my tutorial on how to sew an off-shoulder dress.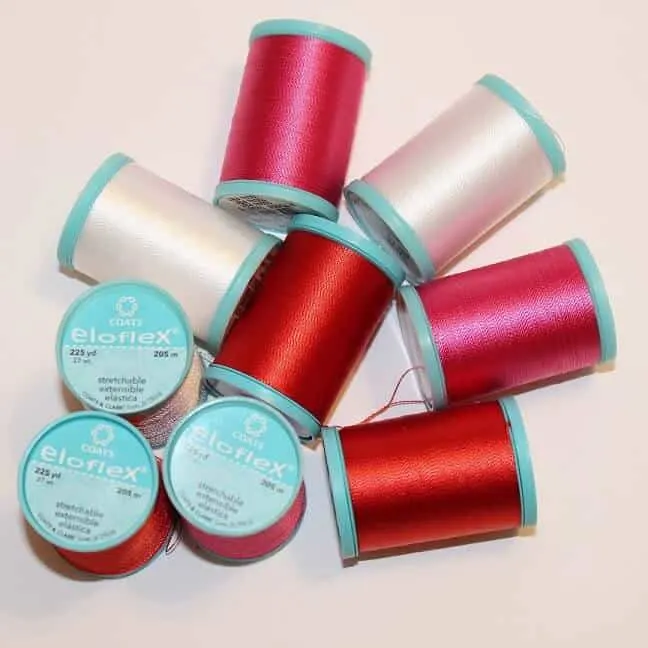 Who makes the Eloflex thread?
Eloflex is a trademark of Coats & Clark (in UK J & P Coats, Limited).
Are any other brands similar to Eloflex?
To my knowledge, as of the time this article is being written (June 2020), there are some other similar threads. One of them from Gutermann: Maraflex. However, I was not able to find this for sale anywhere to make a comparison. And another one is FUJIX King Knit sewing thread. I bought some spools in New York but didn't use them much yet. It also stretches but much less than Eloflex.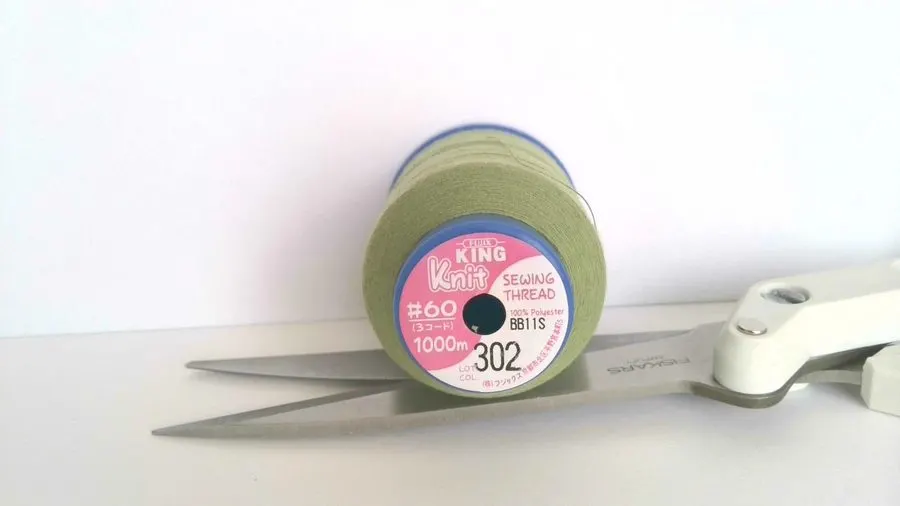 What is Eloflex made of?
I found on a manufacturer's web page the following: "Suitable for vegan requirement". This does not say much, I know! Other references on the Internet claim it to be polybutylene terephthalate (PBT) which is certainly a synthetic product and if that is true, this would make the thread relatively resistant to most solvents. A better description of the material can be found in this Wikipedia article.
When to use the Eloflex thread?
There are two distinct types of fabric that need stretch thread: knits and stretch fabric. Eloflex can be used successfully in both cases probably with the exception of very, very stretchy knits (like spandex) where the fabric stretches too much. I have more details about this in my article on the Eloflex threads mentioned above.
Can you use Eloflex thread on a sewing machine?
Yes, Eloflex is designed to be used as a regular thread on a sewing machine, both in the bobbin and in the needle. Moreover, when using Eloflex you do not have to use special zig-zag stitches normally used for stretch fabric, regular straight stitches are ok. You can use zig-zag, you just do not have to.
Can you use the Eloflex thread in a serger?
In principle, it should be possible, the thread itself is strong enough for this. However, the regular wooly nylon is much less expensive and the serger is very happy with it so I do not see why to use Eloflex in the serger when there are other cheaper (and equally good) alternatives.
Can you use Eloflex thread for non-stretch fabric?
Yes, it's possible. However it would be wasteful, Eloflex is much more expensive than regular thread and while the thread is relatively strong, there are much cheaper threads of the same quality that can be used for non-stretch fabric.
---
Ready to take the next step in your sewing journey? Check out more step-by-step tutorials from my blog and don't forget to share!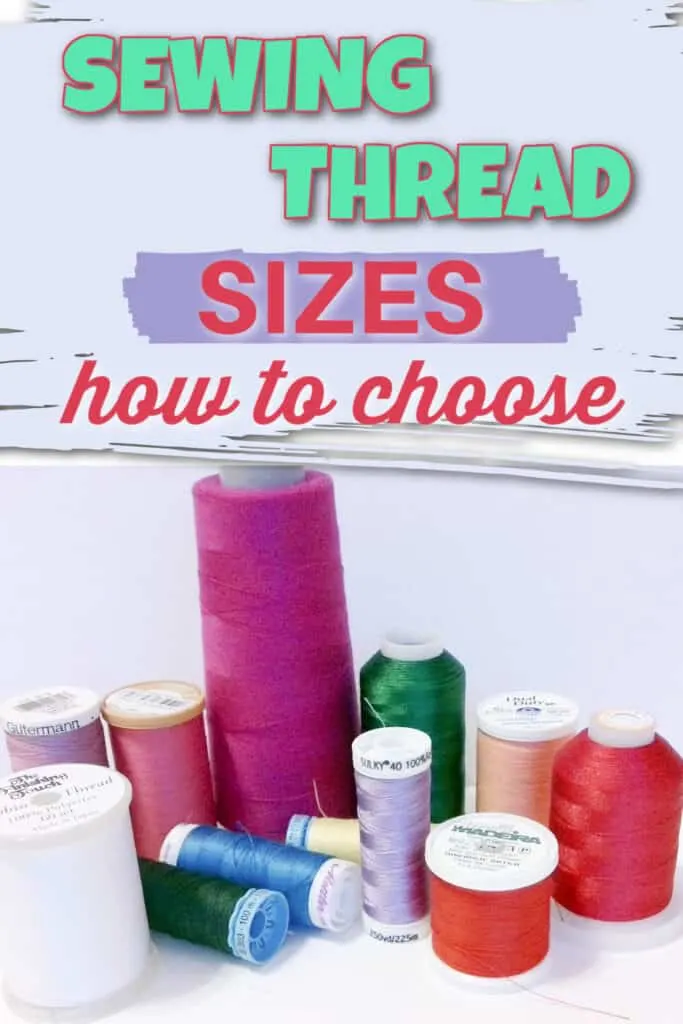 Sewing thread sizes and how to choose
Did you find this tutorial helpful? If so, save this pin (see below) on your sewing board so you can come to this tutorial later when you need the information on the stretch thread for sewing, and follow me on Pinterest for more tips, tutorials, and inspiration!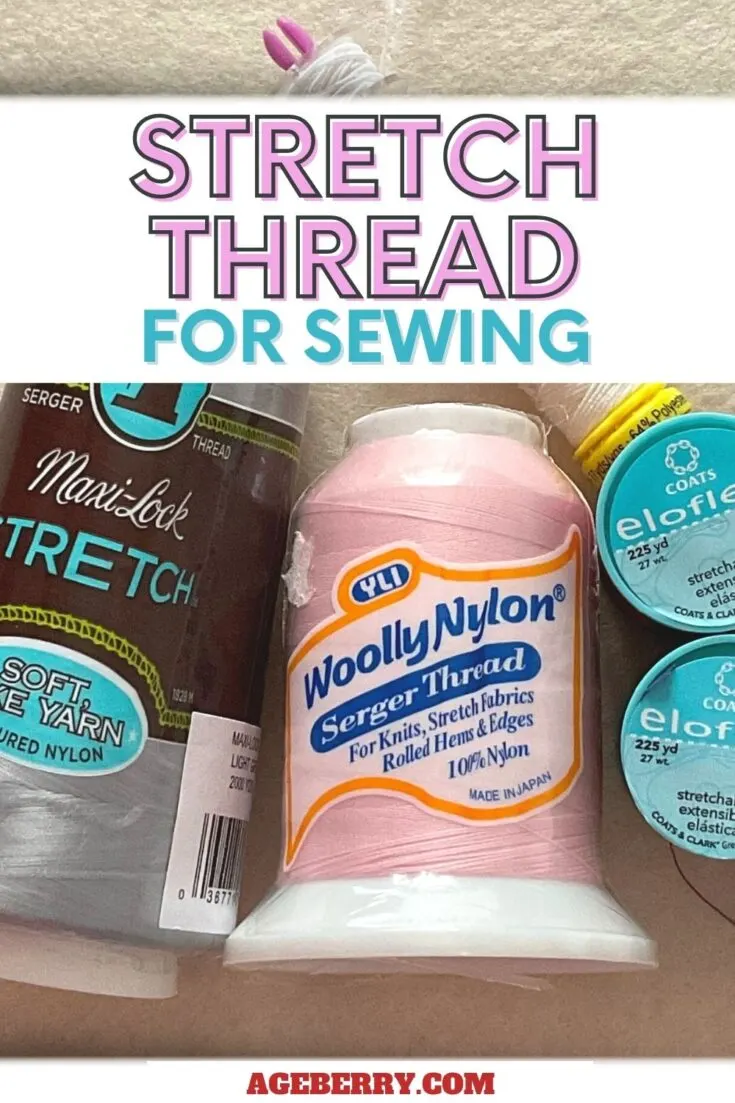 ---
Like sewing tips? I have other popular tutorials on my blog that might be interesting for you. Check them out below.
---