Have you ever heard of the term "lettuce hem"? If not, you're probably not alone. I'll give a hint as to what it's not – lettuce hem is not a new type of vegetable that you'll be planting out in your garden this year. In fact, it has nothing to do with anything outdoors or any type of real vegetable.
You're probably not surprised to hear that it's a type of sewing technique that's actually really not all that uncommon. If you've ever looked at the bottom of a shirt or at the bottom of a dress and saw a "wavy" look, there's a very high possibility that you're looking at a lettuce hem.
In this post, I'm going to go over some facts about a lettuce hem and also showcase some top products and tutorials that you should attempt to try on your own. (It's actually a fun look if you can get it down!)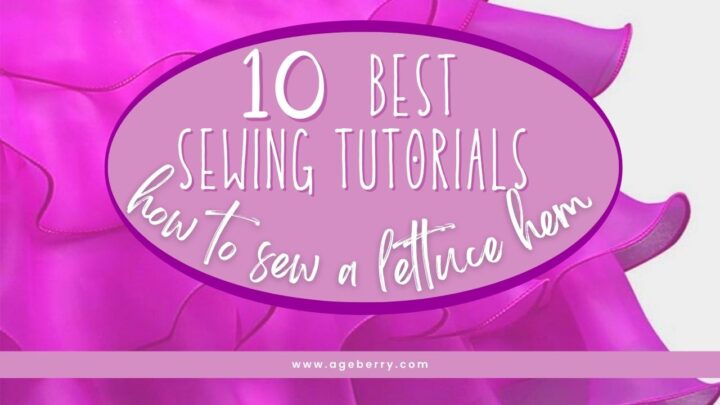 What is

a lettuce hem?

Lettuce Hem is a type of hem finishing – a wavy curly hem that reminds lettuce leaf edges. It's an easy way to transform a plain regular hem into an attractive beautiful finish. It adds a feminine touch to garments.

You might have noticed that lettuce hem is also commonly referred to as a lettuce trim or a lettuce edge.

The basic premise of making the lettuce hem is to pull on the fabric and stretch it as you're sewing the stitch. Once you allow the fabric to bounce back to its regular form, it will have created a wavy effect just that easily. But have in mind that there are a few different ways to sew the lettuce hem.
---
What type of clothing is the lettuce hem commonly used for?
Whether you've realized it or not, there's a good chance that you've seen your fair share of lettuce hem. It can be used on a wide variety of clothing options, but some of the more common types of clothing styles would be:
Lettuce hem top

Lettuce edge dress

Any type of clothing that has edges (armholes, necklines, ankle areas, skirts, etc.)
You can even do the lettuce hem on scarves and headbands, too!
Let's take a look at some varying lettuce hem projects. There are different things to be aware of when sewing a lettuce hem. The following tutorials will show tips and projects that might be perfect for you to get started.
I wanted to write a tutorial myself on this issue and I might in the end do it, but researching what is available already I realized most aspects and usages are well covered by other posts or videos. So I decided instead to present the ones that I think are best in dealing with the subject.
Related post: Narrow hem tutorial: how to make a narrow hem using a Ban Roll tape
1. DIY Lettuce Hem Top
Are you a visual learner? (aren't we all to some degree?) If so, you don't want to miss out on this YouTube video DIY Lettuce Hem Top by Annika Victoria that will show you step-by-step how to make a DIY Lettuce Hem Top.
You'll see it created from start to finish and can pause, rewind, and watch as many times as you want.
Annika Victoria mentioned in the video that some people destroyed 3 t-shirts trying to do the lettuce hem properly. But she is making the video so that you can do this lettuce hem right the FIRST time you try it.
She shows how to make the lettuce hem using a serger but she also shows how to achieve the same results with a standard sewing machine as well. Every step is very detailed and you will see how to set up your serger and your sewing machine so that you can follow her steps without making any mistakes.
You will also see exactly how to pull the fabric before it goes underneath the presser foot. And she also teaches you to use scraps to try the technique before you are going to use your good t-shirt.
And I can see from hundreds of comments that people were successful trying to make the lettuce hem using her tutorial. For example, I found this comment: "I just made a lettuce-hem tee with an old stretchy fabric I had since a long time ago, following your tutorial and I'm so damn happy!!!!!! Thank you, Annika! "
2. Lettuce Leaf Edge
Now let me tell you about another YouTube video that I found very helpful indeed Lettuce Leaf Edge by Gail Yellen. Gail shows you step-by-step how to make the lettuce hem on knit fabric with a serger (not a regular sewing machine).
She doesn't show any project in her video – but you can see the technique done correctly on a piece of knit fabric. She specifically shows what mistakes to avoid so your lettuce-edge comes perfect.
Check out this tutorial so that you can see every small detail of making the perfect lettuce edge. I agree with one of the comments under the video "This has been the BEST lettuce Edge/Hem tutorial I've seen. Thank you."
Note: Some of the links on this page are affiliate links. This means I will receive a commission if you order a product through one of my links. I only recommend products I believe in and use myself.
3. How to Sew a Curly Hem With Fishing Line
I am also quite impressed by the next video I want to tell you about – How to Sew a Curly Hem With Fishing Line by Professor Pincushion. It has more than 2 million views! I guess this is really a very popular sewing technique to use for your projects.
The lettuce hem we are talking about was created with FISHING LINE. She is using a regular home sewing machine and the fabric is not knit – it's organza! You will learn what fishing line to use and how to adjust it for your project, how to set up your sewing machine, and how to do the hem right to get the perfect results.
Do you prefer to read sewing tutorials instead of watching them? I know I do because I can check every small detail I need to accomplish the task.
Let me show you some of the best blog tutorials you can read right near your serger or sewing machine while trying to make the lettuce hem.
4. How to Sew a Lettuce Hem
In this post How to Sew a Lettuce Hem by Treasurie blog you'll find out how to get that wavy look on any and all stretch fabric materials. While this type of hem is typically done on a serger, this tutorial shows step-by-step how you can use the zig-zag stitch on a simple sewing machine.
They show how you should stretch out the fabric as far as it will go ( you should hold it both in front and behind the machine while maintaining the small folded edge). They advise you that you will get the best results from stretch fabrics that are thinner and have a tendency to curl up.
But I can't agree with their statement that "A lettuce hem only works on stretch fabrics." No, you can use some (obviously not all) bias-cut woven fabric as well ( like chiffon and organza for example).
5. Lettuce Hem using a Serger
This is the most common (and timeless) method that people use to make a lettuce hem on knits and this post Lettuce Hem using a Serger by Liesl Gibson highlights it wonderfully. They show how to set up your serger and how to do the lettuce hem step-by-step. Why use a serger? Because it is extremely fast and gives a beautiful finish to the garment easily.
They're also adding the lettuce hem to the sleeves and pant legs of pajamas to give them a sweet, delicate finish so it's a great post to learn from in that regard.
6. Lettuce Hem Using a Sewing Machine
In case you don't have a serger, you can follow this simple tutorial Lettuce Hem using a Sewing Machine by Liesl Gibson on how to use your regular sewing machine instead.
I love the way they explained this interesting technique. They show that a machine-stitched lettuce hem requires one additional step that isn't necessary with a serger, but the result is similar.
Don't miss this important tip – "As you stretch the fabric, stitch over the folded edge of the hem so the needle falls off the fabric on the right side of the stitch and stitches the fabric on the left side."
7. How to sew a lettuce edge hem
The next tutorial you wouldn't want to miss is How to sew a lettuce edge hem by the So-Sew-Easy blog. Deby shows how to make the lettuce hem with a regular sewing machine.
She is pointing out that " You'll want to work with the curl of fabric on the top as you sew". Make sure you understand this tip – you will need it when you sew the lettuce edge.
Now check out a few tutorials on sewing projects with the lettuce hem.
8. Baby Swaddle DIY Lettuce Hem Tutorial
Do you have a little bundle of joy in your house that you're finding yourself snuggling all day long? If so, you need to take the opportunity to make a baby swaddle with a lettuce hem by The Barnes Door blog that they'll be able to use and treasure for all their lives.
9. Lettuce Hem Skirt or Dress
If you are making a skirt or a dress and just want to give it some extra flair, why not follow this tutorial Fishing Line Hem Tutorial by CKC Patterns? A fun edging will bring a whole new look to the outfit. This technique is especially good to use for a pageant dress.
10. Curly Sue Dress
This Curly Sue dress by DeliaCreates blog is seriously the cutest and perfect for summer play. You'll learn how to create that wavy hem and upcycle a regular t-shirt to make a really adorable and simple Curly Sue dress.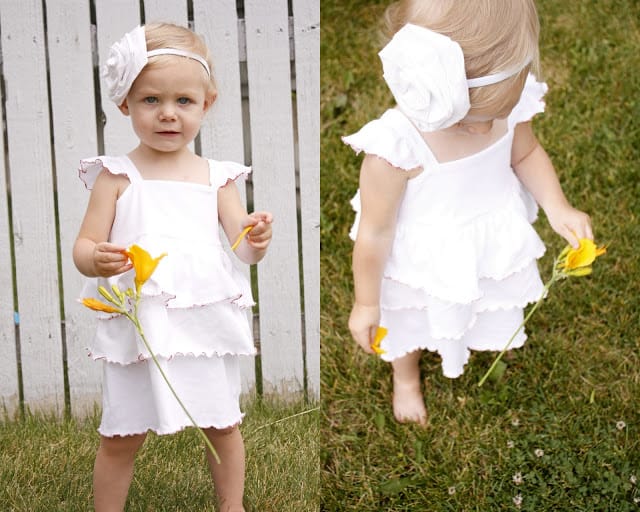 Now that you've seen a wide variety of tutorials and projects that you can do with the lettuce hem, it's time to get to your serger or sewing machine and get started.
The sooner that you start practicing, the sooner you're going to master it.
Do you have any tips for someone who is attempting a lettuce hem for the very first time?
Did you find this tutorial helpful? If so, save this pin (see below) on your sewing board so you can come to this tutorial later when you are ready to sew a lettuce hem, and follow me on Pinterest for more tips, tutorials, and inspiration!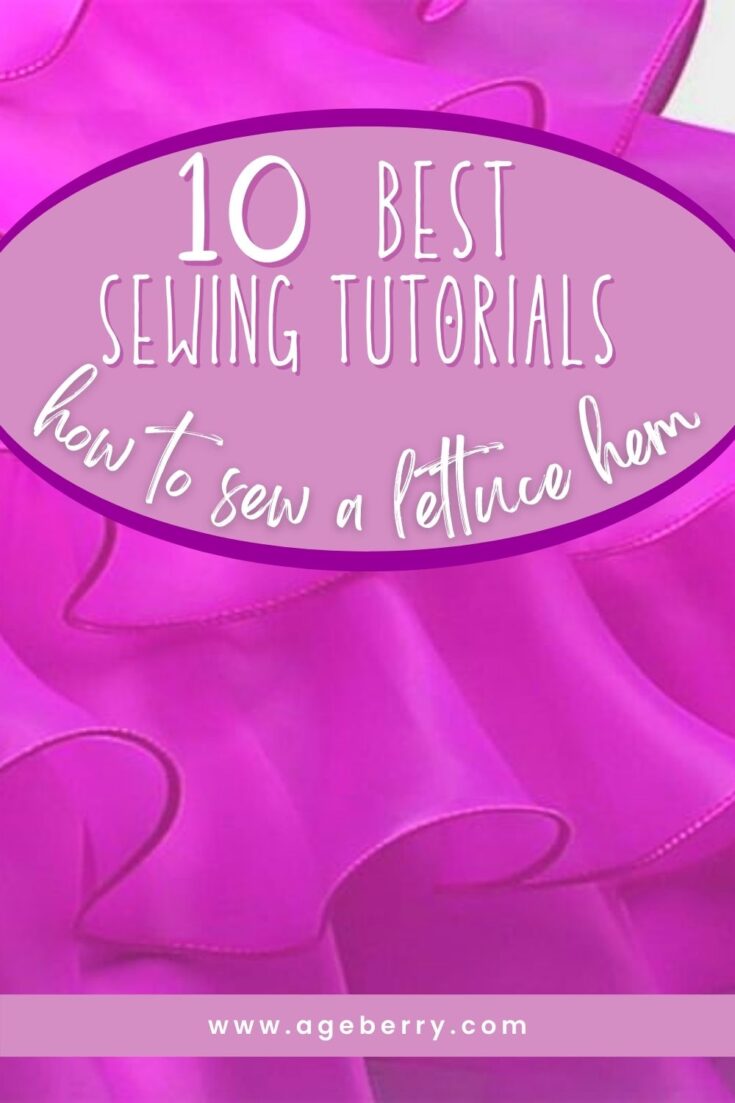 ---