For the sewist, using special sewing tables or desks can make a huge difference in the quality of your work. Learn how to choose the best sewing table for your needs and budget so you can have the right tool for the job.
If you enjoy sewing, using a sewing table or desk can dramatically improve your experience by helping you to organize your supplies and keeping you in the correct position to avoid back pain which will help you to function more efficiently and creatively.
However, if you're shopping for a new sewing table, choosing one can be challenging since there is a huge variety of options available. After all, how do you select the best sewing table when there are so many shapes and sizes to choose from?
What is a Sewing Table and Why Do You Need One?
Well, a sewing table is what the name implies – it's a table that you can use for sewing. If you start looking at sewing tables, you'll notice they come in a variety of sizes and shapes, but the best sewing tables have places to store supplies while also giving you a good workspace.
Most sewists have gone through a phase of using the easiest available table as a workstation. Have you ever cut fabric on a dining table? Dump your sewing machine on the kitchen table and even eat around it? However, that (as you may have already discovered) presents its own set of challenges.
Instead, having a dedicated workspace designed for sewing means that you not only have sufficient space to work but that you can also use it to help keep you organized and have supplies within easy reach while you work.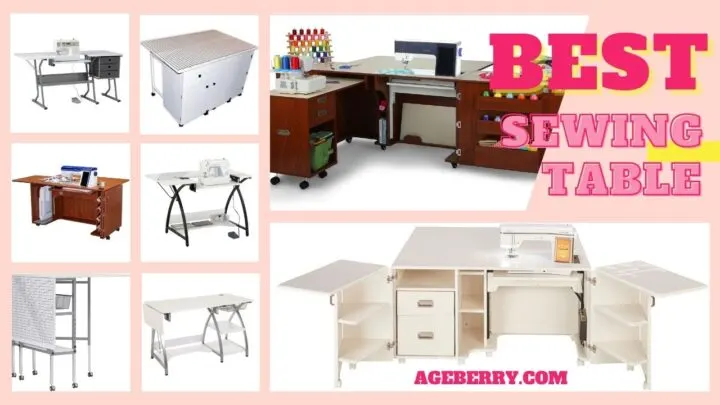 Two Types of Sewing Tables
Have in mind that there are 2 basic types of sewing tables and ideally you would need both of them in your sewing room.
Cutting Tables
A cutting table is designed to give you a flat, smooth surface (away from your kitchen table or sewing cabinet) to use for cutting fabric, and also for folding fabric, measuring fabric, drafting patterns, etc.
While you have at some point probably used your kitchen or dining table as a cutting table, a special cutting table has a couple of distinct advantages especially since you don't eat on it.
Tables for Your Sewing Machine and Serger
These tables provide many different features, so you'll find the largest variety of options with this type of table.
Note: Some of the links on this page are affiliate links. This means I will receive a commission if you order a product through one of my links. I only recommend products I believe in and use myself.
Features to Consider When Choosing the Best Sewing Table for your sewing room
Sewing tables include different important features that you can choose between when searching for the best new sewing table. And the good news is that with so many different options available, it's very possible to get a desk that perfectly suits your taste, needs, and preferences.
Here are the top main functions that should be considered when searching for a new sewing table.
Surface
You need not only room to work, but also room for cutting, pinning, drafting patterns, ironing, etc., and even resting your fabric as you sew. Think about the types of projects you make (and want to make) to help you determine how much room you may need as you search for the best sewing tables.
A permanent cutting surface is especially desirable, so you can work back and forth to the sewing machine table and leave everything you need for the various steps of your sewing project on the cutting table and keep it organized but not in a way of the actual construction.
But it's not easy to find a special cutting table for sewing. Many people, including me, prefer DIY options in this case.
DIY sewing table ideas
I bought 2 LINNMON tabletops from IKEA and 8 adjustable table legs and my husband arranged them like this in the image below.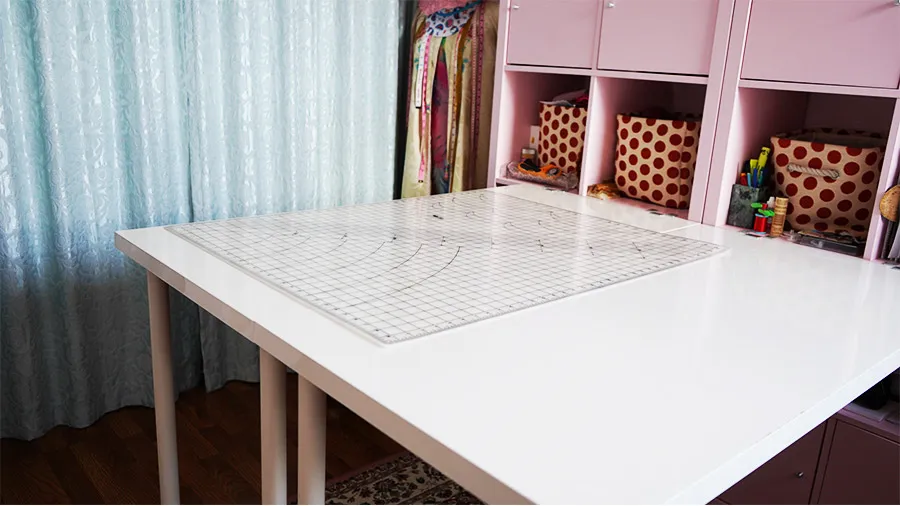 This arrangement gives me a 4 x 4 feet square table (1.2×1.2 meters). I have precisely the same configuration in both my sewing rooms and it gives me a smooth and uncluttered workspace. Beware that you will need to purchase the legs separately but even so, this type of table is very cheap (the two pieces plus the legs and mounting elements on the other side totaled under $100).
In my case, I have supported one side of the table on the KALLAX unit that is attached to the wall using the LINNMON connecting hardware and the other side with 4 legs. I secured the two halves of the table together with a simple plastic tie. This is strong enough to keep the tables together and the ties are not visible.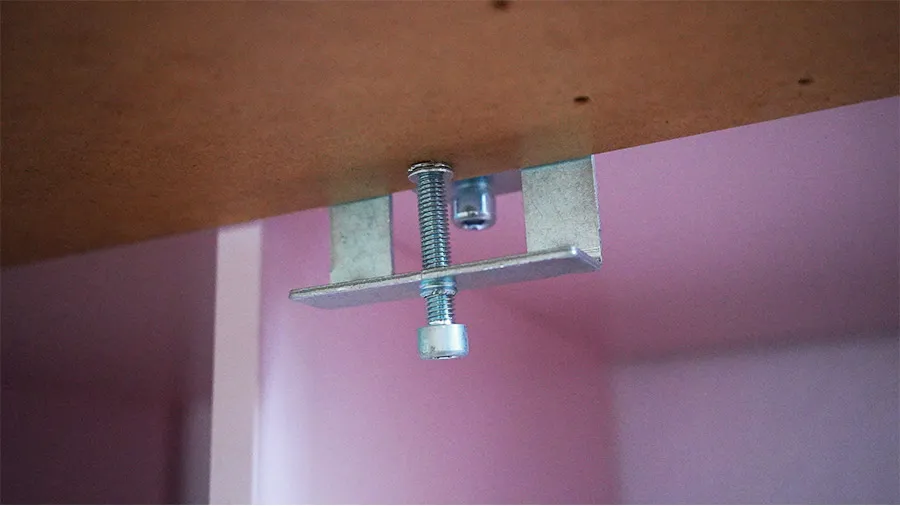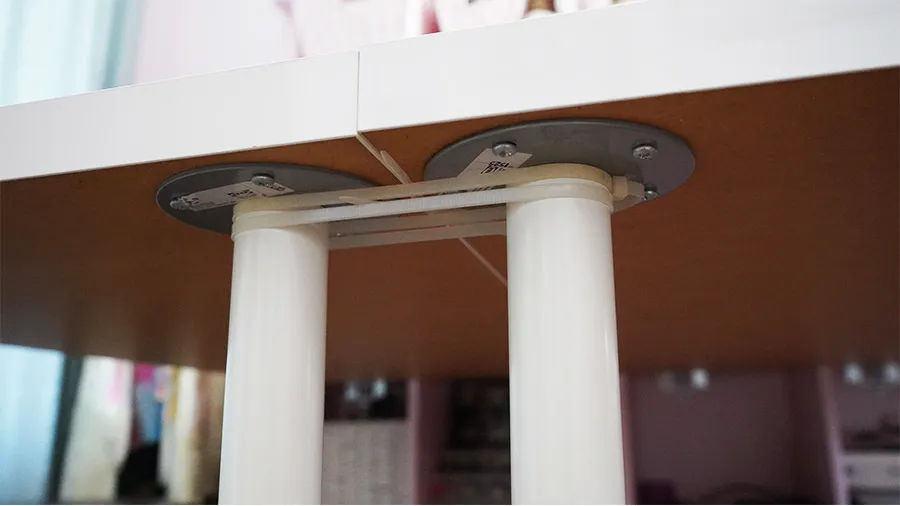 ✅ Related tutorial: IKEA sewing room ideas
Drop-down platform
Drop down platform can adjust to fit a sewing machine. The adjustable desk shelf matches the height of your sewing machine's base. Modern sewing machine tables have this great feature. But to my surprise, not many people know about it.
I love this feature because it's better if the work surface is even with the bed of the sewing machine.
Stability
When you're sewing, you can't work on a wobbly table. Anything less than a solidly stable table, and you can just see it wobbling all over the place when your sewing machine is working at full speed. That's when you need stability the most because, without it, you won't be able to make nice projects. Vibration-free sewing is a must for a sewing machine table.
Storage
If you like to have things neat and organized, consider sewing tables with storage.
We want dedicated places to put supplies, half-finished projects, patterns, and accessories. Overly simplistic tables may appeal to minimalists, but if everything is out on the tabletop looking messy and disorganized – it is not minimalistic.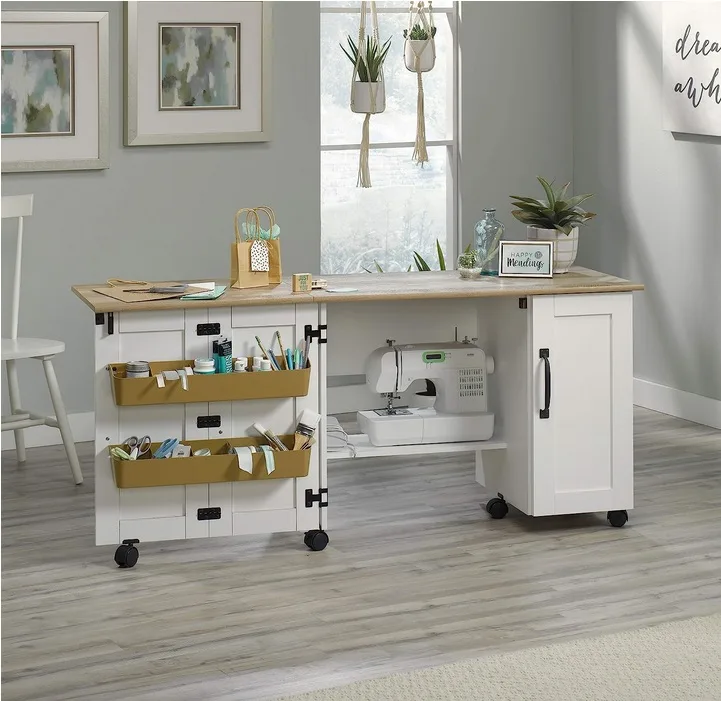 So I'm a huge fan of sewing tables with built-in cabinets like this one. With built-in storage, you have the ability to have a "place for everything and everything in its place".
Airlift
The airlift feature is similar to the drop-down platform and allows you to adjust the height of your sewing machine as well as to store the sewing machine below the tabletop when you are not using it. Tables with this feature will be more expensive but are worth it if you can afford them.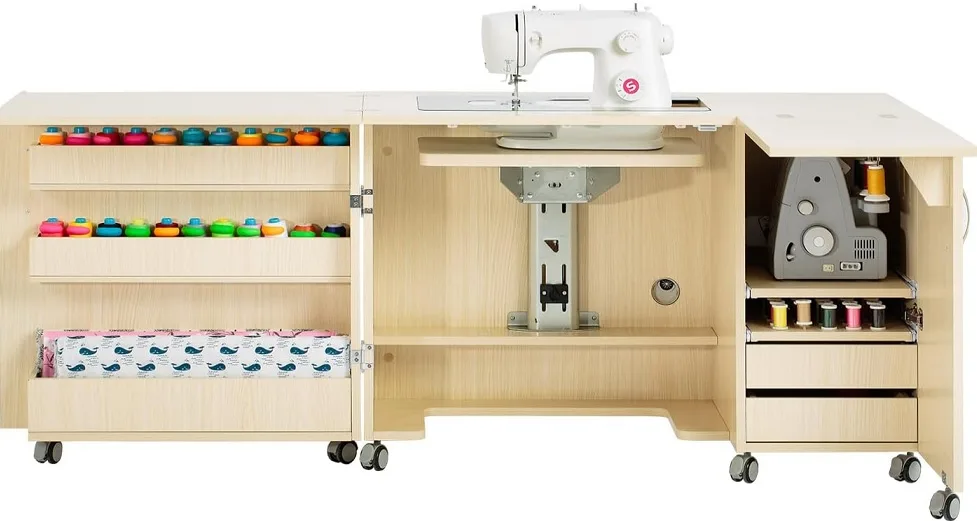 I didn't know about this feature when I was arranging my sewing rooms, so I don't have a sewing table like this, but I continue to dream about it! Here is an example from Amazon.
✅ Related tutorial: Sewing room lighting ideas
Material
Metal and wood tables tend to be sturdier and more durable. And generally speaking, particleboard tables can go either way. You can find good quality, sturdy particleboard tables as well as cheap versions that aren't durable.
You can also find different surface finishes. You can find a surface that's scratch, heat, and water-resistant which not only helps prevent damage but also makes it very easy to clean.
Colors
Sewing tables can come in a fun variety of colors including white, black, blue, green, and more. There are even farmhouse designs! With so many options, you are sure to find something that you like and it also matches your decor (or craft room!).
Dimensions
There is a huge range of sizes available for sewing tables. You can find small tables, large tables, L-shaped tables, and everything in between! Here are some general dimension ranges to give you an idea:
Length: 4-8 feet long
Width: ~30 inches
Height: The best height for a sewing table is between 30 and 40 inches, depending on your height. Ideally, find one with adjustable height. You should be able to work without excessive bending.
Wheels
Some desks come with caster wheels that are great if you ever need to move your table around but can lock into place when you want it to stay put.
Foldable
Having arms that fold out is helpful when your table generally stays in a small space but you occasionally need a little extra workspace.
The Sew Ready Hobby and Cutting Table by Studio Designs fold easily but when it's fully extended a work surface measures 58.75 inches wide and 36 inches deep making it ideal to spread out, cut, or adjust fabric and patterns. The tabletop height can be adjusted from 30.25 inches to 39.25 inches to provide back relief on long projects. The table even has some storage for sewing supplies and casters for quick storage when not in use.
Tables like this are not even very expensive since they are relatively simple. Here are some that have excellent reviews on Amazon:
✅ Related tutorial: Sewing room ideas for small spaces
More Expensive Options for sewing tables
These sewing tables aren't cheap, but they are pieces of furniture, after all. Plus, they have so many useful features and will last a long time.
Good quality tables are made by these brands.
Koala – High-quality cabinets and constructed with storage and easy use in mind.
Kangaroo – The Cadillac of sewing tables, they look like the best sewing desk you can find.
For price comparison purposes, you can find Kangaroo cabinets at SewingMachinesPlus.com too.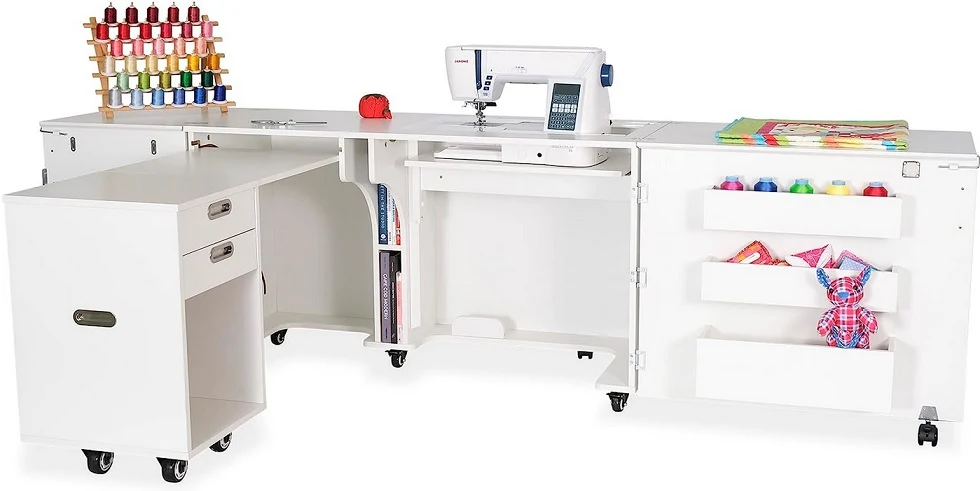 The Bertha is designed to fit large and heavy sewing machines. The airlift can move your machine to three different levels (free arm, flatbed, storage) with ease. It also includes two doors with a total of 8 storage trays to hold all your accessories.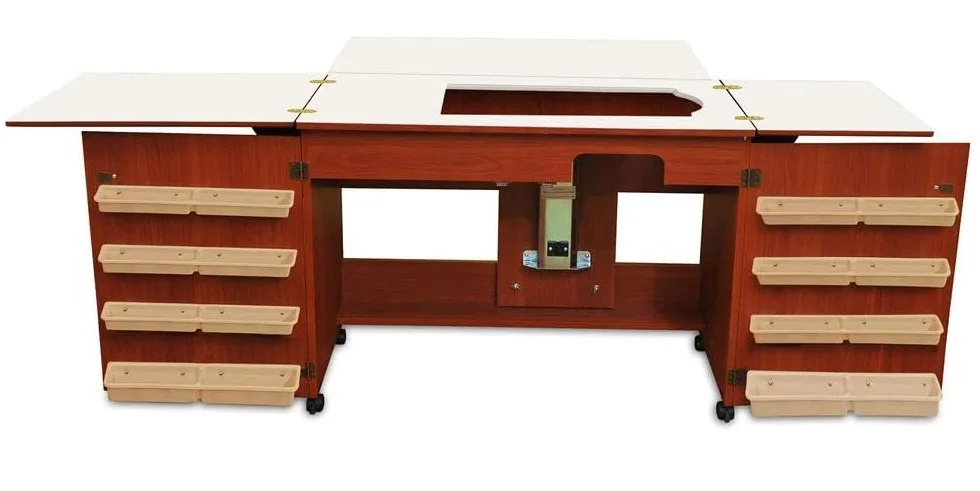 This is a great table constructed with a durable MDF and laminate finish. The EZ-Lift airlift lets you move your sewing position with ease, and the fold-out leaves provide additional workspace on demand.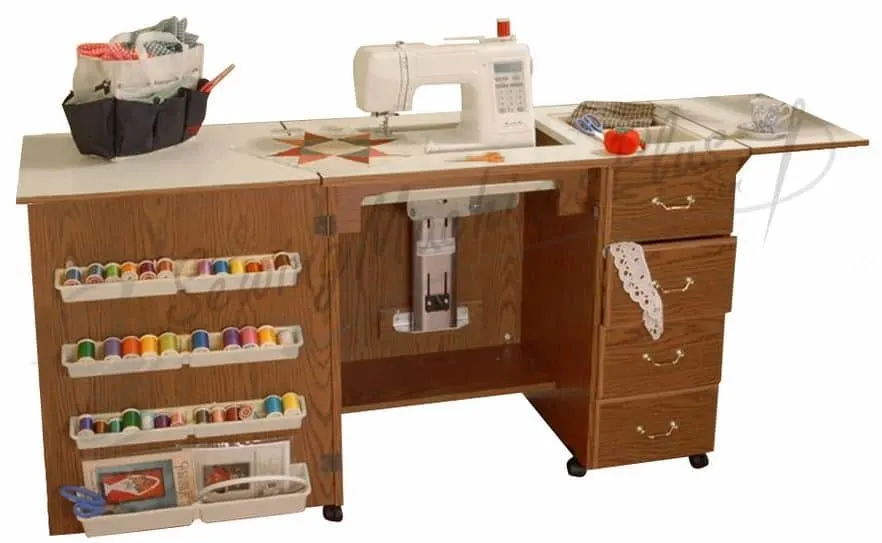 ---
---
Choosing the best sewing desk for your needs can be overwhelming when you first start looking. However, now that you're armed with all the knowledge you need to know about sewing tables, choosing one is simply a matter of deciding what features and size you need and then going out and finding it.
Did you find this tutorial helpful? If so, save this pin (see below) on your sewing board so you can come to this tutorial later when you are ready to buy a sewing table, and follow me on Pinterest for more tips, tutorials, and inspiration!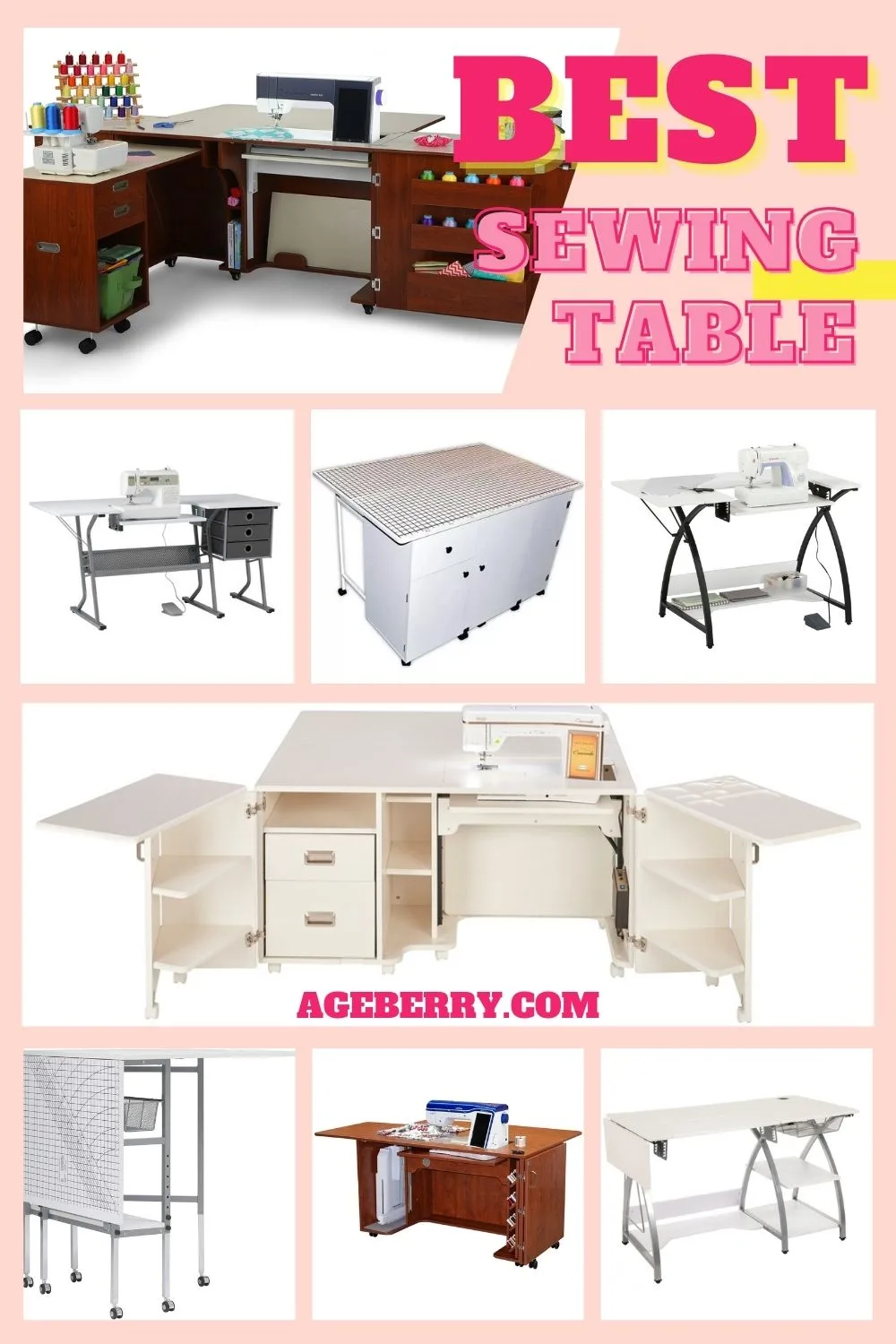 Useful Info – Sewing Machine Troubleshooting

If you own a sewing machine long enough, you're going to have to figure out how to troubleshoot your sewing machine at some point or another. While some sewing machine problems are preventable, others are inevitable. Learn how to troubleshoot your sewing machine with my printable PDF eBook. Whether you use a traditional sewing machine or a modern computerized one, work through this ebook before thinking about a replacement or going to a service center.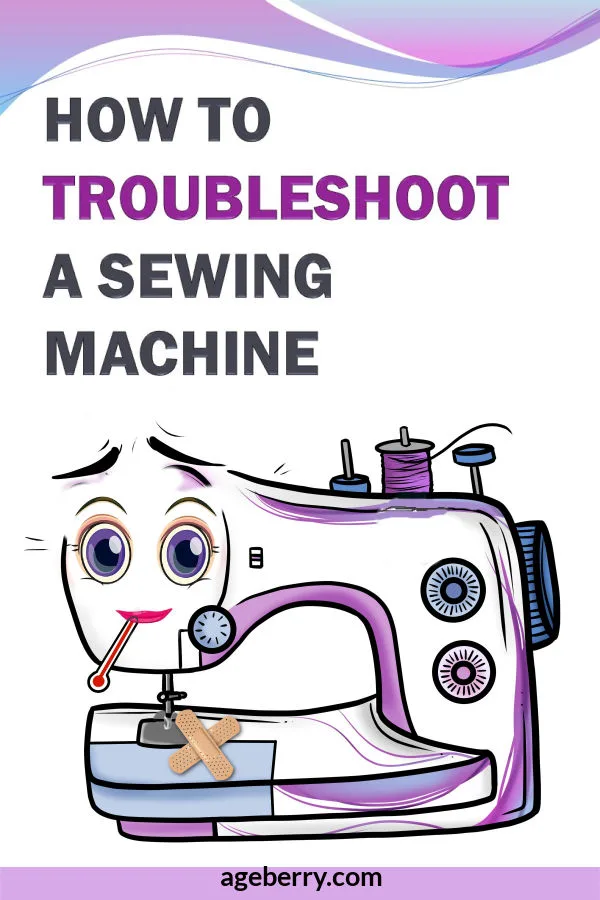 ---