Beginners seamstresses do not always know what the difference between a coverstitch machine and a serger is, and many beginners, hearing the word "coverstitch", are puzzled why this equipment can be useful. Therefore, in this tutorial on coverstitch vs. serger, we will analyze these machines, find out what operations they perform, and what kind of work a seamstress can't do without a coverstitch machine.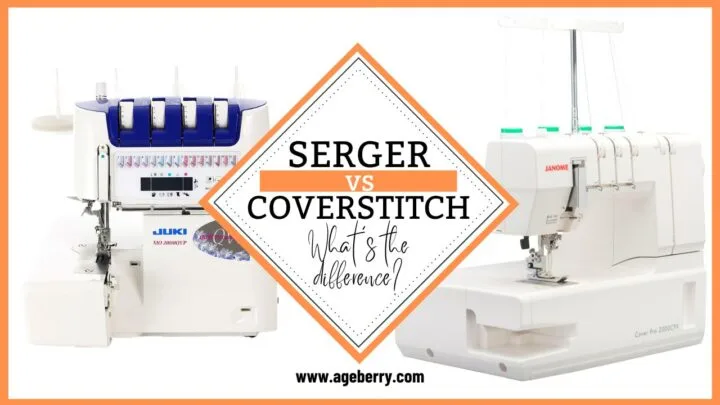 There are many tools that a seamstress should keep in her arsenal. Some of these items are needed because they are necessary, or make a task much easier than it would normally otherwise be. Other tools are there simply because they are fun to use and experiment with. In this article about a serger vs coverstitch, it's a bit of both!
Let's talk about what the difference between a serger and a coverstitch is, and why sewists need to have both machines in a sewing room. Let's start by discussing what each of these machines is, how they are similar, and how they are different.
What is a serger?
A serger (also called an overlocker) is a type of machine that performs three essential functions simultaneously. When you feed the fabric through the serger, it will:
Trim the seam allowance of your fabric
Stitch a seam
Overcast the edges preventing the fabric from fraying
I am a huge fan of the overlocker machine as there are so many benefits it can offer you! In fact, I recently wrote an entire blog post explaining the functions of a serger and how it differs from your sewing machine. You can read it here: Serger vs. Sewing Machine.
What is a coverstitch?
At its most basic purpose, a coverstitch machine is a machine with one main purpose: to get you a strong, clean, stretchy hem on garments made from knit fabric. Hemming is an important, albeit often tedious, part of sewing with knits. If you've ever struggled to get a neat hem on stretch knit fabric, the coverstitch is the solution to your problems. A coverstitch machine is essential for the sewist looking to achieve a professional hem finish.
Only the coverstitch machine can make a strong seam that stretches with the fabric when it is pulled, without being deformed or ripped. Moreover, the seam may stay strong even if one of the 3 threads is broken, because it's supported by the complex interweaving of the threads during the formation of stitches.
It also has the dual function of finishing raw fabric edges together with hemming.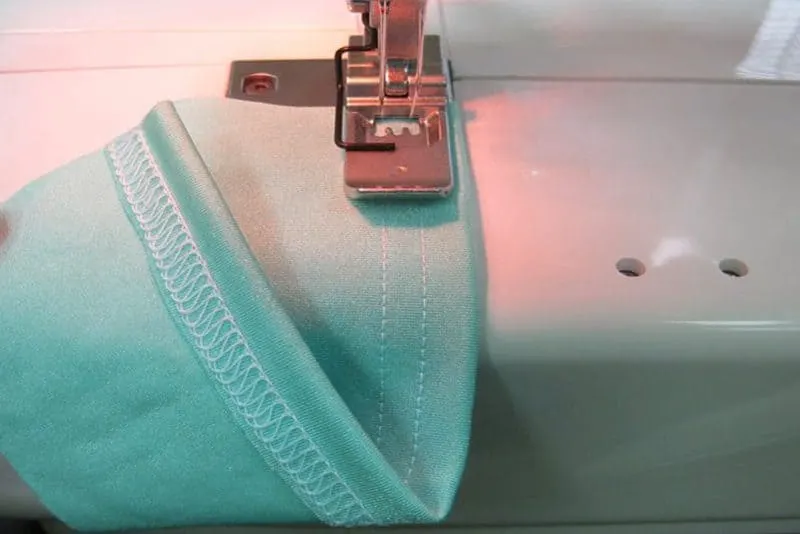 Even if you hadn't heard of a coverstitch machine before, or weren't sure of what it was until now, chances are your wardrobe is full of clothing that was sewed with a coverstitch.
The exact features a machine will have depends on the brand and model number. You can use the same thread from your sewing machine or your serger, and the machine is generally quick to set up and use. Or you can use a special stretchy thread for sewing called wooly nylon.
In order to get a high-quality stretchy seam that will not tear, you first need to consider the quality of the sewing threads. From my own experience, I can say that both a serger and a coverstitch are rather sensitive to the types of threads being used. If you intend to sew with stretchy knit fabric, purchase a set of threads of three or four cones of the same type and color and preferably from one manufacturer.
The coverstitch (as a serger also) works best on knit and stretchy fabrics, but you can sew woven fabrics as well. The coverstitch machine can sew with multiple needles at the same time (up to three, plus the looper underneath). This means you can produce a single stitched line or three of them side by side, depending on the finished style you are going for.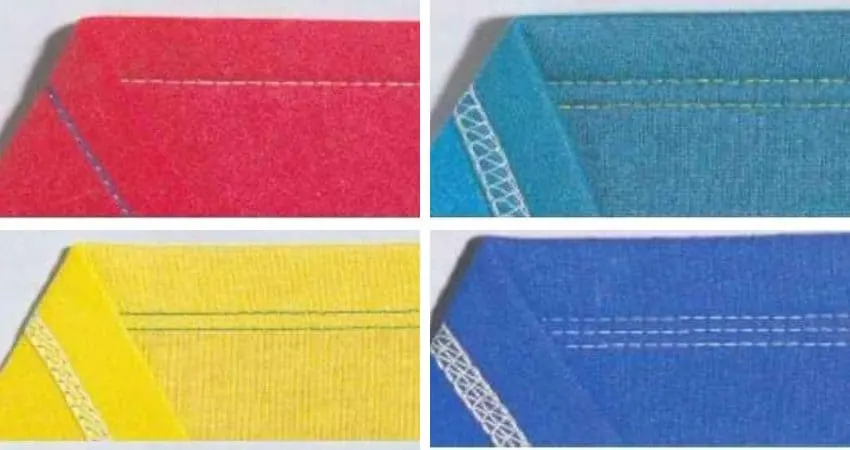 Additionally, a coverstitch can also help with attachments like adding lace or elastic in a flash.
Also, a flat seam made in a contrasting color can be often used to decorate clothing, especially sportswear.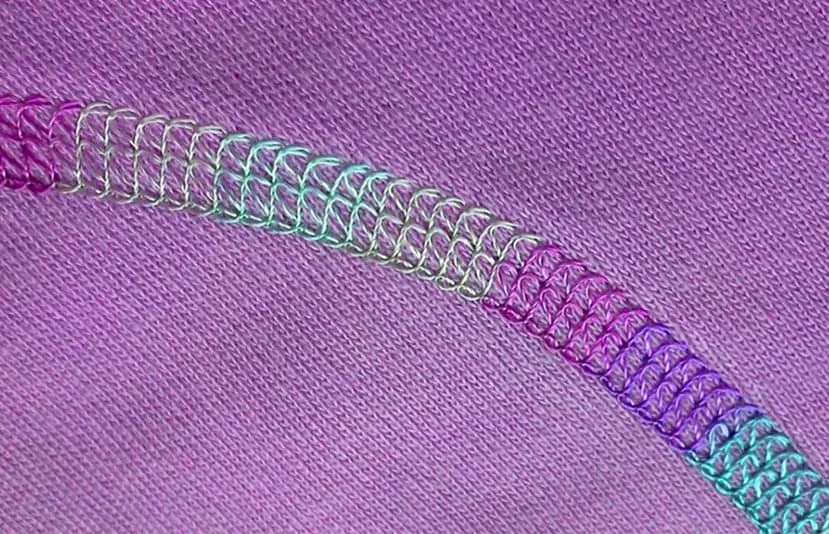 The coverstitch machine can sew a so-called "chain stitch" which has the properties of stretching when the fabric is stretched and does not tear.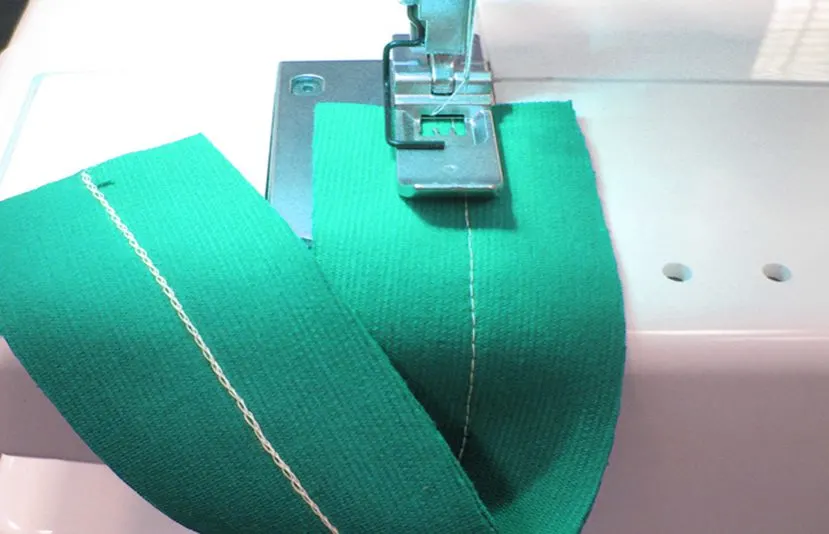 When it comes to the benefits of this incredible machine, most people are enamored with the ease of using it and the lovely seams it produces. I pulled a few reviews from Amazon to show you what I mean.
"The end result not only looks beautiful, but the seam stretches with your fabric, allowing you to surprise and amaze all your friends."
"You will be THRILLED with the results, especially if you sew knits/stretch fabric
"I will never go back to life before a serger and cover stitch machine (I have the pair of Brother machines). I am a changed woman and people marvel that my clothes are actually homemade. Even my teenage daughter allows me to sew for her now! The machine will enable you to hem Under Armor shirts, and the results look incredibly like the original. If you're on the fence, just go ahead and buy this machine! I assure you, you will NOT regret your purchase… best wishes and happy sewing!!"
What's a cover stitch (as a stitch)?
The machine gets its name from the type of stitch it produces, the cover stitch. There are two side-by-side stitches on the front, but the back looks closer to a serger-style stitch. The width of this stitch can vary, but it's formed using the coverstitch machine's top needles and the bottom looper. Another name for this type of stitch is the cover hem.
What is a chain stitch?
This stitch has a rope-like appearance and is often used on jackets or denim. A chain stitch is a type of stitch that is both decorative and functional. Many coverstitch machines are able to produce this type of stitch.
Coverstitch vs. Serger: How are They Different?
While both of these machines help with finishing tasks, the way they do so is different. You can almost imagine that the serger is knitting its overlock stitch while the cover stitch is an actual stitch. The main purpose of a serger is to keep the fabric from unraveling, while the coverstich's direct purpose is to sew a stretchy hem and overcast the fabric edge at the same time.
It can help to understand the function of each if you visually see it. Take a look at a basic t-shirt you own. If you turn it inside out, you'll likely see the overlocking stitch running up the sides of the shirt.
Now take a look at the hem on the bottom of the sleeves—on the outside of the shirt it will look like two side-by-side stitches, but the back will look similar to a serger-like stitch. This is the cover stitch. See the difference between the two?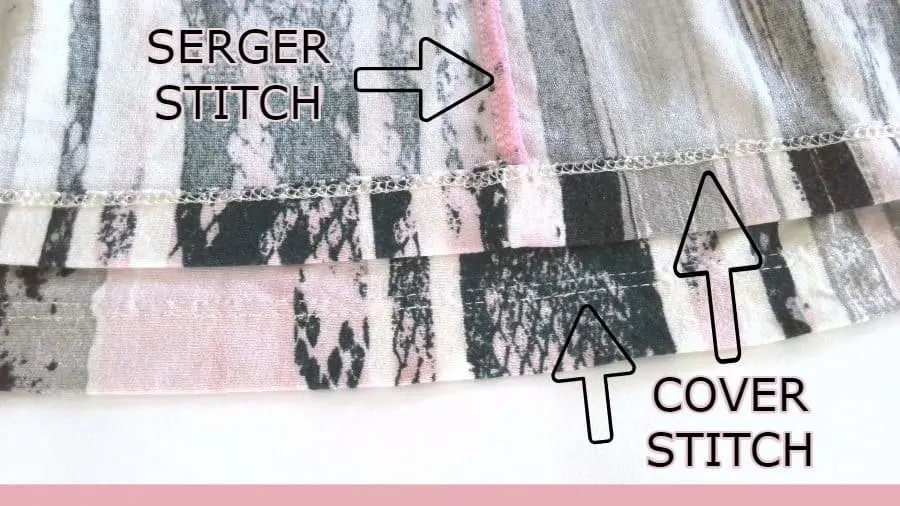 And in the image below you can see the whole outfit (a top and shorts). I can't imagine sewing garments from knits without my serger and my coverstitch machine.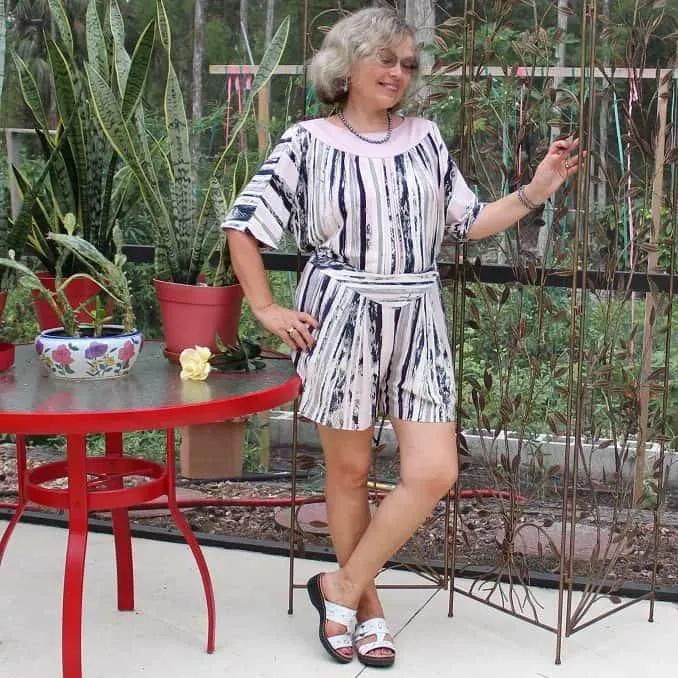 Both a coverstitch machine and a serger don't have a bobbin case, and lower threads are fed directly to the loopers.
They are made in such a way (with dials and knobs) that even a novice can figure out threading, adjusting stitches, and adjusting the necessary tension.
Both machines are rather "capricious" in responding to incorrect threading, and an inexperienced seamstress may conclude that she has acquired a defective product. So after buying a new machine, carefully read the attached instructions and watch YouTube videos on threading.
Most of the time you don't need special needles for sergers and coverstitch machines, you can use the same type of needles that you use on your sewing machine. But at the same time, you need to ensure that there are no burrs on the needles and that they are sharp and not bent. You need to change them on time, otherwise, you won't understand what the problem is when your coverstitch machine suddenly stops making a nice stitch.
Some older models require specialized needles, and given that the needles need to be changed often enough, such a machine can be impractical.
Both machines can have a free arm for sewing narrow sleeves.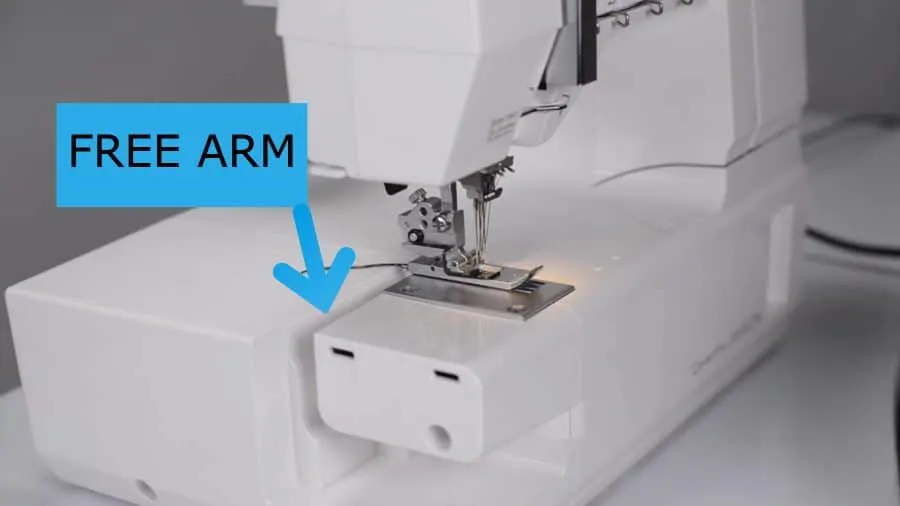 The coverstitch machine doesn't cut fabric edges and it doesn't have any knives but at the same time, it overcasts the fabric edge like a serger does.
If you look at the serger from the side, you can immediately notice its visual difference from the coverstitch machine – just look at the work surface: there is almost no space left in the serger, but the coverstitch machine has a larger work area.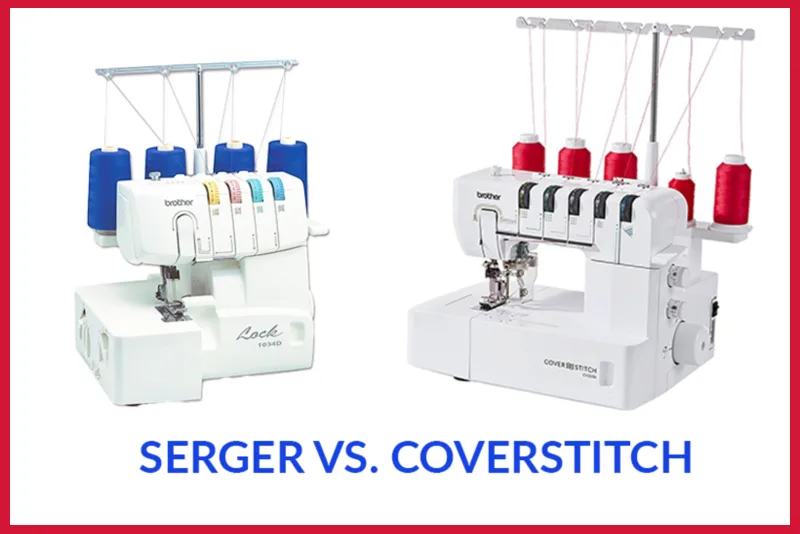 Coverstitch Machines to Buy
Serger/Coverstitch Combo Machines
First, let's chat about the combination machines. Yes, there are sergers with coverstitch function, but is that the best option for you? Maybe.
15 years ago I had such a serger, it was a Singer, and I was so happy when I bought it hoping to make garments from knit fabric with the same quality stitches as the store-bought clothes. But I found out right away that this machine was almost impossible to convert from a serger to the coverstitch function! It took ages to reconfigure and calibrate it. Finally, I got sick of it and bought the Janome Coverstitch Cover Pro 1000CPX (and I am SO happy with it).
However, just because I had a poor user experience does not mean that everyone else will. It's certainly worth looking into if you don't have either machine and want to get both, or if you have limited space for a machine. Also, in the many years since I tried it, the coverstitch for home use has evolved considerably.
I feel less comfortable recommending cheaper combo models (like Juki MO-735) for the same reason I disliked my old machine so much—it's way too hard to convert to the cover stitch function. But some people like the machine. So read reviews and decide for yourself.
However, the more expensive Baby Lock combos (like the Baby Lock Triumph, which costs around $5,000) should be good.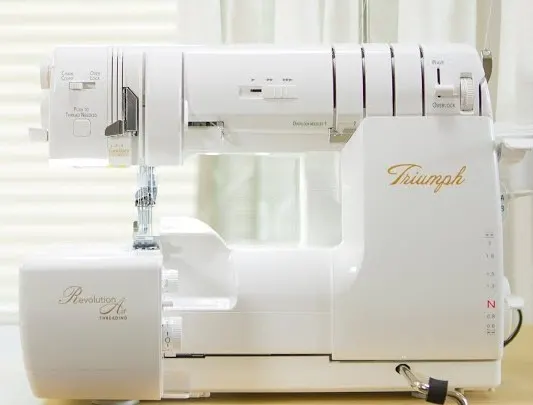 One of the newer combo models that are not very expensive is Bernette b48.
The Bernette B48 is the top model of the Funlock series and is a combination of an overlocker and a coverstitch machine.
It has a total of 23 stitches: 15 overlock stitches, 3 cover stitches, 4 combo stitches, and 1 chain stitch, overlock stitches with a stitch width of up to 7 mm, coverstitches with stitch widths of 2.8 or 5.6 mm, and combo stitches with a stitch width of up to 10 mm.
The Best Coverstitch Machines
Before you buy a coverstitch machine, check out all the technical characteristics and features that it may have (it is possible that not all of them are important for you):
maximum / minimum number of threads (from 3 to 5 to 8)
maximum / minimum distance between needles
the number of needles that are used to make a stitch (from 1 to 3)
types and number of seams to be made (narrow, wide, triple, etc.)
the self-threading option for the looper and for the needles
tension control methods (manually or automatically)
maximum level of the lifting of the foot (from 3 to 15 mm)
the length of the stitches (1-3 mm – 6.5 mm)
the width of the stitches to be sewn (depending on the number of needles)
When choosing a model, pay special attention to those features that are necessary for you personally, for example:
for daily use, it is desirable to purchase a powerful machine with high-speed sewing
if you plan to work with different types of knits (cotton knits, spandex, mesh, thick knits, etc.) study the reviews written by people who have already bought the machine and actively used it because there are models that are not so easy to reconfigure for a new type of material
consider a variety of decorative stitches or if you will use only standard stitches
machines with an automatic needle threader and tension control are more expensive, but the convenience of work and the speed of threading make these models the most attractive
for those who live in an apartment building, the necessary indicator will be the noise of the equipment
models with an enlarged working area, equipped with a removable free arm, are very comfortable to work with
As I mentioned above, I personally prefer a dedicated coverstitch machine rather than a combination one, and I love it. After studying several machines, I opted to purchase a Janome coverstitch Cover Pro 1000CPX (and I'm so glad I did!).
Of course, this was several years ago, and new machines come out all the time. Brands are consistently fine-tuning and adding features, so I wanted to mention a few of the newer ones for your consideration.
Brother Coverstitch machines:
Brother CV 3550 Coverstitch machine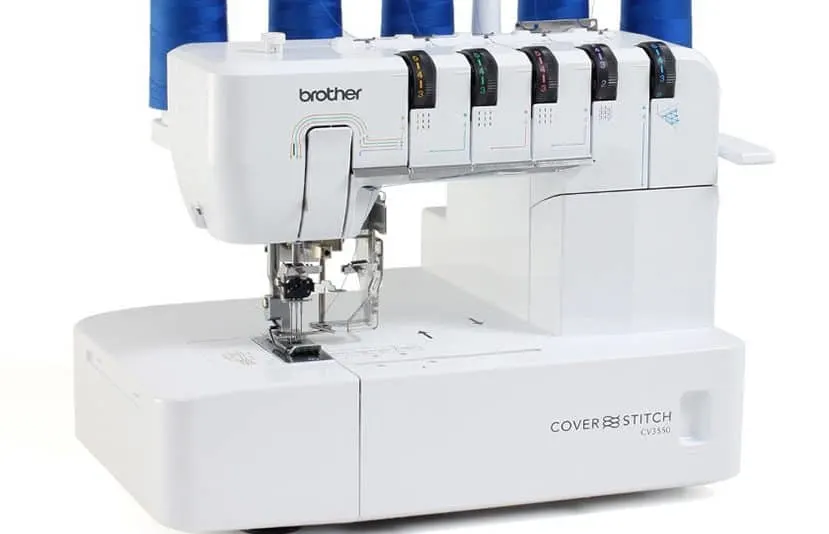 Brother machines have long been highly appreciated by consumers, thanks to their reliability, durability, excellent assembly, and thoughtful ergonomics. All the latest achievements and improvements were taken into account when developing the Brother coverstitch machine CV 3550, which was released quite recently, in 2017-2018.
This advanced coverstitch machine allows the seamstress to perform the necessary stitches on all types of fabrics, any thickness, and density. You can make various things, from the finest underwear to warm knitted outerwear. Easy, convenient setup, the presence of all types of stitches necessary for the work, both functional and decorative, will not disappoint the discerning buyer.
Features:
a sturdy metal frame that effortlessly produces an incredible 1,100 stitches per minute
easy to use even for a beginning seamstress
color-coded threading and a quick looper threading system
free arm, which allows you to sew the narrow details
bright illumination of the working space with the help of LED ensures comfortable work
a large number of additional accessories to expand the capabilities of the machine
You can buy these machines only from your local Brother dealer, as of July 2020.
NOTE: as of July 2021, the Brother 2340CV is available for sale on Amazon also:
Janome CoverPro machines:
Popular Janome coverstitch machines CoverPro 900CPX and CoverPro 1000CPX are available for sale online from sewingmachinesplus.com and Amazon.
Features of these machines:
system of tips on the body of the machine, which allows you to not keep the instructions for the machine time at hand
quick, easy threading
7 different types of stitches
sewing equally good with thin, medium, dense, and superdense fabrics
free arm for processing narrow items, for example, sleeves of children's clothing
it has a convenient increased working surface
a large number of branded optional accessories.
For the newer models, there are much fewer complaints about skipped stitches and the difficulty of setting the machine up.
The latest Janome coverstitch machine CovePro 2000CPX is available only from Janome dealers.
"The CoverPro 2000CPX's innovative design is based on the marriage of an industrial-style cover hem machine and a convenient home machine. The resulting union has produced a high-speed, long-arm, heavy-duty cover hem machine that looks and operates like a sewing machine. The 2000CPX is the most advanced Cover Hem machine available." (Janome America)
The Janome Cover Pro uses an innovative Tension Level Control (TLC) system. This function allows you to get a stitch of the highest quality on fabrics of any density.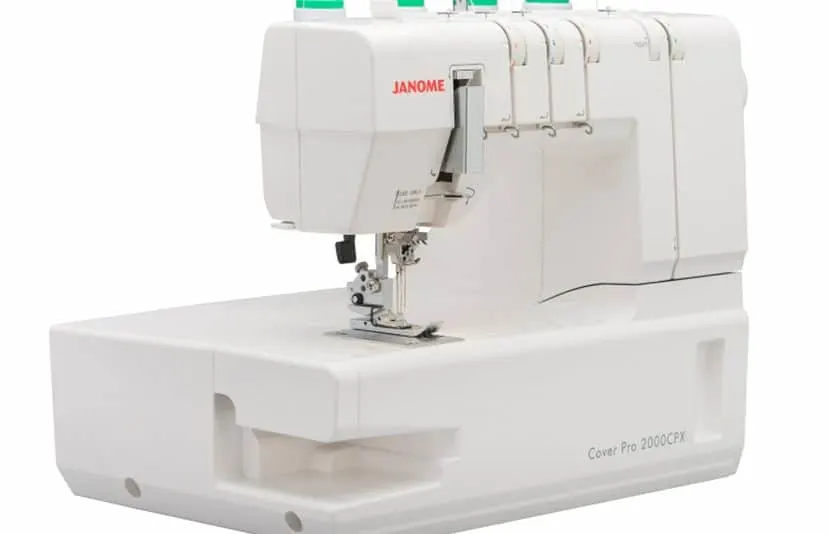 Baby Lock Cover Stitch – this compact machine features a maximum stitch width of 6mm, and a maximum stitch length of 4mm. Jet-air threading helps make threading this machine extra quickly – it's practically a self-threading coverstitch machine. It has snap-on presser feet and a built-in thread cutter. It can sew 1300 stitches per minute!
You have to go to a Baby Lock dealer to buy this machine.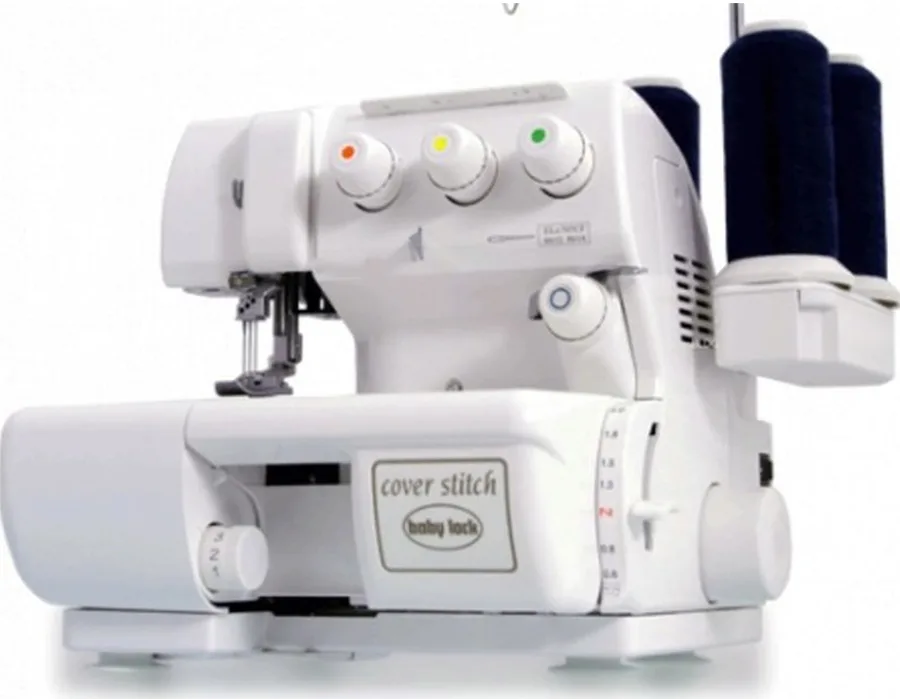 Juki MCS-1500 Cover Stitch and Chain Stitch Machine – you can thread this machine in seconds! The stitch width is adjustable and you can easily change the length of the stitch too.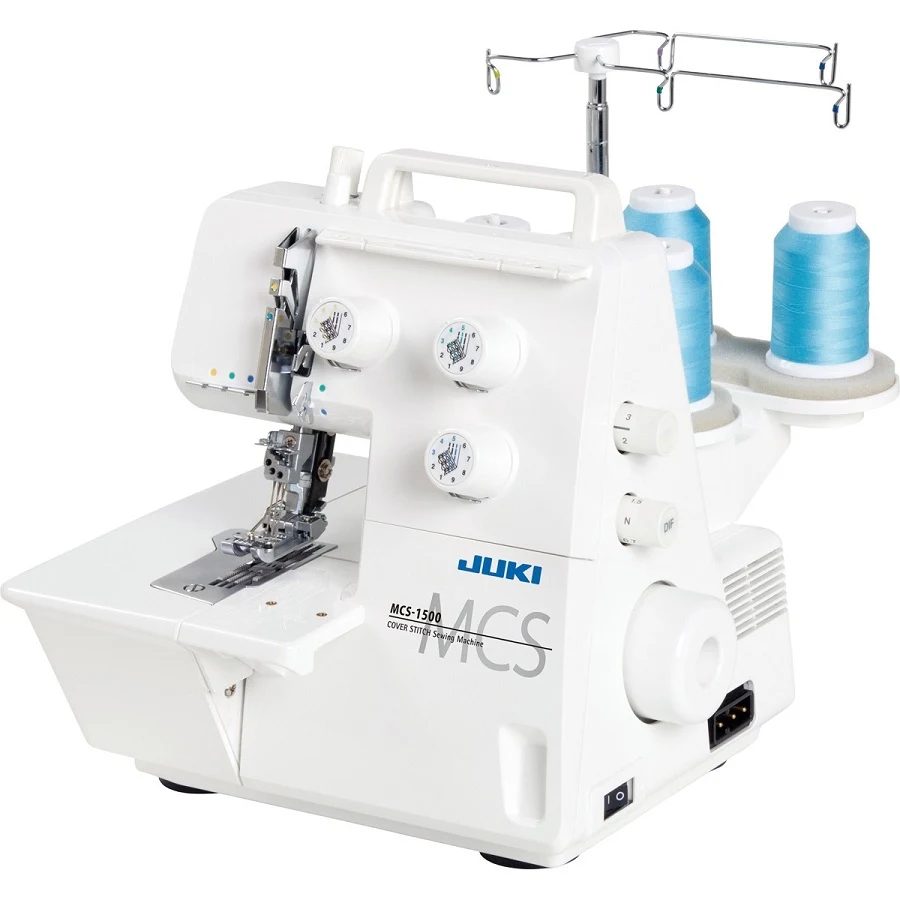 This machine also has an exterior thread cutter which is handier than you may realize. The machine has a differential feed to adjust for different fabrics.
It comes with an extension plate that has the seam guidelines to sew in a straight line. It has adjustable presser foot pressure.
A standard presser foot is equipped with a guide that presses down on both the left and right sides
The presser foot is higher on its tip to allow the fabric to easily be inserted at the start of sewing. In addition, raising the foot lifter allows for 8mm and 10mm of space to easily insert even thick layers of fabric.
This JUKI MCS-1500 coverstitch machine is not available for sale online right now, you can buy it only from a JUKI dealer.
Bernette B42 Funlock Coverstitch Machine
The quality of the Swiss assembly guarantees the long-lasting operation of the Bernette Funlock B42. This coverstitch machine resembles a serger. It may seem that this is a combo that combines two functions, but this is not so. The machine is not equipped with the serger function of overlocking the edge. Features:
performs 2, 3-needle stitch seams, chain stitch
convenient, easy threading: separate color-coded needle threaders and looper threading
quiet running
bright LED light makes everything easy to see
Elna Easycover
I didn't find this machine on Amazon in America. I see that this machine is mostly sold in Europe.
Elna Easycover was launched in 2018. It is worth noting the interesting bright design of this model – with its design it immediately stands out. The 3-needle machine has a large working surface with a free arm.
Features:
high speed
7 types of stitches
the machine auto regulates the tension of the thread in the looper, so the seamstress does not need to adjust it
bright illumination of the working area using LED
color-coded threading
quiet and smooth running
Coverstitch Machine Presser Feet
Once you choose your machine, you'll also need to invest in presser feet. These feet can be added on an as-needed basis, but it's good to have an idea of what is available.
Clear view foot – this presser foot has a clear plastic front, which allows you to see where the stitches will land. I really like this one as it helps ensure a perfectly straight line.
Center foot guide – the center foot guide takes a clear view foot but adds on an adjustable seam guide blade. You can remove the blade and it becomes a regular clear view foot, so this is a great 2-in-1 option.
Coverstitch elastic guide – if you plan on using the coverstitch to add elastic, this foot can be handy.
There are so many more options available, but the cost can add up quickly, so choose wisely. Here are some examples from Amazon:
I hope you have found this guide about the coverstitch vs. serger helpful, and that you have found a new machine to add to your sewing arsenal.
Did you find this tutorial helpful? If so, save this pin (see below) on your sewing board so you can come to this tutorial later when you need the information on coverstitch vs. serger and follow me on Pinterest for more tips, tutorials, and inspiration!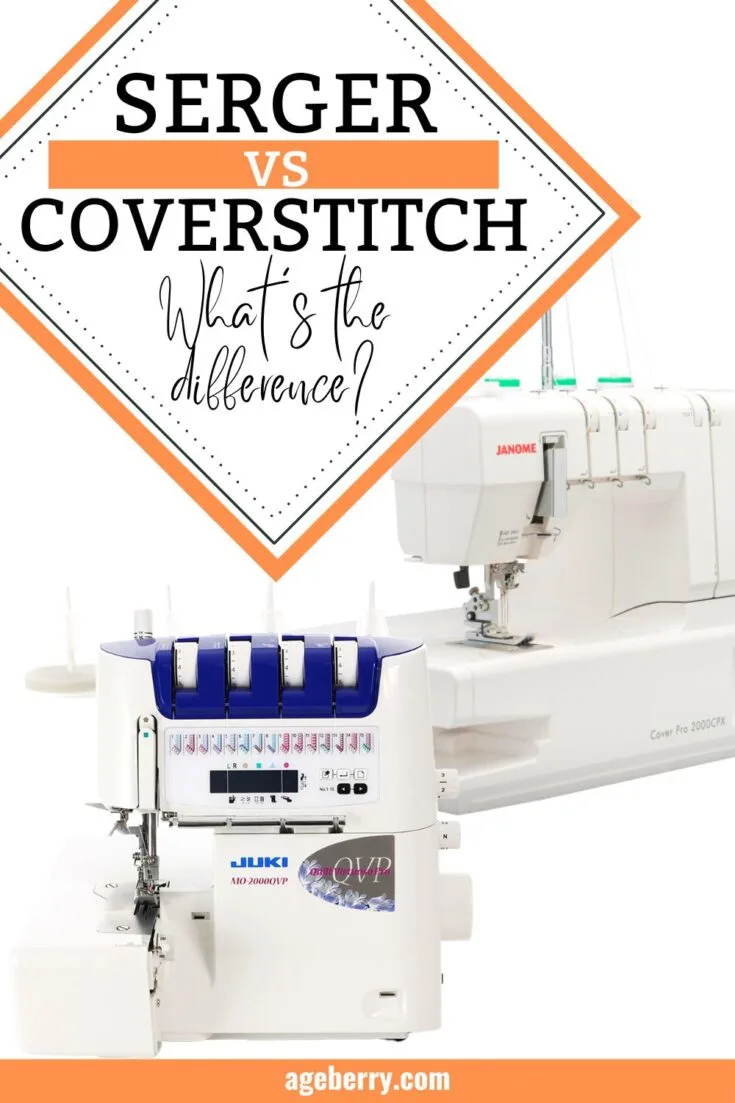 Like sewing tips? I have other popular tutorials on my site that might be interesting for you. Check them out below.
---