If you are like me – and chances are you are, since you are passionate about sewing too – you want to have the best tools you can afford. In this tutorial I want to talk about care of sewing tools and equipment. Probably you have made an effort even at some point to buy that extraordinary sewing machine, or that beautiful embroidery machine – I know I did! What if it is no longer useable? Perish the thought!
Better to make sure it will give years and years of service, not only because it costs a fortune, but also because after a while you know it well, its pluses and minuses, its strength and weaknesses. You are comfortable with it and a project seems easier to finish when you know and trust your tools, you don't need thoughts like "will the machine be able to do that?" in the middle of a project.
Whoever said "one ounce of prevention equals one pound of cure" was a wise person, so let's talk about maintenance and upkeep of our sewing tools. I doubt anyone enjoys doing maintenance, so if I may, let me start with a piece of advice: after you make sure your significant other understands that the way to your heart goes through your sewing room, ask him/her to help!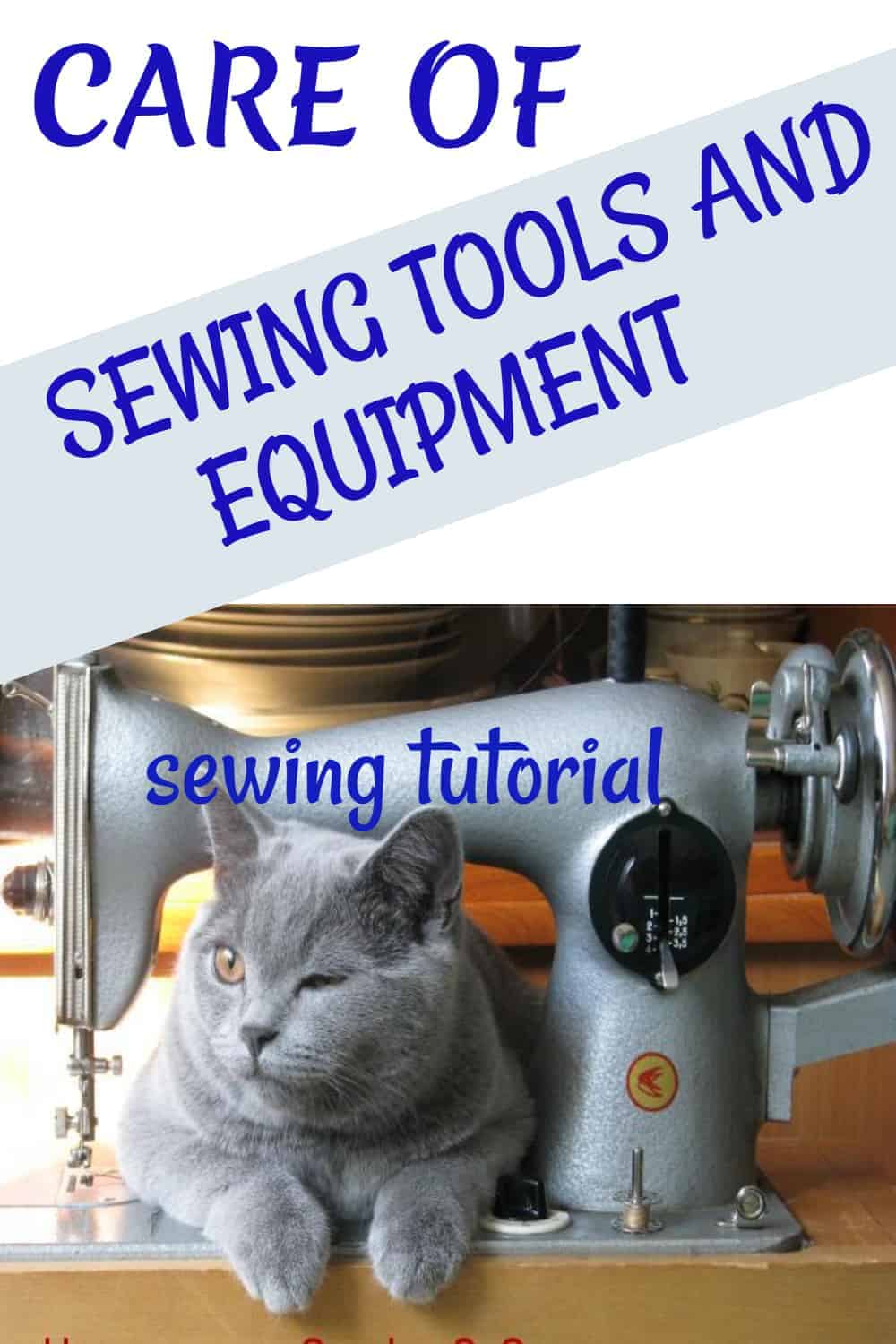 Note: Some of the links on this page are affiliate links. This means I will receive a commission if you order a product through one of my links. I only recommend products I believe in and use myself.
All jokes aside, what tools do we use? Actually, quite many. Let's enumerate:
Sewing machines and accessories
Sergers
Embroidery machines
Hoops for embroidery
Irons and ironing boards
Cutting tools (rotary cutters, scissors)
Needles and pins – all kinds
Other small tools (seam rippers, rulers, curves, measurement devices, marking tools, etc)
Threads
Ok, we bought the best tools that we can afford. For a month everything is good, we are happy. But then the needles begin to break, the thread begins to bunch, or it breaks, or the scissors don't cut all the way to the very tip, or, or, or!
Suddenly, things are no longer fine! How come, when only last month everything worked like a well-oiled engine? Aha, "oiled"! Did you maintain your machine? Did you protect your scissors? Let's look at some maintenance tips now because taking care of the sewing tools and equipment is very important.
Sewing machine maintenance and repair
By far the tools that require most maintenance are the sewing machines, sergers and embroidery machines. All these have fast moving parts and come in direct contact with the fabric and thread which are major sources of dust and fibers. Taking care of sewing machines is a requirement if you hope to use them for a long time!
Dust isn't the only thing that can find its way inside your machines: a friend told me that he found a snake in one machine and a nest of ladybugs in another! Ha-ha, not only humans enjoy sewing!
Seriously, what should be on our list for sewing machine maintenance? How do you take care of the sewing machine?
I will start with a not very common advice but nevertheless very important: plug the machine in a surge protector, not directly into a wall outlet.
This will protect it from power surges that are possible (especially during a storm). I am using an "ESP Next Gen Surge Protector" which has excellent ratings. My machine is worth it! If you live in an area prone to storms, this is an absolute must.
I am using a second one for my embroidery machine and I am considering getting a UPS power supply for that because it has happened that the power went out in the middle of an embroidery which was annoying. Where I live (Florida) we have frequent thunderstorms and it is not uncommon to see lightning striking close by. Why risk a machine which costs many thousands of dollars (modern embroidery machines ARE expensive)?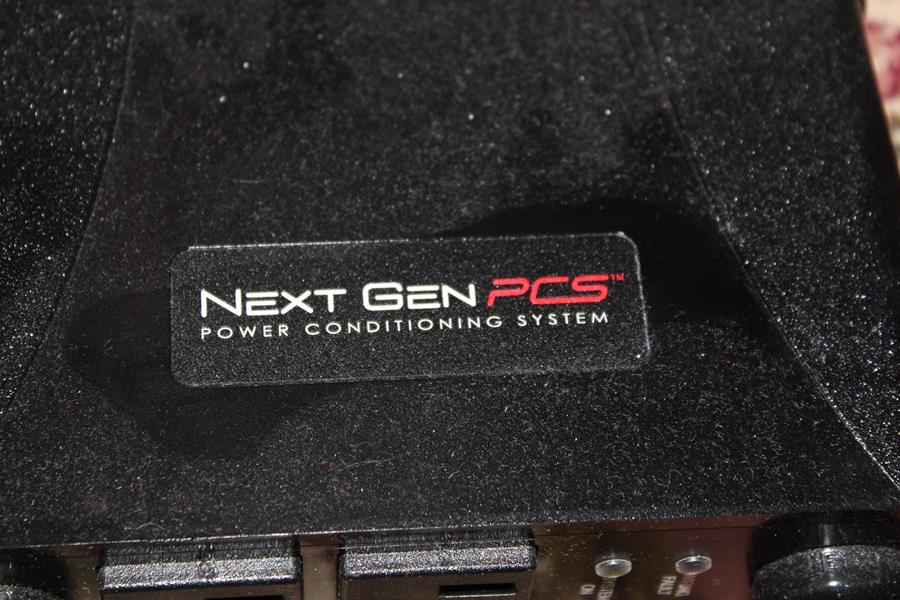 What does the manufacturer says about it:
Industrial-grade surge and noise protection: protect sensitive electronics from lightning strikes, surges, transients, noise, over voltage, under voltage and wiring faults
120 volt / 15 amp with (3) 5-15R outlets, (RJ-45) network protection, (RJ-11) phone line protection, NEMA 5-15P input plug
Monitor, manage and diagnose power issues. Includes FREE software to display power quality information on your computer screen. An optional interface cable (part #XG-PCS-IC-1), available separately, is required to view or download data to your PC
Special filter circuits screen electrical noise to prevent disruption, data loss and phantom performance problems
Automatically disconnects from the electrical supply in the event of dangerous situations like extended over and under voltage conditions.
Unplug the machine when not in use for longer periods of time
Clean the bobbin case frequently using a cleaning brush provided by the manufacturer. If none has been provided with the machine, get one that looks like the one below. Even the smallest debris in the bobbin case might affect the quality of seams.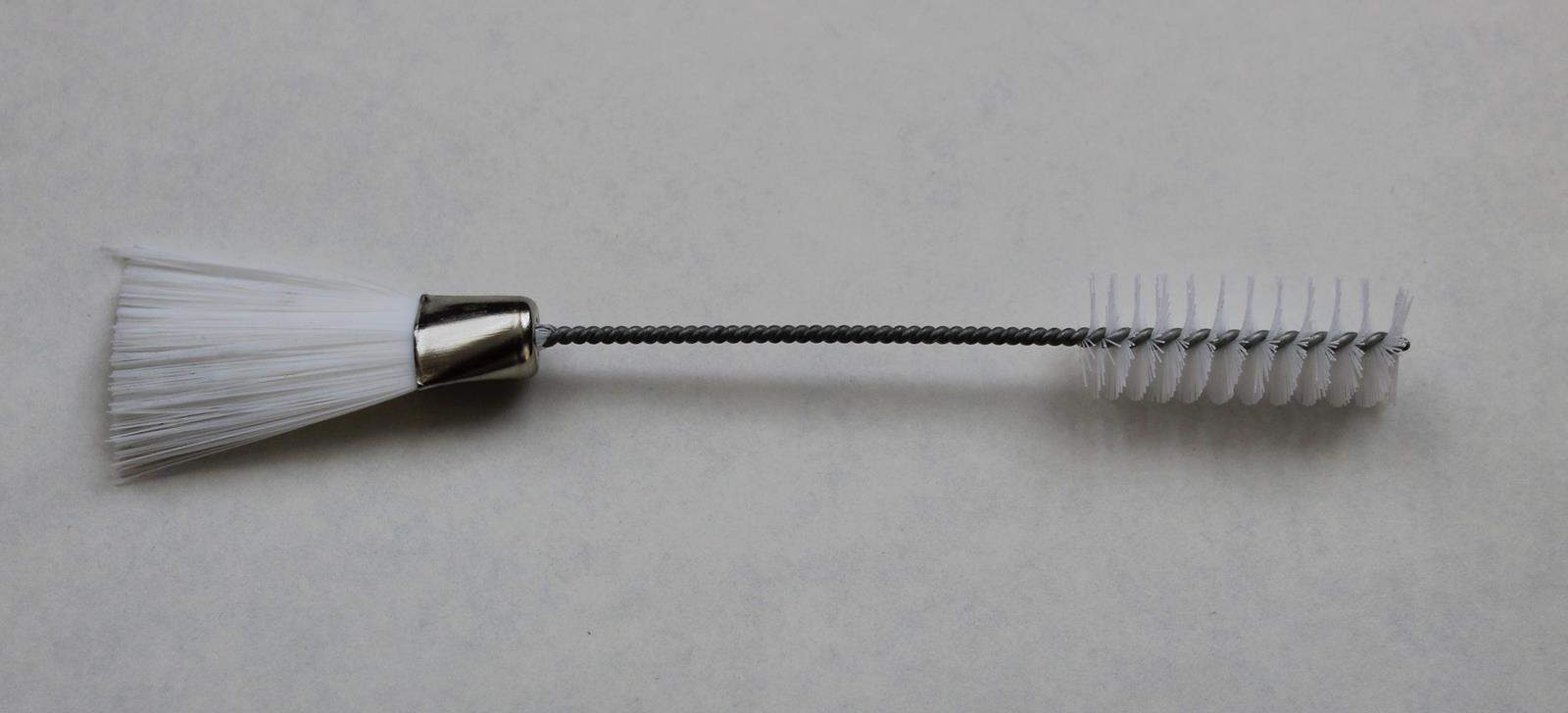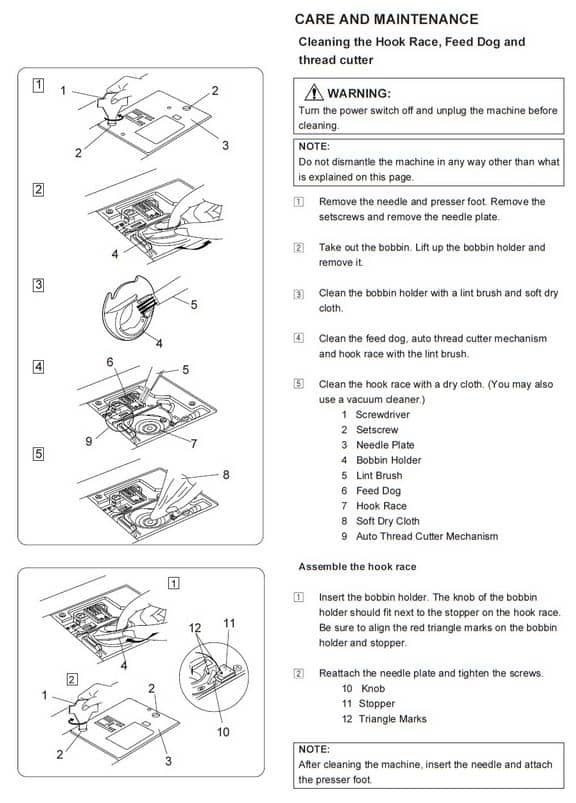 Regular cleaning: after a sewing session dust or vacuum the area, the machine, the bobbin case, everything you can reach directly or by opening compartments without disassembly.
Do not wash the machine, just dust – introducing moisture isn't a good idea.
The manufacturer might publish a list of places that should be cleaned regularly, for my machine (Janome MemoryCraft 6600p) the list is in this image.
This is how my serger looks like after working for a couple of hours on fabric for curtains. This fabric was thick and left a lot of dust after cutting but dust accumulation is in general a very common occurrence for a sewing machine.
✅ Related tutorial: Serger vs. sewing machine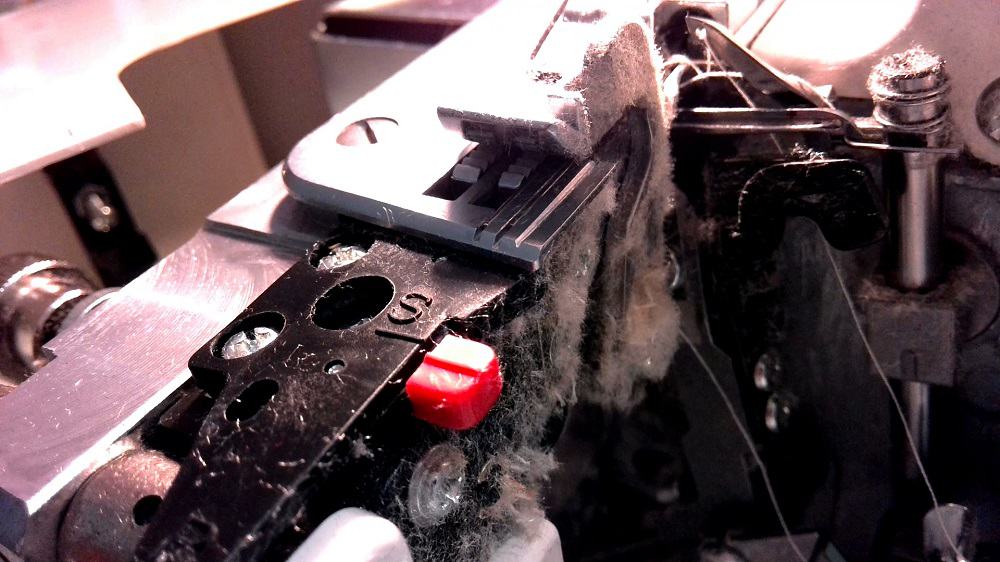 Do NOT use a canned air spray, this will only push the dust inside the machine. If you do use a canned air spray, NEVER use an air freshener or deodorant! And be careful to point the air jet away from the inside of the machine, otherwise you will blow all the dust inside! A vacuum cleaner and a brush are better.
Cover the machine. The cover can be beautiful and you can do it yourself. I have written an article on this "A cover your sewing machine absolutely needs". This will protect it from dust, from sun (it causes the white plastic to yellow in time) and accidental hits.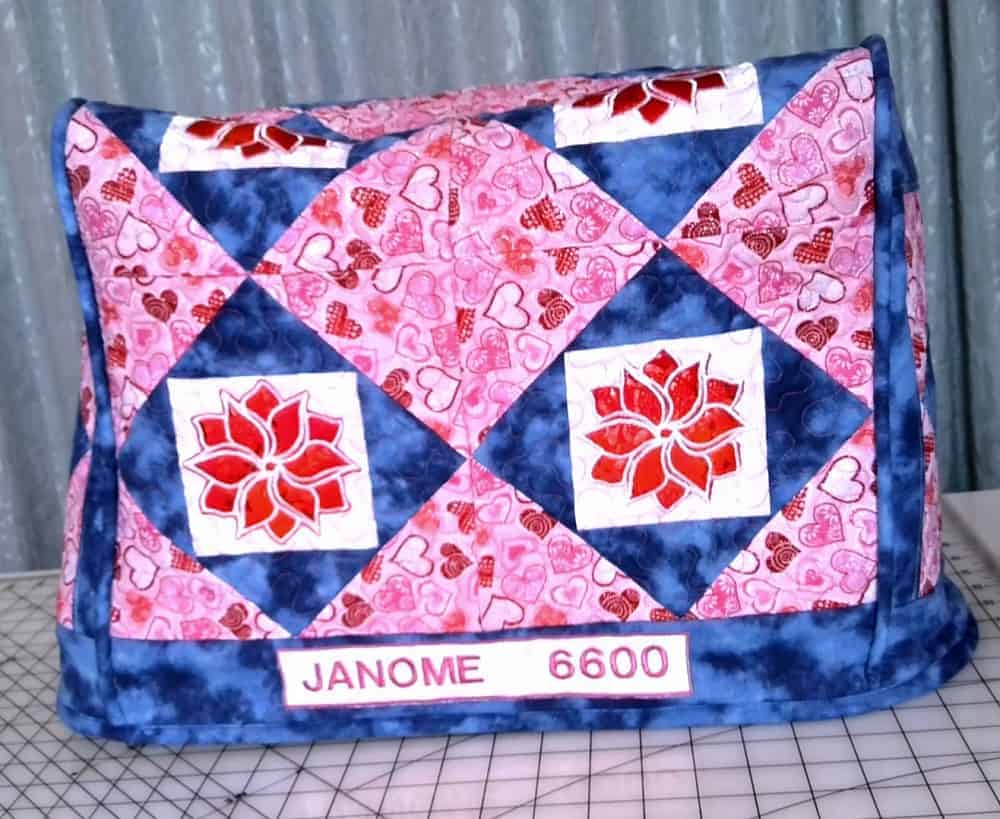 Do NOT store it in a garage on a lower shelf. It may be humid and bugs may find their way in. Store it in a dry place. I always leave the machine I use frequently on my desk (I have a special desk for it) but the serger which is less frequently used, is stored in its place in the closet in the sewing room. I live in Florida where not so much temperature but humidity is an issue so none of my machines are stored in the garage.
Modern computerized machines don't usually need oiling. But if the manufacturer says so, oil the machine. Do NOT oil if the manufacturer does not explicitly say so. Oil attracts dust and it may also stain the fabric. Use a high-quality oil like the "Hoppe's No. 9 Lubricating Oil" or Liberty Oil.
Make sure you read the instructions before you use oil. Also, after oiling the machine, run a couple of stitches to make sure the oil is spread evenly and it doesn't stain the fabric.
✅ Related tutorial: Sewing Machine Oil | Top 10 Questions Answered
Very important: Use only high quality thread.
Want to improve your sewing skills?
Get my detailed guide on SEWING MACHINE TENSION ADJUSTMENTS free!
Subscribe to my weekly newsletter with sewing tips and tutorials, free sewing patterns, printable PDFs, and other useful content and you'll find the eBook in your inbox.
Subscriber exclusive offer.
Don't miss the free HELPFUL eBook!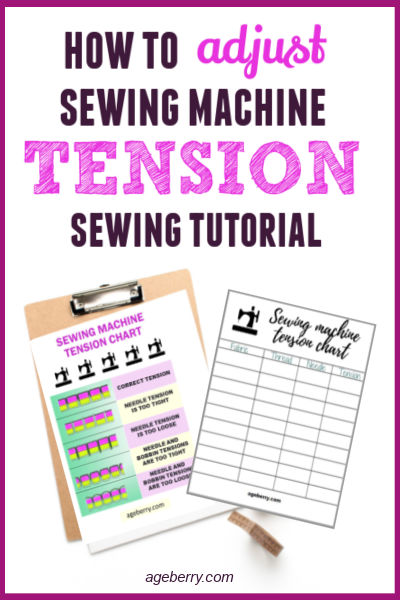 Related post: Sewing thread types and uses
Thread that frays easily will leave residue inside the machine, especially modern machines that sew at high speeds. Even if the thread doesn't break (lower quality thread DOES break) you don't want to endanger the $2000 machine for a thread that costs $2, do you? One trip to the dealer to fix it will cost you enough to buy at least 50 spools of thread!
Below is a comparison between a good thread (left) and a low quality thread; the image is magnified. It can be clearly seen the good quality thread is compact and will shed less while the low quality one looks wooly under magnification. Guess what? All that protruding fibers will come loose inside your machine!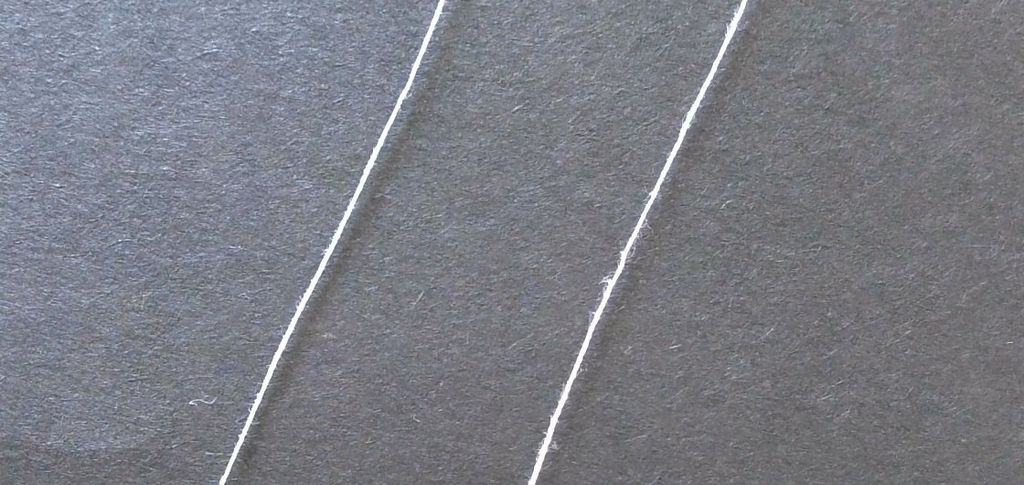 I like very much Amann threads from the SABA brand but unfortunately, the only place I have seen it for sale is a store in New York where I can only go every couple of years. If you find it for sale in the USA, please let me know! Other threads I like are the Mettler threads (available on Amazon), then Gutermann and Coats & Clark.
Your iron and ironing board – there is little to do here, right? Wrong! The iron has its own issues and maintenance needs, be it the classic one or the more modern ones that generate steam.
✅ Related tutorial: Iron buying guide
For all irons, the sole may become dirty with some residue, for example if you touch some stabilizer with a too hot iron, or a piece of plastic by mistake, or even a garment made out of synthetic fibers. The iron then needs cleaning, and I found that Faultless Hot Iron Cleaner works very well. Below is a short video that shows how I clean an iron.
Another issue is cleaning the holes of the steam producing irons regularly.
If you use regular tap water, that has minerals dissolved in it in time those minerals will form a whitish film inside your iron. A similar thing happens with your coffee maker and probably anything that produces steam from tap water.
There is an ongoing discussion about using distilled water in a steam iron. Some say it's a must, others say it will cause a leak because it will attack your iron internals more aggressively than tap water due to its higher capacity to dissolve things.
Not being a specialist, I am using common sense and I use distilled water in my iron because:
It does not create the residue I mentioned (being pure water)
Not having impurities, the probability of staining the fabric is lower
I have my ironing station for 5 years and I use probably 1 gallon of distilled water every month.
Always use sharp good quality needles. A bad needle may bend or break which is at least an annoyance. Needles will become blunt in time even if they are excellent quality. So after a while the stitches may become irregular, or the fabric may pucker, or the holes left in the fabric may be bigger, or the machine may start making a different sound than before. If you have a feeling the needle is becoming old, then it probably is – change it.
Related post: The Ultimate Guide to Stretch Sewing Machine Needles
Always use needles of the proper size for the project / fabric.
Hoops are a very important part of your embroidery setup. They must be stored in such a way to avoid warping or bending. For small hoops storage isn't an issue but for large hoops, it is. I am using both magnetic and standard hoops up to size 9 ½"x14" (~24x36cm) and I am hanging them on the wall.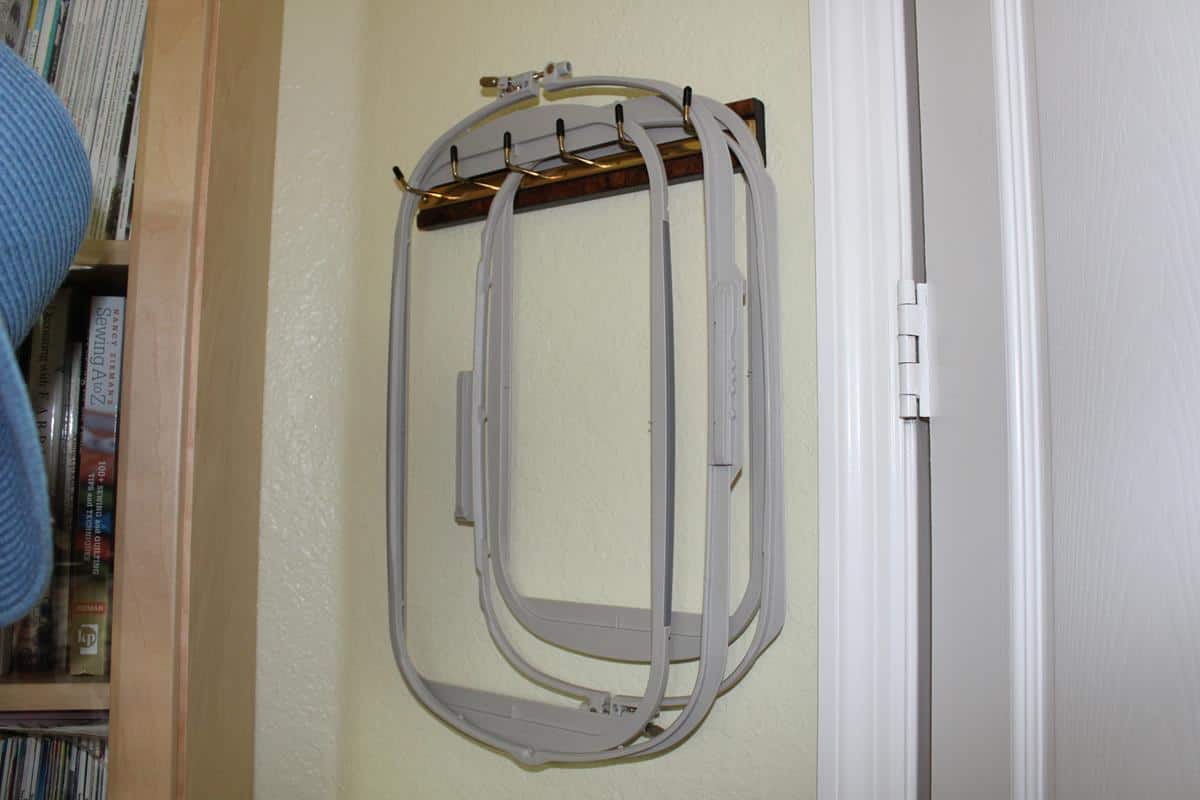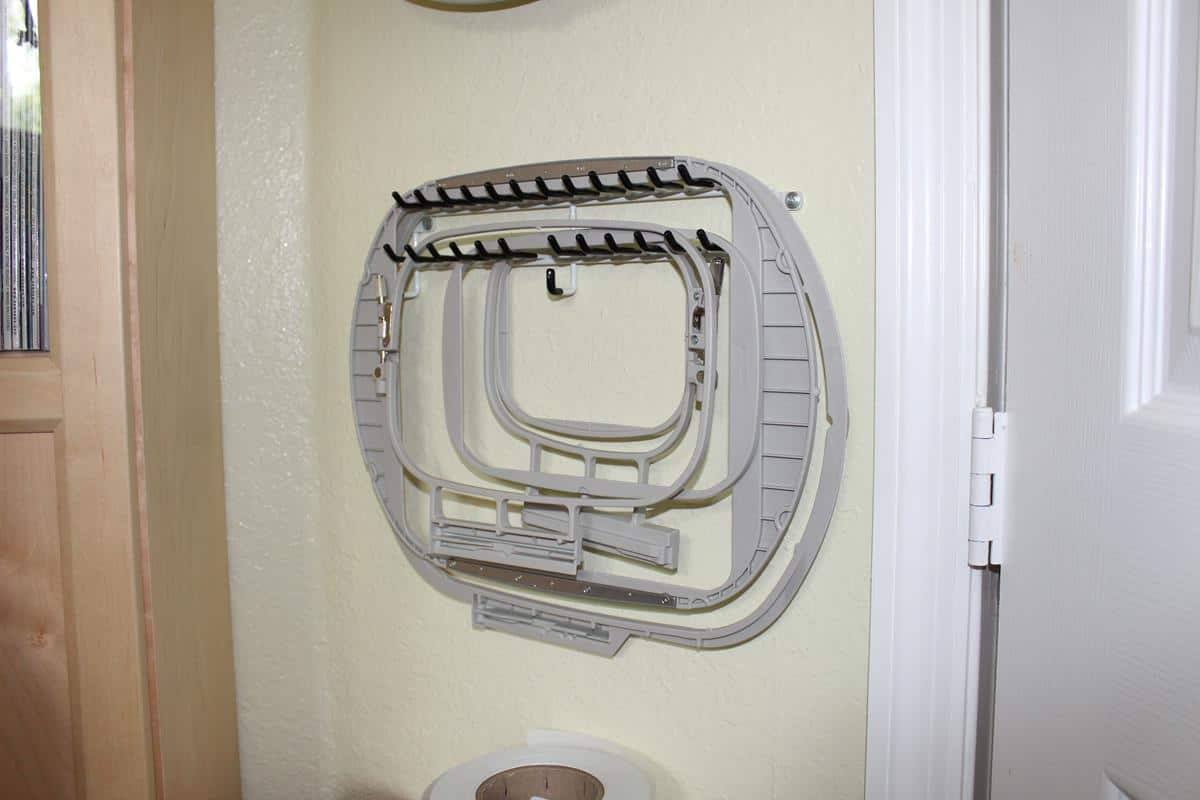 If you are seriously into embroidery, and especially if you create in-the-hoop projects, I can't recommend enough the magnetic hoop. It's quite expensive but I found that the ease of use and convenience is worth the price, if you can afford it.
✅ Related tutorial: Brother Luminaire tutorials: How to applique with an embroidery machine
Scissors.
A tool which is at least 3000 years old, according to Wikipedia. Nevertheless, it's an essential tool in your sewing toolbox, and one that needs probably some maintenance also. What can we do here? How to care for sewing scissors?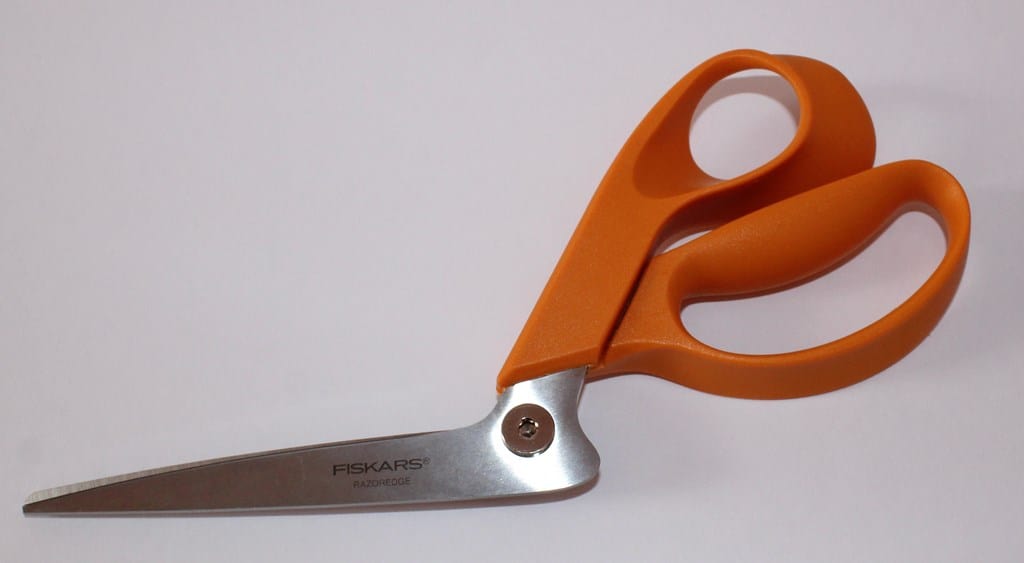 Buy good quality scissors. They will not be cheap but also not extremely expensive. Personally, I like Fiskars scissors but you will need many sizes, from very small to very large, and probably also specialized scissors like the ones below.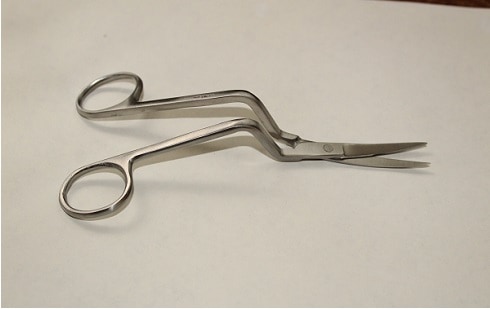 Avoid getting the scissors wet. Not even moist, if possible, because the fine cutting edge of the scissors is easily affected by rust, especially if in a closed humid environment. One mistake I made myself was to put the scissors on the damp ironing board only to find out two days later that they were indeed affected by moisture.
Never cut anything but fabric or thread with your sewing scissors. Need to cut paper (pattern, for example)? Ok, get a cheap pair of scissors, but don't use the sewing scissors.
Especially be careful to avoid pins and zippers when cutting, a pin will very likely damage the scissors edge locally.
Avoid hitting or dropping the scissors, they can be damaged.
Never lend your scissors to anyone, they might not realize how precious they are to you! I had a very hard time teaching my husband to never borrow my scissors (they are almost always in plain view in my sewing tool basket) and in the end I started keeping a pair of cheap scissors around which I do not use but being readily available they are his first target when opening the mail, for example. True story!
I have learned a neat trick for sharpening the scissors: use an old sewing machine needle. The video below shows how to do this. Do not expect stellar results, a very blunt pair of scissors will need much more than this, but a pair of scissors that has just begun to lose its edge might be revived this way. And it doesn't cost a thing!
Please make sure you don't cut yourself here, the scissors may not be sharp enough to cut cloth, but human hand is no match for the bluntest knife!
There are many other methods that can be used to sharpen scissors and there are many, many devices you can buy to help with this task.
There are also plenty of services that sharpen professionally all kind of objects.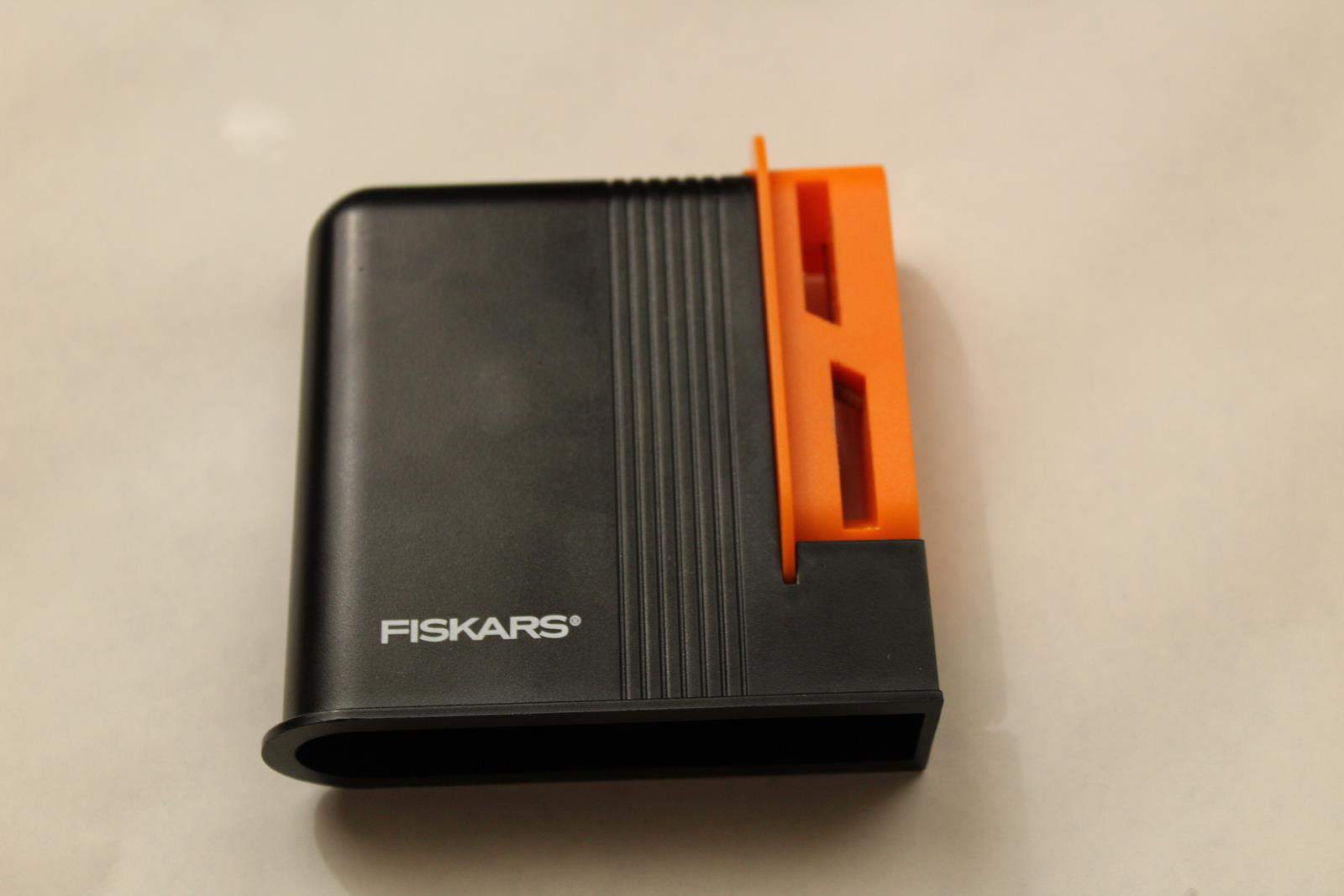 For small tools the maintenance is probably minimal: when a needle is no longer sharp, or a tape measure has faded markings, or is frayed, you will probably discard it outright, regardless why it no longer works.
Related post: Sewing room ideas for small spaces
Probably the best advice for the small tools is to keep them organized in compartments where it's safe to store them and where they are easy to find. I also have a basket in which I keep the tolls that I use regularly, like scissors, seam ripper, one or two measuring tapes, case for bobbins, pincushions, marking pens, etc.
I have a big collection of threads, in small or large cones and bobbins. They need to be placed somewhere where they are protected from humidity, dust and light but they also need to be visible and accessible without moving the earth to reach them. I am keeping them in various drawers like in the images below.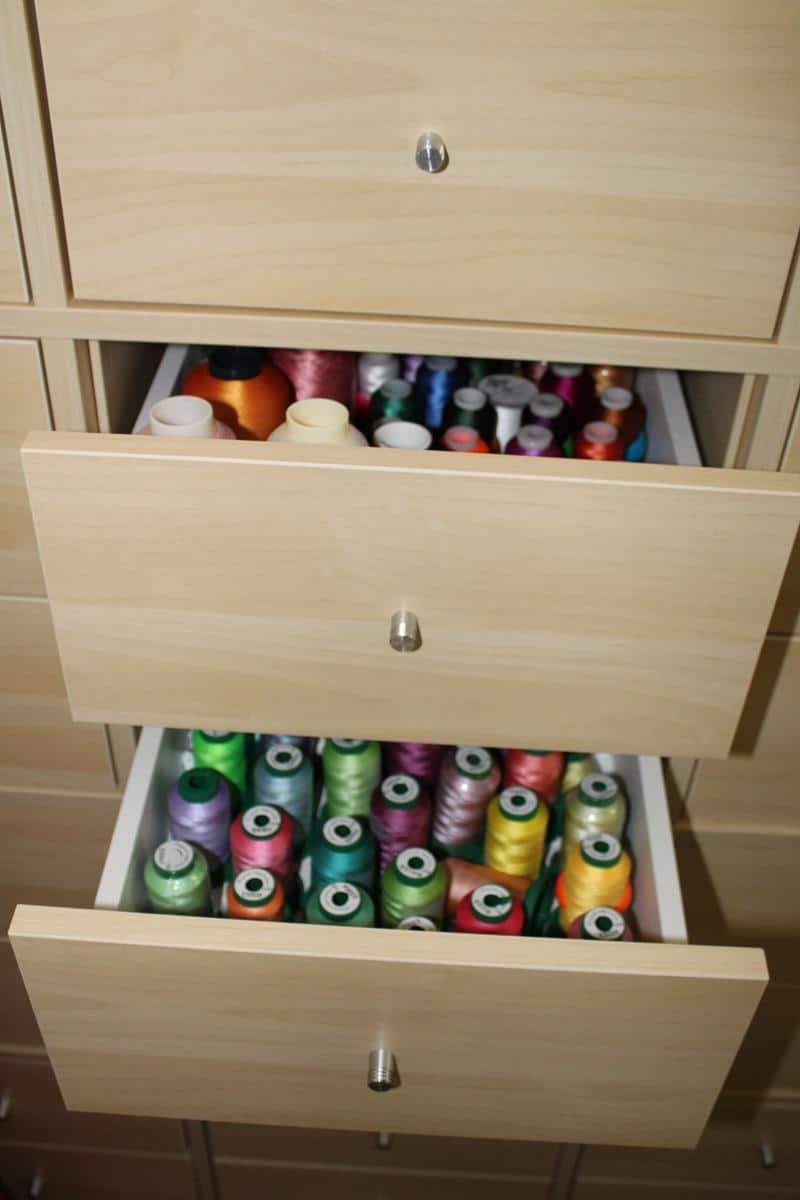 I used to keep them in flat boxes with transparent covers, the problem there is that a box still needs to be stacked and only the topmost one is readily accessible – therefore the need for drawers which I recommend. I have written an article about how I organized a sewing room without breaking the bank – "Ikea sewing room".
For pins and needles: use one or more pincushions for the pins and needles that were used. The new ones are staying very well in their original container until their turn comes, do not take them out before use. Since the pincushion is in my opinion an essential tool itself, I wrote some articles about this. You can never have enough pincushions, and since you work with them all the time, it doesn't hurt if they are beautiful: How to make a wrist pincushion and How to make an owl pincushion .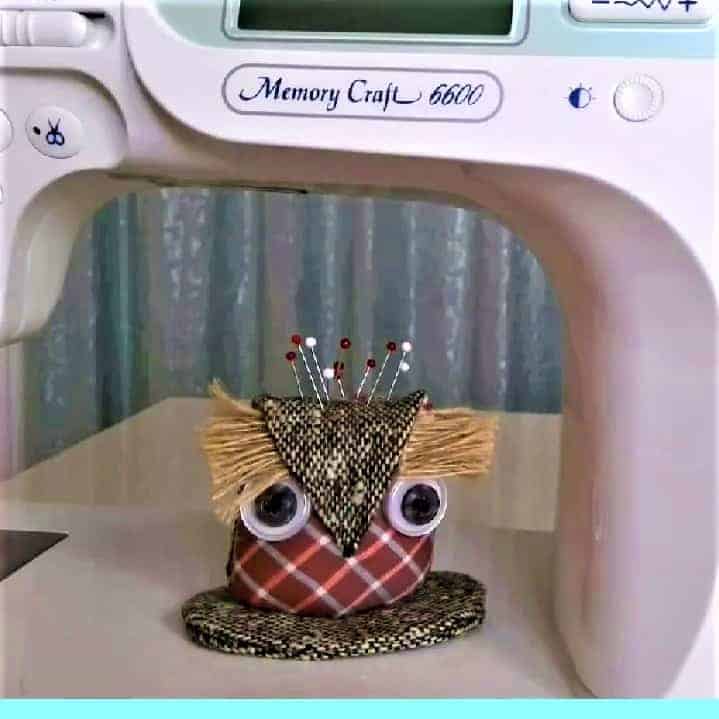 ✅ Related tutorial: Types of sewing pins and their uses: all you need to know about straight pins for sewing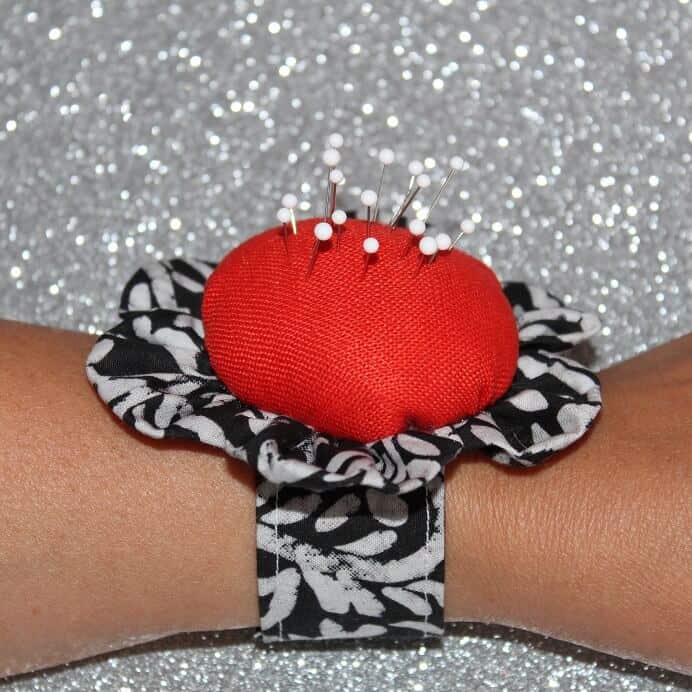 And here is how needles should NOT be stored!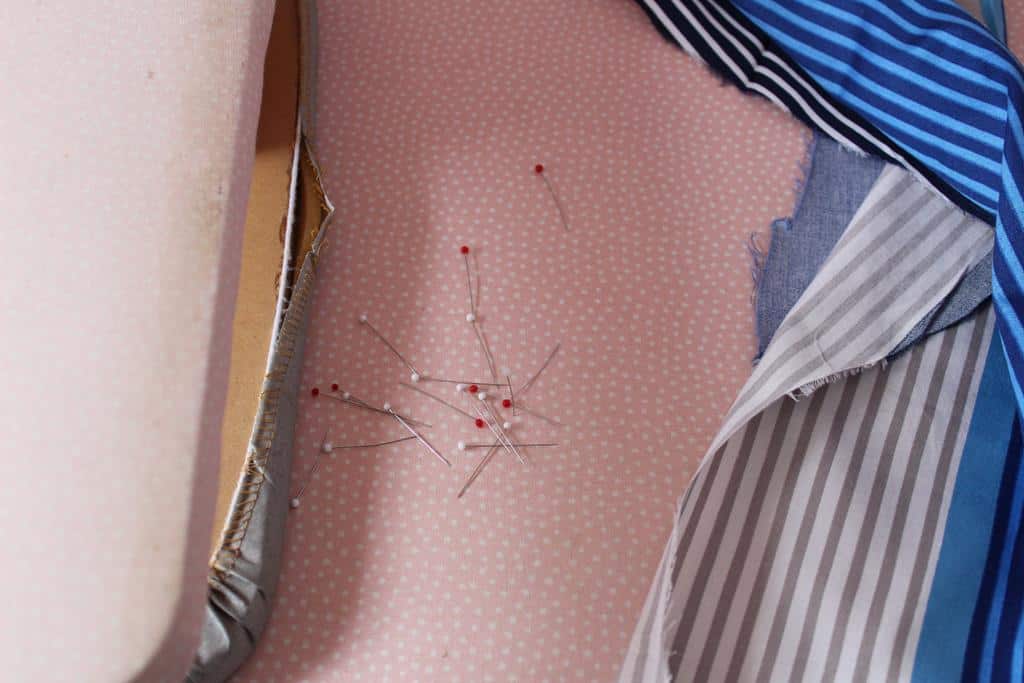 Keep your measuring tapes rolled up to avoid them getting tangled. Also this will prevent an accidental cut. I dare you to tell me you have never cut a measuring tape! Keeping a tape rolled up will prevent also tape fading or getting dirty. In the images below you can see what happened to one of my older tapes – cuts, fading and dirt are all there!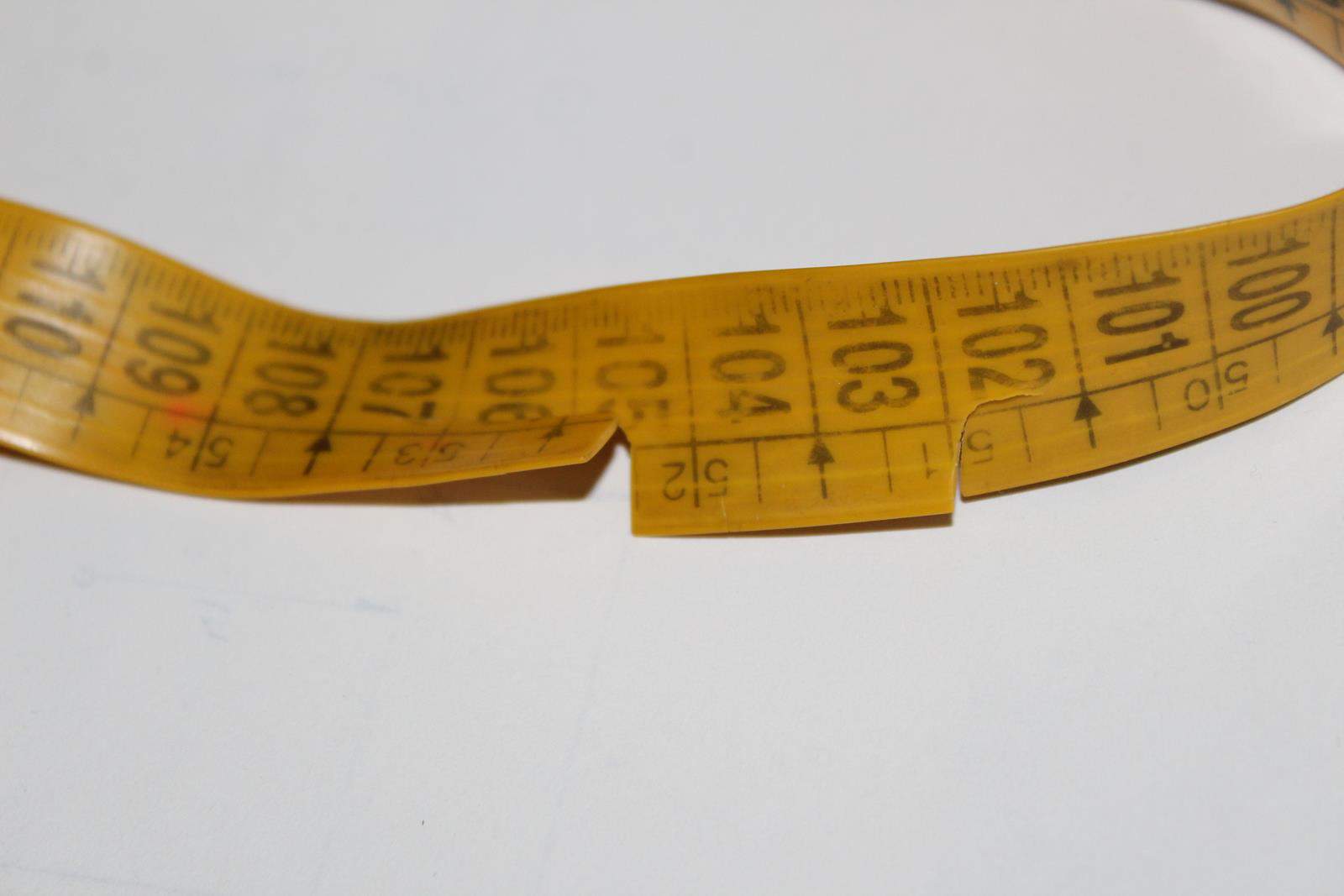 A special note for your bobbins: you will have of course a large number of bobbins with threads of different colors. A bobbin case / holder is a must, and you probably already have a number of them (if not, I suggest invest in one, it's cheap and really useful).
But recently I bought bobbin holder clamps that I am showing in the video clip below. They are so useful! Now I can easily prevent bobbin threads unwinding & tangling with each other. Thread tails really stay put. No more mess.
And now my answers to some FAQ (frequently asked questions)
How often should the sewing machine be serviced?
Depends on the amount of sewing and the kind of fabric and thread you use. Regular cleaning should be performed after every sewing session, dealer maintenance once a year if the machine is used frequently. More frequently if you feel that the sound or behavior of the machine changes.
How often should I oil my sewing machine?
Oil it according to the manufacturer's specifications and only if the manufacturer requests it. The machine manual probably has a "Maintenance" section. Obviously if you hear a squeak or a suspect noise that would be a good indication it may need oil. If the manufacturer doesn't require the user to oil the machine, don't, take it to the dealer instead.
How much does it cost to service a sewing machine?
It depends on the type of machine, if you bought it at the place where it's serviced, the exact location where you are, the age of the machine. In the USA you can expect to pay anywhere between $75 and $125 if the machine doesn't need any actual repair. Try to ask for free service, a good dealer may give it to you (or discount the service) because they are interested in you coming back.
Why should you keep a sewing machine covered?
The cover prevents dust from entering the machine, prevents yellowing of the plastic panels because of the sun, protects the machine from accidental hits and protects you from getting your hand scratched by the sharp parts of the machine. Besides a nice cover is actually pretty if you have the machine in plain view.
How do I know if the sewing machine needle is dull?
Certainly not by trying if it stings; it will. A dull needle will make larger holes in the material, may cause unequal stitches where the thread is not pulled tight all over, may cause bunching of the thread and will sound differently than a sharp needle. A dull needle will make a small sharp sound when penetrating the material.
How often should you change the needle on your sewing machine?
Personally, I always start a new project with a new needle and generally I don't need to change the needle until the end of the project.
If you look for a number, I would guess 8 hours If you sew continuously. The correct answer is – it depends on the amount of sewing you perform, the type of material, the machine, the pattern. Some machines are slower, some faster so the same amount of time sewing on two machines may mean different things. Change the needle when you feel the machine working differently than in the beginning or when you have the impression the needle is dull.
What should you use to clean a sewing machine?
Use a brush (usually it comes with the machine) to clean the bobbin case frequently. Use a vacuum cleaner to remove the dust and fuzz that accumulates. Do not use water or wet napkins.
---
Did you find this tutorial helpful? If so, save this pin (see below) on your sewing board so you can come to this tutorial later when you need it and follow me on Pinterest for more tips, tutorials, and inspiration!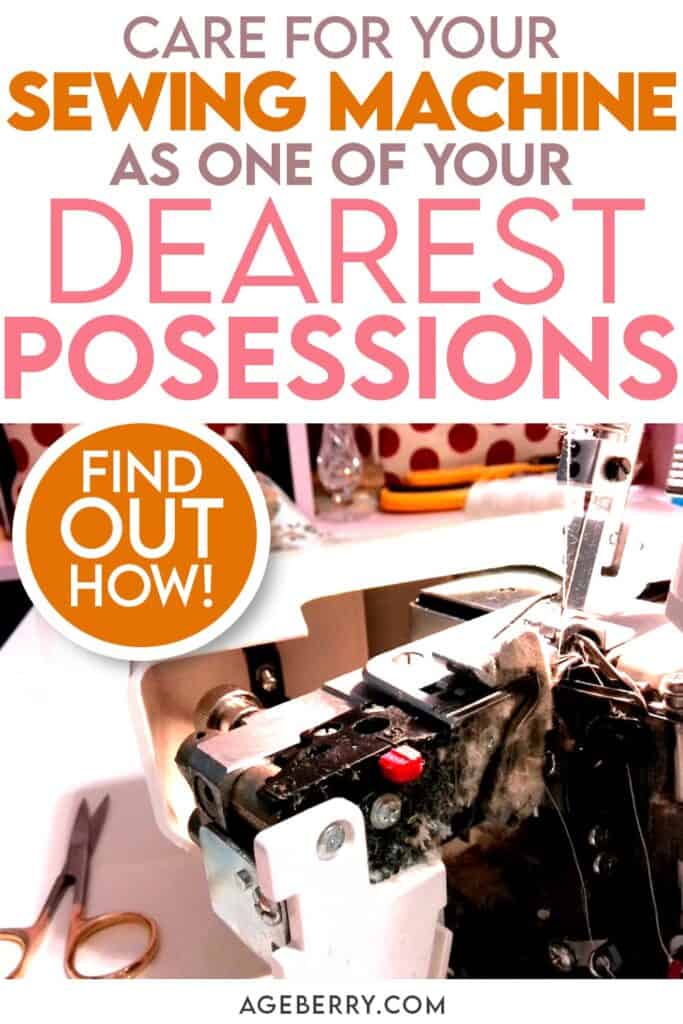 Useful Info – Sewing Machine Troubleshooting

If you own a sewing machine long enough, you're going to have to figure out how to troubleshoot your sewing machine at some point or another. While some sewing machine problems are preventable, others are inevitable. Learn how to troubleshoot your sewing machine with my printable PDF eBook. Whether you use a traditional sewing machine or a modern computerized one, work through this ebook before thinking about a replacement or going to a service center.