Rotary cutter tips and tricks 
I wasn't a quilter until recently, I used to sew clothes for myself and kids and some home decor items (mostly curtains). So I wasn't used to rotary cutters, although I had all the time many different kinds of sewing scissors and I thought that rotary cutters are only used by quilters. 
Some time ago, before deciding to share my sewing experience with others, I started to sew leather. I heard from more experienced people that a rotary cutter is excellent for cutting leather and will transform you in a real leather cutting machine. So I tried it. And it was awful! I even film it so you can laugh now together with me – at the time I was so surprised at the way a rotary cutter works.
Watch the video – "How not to use a rotary cutter".  It's really funny!
So I decided to find out what is wrong with my rotary cutting skills. I saw many YouTube videos where they go through a few layers of fabric with a rotary cutter like through butter. And I was really surprised that I can't do the same with my rotary cutter. 
It was not hard to figure it out though. And I put together this article so you are not going to make the same mistakes I did.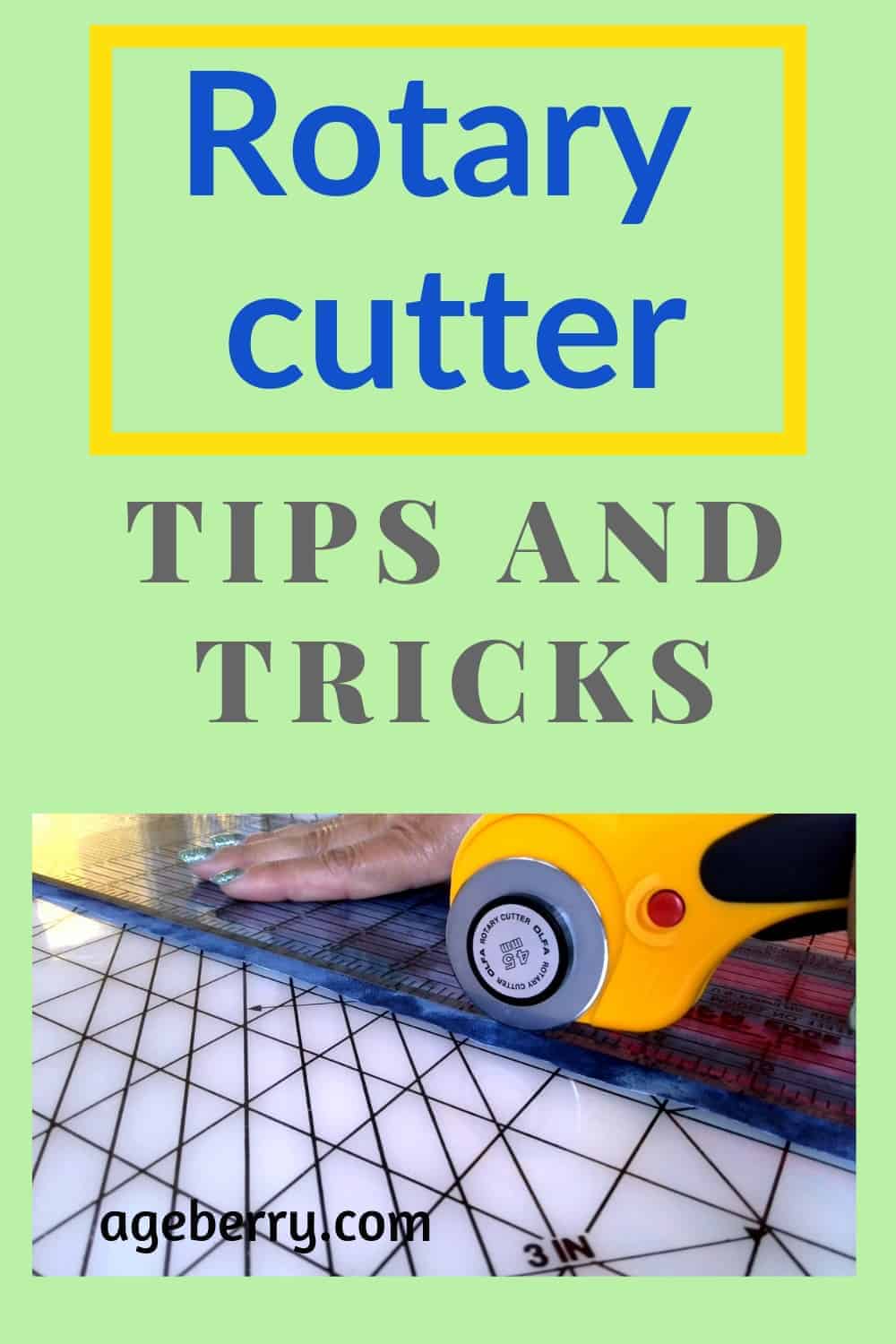 Note: Some of the links on this page are affiliate links. This means I will receive a commission if you order a product through one of my links. I only recommend products I believe in and use myself. 
What is a rotary cutter ?
The best rotary cutter definition seems to be "a hand tool which has a round knife". The knife is between 18 and 60mm in diameter (~ 3/4" to 2 1/3"). The standard sizes I have seen are 18, 28, 45 and 60mm. You cut by pressing the knife on the material and moving the tool forward.
Right now I own two Olfa rottary cutters, both for 45mm blades. I do have some others but they have been relegated to the "never to be used again" bin.
The most common cutting tools are made by Olfa and Fiskars and the price for a no-name tool and a brand name one is about the same, so buy the best, this you buy once and use for years. I only use 45mm blades, in fact I own the first two cutters in the list below:
OLFA Rotary Cutter RTY-2/G
Olfa 45mm Deluxe Handle Rotary Cutter
Fiskars Classic Comfort Loop Rotary Cutter (45mm)
Premier Blades 45mm Rotary Cutter Tool
Get more info on Rotary Cutters here
So, the reason I couldn't cut my leather using a rotary cutter is obvious – a dull blade. Even if you have the best expensive rotary cutting tool it will not cut your fabric if the blade is not sharp enough. 
How do you know what blades to buy? That's easy: the best for the price, right? So let's compare them.
We will use the following three types of blades in this test:
I started with no-name blades (remember the funny video?), bought in bulk from China (if 10 can be named "bulk") on eBay. I think when I bought them they were about $5 for 10, now you pay anywhere from $9 to $15 for a 10-pack. Even Amazon still sells them.
They work ok for the first cut for a one-layer material, perhaps the second and third, if you are lucky, your mat is good, the material is thin, etc. Then it happens as it happened during my test, see the video:
Note please the force that I applied to the cutter, my finger is white where I press the cutter. And the result? Better let's not talk about it, the video is clear! As I said: I don't have time for this! I use a rotary cutter not to aggravate myself, but to save time and for convenience.
My next step? Give the remaining blades to my husband to do I-don't-know-what-and-I-don't-want-to-know with them, go to Amazon and buy the brand name ones. I bought Olfa blades and they are my favorite now. 
There are two types of Olfa blades: regular and endurance which promises twice the life of the regular one. In the image below you can see how they look like, together with their original packaging.
They are available on Amazon ( see below ) but at many other retailers also, one of them is CreateForLess: Olfa 45mm regular blade (RB-45) and Olfa Endurance 45mm blade (RB-45H)
Get more info about Olfa blades sold on Amazon.com here
OLFA Rotary Cutting Blades 5 In Pack
as of January 22, 2021 5:21 pm
Features
Rotary Blade 45mm 5ct
Olfa
OLFA 1128127 45MM Endurance Blade
11 new from $7.57
Free shipping
as of January 22, 2021 5:21 pm
Features
2x More Cuts Per Blade - Retains cutting edge two times longer while cutting fabric before dulling - OLFA internal testing cutting four layers of cotton fabric versus standard blades
Proprietary Tungsten Steel metal chemistry with innovative heat treatment process for exception durable long life
Compatible with all current OLFA cutter handles
The "Endurance" blade is a newer product and probably difficult to find for a better price but I think there is a good chance to find the regular RB-45 blades on sale for a better price. Look around.
So after I confirmed what I already knew – no name blades are a no/no – let's continue.
The video below will show an Olfa rotary cutter blade change, a very simple process and pretty much the same for all cutters I have seen. The main thing is NOT to overtighten the screw: the blade should be able to rotate easily! 
I will use now one of the two Olfa blades I have, an Olfa Extended Cut RB-45H. This is an expensive blade and promises a longer life ( 2x ) than its Olfa cousin that we will test later. How does it work? Superbly! See the video. In fact, the material I cut is a multi-layer in some parts, I used this cut to straighten one side of my quilted block.
Now I am using the regular Olfa RB-45 blade and as I expected (the blade was new) I didn't see any difference. The blade cut effortlessly, pretty much like its predecessor, the more expensive "Endurance".
I then used the same regular blade to cut the same multi-layer material used with the "Endurance" blade, no problem whatsoever, the blade cut easily and without the need to apply more force than I did for one layer. I could not determine which one cuts best between the "Endurance" and "Regular" blades.
Will the "Endurance" blade last twice as long as its cousin? Difficult to say especially that they will not be used to cut the same materials. I know from experience that the regular RB-45 blade lasts quite a long time (unless my husband uses it again to sharpen my chalk pencil).
Here is the description I found on the manufacturer's site – sounds like a great tool!
"Great for beginners, the unique design of this tool makes perfect cuts through fabric a breeze — since you're not managing two tools separately, you don't have to struggle with a misaligned ruler or worry about holding the rotary cutter straight. It includes a 45 mm spring-action rotary blade that makes clean cuts through multiple layers of fabric and an ergonomic blade carriage that makes cutting smooth and easy. The ruler features a bold 6″ x 24″ grid that is printed on both sides for right- or left-handed use, plus highlighted numbers for excellent visibility on light or dark fabric. The unique rail design prevents lint build up as you work, the no-touch magnetic blade change system makes blade change safe and easy while storing used blades, and a carrying handle offers easy, convenient transportation."
Get more info about rotary cutter and ruler combo
Fiskars 195130-1001 Rotary Cutter and Ruler Combo, 6x24 Inch
12 new from $41.57
2 used from $38.82
Free shipping
as of January 22, 2021 5:21 pm
Features
Ideal for measuring and making precise, clean cuts through fabric when strip cutting, cutting long swaths, cutting basic shapes like triangles and more
Ergonomic handle and a 45 mm rotary blade make smooth, confident cuts through multiple layers of fabric easy, spring-activated blade only engages when in use
Built-in ruler features a 6" x 24" measuring grid with highlighted numbers that are easy to see on light or dark fabric
Grid is clearly printed on both sides for easy right- and left-handed use, bias lines make it easy to measure angles before cutting
Magnetic system provides easy, safe, no-touch blade change, extra blades and magnetic blade change tool sold separately, see item 195120-1001
Fiskars Rotary Ruler Combo for Fabric Cutting, 12-Inch x 12-Inch
11 new from $44.50
Free shipping
as of January 22, 2021 5:21 pm
Features
Ideal for measuring and making precise, clean cuts through fabric when cutting squares, triangles and other shapes
Ergonomic handle and a 45 mm rotary blade make smooth, confident cuts through multiple layers of fabric easy
Spring-activated blade only engages when in use
Built-in ruler features a 12" x 12" measuring grid with highlighted numbers that are easy to see on light or dark fabric
It is lifetime warranty product
Also, I have to mention here that there are pinking blades – you can add unique decorative edges to any project with them and keep fabric edges from fraying.
Get more info about pinking blades
OLFA 9456 PIB45-1 45mm Stainless Steel Pinking Blade, 1-Pack
23 new from $5.99
as of January 22, 2021 5:21 pm
Features
Fabric type: 100% Cotton
Import Designation: Made in the USA or Imported
Fabric care instructions: Machine Wash Cold/Tumble Dry Low
Stainless steel blade
Decorative edge blade
Fiskars 93518097J Decorative Rotary Replacement Pinking Blade, 45mm
6 new from $18.06
as of January 22, 2021 5:21 pm
Features
Interchangeable 45 mm blades with a variety of cutting options
Heat treated, hardened, premium steel blade for long-lasting, razor sharp cutting
For cutting paper, fabric, thin plastic and metals, pictures, leather, light screen and more
Reusable clam package for blade storage
Compatible with any Fiskars 45 mm handheld rotary cutters
A very important part of the process is the cutting mat and you want from it three things:
Large enough to accommodate the longest cut you are comfortable to make
Self-healing; in time, the mat will have many, many cuts and it's important they don't render the mat unusable. If it 's double sided, so much the better, you get double the usage
Heavy enough to lay flat on the table, sticky enough to not move while you cut and to hold the material well, thick enough to not be damaged permanently by a wrong deep cut. A mat that is too shiny will allow the material to slide and that is certainly not something we want
My best mat is Dritz 30×36" ( 76x91cm ) and I like it but because I stored it improperly it has curved slightly at one end.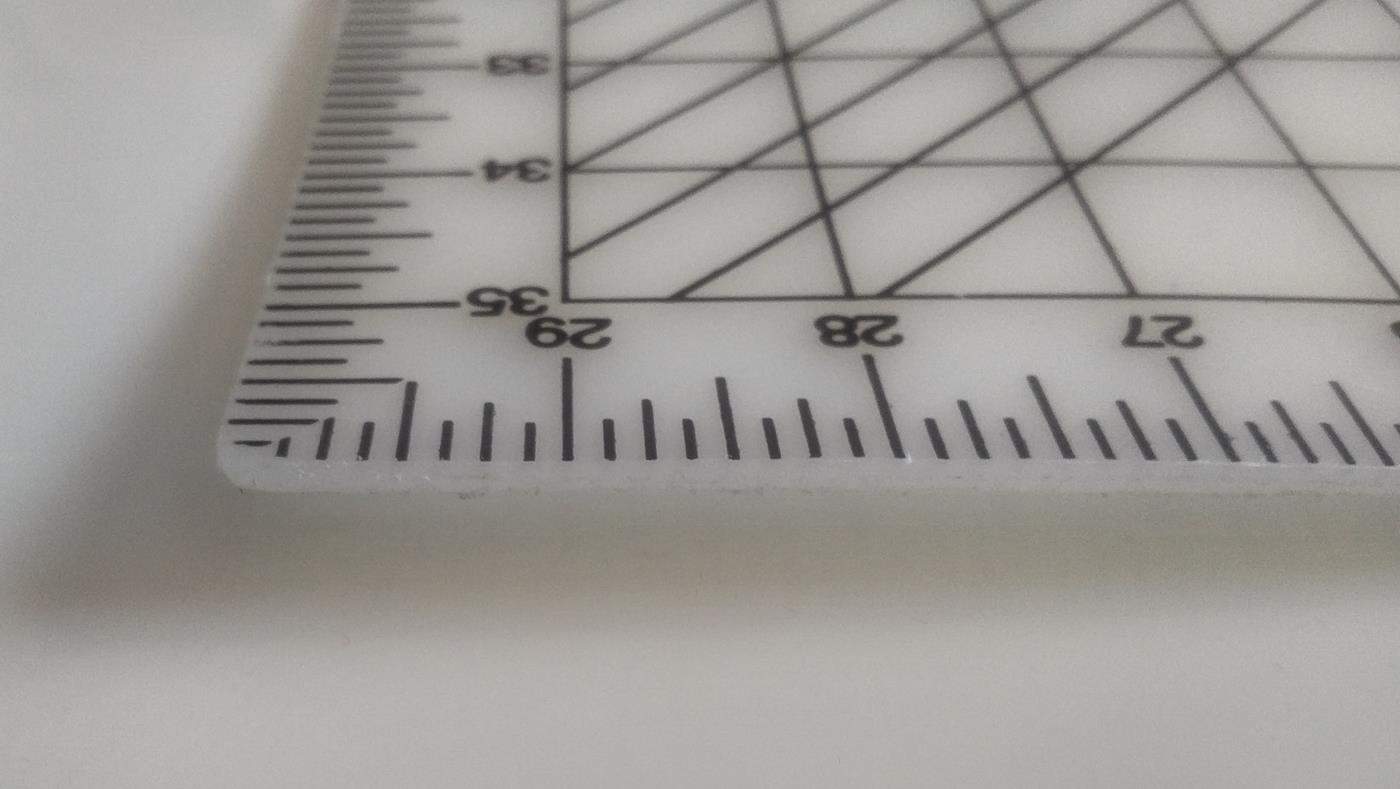 This particular mat is no longer manufactured and because I am looking to replace it I have narrowed my choices to the one below, even if it's smaller than what I have now. It's very well reviewed on Amazon, with over 1500 positive reviews (at the time I write this) and none negative!
Get more info about cutting mats here
Professional Self Healing Cutting Mat; Green 18x24 Inches Tear Resistant 3mm Thick - Non-Slip Double Sided Heavy Duty Rotary Mat with Clear Accurate Measurements and Angles Suitable for Arts & Crafts
as of January 22, 2021 5:21 pm
Features
SELF-HEALING DESIGN: The self-healing material automatically reseals after being cut allowing for endless use while extending the life of any blades used on it. Ideal for as a craft cutting board to use with rotary or straight-edge blades.
SUPER DURABLE: This double-sided fabric cutting mat can withstand substantial amounts of pressure and the sharp points of tools, providing a protection to the floors, furniture, counters and tabletops beneath it.
LIGHTWEIGHT AND STRONG GRIP: Light enough to maneuver around a project. The non-slip surface provides extra security when using sharp tools. A fantastic gift for any quilters or hobbyists to add to their sewing accessories and quilting supplies!
A MUST-HAVE FOR ANY PROJECT: The cutting mat 18 x 24 layout can accommodate whatever project you're working on, big or small, whether it's photographs for a scrapbook, fabric for a quilt or to use as a sewing cutting mat.
PEACE OF MIND: When it comes to cutting mats for crafts, our responsive customer service team is 100% committed to ensuring you have the best experience possible! If you have any questions or concerns, please contact us and we will answer ASAP!
The cutter is especially good at long, straight cuts and I used it extensively on my Bargello quilt project where I had to cut many long strips of material (44″, or 1.3m). I doubt I could have easily done it with scissors, nor would the cuts have been so straight.
Rotary cutter safety
The rotary cutter blade is extremely sharp and IT'S DANGEROUS. The regular kitchen knife is much less sharp. It takes only a slight contact for the cutting blade to cut, and you don't even realize it sometimes – the first indication is the blood coming out from nowhere. From personal experience, I cut myself enough times to know this isn't a joke:
NEVER leave the cutter around where someone might take it, perhaps someone not used to it. Put it back in the tool basket or drawer.
NEVER allow your children to handle a cutter (not that the sharp needles are less dangerous, mind you). Talk to them about the danger.
ALWAYS retract the blade when not in use, even if you only put it down for 1 second. It becomes a habit and it's dangerous to leave a blade exposed. Not counting that the retraction of the blade protects the blade too.
ALWAYS store the unused blades in their original packaging, usually they are in a closed container. It protects the blade and lowers the risk of mishandling.
ALWAYS dispose of used blades properly and immediately, DO NOT leave them on the table, used blades might not be excellent at cutting long stretches of material, but they are still orders of magnitude sharper than any regular knife.
And finally, ALWAYS, ALWAYS be careful when handling such a cutter. The fingers you have right now are the only ones you will ever have!
Do you use a rotary cutter?
If you don't, in my opinion you should. It speeds up cutting fabric tremendously in certain instances. If you are into quilting, I would say you HAVE to use one! Why? Let's see:
– Precision: Long stretches of straight cut are difficult to make with scissors and one small tiny insignificant mistake may ruin the work of many days, or at least require a lot more work to fix. The rotary cutter is probably the answer to the question "how to cut large pieces of fabric straight" ( you might want also to read my article "How to cut fabric perfectly straight" )
– If you compare cuts of the same material done by good quality scissors and the rotary cutter you will see that the scissors cut is not absolutely straight even if the difference is about 1mm or less. 
– Time saving: Long stretches of straight cuts take quite a long time to make with scissors mainly due to the extra care that is necessary when continuing the cut.
– Ease of use: Scissors, no matter how good and sharp, never cut equally well along the whole length of the blade so a long cut will be not easy to make.
– Convenience: The material that stays flat on the desk must be raised to be cut with scissors.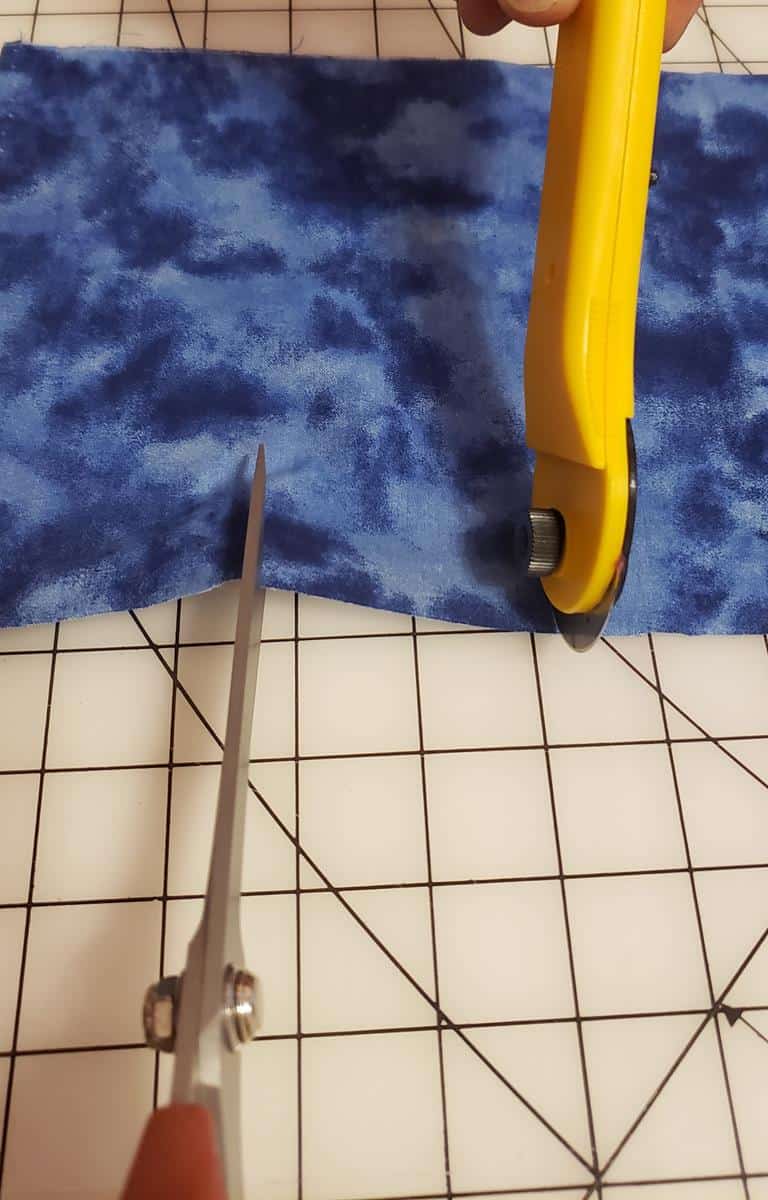 – What about multiple layers of material, especially where the layers aren't well attached to each other? How difficult is to make a precise cut through all layers ? If the material shifts, especially when you raise it, the cut in different layers may be off a little.
All these are solved with a rotary cutter. True, there are things that scissors do better (like curved cut along a line) and things that a rotary cutter doesn't do at all, for example cut the material off the table. But in my opinion each tool has its use in your sewing tool drawer and if you are serious about sewing, you need a good rotary cutter.
Unlike scissors, rotary cutter blades aren't designed to be sharpened. Rotary cutter blades sharpeners exists, like the one below but I don't recommend them. 1 in 3 users isn't satisfied with its performance, and this is the best I could find on Amazon. To use this you need special skills AND luck AND experience AND time AND patience AND tolerance of failures AND you still don't get the quality of an original blade.
More info about a rotary cutter blade sharpener here
Colonial Needle 45mm Rotary Blade Sharpener
14 new from $18.01
Free shipping
as of January 22, 2021 5:21 pm
Features
Dual rotary blade sharpener
Fits all brands rotary 45mm blades
Extends the life
I don't have the time for this! So I buy new blades when the old ones go dull. 
Do you have experience using rotary cutters and blades? Please leave a comment, the more people share, the more we all know and if anyone makes a mistake – like me buying the no-name blades – others can avoid it.
Did you find this tutorial helpful? If so, save this pin (see below) on your sewing board so you can come to this tutorial later when you need it and follow me on Pinterest for more tips, tutorials, and inspiration!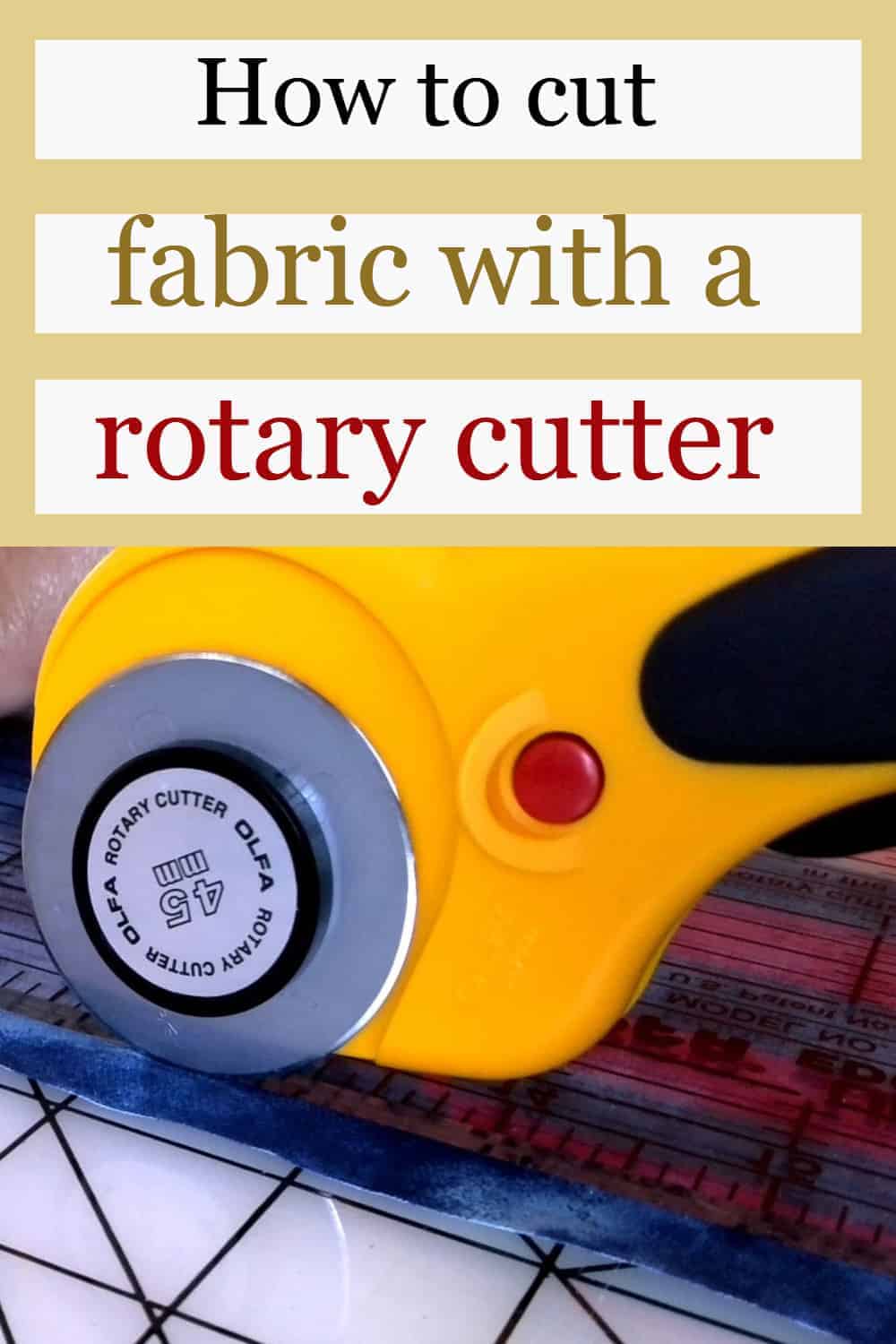 Ready to take the next step in your sewing journey? Check out more step-by-step tutorials from my blog and don't forget to share on Facebook or Twitter!