Does your sewing machine start making a funny noise?
It could be because it needs oiling. Many sewing machines (but not ALL) need to be oiled every so often to keep them in good working order and prevent damage. If you don't use the right type of oil, however, this can cause problems for your machine too.
So, does your sewing machine need oiling? What's the difference between sewing machine oils? And how do you choose which one is best for your sewing machine? I've put together a guide that will tell you everything you need to know about using sewing machine oil with your modern or vintage model.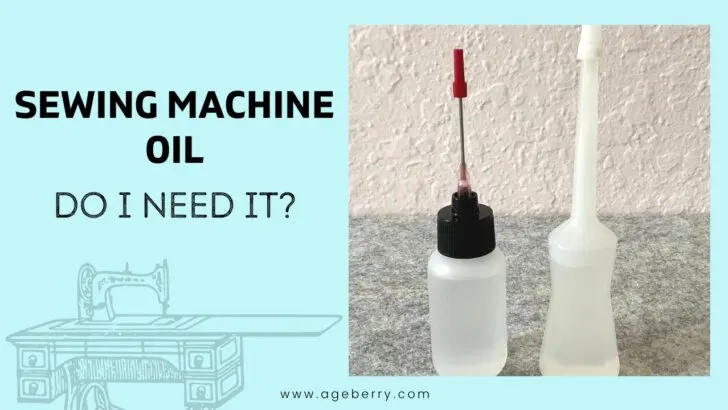 Sewing machines are delicate pieces of equipment. They require proper care in order to function properly for years to come. This includes regular maintenance such as cleaning and replacing worn parts, but also keeping the gears well lubricated by applying a small amount of sewing machine oil every few months or so (depending on usage).
You can't underestimate how important it is that you take good care of your investment–a well-maintained sewing machine will function smoothly and last much longer than one that is not taken care of.
Many years ago sewing machines were always coming with an oil can in the box. I still remember those old tin oil cans, you had to press the bottom for a drop of oil to get out of the can. I never used one myself, but I have seen them. My grandmother had one like this, see my article The story of us: continuity and progress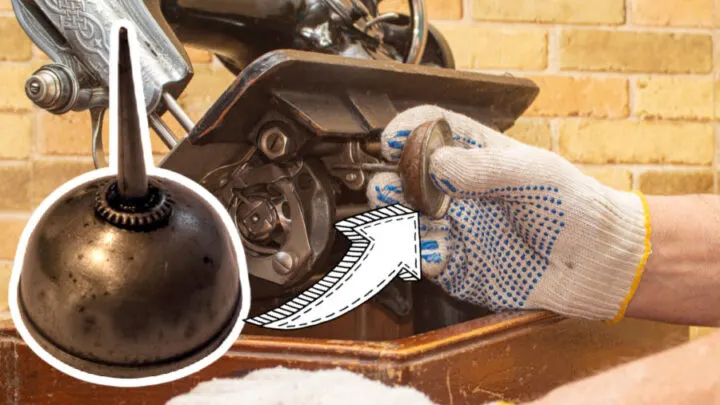 They came with an oil can because you were supposed to oil the machines regularly, even if the mechanisms were very simple compared with the modern computerized machines. Here is an example of what a manual for the Singer 12K (one of the first) sewing machine said:
If used constantly, the machine should be oiled daily, while with moderate use, an occasional oiling is sufficient, a drop of oil being applied at each of the following places: the sides of the needle bar, in the four holes on the top of the arm, the two holes on the side of the arm, the shuttle carrier slide, both ends of the pitman and feed lever, the feed raising cam, the centre joint of the feed lever, and the slot of the feed guide.
Wow! That's a lot of oiling. For history buffs, the images below are actual images from the manual available here.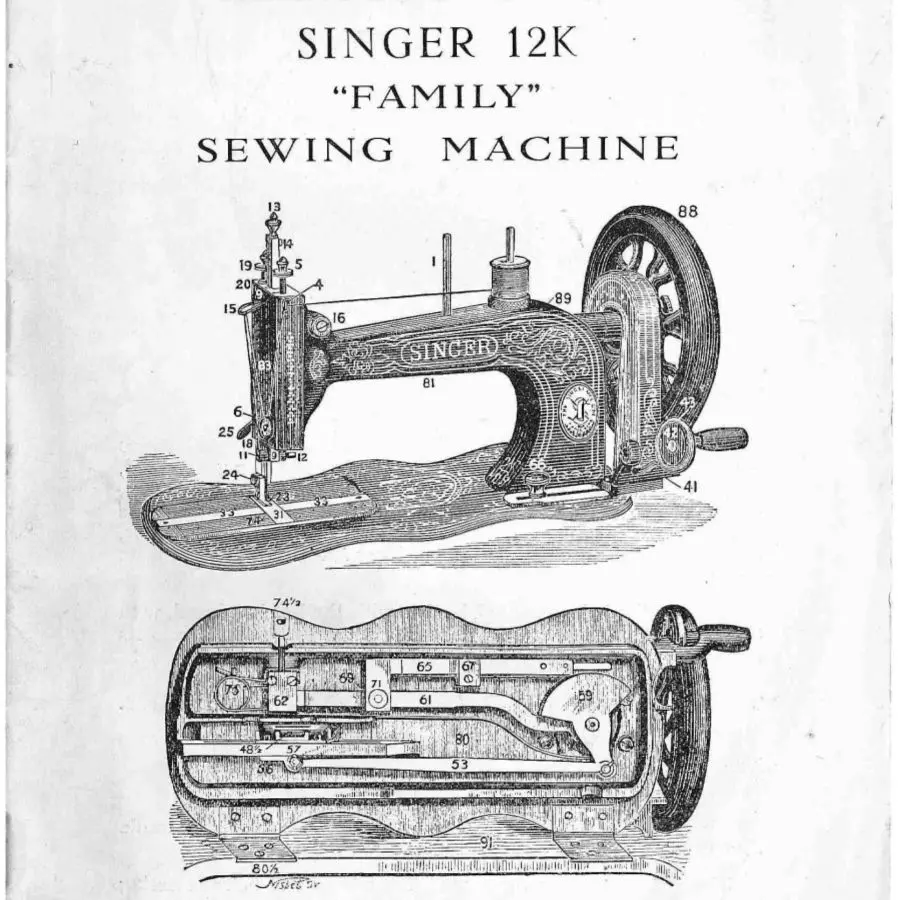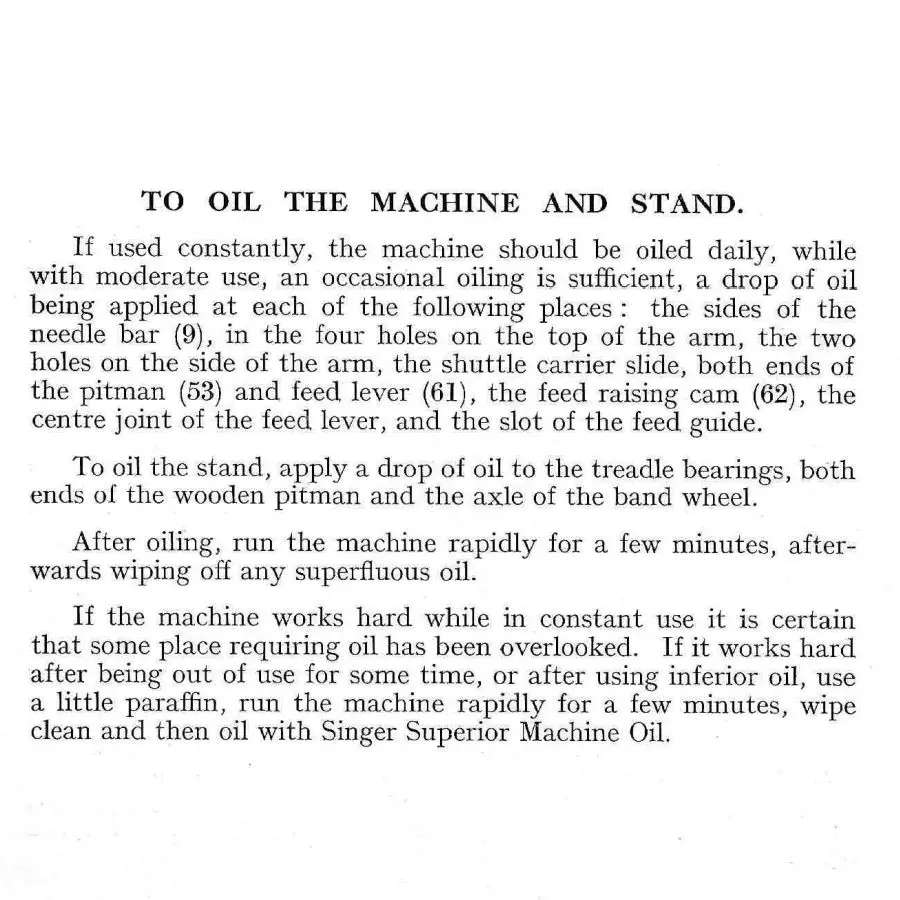 Things have evolved a lot in the last 150 years, so the question nowadays is: do we still need to oil our sewing machines? Oil and fabric do not go well, oil stains the fabric, is difficult to remove from fabric, may even attack some fabrics types (after all, it is a petroleum product). And if yes, what oil do we use? As you can see above, Singer already recommended 150 years ago to use special oil (Singer Superior Machine Oil, why I am not surprised 😀 )
Does every sewing machine need oiling?
First of all, let's make it clear: we are talking about home sewing machines. Industrial sewing machines which are in use probably almost continuously fall in a different category. A home sewing machine used in the same manner as an industrial one would probably not last its warranty period.
In principle, every sewing machine (and every mechanism) that has moving metal parts in contact with other metal parts needs oiling at some point. Metal on metal friction is not good and will cause wear.
In reality, most modern home sewing machines are designed for relatively light use and the manufacturers try to minimize the maintenance done by the end user.
Many modern sewing machines have plastic or Teflon parts which do not need oiling but will wear out faster than metal parts.
Other parts are lubricated at the factory and for the expected usage of the machine, the manufacturer does not recommend extra lubrication by a user.
For example, I don't need to oil my Brother Luminaire machine and the manual says so:
Restrictions on oiling

In order to prevent damaging this machine, it must not be oiled by the user. This machine was manufactured with the necessary amount of oil applied to ensure correct operation, making periodic oiling unnecessary.

If problems occur, such as difficulty turning the handwheel or an unusual noise, immediately stop using the machine, and contact your authorized Brother dealer or the nearest Brother authorized service center.
But there are machines that need lubrication regularly, and the manufacturer will say so in the manual.
So, rule # 1: Read the manual. If it says to oil the machine, make sure you follow the indications to the letter. The manual is the only one that you should believe.
For example, my Janome 6600 also does not need user lubrication, but my Juki MO 2000 serger does.
Rule # 2. You should bring the sewing machine on a regular basis to a dealer for cleaning, adjustments, and – yes! – lubrication. The dealer has access to points that the regular user does not see, and may oil the machine in those points, even if you do not need to oil it yourself.
What is sewing machine oil?
Sewing machine oil is designed to lubricate sewing machines. It's usually colorless and odorless with a light viscosity. Oil keeps sewing machines running smoothly, eliminates friction, and protects metal parts against rust damage.
There are generally 3 types of oil – natural oil from plants, mineral oil, and synthetic oil. A sewing machine is after all just another mechanism, so any oil designed for fine mechanisms should work. Each type of oil has its own benefits and drawbacks, so it is important to choose the right type of oil for your machine.
You can't use just any kind of oil on your sewing machine. The manufacturer may recommend a certain viscosity for the oil so it is better to stick with the oil recommended for sewing machines.
A very good article on synthetic oil is here: Synthetic Oil Explained | Synthetic vs. Conventional Oil |Machinery Lubrication but to summarize, synthetic oil is a man-made oil with a specific purpose in mind. Synthetic oil adheres better to metal and provides better lubrication.
Mineral oil also can be used with good results. In fact, synthetic oils were not available commercially until recently (1970s) and they became widespread only during the last 25 years and there are still on the market excellent mineral oils distilled from petroleum products.
There are a few key differences between mineral oil and synthetic oil when it comes to sewing machines. Mineral oil is derived from crude oil, while synthetic oil is created in a lab. Mineral oil is a non-renewable resource, while synthetic oil can be made from sustainable materials.
Synthetic oil also has a higher viscosity than mineral oil, meaning it resists flowing more easily. This can be important in sewing machines because it helps to keep the oil where it needs to be and prevents it from leaking out. But at the same time, sewing machine oil should not form deposits in the machine parts so the viscosity of the oil shouldn't be high.
Additionally, synthetic oils are often more heat resistant than mineral oils, making them a better choice for machines that run hot. Ultimately, the best oil for a sewing machine will depend on the specific machine and its needs.
If you're not sure which oil to use in your sewing machine, it's best to consult the manual or a sewing machine technician. They will be able to help you choose the right oil for your specific machine.
What kind of oil to use on a sewing machine?
First, I recommend you use the oil included with your sewing machine.
With my Juki MO-2000 (excellent serger, by the way, I highly recommend it, if you can afford it Review of JUKI serger MO-2000 QVP) the manufacturer included a small bottle of oil. I do not know how large that bottle is but to me it looks like 1 fl oz (30ml), very small. In the three years since I have the serger, I used perhaps ¼ of this oil, so what the manufacturer gave you will last a long time.
In case you wonder, no, I don't know what kind of oil that is and the manufacturer didn't say anything 😀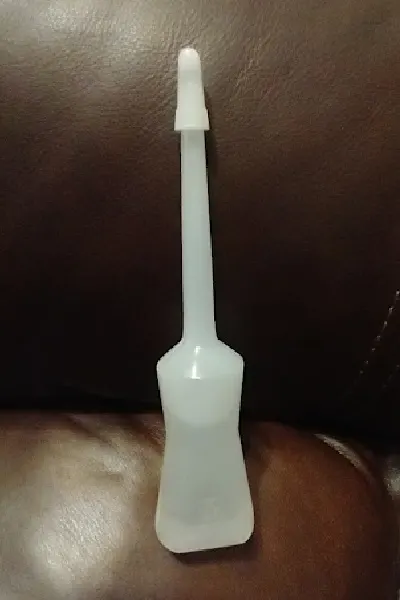 But if you don't have any oil that came together with your sewing machine then check Amazon.
Note: Some of the links on this page are affiliate links. This means I will receive a commission if you order a product through one of my links. I only recommend products I believe in and use myself.
A highly rated product for sewing machines is this one – Liberty Oil, Clear Nonstaining Oil for Lubricating All Moving Parts of Your Sewing Machine.
Liberty Oil comes in a 1oz bottle with a stainless steel needle tip dispenser. It is premium quality 100% clear non-staining mineral oil. The bottles are made from a very soft plastic that is easy to squeeze. Comes with a long stainless steel needle tip applicator for precision oiling with no mess. It has a lock cap to ensure that you have no leaks from the bottle. But of course, it still will leak if you keep the bottle on its side, so keep the bottle in an upright position.
I personally prefer synthetic oil. However, my last oil purchase was this Liberty oil because it has a very handy applicator included. The thin and long applicator is very useful and the bottle, when the oil is finished, can of course be reused, which is exactly what I intend to do.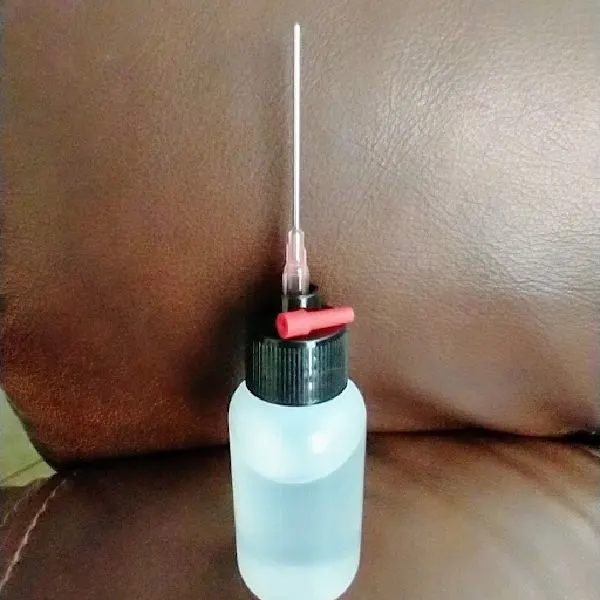 There are in fact many other oils with excellent reviews, for example, SINGER 2131E All Purpose Machine Oil
Singer is THE brand name in sewing machines and its all purpose oil comes in a 4oz bottle. It's great machine oil, high quality that you expect from Singer. The bottle has an applicator that pivots from the down to the up position but the tip is blunt. They say it does not leak all over the place even if you keep it on its side in a toolbox.
Another great choice is Universal Sewing Machine Oil in Zoom Spout Oiler – Lily White Oil.
It's non-toxic, high-quality, non-staining, non-gumming sewing machine oil in a 4oz bottle. It has a flexible spout that can reach anywhere in your sewing machine. It also has a small cap that sits on the spout and prevents spillage.
Another oil that has many great reviews is this one – Super Lube 51004 Synthetic Oil.
A 4oz (115ml) bottle will last you a long, long time. I suggest, do not buy bigger sizes unless your husband wants to use it for larger appliances or other devices.
Yes, the sewing machine oil is excellent for maintaining other appliances.
Sewing machine oil is usually clear and odorless, so if your oil becomes too old and changes color or starts to have an odor, properly discard it and buy a new bottle.
Where to buy sewing machine oil?
Sewing machine oils are easy to find and cost very little.
If you are an Amazon Prime member, Amazon is your best choice.
I highly recommend Prime membership. I found out after becoming a Prime member that my buying habits have changed dramatically. I need a mechanical pencil? No problem, Amazon. I need peanuts? Amazon! I need, say, sewing machine oil 😀 ? Amazon! And it comes home, I don't need to stay in line or to take the car out, I don't need to go in crowds, I don't need to wait to purchase $35 to get free shipping, etc. The prices are also very reasonable, for example as I write the Lily White oil is $9 at walmart.com but only $7 at amazon.com.
All brick and mortar stores sell sewing machine oil too, for example the Singer sewing machine oil is sold at JoAnn and Michaels stores.
How to oil a sewing machine?
There is no single way to oil a sewing machine; each sewing machine is different and has unique settings.
For example below is the "Maintenance" section for my Juki MO-2000 serger. Your machine manual must have a similar section which you should read. The manual is the only authority on the matter, the only correct answer to that question is "as specified by the manufacturer".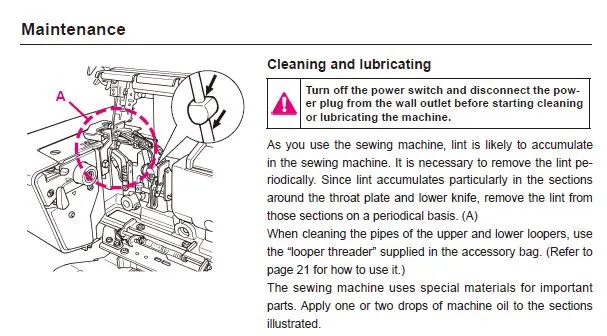 So, your owner's manual should tell you if you need to oil your machine and also when and where to oil it. Different brands of sewing machines require oil in different areas.
If you don't have a manual, you can do a search online for your brand and model number. Usually you can download a copy for your machine. For example, I have a very interesting machine called Pink Atlas and I've found the manual for free on this site. There is also a website manualsonline.com where you can buy sewing machine manuals.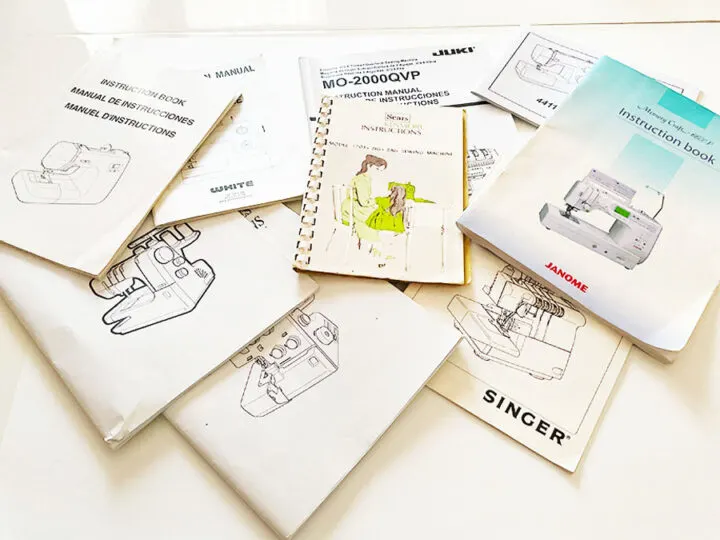 But there are a number of general rules for oiling a sewing machine:
Never oil plastic parts
Always make sure that your sewing machine is unplugged before you start to oil it
Use only high-quality sewing machine oil
Avoid contact with eyes and your skin
In case you drop the oil on your skin or get it in the eye, wash it off right away to prevent irritation
In case the oil is swallowed accidentally, go to an emergency room to be treated
Keep the oil away from children
Dispose of the oil in compliance with the relevant legislation
The first step in preparing your sewing machine for oiling is to clean it. For example, you can't oil a machine if it looks like you see in the image below ( you must clean it first).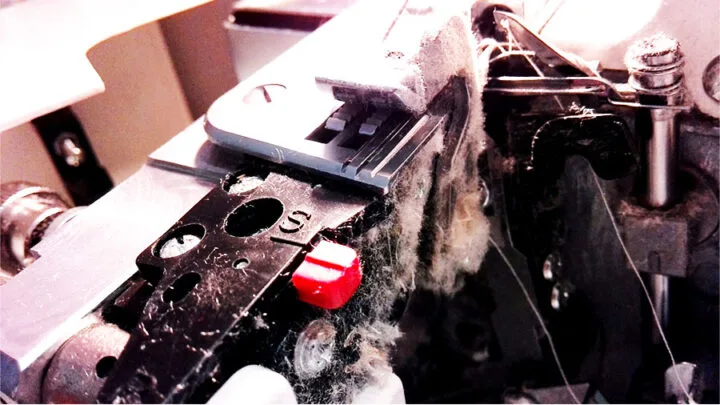 Make sure you remove the needle, thread, and needle plate so that you can easily reach everywhere to clean the accumulated lint. Check out my tutorial Care of Sewing Tools and Equipment if you want to learn how to take good care of your sewing machine and how to clean it.
Generally, you'll want to pour a small amount of oil (one or two drops) into the metal parts, indicated in your manual, and then manually move the wheel for a minute or two to distribute it evenly. Be sure to clean any excess oil off before sewing, as it can cause problems with the fabric. Also, sew some scrap material to be sure that no oil will drip from the needle bar onto your fabric.
One important rule when oiling a sewing machine is – do not oil too much – if you don't want oil on your fabric. Too much oil can also attract dust. Oil should not drip. If you see oil pooling in one place, that is a sign that you have too much oil and that has to be removed. Use a soft cloth or napkin, do not wipe but simply allow it to absorb the extra oil.
Older sewing machines will definitely need more oiling than the newer computerized ones. For example, my Janome 6600 does not have any user-serviceable points, the Juki MO 2000 serger has only one point where I should oil it (image above) while the manuals for two older machines (one Kenmore, probably 1980 – 1990 and one White, probably late 1990) show many oiling points: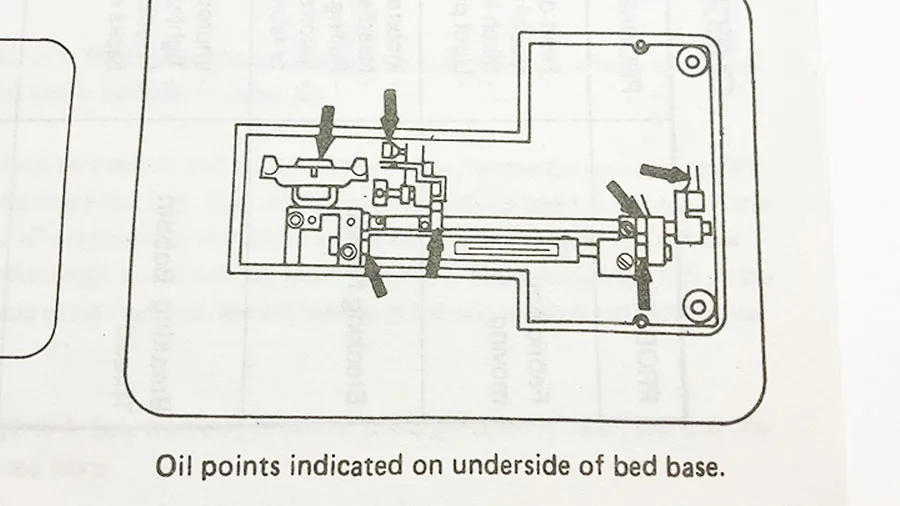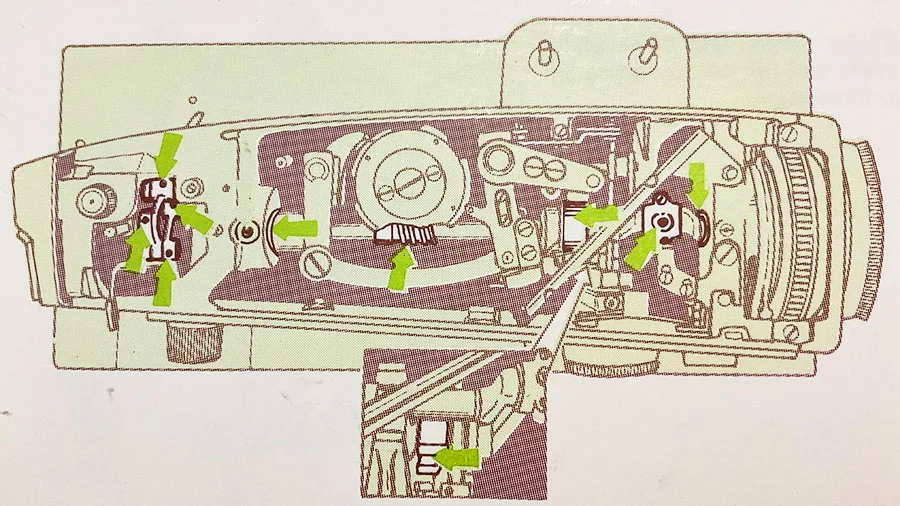 Old sewing machines might have small holes on the exterior to oil them where you can inject oil directly into the workings of the machine ( like my Pink Atlas sewing machine).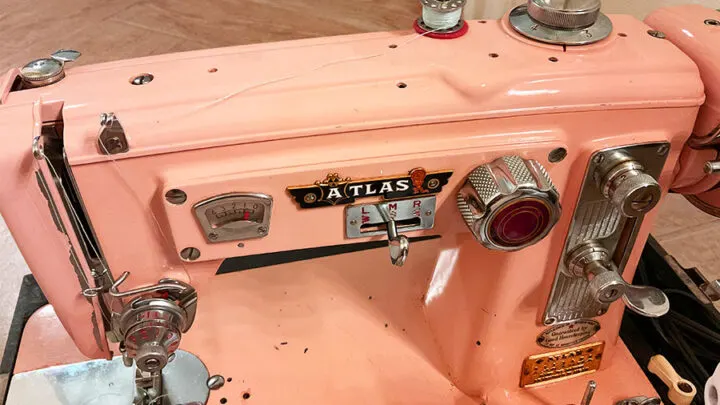 Note: I also recommend that periodically you take your machines to a dealer for cleaning and adjusting. The dealer will also lubricate them if necessary in places that are not meant to be serviced by the home user because they will need to take the machine apart. I take my Janome 6600 for cleaning at least once every two years, depending on usage.
Where to oil a sewing machine
The owner's manual should tell you where to oil your sewing machine. Be sure to follow the manufacturer's instructions when applying oil to your machine. Different machines require different places to oil.
Generally, the parts of a sewing machine that need to be oiled and lubricated are the moving metal parts. These may include the shaft where the needle goes up and down, the feed dogs, the metal bobbin case. Metal parts in contact with other metal will need some extra attention because this can cause wear on both surfaces over time if not properly lubricated. Plastic parts don't require any oil.
Below is a page from a manual for my mechanical Janome sewing machine. It has 5 points where I need to oil it.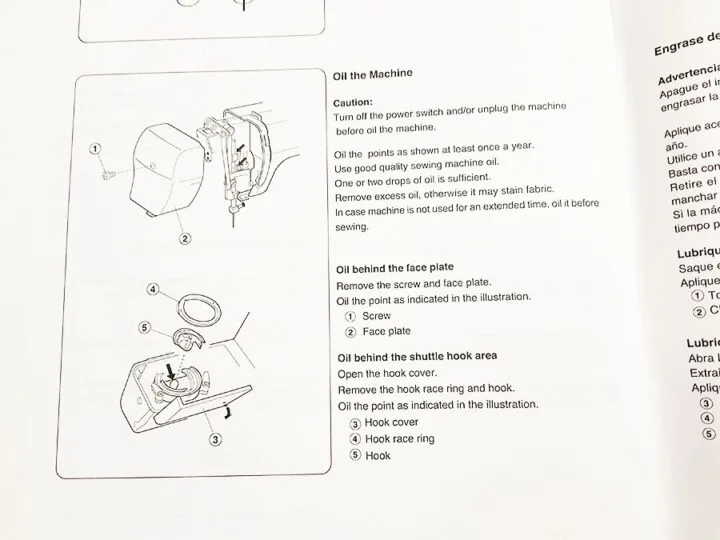 Some old sewing machines have small holes on the exterior where you can inject oil directly into the workings of the machine to keep it running smoothly. Make sure not to seal up any openings because this could cause problems.
Here is a manual for my vintage Pink Atlas machine. It has so many holes for oiling!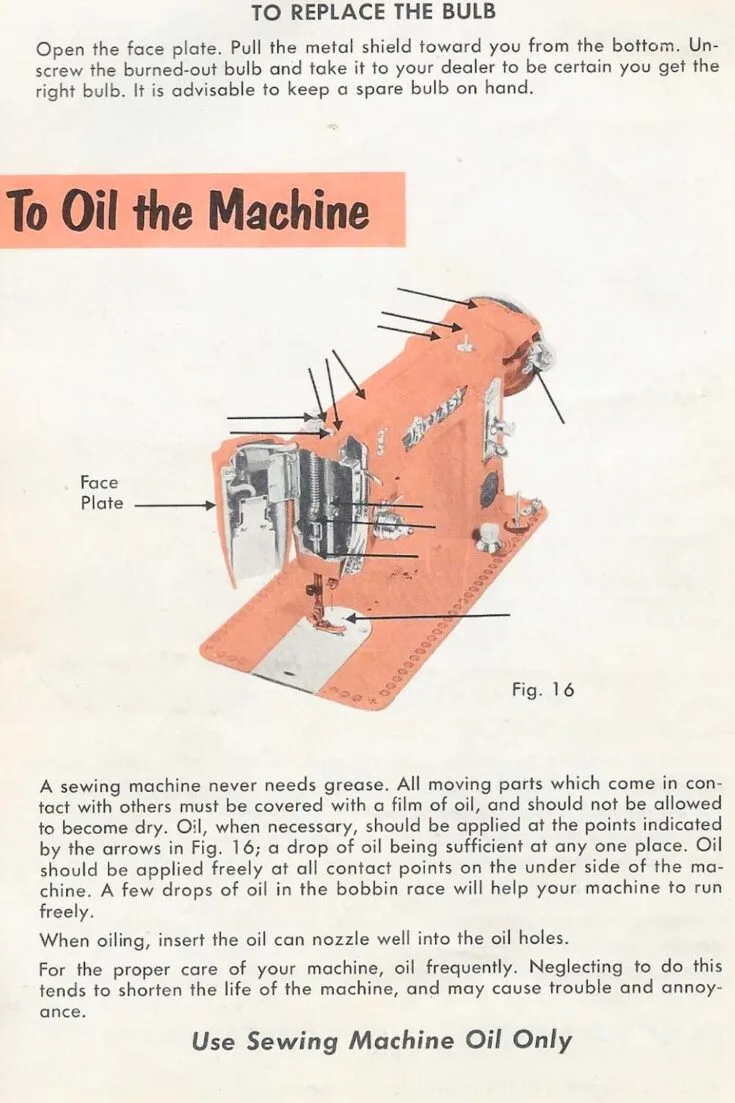 How often should I oil my sewing machine?
Again, the answer here is "consult the manual".
Some manuals say every 3 months or more if used heavily. In the end, it all depends on how much you use your machine. If you use your machine every day then you need to oil it more often, maybe once a week (and only if your machine needs oiling in the first place).
For my Juki serger, the manufacturer does not say how often to oil it so I inspect the mechanism visually and if I see that it seems dry, I oil it. I do not think I have oiled it more than two or three times since I got it.
But there are other times when you should oil your sewing machine (of course, only if your manual says to oil it in the first place):
If there are squeaks and unusual noises
If the machine has been idle for a long time
If the machine has seen heavier use than expected
If the machine moves with difficulty when you move it manually
Before placing it in storage for a longer period of time
Can I use WD 40 to oil my sewing machine?
NO! Don't even try. WD40 does not provide lubrication long-term. Do NOT use WD40 as a lubricant. Unless of course you don't like the sewing machine and are looking for reasons to buy another. Because WD40 will damage your machine if you attempt to use it.
Can I use cooking oil to oil my sewing machine?
The answer to this question is definitely no. Emphatically no. You can not use any kind of cooking oil in mechanisms. I saw some people recommend using olive oil (?!?), I am definitely against this. Do you want bugs in your sewing machine? Do you want clogged mechanisms? Do you intend to fry your sewing machine? Then yes, by all means, use cooking oil. But for sewing? Of course not.
The cooking oil will precipitate almost immediately and will offer almost no lubrication at all. It will attract ants and insects and in no time all you will have is a goo on your mechanisms.
Can I use motor oil to oil my sewing machine?
The motor car oil will probably not damage the sewing machine but the motor oil is formulated for a wide range of temperatures and pressures and for different usage, not for delicate mechanisms. Plus, motor oil stains, you don't want even a hint of that near your fabric. In particular, 3-in-1 oil should be avoided.
Did you find this tutorial helpful? If so, save this pin (see below) on your sewing board so you can come to this tutorial later when you need to use sewing machine oil, and follow me on Pinterest for more tips, tutorials, and inspiration!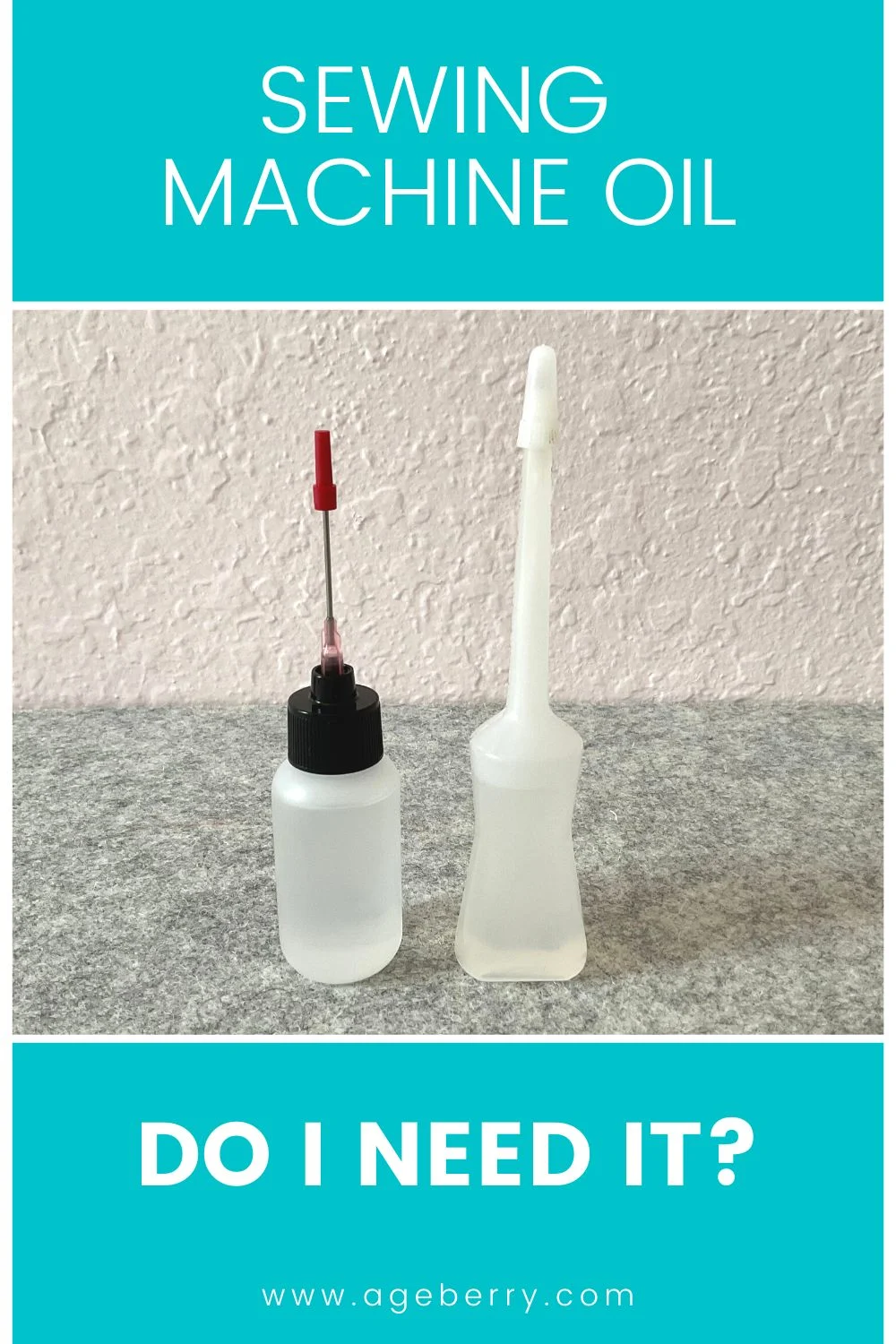 In conclusion:
Regularly oiling your sewing machine is an easy way to keep it running smoothly and extend its life. It's a quick and easy task that only takes a few minutes, and it's well worth the effort in order to keep your machine in good condition. So be sure to add "oil machine" to your regular maintenance checklist, and enjoy your machine's smooth operation for years to come!
Useful Info – Sewing Machine Troubleshooting

If you own a sewing machine long enough, you're going to have to figure out how to troubleshoot your sewing machine at some point or another. While some sewing machine problems are preventable, others are inevitable. Learn how to troubleshoot your sewing machine with my printable PDF eBook. Whether you use a traditional sewing machine or a modern computerized one, work through this ebook before thinking about a replacement or going to a service center.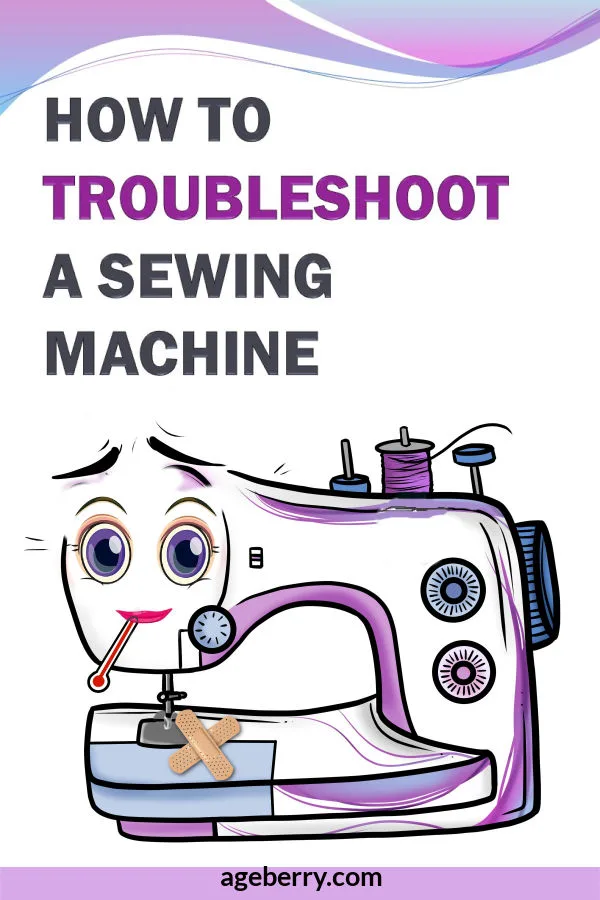 ---