If you are considering buying a sewing machine and need a little help choosing, this article is for you. If you already did your homework, have a price range in mind, and also a list of functions you need, then I suggest you skip directly to my up-to-date list of entry-level contestants presented in my article "Top-rated sewing machines for beginners".
Note: This article was updated as of July 2023. Due to the volatility of the market, availability, prices and stock might be different. Please use the provided link to search for the latest offers.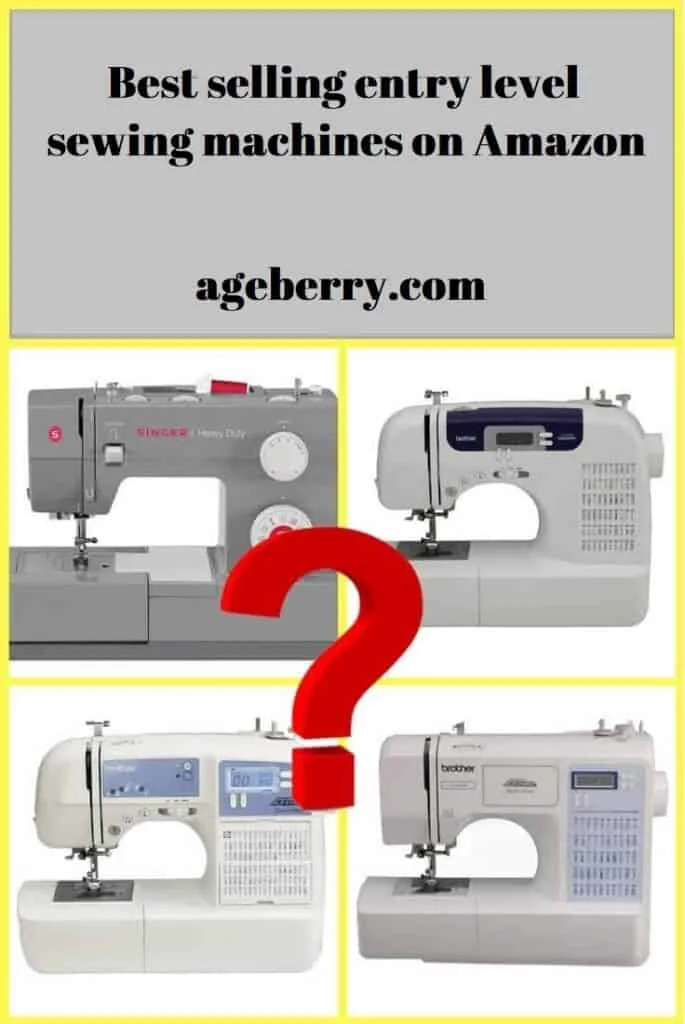 Buying a sewing machine or any other large piece of electronic equipment on Amazon is always difficult and there is always a chance that once you buy an item you will simply not like it, or will not be able to adapt to its peculiarities. I myself have bought the past sewing machines only to find out after two months that while the machine does what it says it does, I do not really like to work with it.
This is (for me) the main reason why when buying an expensive sewing machine I will always visit the local dealer where I can try it, sometimes for a couple of days, I can ask questions and I know I can come back for service if necessary.
But what if you need to buy a cheaper machine, because you just start to learn sewing, or just as a spare, or to save your nice and expensive all-powerful darling? Here is where Amazon is unbeatable, both in selection and price.
The easy Amazon return policy and the huge amount of reviews for some machines make it easier for the buyer; first, you can read what others say about the machine without actually buying. Second, if when you get it you really don't like it, you can easily return it.
But the same selection poses a huge problem: what to buy, and how to decipher the ratings? I will try to explain how I am doing it, and I would love to see comments and advice on this issue – I am sure everyone is interested!
I have considered only full-size sewing machines. The portables, and ones with limited functionality (which, surprisingly, are also on the best sellers list) belong in a totally separate category, as do the sergers, coverstitch, and embroidery machines.
Let's establish first some ground rules:
My first rule is the following: where I have a choice, I will NEVER buy online a product that appeared on the market recently; there is no history of customer satisfaction, the product reliability history is unknown and it is well known that at the beginning the product may have some problems that will be fixed in later releases. Besides, last year's model will probably be cheaper for the same functionality.
So the first rule says: buy last year's model.
The second rule: always look for mature products that have a large body of customer reviews. Do not expect all reviews to be good; this will never happen. There will always be a number, sometimes a large number, of people that had issues with the product. The questions here are, WHAT issues they had, if we can determine a pattern for the problems that occurred and if the problems are a red flag for us, for the intended use.
The second rule is: to buy products that already have many customer reviews.
Third rule: where there is a choice, from the beginning remove from the list of acceptable products the ones that have really low customer satisfaction, unless special circumstances warrant inclusion of such products ( for example, the sewing machine is to be used for one project only, and the project will be finished within the 30 days Amazon allows for returns ).
So let's get to work; it took me about two evenings to compile the facts for this article, so let's not waste time.
Note: Some of the links on this page are affiliate links. This means I will receive a commission if you order a product through one of my links. I only recommend products I believe in and use myself.
Here is how the list of the highest-rated entry-level sewing machines looks at this time:
---
The machines below are not really entry-level and the price is slightly higher; however they are solid machines and if you are serious about sewing, you will certainly appreciate them.
As of late 2020, the list was looking as follows. While the actual models might be different at this time, the arguments presented remain valid (price, features, reliability, customer satisfaction).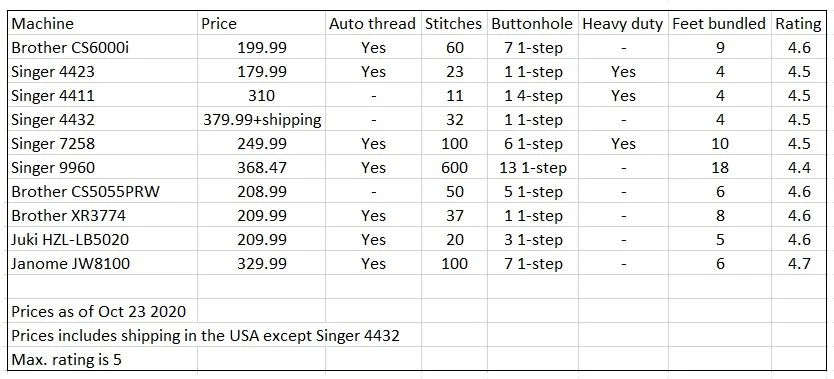 One of the most important factors is the price: the price (at the time this article is written) varies between $209 (SINGER 4423) and $499 (SINGER 9960).
Note: the Brother CS5055PRW has been replaced with a newer model CS5055 which no longer has the designation "Project Runway" but I suspect it to be the exact same machine as before.
The prices you see in the list might vary, the list prices are updated in real-time so what you see is what is currently on Amazon.
After price, let's look at the overall customer satisfaction: all machines have a rating of between 4.4 (Singer 9960) and 4.7 (Brother CS5055 and Janome JW8100) out of 5 which is impressive. A machine with the lowest number of ratings (Juki HZL-LB5020) has a total of only under 100 customer reviews, much lower in number than the others, and in my opinion, this does not really allow for assessing the quality of the device. But this, combined with the brand name which has an excellent reputation, made me consider the machine anyway.
From a rating perspective, there does not seem to be a big difference between machines with respect to customer satisfaction. All seems good here, right? Not so fast! Let's look at the ratings in more detail, starting from the bottom up. Always start with the bad news, right?
The rating of 1 ( complete dissatisfaction ) varies between 3% (Brother CS5055PRW, Brother XR3774, Juki HZL-LB5020, Janome JW8100) to 9% for Singer 9960. 1 in 11 customers is completely disappointed in the Singer 9960 while only one in 33 is disappointed in the ones with only 3%. I would say this is significant.
When we add together the number of 1 and 2-star reviews, we get between 4% (Brother CS5055PRW) and 12% (again, the Singer 9960) with close contenders Janome JW8100 and Brother XR3774 having 5% 1 and 2-star reviews.
Let's look now at what the main complaints are for these models; the idea here is to see if there is a pattern, for example, if out of the 50 negative reviews, 40 say "it broke within one month", I would suspect the item has a quality problem and if you decide to buy that, better find out if it has the problem within the Amazon return period!
Note: DO NOT expect the highest quality and perfection from a low-cost, entry-level machine; you get what you pay for. All these machines will have limitations, problems will be probably flimsy, and have a short life when compared with the ones that cost 10 or even 20 times as much. The most expensive machine on this list is $379; I paid for my Janome MC6600P (which I consider one of the best sewing machines ever) about 5 times that much in 2014. In 2014 you could buy a Brother XL-2600i (entry-level) for $70.
Let's now see in detail what the reviews say for each model.
The Singer 4423 has 6% 1-star reviews and 2% 2 stars. Most of the 1-star reviews seem to complain about the bobbin mechanism (jamming, not picking up the thread which might mean bad timing adjustment at the factory) or the needle movement being stuck in one extreme position. If this machine has an issue, it seems to be in the bobbin area. Given the low price and the "heavy duty" designation (in my mind this translates into high speed and powerful motor), this might be a good choice provided you test it fully within the return window.
This model claims to have an auto-thread function, despite being the cheapest of the Singer group. I am not sure about that, I would take this with a grain of salt. But if it does, it is a very good feature to have.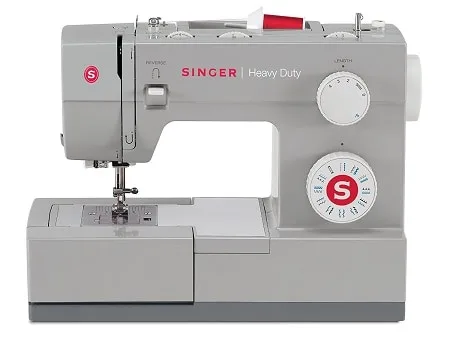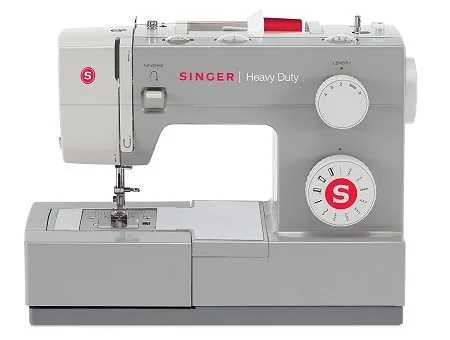 The same you can say about Singer models 4411 and 4432. Both are in the higher price range and frankly, I did not see the added number of stitches as significant for an entry-level machine to justify the price. As a beginner, you do need the basics, and at some point, you will graduate to a higher level machine; but I would suggest that the Singer 4423, at half the price of the 4432, is a better buy if you want a Singer.
At 9% combined 1 and 2 ratings, the Singer 7258 sits somewhere near the bottom of the pack in customer reviews. Again, I could not determine a pattern of failures, most reviews simply say "it stopped working". Ok, so this is a pattern. But also most reviewers said the period after which the machine stopped was longer, 2 to 10 months, so if you do get a lemon (still, 87% of the reviews are good and very good, so something must be good here too), it is likely you will not find out until after the Amazon return window is closed. given that the negative reviews are almost double the Brother XR3774, while the price is higher by 15%, I would say that it is more prudent to stick with the Brother.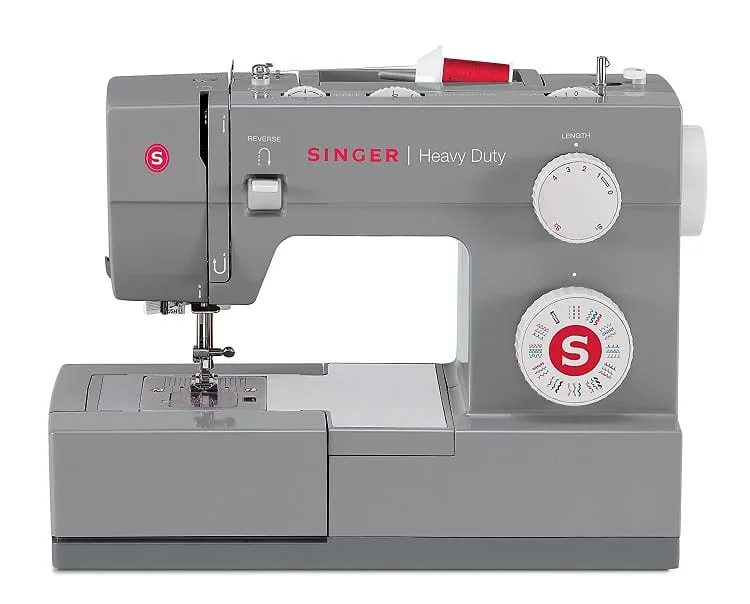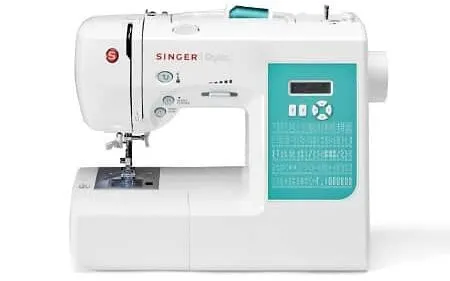 The Brother CS6000i has only 4% 1-star reviews and 1% 2-star. However many of the 1-star complain that the motor freezes (the E6 error code) and some customers who took apart the machine or took it to repair found the cause to be rusted internal components.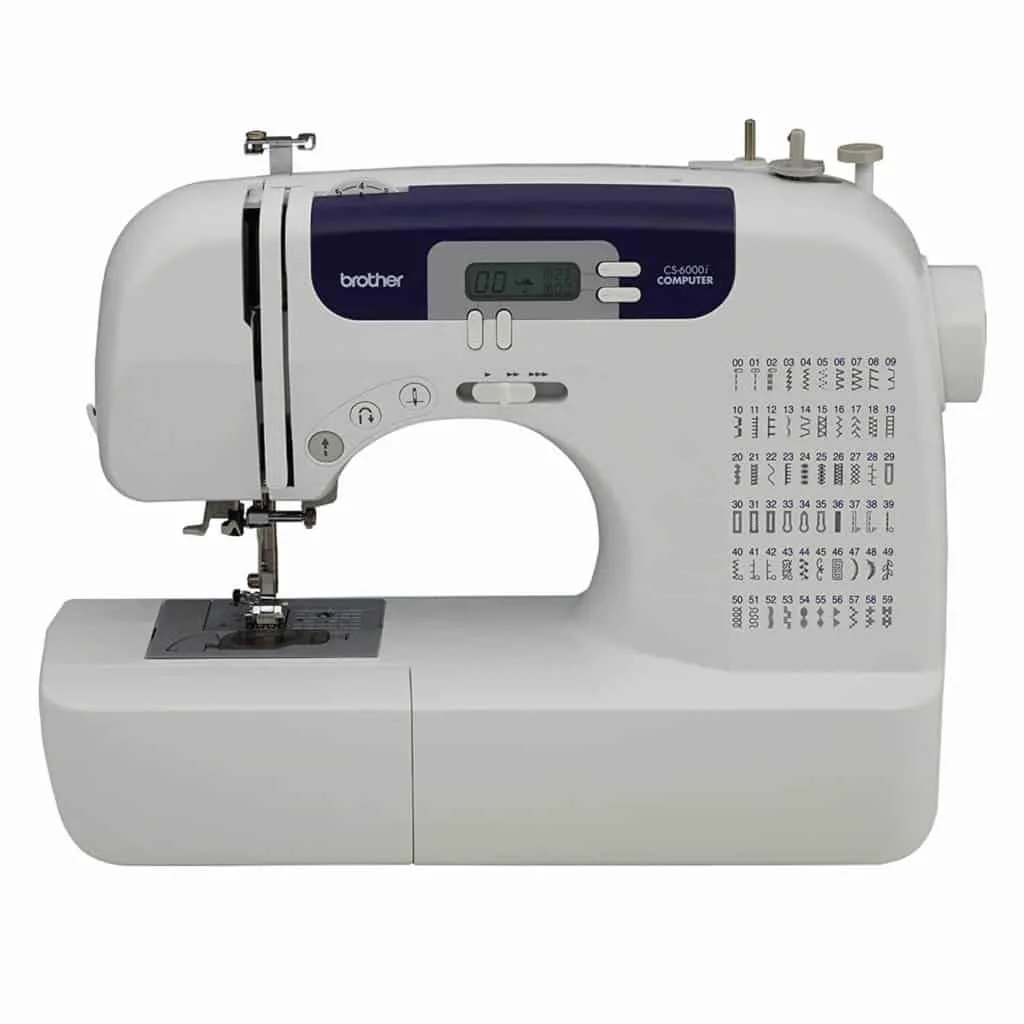 This in my mind translates into poor manufacturing quality and probably reduced life of the machine. If however, all you want is to use it for one summer, the low price and lots of features (plus the table, the current model comes with an extended table) might be a good investment.
The Brother CS5055PRW has the lowest total number of 1 and 2-star reviews and after reading a lot of negative ones I can not find a pattern. It seems that some machines do not work, but when they don't, they do that from the beginning so if you do consider this machine, make sure you test it fully and are comfortable with it before the return window closes.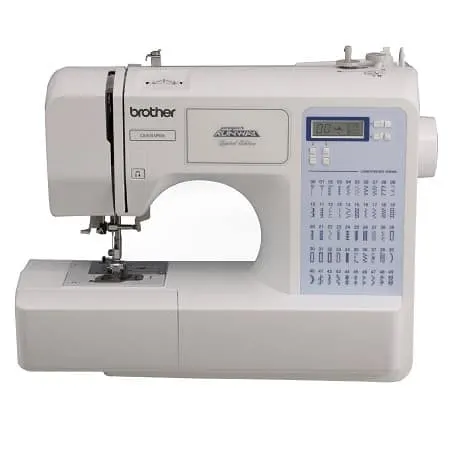 Also, I found out that this model seems to be one of the favorites when gifting a young seamstress-in-training, probably because it is compact. Not a bad choice, one of the lowest priced machines too.
The Brother XR3774 has only 3% 1-star reviews and I also do not find a pattern signaling one type of defect prevailing. It seems, like its cousin above, that you either get a lemon (and you should be able to determine that during the return window) or not. And if not, chances are you will like it.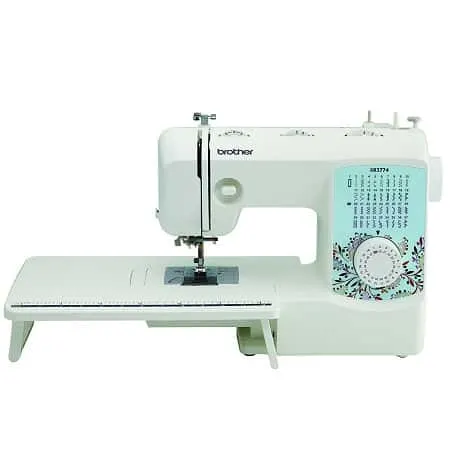 Another relatively good buy.
The Juki HZL-LB5020 does not have enough reviews right now on Amazon and the single 1-star review there seems to be unverified; in the single 2-star review the user complains the machine is not fast enough. So I would say that despite the low number of ratings, the machine looks good. If you like Juki, I believe this to be a good entry-level machine.
The SINGER Quantum Stylist 9960 is the most feature-rich machine in this set and promises things that are normally available only on higher-end machines. Monogramming, many feet out of the box, high speed, 600+ stitches – probably a dream, right? It may be. But 1 in 8 people who bought it are unhappy with the machine, so beware. Singer has a very bad reputation for service and usually, local repair shops do not touch Singer machines (lack of parts), so you do need to take a risk for this.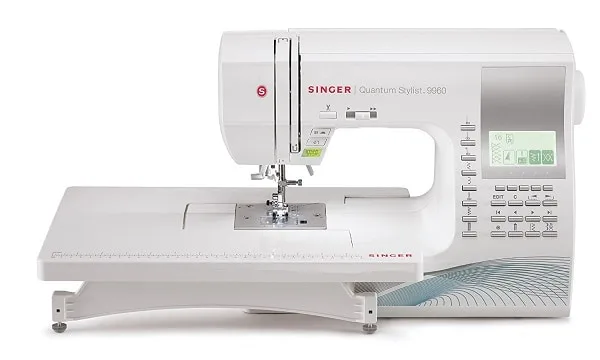 But if you really want a feature-rich machine for a low price, this is ideal. I did not see any other machine at this price (about $370) with these features. The collection of feet coming with it is not bad either: blind hem, walking foot, zipper – not all low-priced machines come with them and you would need to spend $15 or more to buy each separately. So yes, it might be a good alternative, and after all 85% of the buyers are still giving it a good or very good rating (4 or 5).
It is not a secret to anyone that I like Janome machines; I own a number of them, some cheaper, some very expensive (two sewing machines, serger, embroidery, coverstitch) and I never had issues with any. They do what they claim to do, and do it well. So perhaps this is why I like the Janome JW8100. Same as the Juki above, this one does not have too many reviews yet (only 250 or so) so if you decide to buy it it would be mostly on the strength of the brand. But for the price and brand, I think this is a good buy too.
Janome does not say in the description for JW8100 that it has a fully automatic needle threader, just that it has a built-in needle threader but I will consider it as an auto thread function. Also, this model has the free arm feature and comes with accessories, an extension table, and a case; this is a nice addition and not common for low-priced models.
The Janome JW8100 also gets the highest customer rating (4.7) but this might not be very significant given the low number of reviews (only 246 at the time of this writing, while the Brother CS6000i has over 12000.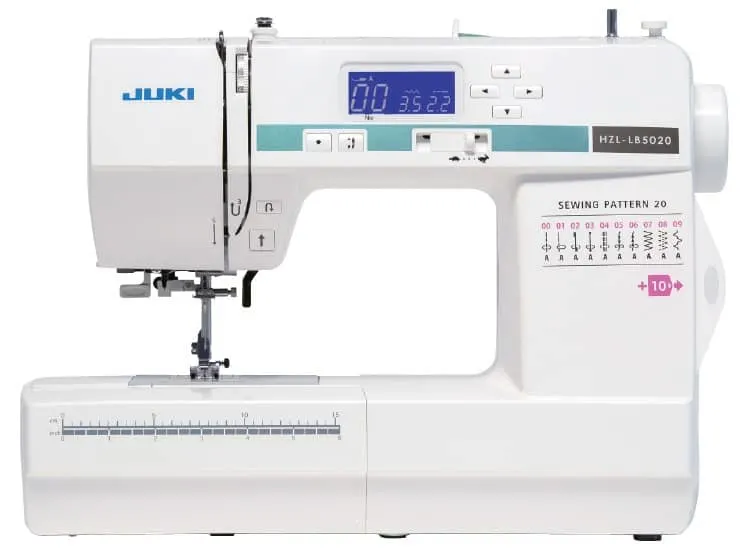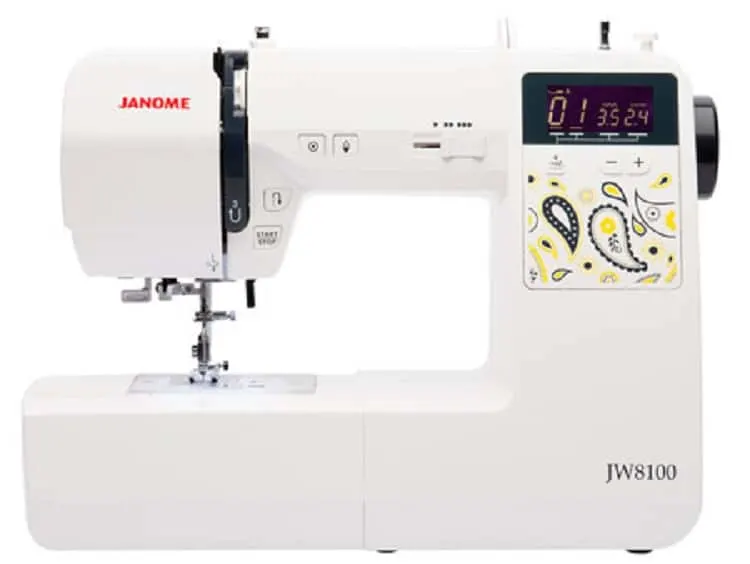 Here is a table summarizing our findings to make the comparison easier.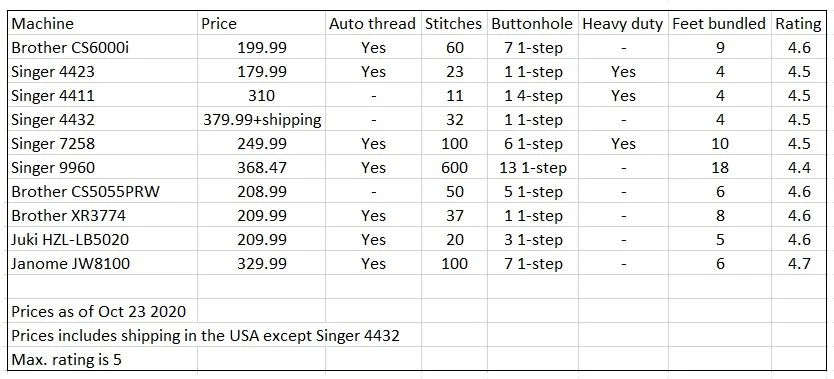 And below (for fun) is the same table compiled in November 2017. Look at the prices! Inflation is not important, they say. Right!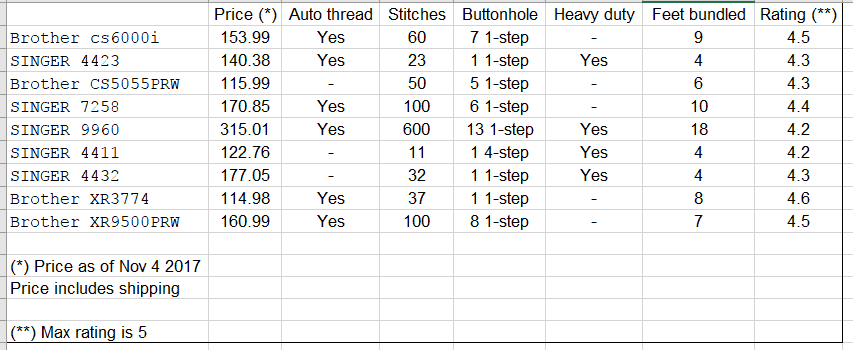 I hope the above has given you a little insight into the process I use to buy something from Amazon; not only a sewing machine but the same can also be done for everything – from hairdryers to irons and coffeemakers. And of course, you do not have to apply the principles to entry-level machines either, once you determine the price range you can afford and the functions you need, a similar list can be compiled for any kind of product.
Did you find this article helpful? If so, save this pin (see below) on your sewing board so you can come to this later when you are ready to buy a machine, and follow me on Pinterest for more tips, tutorials, and inspiration!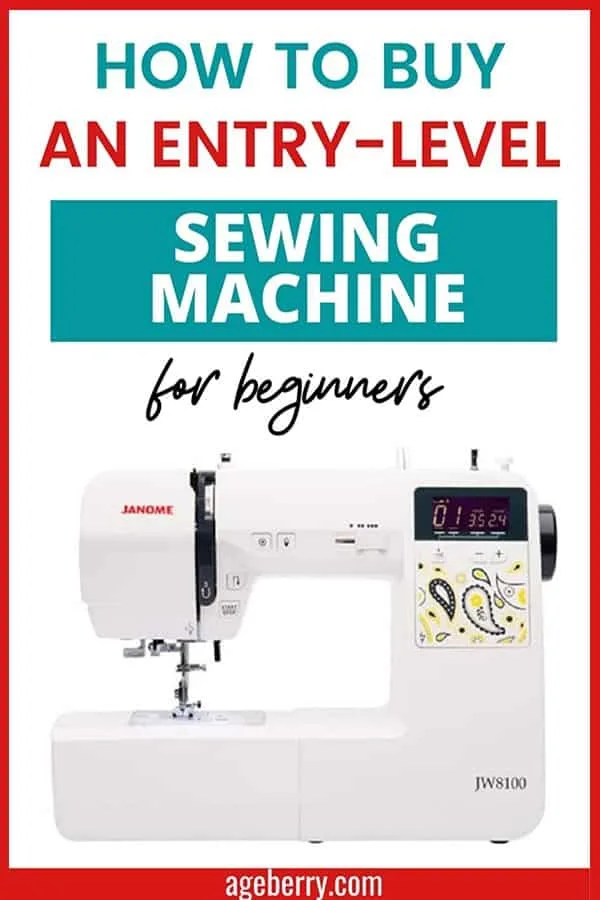 ---