In this guide, I would like to show you how I build my sewing rooms using IKEA products. 
If your sewing room is packed with fabrics and sewing supplies, these easy and inexpensive IKEA products will help you to organize everything with a little DIY.
I want you to look at IKEA products in a whole new light – and get you inspired to get your DIY on.
If only life would be like in fairy-tales, where nobody is ever in need of anything unless there is a fairy godmother close by to provide it! But since fairy- tales are the domain of dreams, I needed to build my sewing room from scratch. Not only this but on a tight budget. Of course, it is not THE sewing room that anyone dreams about, but it is the closest thing to it for me because it offers many if not all of the things I need.
A sewing room organization is quite a demanding task; we need:
A large cutting table, preferably with enough space around to allow movement

A sewing machine table, if possible

Good lighting, both natural and artificial light

A separate area for an ironing board

A separate area for a fitting mannequin

A large mirror

Storage for a lot of small sewing tools and notions


Closet space for the temporary storage of the garments and storage for bulk fabric (you can never have enough!)

Chairs; I prefer swivel chairs which can be stored under the table and allow free movement
Of course, I would have nothing against a nice custom made furniture like the one from Amazon below.
Kangaroo Kabinets - Wallaby II Studio Set in Teak
as of October 27, 2020 2:11 pm
Features
The Kangaroo Wallaby II Sewing and serger cabinet in white
The Kangaroo Dingo Storage and cutting table in whit
Kangaroo Cutting Mat;
The custom insert to fit your sewing machine
But maybe you don't need this fancy furniture – in fact, you can do it yourself using IKEA products. I believe my whole budget was a little less than the price of that cabinet! Sewing room furniture is not cheap therefore we need to be creative.
So let's begin to set up the sewing room…
I have decided to use inexpensive IKEA furniture which has the advantage that can be customized and sized for any available space. Note: at the end of the article I will place links to the items I am using. I am in no way affiliated to Ikea nor do I get any payment from them in any way.
During the last couple of years, I found out that it takes a lot of time to set up the work area for a project and sometimes I am forced to tackle two projects at once. In order to save time and efforts, and because my children have left the nest, I have transformed a second room ( it was previously an office ) into a sewing room. Here are some images: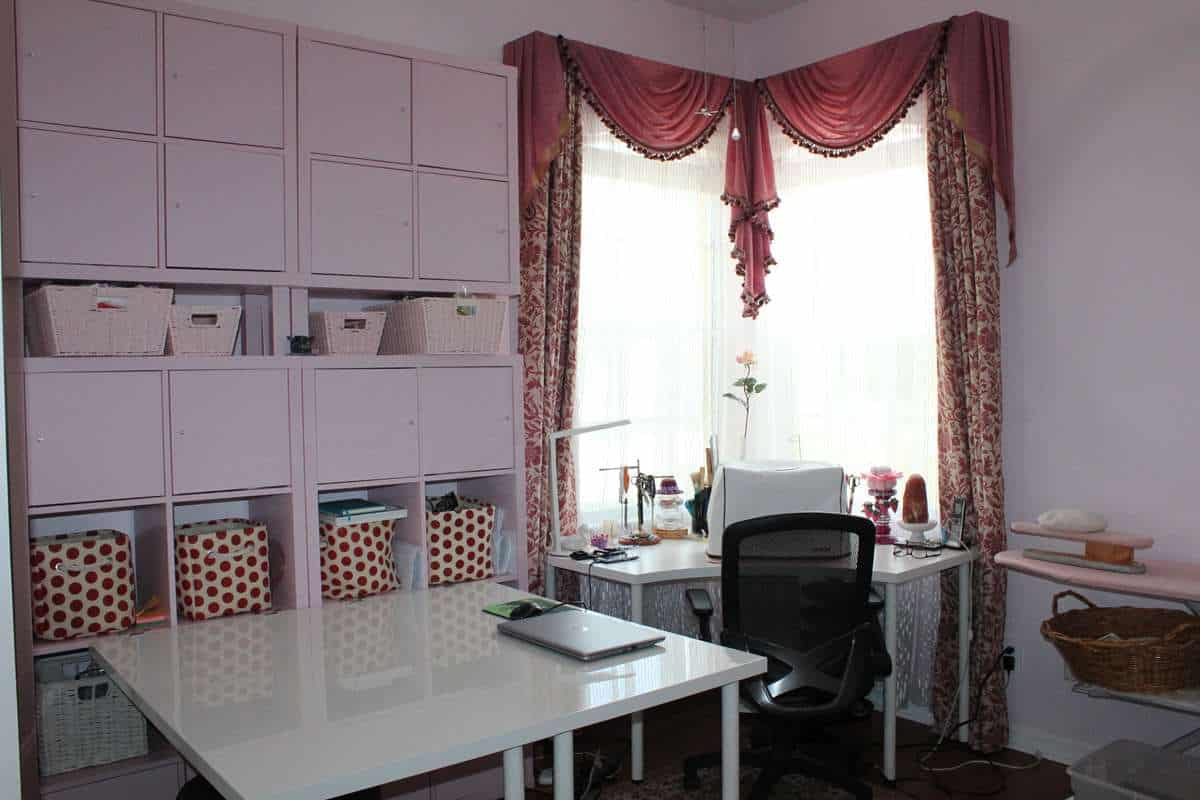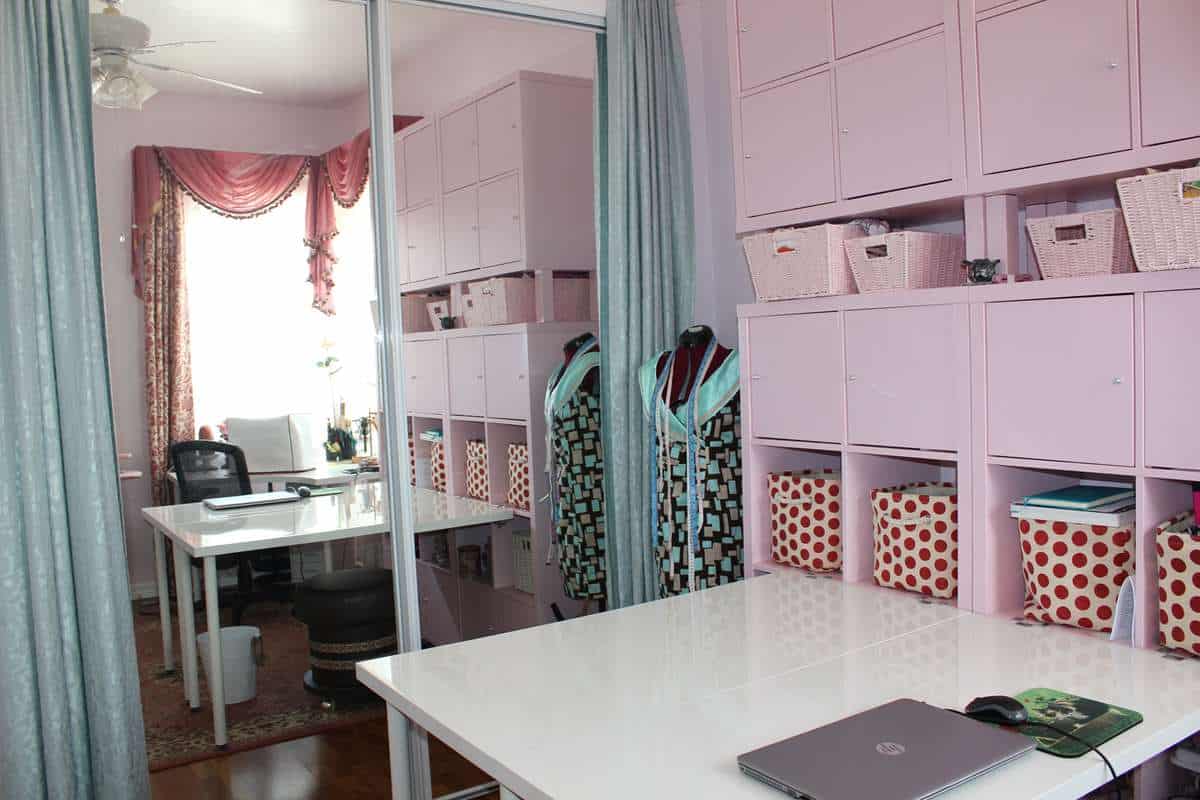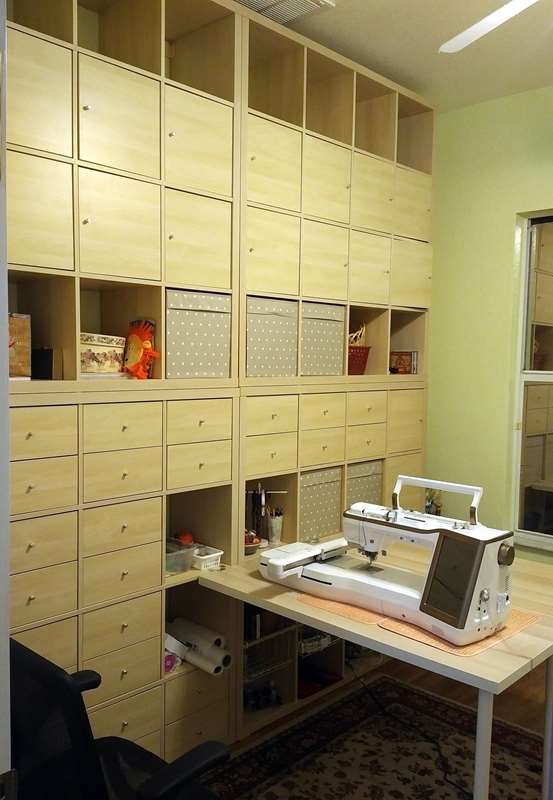 Let's address the requirements one by one:
1. Table. I had many ideas for a sewing room table but I also searched Pinterest for sewing room storage and tables. In the end, I have decided to use two pieces of LINNMON tabletops which gives me a 4 x 4 feet square table. I have exactly the same configuration in both my sewing rooms and it gives me smooth and unclattered workspace. Beware that you will need to purchase separately the legs.
In my case, I have supported one side of the table on the unit that is attached to the wall using the LINNMON connecting hardware and the other side with 4 legs. I have secured the two halves of the table together with a simple plastic tie.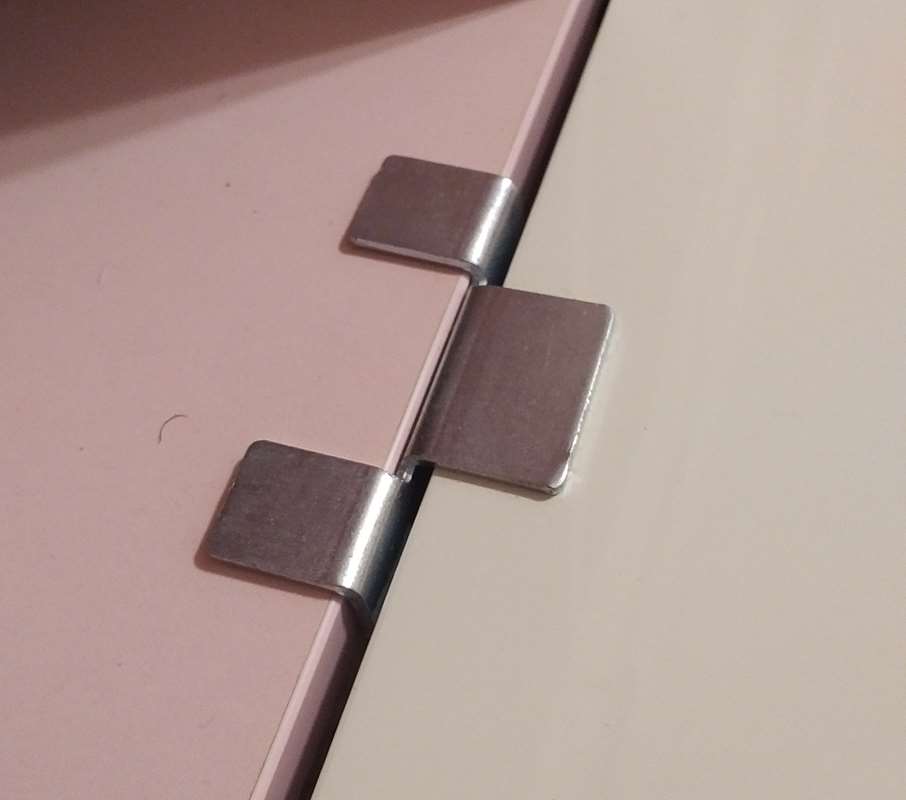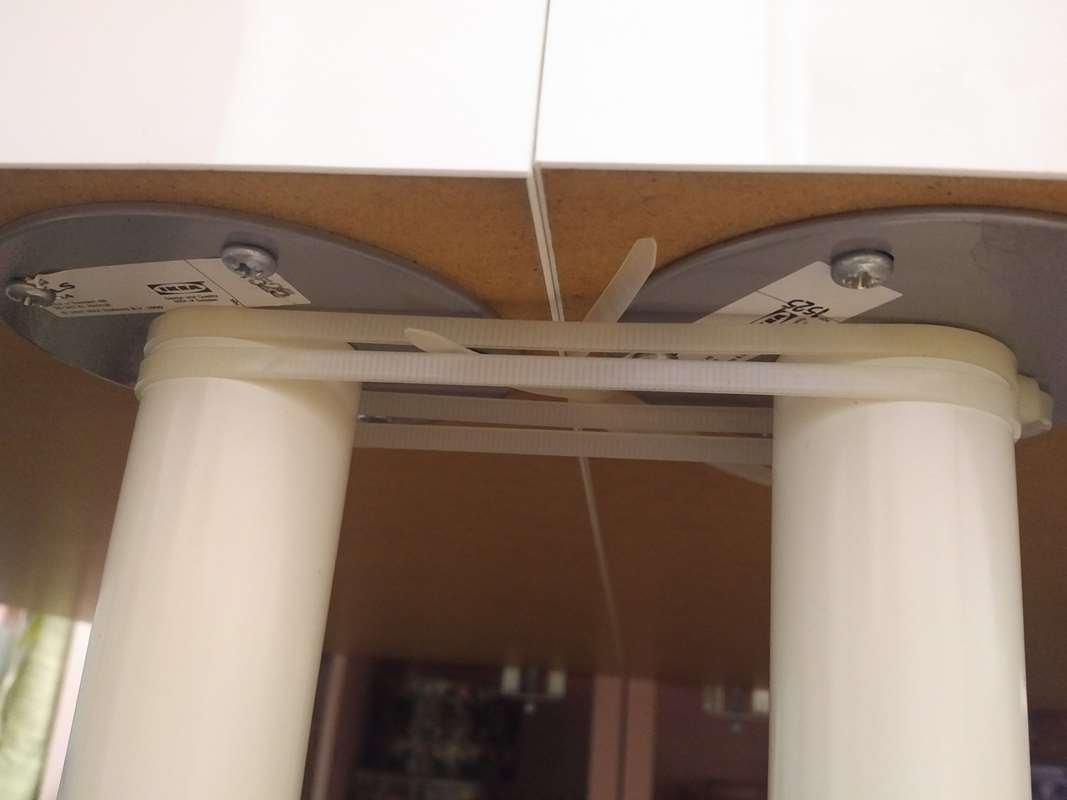 2. Special table for my sewing machine (another sewing room table).
I have used an off-the-shelf Ikea unit LINMON/ADILS corner table which is inexpensive, proved to be quite solid and did the job. Under the table in the very corner, I have hidden an IKEA storage unit with 6 drawers that hold some sewing tools I don't use every day.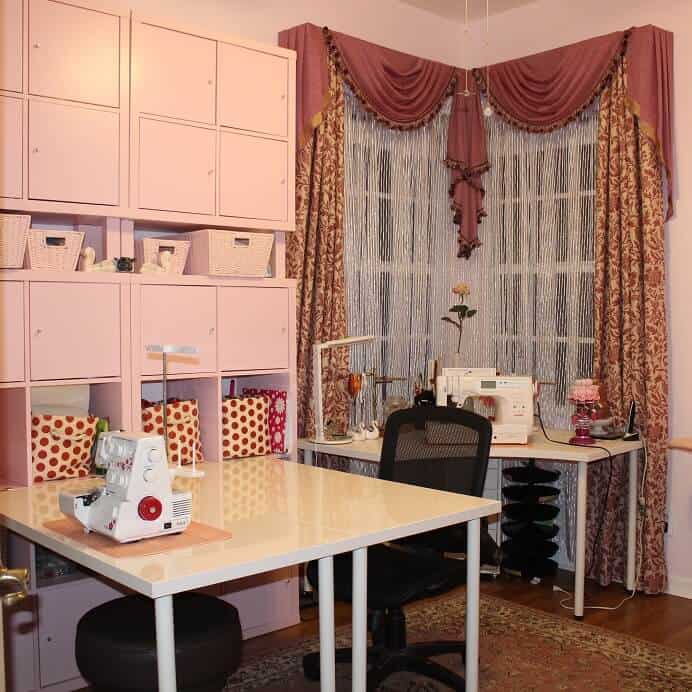 Sooo…perhaps you should read my other popular guides too
3. Storage for all my sewing supplies.
I have resolved this issue by installing KALLAX wall units which offer cubical storage spaces. One storage area is about 1'1"x1'1"x1'3" and can be left empty or can be closed with a door.
Drawers can also be installed in the space, two drawers per storage space. One space can be filled with a carton or fabric box. I have used a combination of 2×2 units ( 2 ) and 2×4 units ( 2 ) in one room and a combination of 4 4×4 units in the other room. This gives me a total of 24 and 64 storage spaces in the two rooms.
As can be seen in the images I have configured some spaces with doors, some with drawers, I placed boxes in others and some are left empty. I am very pleased by the abundance of small storage and, to my surprise, it did not take long to fill all places!
Very important note: it is absolutely essential to properly secure the wall unit to the wall and IKEA documentation does a very good job in reminding of this. The metallic bracket seen in the image below is used to attach the unit to the wall.
All four corners of the units are attached to the wall in a similar manner. The force exercised on the attachment is not great since the weight of the unit and the contents are transferred to the floor but the existence of the bracket prevents the unit from moving.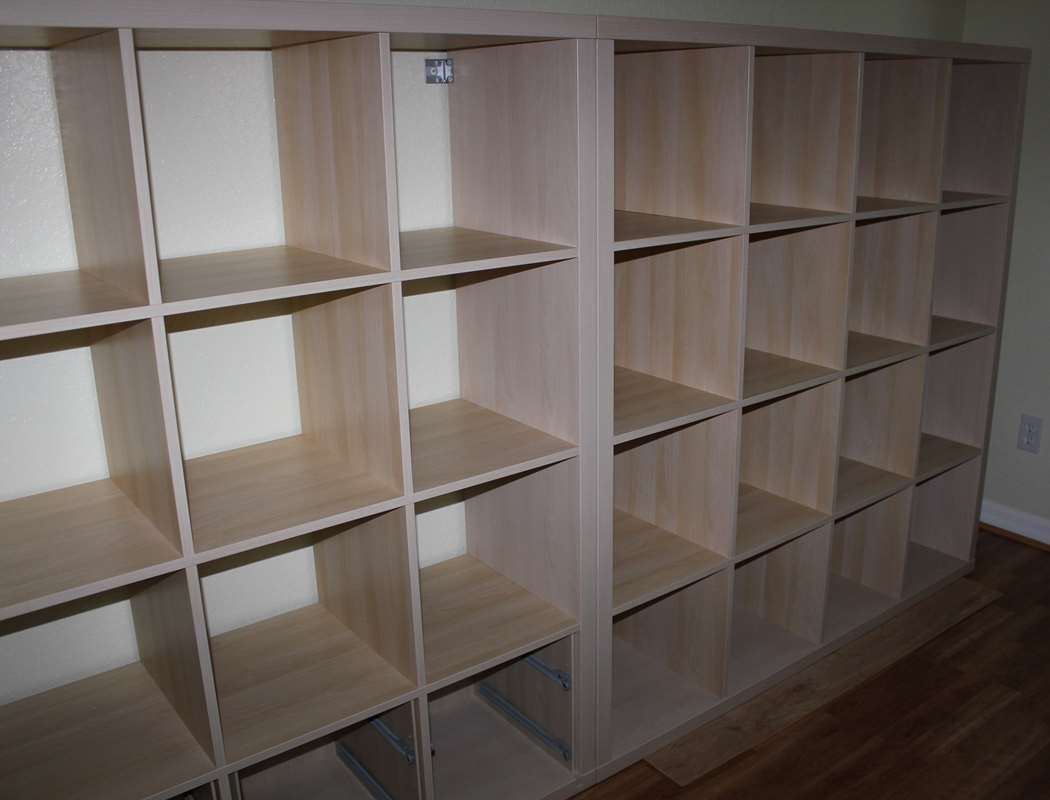 For room one I have in total of 16 door inserts and for the second one, I have 20 door inserts and 17 drawer inserts. In addition for the second room I have 5 fabric boxes and 3 wire shelves: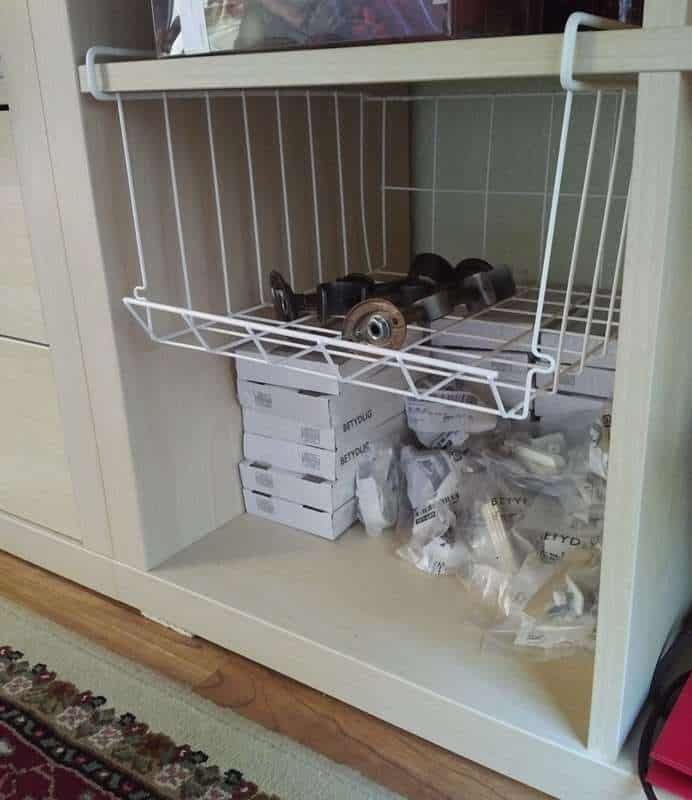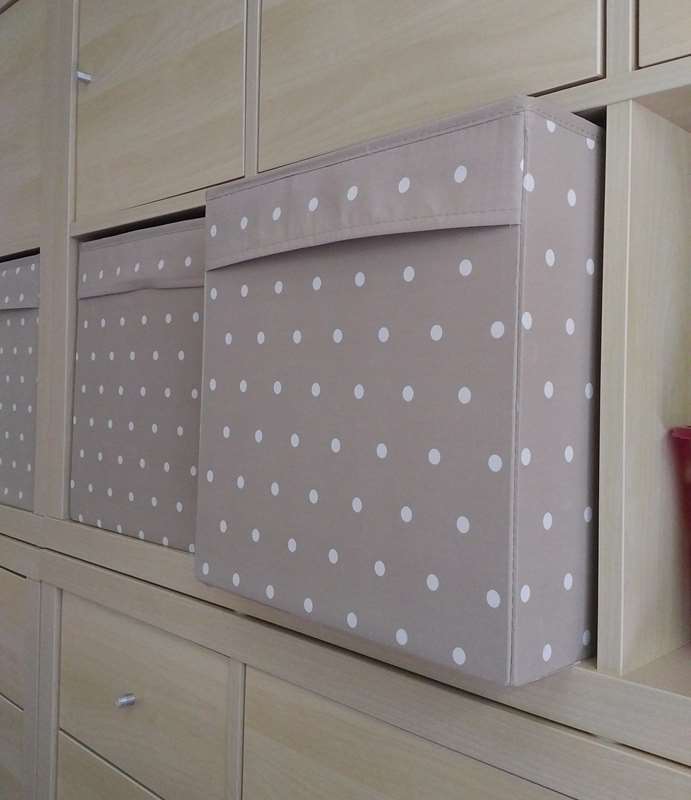 4. Closet space.
This is an entirely different subject and it fully deserves its own article. Suffice to say that all my closets were custom fitted with IVAR storage system and different kinds of supports.
I love IVAR shelving units made from untreated solid pine. I really like that I can move shelves and adapt spacing to suit my needs.
The closet I have in my first sewing room has a small rod that I use for garments that are in process of being made, a number of storage shelves for which I used also mostly IKEA plastic storage boxes where I store my most used threads. Because the drawers are transparent it is convenient to see what color is available where.
Without too many details, the images below will give an idea of how the space is organized.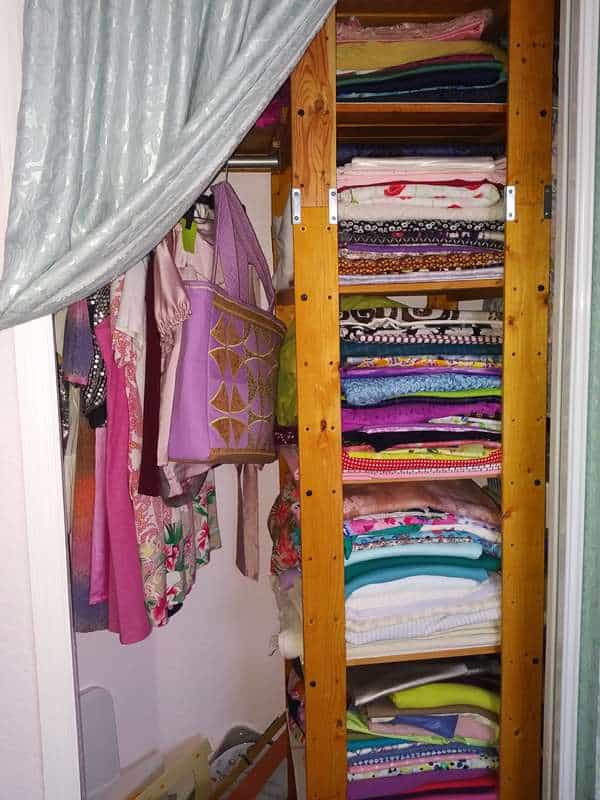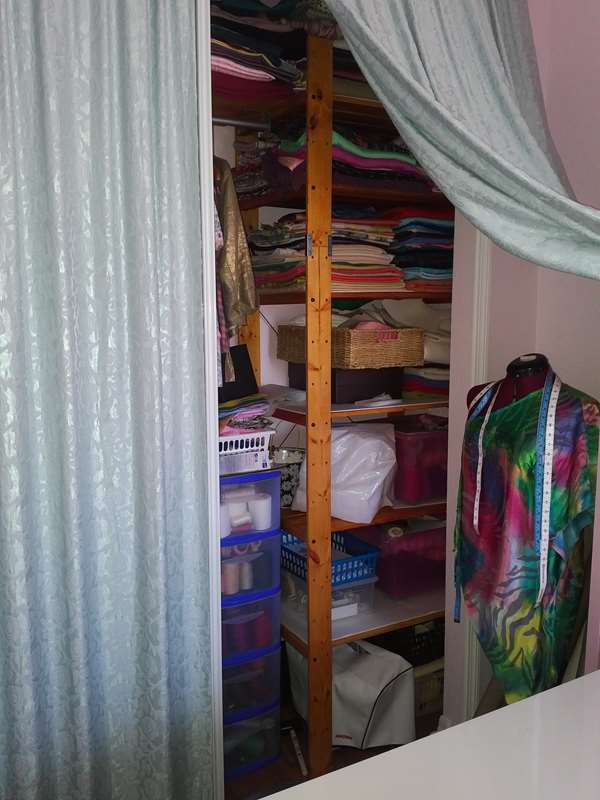 Some items in my sewing rooms are not from IKEA though but I need to mention them also because they are really essential for sewing room organization so I can sew more efficiently with less frustration and well – a lot more fun.
5. Lighting. One of the rooms, the first one I built, has two relatively large windows arranged in a corner configuration. The windows face SW and NW respectively and have direct sun late in the afternoon only. The artificial light is given by a chandelier in which I mounted 4 100W equivalent LED lights, plus other dedicated lights. For a better description please see my guide "Sewing room lighting ideas"
6. Ironing board. It is visible in the images and it is an 18" wide board; I have in fact spent quite some time looking for the right tools for ironing, my experience is summarized in the guide "Pressing tools I use for sewing"
7. The mannequin is a standard 12-dial adjustable dress form from Amazon. It is not the best available but it has served me well and it is relatively inexpensive.
SINGER | Adjustable Red Dress Form, Fits Sizes 4-10, Foam Backing for Pinning, 360 Degree Hem Guide - Sewing Made Easy
3 new from $213.65
1 used from $152.75
as of October 27, 2020 2:11 pm
Features
Foam backed for easy pinning and marking
13 Adjustment Dials
Adjustable for a perfect fit: Bust Size: 33"-40" Waist Size: 25"-32" Hip Size: 34"-41" Neck Size: 13-3/8
Country of origin: China
8. Mirror. As any sewing enthusiast, I have many mirrors, small and large. In this sewing room, I chose to install a mirror closet door ( sliding ) which has the added benefit that reflects the light and makes the room seem brighter. The mirror doors are visible in the images. Because sometimes the reflection in the large mirrors is not wanted I installed a curtain in front of the mirror.
If you find my tips helpful, feel free to buy me a coffee and support my blog
9. Chairs.
For my "sedentary" work I am using a standard office chair like this:
Modway Articulate Ergonomic Mesh Office Chair in Black
as of October 27, 2020 2:11 pm
Features
ERGONOMIC OFFICE CHAIR - Featuring reliable ergonomic support, Articulate comes with a breathable mesh back, passive lumbar support, and generously padded and contoured 6" thick mesh seat cushion
RELIABLE COMFORT - Designed with productivity in mind, Articulate is perfect for everyday use. Sturdy and supportive, this executive office chair holds up to 331 lbs and comes in a variety of colors
ADJUSTABLE SEATING - Articulate is a computer chair that easily adjusts to your needs with height adjustable armrests, one-touch chair height adjustment, 360 degree swivel, and a tilt and lock system
OFFICE UPDATE - Refresh your office space with this versatile choice for computer desks and workstations. Enjoy mobility over carpeted or hardwood floors with five dual-wheel casters
OFFICE CHAIR MEASUREMENTS - Product Dimensions: 26.5"L x 26"W x 34 - 39"H; Armrest Height: 27.5"H - 32"H; Backrest Height: 22"H
It is essential to feel comfortable while sitting in one place for a long time and I found out that a mesh-like seat and back support work best or me. I certainly like the look of the soft, comfy leather "manager" chairs but for me, they don't work well.
For the cutting tables, I prefer swivel chairs which can be stored under the table and allow free movement. These are in my case refurbished chairs, I am not really sure where I obtained the original but in all cases, I have reupholstered the chair fully. Some images: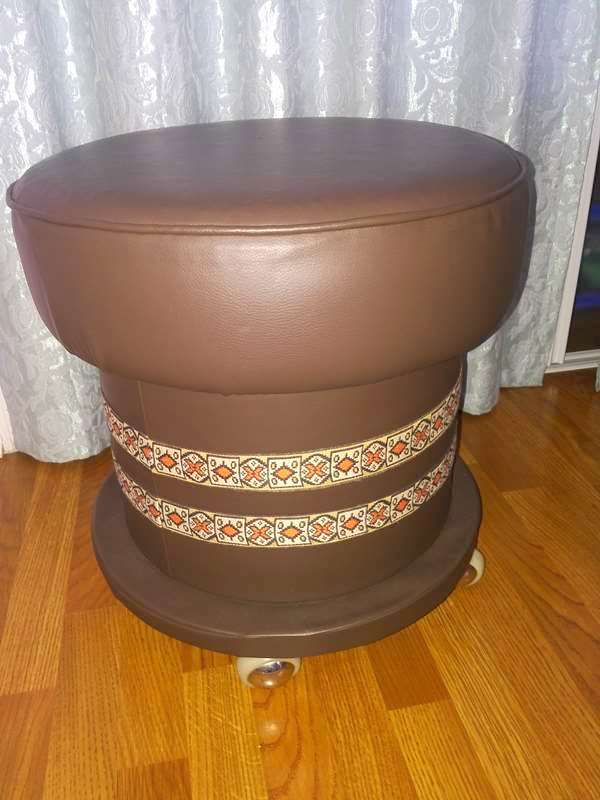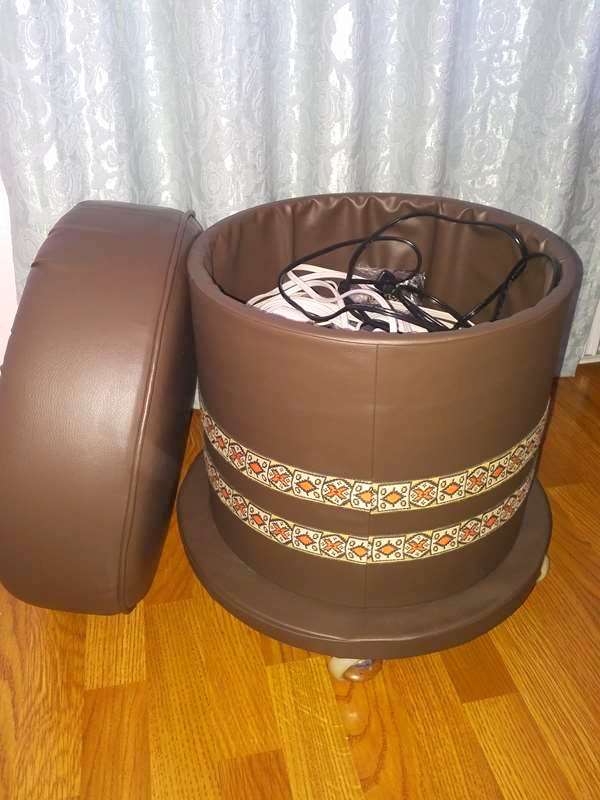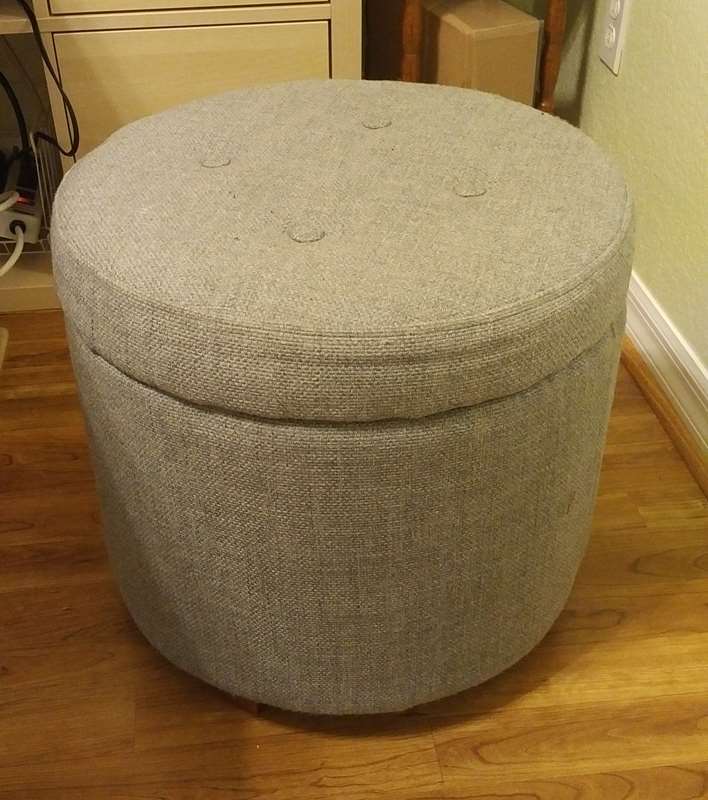 Let's see how much did this end up costing? I do not count the work, as my husband said: "that is not work – it's pleasure!" Besides, I like to look at my husband working, it is good for the heART!
Room 1:
LINNMON tabletop, ADILS legs, mounting hardware: $80
KALLAX units: $250 ( some of them might be discontinued now )
LINNMON/ADILS corner table: $70
KALLAX doors (16): $272
Chair: $130
Total: $802
Room 2:
LINNMON tabletop, ADILS legs, mounting hardware: $80
KALLAX units: $436
BILLY bookcase plus doors: $215
BILLY extension plus doors: $95
KALLAX doors (20): $340
KALLAX drawers: $374
Miscellaneous ( boxes, wire baskets ): $30
Total: $1570
So that's how high-end IKEA furniture can look with some work, a few tools and creativity in mind.
Now, if only I could build a sewing room that can clean and organize itself… But more about this in a future post.
I made a list of all IKEA products (with article numbers) I used in my sewing room with links to the items in the store. If you are interested you can download the checklist as PDF. The file is in my RESOURCE LIBRARY.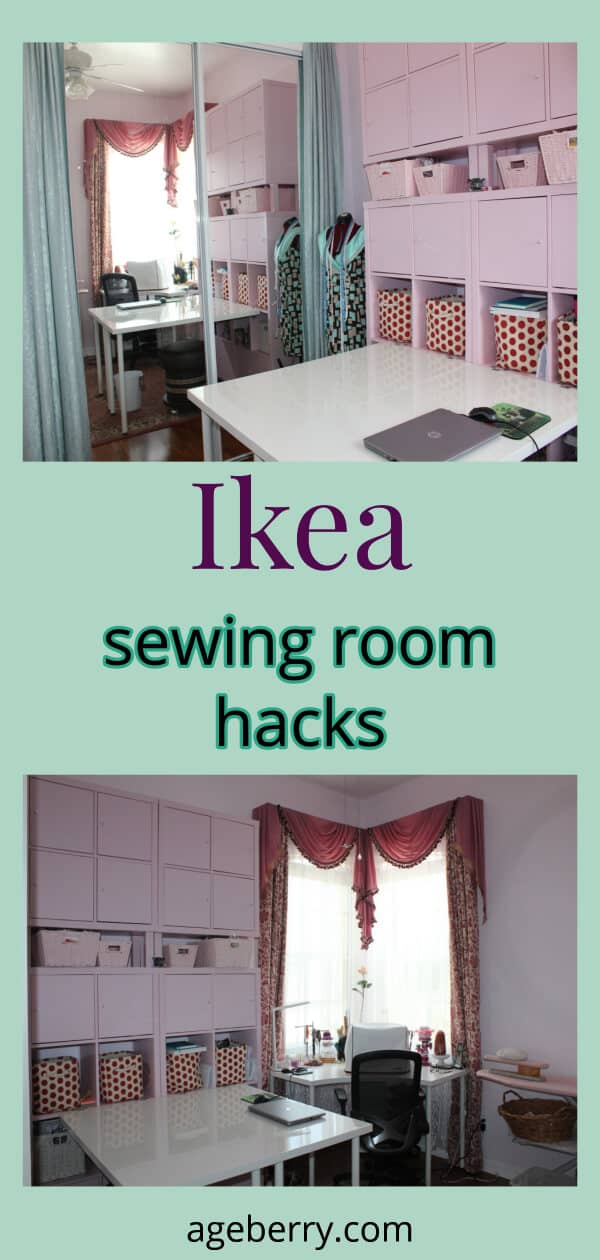 Ready to take the next step in your sewing journey?
Check out more step-by-step tutorials from my blog
and don't forget to share!
If you find my tips helpful, feel free to buy me a coffee and support my blog