Is there such a thing as a "best beginner embroidery machine"? Probably not. All embroidery machines do pretty much the same thing: they make embroidery. And while they work, they are certainly good, better than no machine at all. But the purpose of this article is less to establish a hierarchy for such machines, and more to present how a beginner would see such a device.
Every serious sewing enthusiast must have considered at some point the purchase of an embroidery machine. It is always nice to create beautiful things and embroidery is one of the oldest methods used to embellish garments. For a very long time, we had mechanical sewing machines, but any embroidery that could be done on them was limited to free motion embroidery, where one guides manually the fabric to follow the design while the machine sews.
If you are interested solely in a list with reasonably priced entry-level machines, jump to the list. However if you never had an embroidery machine, I recommend reading this article, it may give you some information you will need.
Since the appearance of the computer-driven machines, embroidery machines have appeared also in stores, and some are priced low enough for home use. I still remember my first embroidery machine, I don't recall the model exactly – I only know it was a Brother PE-something and had very few features, a 4″x4″ hoop max, but it allowed me to discover the wonderful world of embroidery!
My first machine had a proprietary memory card that could hold – hold your breath! – perhaps a dozen embroidery designs and to write such a card I needed a separate box that was connected to the computer using the serial interface.
I think I paid about $400 for it then (around 2002 perhaps?). It looked pretty much like the machine below but I can not remember if it was really the same model.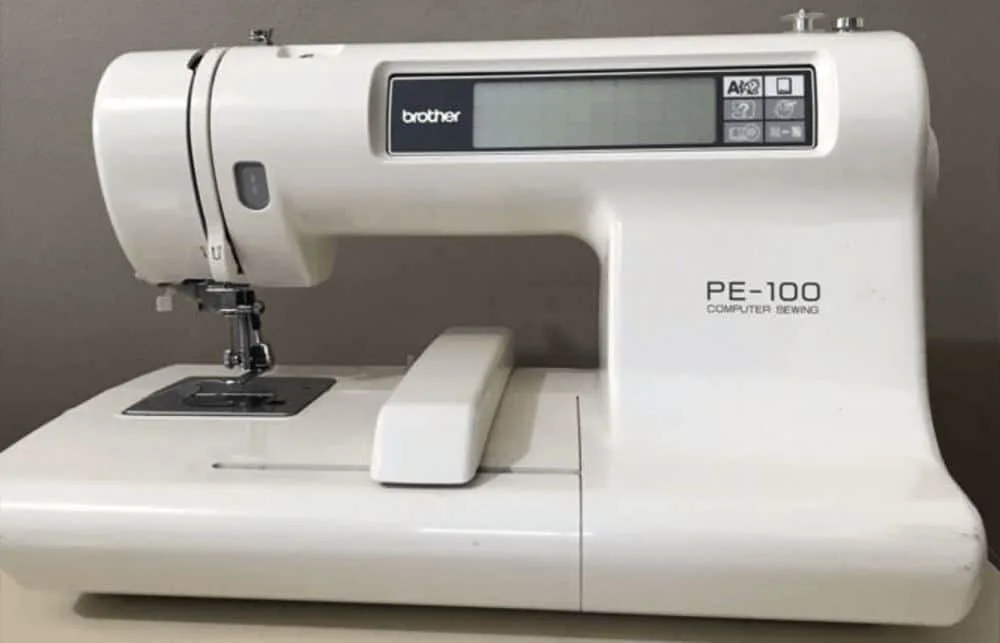 Let us make one thing clear: this article will not answer the question of someone who wants to establish an embroidery business. This article is targeted toward the hobbyist, the weekend sewist, the enthusiast who just discovered sewing and wonders: can I get into the magic world of embroidery, and how easy is that?
Here is one of the first (if not the first) embroideries I made on that machine; I made more after, but in the beginning, I was just trying to see how it works.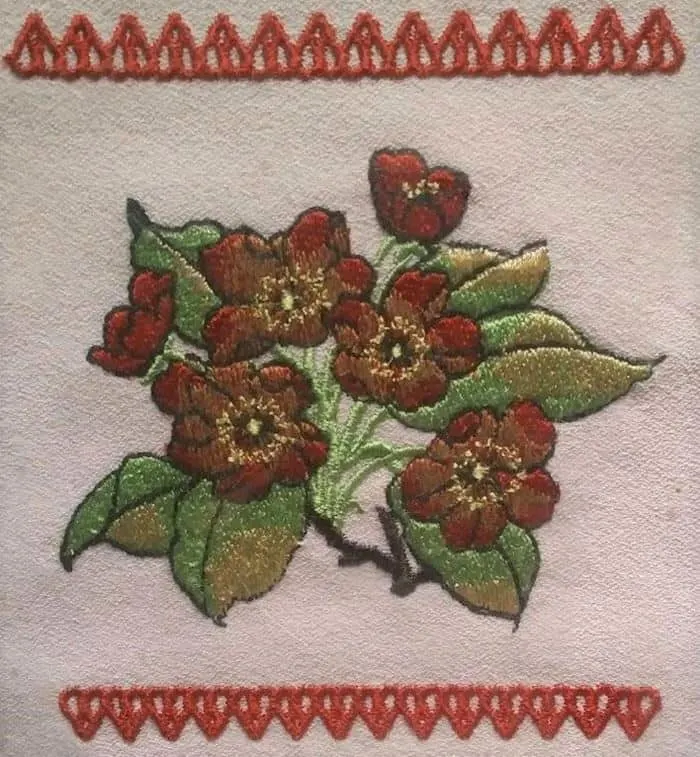 The most important work I did on that machine was the embroidery for my dress for the church wedding in 2003, here is an image of that dress.
You can see the design at the bottom, it was all done on a 4″x4″ hoop. Yes, it did require work.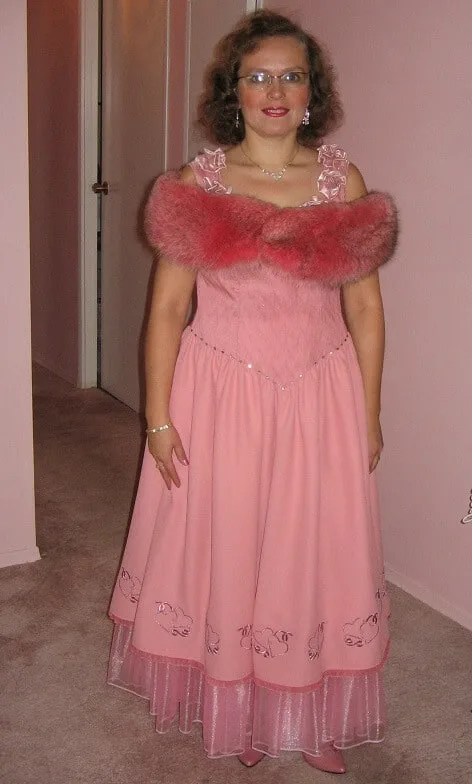 Here is a detail of that embroidery design. As you can see, the individual design repeats around 4 x 4 inches and I can tell you, it was a challenge for a beginner. But the satisfaction, in the end, made it worth it!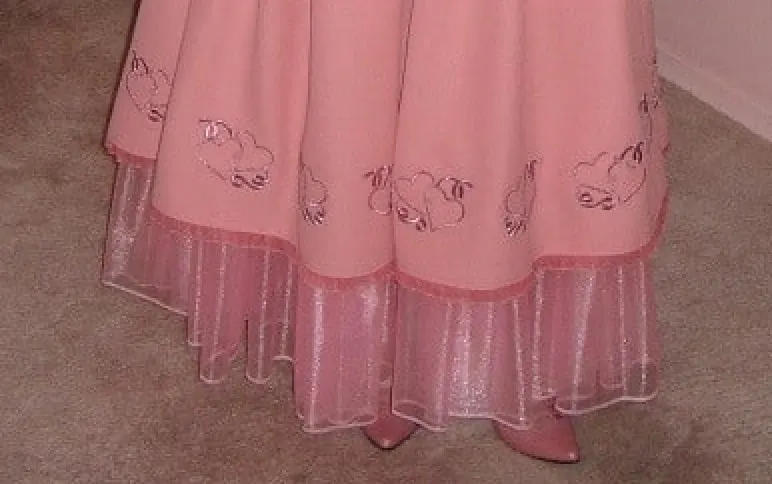 That Brother did not last long in my collection, I did not like the limited card size and the difficult process to load designs on the card. I went through other machines, all considered nowadays very entry level. The final machine I had that could be considered "entry-level" is the Janome 350E which I still have but I use rather not at all.
Note: as of 2023, I no longer own that machine, I donated to a charity which has free sewing classes. Best decision ever, in my closet it was gathering dust.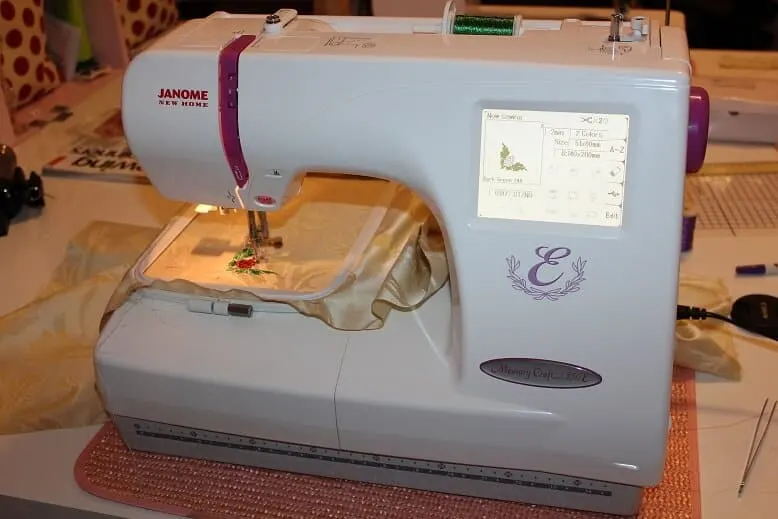 I think I paid about $650 for the Janome in 2012 or 2013 when I acquired it. There were very few differences in capabilities between the Janome and my first Brother, the only notable one (or perhaps the one I remember) is the maximum hoop size which was 4″x4″ for Brother and 5″x7″ for Janome, and the USB port which made it very easy to get designs to the machine.
Some legitimate questions:
What is considered "entry-level" for an embroidery machine
The first is the price. This is an arbitrary choice, but I would put a maximum price for an entry-level embroidery machine at about $600 as of the time this article is written. It is of course my personal choice but I would argue that anything over that price has to offer substantially better features since one can find relatively well-reviewed machines under $600.
Just to make it clear: we are talking only about new machines which can be bought with a full warranty either online or in stores.
Examples: Brother SE625 and Brother PE535 for around $300 – 350, Janome MC230E for around $500.
Second: hoop size. Most "entry-level" machines are limited to a 4″x4″ hoop (about 10cmx10cm), sometimes 5″ x 7″, meaning you can not make one embroidery larger than that in one step. Yes, it IS possible to create larger designs, but it is extremely difficult because one has to move the fabric in the hoop, then position the machine properly and this is, I know from experience, so difficult that it becomes almost impossible, especially for designs with more than one color.
I would consider the hoop size (design size) as the most important feature of the machine.
The third feature is on-screen editing. Basic embroidery machines will usually not allow you to edit the design that you want to use. Some machines may allow you rudimentary features, like moving the design within the embroidery area. These rudimentary features are good to have.
One example: when you install the fabric in the hoop, the design will be embroidered in the middle of the hoop. Do you want it 1/2″ to the right? You can move the design 1/2″ to the right on screen using the editing features.
Of course, more advanced machines offer many more features, like scale designs, combining them, or rotation. VERY advanced machines offer also digitizing features, where you can make a design from an image or a drawing.
Is it worth buying an entry-level embroidery machine?
This is again a matter of opinion.
Note: Some of the links on this page are affiliate links. This means I will receive a commission if you order a product through one of my links. I only recommend products I believe in and use myself.
If you just started sewing, I suggest this is not a time to consider an embroidery machine at all. You can start by applying ready-made embroidery pieces on your garments (or whatever you sew), there are many such patches and they are not expensive. Examples here: embroidery patches on Etsy.
If you are already proficient in sewing and have reached a point where you are ready to personalize your designs, perhaps it is time to buy one. You are probably not ready to spend a fortune on a high-end machine, especially since you do not know yet how much you will use it.
From my own history I would say yes, it is worth buying an entry-level embroidery machine. It will not break you, but it will show you if you are prepared to invest more time and money in embroidery.
Why are the embroidery machines so expensive
There are multiple reasons.
Embroidery machines need to have a control mechanism to move the hoop (the fabric) in two dimensions to allow the needle to stitch the embroidery design. Regular sewing machines have a simple advanced mechanism ( feed dogs) which can not give the precise control the embroidery requires, not even in the one direction they move.
The embroidery machine is usually sturdier than a regular sewing machine. For a small design, 4″x4″, an embroidery machine may stitch around 10000 (yes, ten thousand) stitches. Let's compare with a regular sewing machine: at a stitch length of 2.5mm (about 1/10″), 10000 stitches represent a length of 1000″, or 83ft, or 28 yards! To stitch a regular blouse, for example, the total length of all stitches including hems would be perhaps 1/10 of that length. So your humble entry-level machine has stitched in the 15 minutes it took to make that 4″x4″ design, a number of stitches that would be needed to sew 10 blouses!
You may think I exaggerate; not at all. Let me present a short comparison of the number of stitches needed for a design. I chose a simple butterfly, the original design is under 2″x2″, and I magnified the design keeping the stitch density. The constant stitch density is necessary as you enlarge the design, otherwise the stitches will become so far apart from each other that you will no longer get an embroidery, but an outline only.
The following images show the result: from a number of 6037 stitches (for 1.9″x1.7″, original size) we get 15704 stitches when the design is enlarged to 3.8″x3.3″, then 31890 stitches for size of 5.7″x5″ and a whopping 81330 stitches for a design 9.5″x8.4″. Yes, the embroidery machine MUST be a heavy-duty machine, otherwise, it would quit after the first couple of uses!
Just look at the below images:
Moreover, the higher the number of stitches, the longer it takes for finishing a design. At 650 stitches per minute, which is not uncommon for sewing machines (some claim more in embroidery mode, but rarely work at full speed all the time), to make a design of 31000 stitches as our 5.7″x5″ was, it would take – what do you know! – no less than 50 minutes! High-end machines offer speeds two or even three times that, meaning even more stress for the mechanical components.
How to buy an entry-level embroidery machine
I would recommend the following:
If you only have a simple sewing machine and enjoy sewing (why else would you want embroidery otherwise?), then consider a combination sewing/embroidery machine. An embroidery machine is usually designed for better endurance than a sewing machine and the included computer makes it easy for the manufacturer to add features specific to sewing, like stitches, buttonholes, etc.
With a combination sewing/embroidery machine, even if you already have a sewing machine, you will get a spare to use if your main machine fails. Also, if you want to embroider something, it is easier to just use the same machine for regular sewing, no need to set up again a second one. When I needed to go away for a while I only could take one machine with me, and I took a combination sewing/embroidery which served me well for the duration.
Buy only from a reputable dealer who can offer service in warranty, or from a place that offers a refund option in case you get a lemon (like Amazon, Walmart, www.sewingmachinesplus.com).
If you can find a used sewing machine locally, beware: not everyone is honest, and unless you buy at garage sale prices (translation for people outside North America: dirt cheap), never buy sight unseen. I have seen bargains on Craigslist in the USA and eBay, but I have rarely seen bargains on Kijiji in Canada, Canadians seem to be more fond of their sewing machines and price them accordingly!
But there ARE bargains to be found on these sites if you are not picky about the brand. I have heard about high-level machines sold at estate sales for 1/5 of the initial price, still in their original box. So, if you are in the US, keep your eyes open – who knows?
What if I decide to upgrade later
If you like sewing, there is no "if" in this: you WILL want to upgrade.
If you bought a combination sewing/embroidery machine, you may want to keep it as a spare machine.
If you bought an embroidery-only machine, you could either sell, it, donate it, or keep it for a second home or as a gift for a child or grandchild. I chose to keep my Janome, even if I now have two other machines and that makes it unlikely I will ever use it again.
Note: I have later donated my embroidery machine to a local church which has a free "learn to sew" class for people in the neighborhood. It still works well!
If you decide to sell your machine, this will probably not be difficult at all, and you will get a good price for it. Assuming of course that the machine is in good shape. Sewing machines are one of the few small appliances that I see sold online quite fast and for a reasonable price; perhaps because the prices for new machines have gone up constantly during the last three years?
Why would you choose to upgrade? The first is the design size. I found the 4″x4″ (or even the larger 5″x7″) very limiting. As soon as I decided to use the embroidery machine for quilt embroidery (did you see my articles on Trapunto quilting and Bargello quilting? Both use the embroidery machine for quilting), the small hoop size became a big issue.
Second, the design software is bundled inside the high-end embroidery machines. My Babylock Destiny 2 ( similar to Brother Dream Machine 2) can digitize images and create embroidery directly from them, using a built-in camera, scanner, and software. Also, the designs (both built-in and copied from the computer) can be manipulated in many ways not available to cheaper machines.
Did I tell you this is my first sewing machine that uses a computer mouse?
Entry-level embroidery machines
As of the time of this writing, the following machines are at the top of my list.
Always remember: if you expect a warranty, and especially for an entry-level machine the chance of receiving a lemon initially is not negligible, you should only buy from a local, trusted dealer who can service it, or from a place that accepts returns (like Amazon, Walmart, Costco).
Always test the machine fully within the return window. Never leave it on the shelf for six months, in case there is something wrong, you need to know asap.
I would like to also remind you that the links below are affiliate links, if you buy a product through one of those links I may make a small amount in commission.
Brother SE600 Sewing and Embroidery Machine
Brother Embroidery Machine, PE535
Brother Embroidery Machine, PE550D
Brother SE625 Combination Computerized Sewing and 4×4 Embroidery Machine
Brother Marvel Sewing and Embroidery Machine, 4″ x 4″ Hoop
Brother SE700 Sewing and Embroidery Machine
As you can see, all entry-level embroidery machines on the market are Brother. However, Brother seems to have come a long way in quality, and the latest models all have very good reviews on all sewing sites.
For comparison, try the competing site www.sewingmachinesplus.com, they often have competitive prices. However sewing machines have become very difficult to keep on shelves lately, and the availability changes very often.
Did you find this article helpful? If so, save this pin (see below) on your sewing board so you can come to this guide later when you are ready to buy a beginner embroidery machine, and follow me on Pinterest for more tips, tutorials, and inspiration!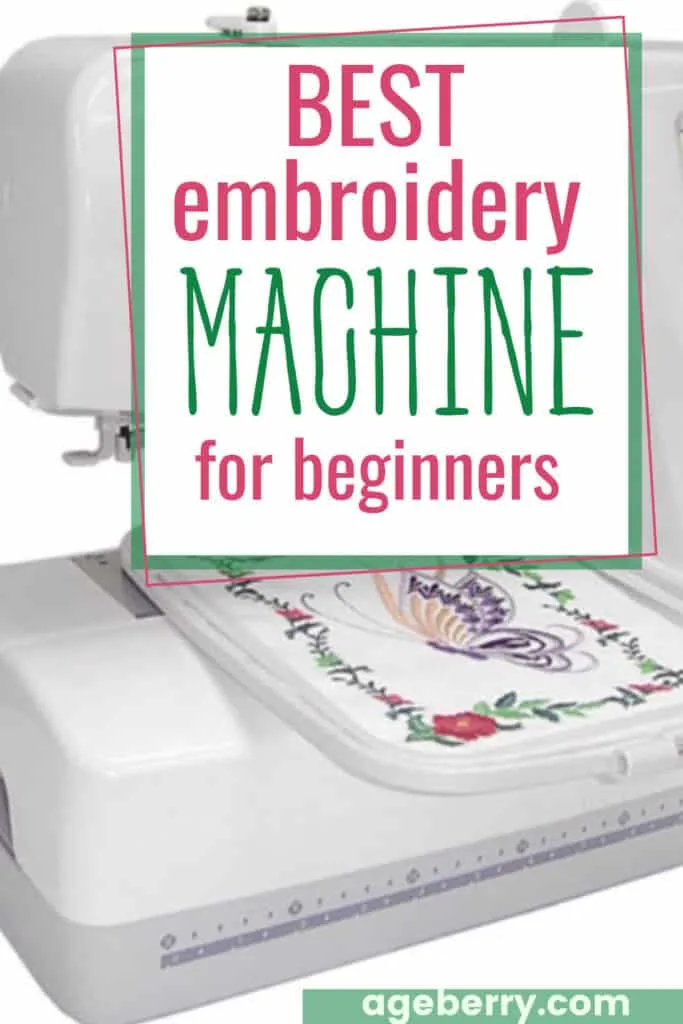 I hope you have found this article interesting, and if you are considering buying an embroidery machine, I have helped a little. Perhaps you will find other articles on embroidery interesting too:
---