Sewing without complex patterns is a dream of everyone who has just begun to master the art of sewing. Making beautiful dresses is also something every sewing enthusiast wants. And my tutorial here will show you it can be done with relative ease and it can be done even if you are a beginner.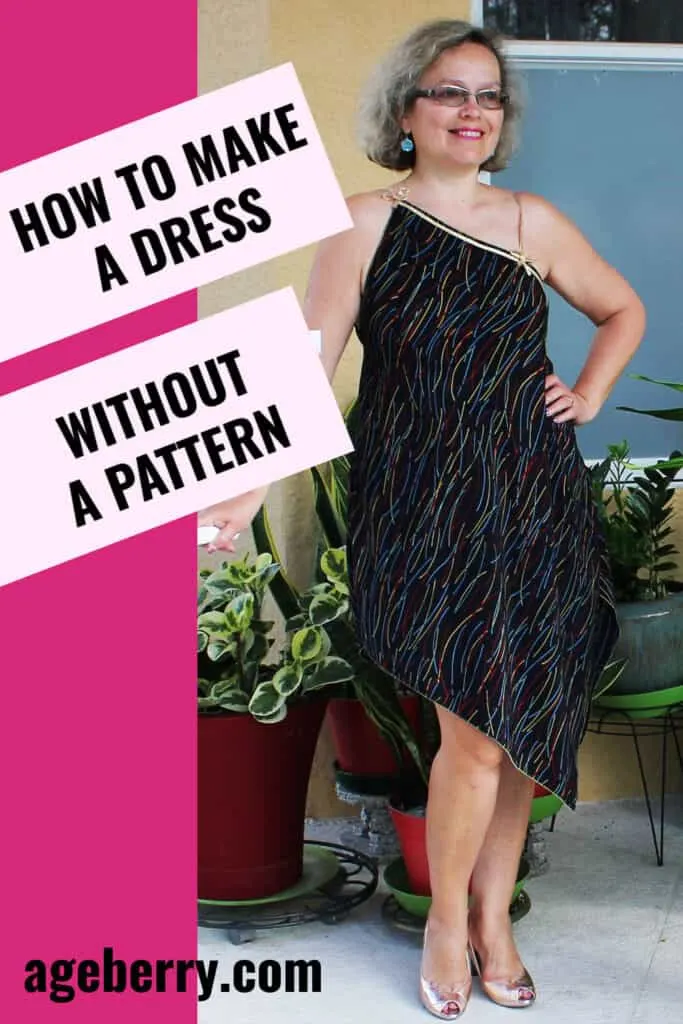 Let's make this chic dress from 2 square pieces of fabric.
No pattern
No interfacing
No darts
No difficult seams
Easy to sew
Easy to wear
I made this dress from 2 different fabrics and will show you in detail how I made the version of the dress in yellow silk fabric.
Please remember that I am not a model but I have to show you what the dress looks like 🙂.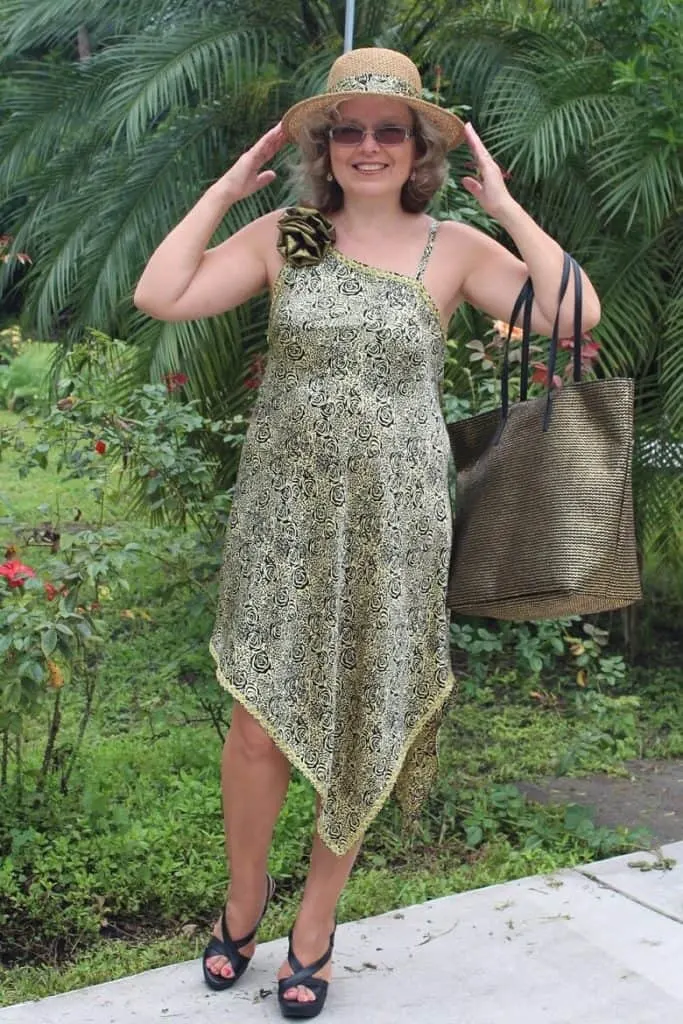 Often we are faced with the fact that there are many things in the closet, but there are still no good choices for the outfit that can be worn at a particular event. You know the joke:
I look in my closet and think
I don't have enough space
I have nothing to wear for today's party
I have to keep all these clothes because what if somehow I will lose 10 pounds
To get out of this situation you can make a dress without a pattern in a matter of minutes. Let me show you how.
Here is an illustrated tutorial about how to make this so lovely yet so simple spaghetti strap dress. But if you would like a different design check out my other tutorial How to make a dress that is stylish, flattering, and fun in 30 minutes without a pattern
This silk dress follows the shape of the body and its asymmetrical hem seductively swirls with every step. The loose fit and fluidly falling silk fabric make it ideal for all figure types. I even think that its asymmetrical panels provide the garment with a couture character. The dress is comfortable to wear and looks wonderfully feminine. And best of all, you can make it yourself if you follow the instructions below. The sewing is pretty simple even for those who are just learning to sew. Practically, you will only need to join two side seams.
You do not really need a pattern for this; all you need are two squares of fabric 75x75cm (29 ½ x 29 ½ inches) on which you will draw two lines (on each) like in the image here.
All dimensions are in centimeters, if you are used to the imperial system only I suggest simply using a double-marked tape measure, they are available everywhere. Or use my calculator here: Fabric Conversion Calculator.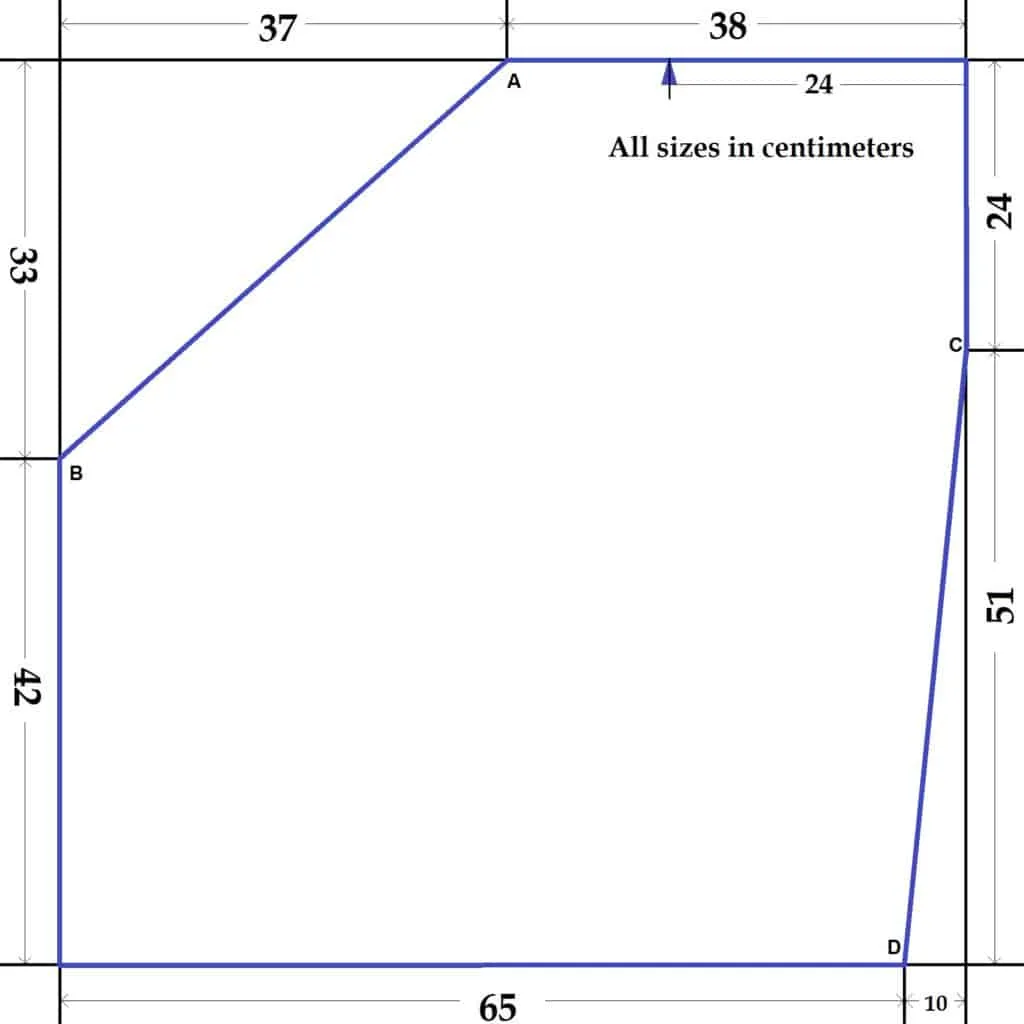 Have in mind that this dress with the measurements given in the image has a good fit only up to a size 10 (the US and Canada), a European size 40, and a bust size A and B.
Make sure that you have all you need to complete the sewing of this dress and read through the instructions BEFORE you start so you have a clear understanding of what is going to happen.
Also make sure your fabric is cut straight before you cut the squares, if you have doubts please read my article "How to cut fabric straight".
Materials
So, for this project you will need:
1.8 m (2 yards) of 100 % silk charmeuse
Spool of thread matching fabric color and thickness (100% silk thread is ideal)
Sewing machine needle size 75/11
Contrast threads for basting
Sewing pins for silk fabric (very thin and sharp)
Some small washbowl for pre-washing the fabric
Painter's tape
Elastic (optional)
Jute twine
Sewing scissors
Small piece of silk chiffon fabric for the flower (optional)
3.5 m of trims for decoration (optional)
Ruler and measuring tape
Note: Some of the links on this page are affiliate links. This means I will receive a commission if you order a product through one of my links. I only recommend products I believe in and use myself.
I usually buy silk charmeuse on Amazon. Check out these gorgeous fabrics.
Step-by-step Instructions
1. Fabric and preparation
You will need 1.8 meters (2 yards) of fabric.
I made it from 100% silk fabric – silk charmeuse. It is possible to use a different material but I can't guarantee it will look equally good, silk charmeuse drapes very well. The fabric should be woven, not knit. The fabric should be quite stable and not stretchy at the straight grain and cross-grain but it should be more elastic and therefore more fluid in the bias direction. The dress we are going to sew requires stability at the straight grain and cross grain and extra elasticity and flexibility at the bias grain.
So, if you want to make the dress from some other than silk charmeuse fabric then make sure that when you fold the fabric on the diagonal it stretches nicely and it is not heavy or stiff (or it will not drape well).
I made the dress from natural high-quality silk charmeuse with floral prints. This fabric is wonderfully lightweight, it has a nice sheen and is very comfortable to wear.
2. Prewash
I highly advise you to pre-wash the entire piece of silk fabric before cutting it. Don't use your washing machine, most silk fabrics have to be hand washed. Of course, there are exceptions. I have a tutorial on how to wash (and pre-wash) silk, so check it out.
Fill a container with lukewarm water (30-35 °C, 86-95 °F). You can add to the water a few tablespoons of distilled white vinegar or a few drops of a hair conditioner.
Gently push your fabric into the water and move it around a little so all the fabric is soaked.
Let it sit for 5 minutes or so.
Drain water, gently squeeze out the fabric, put it on a towel, and roll it up to remove water.
Air-dry it, but not fully, it has to be a little damp. Don't place it to dry in direct sunlight or near heating elements. Machine drying is not recommended.
Iron on low (while it is still damp) without steam on the wrong side of the fabric.
Ironing silk is always delicate work. Test your iron first on a small side piece of fabric. Don't slide the iron over the silk, or it may stretch the fabric or put it off-grain. Usually, irons have special settings for silk but I found that the temperature of this setting is really very low. So I iron my silk fabric on a wool setting and never burned even sheer chiffon. I have to say this again: always test first!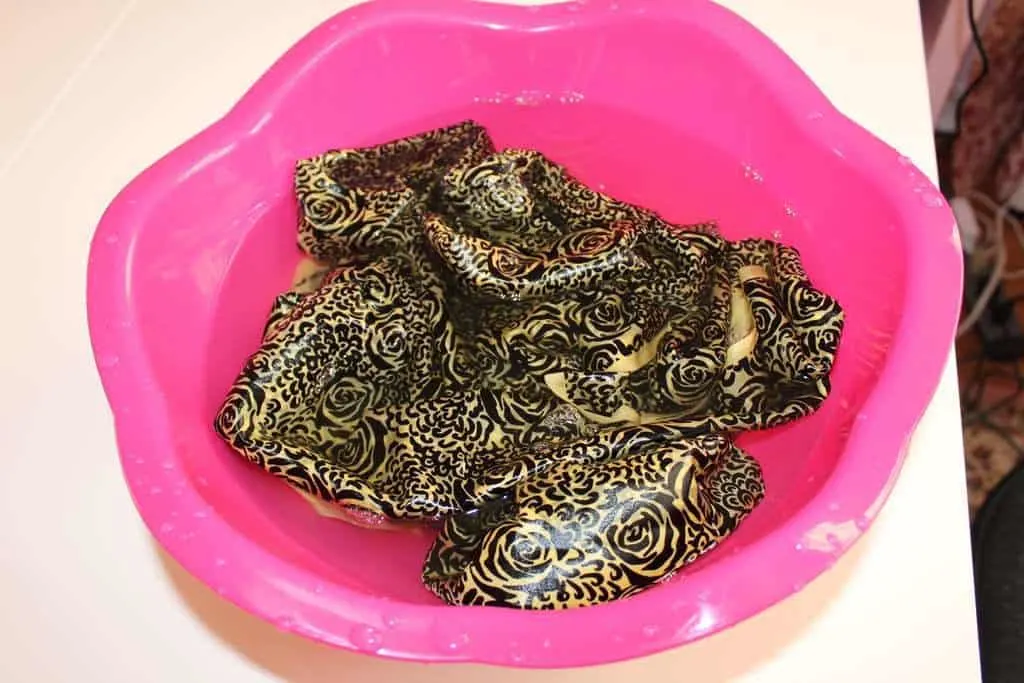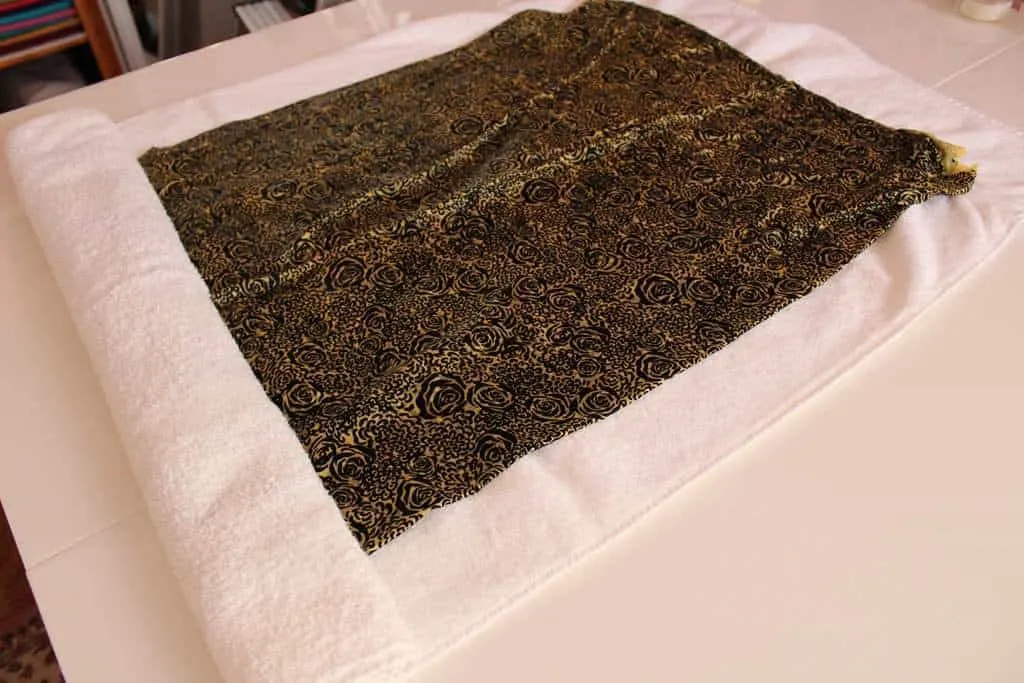 3. Cut 2 square pieces 75 x 75 cm (29 ½ x 29 ½ ")
When you buy fabric from a store it is often cut off not exactly straight. Sometimes, it has a bevel of 5-7 cm. So you need to straighten the fabric. Please see my article "How to cut fabric straight". This step might seem not important, but in fact, it is – without a straight cut to begin with the dress will not look good.
Below is a short video showing the process I used to cut fabric straight.
For this at the beginning of the fabric piece snip through the selvage and find cross-grain threads going perpendicular to the edge. Then gently pull out one thread that goes through the fabric. When the thread is pulled out, it will leave a gap line. You will get a smooth "path". Gently cut the fabric along the line. Repeat the process to cut 2 perfect squares from the silk.
Mark the grainline on each square with a basting thread. You will need to know this later.
4. Make a narrow hem along all edges of these squares.
There are different ways to finish the raw fabric edges on these square pieces of fabric.
You can use the technique I described in this tutorial: "How to sew a narrow hem". If you use this technique then in step 10 (where you stitch the hem) you will only have to stitch the straps.
You can also make the narrow hem using an overcast presser foot and a regular zigzag stitch as I described in this tutorial "How to use overcast presser feet for sewing overcasting stitches"
But for this dress, I used just a double-folded method: for this turn under and baste the raw edges (1 cm or 3/8 in) to the wrong side of the fabric, and press well. Fold back another 1 cm (3/8 in) all around and baste with different color thread, so that the raw edge is enclosed. Press well again.
You may have a small problem finishing the corners. Just try to make perfect 90 degrees fold at each corner and you will be fine. Don't stitch over the folded edges just yet.
5. Make shoulder straps (spaghetti straps) for the dress
Cut the fabric in direction of the grainline.
For longer strap the measurements are 4 x 44 cm (1 ½ x 17 3/8″), for shorter one they are 4 x 30 cm (1 ½ x 11 13/16″).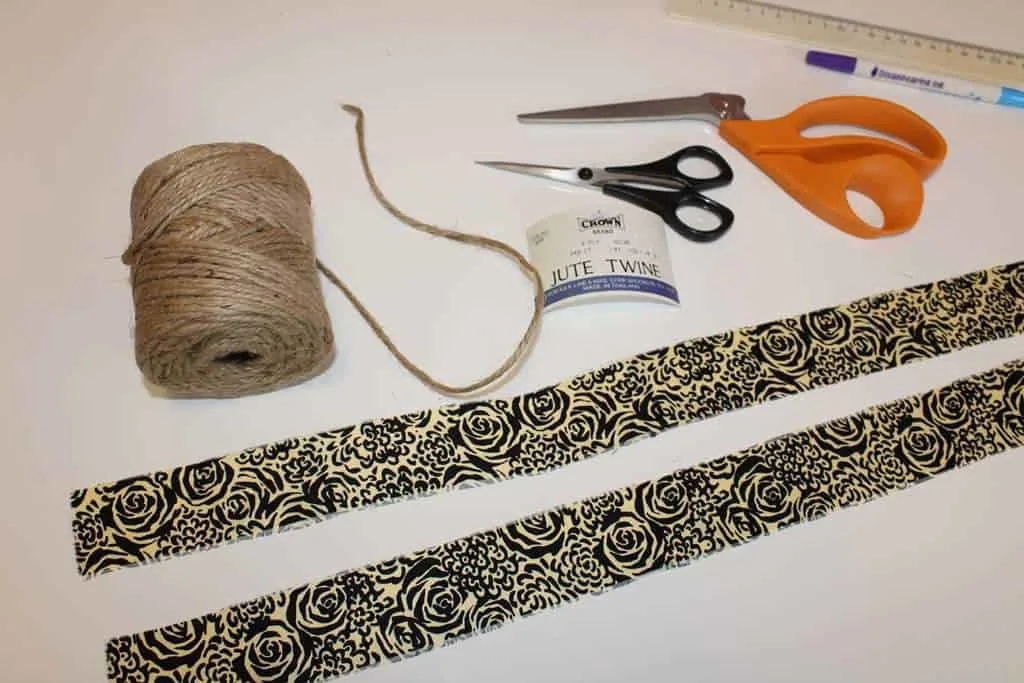 Fold straps in half lengthways, right side in, putting inside a small piece of jute twine for easy turning straps right side out. Baste and stitch 1 cm from the edge (1 cm or 3/8″ seam allowances) leaving one end open and another stitched.
Now turn the straps carefully pulling the twine. Cut edges with twine, align straps with running stitches, and press. The following series of short videos show the process of making the straps.
5. Cut the front and back of the dress
With the right sides in, pin fabric squares together, place them on the table, and fix them to the table with painter's tape so the fabric doesn't move when you cut it.
Make 2 lines for the side seams of the dress according to this drawing. Cut carefully along the lines – and these pieces are the front and the back of your dress.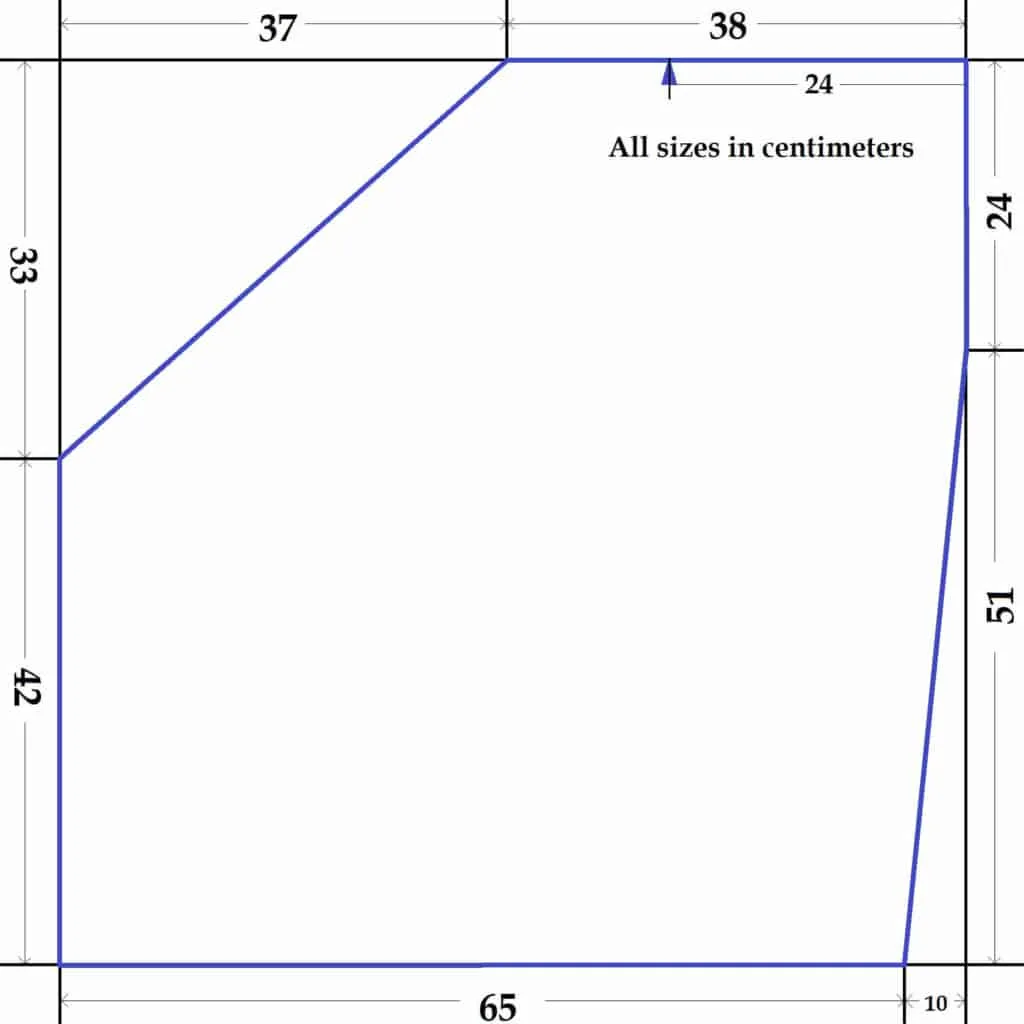 The following set of short videos exemplifies the process of cutting.
The following video shows the actual cutting. Notice how I pin the pieces together close to the cutting line to make sure they do not move, silk is very slippery. Also, did you notice how useful is the wrist pincushion? You can make one, the tutorial is here: "How to make a wrist pincushion".
7. Pin front and back pieces together at side seams
Baste with running stitches. Secure hand stitches at the upper edges of the dress for the first fitting.
8. Pin ends of shoulder straps to the dress
9. Determine the correct strap length
Try on the dress to determine the correct strap length for your liking. In my case, the longer strap has a length of 33 cm and the shorter one is 17 cm long.
If you think you will need to insert some elastic in the back of the dress for better fitting follow this step. Tie a string around your waist. Take a small piece of the painter's tape (around 15 – 18 cm, or 6 – 8 in) and looking in the mirror at your back put the tape above the string in the back. You will use this to determine where the waist is.
If you don't want to insert elastic in the back it is ok, the dress will fit just a little loose. It all depends on your body shape after all.
After trying on – take out basting stitches from the side seams and separate front and back pieces of the dress.
10. Insert elastic at the waist (optional)
Skip this step if you decided to go without the elastic. If you decide to put elastic, then follow this step.
Construct a small band from the fabric, finished length 19 cm and width 1.5 cm. Pin it to the back (wrong side of course) in place of the painter's tape, baste and stitch the band to the dress leaving ends open for elastic. Insert elastic (the length is about 13 cm) with a safety pin and close the ends of the band with topstitching.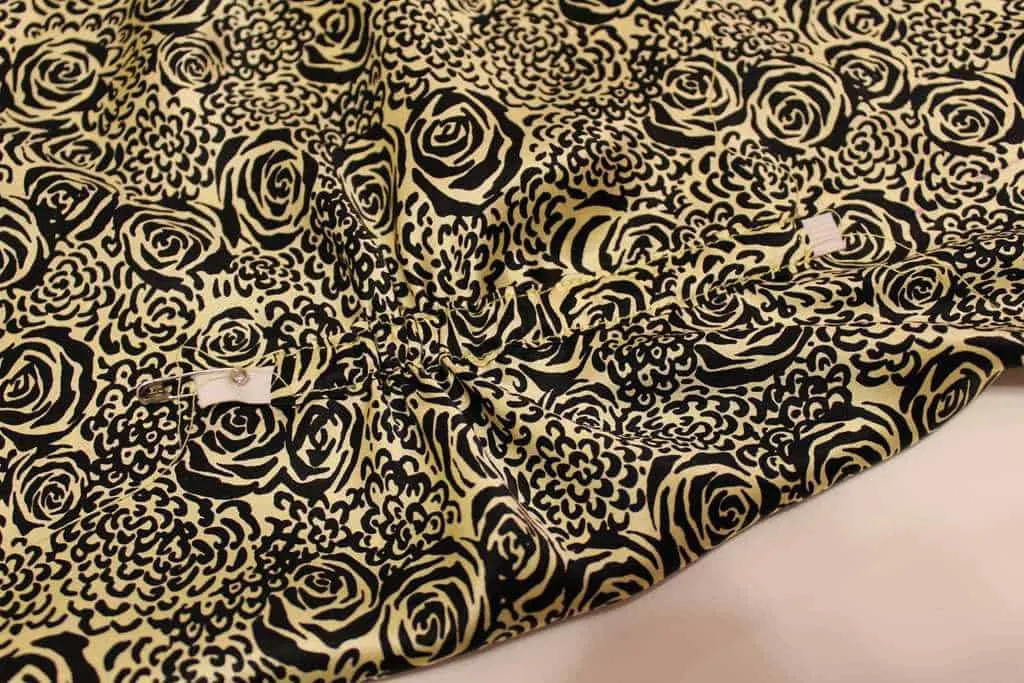 11. Topstitch the narrow hem you made in step 4.
Try your stitches on a small scrap piece of the fabric and make all adjustments to your sewing machine (stitch length, thread tension, proper needle, etc.).
This is important; look at this image. When I first tried to sew on scrap fabric the machine was doing fabric puckering because of wrong thread tension. Always test on scrap!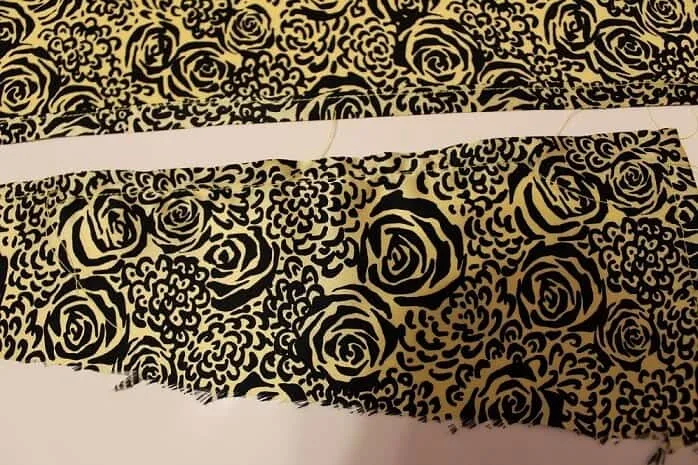 Pin shoulder straps on the underside of the upper back edge and underside of the upper front edge. Topstitch the narrow hem trying to sew very carefully 0.7 cm from the edge.
Press all edges.
If your stitches don't look very straight and you are not satisfied you can attach a nice trim to hide the stitches. In my case, I put these golden trims for embellishment.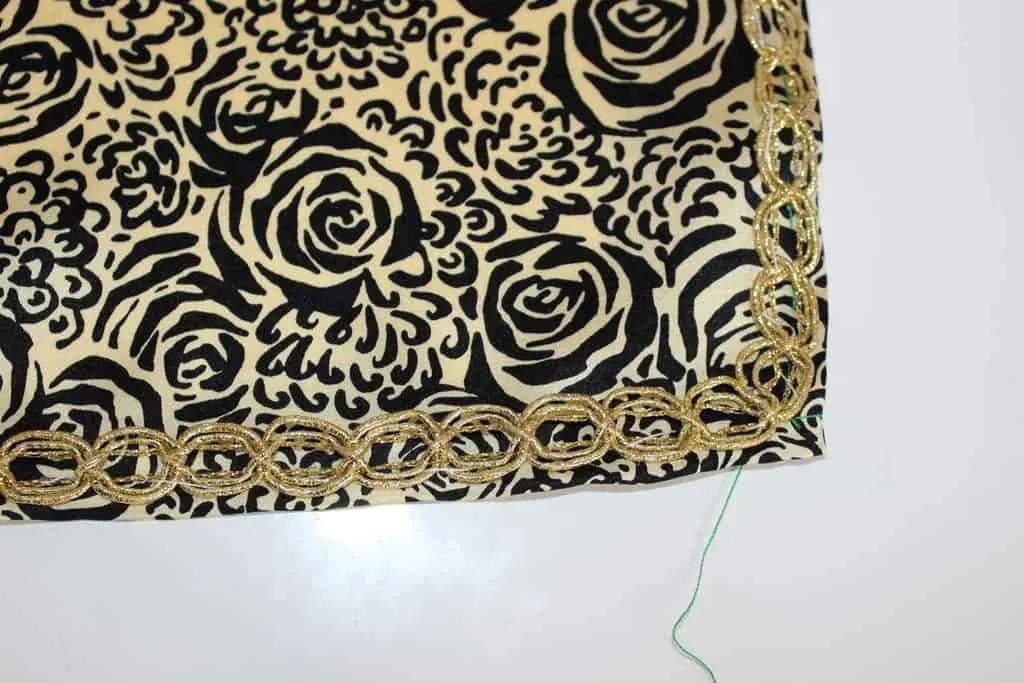 If at step 4 you used the technique described in the article "How to sew a narrow hem" you only need to sew the straps at this point because your hem is already finished.
Want to improve your sewing skills?
Get my detailed guide on SEWING MACHINE TENSION ADJUSTMENTS free!
Subscribe to my weekly newsletter with sewing tips and tutorials, free sewing patterns, printable PDFs, and other useful content and you'll find the eBook in your inbox.
Subscriber exclusive offer.
Don't miss the free HELPFUL eBook!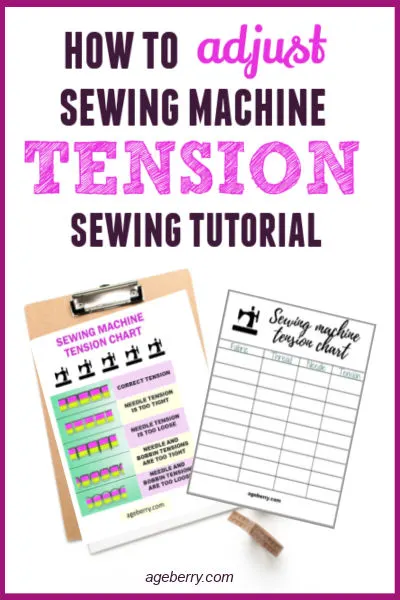 12. Finish sewing the dress
Pin and baste side seams again and stitch them with the machine 1 cm (3/8 ") from the edge.
Very important – choose the narrow stretch stitch in your machine setting for the side seams, because we cut the fabric on the bias and these bias seams have to be stitched with stretch stitch to eliminate puckering. This is a special type of zigzag stitch.
Finish raw edges of the seams together with whatever overcasting stitches you have on your machine.
If you have a serger use it instead of the regular sewing machine to sew side seams and finish raw edges at the same time.
Press seams on one side.
The dress is ready!
If you want you can add a chic detail – the silk flower to create a romantic and lady-like look. The video below shows the process and I have another article that shows a different process here: "How to make a fabric flower".
Depending on how large you want the flower to be you may use a longer and wider piece of fabric to start with, the actual dimensions are up to you.
Here are some images of the finished dress
Team the dress with a hat (that has the band made from the same silk) and high heels to make it ideal for a party.
But if it was your first attempt to sew clothes and you are not sure you can stroll through the town in the dress then make it a nightgown or home wear. I bet you will look fabulous! 😀😀😀
It actually took me much longer to describe the process than to sew the dress!
I hope you made it alright. Do you have any questions? Was it as simple to sew as it seemed?
I will be happy to see your comments below.
✅ Related tutorial: How To Make Your Own Beautifully Tailored Dress
I hope you have found some helpful information in this sewing tutorial on how to make a dress without a pattern. Want to remember this tutorial? Post this pin to your favorite Pinterest board so that you can find the instructions later.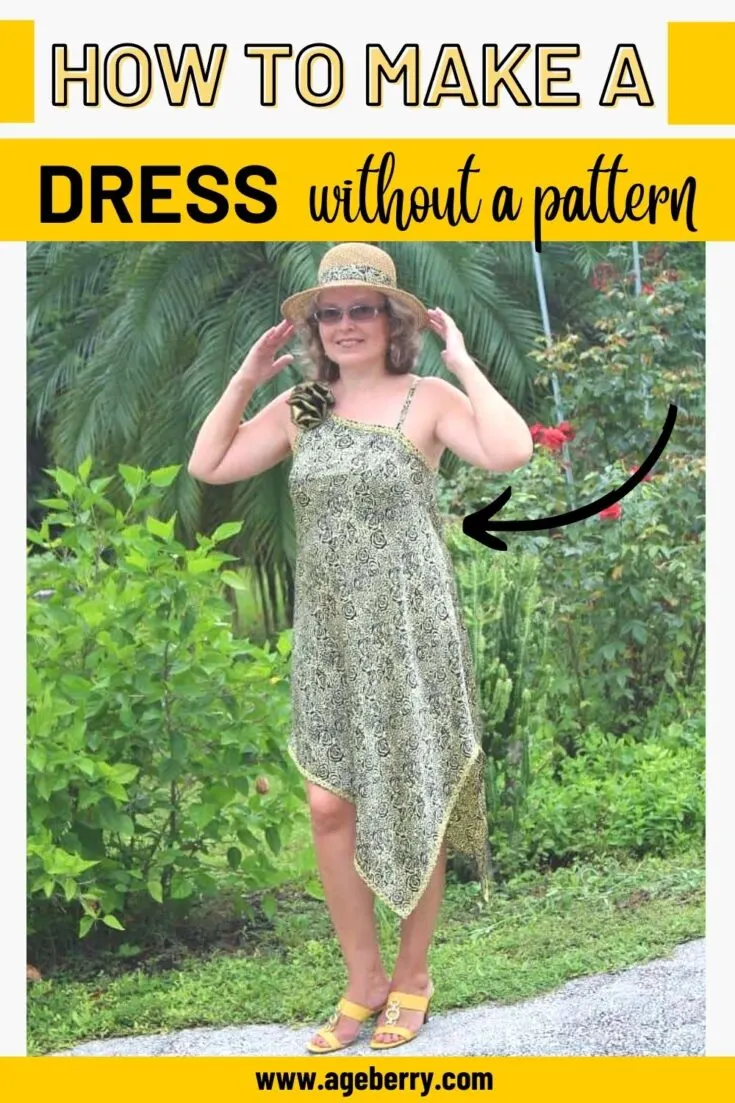 Like sewing tips? I have other popular tutorials on my site that might be interesting for you. Check them out below.
---