In this sewing tutorial, I will show you how to make two easy top patterns and how to sew a top for beginners.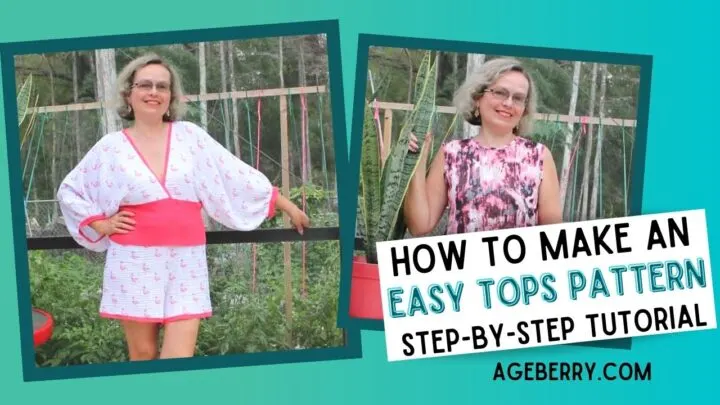 I guess you have already seen my tutorial for the pajama bottoms.
Now let's make the pajama tops – very easy tops to sew without commercial patterns.
These patterns are suitable for any kind of knits and also for lightweight and medium-weight weaved fabric with some kind of stretch in it.
For one top I used 100% cotton double gauze fabric and 100% raw knit silk and for another top, I used 100% cotton knit fabric (very lightweight and almost see-through) and 100% silk chiffon for the back. For embellishments, I used silk chiffon fabric and elastic trims.
For best results, I prewashed all fabrics and trims in warm water and used my dryer for the gauze and the cotton. As for the silk fabric and trims, I air dried them and afterward ironed them.
The prewashing added some more crinkles to the cotton gauze, especially at the edges of the piece of fabric so I needed to iron the edges to make them smoother.
First top in kimono style
This top is made from 100% cotton double gauze and raw knit silk. I didn't make a paper pattern for it, all pattern lines were drawn right on the fabrics.
You need to take only 2 measurements:
Front length (from neck to waist) and
Waist
If you want to know how to take body measurements correctly check out my tutorial on How to take body measurements for sewing.
For every sewing project, you will need to find at least one straight edge of the fabric so afterward you can advance from that line on. Fabric cut in the store is not always cut straight. Sometimes the bevel happens to be 5-10 cm or even more. It is very important to straighten fabric edges for any sewing projects BEFORE cutting pattern pieces from it. I have an article on this topic – "How to cut fabric perfectly straight".
Simple top sewing pattern drafting
I am using during this project the metric system measurements. To convert to inches, 5cm is about 2″. I have a fabric conversion calculator that you may want to use, that is a calculator designed with sewing in mind, it converts to the closest usable inch fraction. Give it a try.
Now, how to make the easy pattern.
Draw a rectangle on the double gauze with the following sides:
AC and BD are equal 2 front lengths (measured above) minus 15 cm (mine was 70 cm)
AB and CD are equal AE and CL = 30cm for all sizes, plus EG and GF = your ¼ waist and plus FB and MD = 30 cm as well (as AE)
Line GH is perpendicular to AB and is equal to ½ AC
HI and HJ are both 9 cm for all sizes
HK is equal to 4 cm for all sizes
The line GIKJ is the neckline of the top.
Cut it out.
For the bottom part of the top use only stretchy knit fabric.
Cut a rectangle with the following sides: width is your waist measurement and length is half of your front length.
Measure the neckline you just cut (approximately) and cut a strip of silk chiffon 5 cm wide for the embellishment.
Cut also two rectangular pieces of the same knit fabric ( as you planned to use for the top's bottom part) for sleeve cuffs 6 cm wide and 35 cm long for all sizes.
Construction
For sewing the top I used my serger with 4 thread overlock stitch.
Useful tip: You don't need to buy 4 cones of the same color thread for this 4 thread overlock stitch. I usually have one cone (sometimes 2) and then I use my regular sewing machine to put the thread on 3 bobbins. I use bobbins in my serger but they have to be covered with small spool holders as you can see in the image below.
Useful tip #2: I have easy threaders on my sewing machine and my embroidery machine but I don't have them on my serger. So threading the needles can be a problem. So I started to thread the needles before inserting them into their place in the serger. See the video below.
Note: Some of the links on this page are affiliate links. This means I will receive a commission if you order a product through one of my links. I only recommend products I believe in and use myself.
If you don't have a serger maybe it's time to buy one? Check out my article Serger vs. sewing machine.
Thread your serger with suitable threads, change needles if necessary, and try your serger settings for the fabric you are going to use.
Staystitch the neckline (on your regular sewing machine, of course) so it doesn't get stretched during construction.
Fold the strip of silk chiffon in half lengthwise by pressing it with an iron. Pin it to the neckline and stitch using your serger with 4 thread overlock stitch. Turn it to the right side and press. Remove staystitching (if it's visible) and topstitch the neckline.
Now cut 1 cm deep notches at points E, F, L, and M.
Fold the fabric in half lengthwise and stitch sleeves' seams (lines AE to CL and FB to MD).
Fold the other rectangle (from knit fabric) in half lengthwise and stitch (the stitch will be the side seam).
Pin top and bottom parts right sides together and stitch.
Sew short edges of cuffs together and fold cuffs in half lengthwise while pressing.
Gather sleeves till they match the width of the cuffs. There are many methods of gathering fabric. I like the next one: sew two parallel lines of stitches with tension set to 0 and stitch length set to 4 or 5 mm.
Stitch cuffs to the sleeves.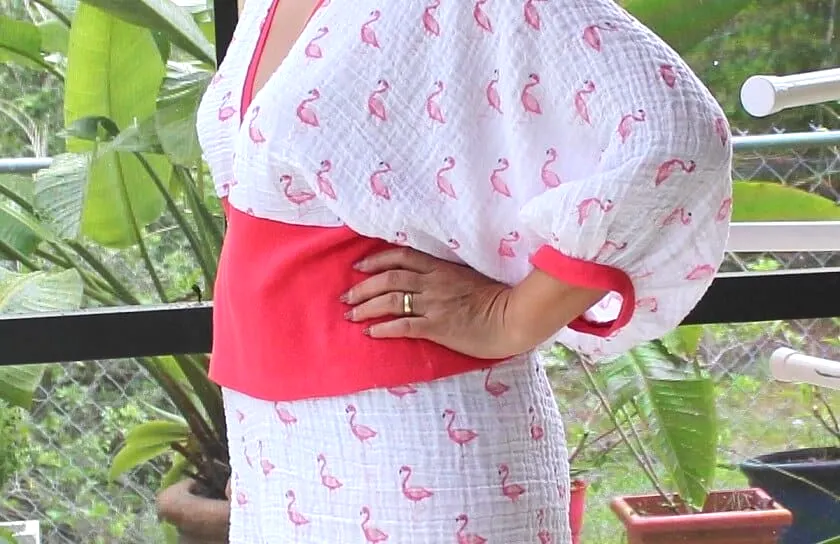 Sew the hem of the top in place. The hem can be sewn with a coverstitch machine. But not many sewists have the coverstitch. The hem on the knit fabric has to stay stretchy. Now it's possible to use just a regular sewing machine with just a regular straight stitch. Isn't that awesome? But we have to use a special stretchable thread – Eloflex. I have reviewed this thread in my article "How to use Eloflex". Here is a link to Amazon where you can buy this thread: Eloflex at Amazon.
So wind your bobbin with Eloflex, thread your machine with the same thread, and stitch the hem away!
The first top is ready!
Now let's make another one.
Second top with chiffon back and a peplum
For this top you will need to make a paper pattern using the following measurements:
Back length
Front length
Bust
Shoulder length
Start by drawing a line equal to the back length ( line A to A1 ). Mark the middle point as D. Mark a point 3 cm down from A1 as B ( B to A1 is 3cm ).
Draw a perpendicular line to A-A1 starting in A: A to F, equal with the ½ bust size. Mark the middle point and then mark two points 2cm left and right of the middle D2 and D3.
Draw a perpendicular line to A-F starting in F: F to G is equal to the front length. The line F-G is parallel to A-A1. Mark a point E at a distance from F equal to ½ of back length ( same as A to D ). The line D-E is parallel to A-F. Mark the middle of this line as D1.
Mark a point G1 9cm from G ( G to G1 is 9cm ).
Draw a perpendicular to line G-F starting in G. Mark a point G2 8cm from G on this line. Line G2-G is parallel to A-F.
Draw a line perpendicular to A-A1 starting in A1. Mark a point C 8cm from A1 on this line. Mark a point C1 on this line at a distance from C equal to the measured shoulder length. A1 to C is 8 cm, and C to C1 is shoulder length.
Draw a perpendicular to line A1-C1 starting in C1 and mark point C2 2.5 cm down from C1.
Draw a perpendicular to line C1-C2 starting in C2 towards line F-G as the image suggests. This new line is parallel to A1-C1 at a distance of 2.5 cm from line A1-C1.
Now connect points C and C2 and measure the distance C to C2; we will use it in the next step. In my case, this is 12.3 cm.
Starting in point G2 marked earlier take a ruler and measure on it the distance measured above (C to C2). Mark as G3 the point where the distance from G2 to the line drawn in the previous step is equal to this distance. The image below suggests the action.
Using the French curve ruler, draw the curved lines between B-C ( neckline, back ) and G1-G2 ( neckline, front ). If you don't have the French curve you can draw these curved lines freehand.
The same action is for armhole lines D1-C2 and D1-G3.
The usage of the French curve tool is intuitive and I am trying to make the curve tangent to the target lines at both the start and end points. This is of course not an exact action but it is quite easy to find on the curve a portion that is as close to tangent as the naked eye can see at both points. Below is a link from Amazon for such a tool:
That's all for the pattern.
It already has seam allowances of 1 cm. The only exception is the lower edge of the top where seam allowances are 1.5 cm (for attaching the peplum).
The grainline is parallel to lines A – A1 and F-G. Line A-A1 is the center back line and line FG is the center front line.
The pattern is only suitable for stretch fabric, and I am sewing the top with 100% cotton knits.
Cutting out
Let me remind you about prewashing. I hope you did prewash the fabric before cutting as I advised you at the beginning of the article; if not, it is time now to do it. The cotton fabric needs to be prewashed to avoid later shrinkage.
Cut the front piece of the top on the fold – lines A-A1 indicate the folded edge of a double layer of fabric. I cut the front piece from the cotton. And I decided to cut the back piece of the top from 100% silk chiffon. This makes the pajamas not only very comfortable but also sexy. So I had to cut the back piece from chiffon on a single layer of the fabric as I am showing in the images below.
If cutting chiffon is a problem for you check out my article below:
Cut also a rectangular piece of fabric for the peplum, the width of it should be approximately 2 lengths of your waist and the length is about 25-30 cm (you can choose how long you want the peplum to be). Use a special ruler that has a 90 degrees angle for straight cuts.
Cut a rectangular piece of fabric for a facing strip for the neckline (4 cm wide and the length is equal to your neckline plus 1 cm) and two rectangular pieces for facing strips for the armholes (4 cm wide and the length is equal to your armhole plus 1 cm). For this, you will need to measure your curved neckline and the armhole lines. Do it using your tape measure as I show in the video below. Useful tip: sometimes we need to measure curved lines. We can do it very easily using this trick.
Useful tip: sometimes we need to measure curved lines. We can do it very easily using this trick.
Construction
I am using my serger for most of the stitching and it's a 4 thread overlock stitch.
Stitch shoulder seams and side seams.
Press seams. Fold all facing strips in half lengthwise while pressing.
Stitch short ends on all small rectangular pieces.
Pin the facing strip to the neckline right side to the wrong side of the top and baste it.
Pin facing strips from the armhole's right side to the wrong side and baste them.
Change your serger to 3 thread overlock stitch (remove one needle and one thread). Stitch all facing strips to the neckline and to the armholes. Turn facing strips to the right side of the top, baste in place, and press.
Now it's time again to use a regular sewing machine. Thread it again with Eloflex and use the Eloflex also in the bobbin. Set the proper tension and stitch length (around 3 mm). Stitch-facing strips to the top. Sew slowly trying to make very nice stitches. They are going to be visible, so the thread must match the fabric's color. Press everything after you are done using a tailor's ham (if you still don't have one, here is a tutorial on how to make it).
Gather the upper edge of the peplum to match the lower edge of the top distributing gathers evenly.
Stitch peplum to the top matching the side seam using the straight stitch of your sewing machine with Eloflex thread. Attention: Here the seam allowances will be 1.5 cm. Take out the gathering stitches. Neaten the edges of seam allowances together using the 3-thread overlock stitch.
Finish the hem of the peplum with matching trims (use Eloflex thread again).
---
Did you find this tutorial helpful? If so, save this pin (see below) on your sewing board so you can come to this tutorial later when you are ready to sew these easy tops or make an easy top pattern and follow me on Pinterest for more tips, tutorials, and inspiration!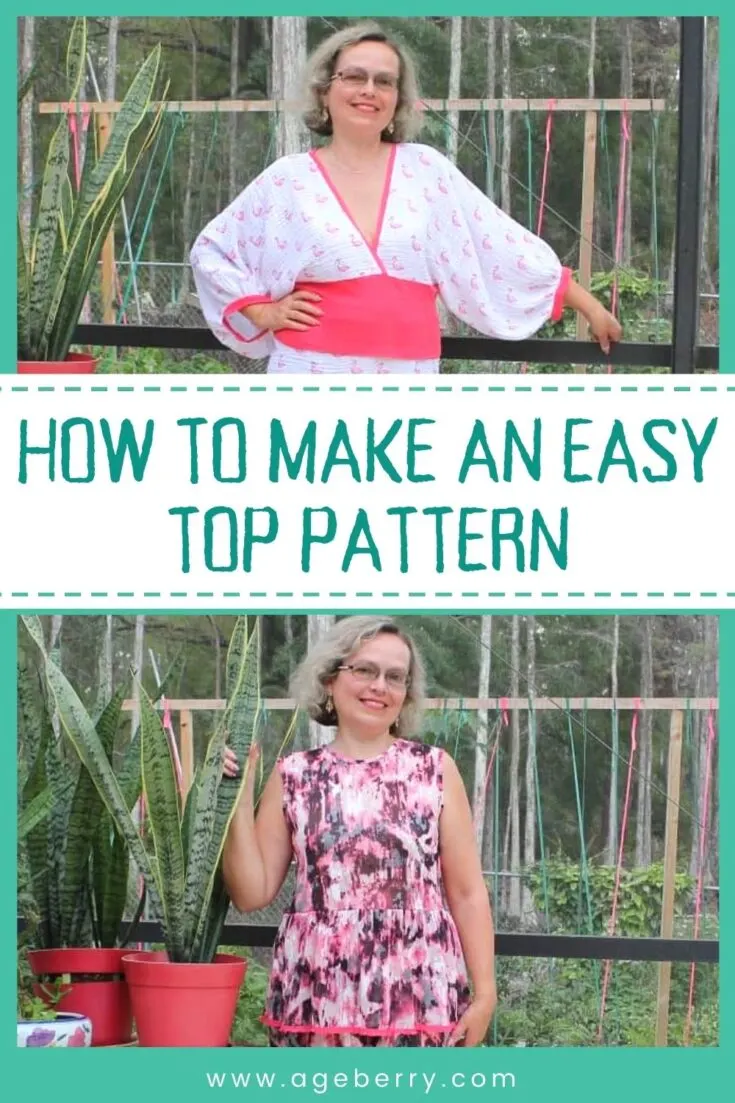 ---