I love wearing skirts. Better yet, I love wearing skirts that I've made myself. Some people might argue that this kind of sewing project is complicated, but it's actually quite simple. With this article, I hope to convince you to try it yourself.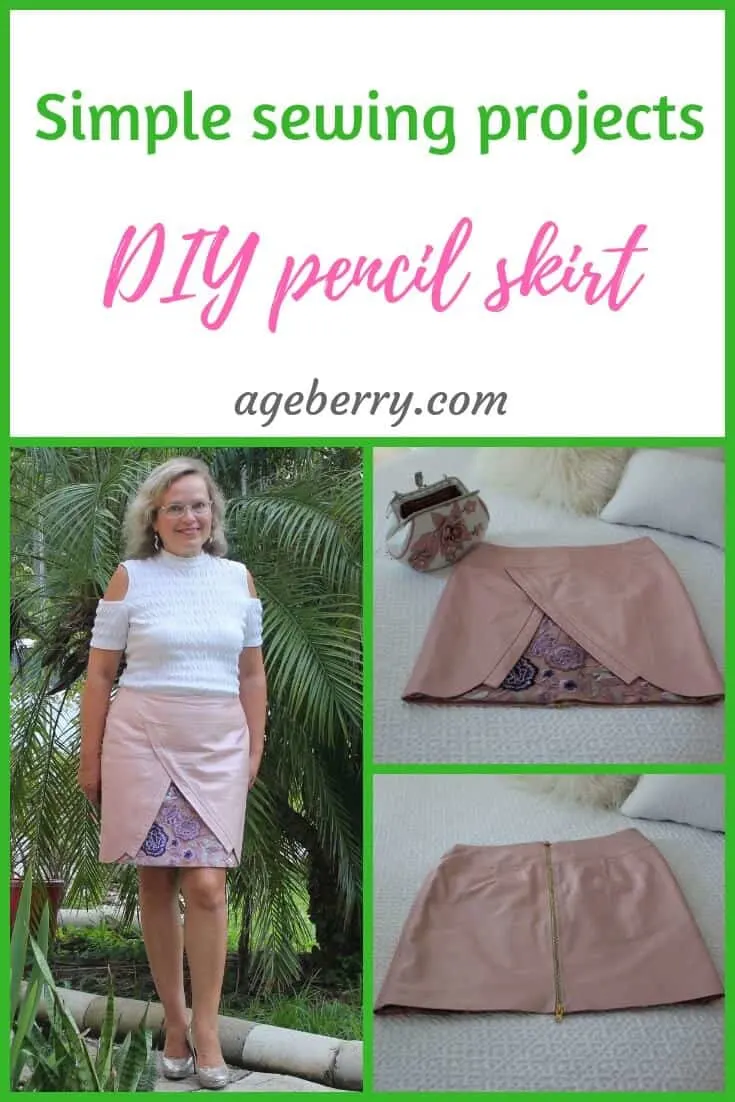 To me, the skirt is one of the most feminine garments. They are infinitely stylish, infinitely elegant. In fact, skirts are thought to emphasize a woman's figure more than pants or jeans. Skirts show off all our curves, whereas jeans supposedly hide the female figure. Right?
Wrong! The skirt is a woman's most figure-flattering garment, but not because it necessarily shows everything. We already know that jeans treacherously emphasize our bodies' imperfections and reveal the lumps, bumps, and bulges that skirts skim over gracefully. With the help of a well-chosen skirt, we can divert attention from our problem areas. Throw on a high-waisted circle skirt and you won't find a lump in sight!
On the other hand, an ill-fitting skirt can look terrible. For a skirt to look nice, you have to choose the right style as with everything else you wear.
Choosing a skirt today is not so simple, because skirts' styles vary enormously. You have pencil skirts and tulip skirts, asymmetrical skirts, and a-line skirts, gypsy and mermaid, pleated and paneled, tube and wrap, etc. One just needs to be knowledgeable about all of these options.
It's untrue that only certain styles of skirts are in fashion each year. The 21st century gave us all sorts of opportunities for self-expression: whatever we put on can be fashionable! The main thing is that the clothes should fit well and be appropriate for the situation. Therefore, when choosing a skirt, it's necessary to consider not only one's figure but one's style as well as lifestyle. For example, if you work in a bank, then you are unlikely to come in wearing a pleated giraffe-print skirt or a denim mini. When choosing a skirt, think: where you will wear it?
Straight skirts should have a place in every woman's wardrobe. These styles are for everyone, suitable for any situation, and they never go out of fashion. When it fits correctly, a straight skirt style is flattering to many figure types.
Decide on the main advantages of your figure. What makes you happy when you look in the mirror? Chiseled shoulders from pumping iron at the gym? A beautiful neckline? Round hips, or maybe slim, long legs? Focus on one thing. If you want to put on a plunging neckline, choose a simple skirt. If you want to draw attention to your lower body, choose a bright or very full skirt and keep to a simple top. Balance is key!
One of the most famous types of straight skirts is the pencil skirt. It can look perfect on almost any figure and is suitable both for work, business meetings and for going out in the evening. This is a universal style that emphasizes all the merits of the figure and allows for both authority and femininity.
Another type of straight skirt is the classic straight skirt, which, compared to the pencil skirt, sits a little looser on the figure.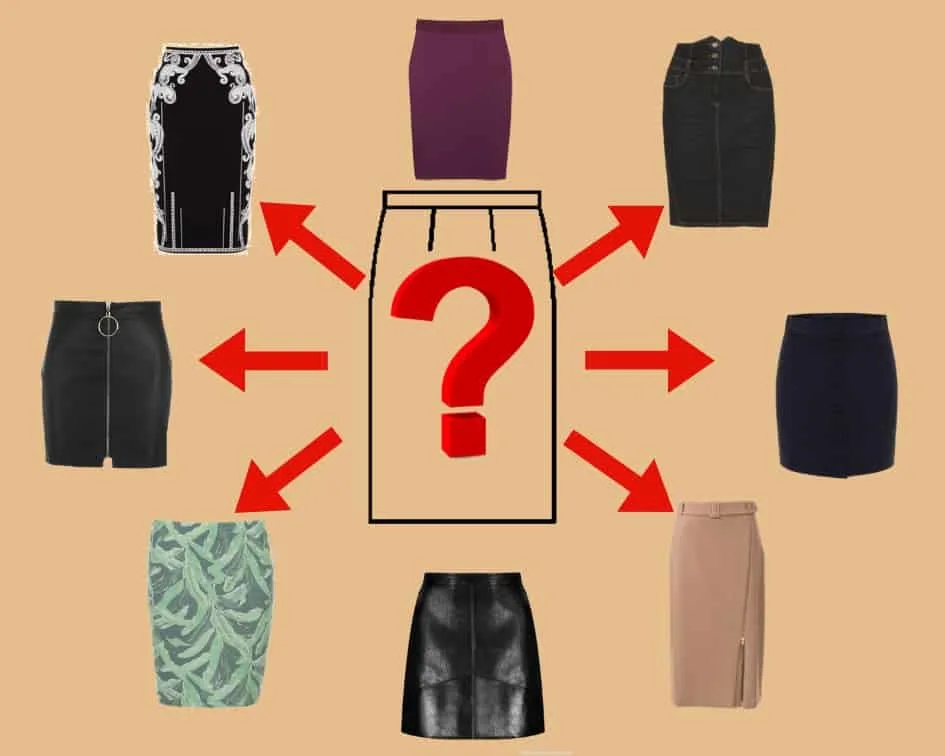 Whether from fashion magazines, blogs, or female role models, we hear time and again that a pencil skirt goes with everything and must be present in every wardrobe – yet this should be questioned. You must make up your own mind on the matter, understand your own comfort levels and examine yourself objectively while standing in front of a mirror. Pencil skirts might seem like universal items, yet there are styles more appropriate for certain body types.
Let me illustrate what I mean. We're all familiar with the flat-stomached models we see in fashion magazines. The tight skirts, high-waisted trousers and fitted tops they wear look so good that we're convinced we need some too. So we buy that skirt, those pants, put them on, and turn excitedly toward the mirror –
Only to see our stomachs bulging out.
This is not uncommon. Some people have fuller stomachs, and certain cuts just work to accentuate this. Even though the skirt might seem to fit, it hugs all the wrong curves and just makes the stomach look bigger.
So what can we do? Avoiding tight skirts altogether, or wearing large tunics to "cover-up" our midsections, isn't the answer. There's always a way to dress your body to flaunt what you like while diverting attention from what you don't. In fact, it's quite simple to make a skirt that falls away from the stomach area, rather than clinging to it.
But it's not easy to buy a skirt that fits well. I am terribly fond of skirts but can't buy anything that suits me. Look in any women's department today: shelves upon shelves of jeans, rows upon rows of tops, pants, and shorts… and what space is devoted to skirts and dresses? Well, almost nothing. It's hard to find nice and well-fitting skirts in stores if you don't have a model's figure and lots of money.
So are you that person wearing jeans not because you like them, but because you haven't found a pencil skirt that fits? Because you think matching a skirt to a top is too much fuss? That store size don't fit you?
Your body is not the problem. No matter your size, shape, or build, you can make a skirt yourself that highlights your beauty and makes you proud to show it off.
I normally make my skirts myself. But I once bought a denim pencil skirt – just the thing I didn't have in my wardrobe. Also, I really wanted to see the difference between skirts made by me and the store-bought skirts. As you can see, the skirt doesn't look bad from the front. But it really clings to my tummy, accentuating it, and looks awful in the side photo.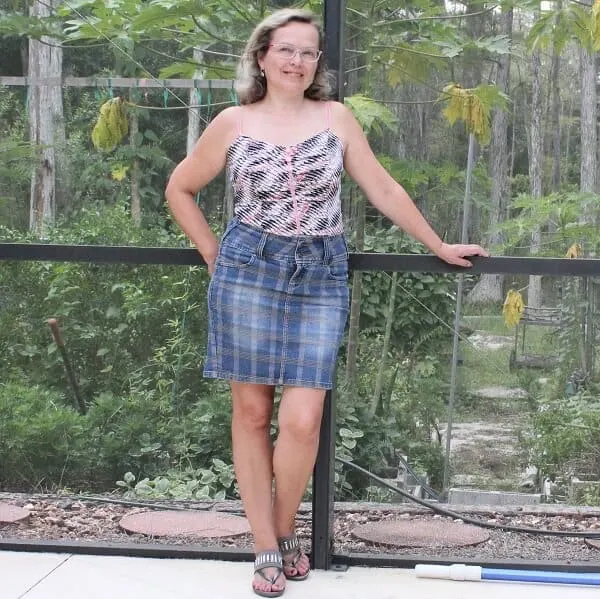 So I really prefer to sew skirts myself, especially since skirts are the easiest pieces to make for any shape! You can choose a skirt design that flatters your shape and makes it easier to achieve a comfortable and flattering fit. All you need is basic sewing skills, an understanding of fabric characteristics, and the right pattern.
And I am sure you can wear the first skirt you make, and very often no one will ever know it's your first – but it's not usually true with your first pair of pants! I am quite experienced in sewing but I almost never sew pants and jeans because it's hard to find a well-fitted pattern for my shape. On the other hand, it's so easy to find them in stores.
Give it a try — you will be amazed at how easy and fun it can be. I usually look for inspiration on Pinterest. Check out the beautiful Pins below; these are what gave me the ideas for my skirt.
A modern, black leather skirt that sits at the waist and hits just above the knee. The front zipper reveals peekaboo lace and provides mobility.

This chic pencil skirt embellished with floral black lace and sequins brings a little romance into your life. Notice that the skirt lines are kept as simple as possible. Unexpected design details individualize these always-appropriate classics.

Get evening-ready in these fanciful, asymmetrical fitted skirts with chic accents (lace slits and buttons).
This form-fitting, curve-hugging wool pencil skirt emphasizes the waist. A classy look made sassy with a black lace hem.
Funky slit skirts in a variety of shapes, colors, and styles offer unlimited embellishing options to suit any occasion – exactly what you need to spice up your look.
And here is the skirt I made. Please, keep in mind I am not a model and my photography skills are not exactly pro. Still, I think the skirt looks nice, I like wearing it, and I get tons of compliments on it.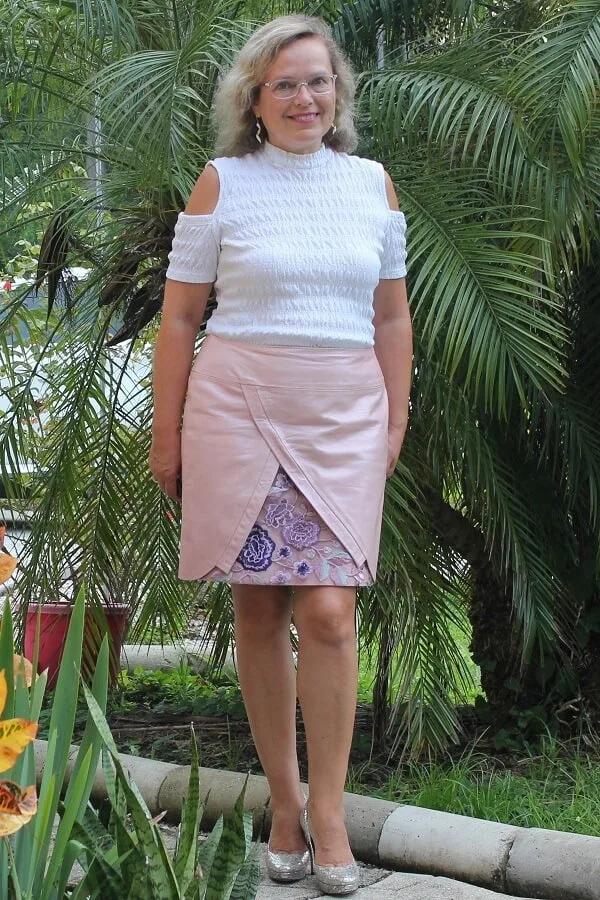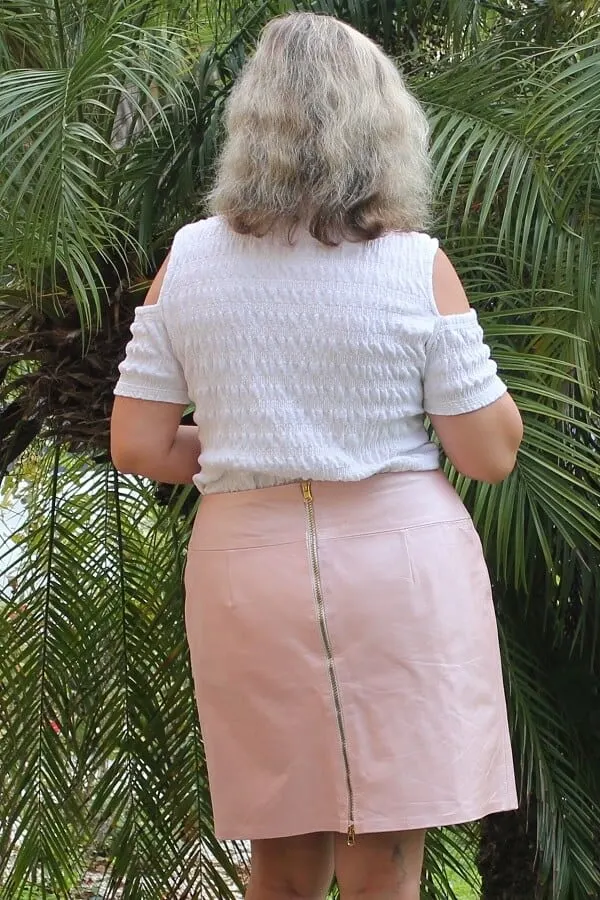 Note: Some of the links on this page are affiliate links. This means I will receive a commission if you order a product through one of my links. I only recommend products I believe in and use myself.
The skirt is made from soft lambskin leather and brightened up with pretty floral lace. It works well for lots of different occasions. I made a coordinating lining from silk shantung. The front high slit adds a modern twist to the traditional look. And it proves that even the most common approach to decorating clothing – adding lace – can look interesting and unique.
The skirt has front and back waist yokes, and I made a zipper closure in the back – I used the separating zipper with golden teeth.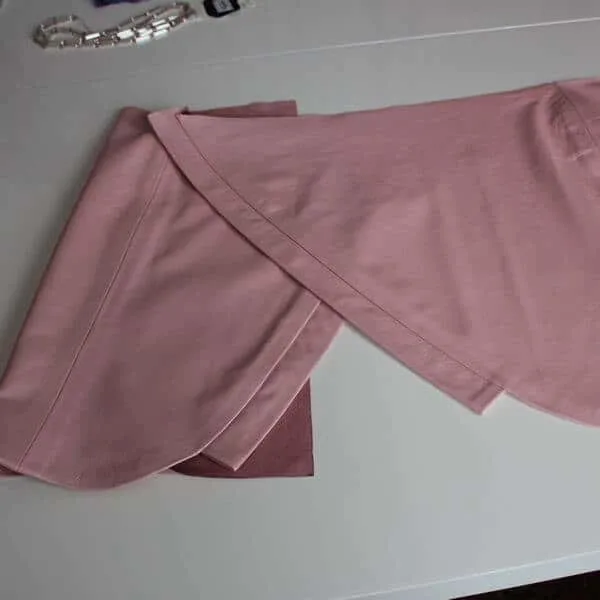 I drafted the skirt pattern myself from a basic sloper. In upcoming posts, I will show you how to make a skirt sloper easily and how to draft a new pattern from the sloper with easy modifications.
If you would like to know how to sew leather with a domestic sewing machine, check out my tutorials about sewing with leather.
Save this pin on your sewing board for future reference.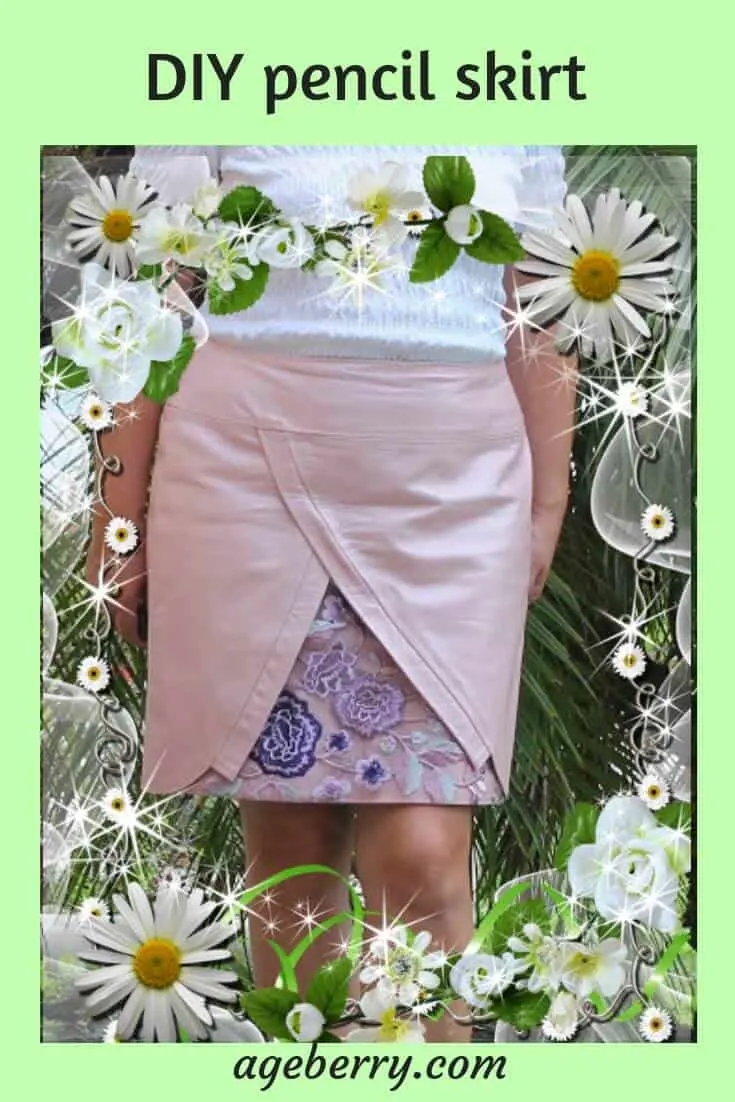 ---