Are you looking for new Christmas table runner patterns to make this holiday season? Then you'll LOVE this post! These festive patterns for Christmas table runners are so quick and easy to make that you can easily finish a new one (or two!) before hosting your holiday gathering.
Your table runner acts as a beautiful centerpiece for your holiday table. Once your tree is done, it's time to adjust your focus to your holiday table runner to make your dining room decor shine. Or…you can do as I sometimes do and swap them—sewing first, tree second!
Not only does your holiday table runner provide a colorful touch to your dining table, but it also serves to protect your table from dings and scratches. What's more, your holiday table runner can serve as one long hot pad, especially if it's a quilted design with extra batting.
Christmas table runners make a great project for beginners to do because their small size means that these projects often stitch up quickly and provide a sense of completion and accomplishment. Oh, and they also make wonderful holiday gift ideas!
If you find yourself having a tough time deciding on a new pattern (I am too!), I feel confident that you will look at this collection of beautiful Christmas table runner patterns and find your next holiday sewing project.
I will start with my own quilted Christmas table runner.
Make this gorgeous quilted Christmas table runner for your holiday home with this pinwheel quilt pattern idea. This pretty pattern is made out of cheerful colors and prints and will look great on your table. Use your favorite Christmas fabrics. This table runner makes a great gift and is ideal if you need to dress up a Christmas table. This is quite easy to make, so would suit a beginner. As long as you know how to use your sewing machine and sew a straight line, you should be able to tackle this one.
20 Quick and Festive Christmas Table Runner Patterns
You won't want to miss this collection of beautiful patterns because there are just too many great ideas here.
1. Christmas Tree Table Runner
Jenny Doan from the Missouri Star Quilting Company shows how to use the large wedge tool to quickly make a Christmas tree table runner that looks fabulous from either side of the table. Using a rotary cutter, you can get two triangles (for the trees) out of each layer of cake that you use. The rest of the fabric becomes the tree trunks so that there's very little fabric waste! It's a simple design that looks amazing and is perfect for beginners.
2. Poinsettia Table Runner
One look at this pattern, and you might think it's for advanced sewers. I'm happy to report that's not at all true! This pattern from So Sew Easy is much easier to make than it looks, and it's actually a wonderful beginner pattern to make. Oh, how the flower petals will convince your guests that you either purchased your runner or someone else made it!
3. Quilted Table Runner Pattern
This pattern from Polka Dot Chair is slightly more advanced, but still very doable, even for beginners learning to do applique techniques. I love how bright and festive it is without being completely consumed in red and green. It's especially perfect for modern farmhouse decor but will work well with any decorating style.
4. Christmas Tree Pattern
Yes, this is another Christmas tree pattern. However, this one from Connie Kresin it's a much different pattern than the one I mentioned above. Rather than using a large wedge to cut out the trees, this pattern utilizes fabric strips to create the Christmas trees.
This design may have more pieces, but it's still quick to stitch up and uses simple free-motion stipple quilting to add that beautiful background texture.
5. Block Pattern for a Table Runner
This design is a block pattern from Alanda Craft, making it especially quick to stitch together thanks to the link quilting method it employs. In fact, it may be one of the quickest projects on this list. The floral fabric pattern makes this runner look very festive. Having the borders in different but complementary colors further highlights the floral blocks to create a beautiful design.
6. Quilted Noel Christmas Table Runner
Here is a quilted table runner pattern that uses the "quilt as you go" method to assemble and quilt the runner at the same time. This pattern from The Seasoned Homemaker could be one that would be more time-consuming, but the method for assembling and quilting simultaneously significantly cuts down on the time needed to make this beautiful pattern.
7. Candy Stripe Table Runner
This Candy Stripe Christmas table runner pattern from Sew Delicious is gorgeous, but the key to a successful pattern is to pick one festive print and pair it with simple designs in coordinating colors and solid colors. Less is definitely more here, and that applies to both the prints and the pattern design. Create a pattern with the print stripes and add a coordinating border to finish off the pattern.
This pattern offers some flexibility in the quilting method, which allows for creating an entirely unique piece. The example here uses free-motion stippling, but you could choose to use simple diagonal or straight lines to complement the stripes if you wanted to.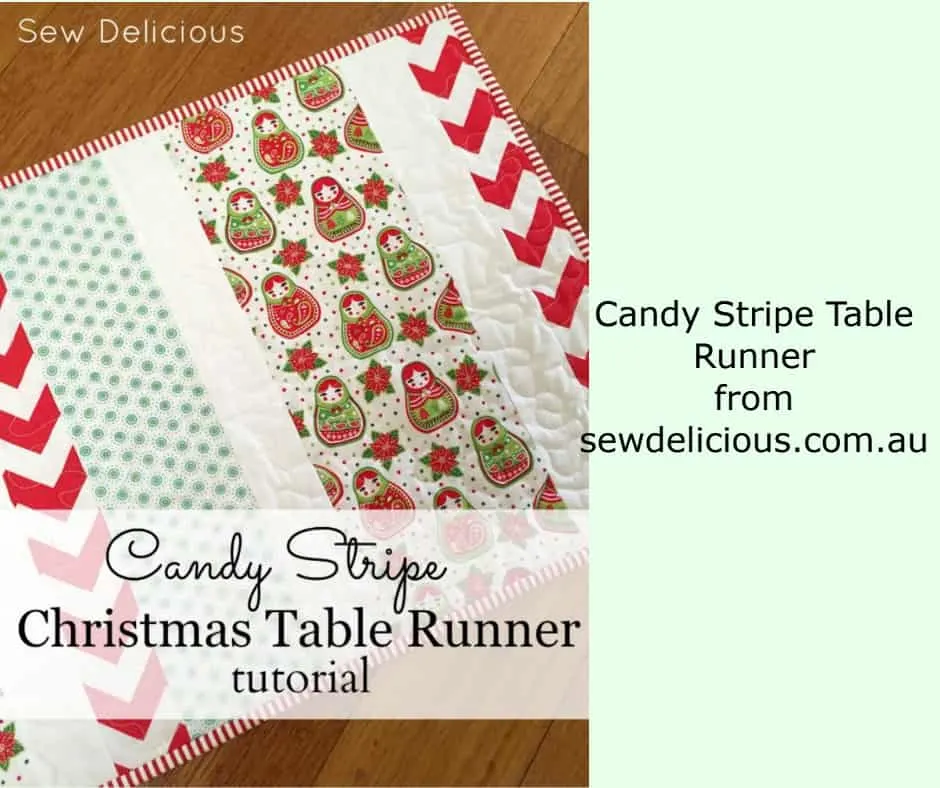 8. Fast and Fun Table Runner
This pattern runner from A Quilting Life really couldn't be easier, as it uses the same technique of sewing blocks of strips but alternately rotates those blocks 90 degrees. The simple design of the pattern allows for the use of busier, coordinating fabric prints. And since you don't need large amounts of each print, it's a great design for using up leftover fabric!
9. Poinsettia and Holly Leaf Table Runner
This pattern from All People Quilt employs the use of applique as others on this list have. But it also brings in a new technique that hasn't been covered on this list: bias vines. Download the instructions for a step-by-step guide to easily put this design together (and maybe learn a new technique too!).
10. Machine Applique
Hand-stitching appliqué can be very time-consuming. However, Karen's Quilts, Crows, & Cardinals used machine appliquéing as a quick and easy way to help you create an impressive-looking design in very little time. When you find yourself pressed for time, this is the technique that you want to use!
11. Diamond Pattern
This festive table runner from Sew Today Clean Tomorrow uses strips in a way that seems to create diamonds. Setting print fabrics within a solid color helps to really make the prints pop, and it's a pattern that looks much more complicated than it actually is to create. This is also one of the few pointed end patterns on this list.
12. Poinsettia Table Topper
Fabric prints come together in a design from Fort Worth Fabric Studio that creates blocks in a beautiful poinsettia flower table topper. Piece the blocks together in stages to make them come together very quickly. Using brightly colored fabrics makes for a fresh and light take on holiday decor.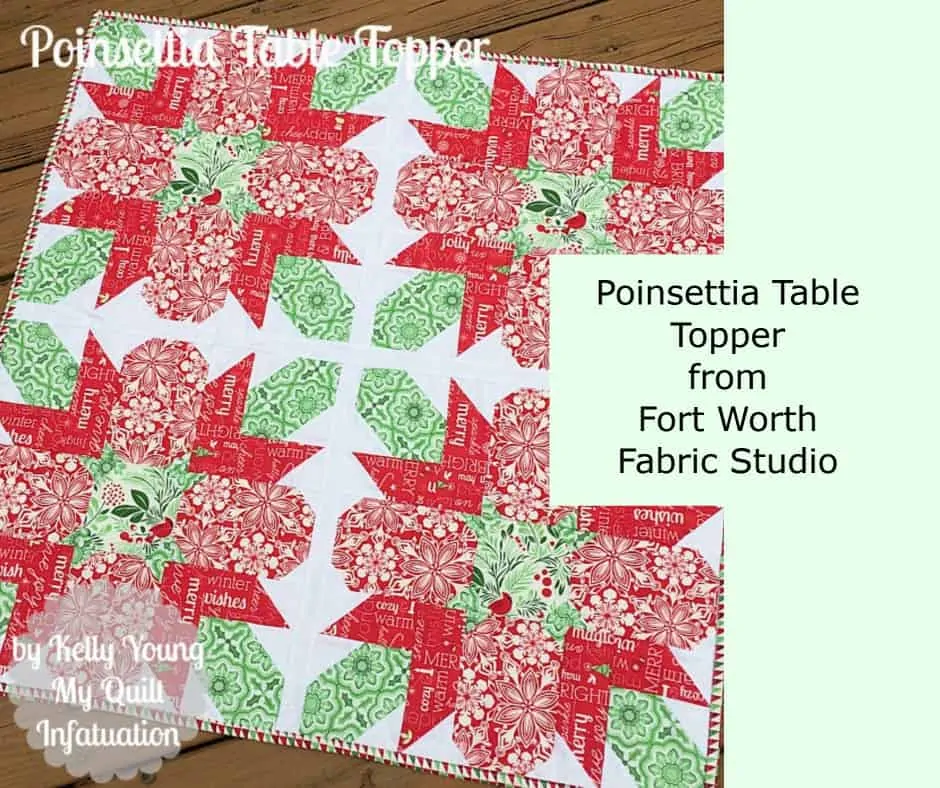 13. Raw Edge Applique
Using the raw edge applique technique is key to making this design from Janome so fun. Thread stitching and a variety of brightly colored prints add to a design that is cheery and whimsical. If you're looking for a modern festive table runner design, this is the one for you.
14. Fabric Scraps Table Runner
This might be my favorite design on today's list. I love the creativity of using up old wedge scraps to create this bright and colorful table runner from Sulky. Simply choose a fabric to be the foundation for the rest of the runner. The pillowcase method means that you don't need to add binding, and the metallic thread for quilting adds a lovely and unique touch.
15. Christmas Cabin Table Runner
Here's a cheery holiday design made up of five Courthouse Steps Blocks. Choose coordinating colors in print fabrics for the blocks as well as the backing piece as well as a simple anchor print or solid color. I'm a sucker for the simple beauty of this design from All People Quilt!
Plus, depending on the prints you choose to use, this same runner could easily be used multiple times during the year.
16. Pinwheel Star Block Runner
The pinwheel star pattern is another favorite of mine. This holiday table runner from The Crafty Quilter is simply made of three pinwheel star blocks that are sewn together and wrapped with a border. Add a piece of backing fabric and binding, and you're done!
17. The Road to Tennessee Block Pattern
This eye-catching block pattern from My Quilt Infatuation makes great use of negative space. The "kissing squares" that form when the blocks are sewn together are intriguing and the overall effect is beautiful. There's also a great tip for keeping your stitch line straight without drawing on the back of your square.
18. Boxes and Bows Pattern
This charming pattern from Moda may not look like it at first, but it falls on the "easy" spectrum of holiday table runners. It uses a paper piecing method to create the bows (and has a great step-by-step tutorial to walk you through it). The center is made of rows in a fun combination of prints, then the gift boxes are sewn on the sides to create the ends of the pattern.
19. Fast-Fused Appliquéd Mittens
This cute pattern from Quilting Daily will warm up a room on a cold day. A quick block pattern design, this festive table runner comes together quickly and looks adorable when complete. There is even a pattern for a larger wall version. Don't forget to grab the free table runner block pattern.
20. Peppermint Table Runner
Designed for beginners, this pattern from Connecting Threads intentionally leaves the middle open and almost blank to allow items to be placed on the runner without covering up the beautiful design. With minimal piecing involved and little appliqué required, this Christmas table runner pattern comes together quickly and looks amazing when complete.
It also makes a stylish gift idea, and since it's so quick to make, you can make several of them to give away as handmade gifts.
I hope these Christmas table runner pattern ideas inspired you to make a new (or your first!) holiday runner this year.
There are a plethora of styles, patterns, and ideas to choose from. Whether you're a beginner or experienced and simply looking to make a change, I'm sure you'll find inspiration in this list.
Create a colorful touch for your own dining table or a piece that you can give as a homemade gift. It doesn't matter whether you plan to keep your runner or gift it, pick a pattern (or two!) and dive into the experience and reward of creating a piece of art from scratch.
Did you find this tutorial helpful? If so, save this pin (see below) on your sewing board so you can come to this tutorial later when you need a free Christmas table runner pattern, and follow me on Pinterest for more tips, tutorials, and inspiration!
---