A fabric Christmas tree is an easy way to create Christmas decor for your home or to give as gifts. You can make many different types and styles, and I'm showing you a collection of 25 fabric Christmas tree patterns you can make yourself.
The Christmas season just doesn't feel complete unless you have a Christmas tree (or 7) around your home! When you hear "Christmas tree," you probably envision a large 6 or 7-footer that sits in the family room and holds all the twinkling lights and sparkly decorations.
But, what about smaller fabric Christmas trees that you can sew and use to decorate other parts of the house without taking up a considerable amount of floor space? I love making them because there's such a large variety of styles and possibilities.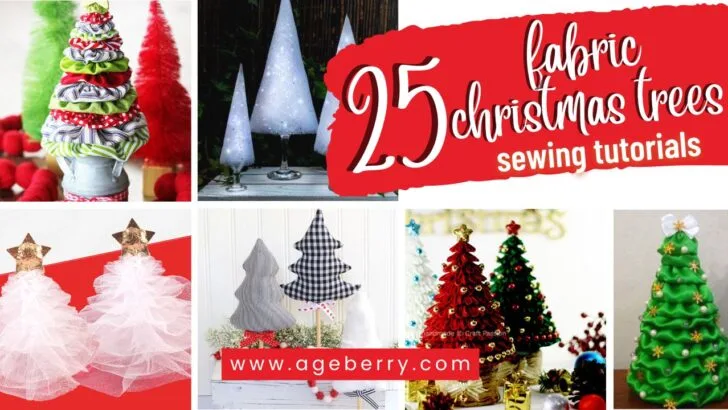 In addition to our massive tree, I also have several small fabric Christmas trees that I use to decorate the mantle, kitchen, and dining table. And I scatter a few extra around the house for safe measure, too.
If you want to add a little extra sparkle to your Christmas decorations this year, try making one (or more!) of these fabric Christmas tree patterns. Most are free, and some may cost a little bit, but all of them are terrific.
How To Make A Fabric Christmas Tree
There are many different styles of fabric for Christmas trees and even more ways to create one of your own. I gathered together several examples of patterns and divided them into groups. That way, you can see how similar or different all of these styles are from each other.
If your holiday to-do list has sewing a Christmas tree on it, check out these patterns to help you choose the one you want to make.
Tulle Fabric Christmas Tree
Making a Tulle Christmas Tree is simple, and there are several ways to make them. With mine, the final product looks light and wispy, almost like an angel. I have a full tutorial showing you the process step-by-step.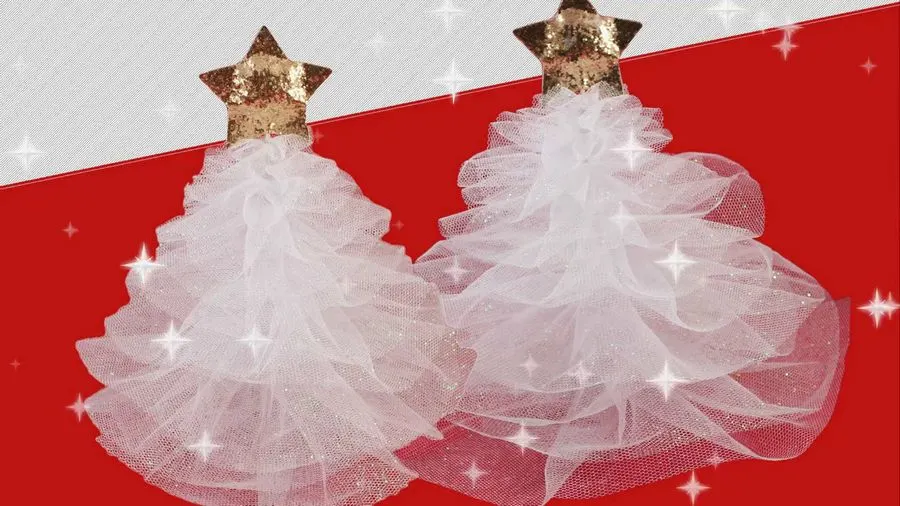 Making your own decorations is always fun, and this tulle Christmas tree is no exception. You can use it as part of your holiday decor or give it away as a gift! It's easy to make and looks beautiful. And if you don't like the way something turns out, just keep practicing until you get it right. The possibilities are endless with this DIY project! You don't need to be an expert sewist – even beginners can do this project easily at home.
You can also customize your tulle Christmas tree by adding ribbon bows or glittery embellishments for extra pizzazz. Either way, these little trees look great anywhere they go and add a touch of sparkle wherever they stand.
Click here now to watch my step-by-step video tutorial on how to make your own tulle Christmas tree.
A Crafty Mix takes another spin on making tulle trees and uses wine glasses as the base for round, cone-shaped tulle fabric Christmas trees. The process is simple and budget-friendly, and you can even include lights for an elegant decoration. You can use it as a centerpiece on the table!
I hope you enjoyed this roundup of DIY fabric Christmas tree patterns. No matter what kind of design you have in mind for a fabric Christmas tree, you're sure to find an example in this list to help you create that perfect, one-of-a-kind final product you dream of displaying this holiday season.
Did you find this tutorial helpful? If so, save this pin (see below) on your sewing board so you can come to this tutorial later when you need this information on making fabric Christmas trees, and follow me on Pinterest for more tips, tutorials, and inspiration!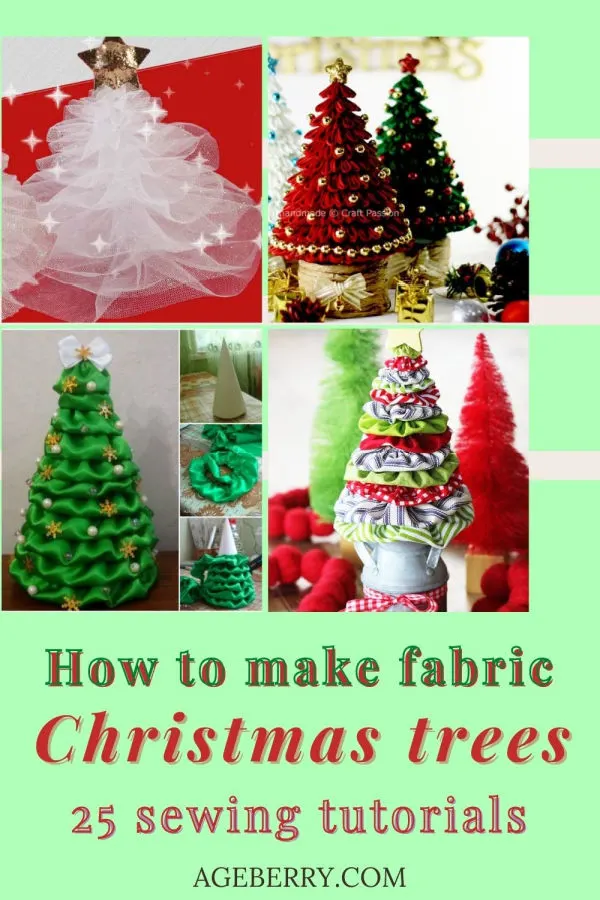 ---