It'll be Christmas again soon enough, and savvy crafters are already gearing up. If you've been buying holiday fabrics and stockpiling supplies such as felt, buttons, and vintage appliques, you might be ready to try your hand at homemade Christmas stockings using one of the listed below quilted Christmas stocking patterns.
Whether you crave a formal, ribbon-embellished Christmas or would rather just clear out your scrap box, there's a free quilted Christmas stocking pattern out there for you. From a Christmas stocking pattern featuring a fur cuff to vintage Christmas stocking patterns that take you back to childhood and beyond, you'll love the tutorials and free printable templates we've compiled from the Internet's most experienced crafters.
Give them a try and let us know what you think in the comments. And in the meantime, Merry Christmas crafting!
Scrappy Stockings: Free Christmas Stocking Patterns That Use Leftover Scraps
Scrappy patterns are super satisfying because they give you the opportunity to use up all those little "scraps" leftover from bigger projects. There aren't too many things you can do with a single strip of cotton that measures 2 inches by 5 inches, but can you make a scrappy quilted Christmas stocking? Yes, you can. Better still — your Christmas stocking will have tons of memories sewn in. Remember that quilt you gifted your grandmother on her birthday? How about all those masks you made for your friends at the local hospital? Every time you gaze at your scrappy stocking, you'll see those leftovers and remember the warm feelings they invoked. How's that for a Merry Christmas?
We found a few free quilted Christmas stocking patterns that require mostly scraps, yet they look anything but scrappy. You'll have fun with these easy projects that will clear out your scrap box in record time.
In these elegant-yet-festive quilted Christmas stockings, Amy uses fat quarters for the linings and backings, but she stitches up a fun bundle of stripes on the fronts, using small strips of Art Gallery Fabrics. You can make this free Christmas stocking pattern your own, however, by using whatever jolly fabrics you have on hand. If you don't have fat quarters, any nice-sized chunk of leftover fabric will do. You don't have to go fancy, either. These fabrics will be the back and inner lining of your quilted Christmas stocking. All the detail goes on the front.
In Lydia Nicholson's tutorial on Suzy Quilts, she uses fabric scraps, batting scraps, and ribbon scraps to craft lovely, modern versions of the traditional quilted Christmas stocking. Go elegant or whimsical, muted or bright, depending upon your choice of fabrics and embellishments.
You can match this free Christmas stocking pattern to any Christmas decor easily by switching out the elegant gold and white fabric choices for colors that blend better with your interior design.
Carole Carter's crazy quilt Christmas stocking pattern uses a hand-drawn template to make a one-of-a-kind stocking that will steal your heart the moment you see it. Filled with rustic charm and large enough to hold tons of goodies, this stocking perfectly uses scraps, including one that's fussy cut to get things started.
Carole uses her machine's open-toe foot to quilt easily through the layers of fabric on her stocking and stitches on embellishments such as buttons and ribbon to add interest and movement to her crazy quilt Christmas stocking.
Free Quilted Christmas Stocking Patterns With Cuffs
Nothing says Christmas morning like a pretty homemade stocking complete with cuffs. With these free Christmas stocking patterns, you can stitch up a stocking for every member of the family. These patterns feature cuffs for adding names, so everyone will know exactly which one is theirs. Even the pooch can have his own pouch for Christmas treasures.
This is a cute tutorial from Frozen Knickers that uses a stocking from your local dollar store as a template. Simply trace around your purchased stocking, adding a 1/4-inch seam allowance on all sides to make your paper template. This tutorial leaves the cuff bare, but you can easily adapt it to add an embroidered or appliqued name to the stocking.
This tutorial offers a free printable Christmas stocking template to make crafting the perfect quilted Christmas stocking simple and fun. Caroline also uses a delightful collection of whimsical fabrics that were available in 2017. Any festive fabrics will do, however, and recent holiday collections from designers such as Robert Kauffman, Susan Winget, and Kaye England are readily available.
This adorable pattern uses a simple all-over print and machine quilting to make easy stockings suitable for the entire family, including your furry friends. And it adds a cute cuff for personalization. Use this printable stocking pattern to craft stockings everyone in the family will cherish.
Free Quilted Christmas Stocking Patterns for Advanced Sewists
These advanced patterns use mostly free printable Christmas stocking templates. So, you'll need to add a printer and ink to your list of supplies. We like these tutorials because a free Christmas stocking cut-out can be used over and over again.
If you have a few years of sewing under your belt, and you're ready to take on the world of quilted Christmas stockings, there's a free downloadable pattern available at Tilda's World that you just might love. This pattern comes via a PDF file that includes the free printable template and could be useful for beginners but is probably more suited to those experienced in piecing.
The Old Rose Scrap Angels stocking features an angel motif that's pieced right into the design. It's also bigger than your average stocking to hold more Christmas morning goodies. Use colors you have on hand, or stick to the instructions to make a pretty pastel stocking that will look lovely hanging from your mantel.
This fun tutorial makes a whimsical quilted Christmas stocking with a spiral twist. It is, technically, scrappy, but because it uses a technique called paper piecing, we've decided to include it under the section for advanced sewists.
For this free Christmas stocking pattern, simply print out the free template on three sheets of paper, cut it out, and tape the pieces together. From this step on, you'll stitch your design directly onto the paper, creating a spiral design. Afterward, the paper comes off, the batting and backing go on, and you're free to quilt your new stocking in any way you choose.
Paper piecing may seem tricky at first, but this tutorial lays it all out in easy-to-follow steps that most sewists will understand. And if you have trouble at first, a little practice will help you master this popular piecing technique.
Melissa, over at Melly Sews, offers an appliqued DIY Christmas stocking pattern that's sure to win your heart and beautify your mantel this holiday season. And because the applique process is a little more advanced than simple piecing, we've included it in our section for experienced sewists. The template for this pattern is free if you sign up for the Melly Sews newsletter, or you can purchase it for $2, which is still a bargain.
This free Christmas stocking pattern uses a thermal bond to adhere the appliqued pieces to the stocking, as well as a fancy hand-stitch to hide the raw edges. Afterward, you'll assemble and quilt your stocking in a regular way. It's a few extra steps that anyone can try, and it makes a delightful addition to your Christmas morning celebration.
Quilt-As-You-Go (QAYG) Christmas Stocking Patterns
Patterns for quilted Christmas stockings would not be complete without a few Quilt-as-you-go projects. These free Christmas stocking patterns are so easy to make you'll want to do more than one.
At Super Mom No Cape, you'll find a QAYG pattern to create your own Christmas stocking using a free downloadable template. QAYG is a quilting technique that lets you sew each piece of fabric directly to the batting and backing. In the end, your project needs no additional quilting. All that's left is to add the lining. This type of project is great for using up leftover strips or those Christmas jelly rolls you couldn't resist buying. The tutorial uses the QAYG technique to construct both the front and back of the stocking, but you could easily use a solid piece of fabric for the reverse side.
This tutorial from MilkyBeer also uses the QAYG method and scrappy strips to create pretty and functional stockings for lucky family members. This tutorial is easy to follow, but it doesn't offer the template you need to get started. You must draw your own or trace around a stocking you already have. After this initial step, however, the process is simple to follow. This pattern also uses a plain piece of fabric to make the reverse side of the stocking, so keep in mind you may need a fat quarter handy.
This tutorial is actually a video available on Youtube, and it lets you create a mini stocking using the QAYG method. Not all Christmas stockings need to hang from the mantel. They make adorable Christmas ornaments, too. This fun and functional mini Christmas stocking pattern from Art Gallery Fabrics can conceal jewelry, gift cards, and other small gifts. Or hang them on wreaths or garlands as decoration. You can even use your mini Christmas stockings on your holiday table to hold place cards or silverware.
More Christmas Stocking Tutorials From YouTube
YouTube is a great resource for finding helpful Christmas stocking tutorials. We've added a few more to our holiday roundup. We think you'll love them.
Jenny Doan, from Missouri Star Quilt Company, uses 5-inch charm packs to craft these classic Christmas stockings, but you can start with 2&1/2-inch mini charms or scraps if you like. You'll also need larger fabric pieces for the linings and reverse sides of your stockings, so have a few fat quarters or some fabric remnants handy, too.
This video tutorial is easy to follow and lets you craft a QAYG Christmas stocking complete with a faux-fur cuff. The sewist actually uses the QAYG technique to piece her stocking, then adds machine quilting to give it additional charm. By using several different decorative stitches, she creates a stocking design that's all her own.
This tutorial comes via an Etsy seller who offers the patterns for sale in her Etsy Shop. In it, you'll find instructions for crafting applique, QAYG, and foundation-pieced Christmas stockings that will please even the most fickle family member.
This Shabby Fabrics tutorial is unique because it uses reproduction fabrics and pre-printed quilt batting to make a cute Christmas stocking with a vintage appeal. The best part of this project is that you buy the batting already pre-printed with the stocking pattern. Even better, the pattern on the batting is numbered to make your QAYG even easier. Simply align your strips with the numbered blocks to keep your project moving along nicely.
With today's online access, it's easier than ever to craft a quilted Christmas stocking to add to your seasonal decor. Enjoy using free Christmas stocking patterns and accompanying Christmas stocking tutorials to give your holiday season a homemade appeal. Try the ones listed here, and tell us what you think.
Did you find this tutorial helpful? If so, save this pin (see below) on your sewing board so you can come to this tutorial later when you need a quilted Christmas stocking pattern, and follow me on Pinterest for more tips, tutorials, and inspiration!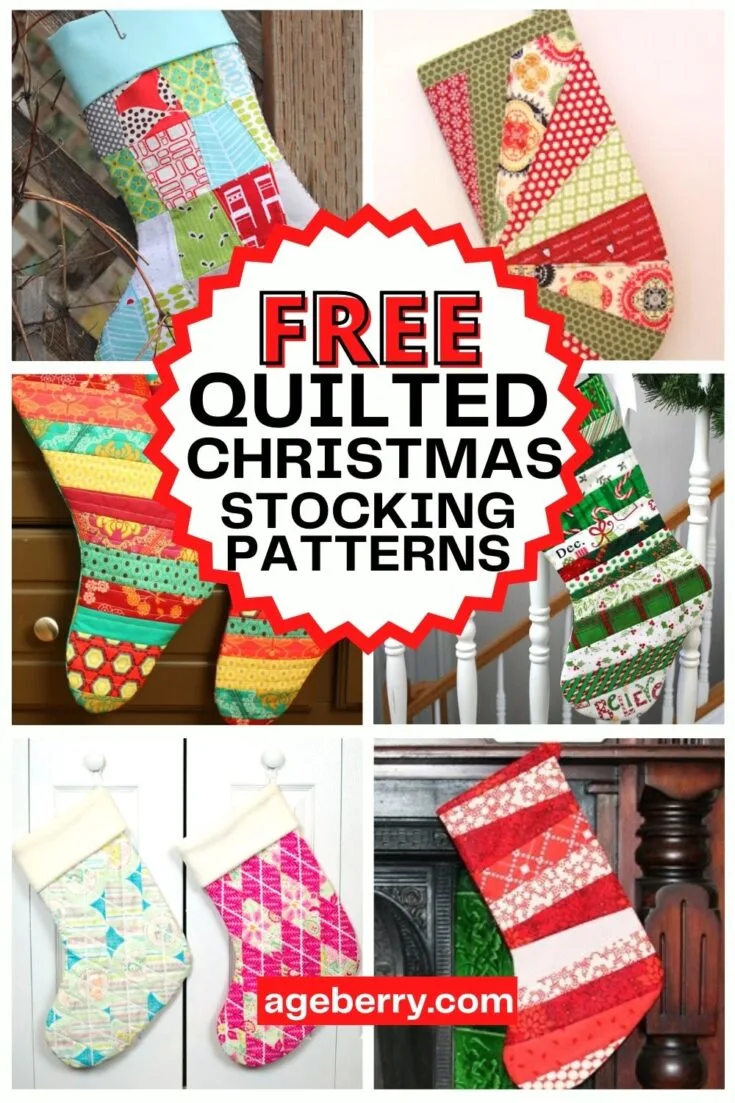 Perhaps you will find my other Christmas-related posts interesting? Check them out!
---