Darts are an essential part of creating the shape and fit of a garment, but there are a few different types of darts in sewing that vary from very simple to more complex. Today we'll be exploring these types and why you may need them for your projects. Then, in another tutorial, we'll go over how to sew darts into your garments.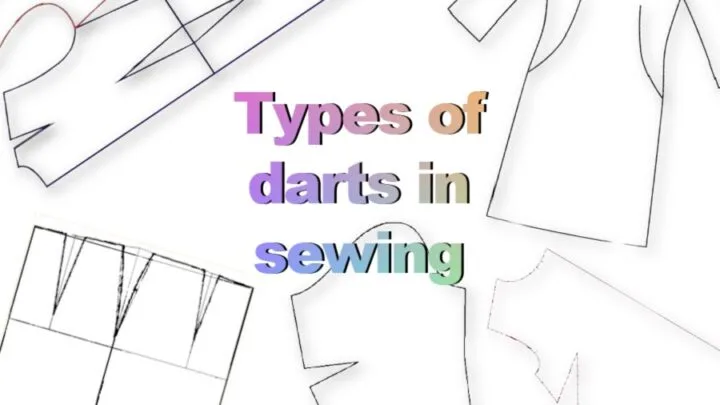 What are darts in sewing?
Think about fabric and the way it hangs for a moment. With the exception of knits, most fabrics aren't particularly form-fitting. And yet, form-fitting garments are very flattering and popular. That's where darts come in handy.
Darts are tapered, wedge-shaped folds in fabric that is stitched to remove excess material to change the garment's shape so that it fits the body in a flattering way. In other words, it's darts that take a flat piece of fabric and add structure and shape to it.
Darts are a simple way to shape fabric. They can be used to create a general shape in any garment, or they can be used to alter an item of clothing to create a more personalized fit.
Why Use Darts
What is the purpose of a dart in sewing? Darts serve a very specific purpose: to make a garment more form-fitting. Why is that a good thing? Form-fitting garments create a more flattering appearance for the wearer.
It's no secret that a lot of people are self-conscious about their body shape, and they try to hide problem areas with baggy clothes. But garments made with darts can help you look better without wearing a size 2 dress or pants (which might not fit right anyway).
Darts make clothes more flattering for the wearer by creating shapes where there were none before. By using darts instead of letting fabric hang loose on your body, you achieve a figure-flattering silhouette while still allowing room for movement and comfort.
Have you ever sewed an item that just didn't quite fit the way you thought it would? Maybe there was a bit of extra material that you pinched together, hoping it would magically disappear. What if you could make that pinch stay forever?
We all have different body types and body measurements, so how do you get around that? If you could add a dart to that area to create flattering contours, that pinched area would be transformed in a positive way.
How does such a simple fold-in fabric manage to seamlessly mold it into a curvy human body shape? The trick is to use darts in those areas where the material naturally doesn't shape well, which happens to be those curvy body areas: the bust, waist, and hips.
One of the most common challenges that people have when learning to sew is figuring out how to make garments fit better. It's not enough just to know how to use a sewing machine, you need to understand what makes clothes look good on a person as well.
Darts will help you achieve your goal of making clothes fit more closely.
Darts also serve another purpose that some people don't think of: using darts you can create a new design and new garment's overall style.
Anatomy Of A Dart
The anatomy of a dart is actually very simple. It has two basic parts: the apex (also called the point) and the legs. If you think of the dart as a triangle (or a "V"), the apex is the tip of the triangle, and the dart legs are the sides of the triangle. The dart legs must be identical in size. When you sew darts the dart legs go on top of each other and you sew along the dart legs to the apex.
There is also a dart base – the widest part of the dart.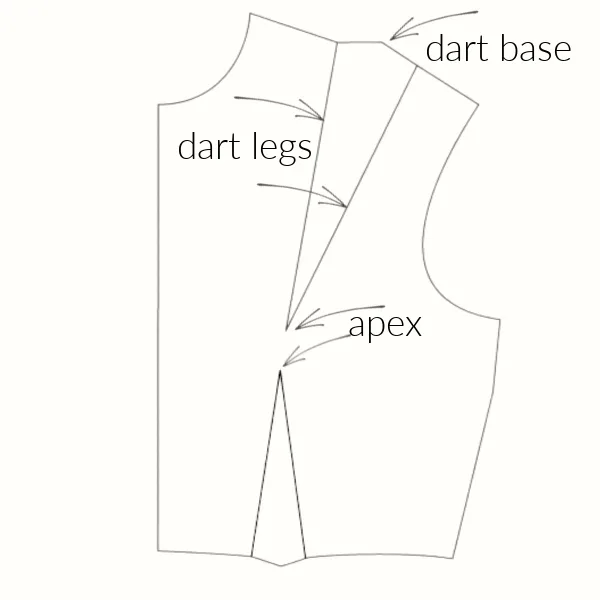 Here are a couple more helpful items of note related to the anatomy of a dart and how they're used:
The dart bulk is the interior part of the dart
The dart intake refers to the same area of the dart, but this term specifically refers to the value of the excess fabric. For example, a larger dart intake corresponds with a wider dart which in turn corresponds with more curves.
Types Of Darts In Sewing
The basic dart shape is cleverly effective in its simplicity, but as it is, it doesn't work as well as it could in every instance. For that reason, there are several types of darts, and they all work in their own ways to provide great-fitting garments.
Keep in mind I am not writing a textbook for professional sewists, I only present some helpful info that can be used by home sewists.
Here are the three basic types of darts that you can use in sewing.
Straight Darts
Straight darts are the easiest to sew.
This type of dart is the classic triangle shape and is the most commonly used version. You will often find it at the bust or waist, but you may also be able to see it used at the shoulder or neck.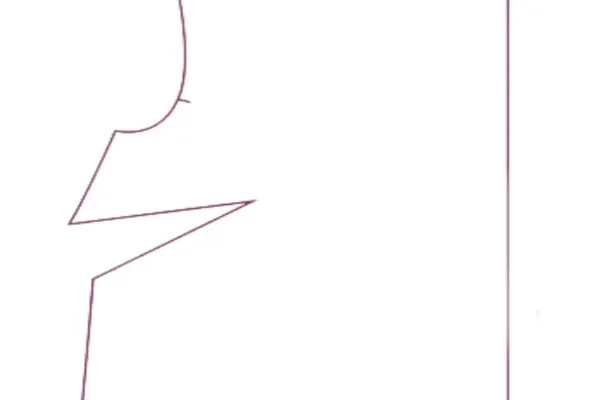 Curved Darts
As the name implies, this type of dart has a slight bend to it that adds just a little extra touch of a curve to a garment when a straight dart won't fully get the job done. You'll typically find curved darts in skirts or pants where extra shaping in the belly area is often needed.
It may not be a surprise that these darts are a bit more difficult to sew than straight ones.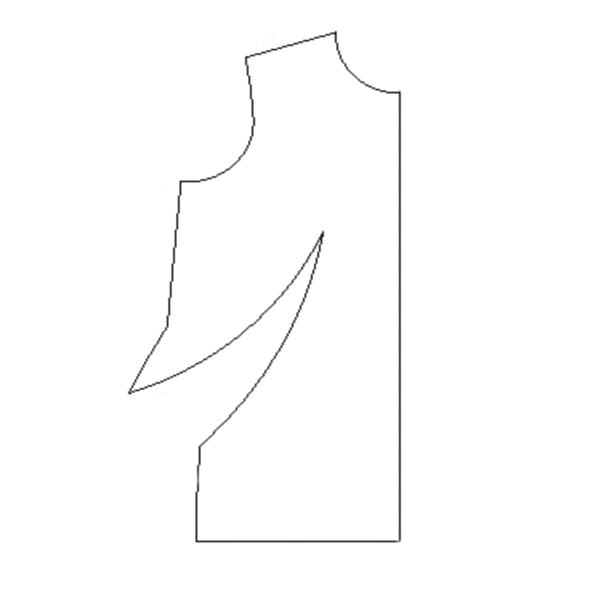 Double Point Darts
Double point darts (also called fish-eyed or closed darts) are basically two straight darts joined together at the widest ends. They are mostly used in the waist area where you need more curves or shaping, such as the bodice of dresses or jackets that need a rounded design to fit at the waist.
The widest point would be in the middle (at the waist), while one tip points toward the bust and the other tip point towards the hips. It may also look more flattering in some areas than the single point, so it's good to use if you want something unique and custom-looking.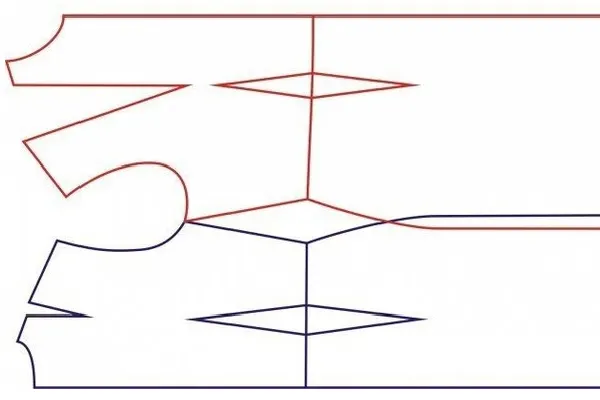 Darts Placement In Clothes and other items
In addition to the different types of darts you can use, there are several areas where you can place darts to create a flattering appearance. So, where do you sew darts? Let's find out!
Bust Darts
Bust darts are an important part of a garment's construction and are used to create a flattering fit.
As you might guess from the name, bust darts are side darts that help shape a garment to the bust. The widest part of the dart will usually start at the side seam under the arms, and the legs will come together with the apex pointing at the bust.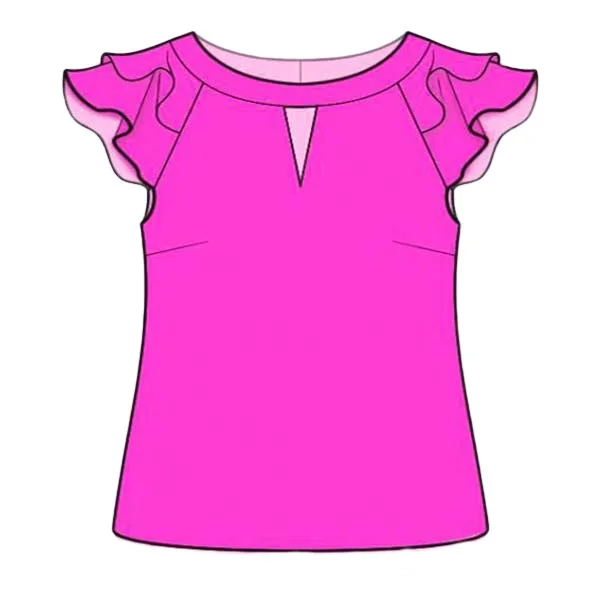 French Darts
French darts (also sometimes called side angled darts) are basically an elongated combination of bust darts and waist darts. They start at the side seam near the waistline and end near where the typical bust point would be. They are being added to the garment at an angle.
I found an example of French darts in my favorite magazine Burda from 9/2012.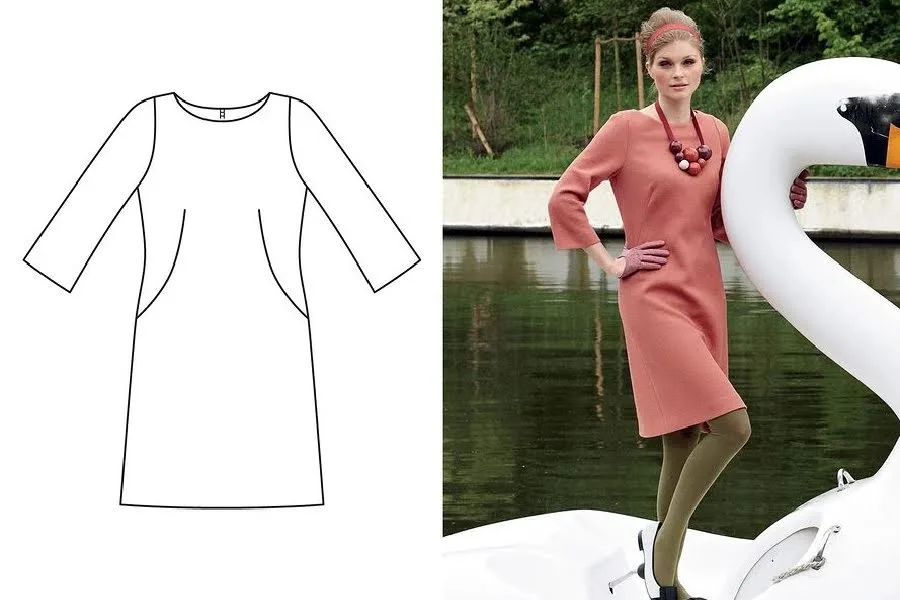 Waist Darts
A waist dart helps to reduce fullness across the waist and narrows the waistline. It can be used for various reasons, but typically it's used in fitted garments to help tailor a garment more closely to an individual's shape.
For fitted blouses, waist darts will begin with the legs at their widest point down by the bottom seam, and the legs will come together with the apex pointing toward the bust. These can be either straight or curved darts.
However, the waist darts for longer bodices will typically be the double point dart style.
And finally, darts in skirts or pants would have the widest point starting at the top seam/waist with the apex pointed down.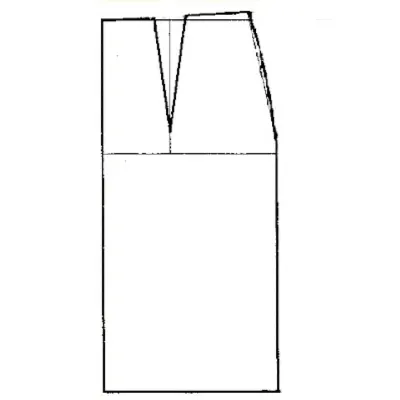 Shoulder Darts
Just as it sounds, this dart starts at the shoulder. It's typically used in women's clothing because it's more flattering for the female form.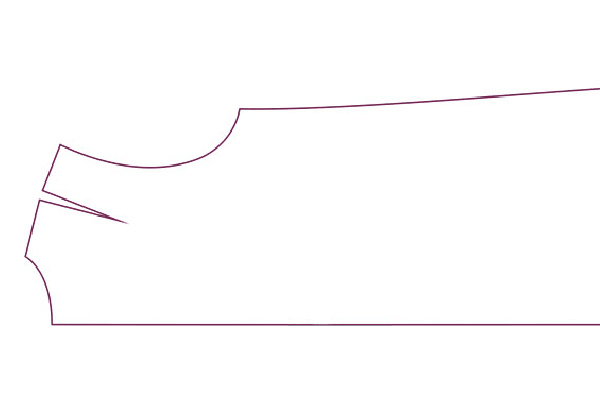 Elbow Darts
The legs of elbow darts start at the seam of the sleeve, with the apex pointing toward the elbow to provide a fitted fit for the sleeves to accommodate the natural bend of the arm.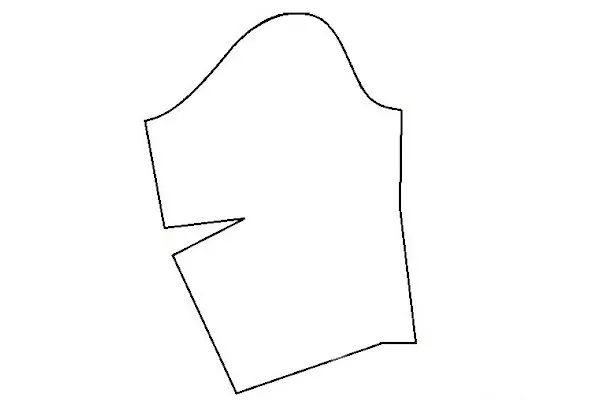 Darts In Bags
Although darts are more commonly used in clothing, they can also be used to add shape and create volume to the inside of a bag. Typically, you would use darts to create box corners in a bag or a rounded bottom.
For example, I made this zipper pouch pattern (free to download by subscribing to my newsletter) with darts.
Darts In Face Masks
I think that face masks that don't have darts are notorious for bunching up on the wearer's cheeks. One (or multiple) straight darts make a huge difference in improving the fit of a face mask.
I made a face mask pattern with darts and this design was very successful with my readers.
Darts In Stuffed Animals And Other Toys
Since darts add shape and form to fabric, they are your secret weapon when it comes to creating a three-dimensional toy such as a stuffed animal.
Here is my pattern for a bunny face – I made this bunny lovey blanket using this pattern.
A dart in sewing is a simple concept that yields powerful design potential for shaping fabric for clothing and several other purposes, too. By using these different types of darts in clothing, your possibilities for creating beautifully shaped clothes are nearly endless.
Types of fabric that work well with darts
Many sewing patterns have darts to help fit the garment on your body correctly: bust darts, waist darts, hips darts, etc. But you also can find lots of patterns to make close-fitting garments without any darts. Why is that?
Because darts are best suited for woven fabrics. Darts give these garments their tailored shape. Garments made from knit fabrics don't require darts because knits are very stretchy and you can achieve the desired shape without any darts.
Moreover, it would be difficult to sew darts into most knit fabrics because they would stretch out.
For example, I made this summer dress from woven cotton fabric and had to make bust and waist darts so the dress fits me well (you can find detailed instructions on how to draft a pattern for this dress in this tutorial).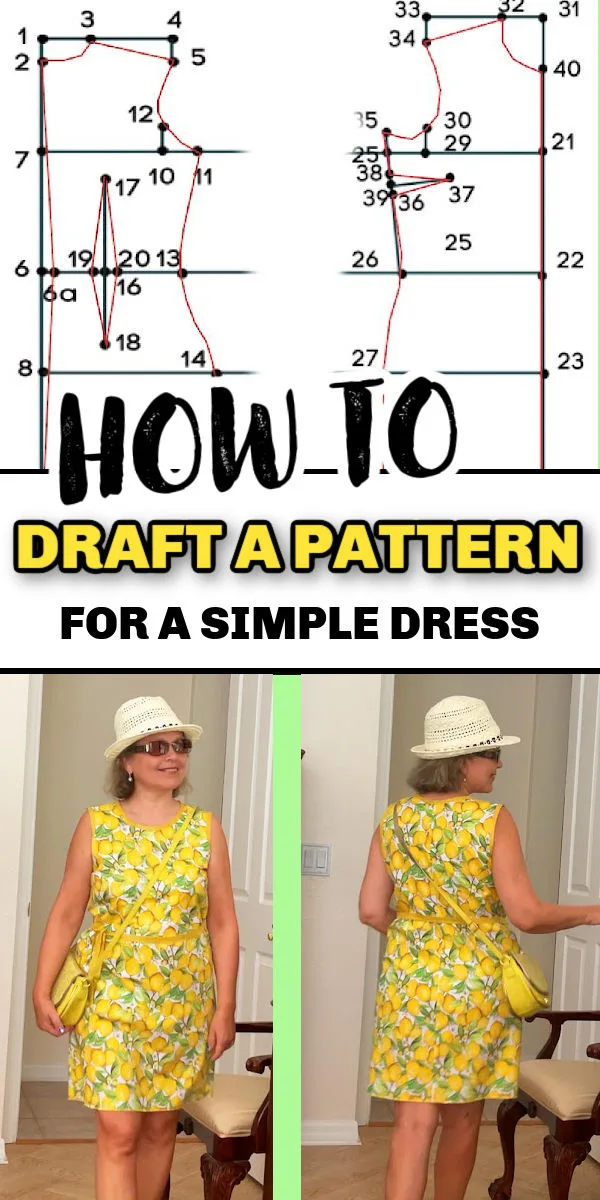 But this wrap dress is made from knit cotton jersey fabric and it fits me well without any darts.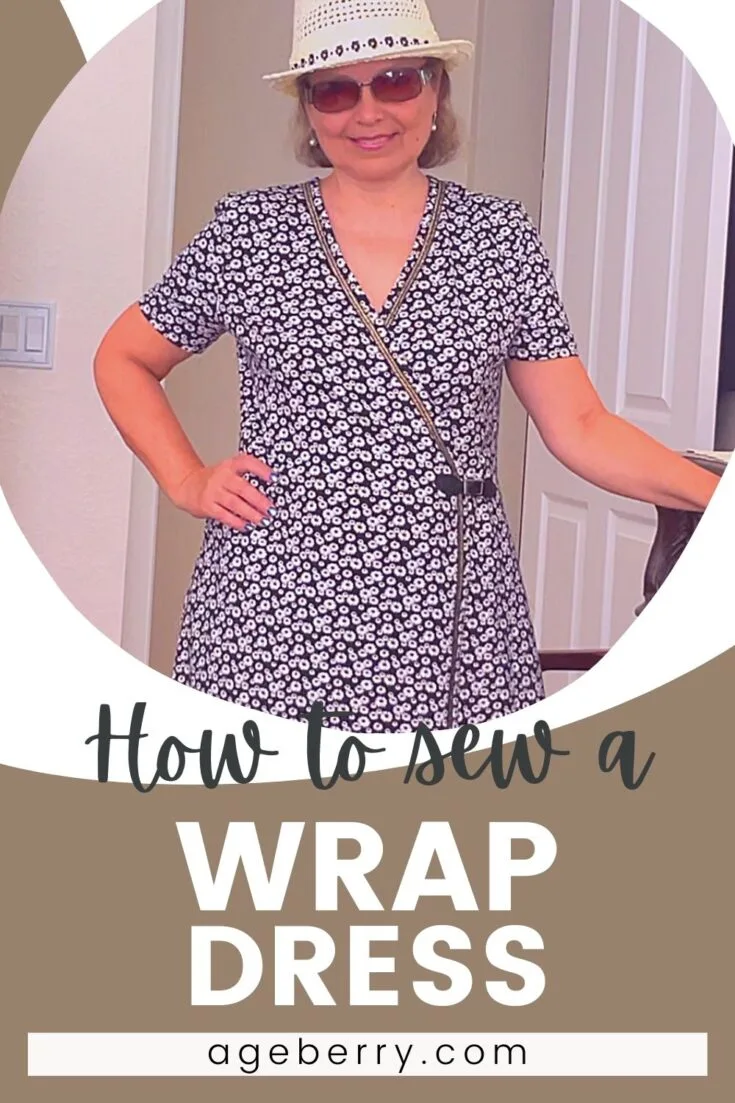 Of course, sometimes you need to sew darts even if you are working with knits, especially if the knit fabric is heavyweight and not very stretchy.
Examples of how to use darts in sewing projects
I have a very interesting tutorial on how to make a pattern for a simple pencil skirt. If you go to that tutorial you will see how darts transform a tube of fabric into a tailored pencil skirt.
Did you find this tutorial helpful? If so, save this pin (see below) on your sewing board so you can come to this tutorial later when you need the info on types of darts in sewing, and follow me on Pinterest for more tips, tutorials, and inspiration!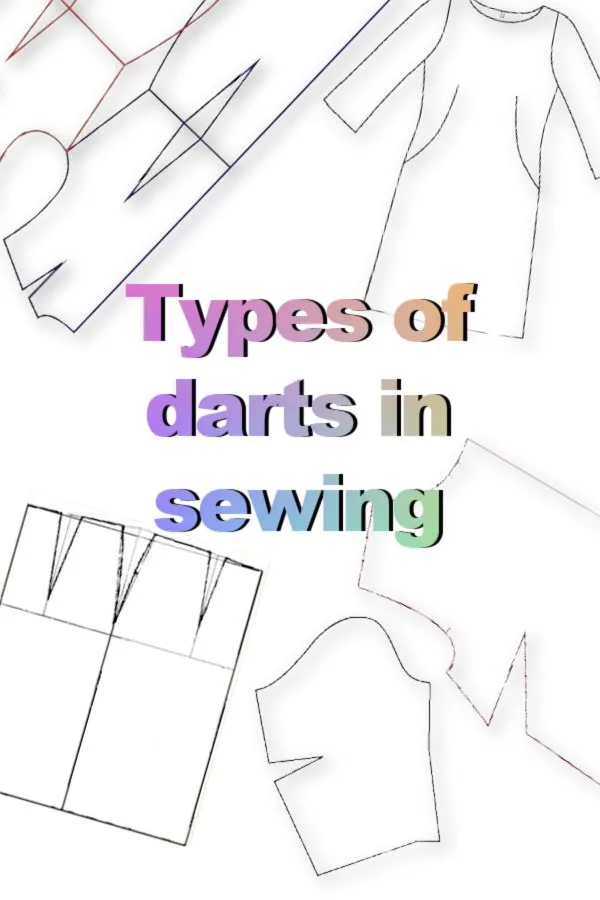 ---