When it comes to sewing, there are a variety of fabrics to choose from. One type of fabric that you may not be as familiar with is rib knit fabric.
Rib knit fabric is made up of parallel vertical lines and has a lot of stretch. This makes it ideal for use in close-fitting clothing, such as tops, leggings, underwear, socks, etc. There are different types of rib knit fabric available, so let's take a closer look at them.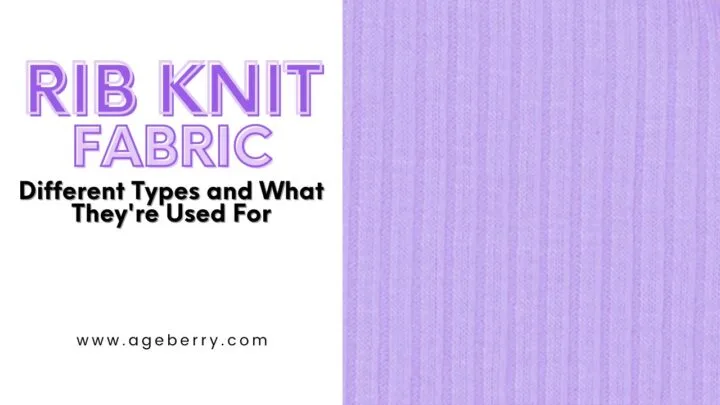 What is Rib Knit Fabric?
#1. Rib knit fabrics are characterized by their distinct ribbing, which appears as vertical lines on the surface of the fabric. You can clearly see bumps or ridges that run parallel to the fabric's selvage on its front and back. The ribbing is created by alternating rows of knit and purl stitches, which gives the fabric a textured look.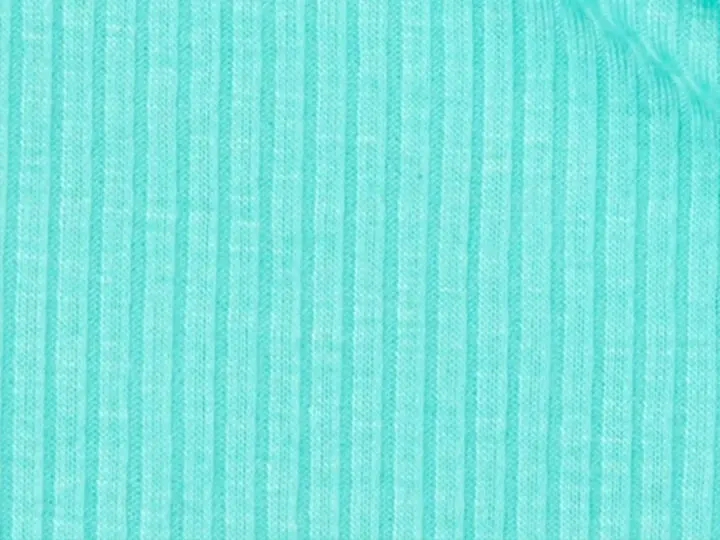 #2. Depending on the yarn and stitch used, rib knit fabrics can range from lightweight and very stretchy to thick and quite sturdy.
#3. Rib knits are a type of double-faced fabric, meaning that they look exactly the same on the front and back. This makes them ideal for projects, where you want the fabric to look the same on both sides.
#4. They have almost no lengthwise stretch, but they do have great crosswise stretch. When shopping for rib knit fabric, be sure to check the stretch percentage, as this will determine how much the fabric will stretch when it is used in a garment.
#5. This fabric's general stretchy nature makes it great to use for close-fitting garments. Rib knits are also used to create bands on garments: neckbands, cuffs, waistbands, and hems. For example, a rib knit fabric (often in a different color) can be used to make a neckband on a t-shirt or a waistband on leggings.
#6. Rib knit fabrics are also popular because they tend to resist wrinkles. As a result, rib knit fabrics are a versatile option for many different projects.
#7. Rib knit fabrics can be made from a variety of different fibers, including cotton, linen, wool, and synthetic fibers such as rayon, acrylic, or polyester.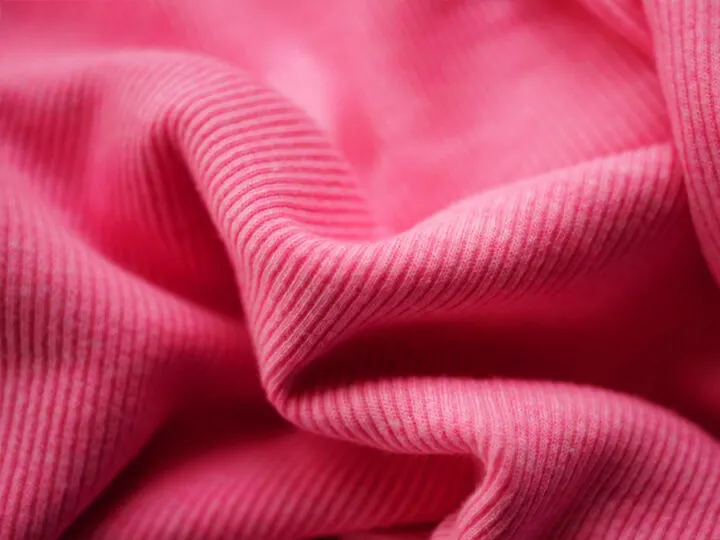 #8. Rib knit fabrics typically have a good recovery, meaning they will return to their original shape after being stretched out.
#9. In addition, the edges of ribbed knits don't curl. One downside to knit fabrics is that they can often curl at the edges (see my article All About Modern Types Of Knit Fabric). This can be frustrating when you're trying to achieve a neat finish on a garment. However, ribbed knit fabrics have a built-in resistance to curling. The knit and purl stitches used in ribbing create an even tension that prevents the edges from curling.
Different Types Of Rib Knit Fabrics
Ribbed knit fabrics have a distinct pattern of vertical ribs on both sides, produced by alternating knit (raised) and purl (lower) stitches. Ribs can be narrow (1×1 – or one knit stitch then one purl stitch), wide (3×3, 4 x4, etc.), or have an uneven width such as 2×3, for example.
If you're scratching your head at all those numbers, the first number refers to the number of rows with knit stitches. The second number is the number of rows with purl stitches.
What Is 1×1 Rib Knit Fabric
1×1 rib knits are made with alternating knit and purl stitches, so you'll see a bump created by a knit stitch followed by a ridge created by a purl stitch followed by another bump, then another ridge, and so on. This highly elastic fabric retains its shape well and looks identical on both sides.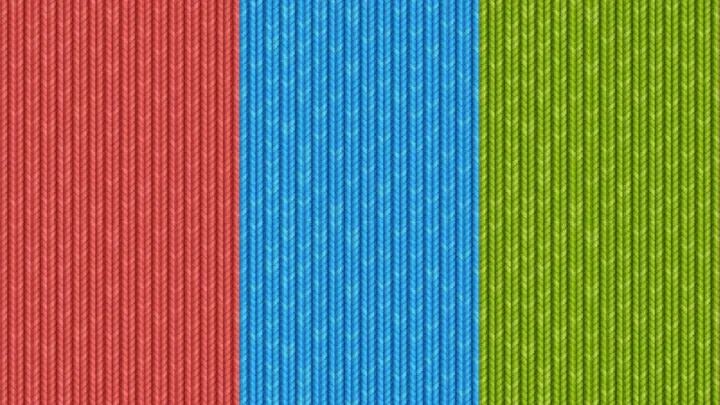 2×2 Rib Knit Fabric
Similar to 1×1 rib knits, you'll find 2×2 rib knits have two knit stitches followed by two purl stitches to create equally sized bumps and ridges.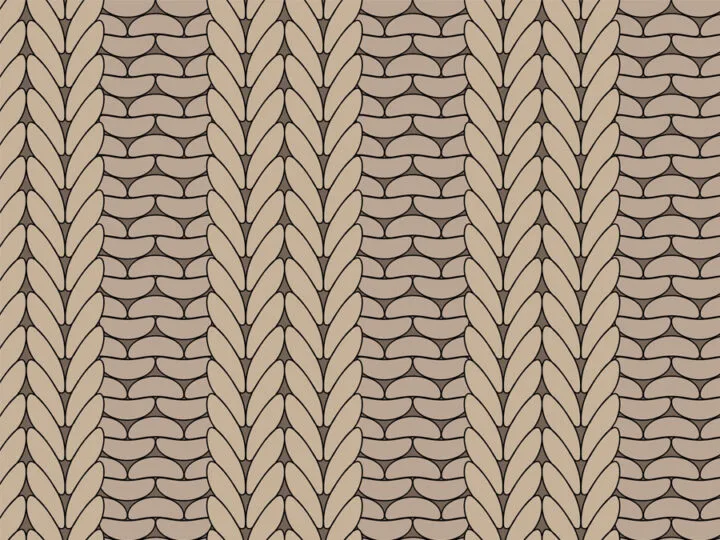 2×1 Rib Knit Fabric
This type of rib knit is constructed using a pattern of two knit stitches followed by one purl stitch, which gives it a chunkier appearance than the 1×1 rib knit design.
Tubular Rib Knit Fabric
Tubular rib knits are constructed and sold in a tube shape so there is no selvage. They are usually produced by circular knitting on special machines.
Note: Some of the links on this page are affiliate links. This means I will receive a commission if you order a product through one of my links. I only recommend products I believe in and use myself.
Tubular rib knits provide a number of advantages. They can be used to create seamless garments, as there are no side seams. It is a popular choice for clothing that needs to be tight-fitting and comfortable to wear close to the skin. Tubular fabric is also less likely to tear or fray.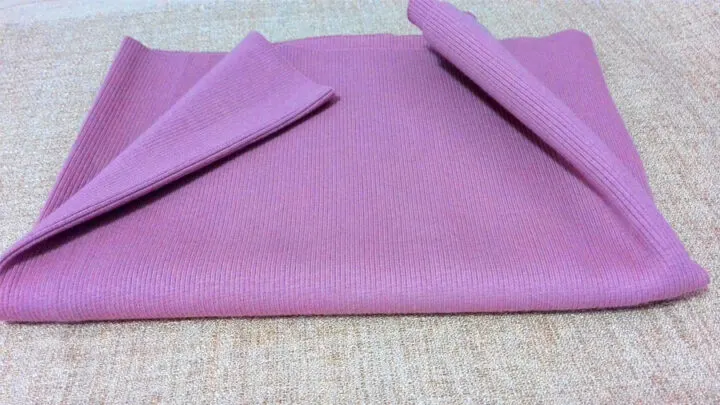 Tubular rib knits are also used in waistbands, neckbands, hems, and cuffs and are often made from 100% cotton.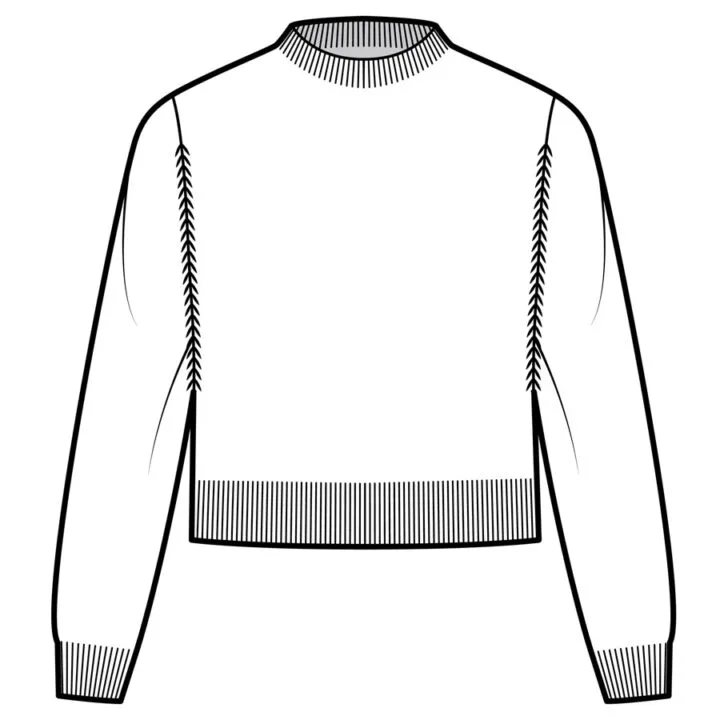 The circumference of the rib knit tube can be different. For example, this tubular rib knit fabric has an 8" circumference.
Is there a difference between rib knit fabric and ribbing fabric? I heard that these are different types of knits. Well, to me, there is no difference in appearance. I even went to check Amazon to see if fabric sellers describe them differently. But they were not.
For example, the title for this fabric is using the word "ribbing" Fabric Merchants T-Stretch Knit Ribbing Red
But in the description field, I read that it's rib knit fabric.
As I understand it, ribbing fabric is the same rib knit fabric used for making bands – neckbands, waistbands, cuffs, hems and often has a tubular shape.
Different Weights And Textures Of Rib Knits
Think about your favorite sweatshirt or t-shirt. The little bands of fabric at the neckline of the t-shirt or the cuffs on sweatshirt sleeves are most often made using rib knit fabric. Notice how the texture is different from the rest of the garment with the striking ribs (or peaks and valleys). That signature texture gives the fabric the ability to stretch and return to shape.
Knit fabrics have different weights, and those weights determine how you can use the material. When shopping for your rib knit fabric, check the end of the fabric bolt (or the online description) to find the fabric weight.
Heavy-weight rib knits are made from thick yarn and are less common than their lighter counterparts because they generally have less stretch (heavier weight = less stretch). They can be used for sweaters and outwear.
Medium-weight rib knits are the most common type of ribbed fabric often made from 100% cotton. And lightweight rib knits are made from thin synthetic fibers and are often used to make underwear.
I have this very lightweight rib knit fabric with silver threads, it looks so nice but I didn't make anything from it yet.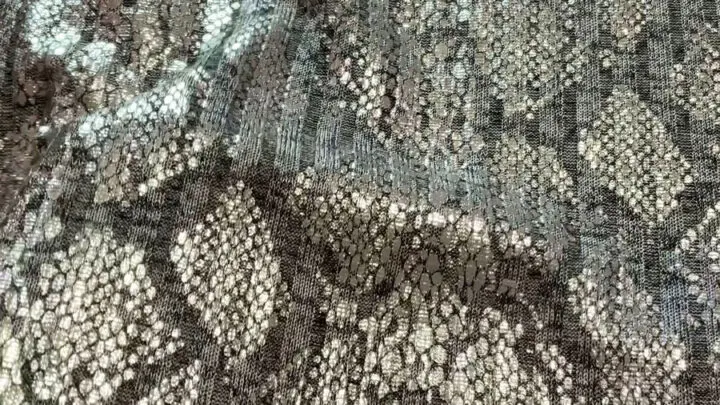 You will probably want different weight rib knits for a waistband on a hoodie vs. on a leather jacket.
How To Sew Rib Knit Fabric
I like using rib knits for my projects. They provide a stretchy and comfortable fit that is perfect for garments like pajama pants or leggings. For example, a waistband from rib knit fabric means that I don't need to use stiff elastic that might hurt me. I find that the ribbing on the fabric helps keep the garment in place and provides extra support.
I also think that rib knits add some interest to a garment, and I often use them as an accent fabric.
Many new sewists find knit fabrics challenging to sew (at first). Rib knit fabric's stretchiness can be tricky to work with. Here are some tips to help you work with rib knits.
How to cut pattern pieces from rib knit fabric
When cutting out the pattern pieces from rib knit fabric cut them slightly shorter (smaller) than the main body of the garment. How much shorter? Well, it depends on the stretch percentage of the rib knit fabric but I usually cut it out around 20% shorter than the length of the pattern piece it is supposed to be attached to. For example, if the neckline of your top is 20", cut the neckband piece from rib knit around 16" in length.
This will help ensure that the neckband doesn't end up being too loose or too tight. But this is very approximate of course. Fabrics are different.
Another rule is cutting bands from rib knits exactly parallel and perpendicular to the fabric ribs whenever possible.
Be sure to use sharp scissors or a rotary cutter and take your time cutting out each piece.
Sewing Rib Knits With A Serger
I think that sewing with a serger is the best way to achieve professional-looking results when working with rib knit fabrics. The stretchy, stable seams are strong and look great on the inside of the garment. And sewing goes much faster when using a serger.
But be sure to use the correct needle and thread for your fabric and machine. For example, it's best to use a ballpoint or stretch needle specially made for knits. This also might prevent the fabric from being pulled into the machine. Use a special serger thread, such as wooly nylon. This combination will produce durable, visibly appealing stitches that will withstand repeated stretching.
And of course, consider the thickness of your fabric as some cotton rib knits are heavyweight and need different settings than lightweight rayon rib knits.
ARE YOU READY TO CONQUER YOUR SERGER AND START USING IT FOR YOUR SEWING PROJECTS?
If you feel overwhelmed by the information on the internet and just want something that's simple but effective, this ebook is perfect. It has easy-to-follow instructions and was designed with beginners in mind. The information in this ebook is broken down into simple tasks so there are no confusing instructions on how to operate a serger. You can go at your own pace without feeling intimidated.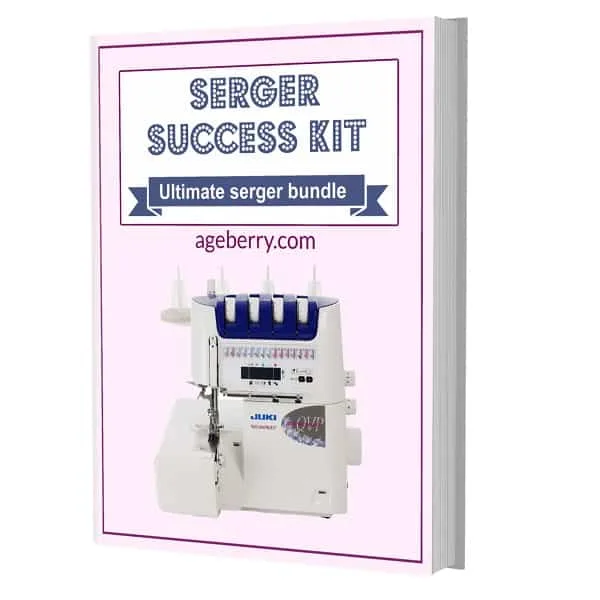 You will want to increase the differential feed setting on your machine. This setting determines how much the fabric will be stretched as it's fed through the machine. Most modern sergers have this feature, which can be extremely helpful when sewing with rib knits.
With a regular sewing machine, you only have one set of feed dogs feeding the fabric through at a consistent speed. However, differential feed on a serger uses two sets of feed dogs that can feed the fabric through at different speeds. This helps prevent stretching, even when working with very stretchy fabrics like rib knits. So adjust your differential feed setting and see if that makes a difference.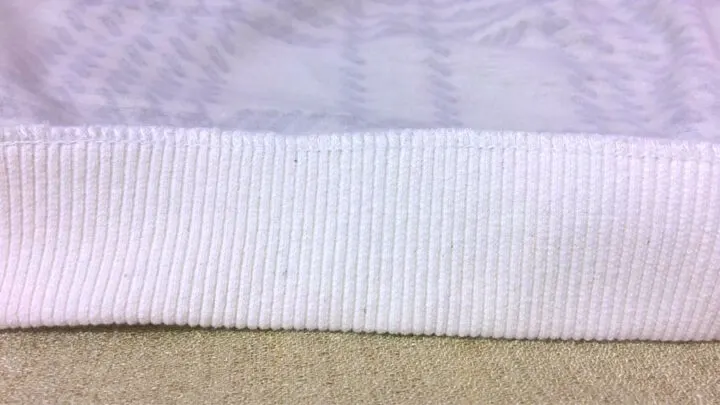 Sewing Rib Knits With A Sewing Machine
Rib knits are particularly notorious for stretching out of shape, especially when you're trying to sew them on a regular sewing machine. But if you don't have a serger you still can use your sewing machine.
When sewing with rib knit fabric, the most important thing is to use a special stretch stitch so that the fabric can stretch without breaking the sewing thread.
You might also want to use a needle designed for stretch fabrics – a stretch needle or a ballpoint needle.
When sewing rib knits, it might be helpful to use a walking foot because it will help prevent the fabric from stretching out as you sew.
Additionally, set the correct foot pressure and tension.
Finally, make sure that you avoid stretching from having your fabric hanging down as you sew. If you need to, bunch your fabric next to the machine, so that's not an issue.
What To Make With Rib Knit Fabric
Rib knit fabric is a type of material that is often used to make body-hugging garments because of its stretchy nature. Rib knit fabric can also be used to make scarfs and hats where you want the fabric to look the same on both sides because rib knits are reversible (or double-sided). And they also can be used to make all kinds of bands – neckbands, waistbands, cuffs, and hems.
If you're looking for some inspiration on what to make with rib knit fabric, here are a few ideas:
Shirts – You can use rib knit fabric to create both long-sleeved and short-sleeved shirts. The stretchy nature of the fabric will allow the shirt to hug your body in all the right places.
Dresses – Another garment that you can make with rib knit fabric is a dress. This fabric is especially well-suited for bodycon dresses that show off your curves.
Beanies – If you're looking for a winter hat that will keep you warm and stylish, try making one out of rib knit fabric.
Practically, there are endless possibilities when it comes to what you can make with rib knit fabric. So get creative and see what you can come up with.
Rib knit fabric is perfect for trimming and finishing other knits and woven fabrics because of its elasticity. Patterns designed to work with these types of clothing are usually close-fitting. This material works well in areas where there's going to be plenty of movement and little pressure.
One example would be sweaters or sweatshirts with bottom edges from rib knits fitting nicely around your waistline or hips. Or cuffs, which need to be stretchy without losing their shape and durable because they get manipulated a lot.
How To Match Rib Knit To Fabric
There are a few things to consider when matching rib knit to the fabric.
The first is the weight of the fabric. Rib knits are typically medium-weight, so it's important to choose a fabric that can support them.
The second is the stretch of the fabric. Rib knits are generally very stretchy, so you'll want to make sure your fabric has some give to it as well.
Another thing to keep in mind when matching rib knit to fabric is the color. You'll want to make sure that the colors complement each other well. Otherwise, it will look odd and out of place.
Ultimately, it's up to you and what you think will look best.
But I noticed that it's often not easy to color match ribbing from online stores to my fabric. Usually, they have a great assortment of colors but it always depends on your computer to show you the colors and they are often different on screen than in reality. So have this in mind. Maybe you can find a store that sells the fabric and ribbing side by side. Or maybe you can use contrast color to your fabric.
Also, when you attach ribbing to your garments, you want the rib lines to be perpendicular to the main fabric. For example, if you sew a rib-knit cuff on a sleeve, you want the ribs to go down your arm rather than across it.
Rib Knit Fabric Care
Before you sew your fabric, you can prewash it in warm water and dry it on medium in the dryer especially if it's 100% cotton.
However, if you use rayon or synthetic rib knits I recommend avoiding using harsh detergents or bleach, as these can break down the fibers and cause the fabric to stretch out of shape. Instead, opt for a milder soap or detergent specifically designed for delicate fabrics.
Be sure to handle rib knit fabric gently, as rough treatment can also lead to stretching and misshapenness. Allow rib knit fabric to air dry naturally – avoid putting it in the dryer, as this will almost certainly stretch the fabric beyond repair.
Where To Buy Rib Knit Fabric
If you're looking for rib knit fabric, the first place you should check is your local fabric store. They usually have a good selection of different types and colors of rib knit fabric. Another option is to buy online.
There are many websites that sell rib knit fabric at great prices. Just make sure to do your research before buying so you know you're getting a quality fabric that has a good amount of stretch and good recovery properties. I like to buy on Amazon – a great variety, good deals often, and free shipping as I am a Prime member. Try Amazon Prime for 30 days free at this link.
I hope this post answered your questions about rib knit fabric. What are some of your favorite ways to use rib knits in your projects? Leave a comment and let me know.
Did you find this tutorial helpful? If so, save this pin (see below) on your sewing board so you can come to this tutorial later when you need this information on what is rib knit fabric and how to use it, and follow me on Pinterest for more tips, tutorials, and inspiration!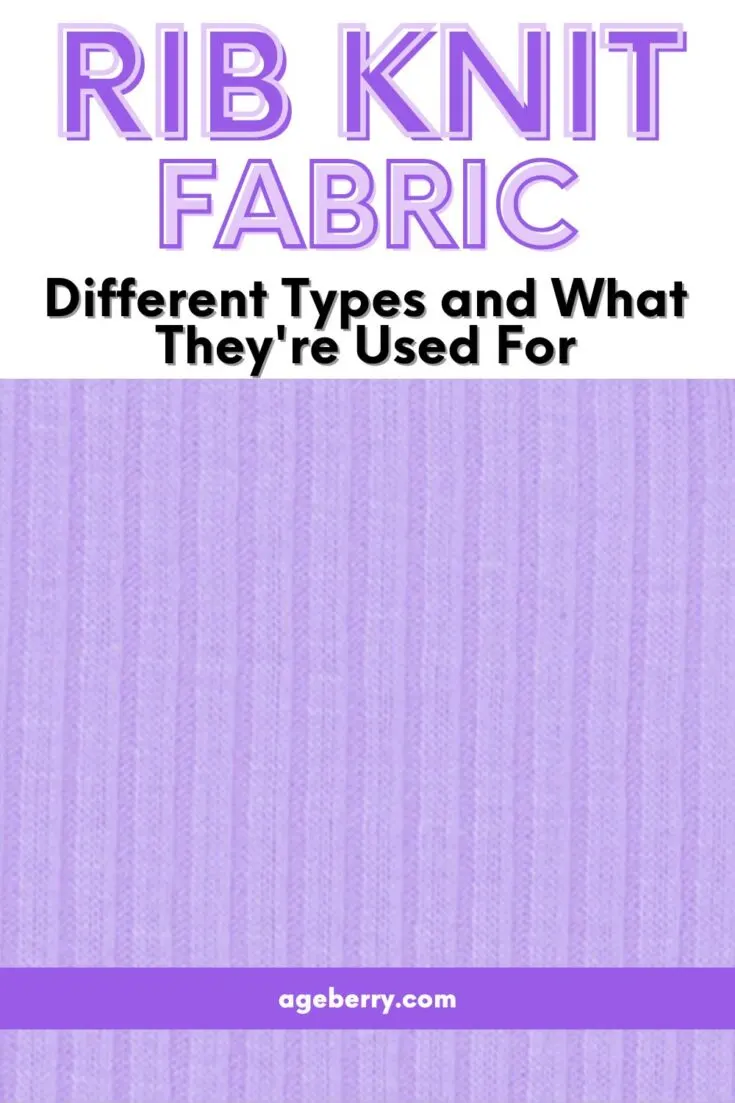 If you're interested in learning more about sewing with knit fabrics, I highly recommend checking out my tutorial How to sew knit fabric | 23 expert tips for beginners.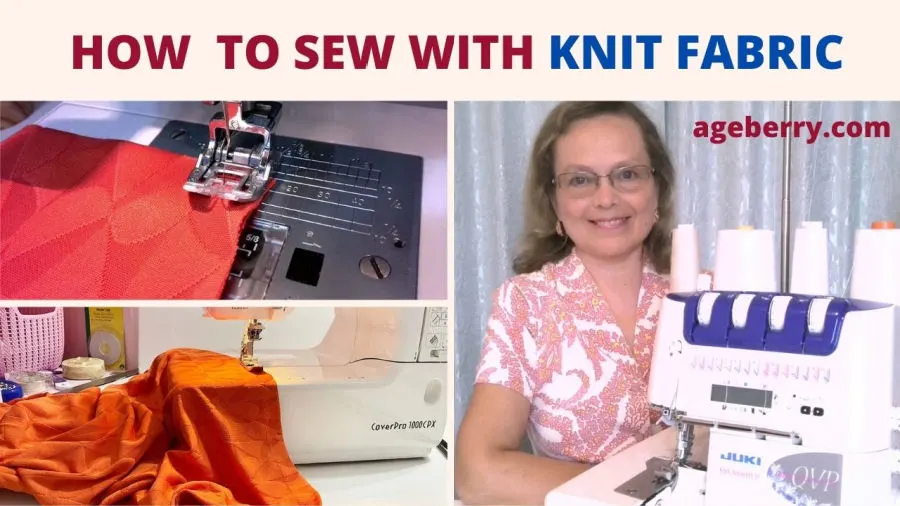 ---