This is part two of my article about regaining your body vitality and eliminating fatigue. The first part can be found here: "How To Stay Fit At Home". I really think it would be useful to read that article first.
The exercises presented here do not require any equipment, are not difficult and are not posing stress on your body. They are little more than deep breathing and a number of small movements and postures designed to engage as many muscles of your body as possible, preference is given to the muscles that you use little while hunched over your sewing machine.
Please remember the important rules I detailed in the first article:
Do not overexercise
Start slowly
Exercise often, not necessarily longer
Exercise even if you don't like it or seems ridiculous
Breathe!
The last exercise we presented in Part 1 was "cross crawls".
When you work at your computer or sewing machine, your posture is pretty much like this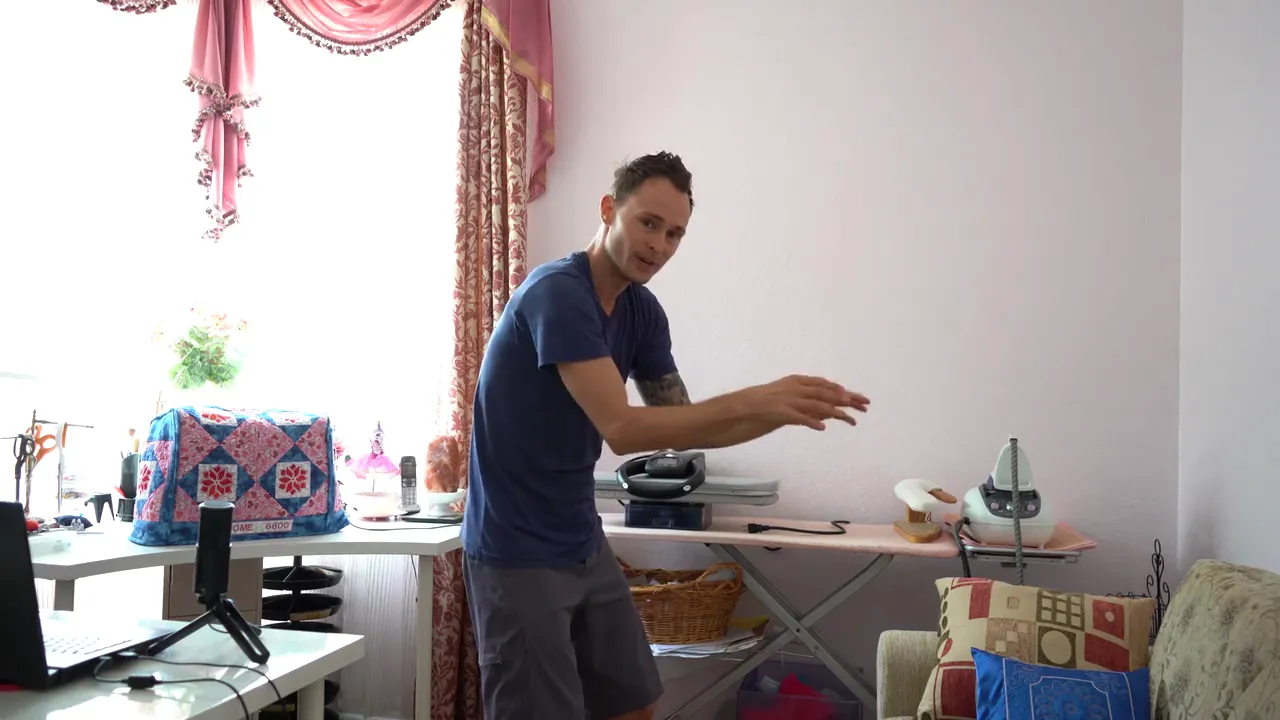 We need to correct this. We do this with an "empowering" posture like in the images below. push your chest forward, pull back your shoulders, extend your hands, and spread your fingers. Do this a couple of times, and hold the posture for a couple of breaths. Remember the deep breathing!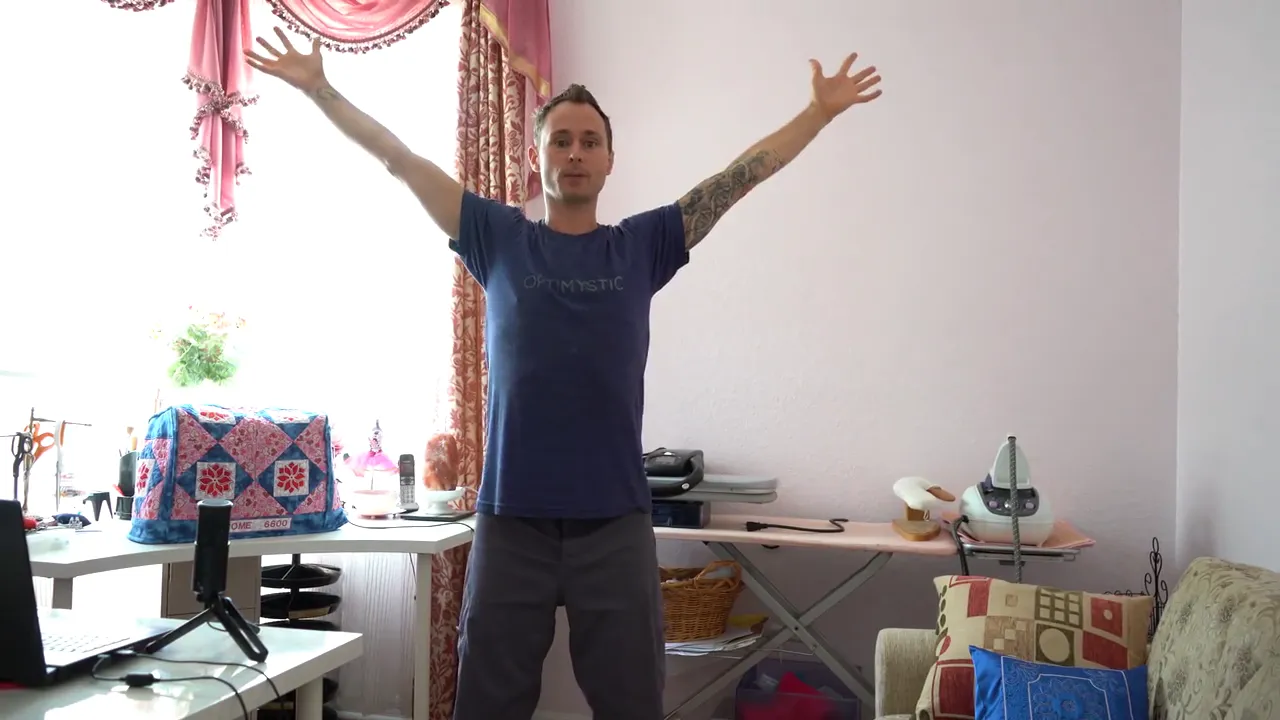 This posture will stretch a little your back muscles and straighten your spinal column. Try it!
It is time now to squat! yes, you heard me right – squat! Why is this important? Because you still have some major muscles that you did not exercise yet! Besides, we squat every day many, many times. You don't believe me? Let's see: did you sit down on a chair, or couch today? You did? I proved my point!
Most people when they sit down, bend their bodies and sometimes even use their hands to push on the knees, like in the images below: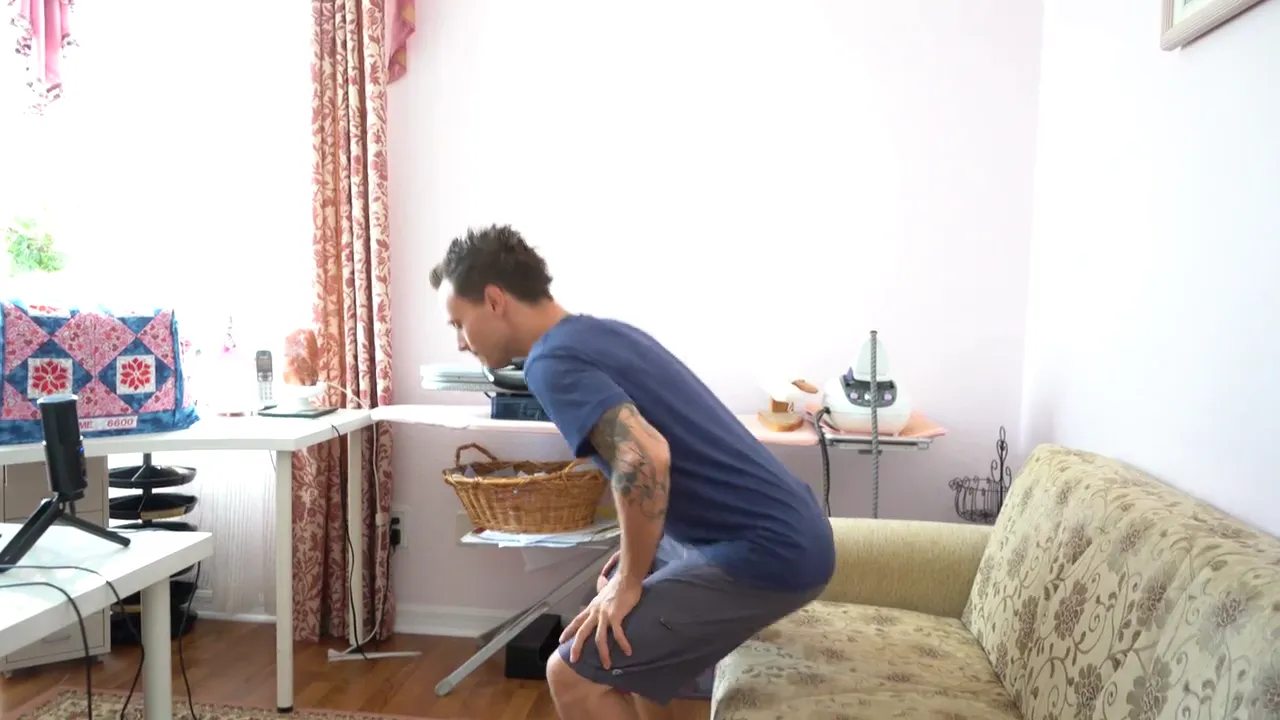 This transfers the effort not to your muscles in your legs, but to your hands/shoulders. But guess what: the muscles in your legs are far more powerful than your hands/shoulders, and in fact, during the sedentary work you just had, were exercised much less! So why not do a squat correctly, exercising the leg muscles in the process?
Jonathan is showing this while keeping his hands on his chest, to emphasize that the hands have no role in the movement. Both the up and down movements are done entirely by the leg and back muscles.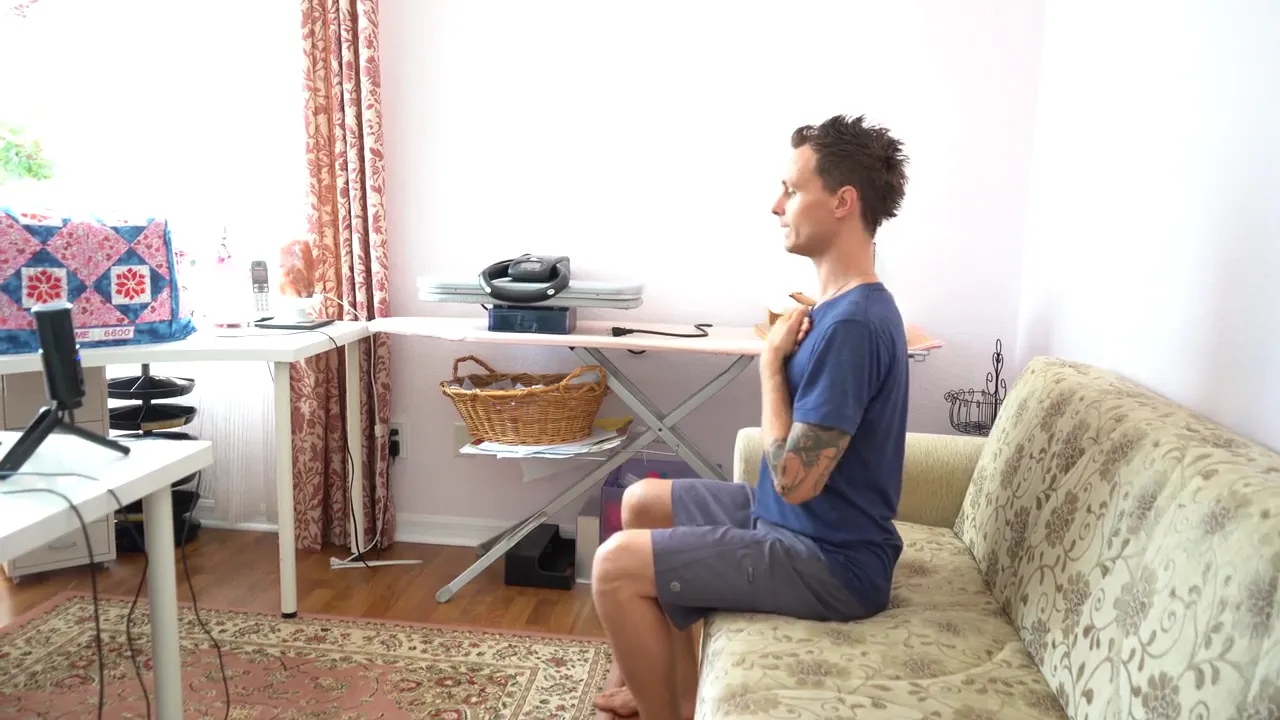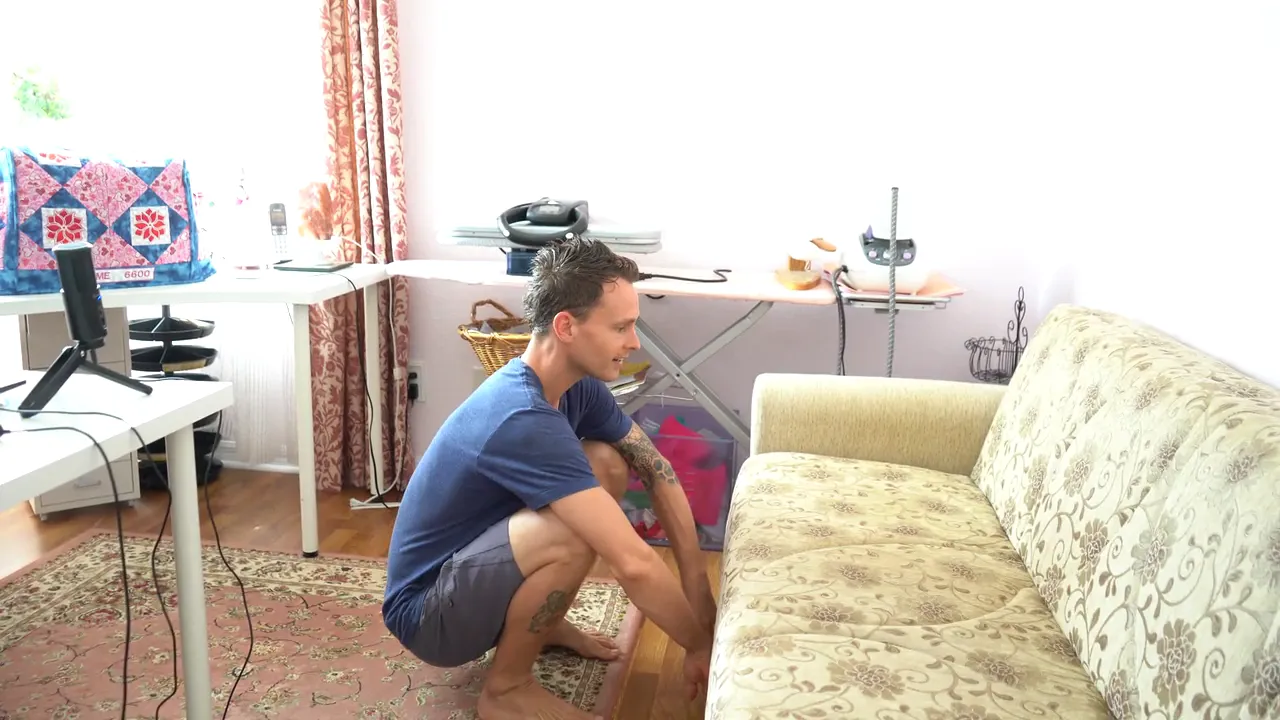 Eventually, if you can, doing a full squat (lower than the level of the couch, or chair) will give your body a greater range of movements.
However not everyone will be able to do this easily, most of us are no longer young. Well, perhaps I should rather say that most of us have a lot of life experience, right?
The next exercise will be difficult! So difficult that Jonathan tells me it can be done even when you sit down. This is to relax your neck and shoulder muscles.
You know I am kidding, right?
Seriously now: raise your left hand, and place it behind your ear. Sit (or stand) straight. Turn your head to the left, eyes also looking as far to the left (behind) as possible. You will really feel the muscles of your neck and shoulder stretching!
Repeat on the other side… The images below show the posture: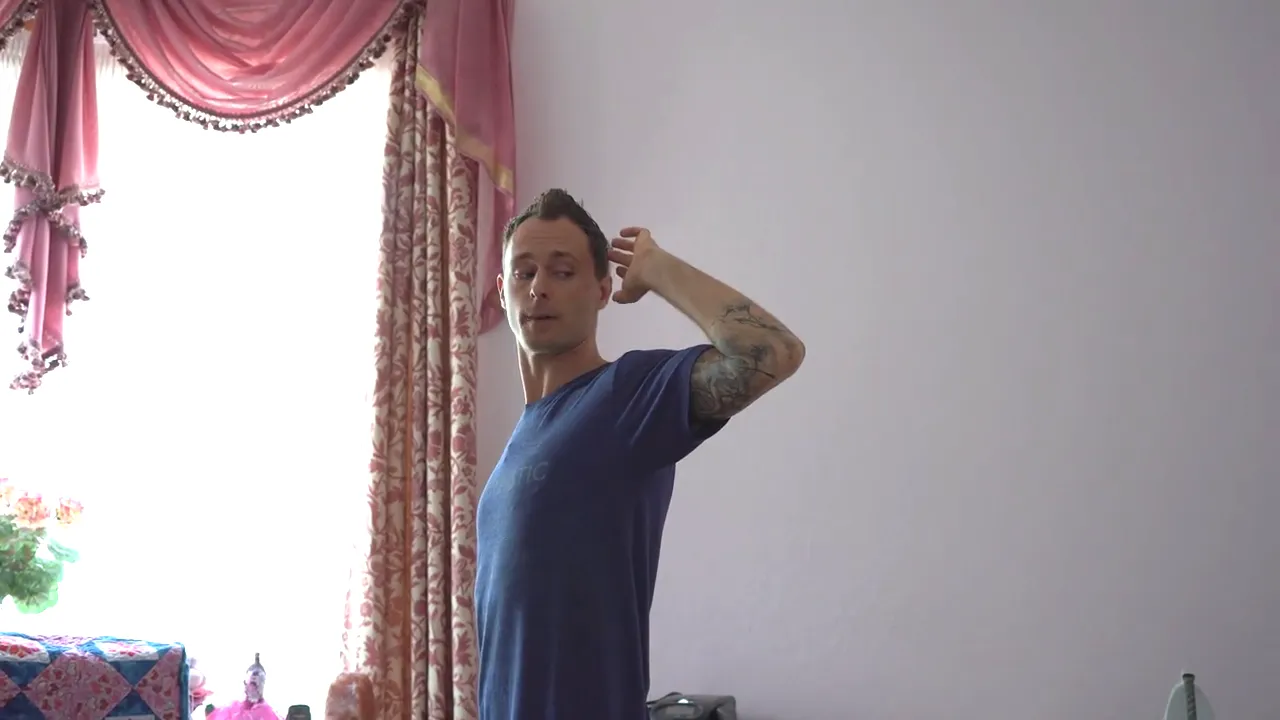 The next exercise will continue the series for neck muscle relaxation. It will, again, be a very difficult exercise! You will have to raise and lower your head, then swing it left and right and finally bend it laterally left and right. Like below: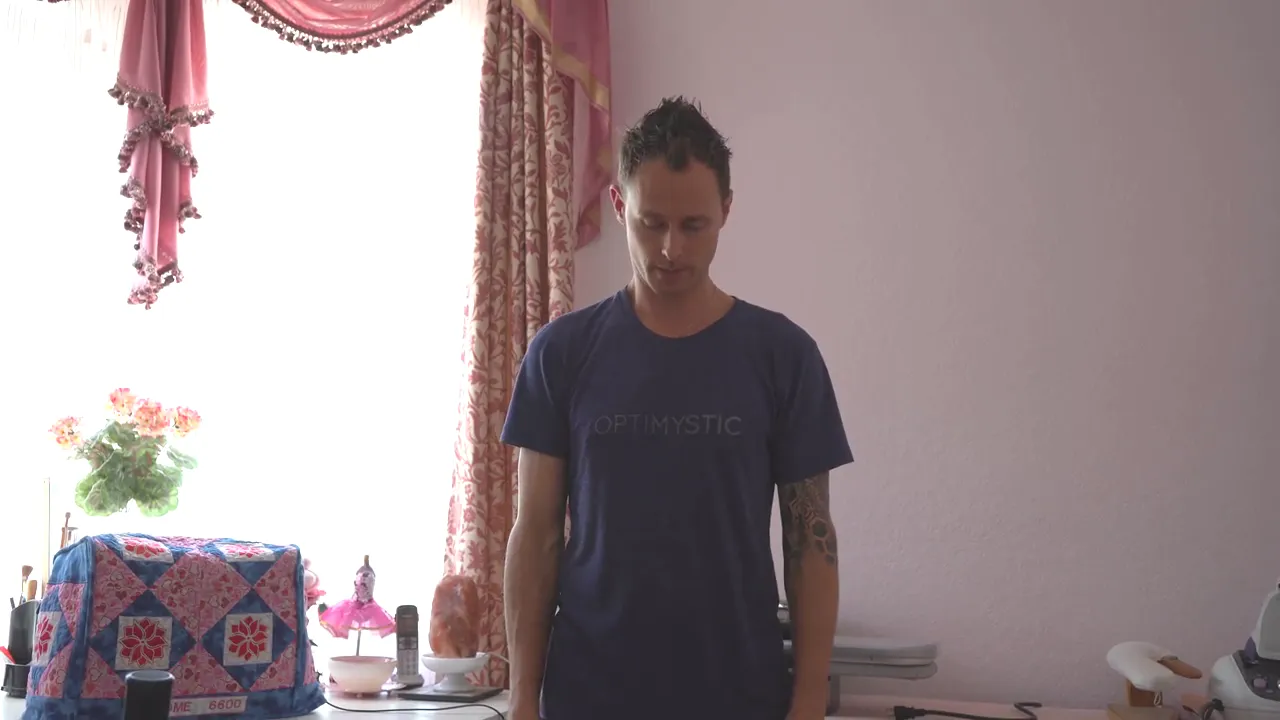 We did now exercise for our body, and legs, we stressed the importance of breathing, and we relaxed our neck and shoulder muscles. Something is missing here, can you guess what? The eyes!
Working with a sewing machine, and sewing, in general, requires quite a deal of concentration and attention to detail. And your eyes will get tired after a while. Can we do something about it? Jonathan says yes, we can.
Your eyes have a lot of delicate muscles which help shape and focus the eye. These muscles, kept for long periods of time in the same position (because you look closely at your work) will get tired. The solution? Quite simple. Stretch them.
How do we stretch the eye muscles? Extremely simple: look somewhere in the distance. If you are in front of a window, look at the tree, house, or street, whatever you see in the distance. Focus on that. Then look back close to you, at the window frame, or at the sewing machine, or at your hands. Move your focus a couple of times from the objects far away to the objects close by.
If you do not have a window, or it is dark, no problem – look at the farthest corner of the room, the most distant from you. A distance of 5 – 6 meters (yards) is enough for your eye to change focus from "near" to "far". You could also get up from what you are doing, make a couple of steps and while you are at it, perhaps perform some other exercises.
Do not look directly at a source of light (sun, light bulb) – that will cause even more stress to your eye.
By the way, this is also necessary when you work on a computer, or you read – your eyes will get tired. Do this exercise every 10 minutes or so, or perhaps as often as you remember.
Did you like the exercises? They are indeed simple, easy to perform and work remarkably well. The most important thing is that once you become aware that your body needs relaxation, it will be extremely simple to do something about it. Your productivity will increase, you will be less tired, and will be able to achieve results faster.
And if you liked the exercises, help another fellow sewing enthusiast adopt them, or perhaps teach them to your kids, to be employed when they read for exams, or when they read a book. Or when they sew along with you!
---