I love sewing with knit fabric. The stretch makes it my favorite material to work with and while there are many different types of knits, each has its own unique properties that you may want or need in your project.
Anyone who does anything with fabric (hint: we all do since we wear it!) has heard of different fabric materials, including rayon, cotton, polyester, linen, spandex, and many more. They all sound different, but in the fabric world, there are just two basic fabric preparation styles: knits and wovens. In this article, you'll learn all about the different types of knit fabric (and why it's important to tell the difference).
When I was just starting to work with fabrics, I thought they simply varied by fiber, texture, and color. I would walk through a fabric store and look at all the colors and textures. I would envision using all of these different fabrics for various projects. At the time, I didn't realize that the more important fabric variations had to do with the very way they were constructed!
Knowing whether a fabric is knit or woven is essential when you work with fabric. These two different types of fabric behave very differently and treating one like the other can cause massive headaches of frustration when your garments don't turn out well.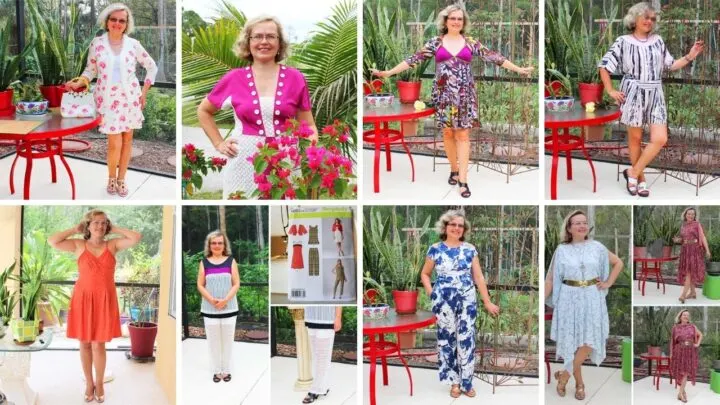 How To Identify The Knit Fabric Types
If you're a seasoned sewist, you likely know what it is just by looking at a piece of fabric. That's because you can see the difference in how fibers are mechanically put together. Woven fabrics consist of fibers that machines weave together in a criss-cross pattern. On the other hand, knit fabrics consist of a series of loops chained together, and that construction allows the fabric to stretch.
Let me show you the difference using … well, real knitting.
Many of us sewing enthusiasts learned to knit, or at least tried it out.
Knitting creates fabric by interlocking loops of yarn using needles. The yarn is passed through the loops and wrapped around each other. When we knit, we create 'knit' fabric.
A knit stitch is one of the two stitches used in knitting; the other being the purl stitch.
A knit stitch is created by pulling a loop of yarn from the back of the fabric to the front through a previous stitch. In this process, a new loop is formed.
Here you can see rows of knit stitches.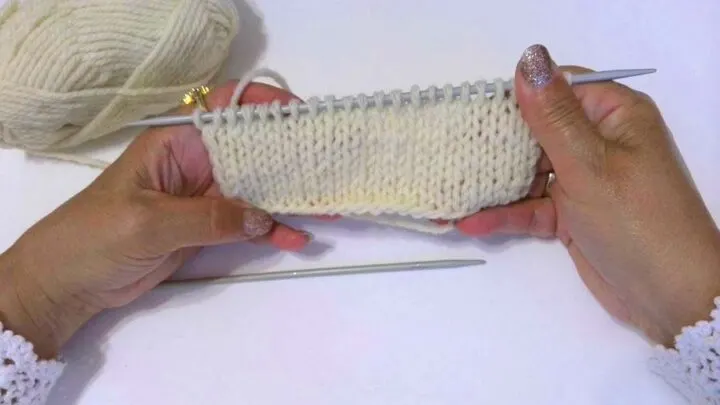 If you turn your project over you will notice that the fabric we are creating is completely different on the other side. On this side, we have purl stitches.
Those stitches look different – a purl stitch has a little bump at the bottom.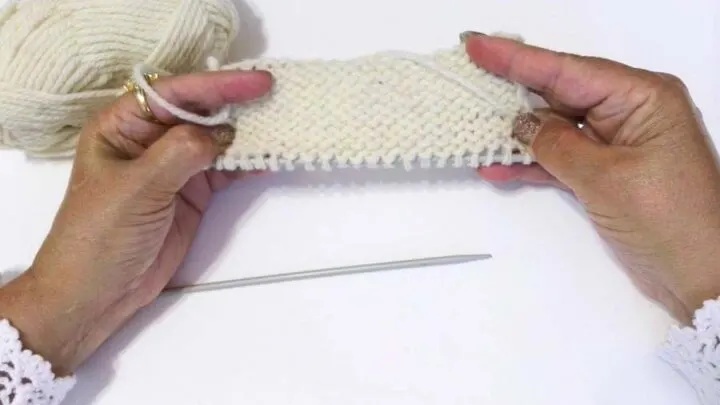 If you look at the front of this piece you will notice tiny columns of loops in a V shape, and on the back of this piece, there are also tiny columns of loops with little bumps.
This is how some types of knit fabrics are formed – knit stitches on the front and purl stitches on the back.
Let's have a look at a piece of actual knit fabric. If you look really closely at this fabric you'll see that the right side has the tiny columns of loops – they are knit stitches and if you look at the wrong side you can actually see columns of purl stitches.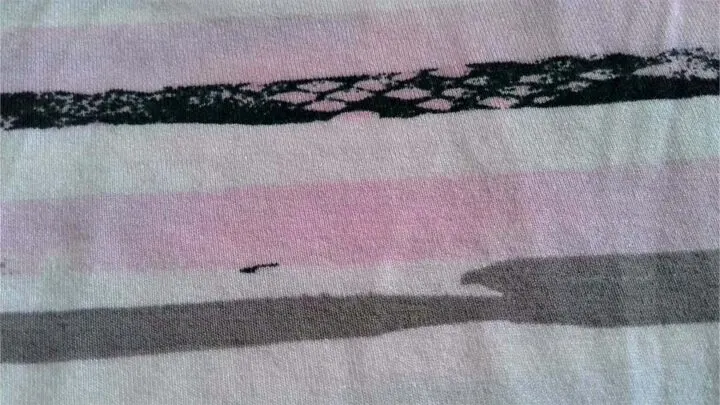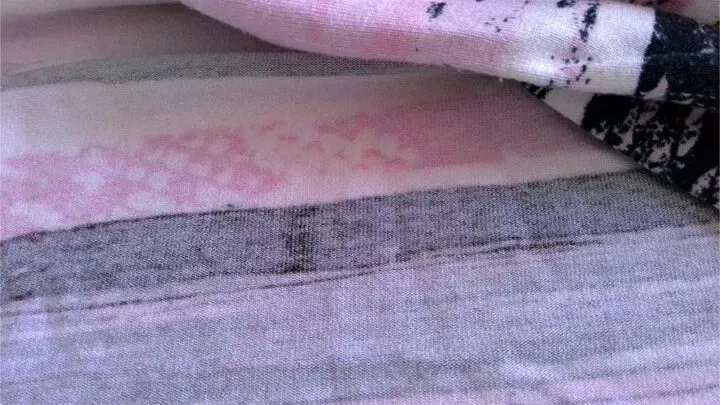 This is the most popular type of knits – JERSEY FABRIC.
✅ Related tutorial: How To Cut Knit Fabric: Ultimate Guide
Now let's take a look at another type of knit fabric. I'll again show you the piece that I knitted myself with needles so it will be easier to explain. It looks different from the previous knitting because here I was doing two knit stitches and then two purl stitches and I did exactly the same on the other side, so whether you view this from the front or back it looks identical.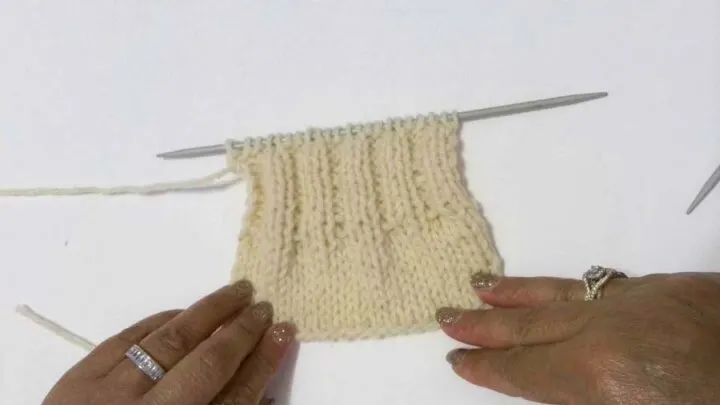 You will notice that this piece seems narrower even though this is the exact same number of stitches that I had before when I did rows of knit stitches and rows of purl stitches.
You can see these columns of knit stitches and these columns of purl stitches that tend to hide in between the row of knit stitches.
This type of knit fabric is called RIB KNIT.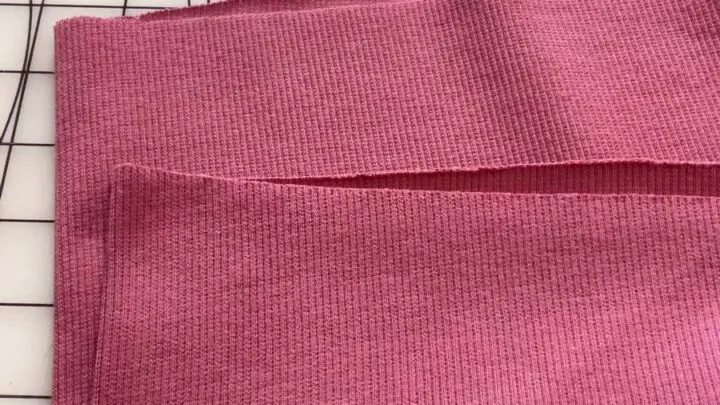 Rib knits have a distinct pattern of raised vertical "ribs". "Ribs" are created by knit stitches and grooves are created by purl stitches. Depending on how many knits and purls, you can have different rib knit fabrics. A 2×2 rib knit will have a sequence of two knits and two purls which is commonly used for creating socks or sweater cuffs. There are also for example 1 x 1 rib knit fabrics that have a sequence of 1 knit and 1 purl. Or 3 x 1 rib knit, etc.
Let's have a look at another very popular type of knit.
Now I have created this piece by making rows of knit stitches that are directly behind each other. It looks like there are two layers but they cannot be separated into individual pieces. Both sides look exactly the same, like the right side of jersey fabric. This type of knits is called INTERLOCK FABRIC.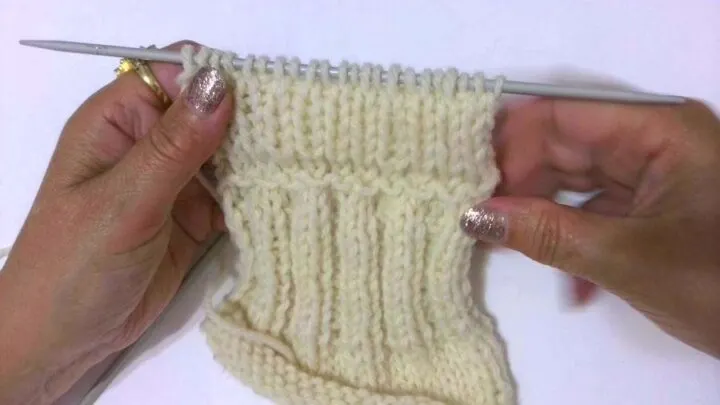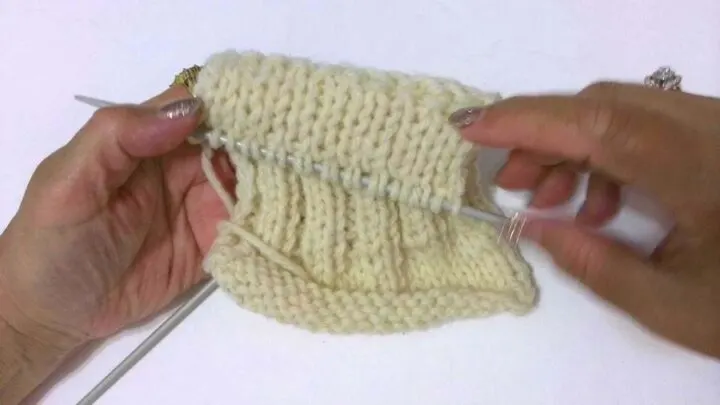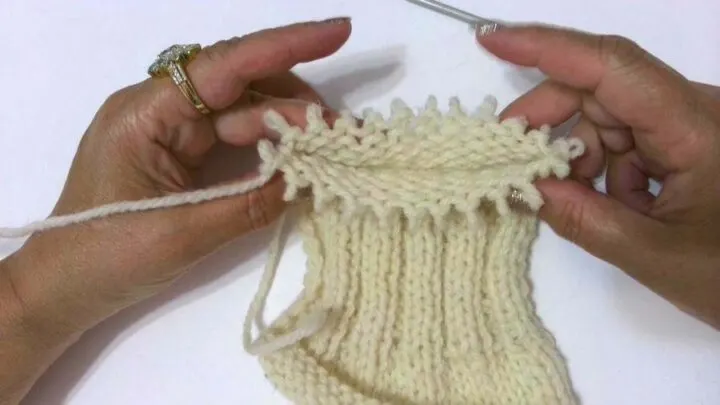 So, now you know what the knit fabric is.
Here are a few basic foundational knit vs. woven fabric differences to help determine "which fabric type is which?" easier for you.
Stretchability
In MOST cases, if it's a knit, the fabric will stretch when you tug at it (ex: t-shirt). Wovens, on the other hand, usually don't stretch (ex: a bedsheet). That's not the case 100% of the time, but it's close enough.
Fabric Use
In general, wovens are used for dressier garments and outerwear (ex: men's dress shirt and jeans), for home decor items. In contrast, knits are usually the fabric of choice for casual clothes and activewear (ex: tunics and leggings).
Seam finishes
Because knit fabrics don't fray, you don't need to overcast them (as a rule). It implies that you don't have to finish seams on knit fabric the way you do with wovens.
Moisture Absorption
Wovens don't absorb much moisture due to their tight construction. Knits, on the other hand, are good moisture absorbers, thanks to their looser construction.
Tendency To Wrinkle
Woven fabrics hold creases and wrinkles, while knits are wrinkle resistant. Not sure about your fabric? Hold it in your hand and ball it up. When you unfold it, what does it look like?
Shaping
Wovens hold structure better and can be shaped to the body form through different sewing techniques such as darts. Knits, by contrast, have a better drape and naturally mold themselves to the body's shape.
Modern Types Of Knit Fabrics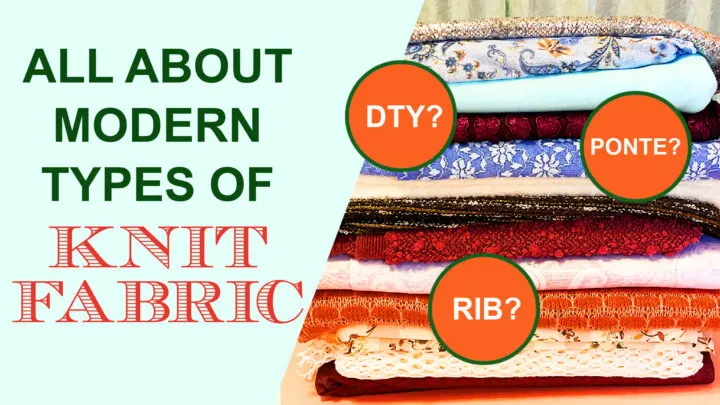 Knit fabrics are very versatile materials, and they come in many different styles. The most basic types of knit fabrics are jersey, rib knits, interlock, and french terry.
Jersey knit
I already mentioned above that the most popular knit fabric is jersey knit and I even illustrated how it's created.
Jersey knits have an even texture that has no visible vertical or horizontal ribs on their surface.
It's smooth on the front and features tiny "bumps" on the back of the fabric. It may be constructed from cotton or synthetic fibers, or from a cotton blend, and is stretchy, soft, and breathable.
The jersey knit is generally used for T-shirts and tops, loungewear, and underwear because it's stretchy and soft. It also tends to have a nubby texture from being made from single yarns rather than two-ply twisted yarns which give it a casual look that can't be achieved by any other fabric category.
One of the problems with jersey fabrics is that they tend to curl along their edges. You can notice this on this fabric where it's curling inwards.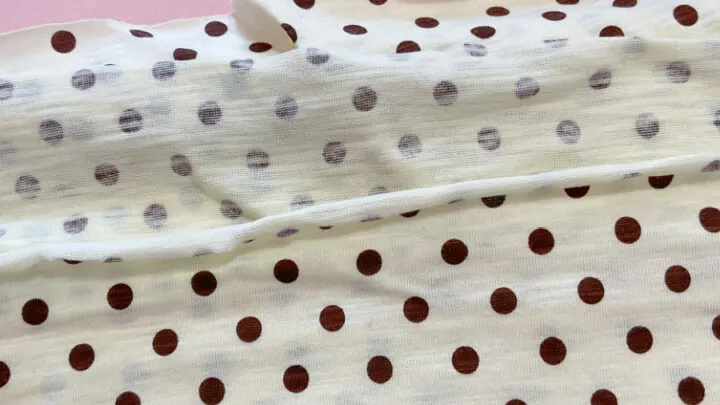 So, if you want your fabric uncurled before cutting it up, try spraying some starch on the edges of your fabric and ironing it out. This will help you place your pattern pieces directly onto the edge of a knit fabric, which can be difficult otherwise since it tends to curl inwards along its selvage. It's also helpful if you are trying to cut out more complicated designs that may require multiple layers.
Rib Knits
Rib knits have a dense weave with prominent diagonal ribs which makes them super stretchy for maximum comfort and flexibility.
Rib knit fabrics have excellent elasticity, recovery, and shape retention. They also tend to pill less than their counterparts.
Rib knits are generally stretchier than many other types of knit fabrics.
Rib knit fabric is used to make tights, socks, hosiery, underwear, and activewear and also collars, cuffs, and waistbands because of its high elasticity and good recovery.
Rib knit fabric looks the same on the right and wrong sides. Rib knits are durable fabrics that offer excellent shape retention, and can be manufactured in different weights for different purposes.
In addition, rib knits don't curl.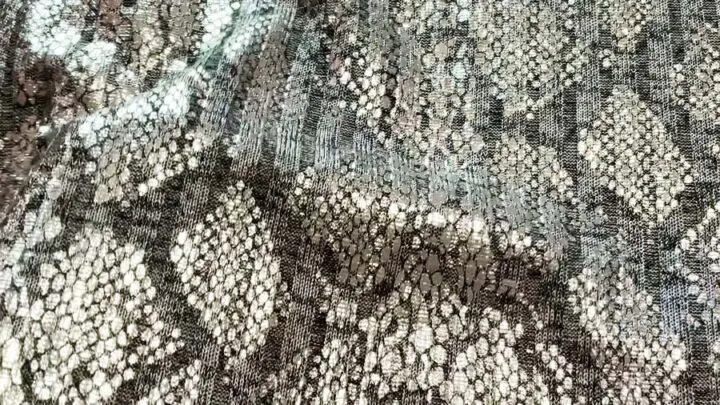 Interlock knits
The next type of knit fabric – is interlock knits. Interlock is something in between jersey knits and rib knits.
Interlock knit fabric is created by two rows of stitches that are directly behind each other (kind of interlock with each other). It can make the impression there are two layers in a single piece but the layers can't be separated into individual pieces. Both sides look exactly the same as the right side of jersey fabric.
It's usually thicker than jersey knits. Interlocking knits are more stable compared to jersey knits because they don't stretch as easily.
Interlock knits are not as stretchy as jerseys, don't stretch out of shape, and don't curl at the edges. It's a popular knit fabric among home sewers.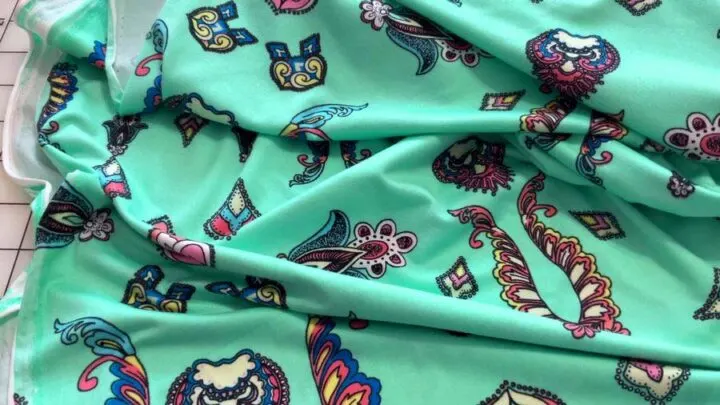 These are the basic most common types of knit fabrics but knit fabrics are one of the most versatile fabric categories, and they come in all sorts of textures, weights, prints, and patterns. Each type has its own benefits and uses.
As with most things in life, fabric manufacturing tends to shift and change over time to offer different products. These days, in addition to jersey knits, rib knits, and the like, we have a wonderful selection of new and fun knits that can make your projects even more fun and rewarding.
Do you know them?
You go to amazon.com and see these fabrics:


So, what does all this mean: Telio? Scuba? Neoprene? Spandex? Rib? Novelty? Sweater knit?
Read on to find out about all these types of knits.
We made 5 big groups:
By fabric category and how the fabric is made
By features
By stretch factor
By fiber content
By designer
In each group, the fabric is in alphabetical order.
Knit Fabric By Category And How The Fabric Is Made
Boucle knit
Boucle knit is a fabric made from boucle yarn. Because boucle yarn has a knotty, looped appearance, boucle fabric has a unique, ruddy texture. Boucle knit is often used to make sweaters, cardigans, scarves, and jackets.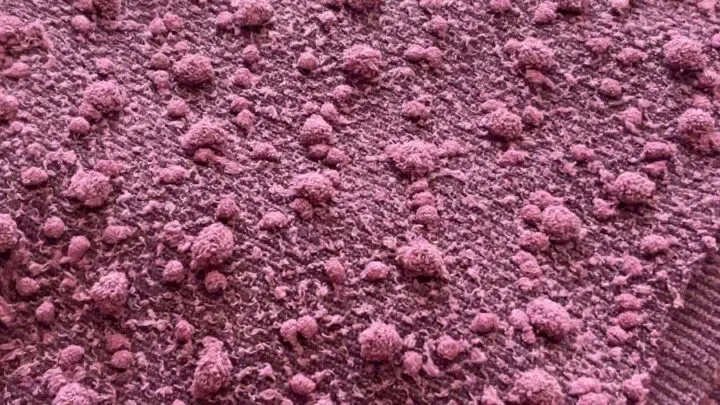 Chiffon knit
Delicate, lightweight, and flowy, chiffon fabric is often used to make lingerie, scarves, blouses, linings, and eveningwear. It may be made from polyester, rayon, silk, or other fibers. Its sheer appearance and easy drape make it a popular choice of dress fabric.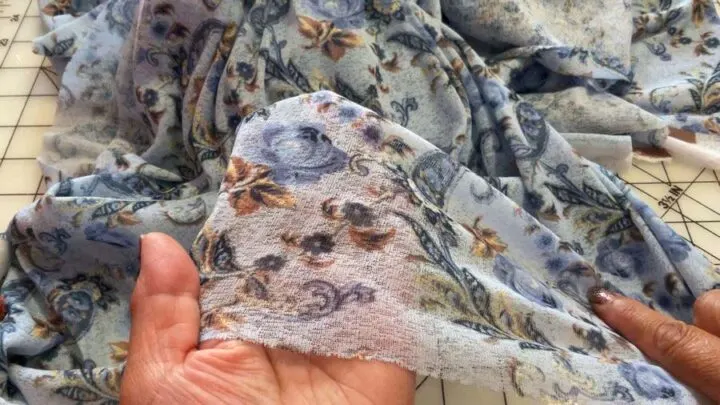 Double knit
Double knit is a sturdy fabric often used to make pants, skirts, and jackets. It features a surface that has been doubly knit, meaning it has two faces with the wrong sides facing inward. Double knit is thicker and heavier than single-knit fabrics and doesn't stretch much.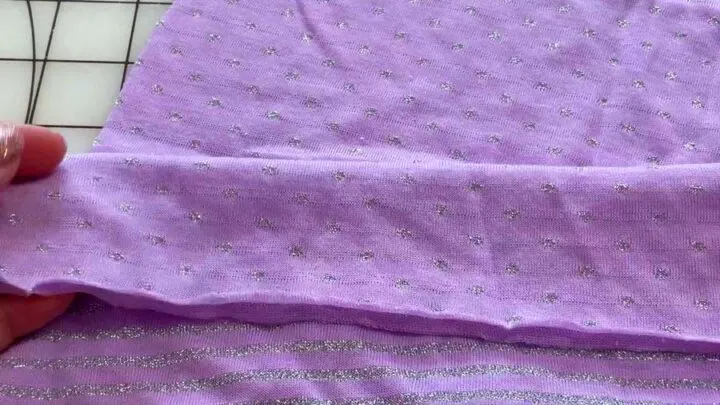 I made an unusual beanie hat from this fabric, and I have a tutorial on my site on how to sew a beanie hat.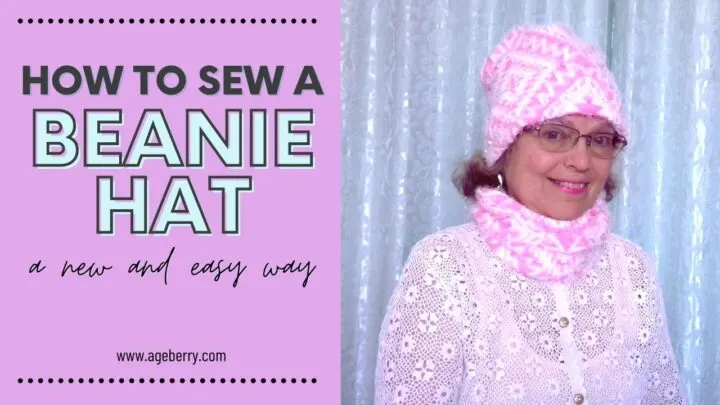 DTY knit
DTY stands for "drawn, textured yarn". It's a versatile lightweight knit fabric with a smooth hand and fluid drape. 4-way stretch DTY knit fabric is a blend of polyester and spandex that's perfect for dresses with lots of drapes, maxi-skirts, tunics, and knit tops. DTY knits are not very stretchy and are often brushed on both sides for superior softness.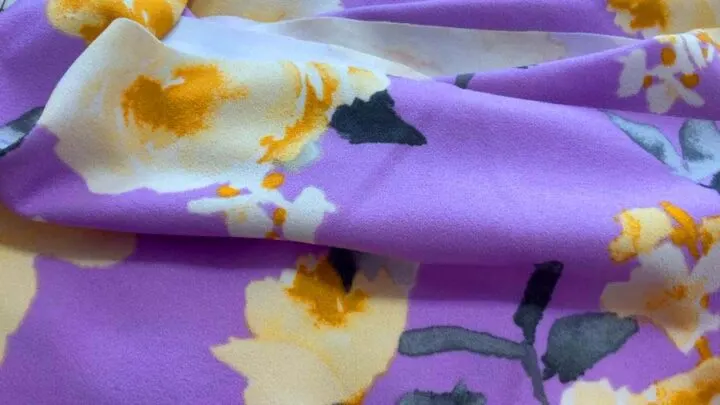 Faux leather knit
Faux leather knit (or imitation leather) is a material that looks like real leather but is not actually made from animal hide. It's synthetically made from petroleum products, so no animals are harmed in its making. However, it looks and functions much like the real thing and I am always surprised by how supple the faux leather knit feels.
This medium-weight knit fabric can be dyed in many different colors or printed with patterns, depending on how it will be used. Often referred to as "pleather," this fabric is a favorite for stretch legging, lightweight jackets, structured dresses, skirts, and even some home decor items. But don't mix faux leather knit with faux leather woven fabric.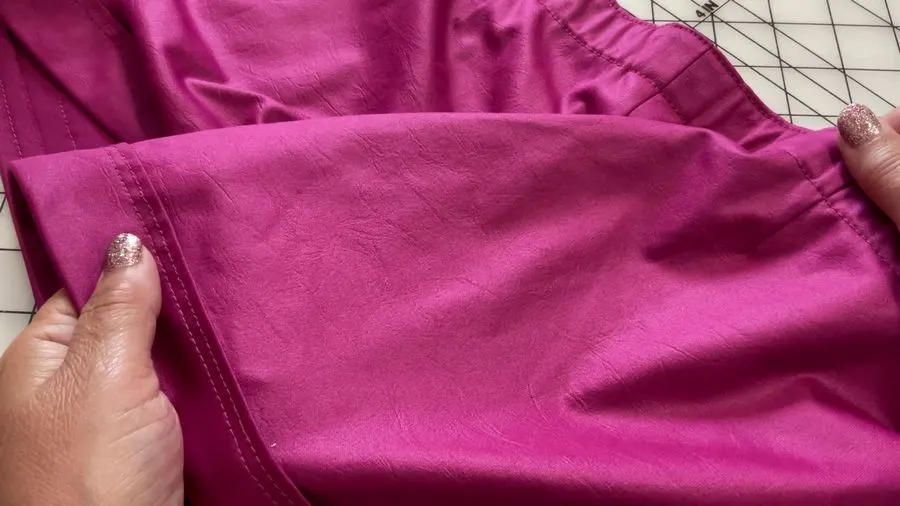 Fleece
Fleece fabric is fuzzy to the touch. Thick and cozy, fleece fabric is named after the coat of a sheep, but it's most often made of synthetic fiber (polyester). It's known for being warm, soft, and comfortable to wear while still being lightweight. Fleece is used to making cozy blankets, jackets, shirts, robes, pajama pants, scarves, etc. but it has many other uses too! It makes a great lining for clothes or shoes.
Note: Some of the links on this page are affiliate links. This means I will receive a commission if you order a product through one of my links. I only recommend products I believe in and use myself.
Hatchi knit
Hatchi knits are difficult to tell apart from other types of knit fabrics. If they handed me this fabric and asked me to name it, I wouldn't be able to recognize it.
But it's getting a lot of attention from retailers, so I thought I'd include it in my list. The Hatchi knit is a lightweight fabric made of cotton-poly blends or pure polyester. It features a very smooth brushed hand with a fluid drape and a lot of stretches. This ultrasoft and stretchy hatchi knit is ideal for making stylish cardigans, comfy sweaters, scarves, and pullovers.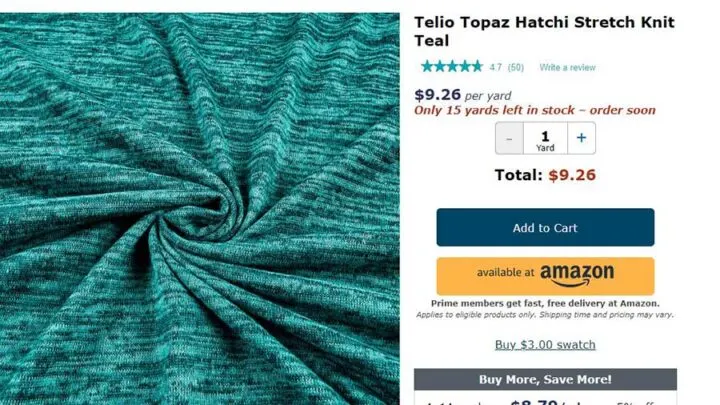 Interlock knit
Interlock knit is a subtype of double knit fabric that has faced on both sides with the wrong sides facing together. The stitching has a distinctive 'v-shape' and is similar in weight and appearance to two layers of jersey knit placed back-to-back. Interlock knit is the tightest of all knit fabrics, having some stretch and a smooth surface. See the images above.
ITY knit
ITY stands for Interlock Twist Yarn. So, it has all the properties of interlock knit fabric but the yarn used for making this fabric is twisted (but of course it's not visible to the naked eye) and because of this the resulting fabric has a more natural elasticity and is super soft. It even has some sheen. With the twisted yarn, ITY knit is usually more breathable than other polyester fabrics.
ITY fabric is a double-sided knit and is usually made from polyester fibers. It resists pilling making it a great fabric to wash.
ITY knits come in a variety of prints and solids. It doesn't wrinkle.
It is a fabric that is easy to sew with and the fabric is popular for dresses, blouses, skirts, cardigans, and more. They claim that the uses for ITY are endless, therefore you shouldn't run out of inspiration on how to use this popular fabric in a variety of colors and prints.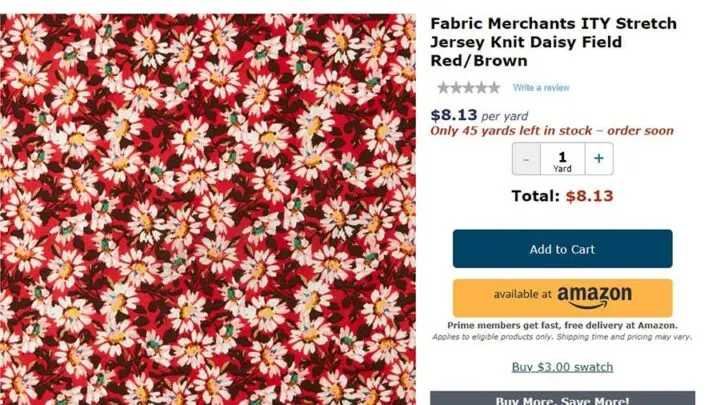 Lace knit
Lace knit is a sheer fabric and offers limited sheen and a good stretch. It's often used as overlays in garments, due to its pretty and whimsical appearance. Lace knit comes in many designs and has nearly unlimited uses, especially as adornment.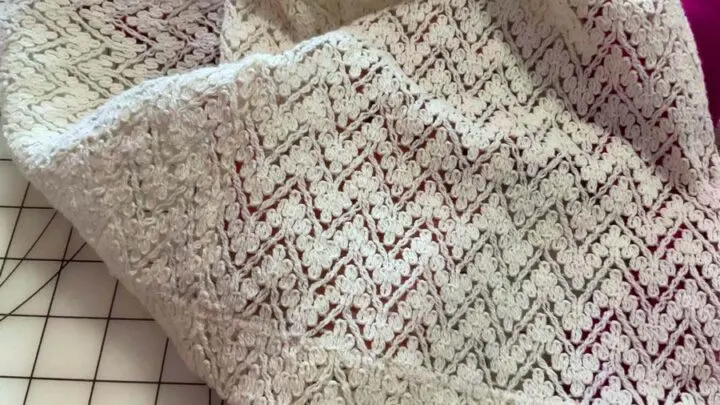 Lycra knit
Lycra, also called spandex and elastane, is a highly elastic knit fabric made from tightly knit synthetic fibers. These fibers are very strong and durable to stand up against regular use. Despite their different names, Lycra, spandex, and elastane are all the same material;
Lycra can stretch up to 5 – 8 times its regular size and return to its original shape. This makes it perfect for any use that needs something durable that will maintain its form after stretching or pulling.
Lycra is most often used in form-fitting clothing. Lycra knits are often used to make activewear like tights, leggings, leotards, and swimwear. They are also used in dance clothing. Other popular uses are socks, bike shorts, bras, underwear, etc.
Lycra knits remain a highly popular material across the world. Despite the fact that this sort of fabric has a significant negative environmental effect during manufacturing, it is unlikely that its popularity will wane in the near future.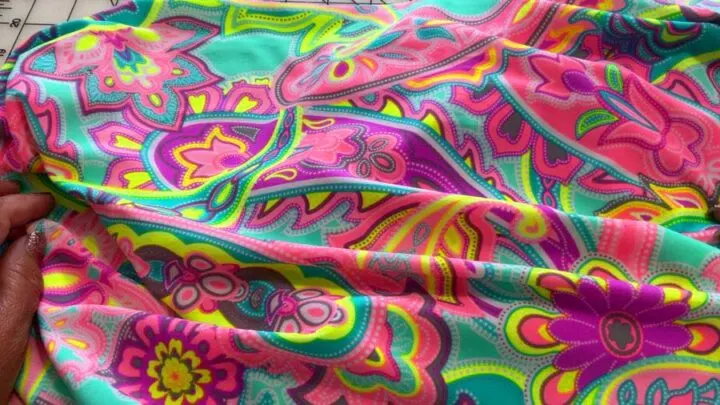 Mesh knit
Mesh fabric is a loosely knitted fabric with evenly spaced holes throughout. It's most commonly used in athletic garments and the lining of swimwear because it provides ventilation and breathability, wicks away sweat and moisture, and remains cool against the skin when damp. Mesh also has elastic properties that contribute to its comfortable fit on the body.
The properties of any particular knit mesh fabric may vary in terms of yarn, weight, hole size, width, color, and finish. Polyester is one of the most popular fibers used in the production of knit mesh textiles. But I found mesh knit fabric made from 100% cotton.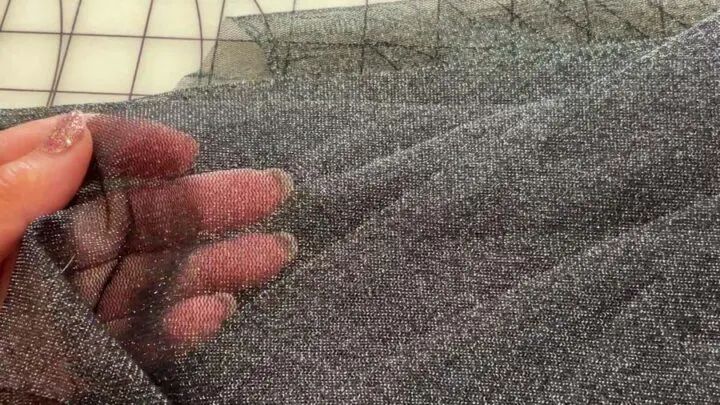 Minky
Minky is crafted of 100% polyester. It's a soft, plush fabric that's often used to make baby blankets and outerwear. In addition to baby blankets, cuddle Minky fabric is used to make plush toys, stuffed animals, robes, throws, and more. Minky feels luxurious to the touch and comes in various pile heights and weights. This fabric is exceptionally warm and cozy. Minky also comes in a variety of colors and prints. Some types of Minky knits have a smooth fabric finish on one side; other Minky knits have a smooth fabric finish on both sides.
Neoprene
Neoprene knit fabric is a synthetic rubber fabric. Neoprene can be used to make a variety of products, ranging from wetsuits and flotation devices for boats to insulation for buildings. This material is very resilient and resistant to petroleum products and ozone exposure or other extreme conditions; it also provides good thermal properties. Neoprene is used in a variety of protective clothing for laboratory and medical use.
Neoprene fabric has a lot of other characteristics. It's waterproof and suitable for products where insulation is needed. Neoprene has a good stretching ability and holds heat well.
It is a double-knit fabric and varies in thickness.
But there is also a type of neoprene knit fabric that can be used by home sewists for apparel. I bought neoprene recently with a very nice print but didn't decide yet what to make from it. I used only a small piece of it for making a simple headband.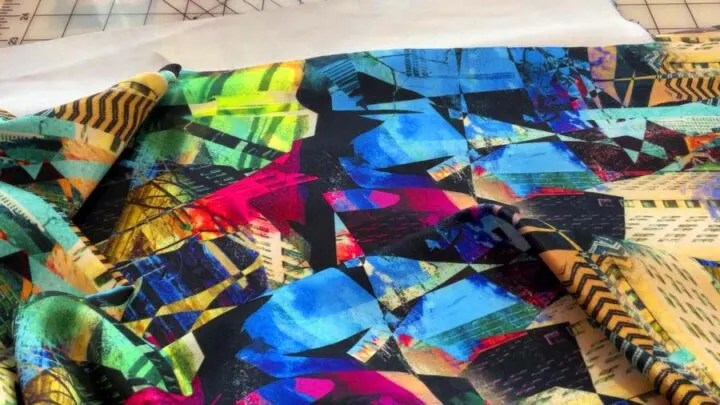 Novelty knit
Novelty knit fabric is some exotic fabric that has something unusual and unique to it. Novelty knits come in various types and weights, and some stretch more than others. Typical applications include dresses, tops, sweaters, sweatshirts, jackets, and more.
Made with an assortment of different textures, novelty knit fabric is perfect for anyone who needs something fun and cool. Forget about wearing boring old t-shirts; it's time to spice things up! It's got some special stuff in it that makes it the most unique fabric there is!
Whatever the occasion, this fabric is perfect for keeping things unpredictable!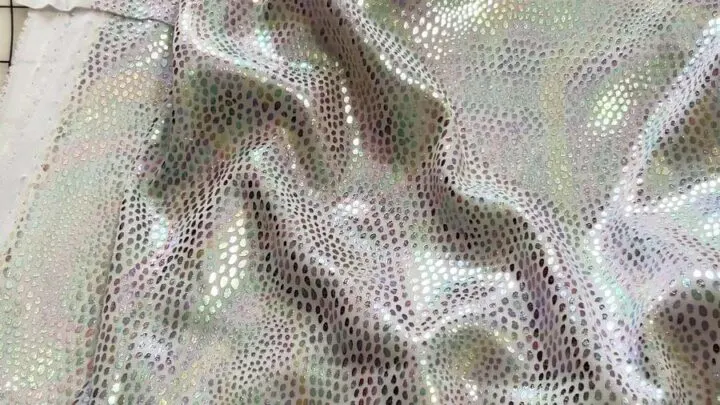 Pique knit
Pique knit, like the type of fabric often found in polo shirts, is constructed of cotton. It has a rough, waffled texture and is extremely absorbent and breathable. It's also easy to wash and care for.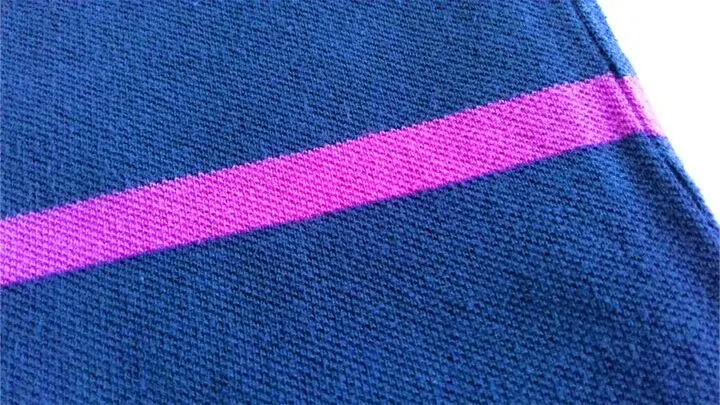 Plisse knit
Plisse fabric is a very popular knit fabric that can be identified by its slinky drape, textured appearance, and shiny finish. Plisse is made by creating pleats in the fabric during the knitting process. It can be made from both natural and synthetic fibers, and the fabrics may vary in appearance depending on the type of fiber and how tightly the plisse was knit.
Plisse ranges widely in weight, from very fine to heavyweight. The finished garment must be lined when made from lightweight plisse.
Plisse fabric is very popular in apparel because it has a shiny surface, which reflects light beautifully whether the garment is worn or used as decor. It can also be used in fine garments such as wedding dresses, evening wear, and formalwear when the appropriate weight is chosen for the garment. The shiny surface of plisse fabric shimmers beautifully when light hits it.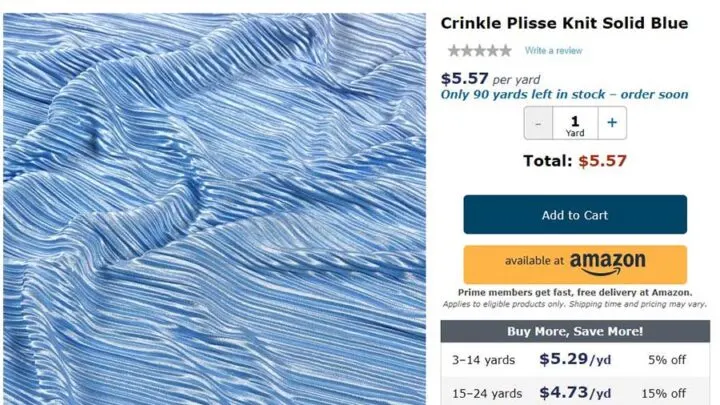 Ponte de Roma
Ponte de Roma has a textured look, created with a double-knit construction. This fabric is a type of double knit that may be constructed from nylon, polyester, rayon, or any combination of synthetics. It stretches well and can be found in a variety of weights, from light to heavy. Ponte de Roma is soft, yet sturdy, and very easy to care for. This knit is perfect for creating skirts, dresses, pants, form-fitting apparel, jackets, and more!
Ponte de Roma fabric often looks like wool fabric, but it can be repeatedly washed without losing its shape and feel. It is similar to a sweatshirt fabric and it is heavier than most jersey knits.
It is very low in luster but may look shiny when it reflects light.
Ponte de Roma is most commonly available in black and navy blue colors, but it also comes in white, red, or pastel colors.
Ponte de Roma knit fabric is easy to sew with on all kinds of sewing machines.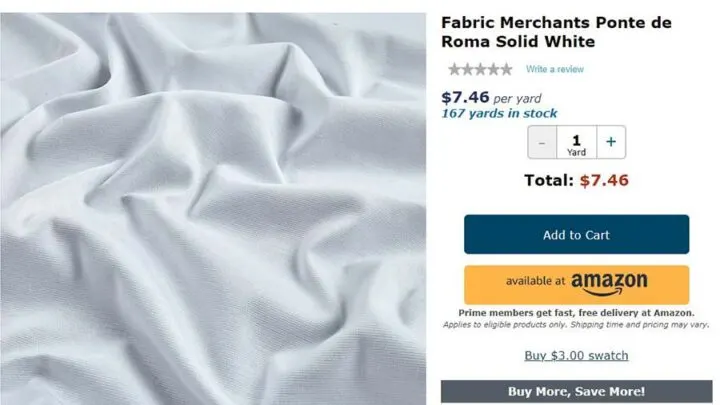 Ponte knit
Ponte knit fabric is not very stretchy, stable fabric is usually made from polyester. Ponte knits have a smooth surface and do not stretch as much as other knits. To determine if Ponte knit fabric will work for your project, you need to consider the weight of the fabric and what type of look you want to achieve.
Because of the stable nature of the fabric, Ponte knits are used for sports uniforms, school uniforms, etc., and sometimes for business attire separates and coordinates, such as jackets, pants, skirts, and vests. It doesn't wrinkle, doesn't shrink, and is easy to care for.
Scuba knit
Scuba fabric is a lofty double knit fabric made from polyester and spandex with a smooth surface, low luster, and a nice drape.
Scuba knits are not the same as neoprene knits, which are a thicker synthetic rubber and fabric combination that is more durable, flexible, and often used to make wetsuits.
Scuba knits are good for structured knit clothing, form-fitting apparel, skirts, pants, jackets, and heavier tops with a moderate stretch across the grain.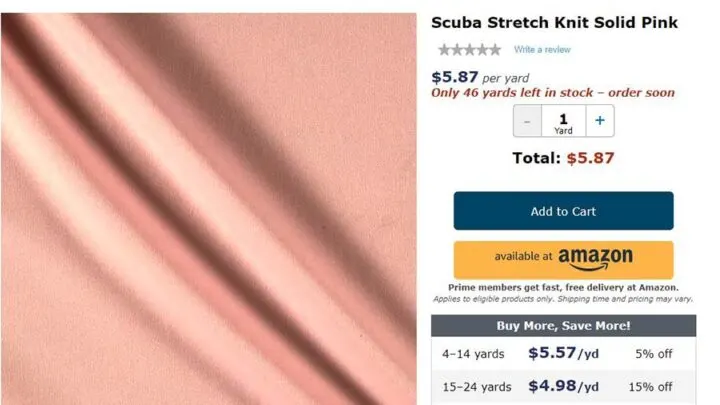 Sequin
Sequined fabric is a lightweight fabric, often with a mesh base, across which shiny plastic sequins have been sewn. Sequined fabric makes a bold statement in dresses and jackets but can be difficult to work with.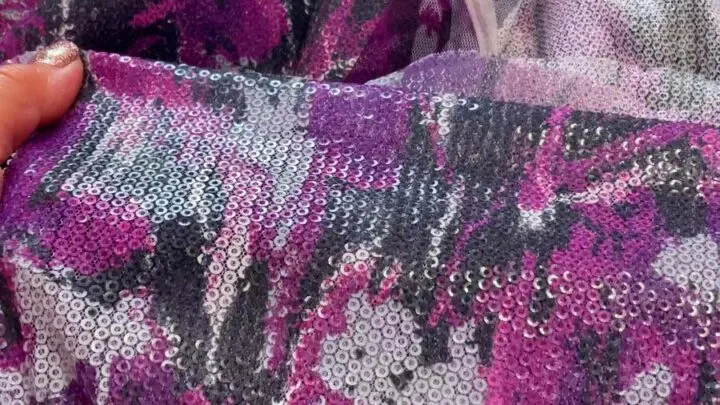 Single knit
Single knit fabric is crafted to stretch side-to-side, as opposed to up and down. This makes it a good fabric for undergarments and lingerie. It's lightweight and comfortable and allows the wearer to move easily in any direction.
Spandex
Spandex, also called lycra, is highly elastic. Made from synthetic fibers, spandex is super-stretchy and breathable. These features make it a good choice for dancewear, athleticwear, and swimwear.
Sweater knit
Sweater knit is a type of knit fabric that's excellent for sweaters. Soft, fuzzy, and warm, sweater knits may be made of cotton, wool, or synthetics. This fabric is usually stretchy and may be textured on one side and smooth on the other.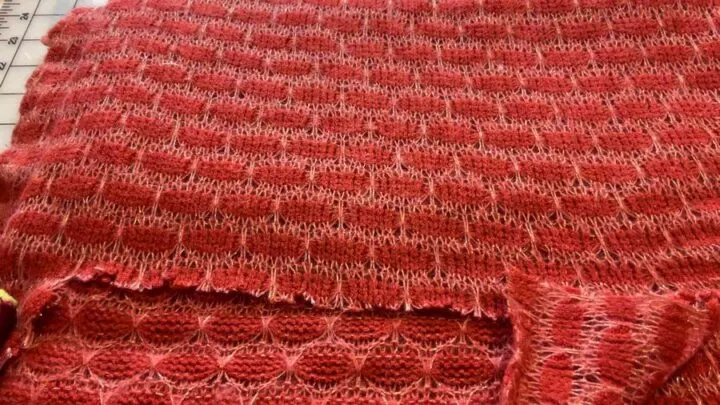 Thermal knit
Thermal knit fabrics feature a waffle-like texture. It's stitched in such a way that air gets trapped between the yarns. This makes it a good choice for long underwear, undershirts, and jacket linings. Thermal knit is an excellent choice for cold-winter clothing.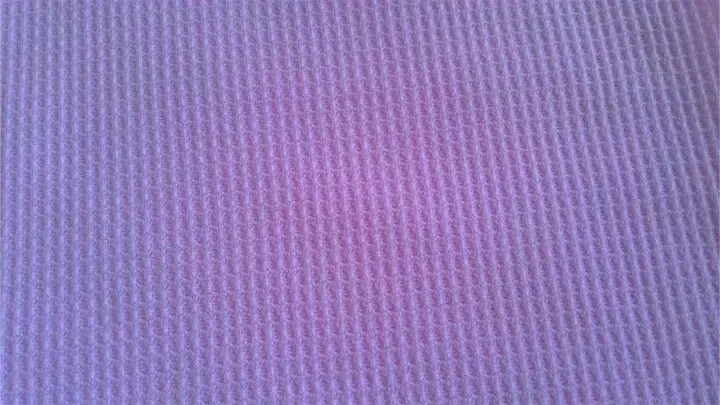 Tricot
Tricot knit fabric is known for its softness and big elasticity because it has stretch in all directions. It has a unique zigzag weave and is also known to have a very smooth and flat finish on one side of the fabric with little bumps on the other side.
Tricot knit fabric is commonly used for lingerie, but it can also be found in many everyday wear clothes such as leggings, sports bras, and skirts.
Lingerie manufacturers use tricot knit fabric because of its comfort, stretchiness, and softness. It is also used to make active wear such as sports bras because it helps decrease rubbing between the skin and fabric.
Tricot knits are highly wrinkle-resistant and drape well. They have excellent run resistance too. Tricot knits are perfect for athletic wear, especially when made of polyester spandex blends. They can withstand a fair amount of day-to-day use.
Velour
Velour may be constructed from cotton or synthetic yarns. It resembles velvet in appearance, meaning it has a soft, plushy feel. Velour is often used to make bathrobes and upholstery, but its cozy appearance lends itself well to many comfort items, including baby and kids items, blankets, and bedroom slippers.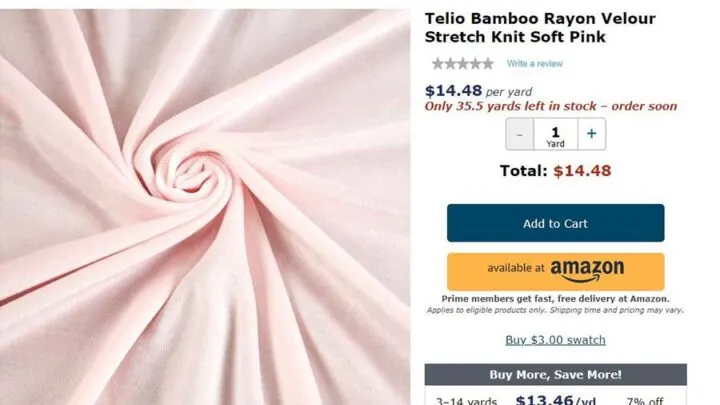 Velvet
Velvet knits can be made from silk, which makes them a more expensive option. It may, however, be made from cotton, polyester, rayon, or other synthetic fibers, as well. Velvet knit fabric features a short pile, which gives it a fuzzy feel. It has a good stretch and can be produced in a variety of colors.
The fabric's pile (or nap) is made by an extra set of yarns that loop back and refasten under the base fabric, creating a dimensional effect. The loops are then cut to create the velvet surface. Velvet fabrics have been used for centuries in clothing and luxury goods such as upholstery.
I heard that 100% silk velvet is a popular choice for luxury clothing because it is lustrous and very soft. It is also easier to care for than polyester velvet, which may shrink or fade when washed. But I actually never saw it for sale, even online.
Velvet is a versatile fabric and can be used for a variety of applications both formal and informal: apparel, upholstery, and home furnishings.
✅ Related tutorial: How to sew velvet
Velveteen
Velveteen is a less-expensive option than velvet. Velveteen knit fabric is cotton fabric with yarns that have been brushed to imitate a velvet pile.
Made from cotton yarns, velveteen features the same short pile as velvet and has many of the same applications. Velveteen, velvet, and velour all feature easy drapes, which makes them popular choices for dress material.
Did you find this tutorial helpful? If so, save this pin (see below) on your sewing board so you can come to this tutorial later when you need this information on types of knit fabric, and follow me on Pinterest for more tips, tutorials, and inspiration!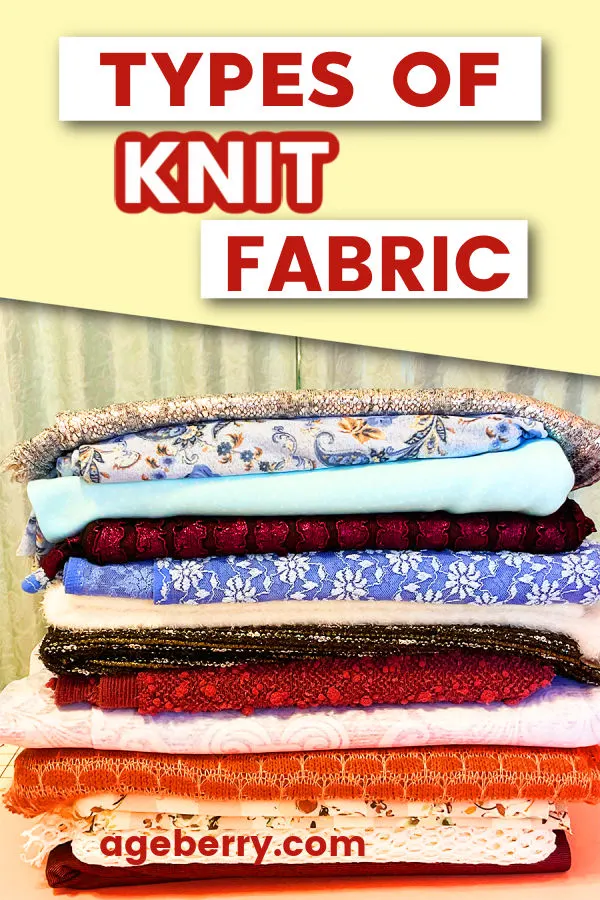 ---