Every sewist needs a way to store pins and quickly grab pins as they work. That's where a trusty pin cushion comes in handy. Here's your all-in-one guide to pin cushions: the history and uses of pincushions, pincushion designs, and DIY pin cushion ideas.
Pins are a necessity for sewists, and being able to both store and quickly grab (or put away) pins is hugely important. What's your favorite way to put away and store pins while you're sewing? While there are a variety of ways to accomplish this, my favorite is the pincushion!
When I'm sewing (especially with my sewing machine), I have a habit of placing my pin cushion in one specific spot every single time. Then when I need to remove pins and store them as I sew, I can quickly grab them and poke them into my pincushion without breaking pace at all.
I realized recently that I do this so automatically now that I don't even have to think about it – or take my eyes off my work while I reach over and poke each pin into the pincushion. My work – and the process of sewing – wouldn't be the same without my go-to pin cushion.
Pincushions are versatile tools that come in a large variety of sizes, colors, and shapes. They're a fun way to let your personality and creativity out. You can buy one and choose from a large selection of options, but you can also easily make your own pincushions.
I have a big collection of pincushions (see the image below), I made most of them myself and some are store-bought.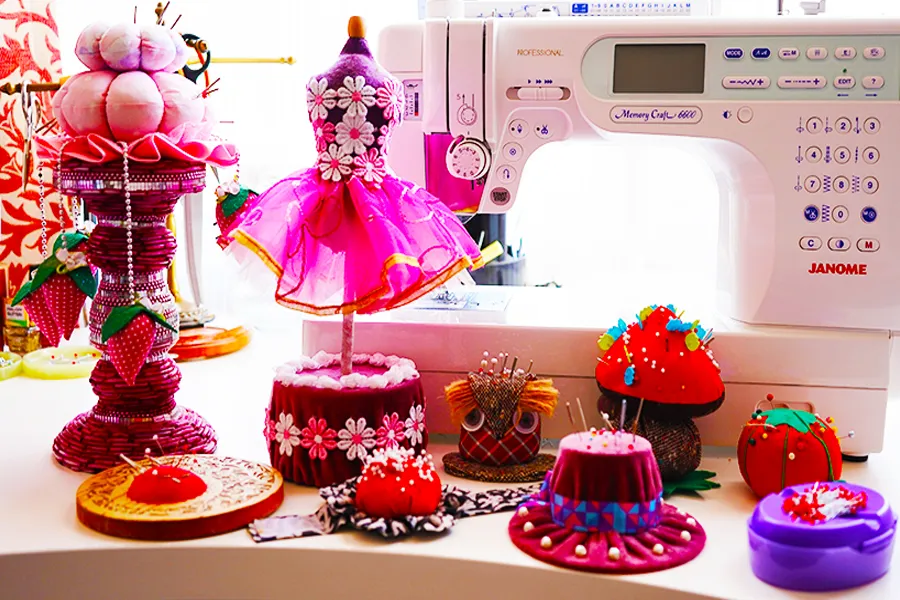 What Is A Pin Cushion
If you're new to the world of sewing and still learning about the tools as well as the lingo, you may find yourself wondering what a pin cushion's meaning is.
A pin cushion (or pincushion) is a small, stuffed object, usually 3–5 cm in diameter. Pincushions are used to store pins (or sometimes needles) by poking them into the cushion with their heads protruding. That method allows the sewist to grab a pin easily when needed, store them safely, and keep them organized.
Note: Some of the links on this page are affiliate links. This means I will receive a commission if you order a product through one of my links. I only recommend products I believe in and use myself.
What Is The Best Filling For A Pin Cushion?
Typically, pincushions are tightly stuffed to hold pins in place. What do you use to stuff a pin cushion? Well, you will usually find any of these fillings in pin cushions:
Can needles be sharpened using a pin cushion?
Yes! The little strawberry on the classic tomato pin cushion is a great example. It's filled with emery, which is an abrasive powder consisting of mostly aluminum oxide.
Read this: Types of hand sewing needles
Pincushions are not new. In fact, they've been around for centuries.
Pin Cushion History
At least as far back as the 1300s, people carried pins in pouches to keep them secure since they were so expensive and hard to find. In the 1400s, pin carriers came into fashion and were often called by names such as pin poppet, pin case, pin keeper, and tuffet. They were typically made of bone, ivory, or silver.
Sometime in the early 1700s, people began using pin pillows which were made with fine fabrics including satin, linen, or canvas. Over time, they evolved into wooden or silver stands with a pin cushion on top.
From the 1600s to the 1800s, pincushions were decorative pieces and could be found in many different shapes, but it was in the 1900s that pincushions became widely used as handy sewing tools.
Where To Buy A Pin Cushion
If you want to purchase a new pincushion, you can find them easily in many different stores and online retailers.
The Dritz pin cushion has essentially become the standard-bearer with its iconic tomato shape (even in different colors!) and attached strawberry emery.
However, this classic pin cushion icon isn't the only style available. You can also find magnetic pin cushions which are shaped as a sort of raised dish. They have an internal magnet that helps to hold your pins in place.
The Prym magnetic pin cushion is another common brand that you can find.
Etsy is another great resource for finding pincushions that are handmade and even unique. Etsy pin cushions offer a huge variety of style and color options, so you are sure to find something you love.
Pin Cushion Prices
Prices for pin cushions range from about $5 to $15 for items on Etsy. If you just want to buy a good, basic pin cushion and don't care about it being handmade or creative, you can get the Dritz pin cushion for a little cheaper than handmade pincushions from Etsy.
Read this: Types of sewing pins and their uses: all you need to know about straight pins for sewing
Make Your Own DIY Pin Cushion
If you would prefer to make a pin cushion of your own, the only limit to the possibilities is your imagination. I am including several homemade pin cushion patterns in this post, including this generic design from Treasurie, that you can use if you like.
There are some great ideas and tutorials out there leading you through how to sew a pin cushion you can use for many years. Making a handmade pin cushion is easier than you might expect.
See for yourself!
Roundup Of Pin Cushion Tutorials
The pincushion is definitely an item where one design does not fit all. That's why there are so many different pin cushion ideas and designs to choose from!
Pincushions come in all colors, sizes, and shapes. The tomato with the little strawberry is the most classic of them all while the pin pillow (like this one from All People Quilt) is the most basic.
DIY Wrist Pin Cushion
Wrist pin cushions aren't as common as stand-alone options. However, I love using one.
I have a pattern and step-by-step tutorial for the best DIY wrist pin cushion. I love this pin cushion so much that I wear it almost every time I sew – and on the rare occasions I forget to put it on, I stick myself with pins!
Mason Jar Pin Cushions
Try turning a cute little jam jar or a slightly larger mason jar into a pincushion! Not only are mason jar pin cushions cute, but very practical too. So how do you make a pin cushion out of a mason jar? The Seasoned Homemaker has a great pattern that you can check out and use.
Make and Takes has another great tutorial with a slightly different method for making a DIY pin cushion jar.
Teapot Pin Cushion
How do you make a teacup pin cushion? This free pattern from Red Brolly looks complicated, but the instructions walk you through the entire process. And, it would make a great gift idea!
If you want to take a different spin on this idea and see how to make a pin cushion in a teacup, check out this tutorial from Small and Friendly.
Owl Pin Cushion
Love owls? Try my DIY owl pin cushion tutorial to make a cute version you'll enjoy looking at (and using!).
Tomato Pin Cushion
One of the most recognized patterns for sewists – and non-sewists alike – is the tomato. It's a classic for a reason: I heard that centuries ago, people believed that having a tomato in their home when they weren't in a season was a sign of prosperity. They would make tomatoes and stuff them. Eventually, these became pin cushions!
Make your own DIY tomato pin cushion with this cute pattern from Tried and True.
This sprocket pincushion from Diary of a Quilter is so cute! But the best thing about it is the trick you will learn for making a circle without having to use wedges or specialty templates or rulers. Plus a super slick method for stuffing and finishing.
Bee Pin Cushion
Look at this bee pin cushion from Jacquelynne Steves.
A little (but equally cute) twist on the bee is this beehive pattern from American Felt and Craft.
Hat Pin Cushion DIY
This pattern from Thrifty Fun resembles an old-fashioned Easter hat and is a little larger than other designs. Not only is it very practical, but it's pretty to look at every day!
DIY Dress Form Pin Cushion
This mannequin pin cushion pattern from Sew Very Crafty is perfect for letting out your inner designer!
Hedgehog Pin Cushion
Hedgehogs are so cute, so it makes sense that a hedgehog pin cushion would be both very cute and functional. This tutorial from Janome offers easy-to-follow step-by-step instructions.
Turtle Pin Cushion
As demonstrated by my owl pin cushion pattern, I love cute animal pin cushions. This turtle pattern from Craft Passion is perfect.
Novelty Pin Cushion Designs
In addition to the common designs listed above, here are some fun examples of novelty pin cushions.
You can find many novelty pincushions on Etsy. Like this one below: this charming owl pincushion is practical and useful and adds charm and personality to any sewing space. The pincushion easily ties to a sewing machine. Wrap it around the machine arm or place it on the side stand for everyday use.
If you want a new pin cushion for your sewing needs, there are many options to choose from. Whether you want to buy one or sew a pin cushion, I hope you found an idea you love on this list!
Did you find this tutorial helpful? If so, save this pin (see below) on your sewing board so you can come to this tutorial later when you are ready to make a DIY pin cushion, and follow me on Pinterest for more tips, tutorials, and inspiration!
---