Learn what the tracing wheel is and why this mysterious-looking sewing tool should become a part of your sewing toolkit.
As I was walking through the aisles of my local sewing store not too long ago, I realized that I've been remiss by not having a post about tracing wheels. You see, those items in the sewing tool section that look like mini (scary-looking) pizza cutters have a very useful and helpful job.
In fact, those little rotating wheels on sticks just might become one of your favorite time-saving and productivity-boosting sewing tools. Keep reading to learn all about tracing wheels, when and how to use them, helpful tips, and my recommendations for the best items to purchase!
Note: Some of the links on this page are affiliate links. This means I will receive a commission if you order a product through one of my links. I only recommend products I believe in and use myself.
What Is A Tracing Wheel?
Just one of a sewist's many sewing tools, the tracing wheel (also sometimes called a transfer wheel) is a tiny wheel that rotates on the end of a handle. If you've seen them and wondered what these tools are used for, you're not alone!
Many beginners, and even intermediate sewists, look at them in wonder trying to figure out what their purpose is.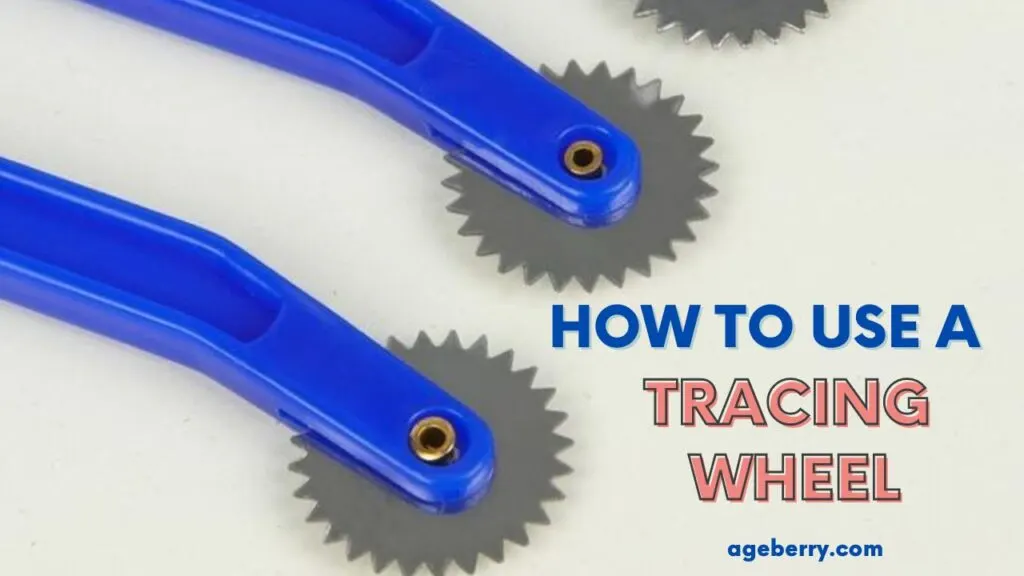 Attention! If you like the video format, at the bottom of this post, look for a YouTube video version where there is a tutorial on how to use a tracing wheel for transferring pattern lines onto fabric and for copying store-bought clothes. For a more complete picture, I recommend exploring both versions.
What Is The Purpose Of A Tracing Wheel?
How does a tracing wheel make sewing easier? What's its purpose?
As it turns out, the purpose of the tracing wheel is to transfer your patterns over to your fabric easily and accurately. Simply use the tracing wheel in conjunction with some transfer paper to essentially trace your pattern onto your fabric.
The transfer paper works like carbon paper so all you have to do is apply pressure (with your tracing wheel) on the transfer paper and it will leave perfectly copied marks of your pattern on your fabric. That allows you to avoid cutting your pattern and still have an accurate pattern to use for your project.
In addition to transferring a pattern to fabric, you can also use tracing wheels to transfer:
Buttonhole Placement
Darts
Pockets
Pleats
Notches
Alterations
These small wheels can provide several huge benefits for you when working with patterns and offer several different variations of this simple tool to help accomplish them.
✅ Related tutorial: Sewing machine buttonholes troubleshooting
Variations Of Tracing Wheels And When To Use Each Type
There are three main types of tracing wheels, and each type has a slightly different purpose.
Tracing Wheel With A Flat Edge
You can use a smooth edge tracing wheel to trace a pattern, but this type of tracing wheel also has another very handy purpose: crease-marking.
You can use a flat edge tracing wheel as a sort of Hera marker substitute to add a temporary crease to your fabric that you can use as a sewing guide. It's also useful for marking hems, tucks, and pleats.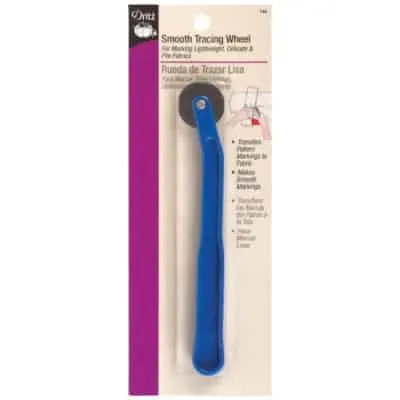 Tracing Wheel With A Serrated Edge
This type of tracing wheel is the most common type. The serrated edge can be scalloped or pointed, each producing a different pattern on your fabric. A scallop edge will create a dashed line when used with transfer paper, while the pointed edge will create dots on your fabric.
Use it to transfer your pattern-cutting lines to your fabric and avoid cutting your pattern. You can also use your tracing wheel to mark button placement, darts, and more.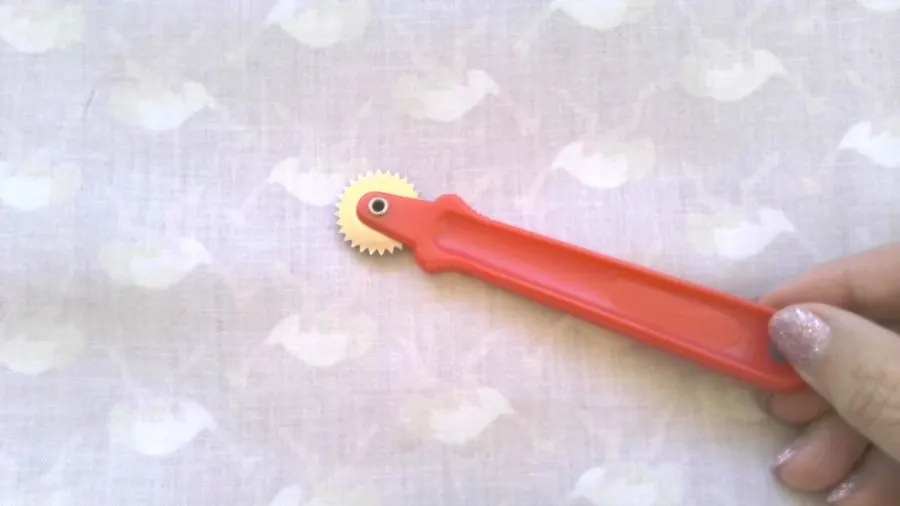 Tracing Wheel With A Double Wheel
The double tracing wheel is good for saving time when marking seam lines or adding seam allowances to patterns. The wheels create parallel lines and have adjustable width ranges to work for all your different projects.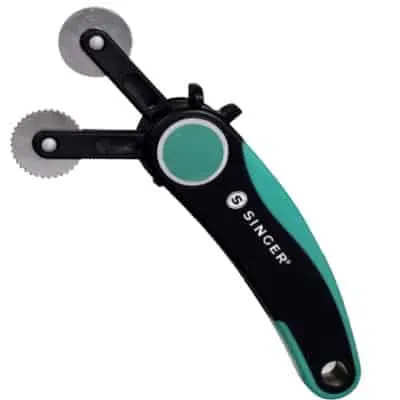 Handle Variations
When it comes to tracing wheels, you can find two types of handles: wood and plastic. There are also several variations of the handle angle that you can find. These different options make it possible to find a design that works well for you.
✅ Related tutorial: How to use a seam ripper
How To Use A Tracing Wheel
Are you asking yourself, "How do you use a tracing wheel?"? If so, I'm breaking it down for you step by step.
Note: These basic directions for using tracing wheels apply to all of the different styles.
Supplies Needed
First, you'll need to have these items on hand and ready to use:
Pattern
Fabric
Tracing Wheel
Transfer Paper
Cutting Mat
Step 1
Place your fabric on top of your cutting mat. I don't recommend leaving this part out because the cutting mat is important for protecting your workspace.
Step 2
Place your pattern on top of your fabric and hold it in place with pattern weights or pins.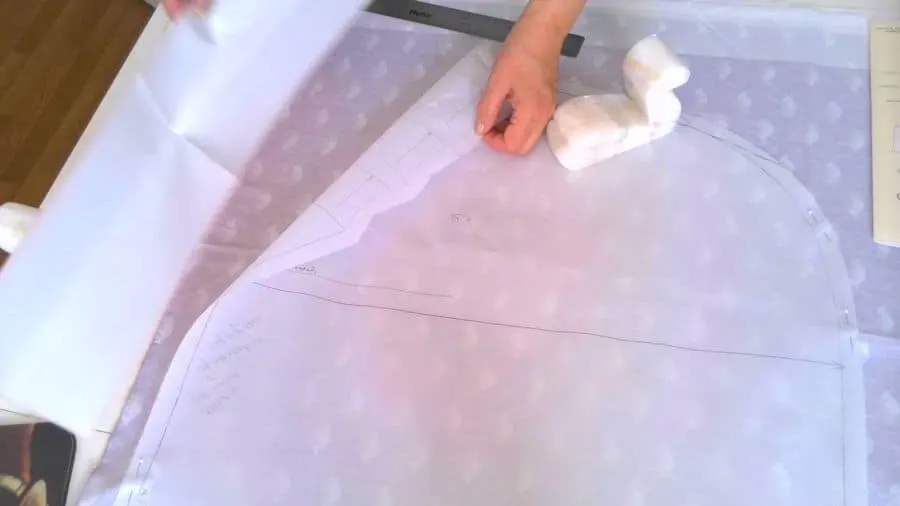 Step 3
Insert your transfer paper between the pattern and the fabric. You'll want to insert the colored side of the transfer paper against the side of the fabric that you want to mark. See below for tips about colors to use.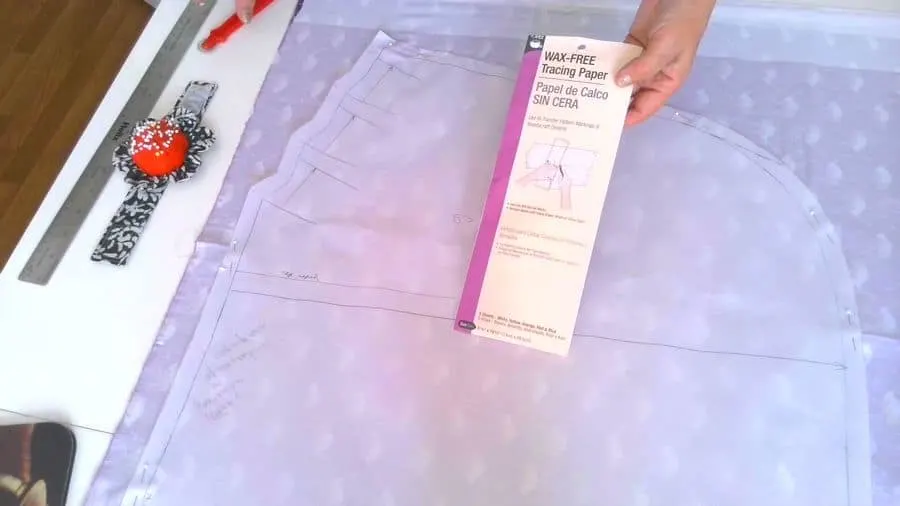 Step 4
Using pressure by pushing down on the handle of your tracing wheel, roll the tracing wheel along the pattern markings you want to transfer. You may need to move pins or pattern weights out of the way slightly as you go.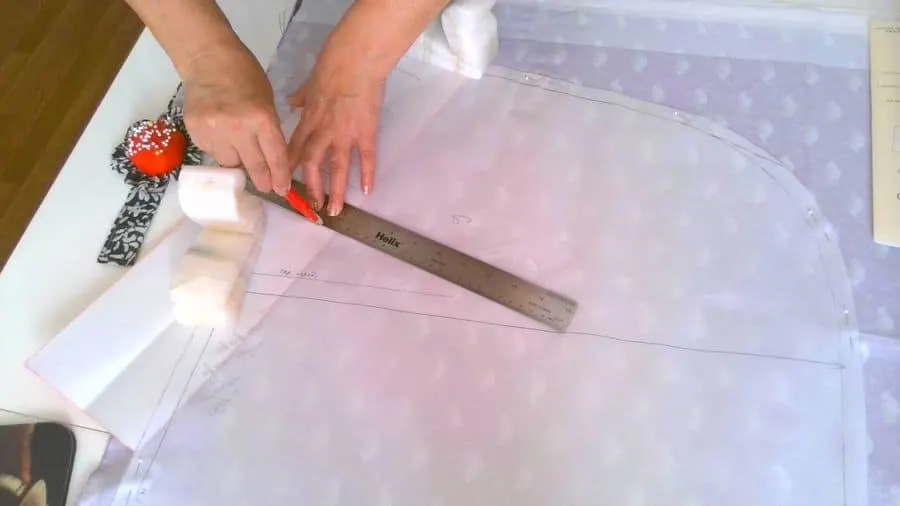 Fold back your pattern just a little to check and make sure you can see the tracing mark. If you can't see it, repeat the process using more pressure.
Note: If you are tracing a large pattern, you may need to work in sections.
And that's it! It's a very simple tool to use, but its benefits make it an important tool in any sewist's toolkit.
✅ Related tutorial: How to sew a box pleated skirt without a pattern
Additional Uses For Tracing Wheels
In addition to transferring an accurate pattern to fabric without cutting up the pattern, there are other practical and useful ways to use tracing wheels.
Preserving Patterns With Multiple Sizes
This technique is especially helpful when you have a pattern that has multiple sizes you want to preserve and use in the future (for example: children's clothing patterns).
Preserving Patterns On Paper
Tissue paper is fragile and deteriorates over time and with use. You can also use this tracing wheel technique to preserve patterns you love by transferring them to paper. That will allow you to continue using them even after the tissue paper pattern is no longer usable.
Tracing Wheel Tips
Use these helpful tips when working with tracing wheels.
Using The Right Transfer Paper
As with many different tools and supplies, you can find a large variety of transfer papers available. However, I wouldn't recommend using just any of them. Instead, I suggest using transfer paper that:
Comes in a pack with a variety of colors because you won't use the same color for every fabric.
Is wax-free to ensure that the marks you make will disappear.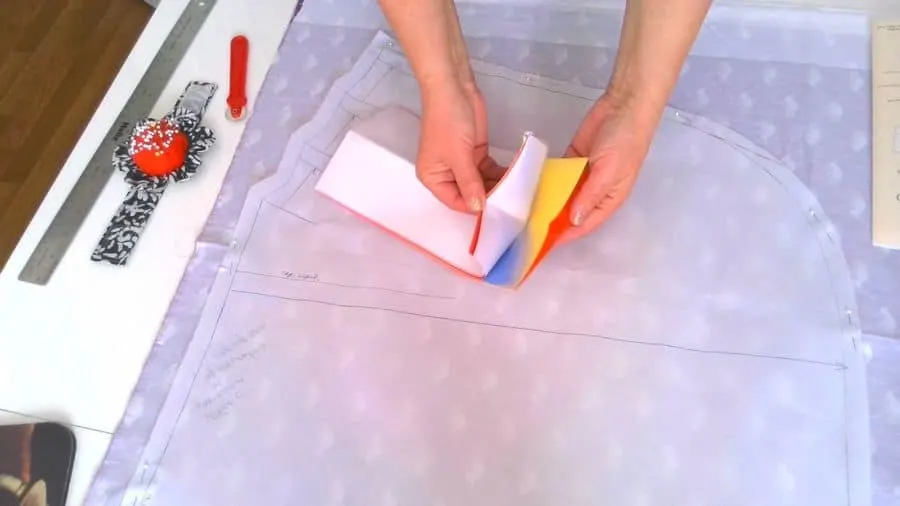 Utilizing Transfer Paper Colors
You want to choose a color for your transfer paper that will stand out against your fabric colors and patterns. Using any one color all the time won't work when you transfer your pattern to a similarly colored fabric. You won't be able to see the marks!
Pick a color that contrasts with your fabric so that you can easily see your traced lines and markings.
Use Force When Tracing
When you're using a tracing wheel, the harder you push down, the more visible your lines and markings will be. If you can't see your markings after using the tracing wheel, try doing it again and push down harder as you go.
How to use a tracing wheel to copy your favorite clothes
Now let me show you how to use a tracing wheel to copy your favorite clothes.
It's also very easy but the clothes have to be without darts, pleats or gathers.
I am going to use a foam board from a dollar store for this purpose.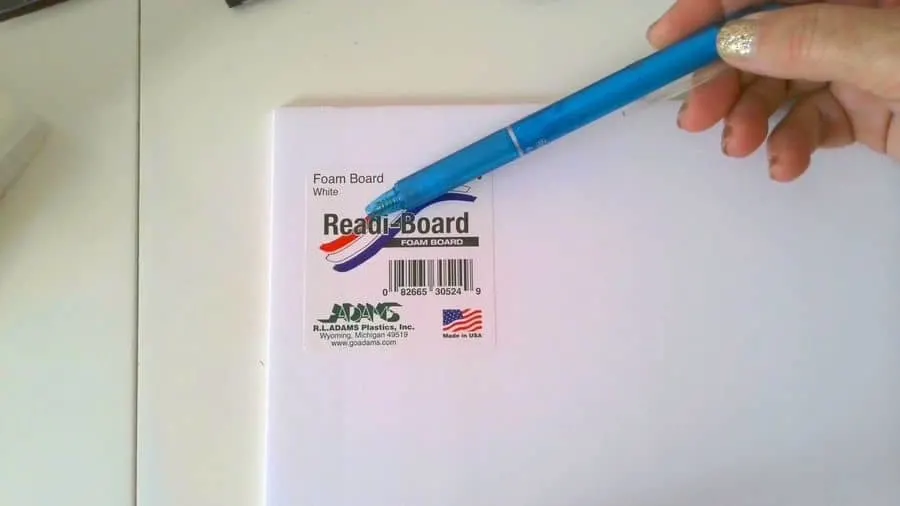 Here I have this dress I want to copy. It's an American girl doll's dress. I don't want to cut it, I want to keep it as it is. The dress doesn't have darts or pleats so it's a good dress to copy.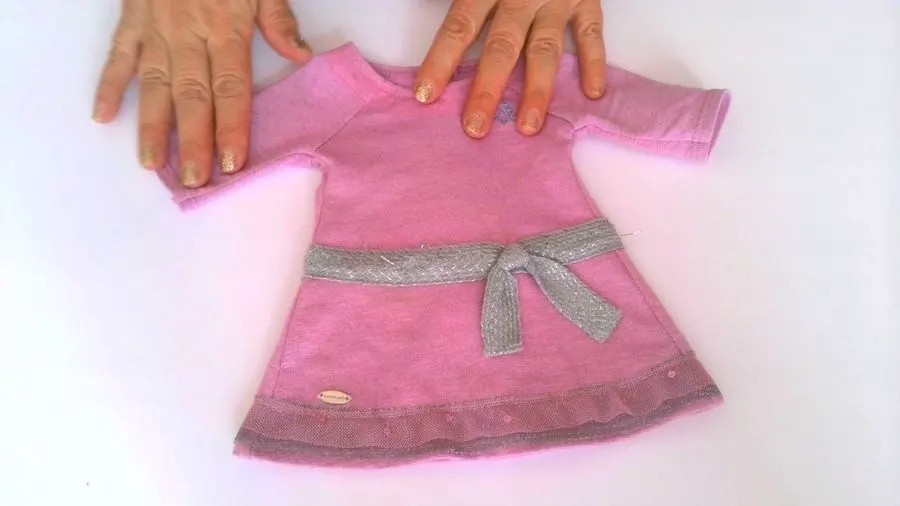 First, turn the dress wrong side out. Fold it as you see in the image below – the front in half and the back in half. Align all seams.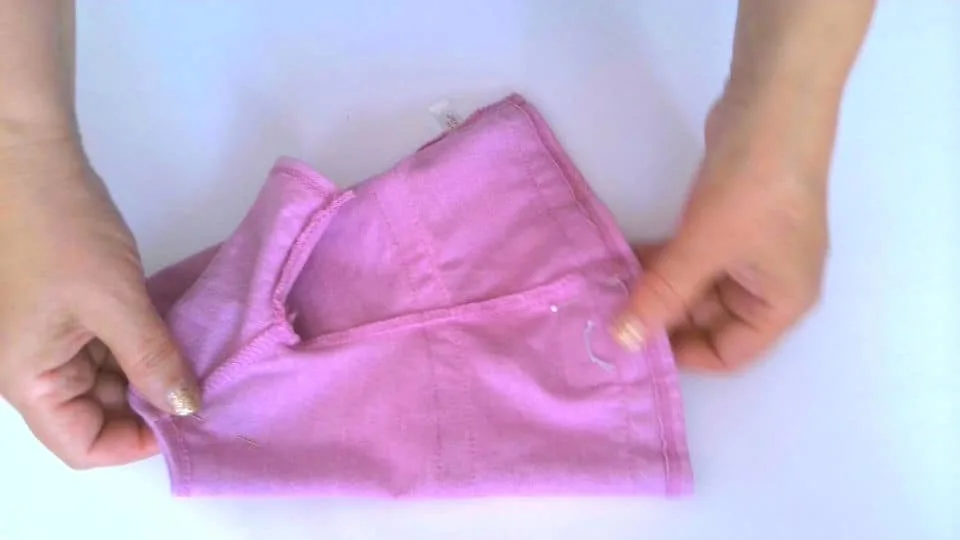 Draw a straight line on the board – it will be a center front line. Put the dress aligning the fold with this center front line. You can use a pen to draw some pattern lines – like the neckline, and hemline.
But the sleeve line and the side seams can be transferred with a tracing wheel. The tracing wheel will not destroy the fabric and cut the seams. Simply trace the seam lines onto the foam board. You have to press the wheel so it leaves the marks on the board.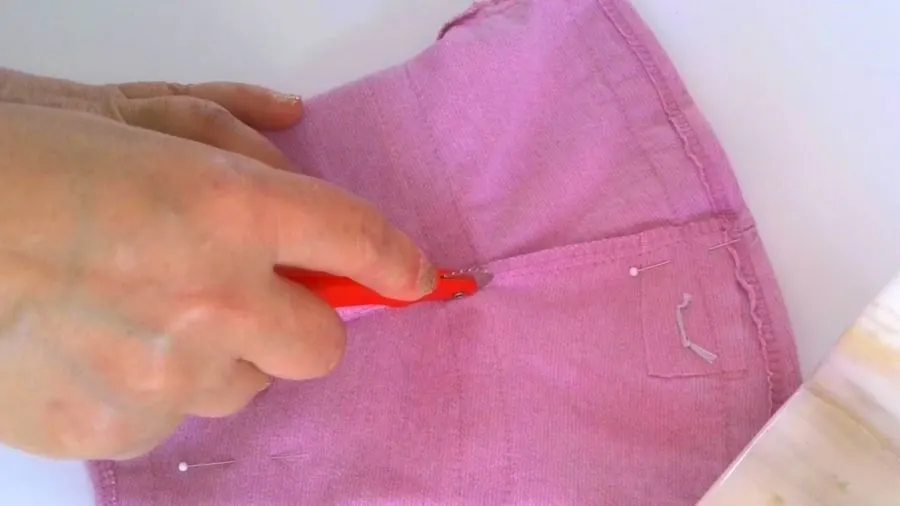 Now I need to add seam allowances to these lines – ¼-inch seam allowances. And the pattern for the front is ready.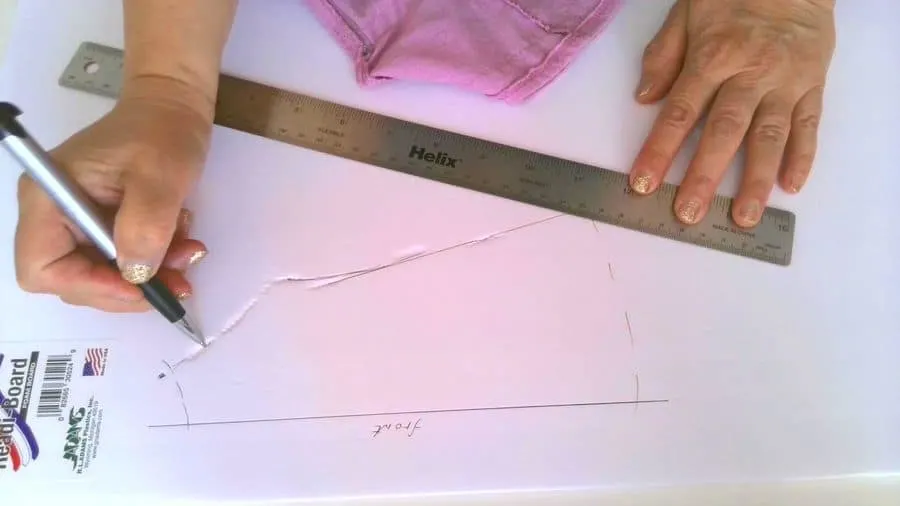 Now I do the same with the back. Draw a center back line, draw the neckline and the hemline, and use a tracing wheel for the sleeve and the side seam.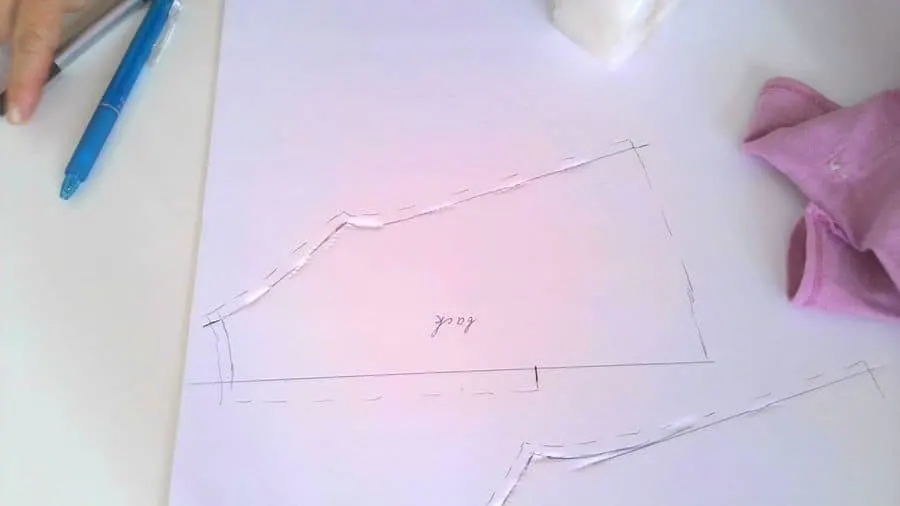 Now, let's do the sleeve pattern.
Draw the center line for the sleeve. The first part of the sleeve goes to the front. So we trace the neckline for the front with the tracing wheel. And the sleeve seam.
Now flip the sleeve. The neckline for the back can be copied by pen now. And use the tracing wheel to copy the sleeve seam. The only thing you have to remember it's adding seam allowances where necessary. Here we already have copied a part of the pattern with seam allowances, but the neckline, the hem, and sleeve seams don't have seam allowances so we need to add them.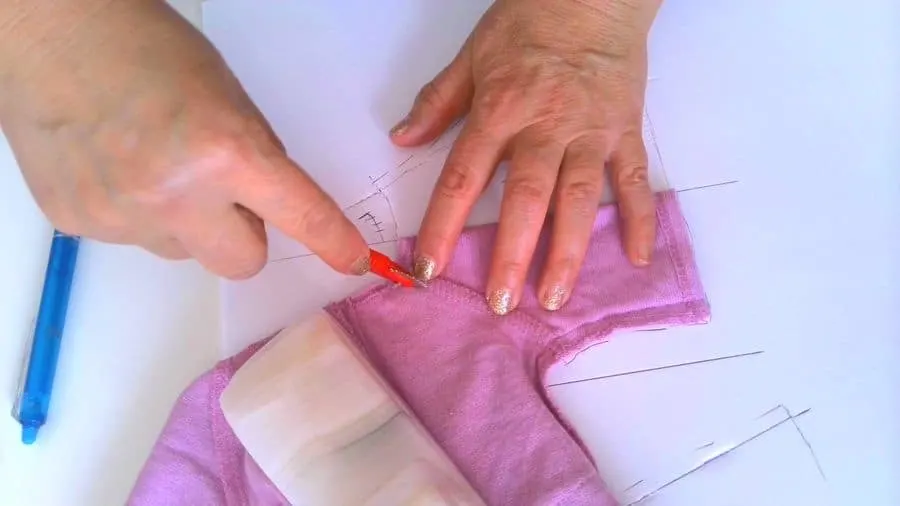 And after that, I transfer this pattern to vellum paper so I can use it to make a new doll's dress.
You can use exactly the same process to copy your favorite garment.
Tracing Wheel Recommendations
Here are a few high-quality tracing wheels that are available if you are in the market for one.
Not sure which style you want? This bundle is a great way to get both at an affordable price. I always trust the Dritz brand for quality sewing tools and supplies.
The ergonomic plastic handle design of this tracing wheel helps to reduce hand fatigue and is beneficial for those who have arthritis or carpal tunnel syndrome.
This double-wheel tracing wheel can draw two parallel lines simultaneously. You can adjust the width from 10mm to 30mm in 5mm increments to get the perfect width for your project.
This set of high-quality tracing wheels includes two different styles as well as two different sizes to meet all your sewing needs.
---
---
If you use patterns regularly, be sure to grab a tracing wheel the next time you're shopping at your favorite sewing store. Once you start using it, you'll wonder how you ever lived without it!
So here is my YouTube video. Check this out if you like to see how I use a tracing wheel for sewing projects.
Did you find this tutorial helpful? If so, save this pin (see below) on your sewing board so you can come to this tutorial later when you are ready to use a tracing wheel for sewing projects, and follow me on Pinterest for more tips, tutorials, and inspiration!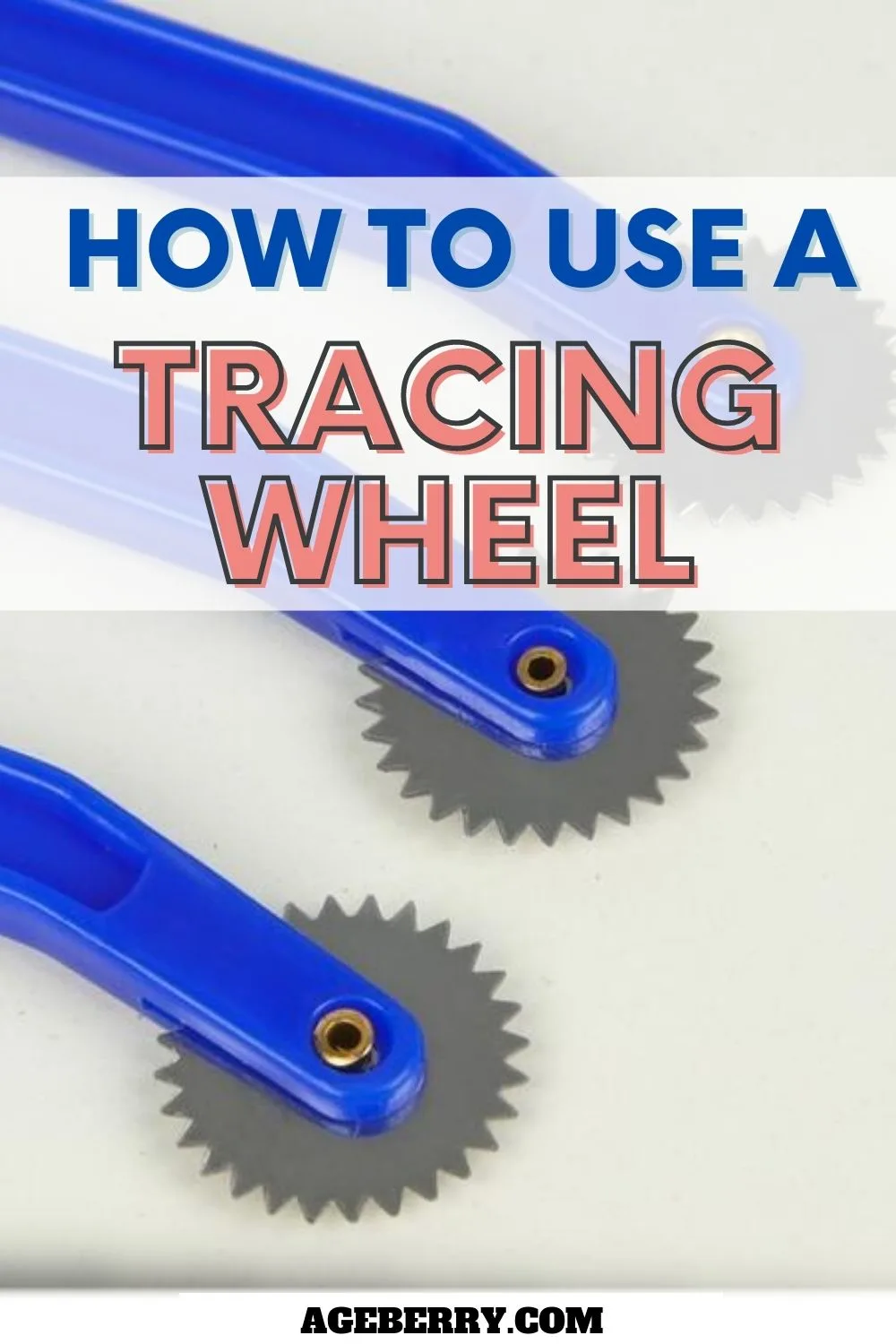 ---