If you sew knits regularly and haven't invested in a serger, now might be the perfect time to do so. Besides helping you save time and producing superior results, sergers make the process of sewing knits more enjoyable. Here are the best sergers for knits to consider when purchasing a new machine.
Even if they don't own one, most sewists are at least a little familiar with serger machines. After all, there's a great deal of chatter in the sewing world around "what is a serger?" and "do I need a serger?"
Spoiler alert: if you work with knit fabrics regularly, you need a serger!
I regularly see questions from readers covering all topics concerning sergers.
Rather than trying to answer each question from individual readers, I thought it might be more helpful to create a series of posts covering these serger-related topics in greater detail.
I've already covered several topics concerning sergers, including what a serger is, whether you need one of your own, what to look for in a serger, what needles to use in a serger, and the best serger thread to use. Next up: the best sergers for knits.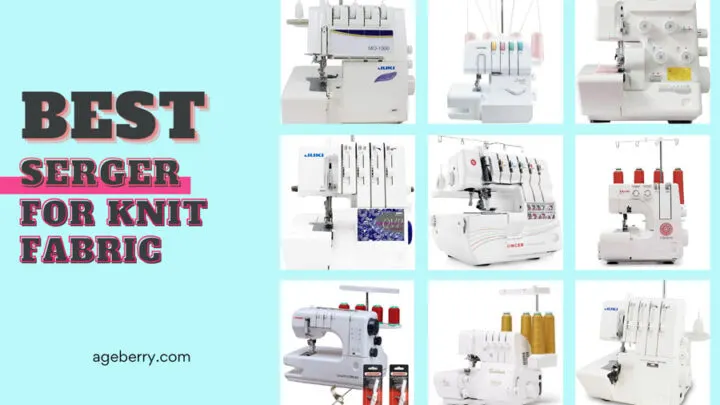 Why Should You Use A Serger With Knit Fabric?
Sewing stretchy knit fabric can be a real challenge, especially if you are using a regular sewing machine. You would need to use special stretch needles, specialized threads and stitch settings, and other advanced techniques. For these reasons, many people avoid sewing with knit fabrics altogether, believing that their seams will inevitably pop.
However, by using a serger (also called an overlocker or overlock machine) for your projects, you can overcome these challenges and perfectly sew your knits every time. With its wide range of specialized features, this machine gives you everything you need to easily create professional-looking garments from knits.
Whether you're new to sewing or an experienced seamstress, investing in a serger will enable you to confidently work with all types of knit fabrics and will make the process easier, faster, and more enjoyable.
Check out the differences between Sergers vs. Sewing Machines.
Types Of Serger Machines
As with many things, serger machines are not a one-type-fits-all item. Instead, there are several types of sergers, which are categorized according to the threading method, the number of threads used, or the type of stitching used.
Here are the various sergers you can find on the market, for example:
Regular threading – this is the classic machine that many sewists struggle to thread.
Lay-in threading – these machines make threading easier than it is on a regular serger. They employ a color-coded path for thread placement combined with a "self-threading" lower looper.
Air jet threading – this is a real self-threading serger that uses air to push the thread through threading ports to the loopers.
4 thread serger – uses up to 4 threads to create a stitch
5 thread serger – uses up to 5 threads to create a stitch
Combo with a Coverstitch – produces chain stitch and cover stitches to create strong, stretchy hems on knit fabrics.
With so many types of sergers, is there one made specifically for sewing knits?
When it comes to sergers and sewing knit fabric, there is no one serger that is specifically designed for this task. Rather, all sergers are capable of handling knits, and they do it much better than a standard home sewing machine.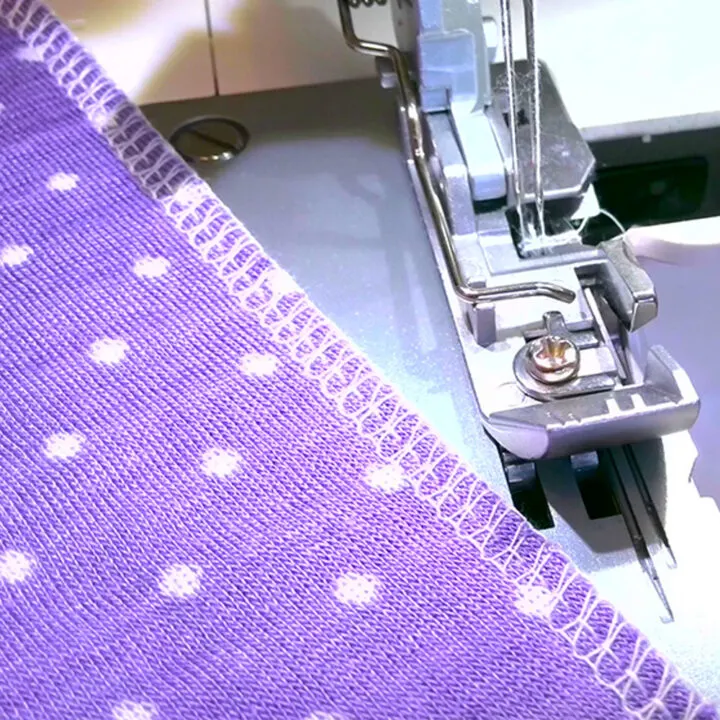 Qualities To Look For In A Serger For Knits
If you were to go to the store and search for the best serger for knits to purchase, you'll notice that the market contains a large number of choices. And each unit has its own set of capabilities.
One feature that you should look for when choosing a serger for sewing knits is differential feed. This feature allows the upper looper to move at a different speed than the lower looper when stitching knit fabrics, preventing stretching or puckering in the fabric.
So if you're looking for a serger that can handle your knit fabrics with ease, be sure to look for sergers with differential feed. With this feature, any serger can not only sew knit fabrics well but do so more efficiently and effectively as well.
All sergers can perform both utility and decorative stitching as well as flat locking, gathering fabric, and creating a rolled hem.
I have a rule that I follow when I am researching any kind of sewing machine to buy:
Utilize customer reviews to help with your decision.
Read through them and expect some negative reviews. Negative reviews are helpful because they can highlight potential problems that could be red flags for the buyer considering that machine. I always try to find machines that have a large number of customer reviews for a better overall picture of what to expect from the machine.
Where can you buy serger machines?
You can find them in any sewing store (such as JoAnn's) and special sewing machine shops. But you will probably find the largest selection of machines online – and that's where you'll likely find the most information about each machine, including reviews.
---
---
---
If you're looking for an easy-to-follow guide on how to use a serger, then check out my eBook Serger Success Kit. This is the perfect resource for anyone who wants to learn more about their serger/overlocker and what it can do. With over 90 pages of step-by-step instructions, diagrams and illustrations, even beginners will be able to conquer their first project using a serger in no time at all.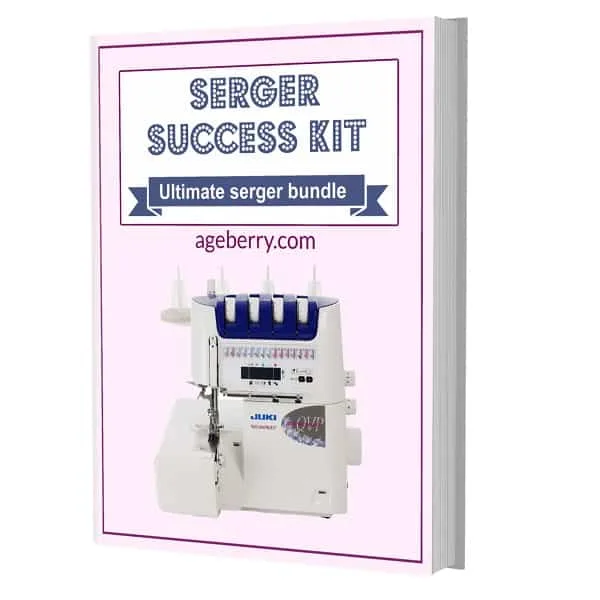 Finding The Best Sergers For Your Needs
I know how many options there are for sergers on the market these days and how overwhelming it can be to find the right serger for knits. With that in mind, I wanted to reduce the confusion by offering an easy-to-reference list of great machines.
I'm even including a short description of each machine to let you know why it's a good machine or one worth considering. So what are the best sergers for knits? Let's find out.
Note: Some of the links on this page are affiliate links. This means I will receive a commission if you order a product through one of my links. I only recommend products I believe in and use myself.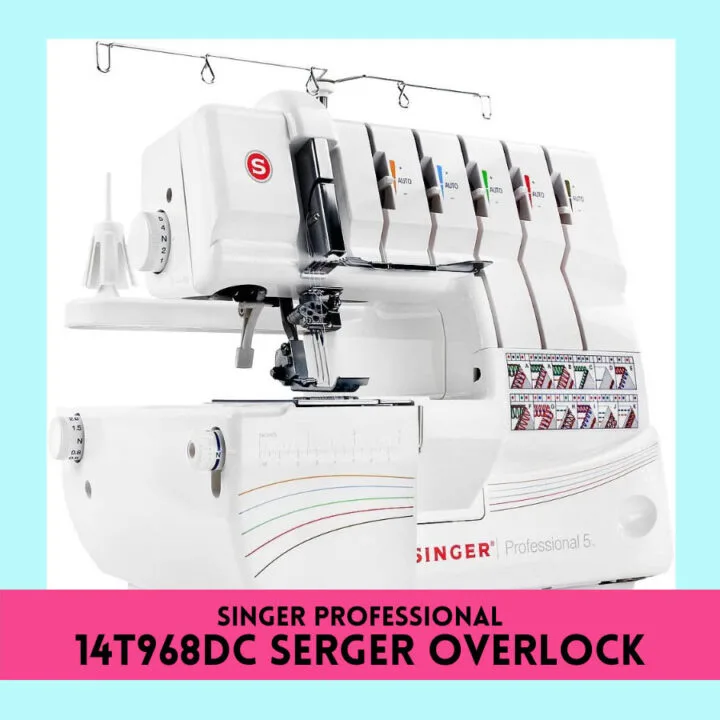 If you like to sew with knits, you will likely want a serger with a coverstitch option. In that case, the best serger for knits might be a serger and coverstitch combo machine.
Many combo machines (like a Baby Lock Triumph) are usually very expensive. But this Singer model is popular, affordable, and has good reviews overall.
The SINGER Professional 5 14T968DC Serger is a high-quality machine that can handle a wide variety of projects. With 2-3-4-5 thread capability, it provides a big selection of stitch options for all types of knit projects.
One of the best features of this machine is its self-adjusting tension system. Simply turn a dial to select the stitch you want to use, and the tension settings will be adjusted automatically. This feature is extremely helpful for beginners, as it takes the guesswork out of tension settings.
This machine has 14 built-in stitches and can sew decorative flatlock and 4 types of rolled hems. It has adjustable stitch length and width as well as adjustable cutting width.
Number of threads: 2 to 5 thread capability
Threading ease: color-coded threading
Tension system: self-adjusting tension
Differential feed
Stitch speed: up to 1,300 stitches per minute
Overall, the SINGER 14T968DC Serger is an excellent choice for those who are looking for a high-quality and user-friendly sewing machine. It has lots of great reviews from happy users.
However, there are some things to keep in mind before making your purchase.
One of the biggest drawbacks of this machine is the difficulty of switching between serging and cover stitch modes. It can be time-consuming and frustrating, especially if you're working on a time-sensitive project. I had this machine for a while and made many garments from knits for me and my kids but I used it as a serger only because switching to cover stitch was quite difficult for me.
Additionally, the Singer Professional 5 14T968DC serger is not the best choice for heavy-duty projects. It's perfect for lightweight fabrics and delicate stitches, but if you're planning on tackling something tougher, you might want to consider a different machine.
Plus, regular standard needles for conventional household sewing machines don't fit this serger – you need to buy special Singer serger needles.
Overall, the Singer Serger is a great machine for those who need both serging and cover stitching capabilities, but it's important to be aware of its limitations before making your purchase.
The Best Stand-Alone Sergers For Knits Currently On The Market
If you don't want the combination machine or don't need the coverstitch capability, you can buy a basic serger and always add a separate coverstitch machine at a later time.
For each machine, I will cover the specifics of some important deciding factors, including the tension and threading systems and other helpful and noteworthy points.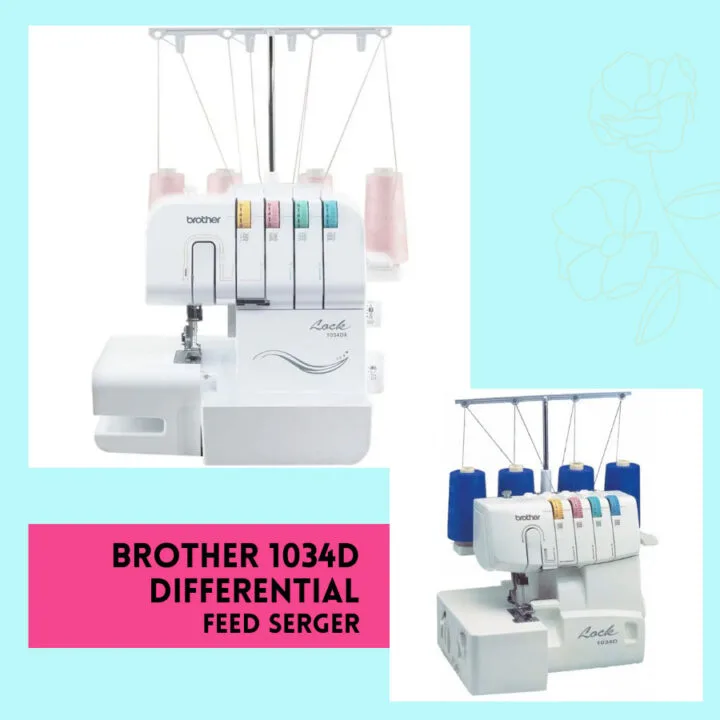 If you're looking for a top-quality serger, the Brother 1034D 3/4 Thread Serger is a great option. It's one of the best-selling sergers on Amazon, and it has a wide range of great features.
For example, it has an easy-to-use lay-in threading system, as well as a F.A.S.T lower looper threading system.
It also comes with standard sewing machine needles, so you won't have to worry about buying special needles.
And the serger's differential feed has a ratio of 0.7 – 2.0, which provides improved stitch quality for knits and eliminates puckering and distorted garments.
Plus, the free arm makes it easier to sew sleeves, pant legs, and other hard-to-reach places.
So if you're looking for a top-quality serger, the Brother 1034D 3/4 Thread Serger is definitely worth considering.
All of that comes with an affordable price and a limited 25-year warranty.
Number of threads: up to 4 thread
Threading ease: lay-in threading system, F.A.S.T. lower looper threading system
Tension system: manual adjustment
Stitch speed: up to 1,300 stitches per minute
Free arm/flatbed convertible sewing surface. Great for sleeves and cuffs
Differential feed
Instant rolled hem
Uses standard sewing machine needles
Snap-on On Presser Foot
Unfortunately, some reviews of this singer serger are less than favorable, with a small number of people complaining that the machine broke or that they received a lemon. While such issues can be frustrating, it is important to keep in mind that all products have the potential to malfunction or fail in some way.
Before purchasing this serger, it is crucial to do careful research and evaluate customer feedback carefully. By taking these steps, you can better ensure that you are making a wise purchase decision and choosing a machine that will meet your needs and expectations.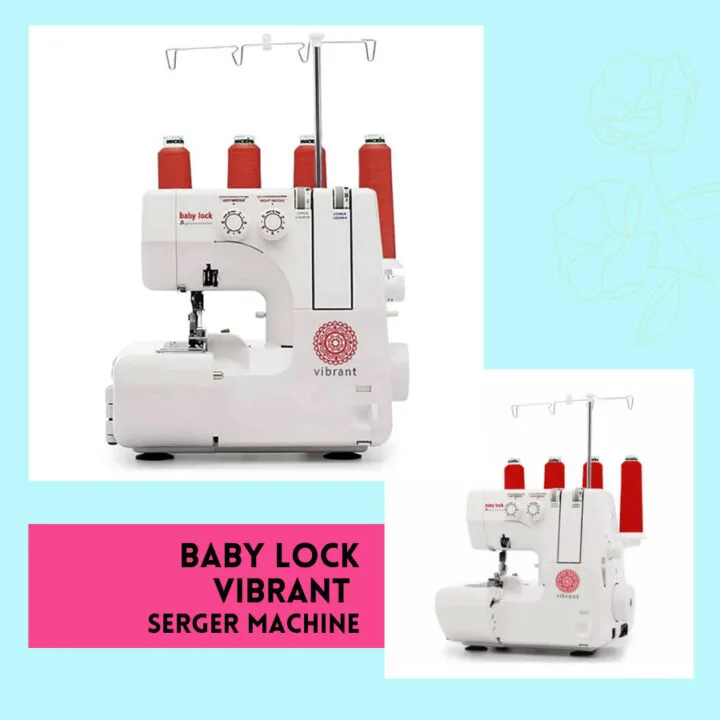 The Baby Lock Vibrant serger machine is a great choice for knit garment sewists as it provides beautiful results with ease. The Baby Lock Vibrant features a thread cutter that pops up with just a quick push, making it easier than ever to get started with serging. Baby Lock's color-coded thread system makes it simple to thread the machine, even for beginners. Additionally, the Baby Lock Vibrant features a differential feed to make sewing knits easier.
Overall, the Baby Lock Vibrant serger machine is an excellent choice for anyone looking for a high-quality, easy-to-use serger machine.
Number of threads: 2/3/4
Threading ease: lay-in threading system
Tension system: lay-in tension system
Stitch speed: up to 1,200 stitches per minute
Differential feed
Retractable thread cutter with push lever
Presser foot pressure adjustment
Snap-on, multi-purpose presser foot
Telescoping thread antennae
Lint tray
Built-in LED light
Built-in seam guide
Removable stitch finger for quick conversion between serging and hemming
Unfortunately, this machine is often out of stock in today's market.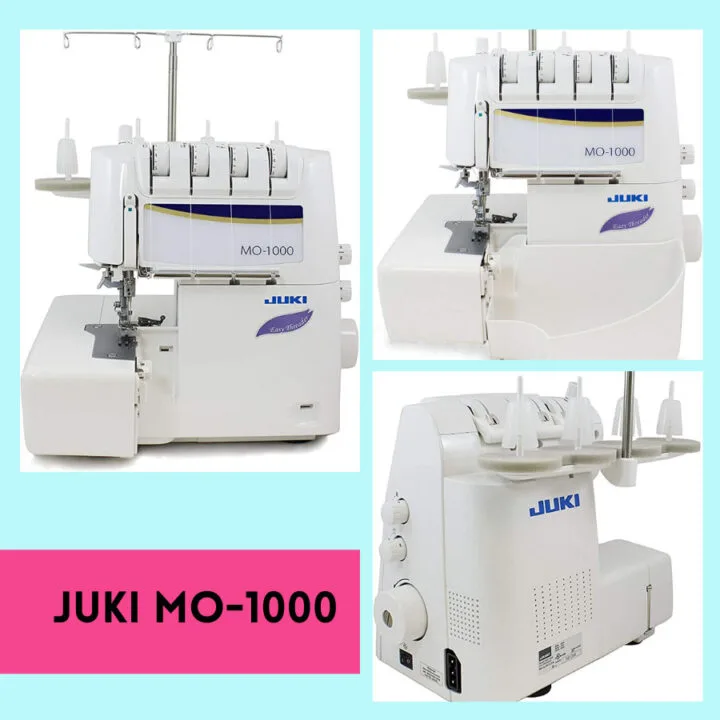 The Juki MO-1000 is a top-of-the-line serger that offers a variety of features that make sewing a breeze.
One of the most notable features is the air threading feature, which makes it quick and easy to thread the loopers. This is a huge time saver, and it dramatically alters upper and lower looper threading. The serger also has an automatic needle threader!
With its differential feed, you can easily create beautiful finishes even on stretched fabrics such as knits. Adjustments can even be made while sewing.
Another great feature of the Juki MO-1000 is the needle area, which is brightly illuminated. The long-life, energy-efficient, and eco-friendly LED light will not heat up, even after a long period of continuous use.
Whether you're a beginner or a seasoned sewer, the Juki MO-1000 is sure to make your sewing experience more enjoyable.
Number of threads: 2/3/4
Threading ease: jet-air threading system
Tension system: manual adjustment of dials
Stitch speed: up to 1,500 stitches per minute
Looper Air Threading
Automatic Needle Threader
Upper Looper Converter 2-/3-Thread Conversion
Adjustable Differential Feed
Ample Fabric Throat Area
LED Sewing Light
Amazingly Quiet Operation
Easy Thread Tension Adjustment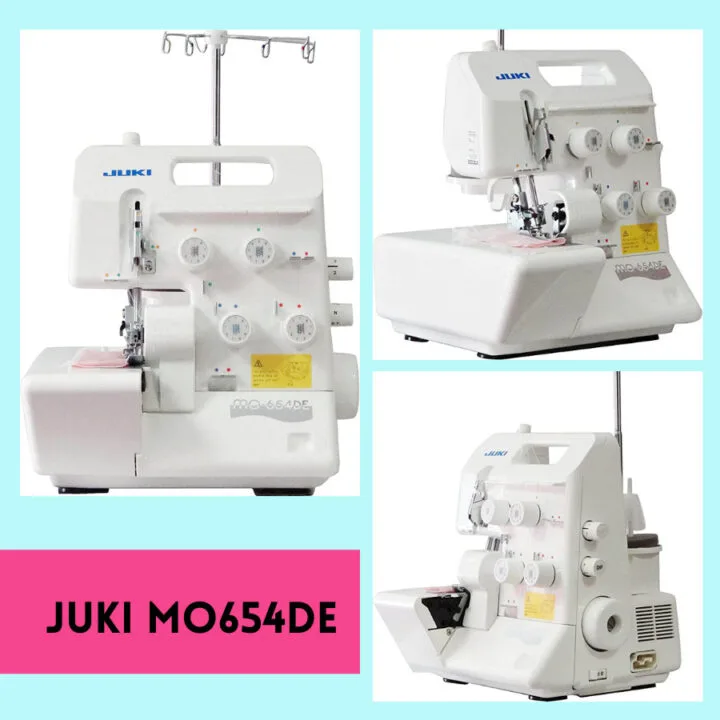 The Juki MO-654DE is a terrific middle-of-the-road option that can handle light to heavyweight fabrics. It can perform all the popular overlock and flatlock variations. With its built-in rolled hemming, it's perfect for creating the latest fashion styles and home décor items.
The MO-654DE also has a snap-on presser foot, which means you can easily change from the multi-purpose foot to one of the Juki Specialty feet. This expanded range of presser feet opens up new possibilities for creativity with the MO-654DE.
Whether you're looking to add a little something extra to your garments or want to experiment with different types of fabrics, the Juki MO-654DE is a great choice for sewing enthusiasts.
So if you want a high-quality overlock machine that can handle all your sewing needs, the Juki MO-654DE is a perfect choice!
This serger also has adjustable differential feed capabilities to make sewing knits enjoyable. In addition, its heavy-duty knife system ensures clean edges for a professional finish every time.
Number of threads: 2/3/4
Threading ease: color-coded lay-in threading
Tension system: tension knobs
Stitch speed: up to 1,500 stitches per minute
Multi-Function Presser Foot
Heavy Duty Knife System
The built-in seam guide
Bright Lights
Easy Cutting Width Adjustment
Differential Feed Adjustment
Easy Stitch Length Adjustments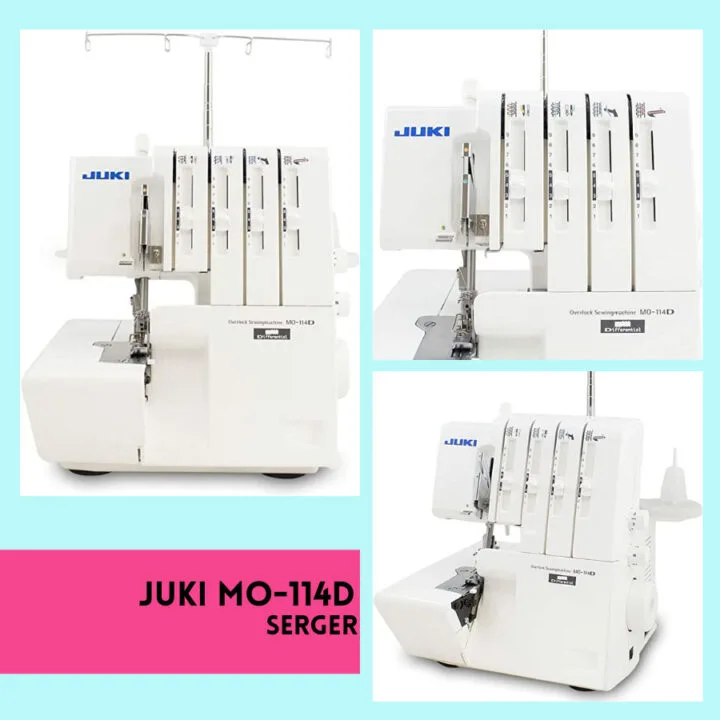 As you can see the Juki MO-114D serger has a unique look. It's a powerful machine that is perfect for sewing knit fabrics with ease. Its 4-thread overlock, 3-thread rolled hem, and 3-thread narrow overlock options allow you to work with a wide variety of materials and fabrics, making it the ideal choice for a wide range of crafting applications.
Additionally, the Juki MO-114D features adjustable presser foot pressure, which allows you to easily adjust your settings depending on the type of fabric you are working with.
Overall, the Juki MO-114D serger is an exceptionally versatile and easy-to-use machine that is perfect for all your crafting needs.
This mid-range option has easy lay-in threading for the lower looper, adjustable cutting and stitch width, and adjustable differential feed. Its large variety of stitch patterns makes sewing knits a breeze.
Number of threads: 2/3/4
Threading ease: lay-in threading system
Tension system: tension slots
Stitch speed: up to 1,500 stitches per minute
Differential Feeds
Wide Variety of Stitch Patterns
Adjustable Stitch Length
Lay-In Tension Slots
Bright LED Light
Presser Foot Pressure Adjustment
Lower Looper Threader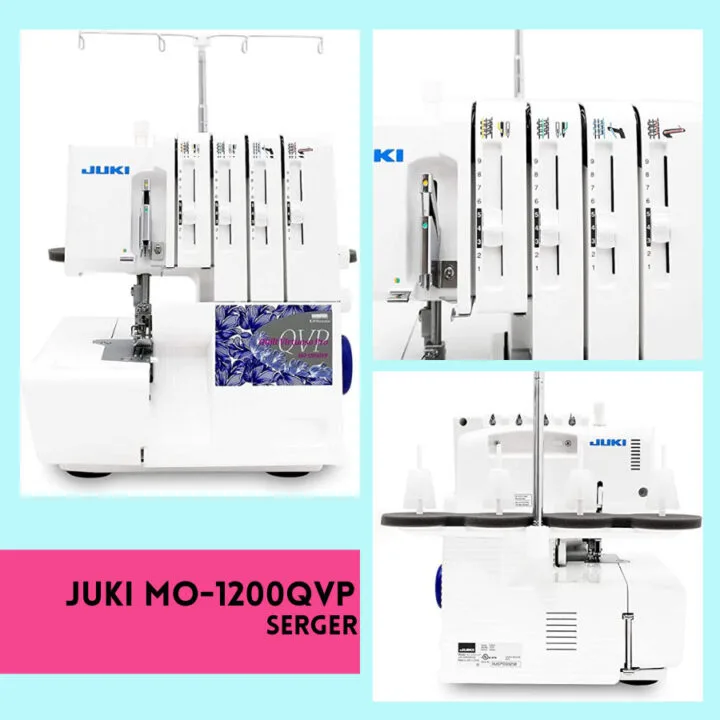 The JUKI MO-1200QVP serger is very similar to the previous model of the JUKI MO- 114D serger.
QVP stands for Quality, Vision, and Professional. This versatile machine is designed to handle all different types of fabrics with ease, from delicate materials to heavyweight fabrics. Thanks to its adjustable thread tension, differential feed, and 2-, 3-, and 4-thread options, you can create flawless seams, decorative rolled hems, and tight gathers quickly and easily.
Number of threads: 2/3/4
Threading ease: lay-in treading system
Tension system: tension slots
Stitch speed: up to 1,500 stitches per minute
Differential Feeds
Adjustable Stitch Length
Lay-In Tension Slots
Lower Looper Threader
Bright LED Light
Presser Foot Pressure Adjustment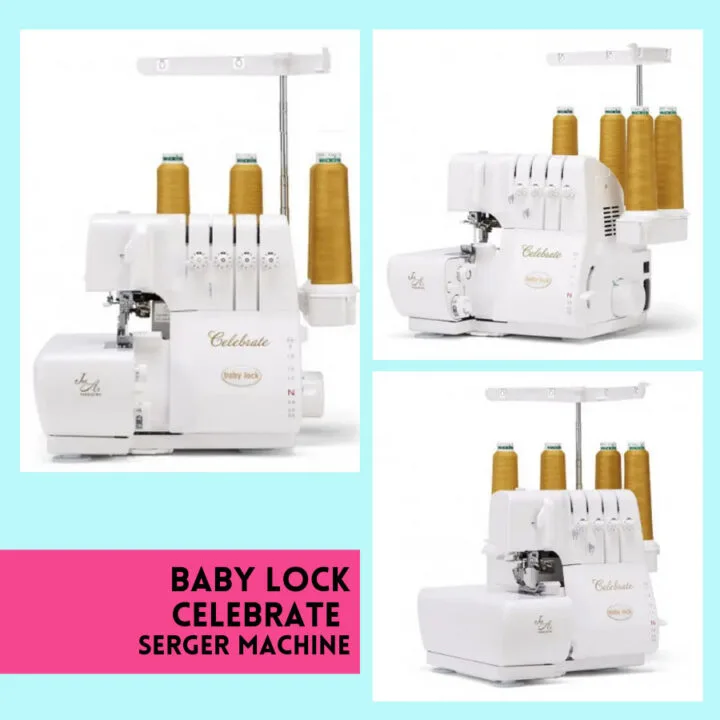 Baby Lock is considered one of the best brands when it comes to sergers, which is reflected in the cost of the machine. The easy-to-use Baby Lock Celebrate serger includes adjustable manual tensions, allowing for perfect stitches on any type of fabric.
Jet-Air Threading threads your machine with the touch of a lever.
It also features an automatic rolled hem and flatlock stitching, adjustable stitch length and width, and differential feed.
Plus, Celebrate's presser foot features a 6mm height that makes serging on thicker fabrics easier.
If you purchase a Baby Lock serger, you can be confident that you are getting a high-quality machine that will provide years of reliable service.
Number of threads: 2/3/4
Threading ease: jet-air threading system
Tension system: micromatic twin cam
Stitch speed: up to 1,500 stitches per minute
Built-in needle threader
Full-featured differential feed
Bright LED lighting
Adjustable presser foot height up to 6MM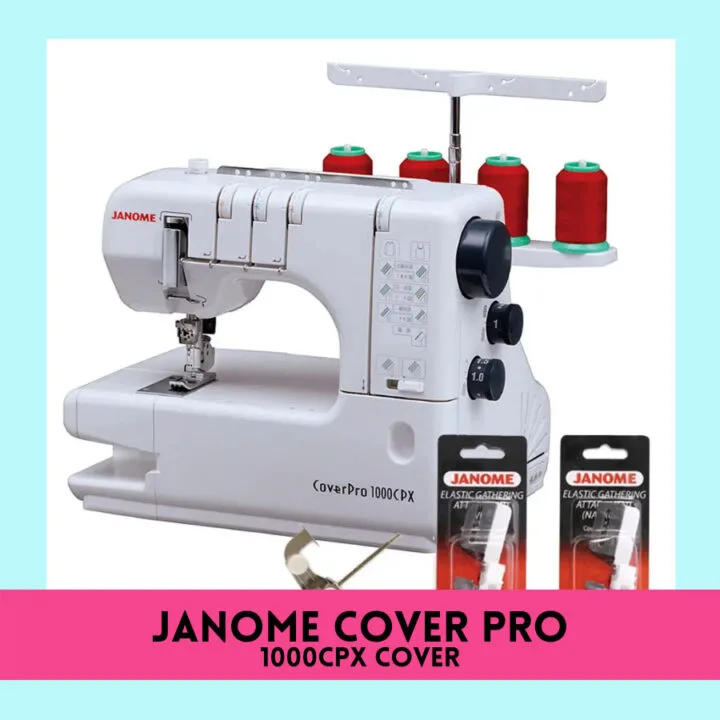 This machine is a coverstitch machine, which is different than a serger. If you like to work with knit fabric, it is important to consider not only buying a serger for your projects but also investing in a coverstitch machine.
Unlike a traditional serger, which both cuts and finishes seam at the same time, a coverstitch machine uses multiple needles to create sturdy hems on knit fabrics. This allows you to create professional-looking finishes on t-shirts and other garments made with knit materials.
✅ Related tutorial: Coverstitch vs. serger
Of course, there are a few considerations when it comes to using a coverstitch machine. For one, these machines require specialized needles and threading techniques that are different from those used with normal sewing machines or sergers.
Additionally, coverstitch machines can be expensive, so you will need to make sure that you have the necessary budget and skills before making this investment. But if you like to sew knit fabrics regularly and want to achieve high-quality results, then investing in a coverstitch machine may be well worth your while. Below you can see the stitch made by my coverstitch machine.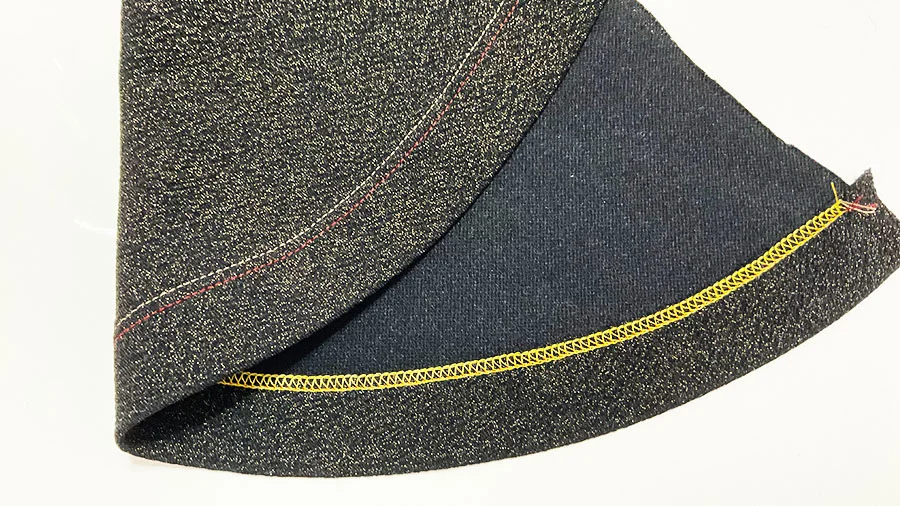 In conclusion: If you're in the market for a serger machine to help make sewing stretchy knit fabrics easier, I hope you found your new machine on this list of the best sergers for knits!
---
Now I am advising you to read my tutorial How to sew knit fabric | 23 expert tips for beginners. If you are new to sewing and are looking to learn the basics of sewing with knit fabric, then my tutorial is just what you need. With so many different types of knits available, it can be hard to know where to start. But with the right tips and techniques, sewing knit fabric is actually easier than you might think.
With this comprehensive sewing tutorial, you'll gain all the knowledge you need to get started with this versatile and forgiving fabric.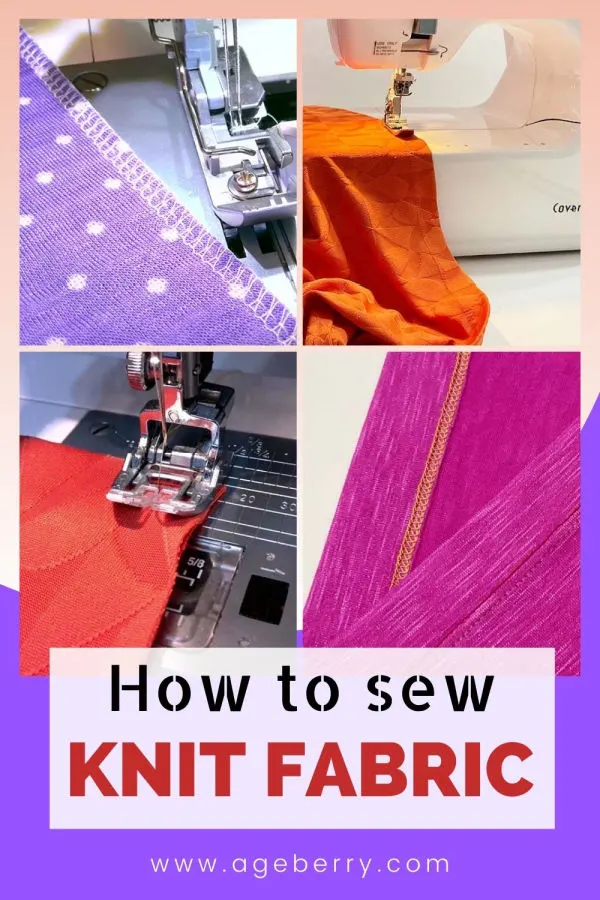 ______________________________________________________
Did you find this tutorial helpful? If so, save this pin (see below) on your sewing board so you can come to this tutorial later when you are ready to look for the best serger for knits and follow me on Pinterest for more tips, tutorials, and inspiration!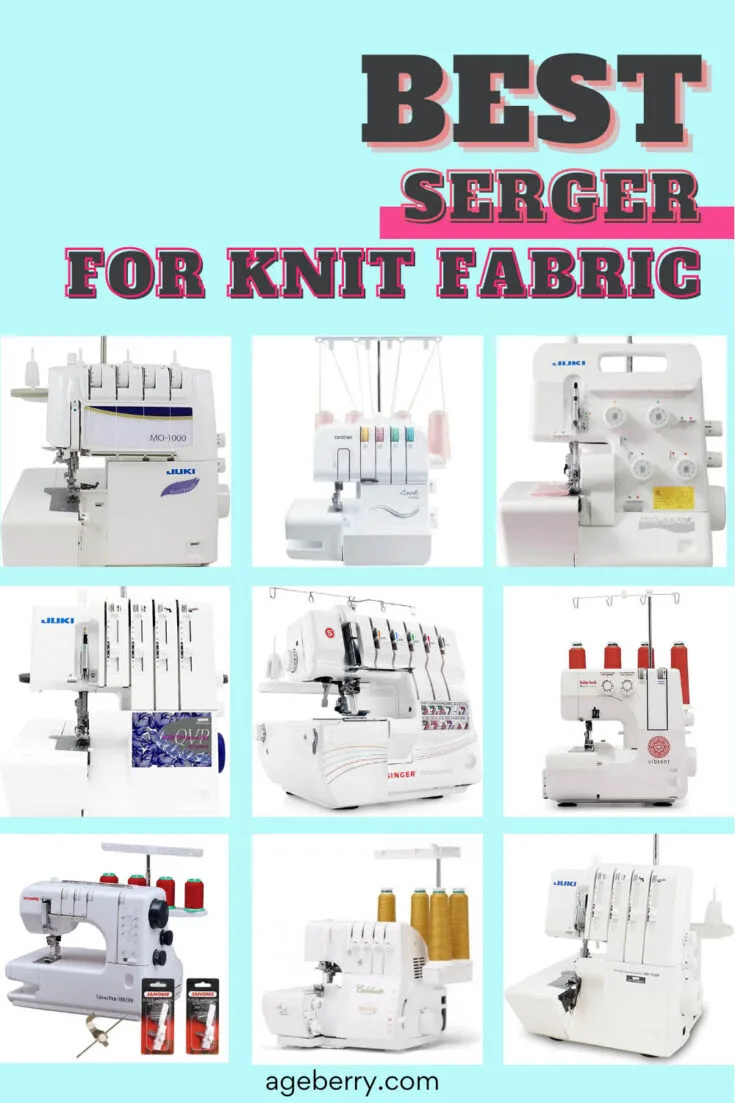 ---