If you are anything like me, you love using a serger, but find the threading process tedious and frustrating. If you relate, you'll be ecstatic to know that there is such a thing as a self-threading serger. Yes, it's as wonderful as it sounds.
However, this technology is fairly new, and different brands define "self-threading" differently. In this post, I'll explain what the types of self-threading overlockers are, which brands have them, and what best self-threading serger I recommend if you are eager to add one to your collection (as I was!).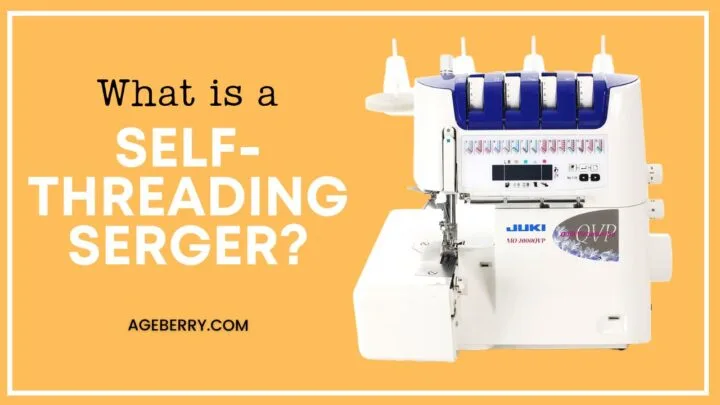 How I Found Out About the Self-Threading Serger
Let me tell you a quick story. Not so long ago, I used to dread using the serger. Not because I don't love to use the serger—I do. It's one of my favorite machines, actually and you can find out why we need a serger in my article "Serger vs. sewing machine". But, the act of threading a serger is not part of the fun.
First, you need to take the thread and guide it through the "tree" at the top—but not until you make sure the "tree" is up all the way. Got it. (By the way, once I had problems with my old Janome serger "refusing" to sew nice stitches just because I didn't put the thread stand up all the way.)
Then, slip it through the thread guides and hit the tension release so the thread can go down through. Hook it through the loop at the bottom, guide it through another section, pull it down and through…oh geez. Nope, you're not done yet.
Then, once you finish threading that section—you often have to do the whole thing over again with your next color of thread! Don't forget that you have an upper and a lower section to thread.
It was not uncommon for me to sit there with tweezers, coaxing the thread through the tiny holes trying to hold back a few choice words.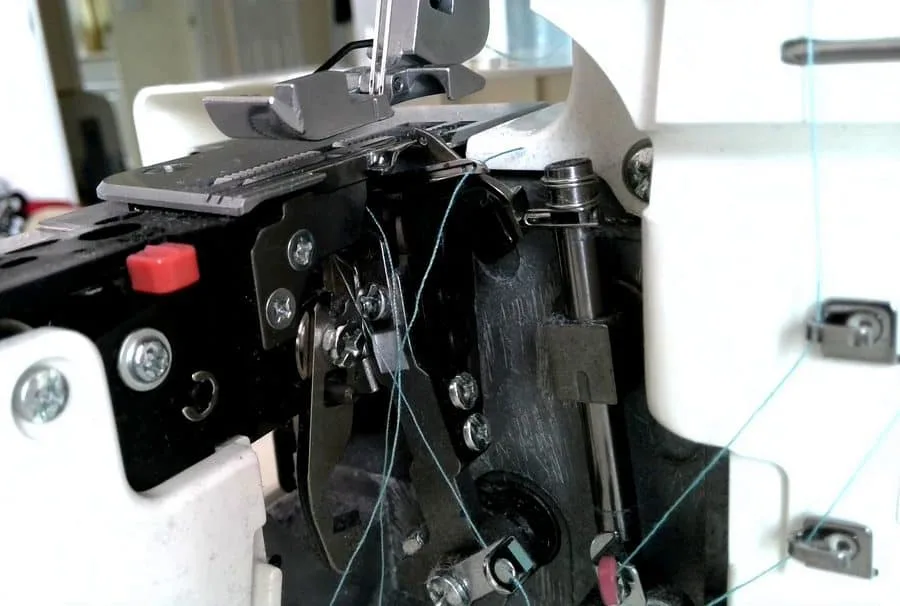 But what can you do? I love to sew and I love using the serger. Directing the threads through those 20-30 threading points was just part of the pain I had to go through to get to the good part. I just had to grit my teeth and get through it.
Until now, that is.
Is there a self-threading serger?
Yes, there is a self-threading overlocker! This new technology is called air-jet threading, and it is completely magical. Can I even say life-changing?
This feature is quite new and the first time I saw it, my jaw dropped. Three years ago, I had never heard of such a thing. However, I needed a new serger and went to a dealer where a gentleman showed one to me. I was truly AMAZED.
So with this new technology, the tedious serger threading is a thing of the past.
What are the types of self-threading sergers?
There are several sergers that claim to be "self-threading", but not all things are created equal. While many of these machines are easier to thread, I don't want you to purchase one thinking it is truly self-threading, and become disappointed when you unbox it at home and see that it is not.
Lay-In Threading vs. Air-Jet Threading in Sergers
The two main types of "self-threading sergers" are those that have air-jet threading and those that offer lay-in threading. I'm going to explain what each of them is so that you can make the best decision for you.
What does lay in threading mean?
On many models of sergers, you will notice a color-coded path showing which way the thread should be placed. This is known as lay-in threading. Often, lay-in threading is coupled with a "self-threading" (well, it's still manual, there is no button to push) lower looper to make the entire threading process more simple, but we can't call this a truly self-threading serger as you have to navigate the "lay in" part yourself.
What is air-jet threading?
Air jet threading is where the magic occurs, in my opinion. This is the type of threading I witnessed at the dealership and the only type that I consider to be a truly self-threading serger.
How does air-jet threading work?
Air jet threading is really neat. With this technology, threading ports are connected to the end of each looper by tubes. When you press the button to start the threading, the threads are flown through the tubes with air. Magic, right?
Ok, now let me show you how real self-threading works. Are you ready for the video?
What are the benefits of air-jet threading?
We have (rightly) talked about how threading a serger is a pretty rigorous activity and exercise in patience. So, of course, the first benefit is that you do not need to worry about the acrobats threading a serger.
However, there are other benefits I've found with air-jet threading too, such as:
No more twisted, knotted threads. Maybe you have experienced this too—all the time and energy to get the serger threaded so you can finally start to sew, only to find that the threads are knotted together or twisted. With air jet threading, this is no longer a problem, thankfully.
Easy to operate for anyone. If you have arthritis or vision problems, threading a serger may have been impossible before. However, with this technology, the overlocker world is available to everyone.
Simple to change thread colors. I admit that I sometimes kept my serger thread a basic color for longer than I may have liked just to avoid that tedious threading process. Thankfully, this is no longer a problem with a self-threading serger.
No lint build-up. As the threads are constantly moving through the tubes, there's no opportunity for fluff or lint to build up and clog the tubes.
How much do self-threading overlockers cost?
As you can imagine, this technology is not inexpensive. Of course, brands and models will vary in price from each other, but in general, I would expect to spend at least $1,000 for this type of machine.
Do they make self-threading needles?
Some of the machines come with features to help make threading a needle easier than ever. For example, a tilting needle clamp tilts the needle at an angle where it is much easier to see.
Even better, however, is technology such as the RevolutionAir Needle Threader from Baby Lock. With this, all you need to do is hold the thread in front of your needle, and push a button—it threads for you!
Note: Some of the links on this page are affiliate links. This means I will receive a commission if you order a product through one of my links. I only recommend products I believe in and use myself.
What is the best self-threading serger?
When it comes to making a fairly major purchase like a serger, I think it is well worth your time and energy to research and learn as much as possible about the machines.
I used to go to a sewing machine dealer to see the machines before purchasing, but that may not be possible these days for many people, and online shopping even for expensive items is a great alternative, especially since all self-threading sergers have numerous reviews and videos online so you can get a good feel of the machine before purchasing.
Here are some machines I can recommend to you.
✅ In my opinion, the best affordable self-threading sergers are JUKI self-threading sergers – MO-1000 and MO-2000.
JUKI MO-1000 – This machine has jet-air threading as well as an automatic needle threader.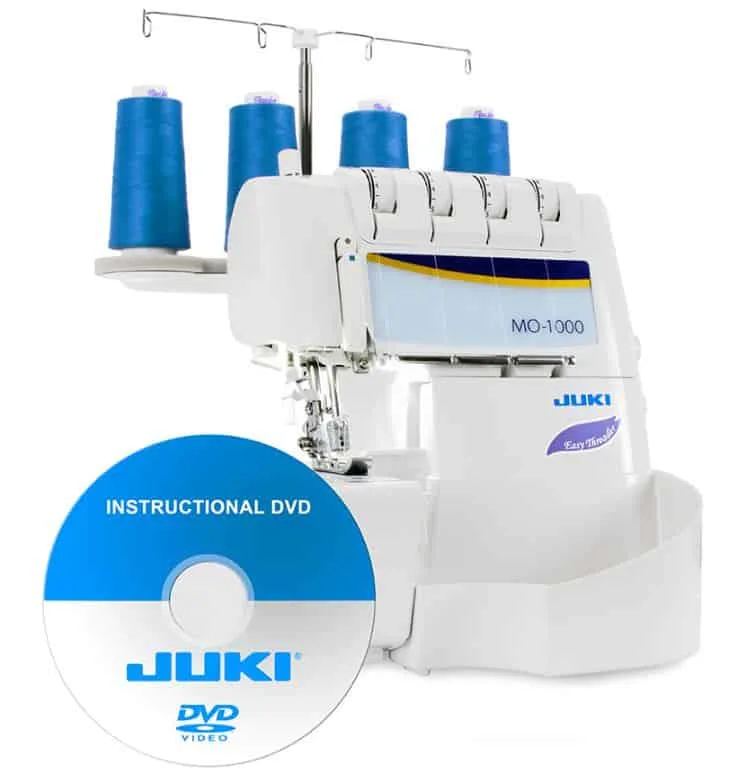 JUKI MO-2000 – The JUKI MO-2000 has all kinds of fun features, including self-threading. I own the machine and it's the best serger I have ever had. Here's a full blog post I wrote about this machine – A Review of JUKI self-threading serger MO-2000.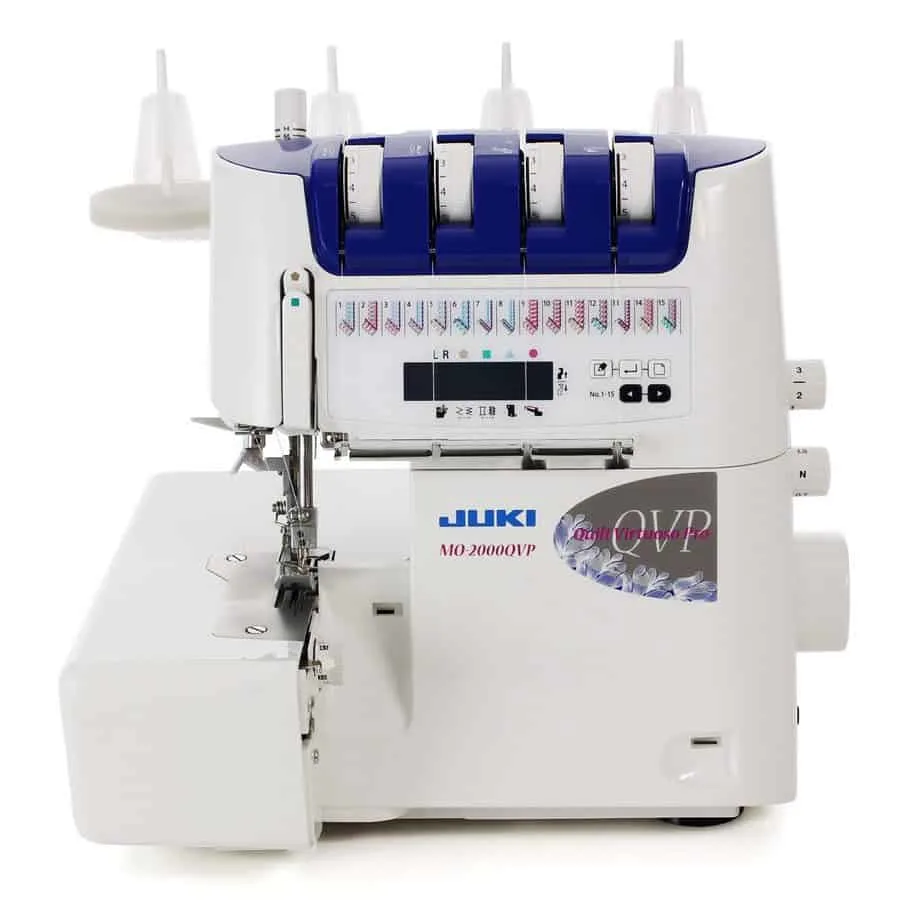 You can buy these sergers online in my favorite store Sewingmachinesplus.com. The shipping is free to the Continental USA. These sergers have a 5-year limited warranty from Juki. They are in stock! And the store often has machines on sale.
Both sergers MO-1000 and MO-2000 are self-threading (with air-jet technology) and the only difference between them is an LCD screen on MO-2000 where you can see all types of stitches and all the settings necessary for those stitches.
Baby Lock Self-Threading Sergers
Baby Lock has some great options for self-threading overlocker machines as well. But you usually can't buy Baby Lock machines online and have to go to a sewing machine dealer for these machines.
There are some exceptions though. Sewingmachinesplus.com sells some Baby Lock sergers. For example, I found BabyLock Celebrate self-threading serger with jet-air threading. Unfortunately, it's out of stock now.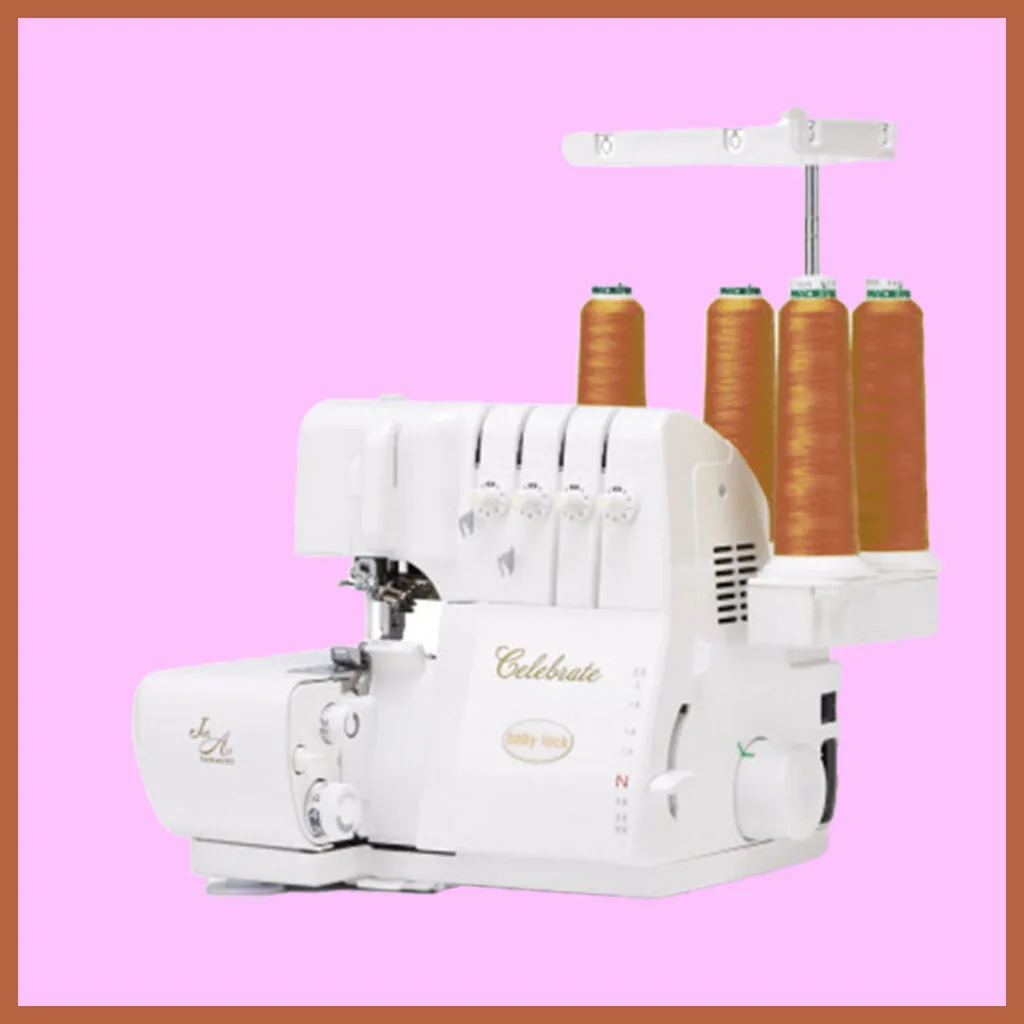 Baby Lock Imagine – This is Baby Lock's most popular serger. The jet-air threading threads the lower loopers simply by pushing a lever.
Baby Lock Accolade – If you want to thread easier, this machine is a great option. It has a technology called ExtraordinAir Threading that takes the thread through all loopers at a single time.
Baby Lock Celebrate – jet-air threading also comes on this machine so your lower loopers are threaded quickly. The presser foot has a nice height of 6mm, so if you sew thick fabrics this can be a good choice.
Baby Lock Acclaim – Want a machine that is truly self-threading? This serger features a technology called RevolutionAir Threading. All you need to do is touch a button and the loopers are threaded. Touch another button and the needle is threaded too!
Baby Lock Triumph – This is the most expensive option of the group, but it is likely the easiest to use too. The Triumph has the RevolutionAir Threading, but it also features 87 different stitch combinations and a generous 5" of machine space to the right of the needle.
You can read more about these Baby Lock self-threading sergers on the Baby Lock site at this link.
Janome Self-Threading Sergers
If you want a Janome, I like the Janome AirThread 2000D Professional. It features a one-push air threading system which makes it easy to thread.
The AT2000D won the iF DESIGN AWARD, a world-renowned design prize, competing against over 6,000 other entries from 52 different countries and awarded by a panel of 67 independent experts worldwide.
This machine is not available online but you can find it in any Janome sewing machine dealership. Read more about its features at this link.
Other Brands of Self-Threading Sergers
Another overlocker machine to consider is the Pfaff Admire Air 5000, which has one-touch air threading and a built-in needle threader. You can read more about it at this link http://www.pfaff.com/en-CA/Machines/admire-air-5000
You can buy this machine in your local Pfaff sewing machine dealership.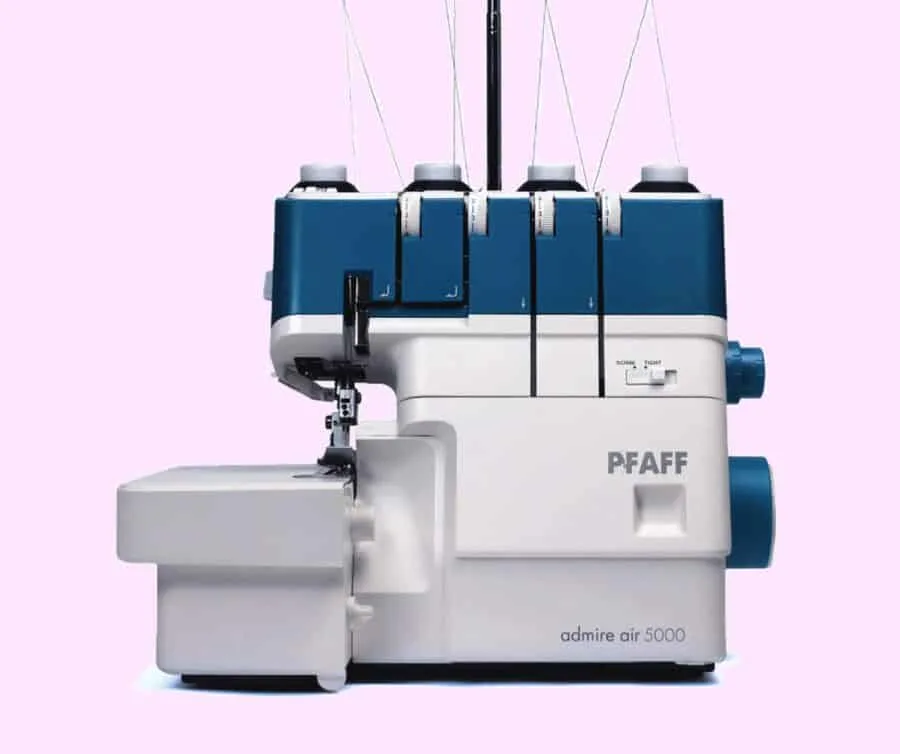 I also like the Viking Amber Air S 400 with its one-touch air threading loopers and built-in needle threader. Find more information about this machine at this link http://www.husqvarnaviking.com/en-US/Machines/AMBER-Air-S-400
This self-threading serger is not available online.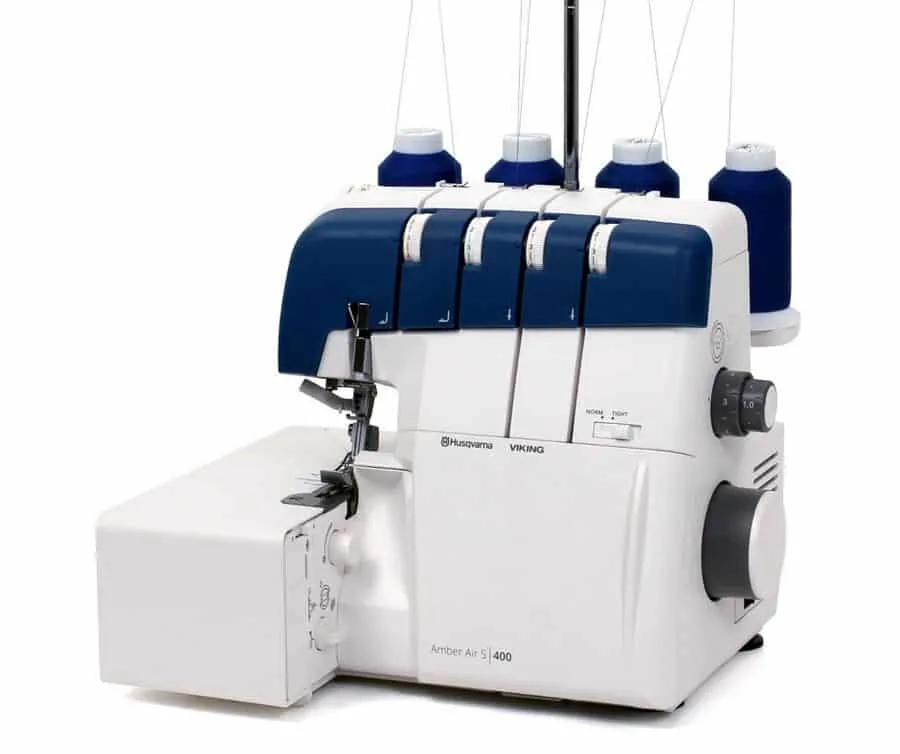 Does Bernina make a self-threading serger?
Sort of. The Bernina 1300MDC Serger is the closest option to a self-threading serger, but it is not truly self-threading. Instead, this machine has lay-in threading. It makes threading much easier than the older machines, but if you want to thread with the flick of a button, go for one of the air-jet versions.
As of April 2022, Bernina HAS a number of sergers that offer self-threading among other advanced features. They are models L850, L860, and L890, all very high-end machines comparable in price with the Babylock Triumph. For more details please see the manufacturer's site here.
Does Brother make a self-threading serger?
Unfortunately, no. Brother does not have a self-threading overlocker machine as of now. Perhaps they will develop one in the future!
I hope you found this article useful and are as excited about the world of self-threading sergers as I am!
Do you make these 15 mistakes with your serger?
Enter your email in the box below to download your free eBook and find out which mistakes you should avoid!
Subscribe to my weekly newsletters with sewing tips and tutorials, free sewing patterns, printable PDFs, and other useful content and you'll find the eBook in your inbox.
Subscriber exclusive offer.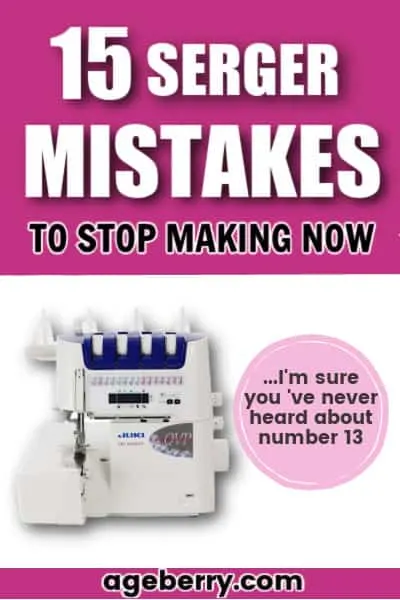 Did you find this tutorial helpful? If so, save this pin (see below) on your sewing board so you can come to this tutorial later when you need the information on self-threading sergers, and follow me on Pinterest for more tips, tutorials, and inspiration!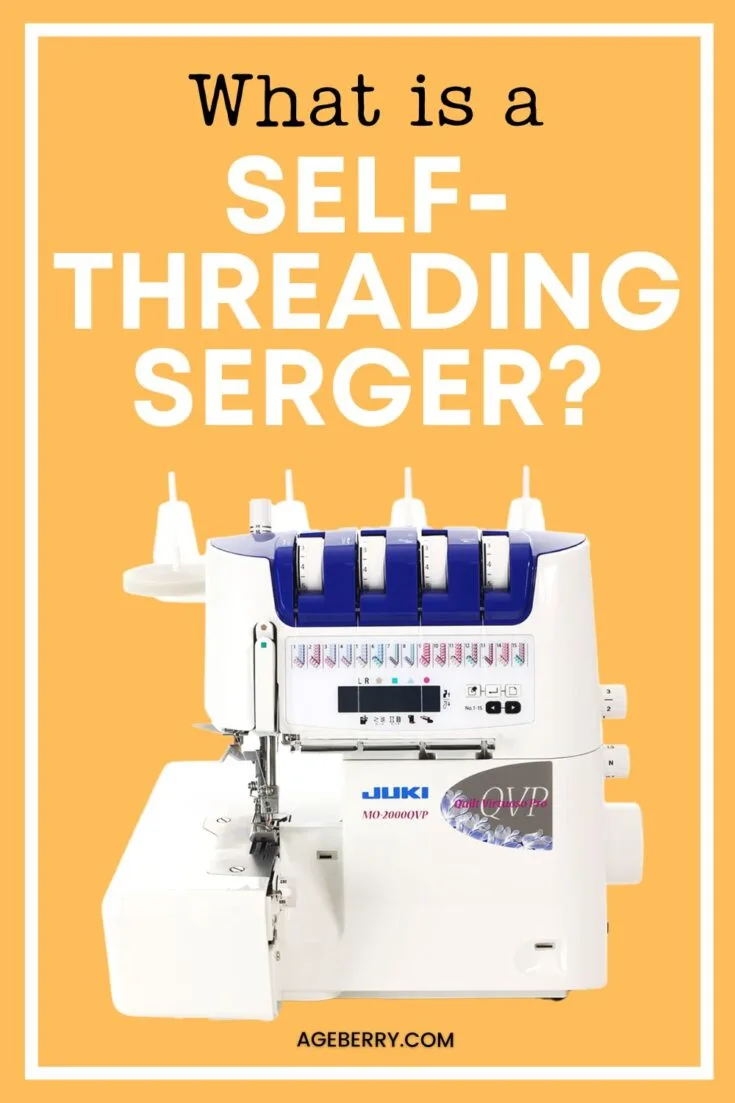 Like sewing tips? I have other popular tutorials on my site that might be interesting for you. Check them out below.
---