Whether you're a beginner sewist or an expert, using the right needle for your project is essential for a great outcome. Leather sewing needles are specialized needles that are designed to work well with leather and other tough fabrics like faux leather, real fur, and all types of vinyl. In this tutorial, we'll take a look at what makes leather sewing needles different from other types of needles, and we'll discuss some of the best ways to use them for your next leather project.​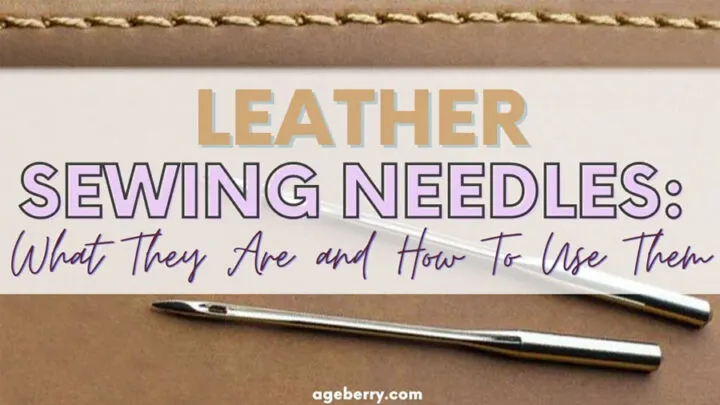 Working with leather can be both challenging and rewarding. This unique material is known for its distinctive appearance and texture, as well as its durability. And while leather can seem daunting due to its thickness and unique texture, using the right tools and techniques makes it much easier to work with.
In particular, leather needles are a critical tool for sewing leather projects. Whereas standard universal needles run the risk of not working well, breaking, and damaging your leather, leather needles have a specialized design that allows them to work easily through leather without causing damage or breakage.
With leather needles, you can achieve consistently beautiful results every time you work with leather or other similar materials like faux leather or vinyl. Whether you're an experienced leatherworker or just starting out, leather needles are one key tool for working with these unique materials effectively and safely.
So if you're ready to take on a new project involving leather, don't forget to invest in leather needles. They'll help make this special material both fun and manageable to work with.
At this point, you may be wondering why sewing with leather and vinyl is even necessary. Well, sewing these materials at home allows you to expand your sewing skillset and create unique and beautiful projects that simply wouldn't be possible with other most common fabrics.
Whether you want to make a stunning leather skirt or a new purse, sewing with these fabrics is the best way to achieve your sewing goals. With the right tools and techniques, you can create high-quality garments and accessories that will impress everyone who sees them.
Types Of Leather Needles For Sewing By Hand
Several years ago, I decided to try my hand at sewing a leather purse (that doesn't cost an arm and a leg). At first, everything was going smoothly.
But as soon as I came to the hand-stitching portion of the project, I ran into some trouble. My hand sewing needles just would not work on leather – no matter how much force I applied, or how sharp the point of the needle was.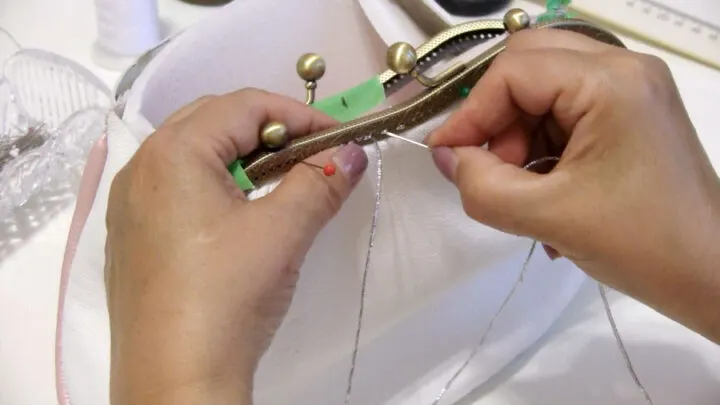 After trying and failing again and again, I eventually realized that there must be special hand sewing needles for leather that would make this part of the process easier.
Thankfully, after doing some research online, I found just what I needed: hand sewing needles specifically designed for use with leather. With these needles in hand, I was able to finish my project successfully, and learned an important lesson about materials and crafting in the process.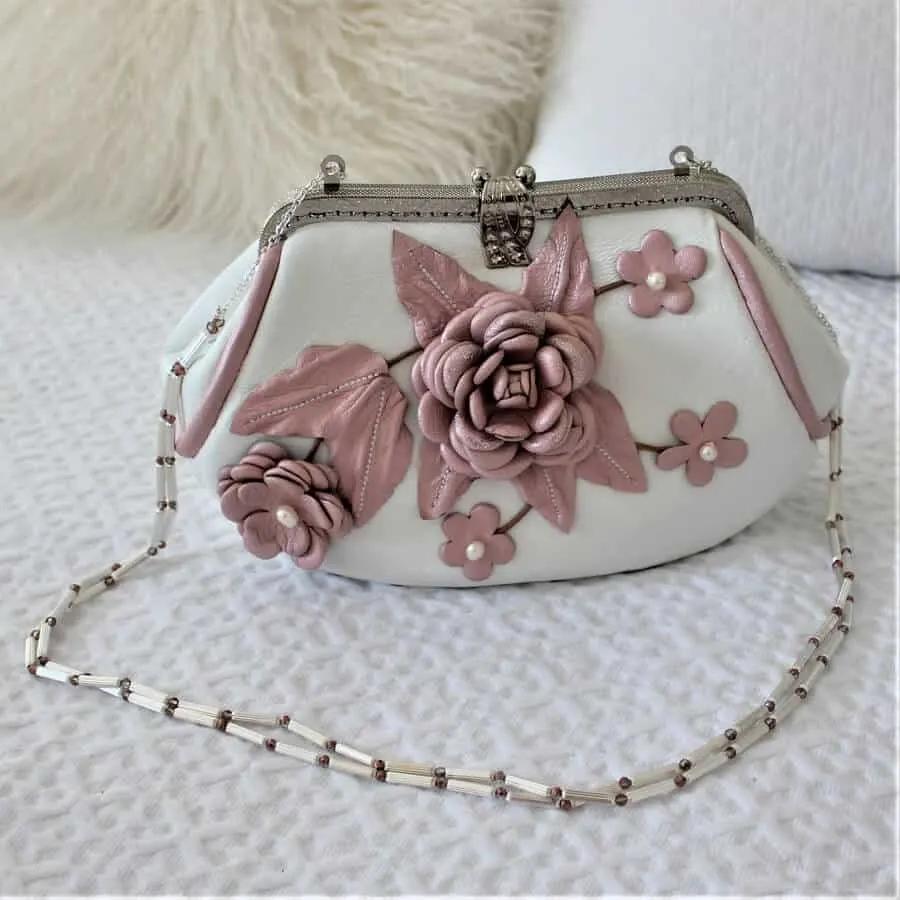 So if you are facing a similar challenge when it comes to hand stitching leather, don't panic – just find yourself some good quality hand sewing leather needles.
In order to protect your fingers while sewing leather by hand, it is also a good idea to use a leather thimble or some other form of finger tip protection.
Here are the various options for choosing a hand sewing leather needle:
Note: Some of the links on this page are affiliate links. This means I will receive a commission if you order a product through one of my links. I only recommend products I believe in and use myself.
Glover's Needles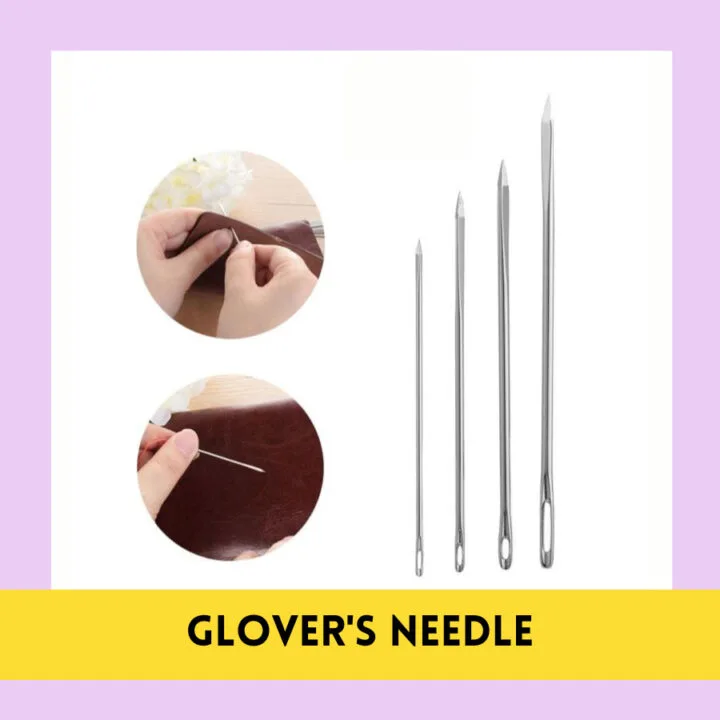 In my experience, glover's needles are the best choice for working with leather by hand. Those are the needles I used to finish my purse.
The name comes from glove-makers using these needles when making gloves.
These specialized needles feature a sharp triangular point, which allow them to easily pierce through even the thicker leather without causing much damage or distortion to the material.
They also have a larger eye that makes it easy to thread thick leather thread. In addition, these needles are slightly thicker, which helps prevent them from bending when sewing through multiple layers of leather. They work well with soft lambskins, but also with thicker hides, suede, etc.
Furthermore, glover's needles come in a variety of sizes, so you can easily find one that fits the specific thickness and type of your leather project. Smaller and thinner needles are better suited for fine leather, and longer and thicker needles are more suited for thick leather or a few layers of lambskin leather.
Whether you need to make some hand stitches on a small pouch or a large jacket, glover's needlesare sure to be an essential tool when working with leather by hand.
Leather Lacing Needles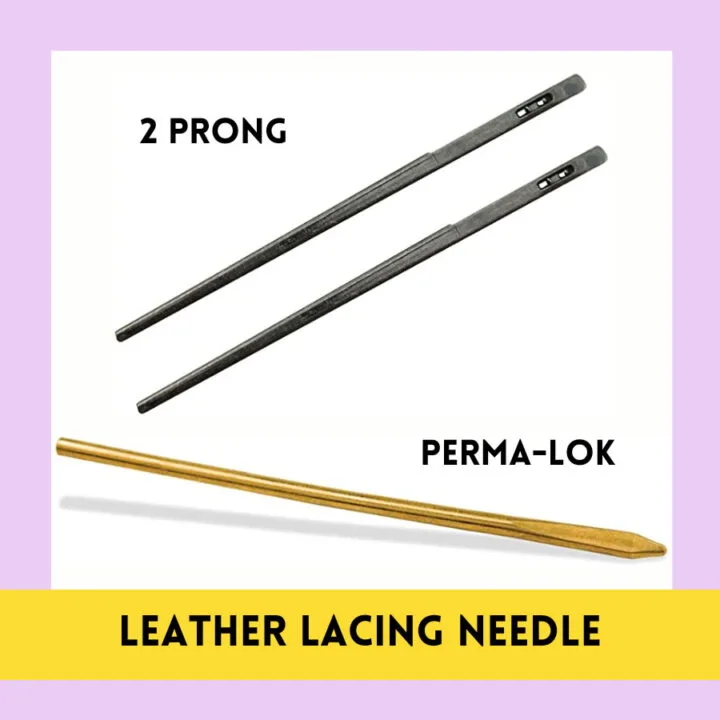 Lacing needles are specialized tools that are designed for use in decorative lacing work on various types of leather-like materials. They are typically made from durable, high-quality steel and are specifically engineered to be used with leather in order to create attractive designs on holsters, belts, purses, and other accessories.
Unlike regular needles, lacing needles don't have an eye and they require pre-made holes in the material that you lace together.
There are two types of lacing needles:
2-prong – these needles have two flat metal pieces attached at one end, with one part being slightly longer than the other. The lace slides between these pieces and slips into a small tab at the other end of the needle.
Perma-Lok – these needles are hollow tubes with a round, blunt end. The other end is open and has threads. To thread these needles, trim the end of your leather strip into a narrow point and push it into the hollow end. Then, "screw on" the needle so that the threads of the needle bite into the leather and hold it in place.
Overall, lacing needles offer a quick and easy way to create beautiful, intricate designs on leather goods and other materials where pre-made holes already exist.
Harness Needles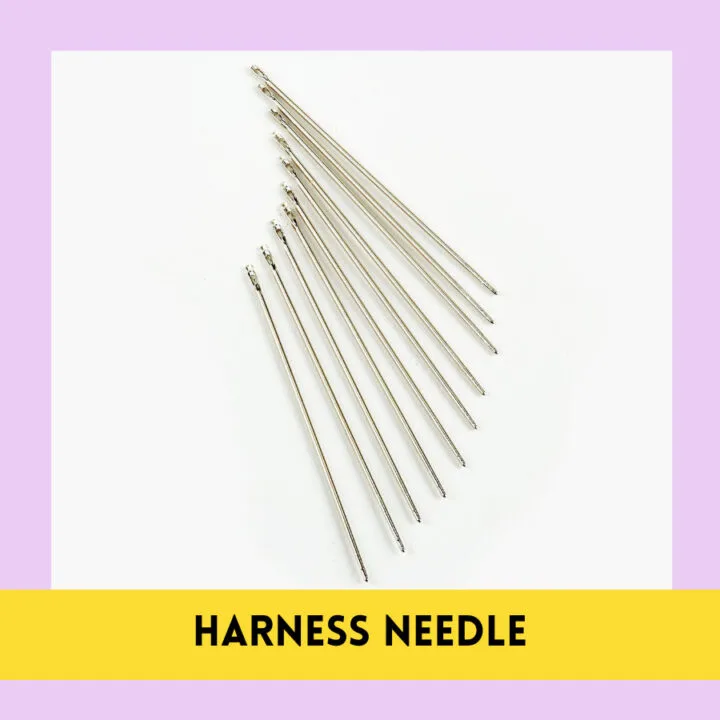 These needles look more like traditional universal needles, but they're long cylindrical needles with a round tip at one end and a relatively small eye for thread at the other. The eye has the same size as the shank which is really helpful when working with leather. Choose the size of the needle you need based on the thickness of your thread.
Also known as saddlers needles, harness needles with large, rounded points easily pierce and pass through tough materials like leather. They have the right amount of sharpness but not too sharp. They are also incredibly sturdy and straight, making them easy to use for even novice hand sewists who want to work with leather.
Saddlers are ideal for any sort of leather work, from shoe repairs and making new shoes to working on harnesses and leather clothing items. Because of their strength and versatility, harness needles are an essential tool for anyone who works with leather regularly. So whether you are looking to make a custom vest or need to quickly repair an old harness, harness needles have got you covered!
Curved Leather Needle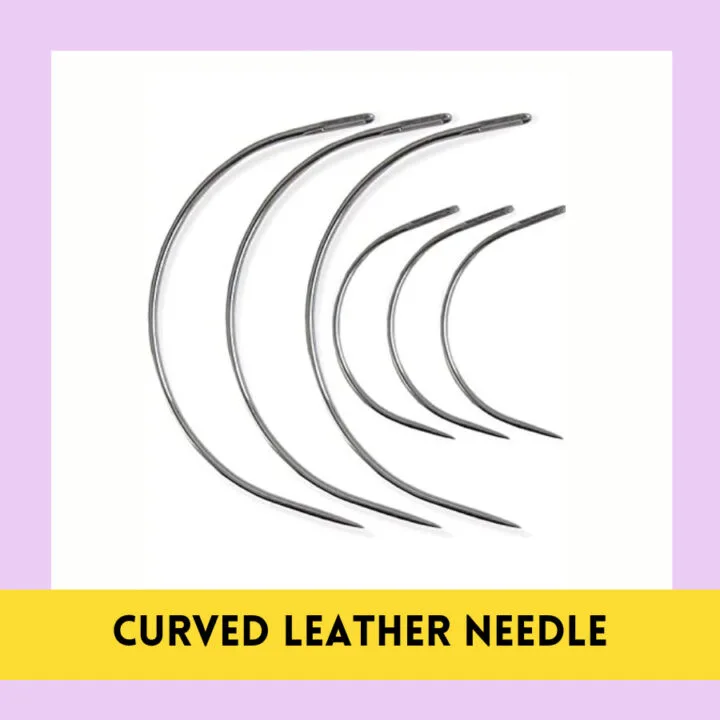 These curved needles are basically bent harness needles.
They are designed specifically for working with leather. Available in a variety of of sizes and shapes, they are typically made from high-quality steel and feature a curved or bent design that makes it easier to sew through thicker and more durable materials like leather.
Whether they are curved at the end, shaped like an s-curve, or curved in a semi-circle, these needles help to reduce the effort and stress involved in sewing leather items. So if you're working on a project that involves sewing leather products or accessories, be sure to keep these curved needles in your toolkit.
When you switch from sewing with straight needles to curved needles, you may feel like you're starting all over again. It can be tricky to get used to the new shape, but it's definitely doable with a little practice.
I remember when I first tried curved needles, it took me a while to make stitches that looked nice. But eventually I got the hang of it and now I can easily sew with curved needles. If you're having trouble, just keep at it and you'll get there.
Leather Sewing Awl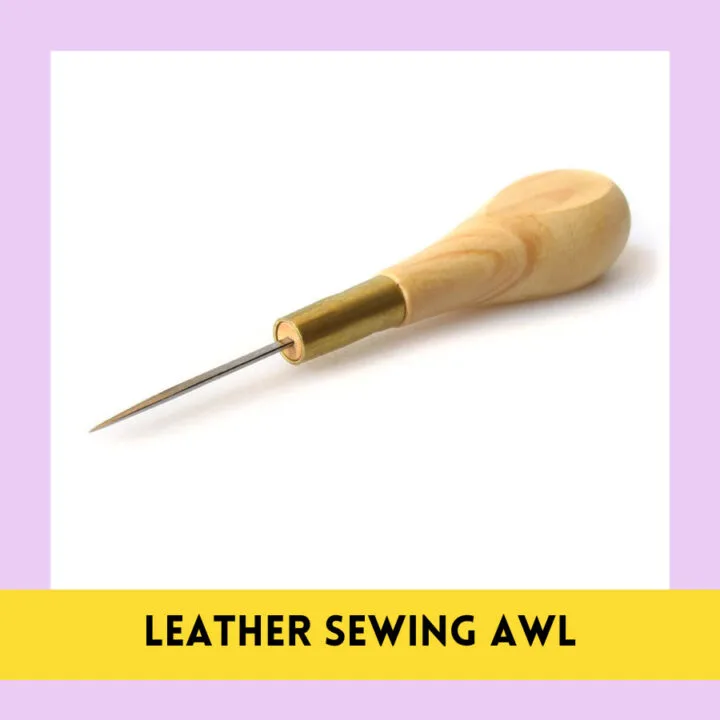 A leather sewing awl is not really a needle. It's a tool commonly used by leatherworkers and crafters to help them easily and quickly stitch leather materials together.
This hand-held tool typically consists of a handle at one end, a sharp needle with an eye for holding the thread on the other, and a spool of thread in between.
The leather sewing awl is ideal for making straight, clean stitches without having to worry about knotting or misplacing your needle and thread. Additionally, because it provides a quick and easy way to create strong, durable seams in leather materials, many leatherworkers consider it to be an essential part of their craft.
To use this tool, you simply pull the leather tightly against your work surface and run the leather sewing awl along it, piercing it with the needle as you go. You can read more about it in this article Leather Awl – How It's One of the Most Handy Leather Tools
Leather Sewing Machine Needles
If you are looking to sew leather on your sewing machine, there are also special needles that you need in order to do the job properly.
There are many different types of leather sewing machine needles for use in industrial sewing machines, but in this article I want to focus on the needles that are used for home sewing machines.
While there may not be a huge variety of leather needles available for home sewing machines, there are certainly a range of different sizes, depending on the type and thickness of leather that you are working with. Leather needles may differ based on other factors such as point type and shape as well as groove width.
Whether you need heavy-duty leather needles for thick leather materials, or fine needles for more delicate leather applications or thin vinyl, there is definitely a needle out there that will meet your needs.
Leather needles usually have sharp points that are specifically designed to penetrate leather without damaging the material.
Most leather sewing machine needles for home sewing machines come in sizes 90/14, 100/16, and 110/18.
The higher the number, the thicker the leather it can sew.
When sewing leather, it is important to choose a needle size that is appropriate for the weight of your leather. If you use a needle that is too small, it will bend and break easily; if you use a needle that is too large, it will create big holes in your leather.
From my experience, for most leather projects, sizes 90/14 and 100/16 are a good choice. However, if you are working with thicker leather, you may need to use a size 110/18 needle.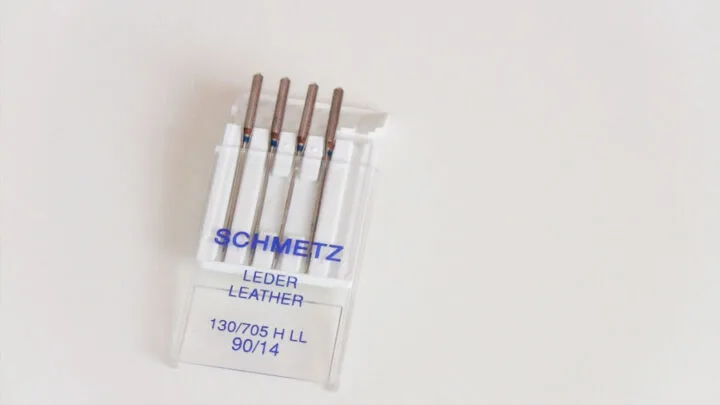 When it comes to sewing leather, suede, vinyl, or real fur, it's best to use a leather needle. These needles are designed to penetrate thick fabrics without damaging them. However, that doesn't mean that other types of needles can't be used on leather.
For example, when I was making embroidery on thin lambskin leather, I tested both leather and embroidery needles and went with an embroidery needle for my project.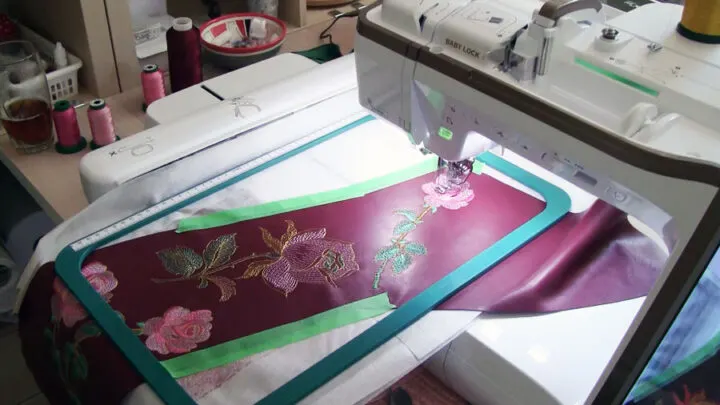 I have read that Universal and Microtex needles can be also used for sewing leather but they didn't work for me. I had skipped stitches all the time.
Leather Needles vs. Heavy-Duty Needles: What's The Difference?
Although both heavy-duty needles and leather needles do heavy-duty work, they are not the same thing. Heavy-duty needles are larger universal needles that work well for sewing thick or heavy-weight fabric that's not leather, vinyl, etc.
On the other hand, leather needles are heavy-duty needles with sharper points for piercing leather differently, depending on the needle's purpose. They are specifically designed to make sewing leather easier based on your project.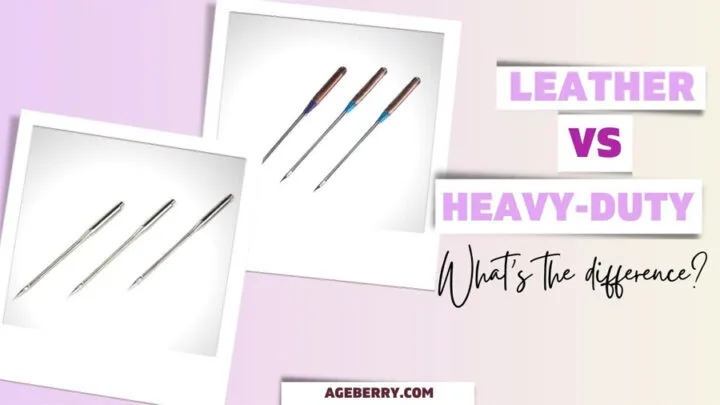 Why do leather sewing needles work on leather?
Leather needles are made specifically for sewing leather and also suede, vinyl, faux leather, and real fur. The leather needle usually has a special point that penetrates the leather easily, and a strong shaft that prevents the needle from bending or breaking when sewing through multiple layers of leather. In addition, leather needles may have a slightly larger eye than regular sewing needles, which helps to prevent the thread from tearing or shredding as it passes through the leather.
What machines can use leather sewing needles?
There are a few sewing machines on the market that can be used to sew leather at home. Most popular sewing machine brands (Brother, Janome, Singer, etc.) have sewing machines that can handle sewing simple leather projects at home with a few modifications such as using leather sewing needles, a roller or walking foot, and heavier thread.
If you're looking to sewing leather at home, you'll want a heavy duty sewing machine that can pierce through leather skins easily. These machines have stronger motors and can handle thicker materials.
If you are looking for a sewing machine to use exclusively for sewing leather, there are a few companies that make industrial sewing machines specifically for sewing leather (Juki and Consew are two examples). These machines tend to be more expensive than a standard sewing machine, but they will sew through thicker leathers more easily and have other features that make sewing leather simpler.
No matter what kind of sewing machine you use, always test it on a scrap piece of leather before sewing your project to make sure the tension is correct and the stitch length is what you want.
If you sew leather projects often or create more advanced leather projects, you may want to consider investing in a Janome HD3000 Heavy-Duty Sewing Machine or SINGER 4423 Heavy Duty Sewing Machine, which can handle the strain that working with leather creates.
Different Brands Of Leather Sewing Needles
Schmetz Leather Needles. Schmetz is a well-known brand of sewing needles, and their leather needles are some of the best on the market. These needles are made of high-quality materials and are designed to be durable and long-lasting. Schmetz offers the broadest range of leather needles of any brand, making them a good choice for sewists who want to have a wide selection to choose from. These needles are also a good value, as they are priced competitively with other brands. Schmetz needles are a great choice for those who want high-quality, durable, and affordable leather needles.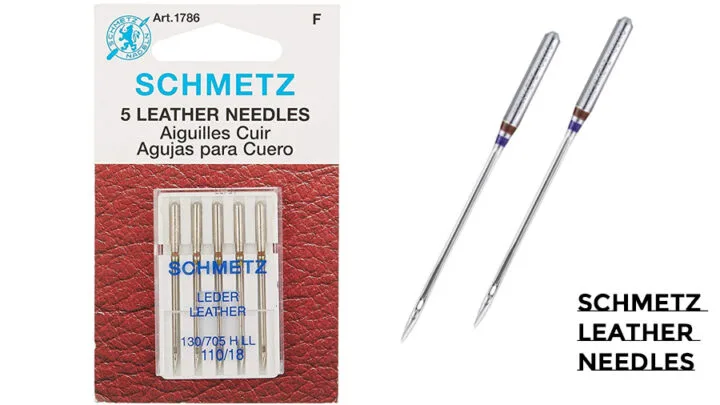 Singer Leather Needles. Singer is a trusted brand in sewing, and their needles are of good quality. They're known for their high quality and durability, but they don't always work with other sewing machine brands. So it's important to check the compatibility before you buy. Singer needles are available in a variety of sizes, so you're sure to find the right needle for your project.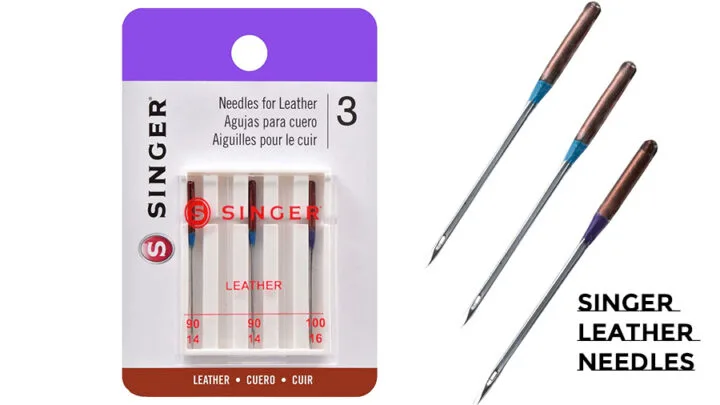 Organ Needles. Organ leather needles are compatible with many brands of sewing machines. If you're unsure whether or not they will work with your machine, be sure to check the label before purchasing them. Organ leather needles are known for their sharpness and durability, making them ideal for sewing through tougher fabrics such as leather and vinyl. They also come in a variety of sizes to accommodate different leather thicknesses.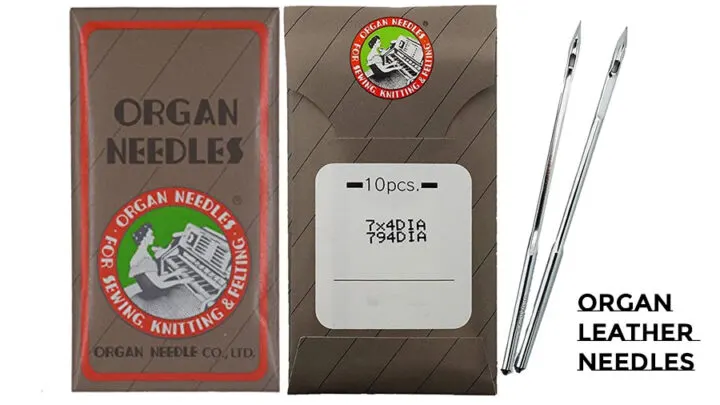 How To Use Leather Sewing Machine Needles
Using leather sewing machine needles is easy – just follow the same guidelines you would for using any other type of sewing machine needle. Start by matching the needle size to your thread size and fabric thickness. Then, use the correct presser foot for your project.
Once you have the right settings for stitch length and tension, test them out on a scrap piece of material before sewing on your final project. This will help you avoid any mistakes.
Check the needle to make sure it's not bent or dull. If the needle is damaged, it can cause problems with your sewing and potentially damage the leather. It is also a good idea to change the needle when you start a new project, especially if you are using a different type of material.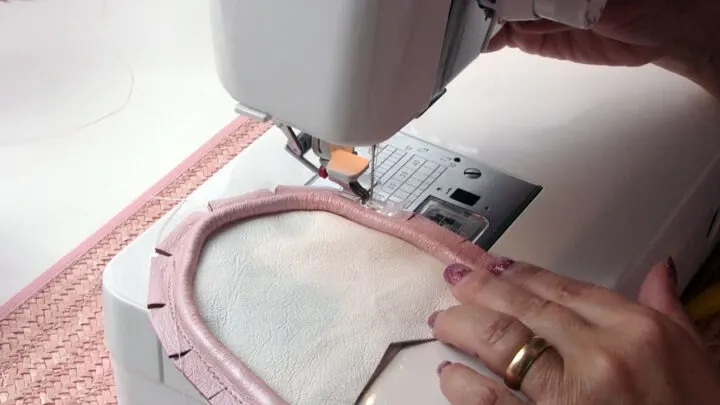 Sew slowly and carefully, and pay attention to how the leather is reacting to the needle. If you notice any problems, stop and adjust your settings.
When working with leather needles, it's important to insert them into the needle bar correctly to avoid damaging your project. Be sure to consult your sewing machine's manual for specific instructions on how to do this.
What Thread To Use With Leather Sewing Machine Needles
When it comes to thread, not just any thread will do – it needs to be thread that is suitable for sewing leather. For example, regular thread, made from 100% cotton, will eventually break down when it comes into contact with the tannins in the leather. Over time, this will cause the thread to weaken and ultimately break, which is not what you want. But anyway, regular cotton threads (usually 40 weight, TEX 25) are not very strong and break too easily.
To avoid this issue, use thread that is made from polyester or nylon. These materials are much more resistant to breakdown, and will therefore last much longer.
Another option is to use a heavy-duty topstitching thread. This type of thread is stronger than regular thread, making it a good choice for sewing leather.
Usually, I use strong polyester threads TEX 40.
I also tried pure silk threads (thick ones) and can tell you that they are very good for sewing thin leather but they are expensive.
✅ Related tutorial: Sewing thread types and uses
Where To Buy Leather Sewing Needles
You should be able to find leather sewing needles at your local sewing store. However, I prefer to buy mine online because I can read more information about them and read reviews from others who have used them. Here are a few I recommend that get great reviews:
Best Needles For Hand Sewing Leather
Leather Sewing Machine Needles
Singer 2087 Leather Machine Needles – this pack includes two sizes of needles and work with Singer, Brother, and Kenmore brands.
Schmetz Leather Sewing Machine Needles – these needles are good for leather and other non-woven materials. They work with many brands, including Janome, Singer, Brother, Pfaff, Bernina, Kenmore, Baby Lock, Viking, Elna, Simplicity, etc.
Schmetz Leather Needle Combo Pack – this pack includes two needle sizes that are compatible with most home machine brands, including Brother, Pfaff, Simplicity, Singer, Baby Lock, Bernette, Bernina, Husqvarna/Viking, Janome, Juki, Kenmore, and more.
In conclusion: I hope that this article has helped you to understand the different types of needles available for sewing leather and given you some ideas on how to use them in your own projects. Leather is a beautiful, durable material that can be used to create a variety of items, from bags and belts to jackets and skirts. With the right tools and knowledge, you can start creating your own leather masterpieces today.
✅ Do you want to read about an interesting needle for decorative stitching? Try this: How to Use a Wing Needle for Hemstitching
Anyone who sews knows that keeping needles organized can be a challenge. That's where needle books come in! A needle book is a small, lightweight case that is used to store needles. Needle books are especially helpful for those who sew with leather, as the needles can be difficult to keep track of. I have a needle book tutorial on my site that is perfect for beginners. Best of all, it's a great way to use up those fabric scraps that are taking up space in your sewing room!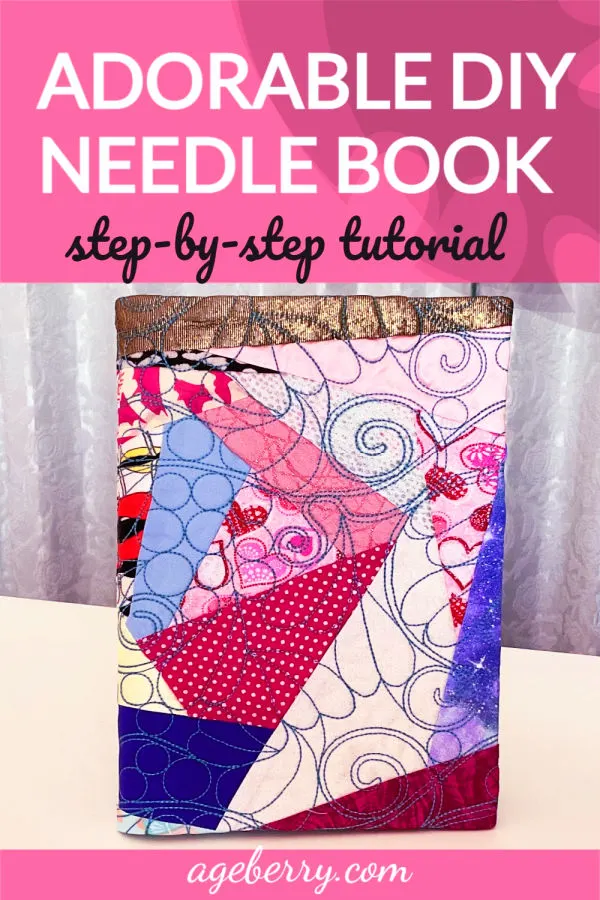 Did you find this tutorial helpful? If so, save this pin (see below) on your sewing board so you can come to this tutorial later when you need this information on leather needles, and follow me on Pinterest for more tips, tutorials, and inspiration!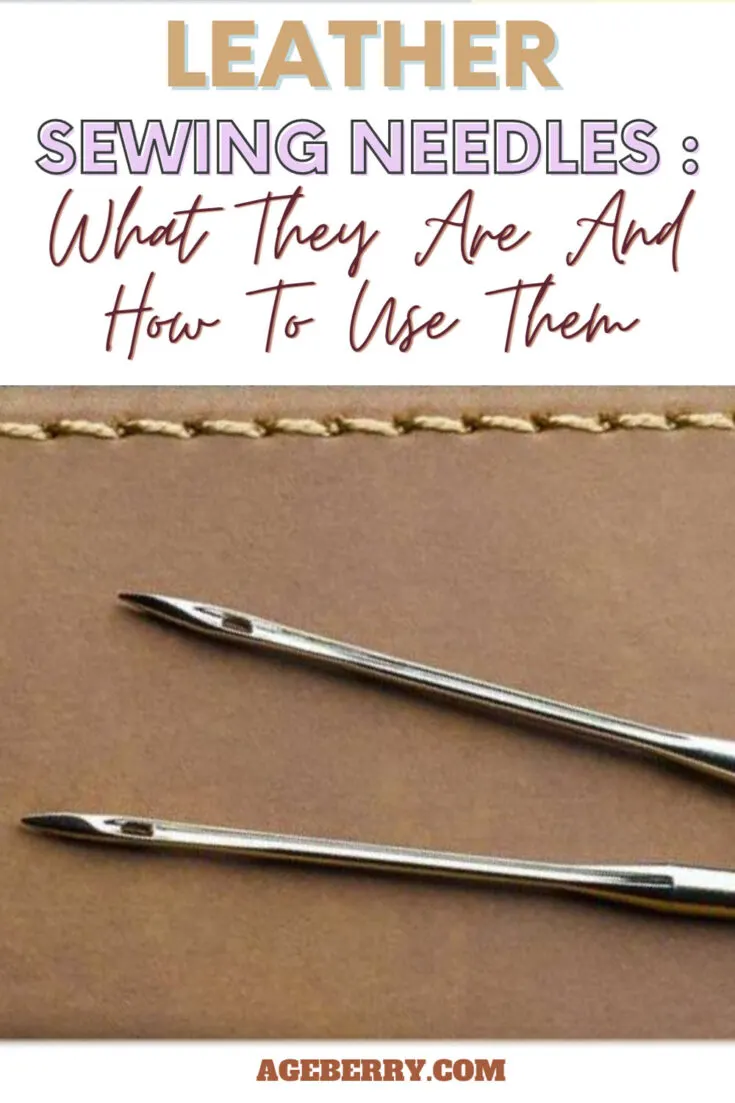 ---