Once you buy your first serger, it becomes time to learn how to use it. The first item on the agenda is learning about the best serger thread to use to help keep your machine working at peak performance and delivering top-quality results. Here's what you need to know about choosing the best serger thread for your projects and the brands I recommend.
I remember how excited I was to bring my new machine home and unpack it. I can still remember imagining all the beautiful pieces I would make with my serger.
Amidst all the excitement coursing through you, if you're anything like me, you probably have a few questions.
So, let's dive in and find out the answers to what is likely the first question on your mind as you unpack your serger: what is the best serger thread to use?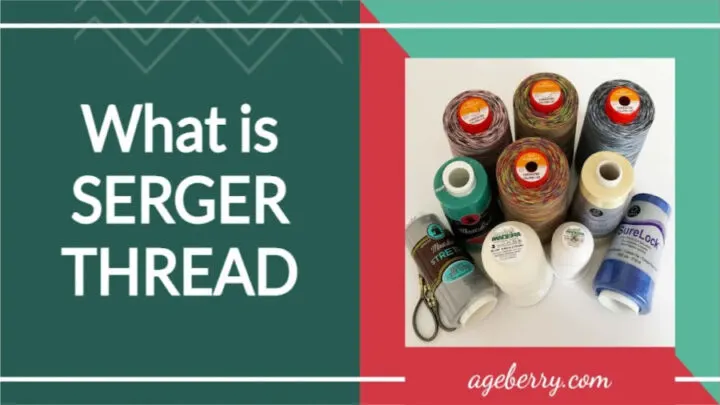 Do sergers use special threads?
Yes, serger machines do use a specialty type of thread. Serger thread is:
Finer than standard sewing thread to avoid unwanted bulkiness. There is more thread in a serged seam and special serger threads reduce bulk.
Higher quality to reduce the build-up of lint
Sold on large spools (called cones), which have at least 1,000 yards (920 m) of thread, and they can have as many as 12,000 yards
Designed to be used in multiples to create multi-thread stitching
Can be polyester, nylon, cotton, or blend
Just like buying sergers themselves (and nearly anything), the more expensive the thread, the better quality it is. But that, alone, isn't the only factor in determining what thread you need to use with your serger. The best thread for your projects will depend on your budget and how you intend to use it.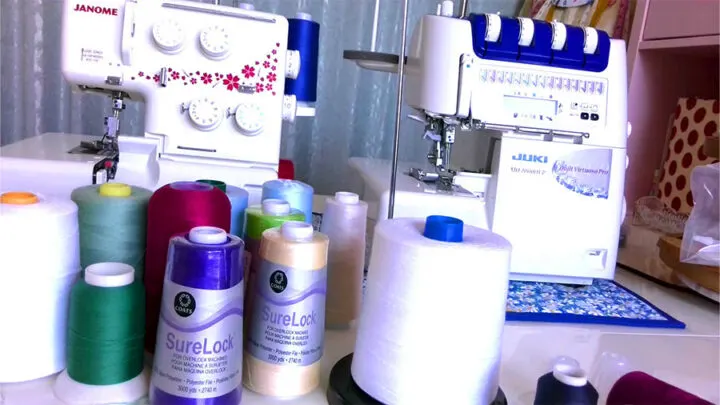 What is the best serger thread?
While there are many different serger threads on the market, they are not all equal to each other. You'll want a high-quality thread to prevent breaking, fraying, skipped stitches, and extra lint cleanup in your machine.
But how do you know what serger thread is good quality and what thread isn't? In order to determine whether the serger thread is the kind, you want to use, look for certain things. The best serger thread will:
Be smooth with minimal fuzz (short thread fibers sticking out from it). Using hairy-looking thread will cause lint build-up in your machine that you'll need to clean out.
Not have lumps and have consistent thickness. Otherwise, you'll end up dealing with breaking thread and tension issues.
Be knot and tangle-free.
Have high breaking strength, so it's strong and durable. A serger stitch very fast – around 1,500 stitches per minute. This creates more stress on threads.
Cost more than cheap, poor-quality thread.
The most widely available serger thread is made of 100% polyester. Most often it's written on the cones – spun polyester. But there are other types of polyester threads – filament and core-spun polyester. Spun polyester threads are less expensive to produce and are usually priced lower than other types of polyester threads. A spun polyester thread is not as strong as filament or core-spun polyester threads.
Unfortunately spun polyester thread has moderate-to-high levels of lint. But we have to deal with it and clean our sergers periodically.
Let me show you this image – you can see different threads here – black and red threads are spun polyester and the green is core-spun polyester – and it has much less lint.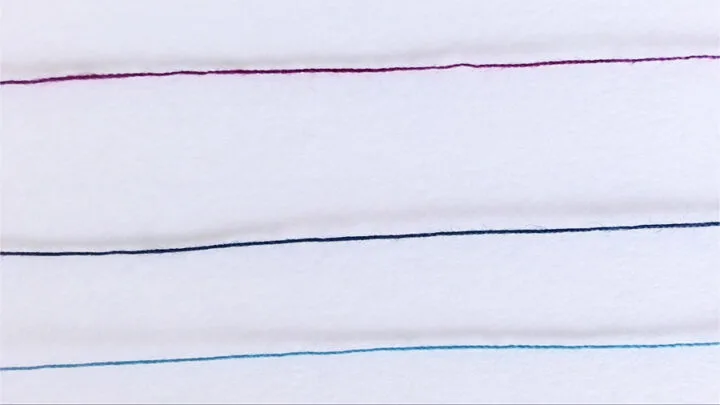 There are also cotton-wrapped polyester threads. A polyester core gives this thread strength and elasticity, while a cotton coating adds heat resistance and blends well with natural fiber fabrics.
100% cotton thread may lack the strength of polyester, but works well for serging light and medium weight natural fiber fabrics. But cotton threads often leave a lot of lint.
If you find that your serger is not giving better stitch quality by adjusting the tensions or changing needles, then try a different type of thread. You might be surprised at how well it works with another kind.
Also, a thread may sew well on one fabric and not on another.
If the thread becomes wavy when it is low on the cone (or spool), don't use it anymore on the serger. This wavy thread can cause stitching problems. You can use this thread for hand sewing.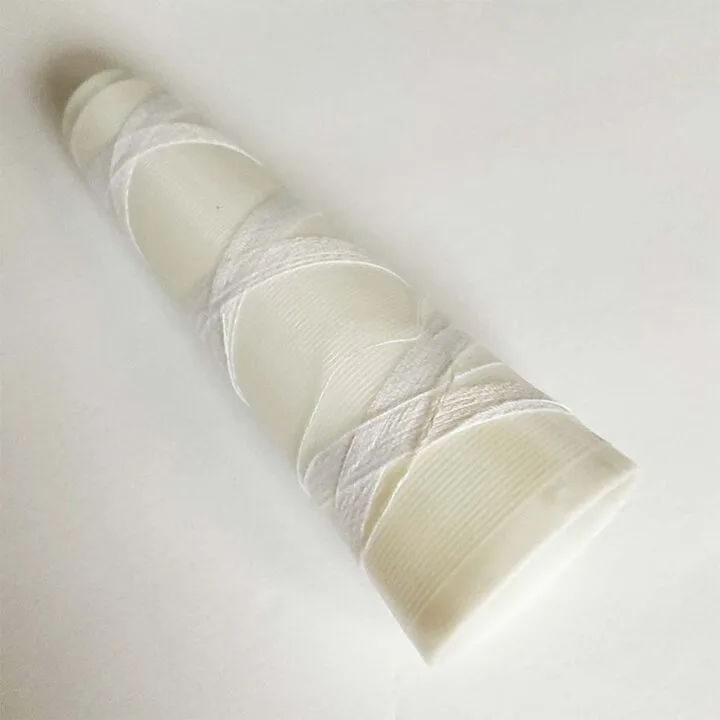 I have to mention here that decorative threads, including metallic thread, rayon thread, even lightweight ribbons, and yarns may also be used on a serger but only in loopers.
Do you make these 15 mistakes with your serger?
Enter your email in the box below to download your free eBook and find out which mistakes you should avoid!
Subscribe to my weekly newsletters with sewing tips and tutorials, free sewing patterns, printable PDFs, and other useful content and you'll find the eBook in your inbox.
Subscriber exclusive offer.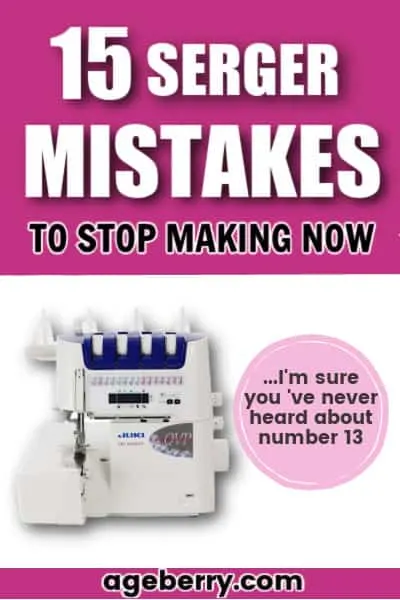 Different Types Of Serger Threads For Different Projects
Not only does serger thread differ by quality, but different projects demand different types of thread. Once you find the high-quality thread (or thread brands), then it's time to choose a thread based on your project's needs. Here are some of the most common threads that will work for your serger projects.
Cone Thread (Polyester Or Cotton)
Unless you are working on special projects that demand a particular thread, serger cone thread will likely be the kind you use the most often because it's both convenient and economical. This kind of thread is basically your all-purpose thread for sergers and what you'll use for seaming, finishing edges, and more.
Since sergers use a LOT of thread during the serging process, cone thread often comes in much larger quantities than you can buy regular machine thread. Look for cone thread in the neighborhood of about 3,000 yards for home use.
Another essential feature of cone thread is that the thread is cross-wound on the cone so that the thread will unwind from top to bottom as you serge without requiring the cones to spin. The cross-wound thread ensures that it feeds evenly and smoothly from the top for high-speed sewing.
Look at your serger – every serger has this huge thread stand with a big telescoping pole – why is this all necessary? Because sergers are very tension sensitive and correct thread delivery is very important and the thread has to come off the top of the cones.
You will most frequently find cone thread in polyester because it's colorfast, strong, and less likely to produce lint.
However, you can find cone thread in cotton, which is strong and soft. But it often produces more lint which makes polyester cone thread preferable.
The serger thread on cones can be used in any serger machine. But if you buy very large cones having 12000 yards of thread they may be too big for the serger spool holders. Use a separate cone-thread holder, available for purchase. Or just place them on the table behind the serger or in a big mug.
But is serger thread on cones necessary? No, you can also use small spools of all-purpose thread, especially if an exact color match is necessary and you won't be using that color again. There is a wider color selection in an all-purpose thread. But better use the spool with a cross-wound thread that will release easily from the top of the spool. Use a spool cap for even feeding.
However, it is still better to use serger threads on cones if you are looking to achieve precise and consistent results. The thread on cones is specifically designed for sergers.
If you do not have a serger/overlock, this thread type may not be of much use to you.
What is the difference between serger thread and embroidery thread?
Embroidery thread is not made for sergers and can easily tangle or break if used in a serger. Embroidery thread is typically much finer than serger thread, so it can create detailed designs but may not be as durable. The colors of embroidery thread are often brighter and more vibrant than those of serger thread.
You can use embroidery thread in the loopers of your serger but if you're looking for the best results, I recommend using special serger thread in your machine.
Serger thread is also designed to withstand friction that occurs when it's fed through the loopers, which can damage embroidery thread.
Wooly Nylon Serger Thread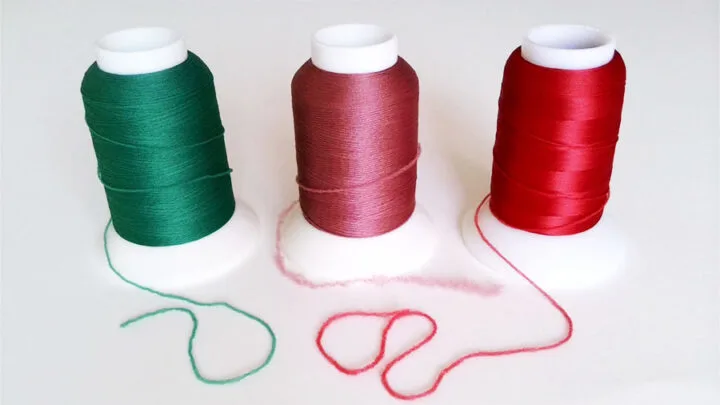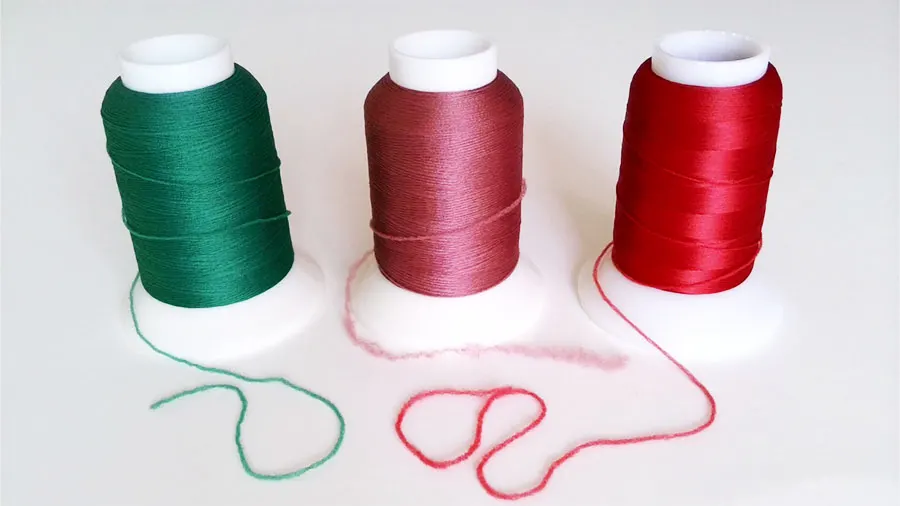 Woolly nylon thread is a stretchable serger thread and makes an especially attractive serger stitch. It works very well on stretch fabrics and especially spandex that we use for underwear and bathing suits. It is made of 100% nylon and is exceptionally strong. I can't even break it. But you can see it has an unusual fuzzy appearance.
Its soft finish is very comfortable on seams that will be worn next to the skin.
If you want to know more about using wooly nylon thread check out my detailed tutorial Wooly Nylon Thread | What It Is And How To Use
Best Serger Thread Colors
One thing you'll quickly learn as you work with your serger is that the only thread that might show on the right side of your project is the one in the left needle and it only happens if your tension settings are not quite right. But you'll hardly (if ever) see all the threads used for the 4-thread overlock seams (unless you are sewing with a transparent fabric of course).
With that in mind, it's not necessary to purchase four cones of the same color (unless they are more used colors like whites, neutrals, or blacks).
Instead, you can save yourself some threading hassle (and storage space) by using matching thread for your left needle and complementary needle colors for the right needle and looper threads.
Tips For Choosing The Right Color Thread
The great news is that you don't have to entirely rethread your serger every time you change fabric colors! But that begs the question, "how do I choose a thread color?"
I thought it would make things easier if I gave you a few tips or "rules of thumb" to help guide you until you feel confident in choosing thread colors for your projects.
Use these color guidelines to pick the best serger thread colors for your projects:
Use blendable colors. For example, when working with light fabrics, use white or beige looper threads. For dark fabrics, black or gray threads will be the most universal.
Every sewist should have a basic thread color palette with four whites, four neutrals, and four darks (all black or have one each of black, navy, brown, and dark gray).
Go dark rather than light. If you can't precisely match your needle thread to your fabric, opt for darker thread color.
But for an exact color match on small jobs, purchase spools of all-purpose thread.
Best Serger Thread Brands
Note: Some of the links on this page are affiliate links. This means I will receive a commission if you order a product through one of my links. I only recommend products I believe in and use myself.
Sergers use more thread than regular machines, so it's cost-effective to buy larger quantities. Consider quality, color, type of thread, and fiber content before purchasing.
When it comes to purchasing serger thread, I recommend buying cones. Their larger size and cross-threaded design are optimal for getting the best results from your serger with minimal frustration on your part.
Every sewist wants to save money where they can. However, buying cheap thread may be tempting, but it isn't worth it in the long run because it will break more easily and could damage your machine. A poor-quality thread has much lint and can take the joy out of any sewing project.
Unfortunately, we cannot tell the difference just by looking.
The best advice I can give when it comes to choosing serger threads is to go with a thread made by a reputable company. Companies that have been producing high-quality threads for many years include American & Efird, Coats&Clark, Gutermann, Madeira, Mettler, etc.
If you want to try another brand that you find on Amazon, make sure it has a lot of great reviews that praise its quality, or you could find yourself wasting money.
An up-and-coming brand that I like is New Brothhead. They offer great value with extra-large cones of high-quality thread that holds its color. The thread is spun polyester, it holds up colors, doesn't break, doesn't shrink, and the price is great! I bought variegated colors from this brand.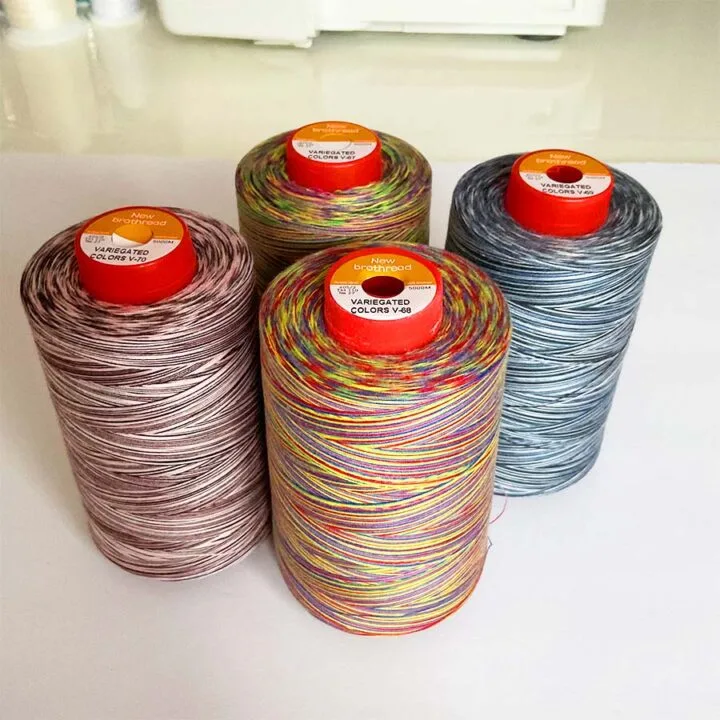 Another brand I like is WonderFil, this company makes different kinds of Specialty Threads like heavy metallic thread that can be used in sergers, or 100% cotton serger thread that has super low lint because it was processed with "double gassing" that involves burning off the lint from the thread two times, resulting in a much softer and cleaner finish. But it comes on regular spools, not on cones.
And you can't go wrong with choosing any of these well-known brands:
Maxi-Lock Serger Thread is one of the most popular serger threads by the American & Efird brand. This thread is strong enough, and does not have too much lint.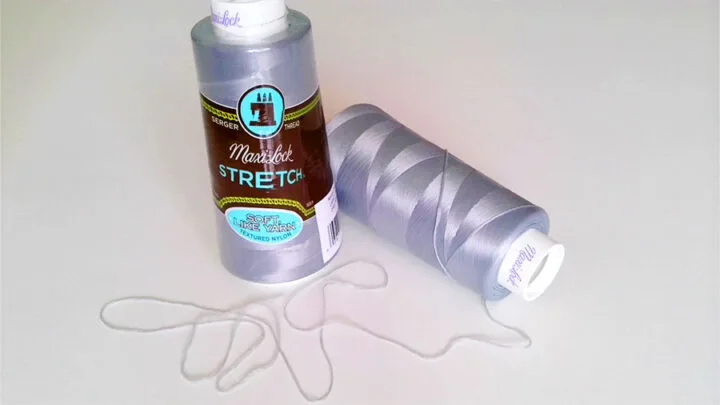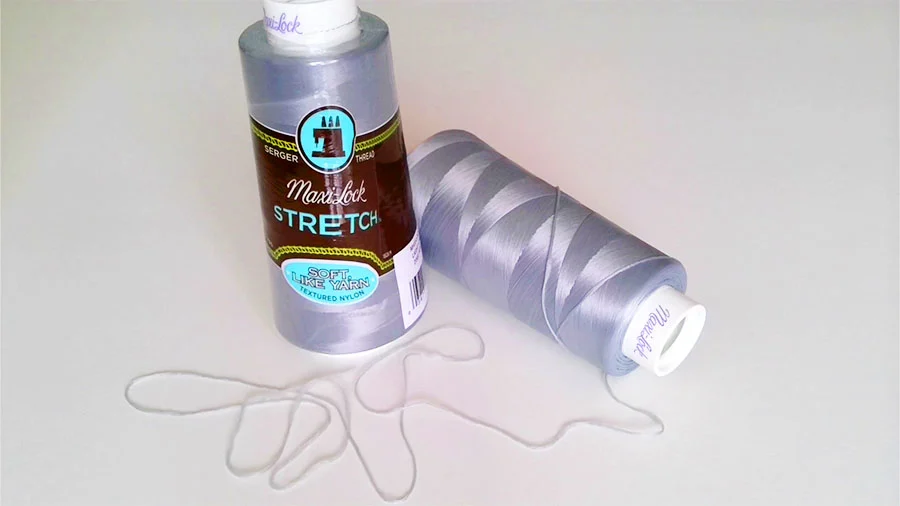 Coats & Clark SureLock Thread is another very well-known brand in America.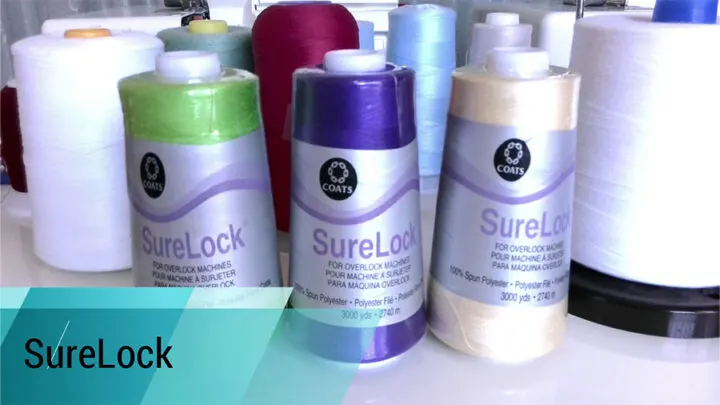 Gutermann Serger Thread might be called Toldi- Lock. It's well-known for being resistant to fraying and producing strong, flexible seams, hems, and finishes.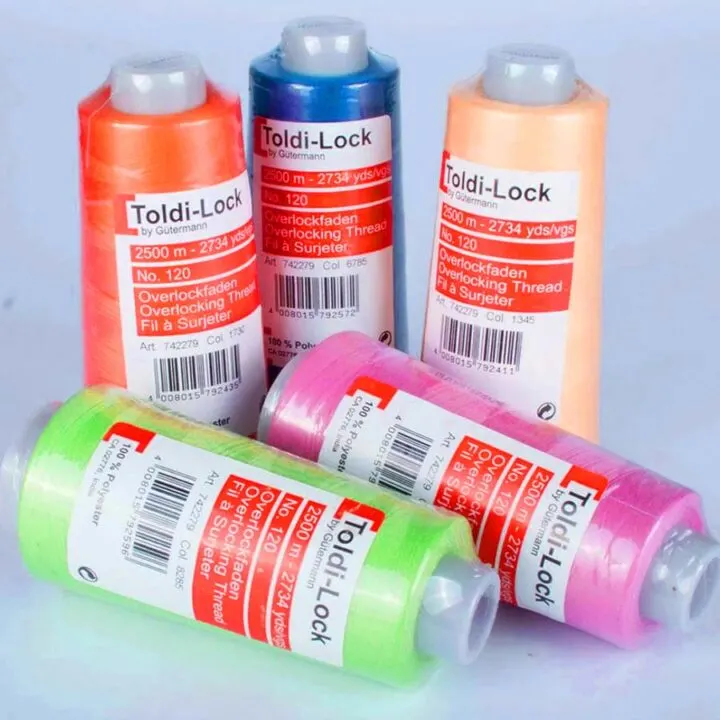 Madeira Aerolock Premium Serger Thread
Madeira is a well-respected thread manufacturer.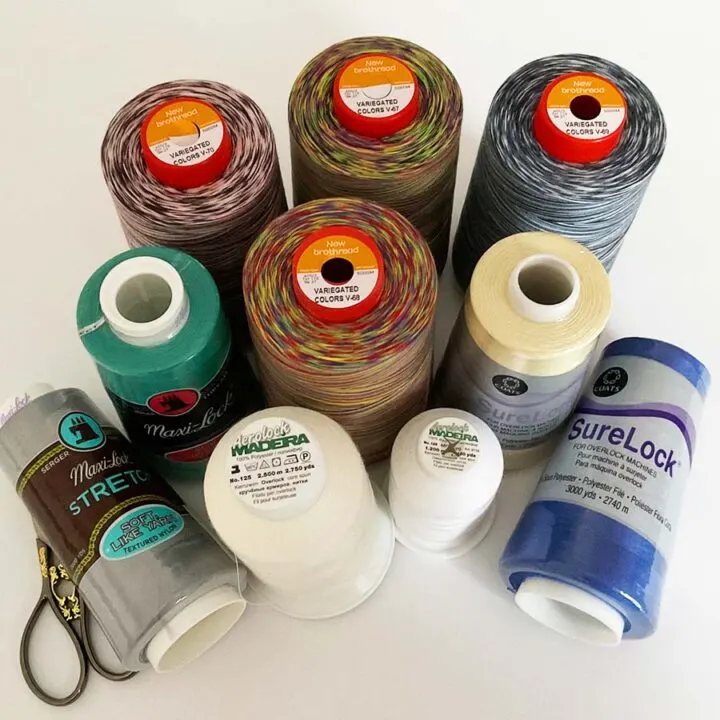 There are many other brands of serger threads – read reviews and choose a good quality thread for your serger.
Best Serger Thread: The Bottom Line
So, what's the best thread for your serger? It depends on your needs. If you want a high-quality thread that will make beautiful seams and last a long time, then go with a top-of-the-line brand. But if you're looking for something more affordable that will still get the job done, there are plenty of good-quality threads available at lower prices. Just be sure to read the labels carefully to make sure you're getting the right type of thread for your machine. And as always, if you have any questions, we are here to help.
Did you find this tutorial helpful? If so, save this pin (see below) on your sewing board so you can come to this tutorial later when you need this information on the best serger thread, and follow me on Pinterest for more tips, tutorials, and inspiration!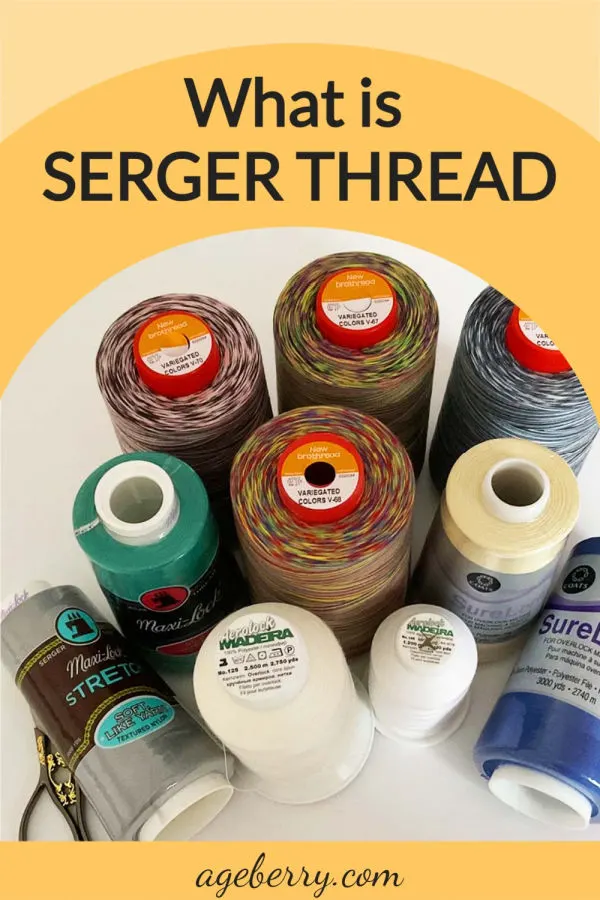 ---