Are you wondering if a serger would take your sewing to the next level? Here's your guide to selecting the best serger for beginners.
Selecting the Best Serger for Beginners
Sewing with a serger opens up a whole new world of possibilities. Your sewing projects will look more professional, your seams more durable, and you'll have an easier time working with certain fabrics like knits. You can perform an array of new stitching and finishes.
But if you've never used a serger before, shopping for a new machine is a bit intimidating. Finding the best serger for beginners takes work. You want a machine that's basic and user-friendly, but also robust enough to handle your future projects as you learn and branch out.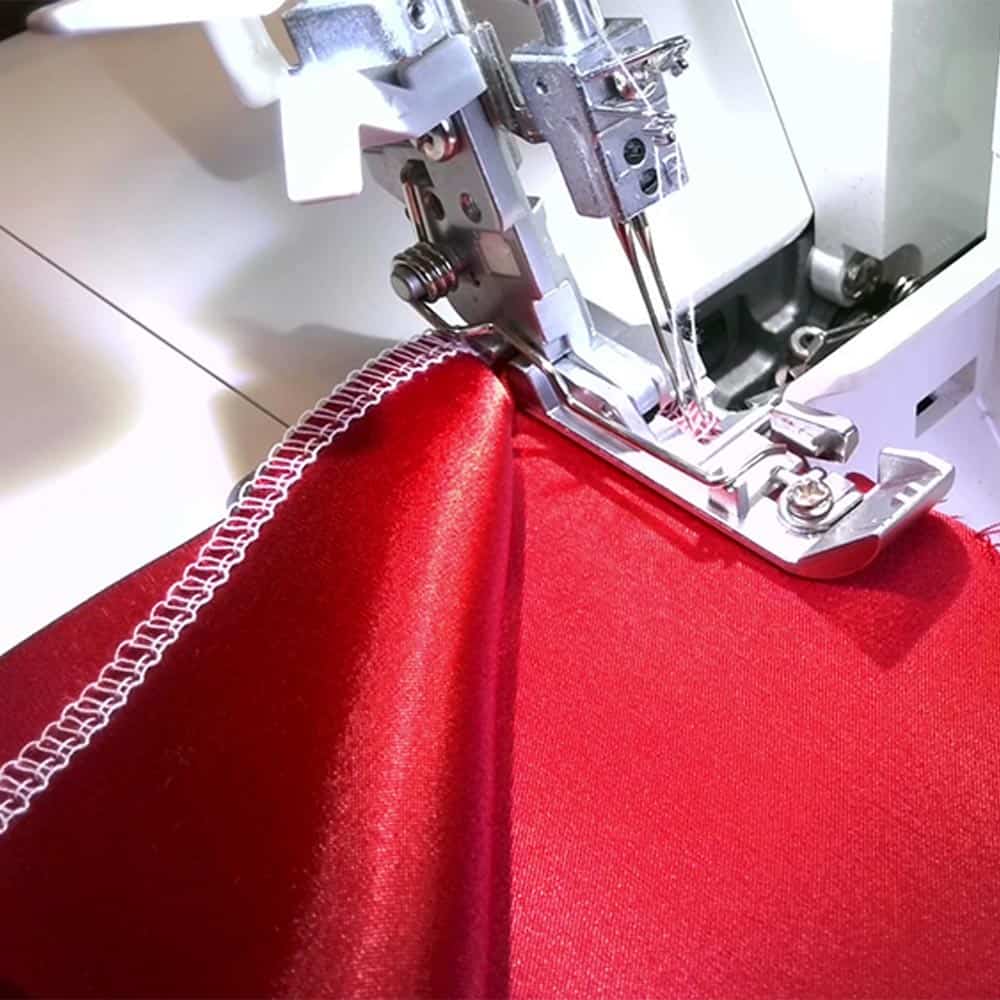 April is a National serger month in America, so many stores offer big clearance and very good prices for sergers. Below is a screenshot of sergers for sale in the online store Sewing machines plus. It's only one page (there are more pages!) but look how many models! Do you know how to choose the best serger for YOU?
Note: Some of the links on this page are affiliate links. This means I will receive a commission if you order a product through one of my links. I only recommend products I believe in and use myself.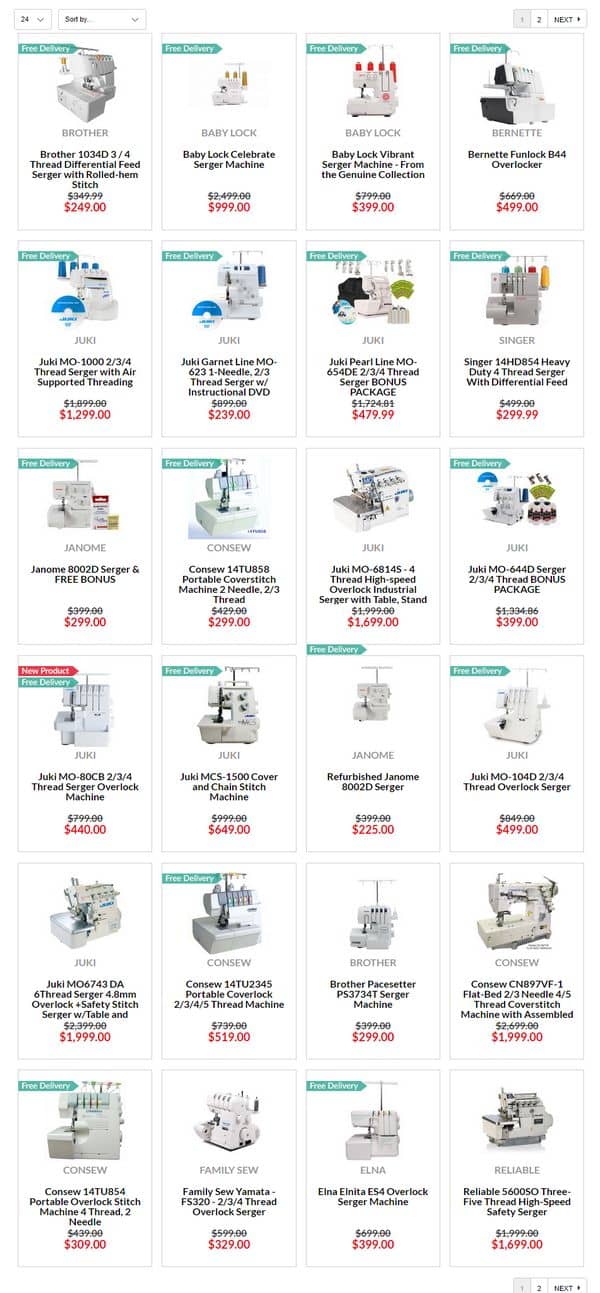 If you're new to sewing with a serger, you should also prepare to research the different brands and models available. Sergers range wildly in price—from a basic $200 machine to thousands of dollar high-end models. Don't get too sticker-shocked though; you can find well-made machines at an affordable price, but it requires investigation.
Here, you'll find all the details you need to help you through selecting the best serger for beginner sewists. If you're wondering how to sew with a serger, and if it's worth the investment, here's what you need to know.
I have all information that you need for buying your first serger here in this article. But it is a long read. If it's more convenient, you can purchase the PDF file for only $5. It has the full article (including pictures) and there are no ads. This way you can print it out and it will be available for you to refer to anytime you want.
(Click on the book below to purchase).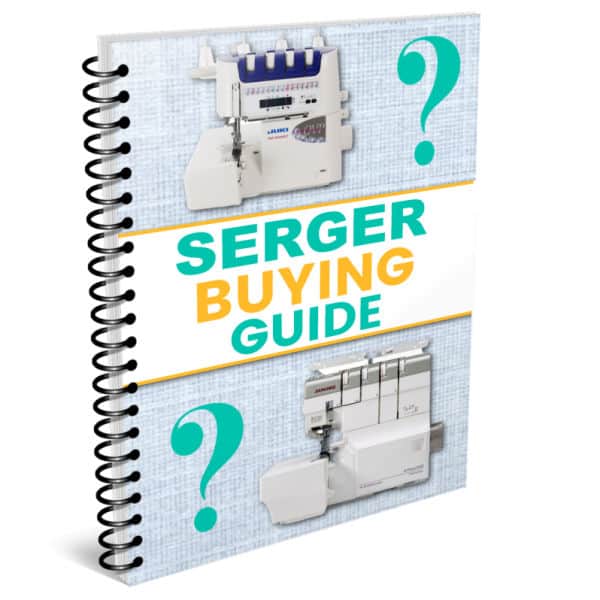 What is a Serger (and Why Do You Need One)?
What's the difference between a serger and a sewing machine, anyway? Technically a serger is a specialized sewing machine, but unlike a standard machine, a serger uses three-four threads in the sewing process. The most common type of serger is a 3/4 serger, meaning it sews with three or four threads. The intricate thread pattern creates a "lock" to prevent stitches from unraveling. Additionally, a serger uses a blade to trim off the excess fabric, leaving you with a clean, professionally finished edge that won't fray.
Sergers use tools called "loopers." Loopers are similar to the bobbins on sewing machines. These are metal fingers or rods that position the thread and help to form the serged stitch. When you thread your serger, you lace the thread through the eye of the looper. As the machine stitches, the upper looper moves over the top of the fabric, creating a thread loop. Another needle catches the thread along the seamline, while the lower looper moves under the fabric, catching the needle thread. The threads interlock along the fabric edge.
To get an idea of serging stitches, turn a basic t-shirt inside out. The seams along the sides and shoulder-to-sleeve were probably sewn with a serger. The hem and sleeve edges are usually sewn using a more typical-looking double stitch, or coverstitch (which is done with a coverstitch machine or serger/coverstitch combination machine).
Sergers work well on a myriad of different fabrics. With woven fabrics like linen and cotton, we usually sew the seams first, and then use a serger to finish raw fabric edges to prevent them from fraying. With knits, spandex, rayon, and lycra, the serged stitches are the best for sewing seams.
There's a learning curve for beginner serger users. It takes a while to get used to this different method of sewing and to feel comfortable with the machine. Don't expect to start serging quick projects right away. Like with a regular sewing machine, a serger takes time and practice.
Here is the link to Amazon for best sellers in sergers for 2021 but read on to find out how to buy the best serger for beginners
Number one serger on this Amazon best sellers list is Brother 1034D Serger, Heavy-Duty Metal Frame Overlock Machine, 1,300 Stitches Per Minute, Removeable Trim Trap, 3 Included Accessory Feet
And number 2 is SINGER | Making The Cut S0230 Serger 4 Thread, Differential Feed, 1300 Stitches Per Min-Sewing Made Easy Serger, Blue
What Can and Can't a Serger Do?
Sergers are ideal for sewing clothing. They work particularly well for knit fabrics. They are lovely for finishing seams, resulting in a much more durable, professional project. If you enjoy sewing dresses and separates, then a serger is a sound investment to help you professionally finish your projects. Sergers are great for clothing.
I like Baby Lock sergers very much but most of their sergers cost 1000's dollars. But Baby Lock Vibrant serger is affordable! And it's on sale a few times per year especially in April (which is a National Serger Month in America)
What can't a serger do? Sergers don't make buttonholes, mend or embroider. Quilters don't typically use sergers for piecing fabric together, but they ARE great for quilt binding. See my tutorial here on binding with a serger.
Unlike embroidery specialty sewing machines, sergers usually aren't used by many sewists for decorative stitching and embellishments which is a pity because you certainly can use your serger to embellish your projects with a variety of threads and even ribbons and yarns. There are special techniques to attach beads by serger. You can sew piping by serger and do decorative chainstitching, etc. I do love the way they sew rolled hems, making a beautiful decorative edge for linens, ruffles, and more. For items like pillows, bags, and table runners, a serger isn't necessary, but again, they are certainly helpful.
Serging does finish seam allowances with a nice overlock stitches, though, which prevents fraying. So if you invest in a serger, you'll likely find many uses and opportunities to give your projects a professional finish.
Finding the Best Serger that's Right for You
As you look for the best serger for beginners, you should ask yourself what types of projects you enjoy. Are you hoping to do basic sewing and alterations, or are you looking for a full-featured model to maximize your creative potential?
It's essential to look at your plans for the future as well. Like your sewing machine, you may start with basic projects, but as you build your skills, you'll find more and more uses for your serger. For example, some sergers create a coverstitch, as mentioned above. This option gives a nice finished edge to shirts, pant legs, and other knit projects.
Many sergers also offer limited decorative stitching, such as the chainstitch. Chainstitching looks particularly nice when using a serger for denim and cotton projects. Sergers easily handle heavier fabric, making them an excellent choice for upholstery and thick fabrics (like denim). Sergers create beautiful rolled hems and are useful for adding fine, thin elastic (this often requires an elasticator foot).
One serger stitch that's a nice option is a flatlock seam. If you've worn yoga pants or stretchy pants, you've likely seen this flat seam that "locks" edges together without creating extra fabric (making it comfortable for activewear). The flatlock seam is also useful for bathing suits and swimwear.
Ask yourself what you hope to accomplish with your serger. How much do you want to spend, and how much use do you plan to get out of your new serger? If you're a beginner, you may only work on a handful of projects per year, but if you're working on new projects daily or weekly, you'll quickly get your money's worth.
Again, there are plenty of options out there in a wide range of prices. Do your research, and as I recommended in my shopping for sewing machine post, read the reviews (especially if you buy online) and look for a model with a reliable history (even if it's last year's model).
Look at price, customer satisfaction, and the number of reviews. Comparison shop and check reputable sources. You may want to look at serger reviews on Consumer Reports, as well as online retailers.
Read customer reviews of a Brother 1034D Serger on Amazon here
What Features to Look for in the Best Serger for Beginners
Now that you know what a serger does, what features should you watch for when you shop?
Number of Threads in Best Sergers for Beginners
How many threads does the serger use? Most sergers use 3 and 4, but some offer the ability to do decorative stitching and use up to 8! If you're looking for a serger for beginners, you should generally start with 4 thread sergers. The number of threads determines the types of stitches the serger is capable of. If you want a serger that have coverstitches and chainstitches then consider sergers with 5-8 threads.
For example, Pfaff Coverlock 4.0 is a 5 thread machine. Babylock Triumph is an 8 thread serger.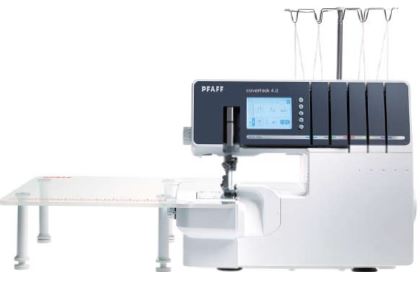 If you are looking for your first serger buy 4 thread serger (my opinion). Check out these great Juki sergers
Needle System
What type of needles does your serger require? Most sergers use the same kind of needles as regular sewing machines, making a broken needle easy to repair or replace. Others use specialized needles that are sometimes pricey or hard to find. A serger can use a single needle for stitching, 2 needles at once, and a serger/coverstitch combo machine can sew with 3 needles at once.
What sergers use special needles? Singer sergers used needles different from home sewing machines needles. Also, the serger/coverstitch combo machines use special needles. For example, Babylock Triumph uses EL-705 CF needles and they are different from home sewing machine needles.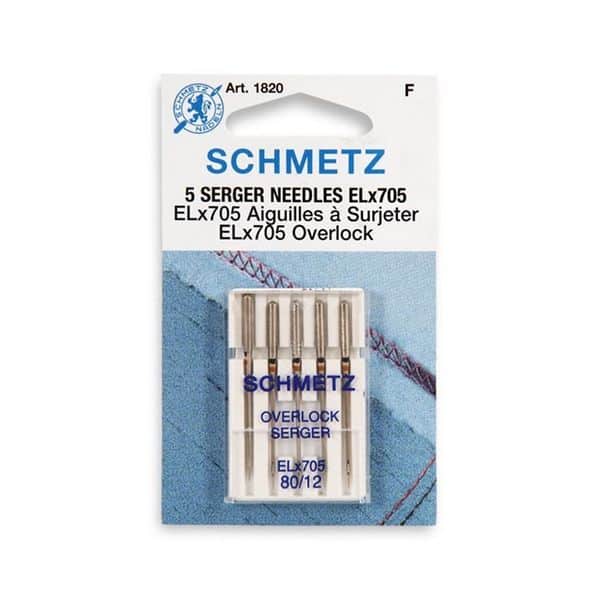 So if you are looking for your first serger – buy one that's using regular sewing machine needles. For example, this excellent Juki serger Juki MO-1000 2/3/4 Thread Serger with Air Supported Threading
Ease of Threading
Many sewists know the struggle of threading a serger! Older versions were very confusing to thread, using a complicated process that seemed hard to follow especially from the beginning. Newer machines often feature color-coded threading systems that are much easier to use.
Many sergers don't have anything that helps to thread the needles. Then you need to be comfortable with threading the needles manually. Check my video tutorial on how to thread the sewing machine needle easily – you need to see the different ways of threading.
But some sergers have special attachments to thread needles. For example, my Juki QVP MO-2000 has a special and very helpful needle threader.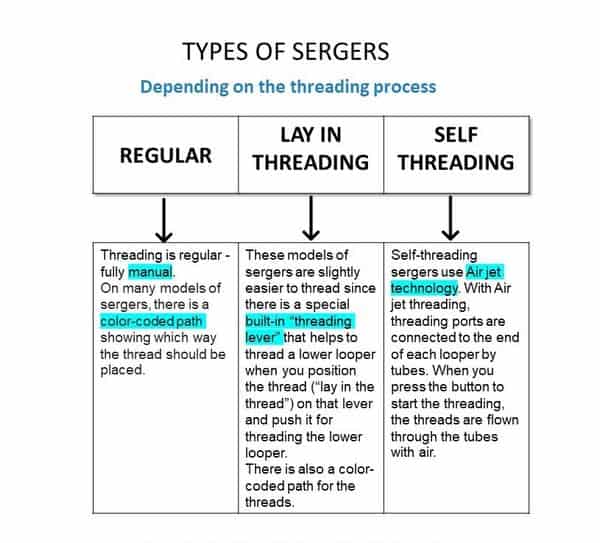 ✅ Related tutorial: The Self-Threading Serger – Yes, it Exists!
Tension System
How do you adjust the tension? Does the serger offer automatic tensioning? Most sergers use dials or tension disks, some have buttons on screens. Some computerized models of sergers can adjust tensions automatically – it means that they have sensors that adjust the tension according to the thread type, fabric type, and the selected stitch.
How easy is it to release the tension? Can you pull the threads easily when presser foot is up?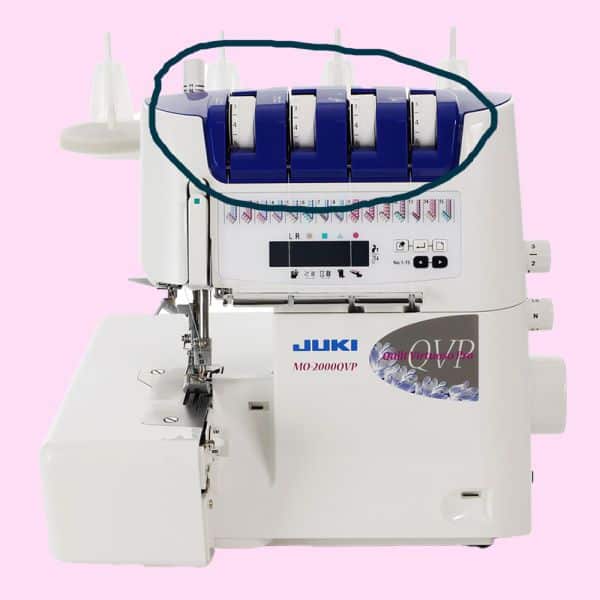 Ease of Stitch Width and Length Adjustment
How difficult or easy is it to adjust the stitch width and length? Those familiar with standard sewing machines know stitch length and width make a world of difference in the sewing process as well as your finished product. Sergers are no different—you'll want a machine that's easy to adjust.
Look for adjustable settings for all types of fabrics and techniques.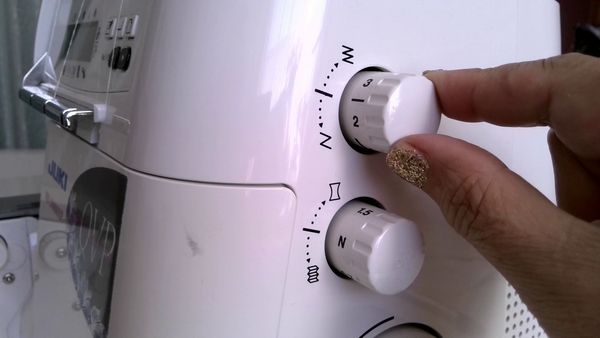 Retractable Knife
Modern sergers feature a retractable knife, which is necessary for projects where you don't want the edge cut. Flatlock stitching and decorative topstitching don't require the knife, so if you plan to do projects with this type of stitch, you'll need a serger with the upper knife that you can disengage.
Number of Different Stitches
What types of stitches does the serger perform? Can you do a flatlock stitch? Does the serger create a beautifully finished coverstitch? Can you do other decorative topstitching with the machine? For beginners, a simple serger may offer plenty for your basic needs. You can always upgrade to a more robust machine down the road.
Look for a machine that offers the right stitch for every fabric – from lightweight silk chiffon to heavyweight denim.
Some sergers offer 5 types of stitches, some15 and some can do 25 and up different stitches.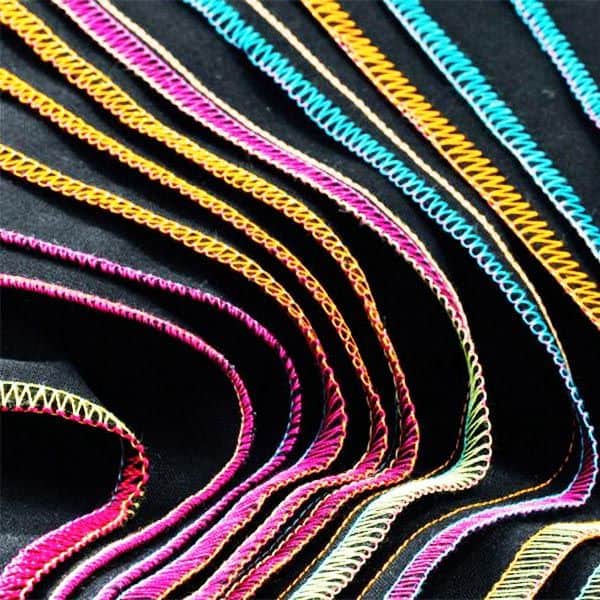 Ease of converting to coverstitch and back
This is a very important feature if you want to buy a serger/coverstitch combo machine. How easy is it to change from overlock stitches to coverstitches?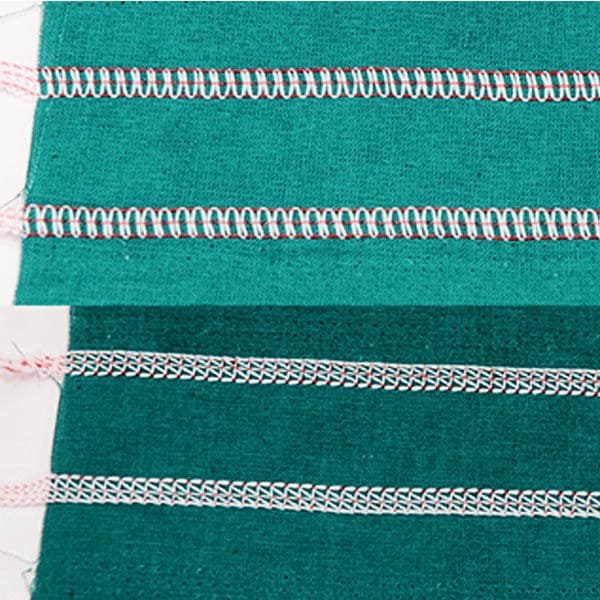 I had a serger/coverstitch machine combo – it was the first one on the market, and it was a nightmare to convert from overlock to coverstitch. So I got rid of that machine and bought a separate coversttich – Janome, and I am so glad I did!
But modern combo machines (especially very expensive models) are different and you can convert the machine easily.
Check out my tutorial Serger vs. Coverstitch for more info.
Presser Feet
Specialty presser feet will help you do an array of different stitches with your serger. Blind hemming, gathering, piping, beading, and ruffles are just a few of the options. As mentioned before, the elasticator foot helps you add elastic to the edge of your projects for swimwear, children's clothing, and lingerie. What types of presser feet does the manufacturer include with the machine? Could you upgrade with more specialty feet later? How difficult is it to change out the presser feet? Do they snap on, or do you need to dismantle the machine to change them?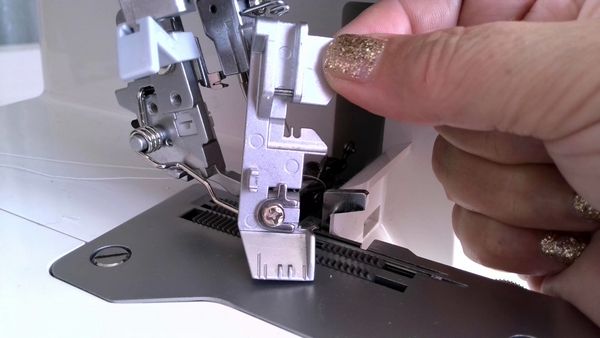 Disengaging the upper looper (or 2 thread converter)
Can you easily disengage the upper looper? It's an important feature for a serger. Some sergers don't have it at all and because of this you can't sew many types of serger stitches with only 2 threads. Some sergers have a built-in "changeover attachment" (that's how they call it sometimes), and some sergers have it as a separate accessory.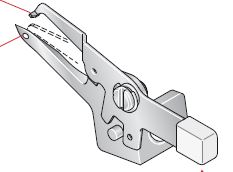 Differential Feed/Feed Dog Adjustment
Does a serger have differential feed? This is very useful feature that help control puckering or stretching. The feed dogs that pull the fabric through your serger should easily adjust as needed. In a serger, the feed dog system uses two sets of feed dogs, unlike a standard sewing machine, which uses only one. The differential feed allows these feed dogs to move at slightly different paces, so you don't end up with uneven "pulling" when stitching knit fabrics; this helps prevent a "wavy" finish.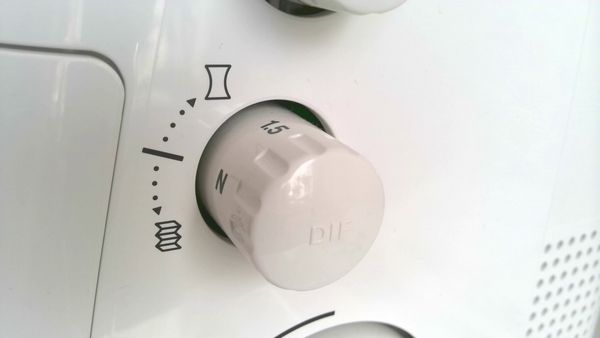 Rolled Hem Option
Rolled hems look beautiful along the edges of ruffles, scarves, and home decorating projects. Having the rolled hem option on your serger allows you to do fun and creative stitchery. While the rolled hem option is relatively common, basic machines may not include this setting, so it's essential to check before you buy.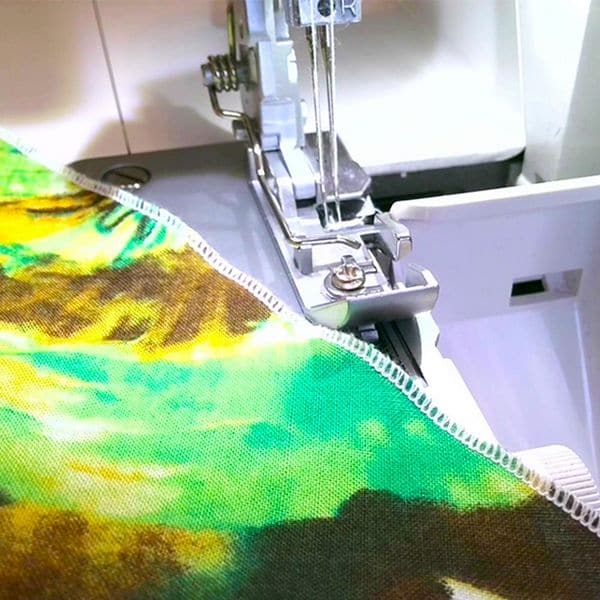 Stitch Speed/Speed Control
What are the stitch speed and speed control like on your potential machine? Is it easy to adjust with a pedal? Or is there a special button or dial for electronic speed control? Sergers are surprisingly FAST! But when you're working with blades, four different threads, AND learning a new device, it quickly gets overwhelming. Make sure you can easily adjust the stitch speed so you don't get a "trigger happy" machine.
✅ Related tutorial: DIY non-slip foot pedal pad – a video sewing tutorial
LCD Touch Screen
Some modern sergers have LCD Graphic Touch Screen. It's an amazing feature. You can see all the necessary information for a selected stitch.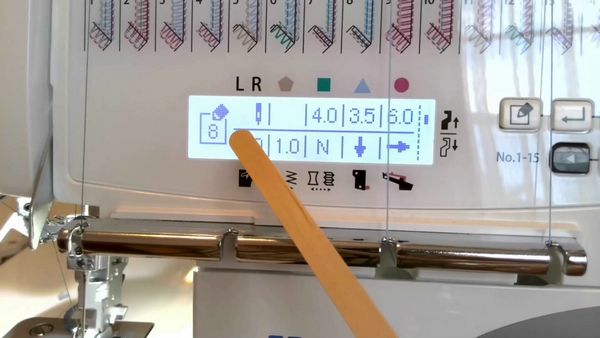 Memory
Some computerised sergers have built-in memory so that you can save your own settings for each stitch. And some machines conveniently keep the last sewn stitch so that when you turn it back on you can continue with your project.
Free Arm
Like a free arm on a sewing machine, a free arm on sergers allows you to fit sleeves, armholes, pant legs, and other circular projects onto the machine for easy hemming and finishing.
✅ Related tutorial: Free Arm Sewing Machine: Do I Need One?
Waste Collector
This is a small feature, but it's nice to have. As your machine cuts off the excess fabric edge of your seam, where does the refuse go? Many sergers include a small waste collection bin attached to the machine. it helps keep your sewing space neat and tidy. Of course, you will still need to dust and use a brush to clean your serger regularly.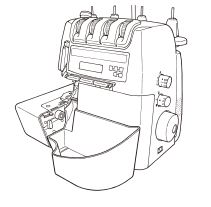 Light
Consider the light source of the sewing area – does it have enough light for optimal visibility?
Extra presser foot height
Some serger have this very useful feature – extra presser foot height so you can have a space for several layers or heavy fabrics.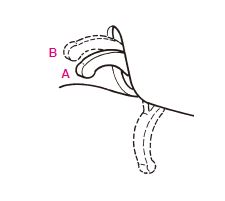 Thread cutter
Does a serger have a thread cutter so you can conveniently cut thread tails fast without scissors?
Accessory Storage
Another nice-to-have (but completely optional) feature is an accessory storage compartment. Storage is common in many sewing machines but not many sergers have it. Usually, it's a small pop-out drawer built into the base of the machine to hold extra presser feet, needles, and other components.
Brand Reputation
When you've found a machine with all the features you want, check out the brand reputation. You may want to find one or two different models with your desired features and compare the reviews and standings.
Warranties
If you're down to a few options, compare the warranties on each machine. Some brands offer a robust repair and warranty program. Others offer limited customer support and follow up. If you buy a serger on Amazon or through another retailer, you may forgo the warranties that come from purchasing a machine from a specific sewing machine dealer.
Ease of Repair
When it comes to repairs, a reputable retailer is crucial. When you buy a machine through a serger and sewing machine specialty shop, you know where to go if you run into a problem. Yes, it's challenging to haul your machine to the store, but having hands-on help makes an outsized difference when you get stuck and need guidance for a simple adjustment. Beginners need support with their machines!
Price Range
Finally, the price range is always significant. If you're going to invest several hundred or thousand dollars on a serger, you want it to offer all the features you need at a reasonable price. When selecting the best serger for beginners, you probably don't need the newest model. You may find a terrific price on a model that's older.
Do you make these 15 mistakes with your serger?
Enter your email in the box below to download your free eBook and find out which mistakes you should avoid!
Subscribe to my weekly newsletters with sewing tips and tutorials, free sewing patterns, printable PDFs and other useful content and you'll find the eBook in your inbox.
Subscriber exclusive offer.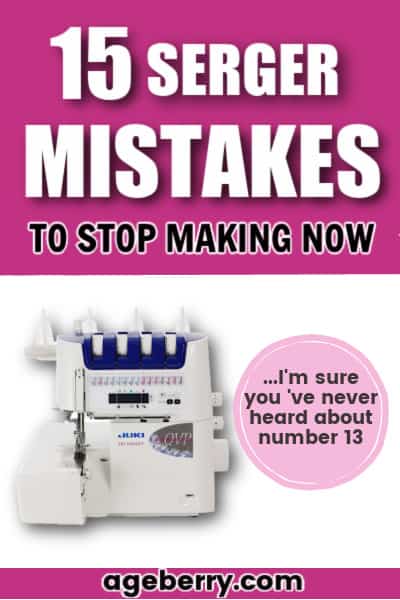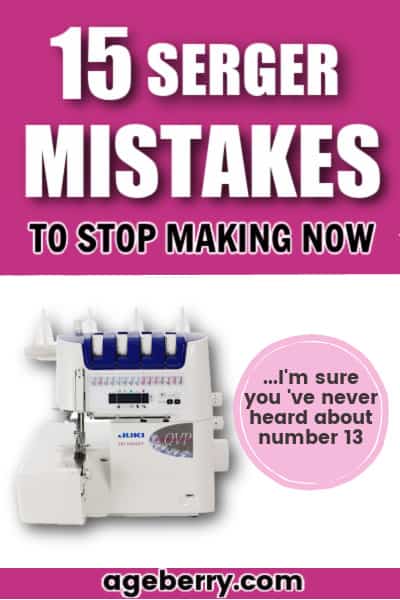 Serger Brands and Models to Consider When Choosing the Best Serger for Beginners
What are the most reputable and common serger brands out there? I wanted to give you an objective look at the features you should explore when you shop for your first serger. Each of these brands has pros and cons, which often vary from model to model.
Your sewing needs are unique, depending on the projects you like to do, the frequency of your use, and your sewing style. Before deciding based on brand name or reputation alone, research all of the factors above to weigh your decision carefully.
The reputable serger brands to explore are:
· Brother
· Janome
· Singer
· Juki
· Bernina
· Pfaff
· Elna
Read my review of the Juki MO 2000 serger here. I found the Juki MO 2000 is a nice serger for beginners, but again, you must weigh the cost against your planned usage. It's a bit more expensive than some of the other models.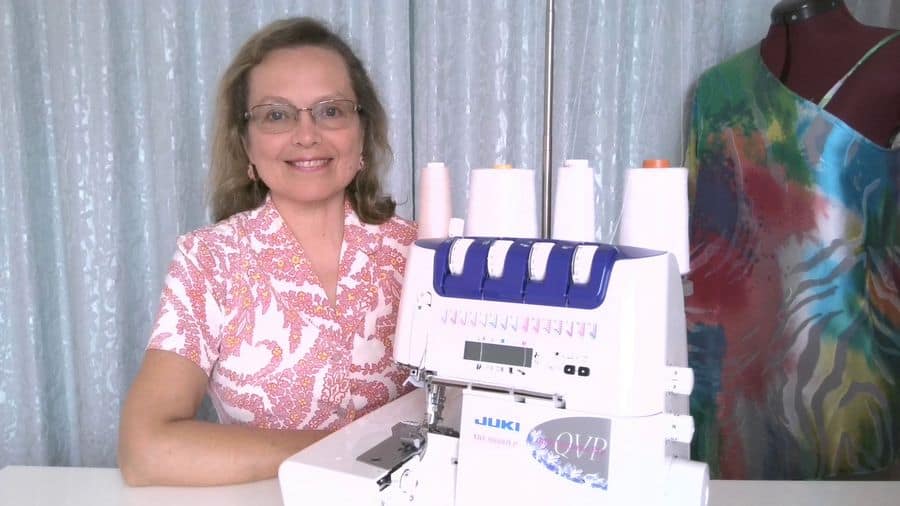 If you regularly sew clothes and you're looking for more durability and advanced professional features, then a serger is a great step for beginners. Decide exactly which features are most important to you and then weigh the capacity of the different machines and models. Read the reviews and, if possible, go to a retailer who will guide you through your purchase. You may even want to inquire about lessons and hands-on tutorials to help you begin.
Once you've started using a serger, I think you'll enjoy the extra finesse it adds to your sewing projects. It takes a while to get the hang of it, but it's well worth the effort for beautiful, durable projects with a professional finish.
And as soon as you buy a serger you will need my popular eBook Serger Success Kit – a bundle of 90 printable sheets that will help you to learn your serger and use it for all your sewing projects. The eBook includes cheat sheets, charts, and helpful resources so you can master your serger. And then you can use your knowledge to make all the cool stuff everybody will admire.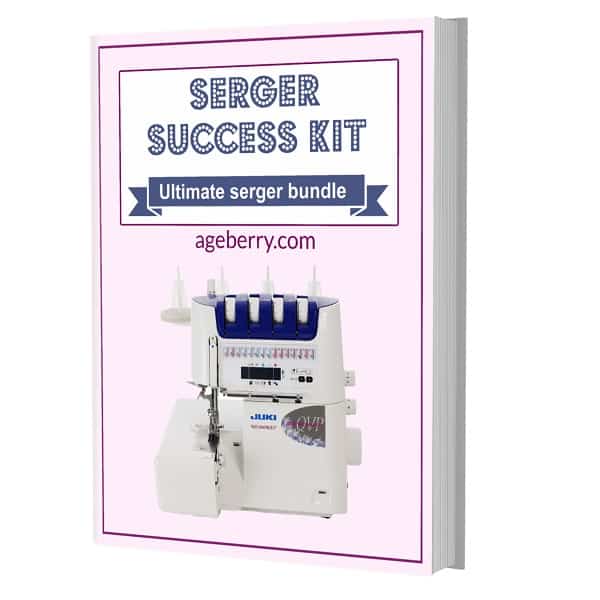 Did you find this serger buying guide helpful? If so, save this pin (see below) on your sewing board so you can come to this tutorial later when you are ready to buy the best serger for beginners, and follow me on Pinterest for more tips, tutorials, and inspiration!