In this guide, I will focus on the following topics: quilt batting types, the best batting for quilting, and how to choose the right batting for a project.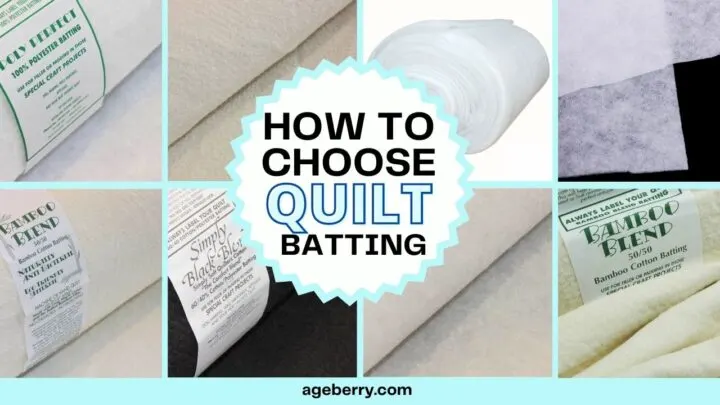 Quilting is an art that's been around for a very long time. Artisans once used old, worn blankets as the middle layers of their quilts. This was done from necessity because it was all they had. Today, we mostly use quilt batting instead. The batting in your quilt or in your quilted project serves several purposes:
It adds warmth
It adds loft
It adds design
There are many types of batting on the market today, but there's not really one that's better than all the rest. Rather, your batting should match your project. A summer quilt, for instance, should use a different type and loft of batting than a winter quilt. Finding and using the right batting is one way to make sure your project looks great and performs the job for which you intended. Here's everything you need to know to match your quilt batting to your project.
Types of Quilt Batting
Batting is made from various types of fibers, and each type has its advantages and disadvantages. The most popular ones — the ones you'll usually find on the shelves of your local quilt shop — use cotton, polyester, or a blend of both. But if you explore the world of batting a little more in-depth, you'll discover batting that's made of other fibers as well. These include:
Each one performs differently and is better suited to certain projects. Before you grab a roll of batting off the shelf for your quilt top or wall hanging, learn more about how each one performs and for which type of project it's intended.
Note: Some of the links on this page are affiliate links. This means I will receive a commission if you order a product through one of my links. I only recommend products I believe in and use myself.
Cotton Batting
Cotton batting is, of course, made from cotton fibers. It breathes well, which makes it an excellent candidate for summer quilts. It's lightweight and is one of the easiest battings to work with because it's not slippery and because it's usually bonded to prevent bearding.
Bearding sometimes happens during the quilting process when batting fibers poke up through the holes made by the quilting needle. It's important to use high-quality batting to keep this from happening.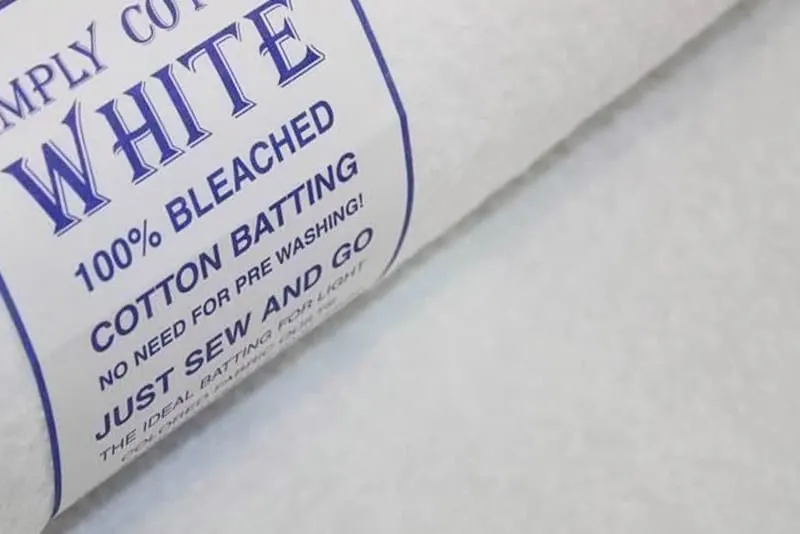 Cotton batting is used in most of today's heirloom quilts because it doesn't separate or shift inside the quilt. As long as your project is closely quilted, you won't have to worry about cotton batting bunching up in the wash, and while somewhat stiff at first, cotton allows your quilt to grow softer and more pliable with age.
There is a downside to cotton batting, however. It tends to shrink when washed. You can help prevent this by pre-washing it before using it in your sewing project. But then again, if you like a nice, crinkly quilt, using it right out of the bag is recommended.
When cotton batting shrinks inside your quilt, it gives it a wrinkly, well-used appearance. Some textile artists love that and refuse to pre-wash their batting for that very reason.
Polyester Batting
Polyester is a man-made fiber that resists mold and mildew well. When used in quilts, it drapes nicely and resists shrinkage even with repeated washing. Polyester is heavier than cotton, however, and makes a much warmer quilt.
Then again, if you're quilting your project in the summer, polyester batting can become uncomfortable to work with. It's also good to remember that polyester batting in a quilt will melt in the event of a fire. Polyester batting may also be prone to bearding.
Cotton/Poly Blend Batting
Cotton/poly blend batting is an economical choice for the quilter on a budget. It offers all the convenience of cotton without bearding, shifting, or shrinking.
This batting is an excellent choice for those artisans who machine-quilt or who contract their work out to the local long-arm machine shop because it clings to the material. Hence, less chance of shifting. Like the one here:
Bamboo Batting
Bamboo batting is made from the bamboo plant. As such, it's a naturally sustainable and hypoallergenic product. Bamboo products are environmentally friendly because this plant is fast growing. Harvesting it has little impact on its livelihood.
As batting, it won't make you sneeze, it's easy to quilt through, and it's a cooler type of batting than polyester. Great for summer quilts and for projects such as wall hangings that don't rely on warmth. Bamboo is pricier than cotton, polyester, or cotton/poly blends, however.
Bamboo/Cotton or Bamboo/Silk Blend Batting
Adding cotton to bamboo batting makes it a more affordable option. Plus, the batting maintains its airy breathability. Usually, this batting is made of a 50/50 mix of bamboo and cotton. It's naturally antimicrobial and is a perfect choice for the quilter who enjoys working with natural fibers.
Or you can spoil yourself and go a step up to a mix of cotton/bamboo which promises to deliver exceptional quality.
Wool Batting
Wool batting is naturally sustainable, warm, and soft. In fact, it may be the warmest quilt batting. Many types of wool batting can be machine-washed and may even come pre-washed and preshrunk to take away that extra step. Wool batting is beautiful in bed quilts because it drapes nicely.
But wool is also used by textile artists who create quilts for display because it's a springy batting that resists creases and folds. It also beautifully emphasizes lines of quilting.
Silk Batting
Silk batting is usually imported, lightweight, and a bit pricey. But it quilts beautifully and gives bed covers a gorgeous, natural drape. Silk batting breathes well and is usually bonded to prevent bearding. Use in quilts, wall hangings, embroidery, and more.
You are more likely to find silk batting in a mix with other fibers, like cotton or bamboo.
Organic Quilt Batting
Organic refers to the way in which plants are grown. Organic fiber is one grown without the use of harsh chemicals such as fertilizers or pesticides. In the quilting world, organic quilt batting usually refers to organic cotton quilt batting, or sometimes bamboo.
It may also refer to the manufacture of organic wool batting. Producers of organic fibers use no glues or chemicals in the making. This helps ensure that the batting is chemical-free, environmentally friendly, and safe to use.
Do not allow yourself to be misled by titles like "Natural cotton", "100% Natural, Warm", etc. Organic means grew without pesticides or fertilizer other than the ones that can be found in nature and also means a certification from a recognized authority in each country. As a side note, "Organic" may mean different things in different parts of the world.
If you would like to read more about organic fibers please refer to my articles Organic cotton benefits and Organic cotton fabric review. Perhaps it is time for us to take better care of our environment and our health? Unfortunately the selection of organic cotton batting is quite limited, I found very few items on the market.
How Is Batting Fabric or Quilt Stuffing Made?
Batting is often called batting fabric, quilt stuffing, or wadding, and it's made in one of several ways. Each technique has its own advantages and disadvantages, so you'll want to know more about each before choosing a batting fabric for your project.
Needle-Punched
Needle-punched quilt batting is felted with thousands of needle punches. This holds it together so it can be cut into sheets and used in the middle of your quilt sandwich. Needle-punched batting is lower loft, strong, and dense. It's great for machine quilting, but difficult to use in hand-quilted projects.
Scrim
Batting with scrim uses a lightly woven fabric on one side to keep the batting from stretching. It's great for projects that will be stretched on a long-arm quilting machine but is not recommended for hand-quilting. Scrim batting also allows you to place lines of quilting farther apart — up to 10 inches in some instances.
All types of batting can come with scrim, some examples are below.
Bonded
Bonded quilt batting features adhesive on both sides to help hold it together. This prevents both shifting and bearding.
Fusible Quilt Batting or Iron On Batting
Fusible quilt batting is a type of batting that contains an adhesive that is activated by heat. This adhesive allows you to attach the quilt top to the batting without the need for basting or pinning. Fusible quilt batting is a great option for small quilts, such as pillow shams, wall hangings, and placemats.
✅ Related tutorial: Simple Patchwork Quilts
To use fusible quilt batting, simply place the quilt top on a piece of fusible batting and iron it preferably starting in the middle and working your way outward. Be sure to iron on the side of the quilt top.
There are both pros and cons to using fusible quilt batting. One of the major pros is that it eliminates the need for basting or pinning the quilt top and batting together. This can save you a lot of time and effort. And because the batting is fused in place, there's no need to worry about it shifting or bunching up as you work.
However, there are also some downsides to using fusible quilt batting. One of these is that you have to be careful not to overheat the adhesive, as this can cause the batting to shrink. I learned this the hard way – I was rushing to finish a project and inadvertently shrank the batting. Luckily, I was able to remove it and start over with a new piece.
Another downside is that fusible quilt batting is not well-suited for large quilts; it's best used for small projects. So if you're working on a queen-size quilt, for example, you'll need to use non-adhesive batting and traditional methods (such as basting or pinning) to secure the batting in place.
Colors of Batting Material
Batting material typically comes in two colors. Each is suitable for different projects.
White Quilt Batting
White batting is the most popular choice out there, and it's the one you'll see most. White batting is appropriate for all quilting projects, whether your top is light or dark. There are times, however, when black batting might make more sense.
Black Quilt Batting
Black quilt batting is used beneath quilt tops of dark, bright colors to give them increased intensity and hue. Using black beneath your creation of reds and purples and dark greens adds a third element to your project — drama. Check out the current offers on Amazon here.
But, you can also use black batting beneath lighter-colored quilt tops to help hide wayward threads instead of snipping them all off one, one by one.
Traditionally, we find white and black colors in quilt batting, but I just found out that you can also buy light green. Well, get creative and add something special to your project.
Batting Loft
The loft is an important consideration when choosing the right quilt batting. There are high-loft and low-loft. The loft refers to the thickness of the quilt batting.
High-Loft Quilt Batting
High-Loft batting is used for projects such as bed quilts and baby blankets, where you want a bold, puffy design. High-loft batting is thicker and sometimes more difficult to quilt through, depending upon what it's made of. But it's the go-to choice for beds and decorative items such as pillows or cushions.
Low-Loft Quilt Batting
Low-loft batting makes less of a statement and gives an overall flatter appearance. The low loft is the best batting for placemats, wall hangings, table runners, and handmade purses and tote bags.
Quilt Batting Sizes
Quilt batting comes ready-made in convenient sizes to fit most projects.
King-Size Quilt Batting
The standard for king-size batting is about 120 inches by 120 inches. This is to accommodate a king-size quilt.
Queen-Size Quilt Batting
Batting for a queen-size quilt typically measures 90 inches by 108 inches to accommodate a quilt that's 90 inches by 108 inches.
Twin-Size Quilt Batting
Twin-size batting comes in rolls of 72 inches by 96 inches to accommodate a twin-size quilt top.
Crib-Size Quilt Batting
Batting for your crib-size quilt will measure 45 inches by 60 inches to accommodate a crib-size quilt.
Your quilt batting will be always a bit larger in dimension than your quilt top to allow for overhang during quilting.
How to Purchase Quilt Batting
If you do a lot of quilting, it may be more economical to purchase your quilt batting in larger increments. You can buy batting by the individual roll for single projects, by the yard for several projects, or by the bolt for all the projects you plan to do this year.
Typically, batting becomes cheaper overall when you buy in bulk. For instance, a single yard of batting for small projects may average around $7. A roll of queen-size batting may average around $24, while a bolt may average around $65 and up. It's not uncommon to pay $200 and up for large bolts of quilt batting, however, the batting usually costs less this way, yard-by-yard.
Brands and Prices of Quilt Batting
Warm & Natural Quilt Batting
Warm & Natural quilt batting is a brand name that's manufactured by The Warm Company. Warm & Natural Batting is environmentally friendly, needle-punched batting that doesn't use harsh chemicals in its manufacture.
This makes it the best batting for a baby quilt. It's sourced and made in America and is one of the most popular brands of batting on the market. It also features a mid-price range.
Quilters Dream Batting
Quilters Dream Batting is a higher-priced brand name that's manufactured to add drape, volume, warmth, and definition to your quilted projects. Made in the U.S.A., Quilters Dream offers all types of quilt batting, including the popular Quilters Dream cotton batting. They use all materials including cotton, poly, bamboo, and wool.
Poly-Fil Quilt Batting
Poly-Fil is a brand name for batting made by Fairfield, a family-owned company for over 75 years. Poly-fil quilt batting is highly affordable and exclusively made of bonded polyester. It's found at major quilt retailers around the country.
Hobbs Quilt Batting
A more expensive option, Hobbs Heirloom batting is made by Hobbs Bonded Fibers, headquartered in Waco, TX. In business since 1978, Hobbs manufactures high-quality quilt battings that use long-staple cotton fibers, premium wool, and more. Dedicated to quality and longevity.
Hobbs makes an heirloom quilt batting in 80/20 poly-cotton blend that's the best batting for hand quilting and is a solid name among quilters everywhere.
Before reaching for that cheapest roll of quilt batting at your local quilt shop, take time to familiarize yourself with the benefits and characteristics of each. Your quilted project will turn out much more durable and attractive if you use the quilt batting that's recommended. Quilts are heirloom works of art, passed down through generations to those lucky enough to have a quilter in the family. Make sure your batting is up to the challenge.
Did you find this tutorial helpful? If so, save this pin (see below) on your sewing board so you can come to this tutorial later when you need the information on BEST QUILT BATTING and follow me on Pinterest for more tips, tutorials, and inspiration!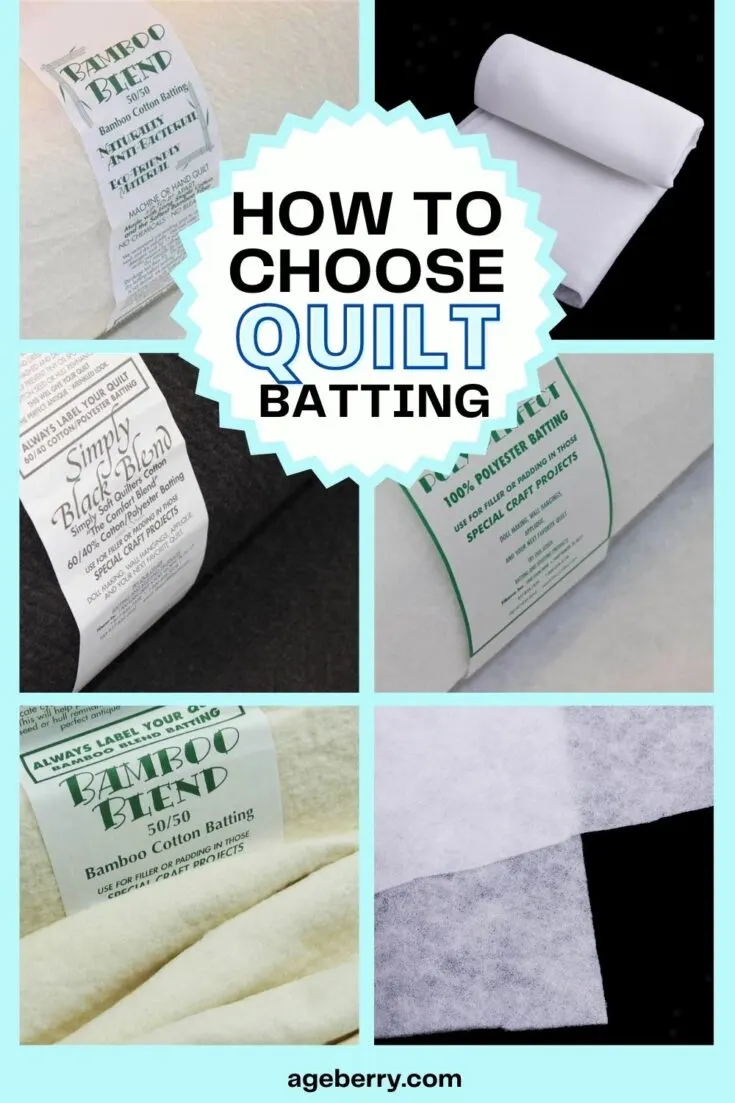 Like sewing tips? I have other popular tutorials on my site that might be interesting for you. Check them out below.
---
---