Chiffon can be difficult to work with because of its lightweight and slippery texture. In this article, I want to show you how to cut chiffon without problems (well, almost without problems). It is actually "how to cut sheer fabric" because cutting chiffon fabric ( or cutting silk ) is no different than any other sheer material. You may also want to refer to my article "How to cut fabric perfectly straight" which may be very useful in showing how to cut sheer fabric straight.
But first a few words about chiffon…
A girl in a chiffon dress … What does she look like? Delicate, fragile, airy, feminine. A dream girl. This exciting image is inspired by a fabric of rare beauty for which poetic comparisons to a butterfly wing may not even be exaggerated. It's not for nothing that the costumes of the heroines of historical films and fairy tales are made of chiffon or organza. These materials are practically weightless and it seems that a person dressed in them hovers over the vanity and frailty of the world.
Designers and stylists create truly magic with this fabric, using it alone or in combination with other materials. Recently, it even became fashionable to combine chiffon with knitwear and ( surprise ! ) leather and fur. Chiffon is also versatile: in combination with satin, it makes clothes elegant, ideal for an evening out. And for everyday wear chiffon can also be combined with dense fabrics: denim, cotton, and linen.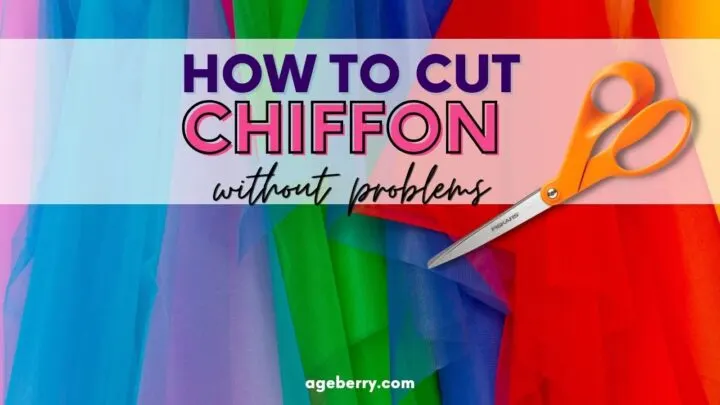 Chiffon is well draping, you can use it to hide the superfluous and to emphasize the truly beautiful. It is important only to assess yourself honestly (with a critical eye), and then it becomes clear which zone to give the will of transparency. And it is very important to decide if it is advisable to use chiffon on its own or combine it with other fabrics.
Light flowing dresses, skirts, blouses, tops, and especially scarves – all are good candidates for chiffon. Another common usage for chiffon is in accessories, such as brooches, hairpins, and flowers. Chiffon is a frequent visitor to fashionable catwalks, it is used in many designer collections. The fabric is universal, the clothes from it will help to hide shortcomings and emphasize the winning sides. Women of different shapes, ages and wealth love and choose chiffon.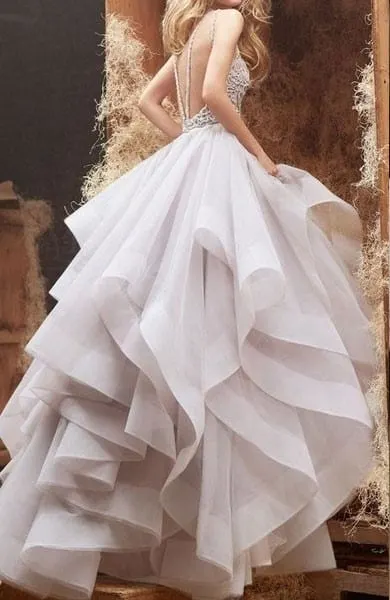 Cutting out slippery chiffon fabric can be almost a nightmare. You can't use pins to stabilize the fabric for cutting because they will leave holes in this delicate fabric. You can't cut it on a fold because the fabric will move and shift and you will lose the grain line easily. And you can't easily mark the fabric with chalk or a disappearing ink pen because the fabric will shift as you can see in these videos below. And we didn't even start sewing chiffon!
I think what any sewist dislikes the most about sewing garments from silk chiffon is cutting out patterns. But the cutting-out-pattern stage can be almost painless if you practice these tips.
First, place the fabric in one layer on the table. Put selvage parallel to the table edge and use masking tape to keep the fabric in place. The tape will not leave any marks on the chiffon after you take it out and the fabric will not shift while you are marking the pattern edges. It is better to cover all sides of the fabric piece with the masking tape if your table is big enough. Or you can cover 3 or even 2 sides with the tape if your fabric is bigger than the table. But in this case, use weights to keep other sides from shifting. The weights are not as effective as the tape though.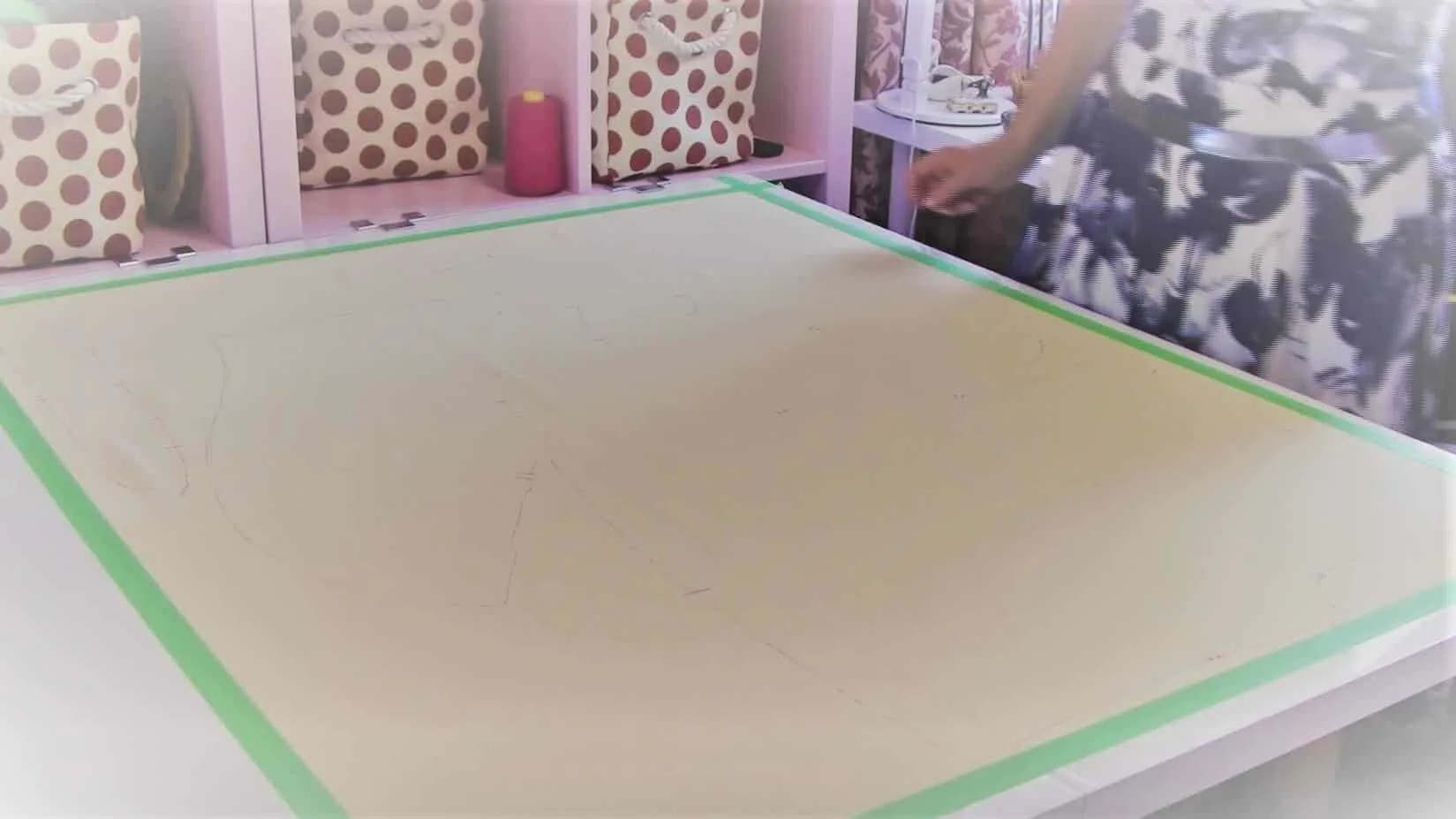 Arrange the pattern over the fabric but don't use pins, as I said these may permanently destroy the fabric. You can use weights to keep the fabric and the pattern together. I usually use stone figurines, they are highly polished and will not snag or stain the fabric. Of course, any heavy object that will not damage the fabric is equally good, from canned goods to heavy tools ( clean tools ! ). I do not like to use wood objects around my fabric unless they are fully varnished because any imperfection in the edges may generate splinters and that is a no-no around the delicate fabric.
The next step is marking the fabric from the pattern. I use mostly a disappearing ink pen for this, sometimes soap or chalk, depending mostly on the color of the fabric.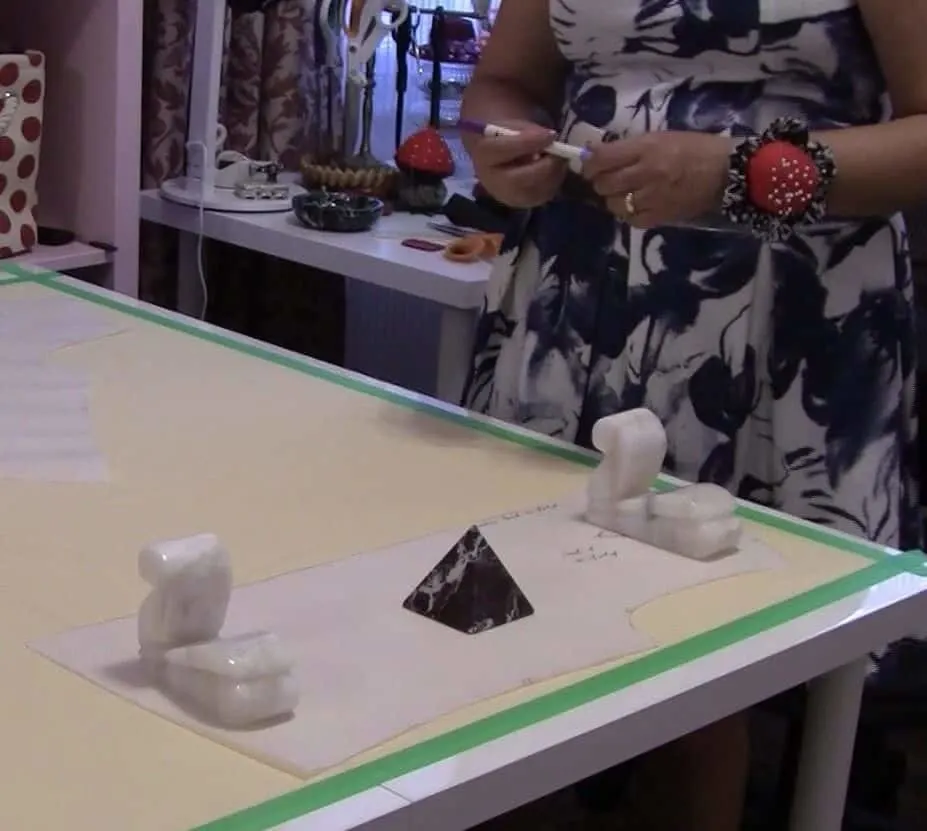 For cutting always use the sharpest and best scissors you have or can obtain. In fact, investing in an excellent pair of scissors is a must if you are serious about sewing.
I use Gingher and Fiskars for lightweight fabric but you can use whatever good scissors you have. The subject of scissors merits probably an entire article but any scissors you use should be sharp, feel comfortable in your hand, and should cut the fabric with ease. If you feel resistance or difficulty when cutting some fabric it probably means the scissors need sharpening / replacing or you are probably tired.
Also, I never use my good scissors for any other purpose but cutting fabric, some people say there is no harm in cutting paper also but I also see no harm in keeping around a cheap pair of common scissors for paper.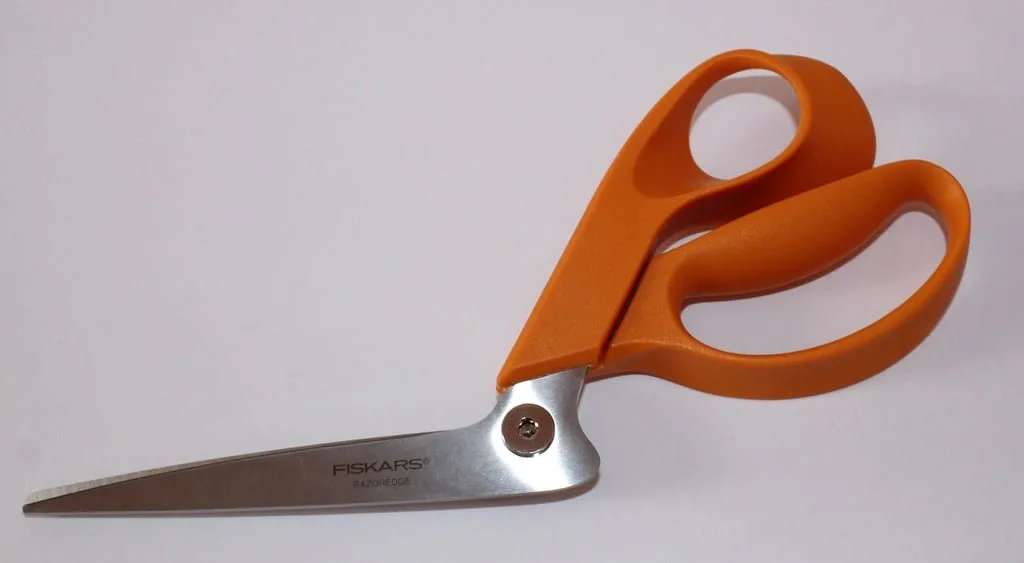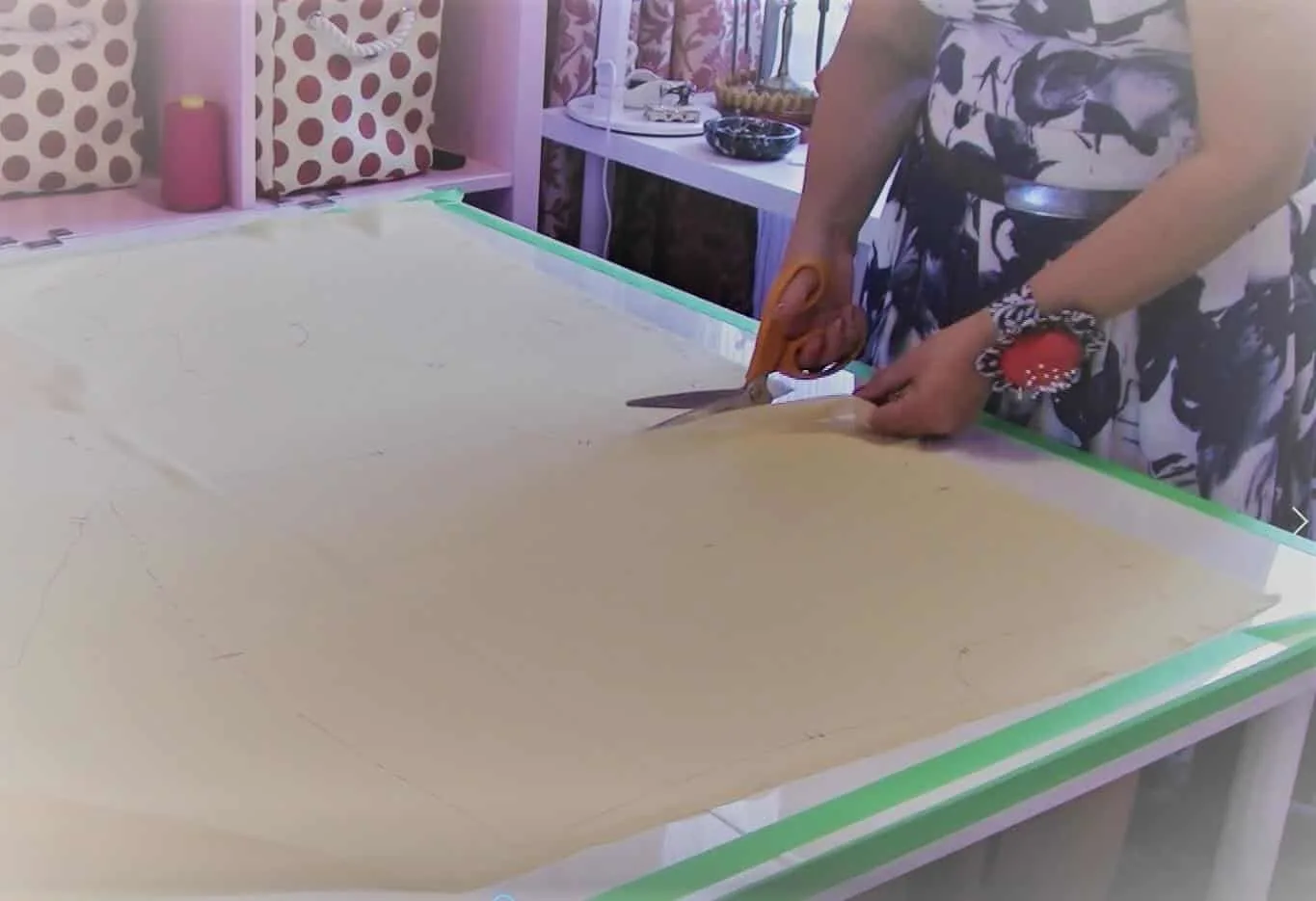 I also like very much to use these Gingher scissors for cutting silk chiffon.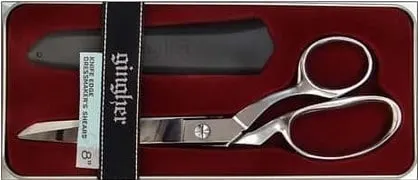 SaveI have mentioned the "you are tired" here: I never cut out patterns when I am tired or distracted and I usually try to finish the cutting phase in one session. An error at this stage can be expensive in time and fabric lost or even impossible to repair if the fabric you have is just enough and there is no reserve to fix a cutting error.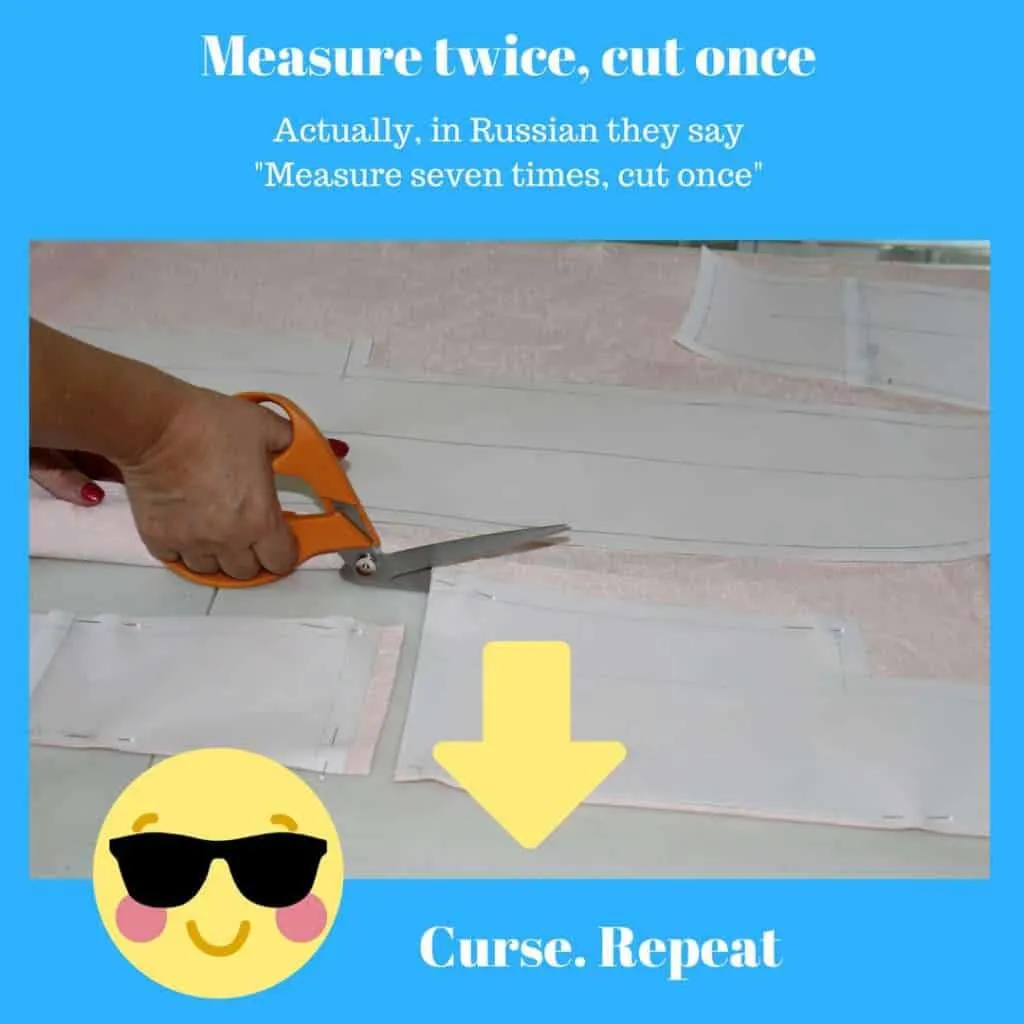 Now I want you to see my Instagram post (it wasn't about cutting chiffon though, it was about cutting out fabric). Just a little bit of humor.
The cutting table is also very important, the table has to be high enough to allow you to comfortably work and large enough to hold a piece of fabric on it. But not too large because you will need sometimes to go around the table to reach some corners.
Mark darts, notches, right and wrong side, and top of the piece (if necessary) during the cutting-out stage.
For a full project that uses sheer silk fabric please look at my article "How to sew a dress without a pattern".
So, don't be afraid to work with chiffon. If you will use masking tape it will be no problem to cut out chiffon. Now I want to show you what I made from 100% silk chiffon (just to inspire you to make something from chiffon).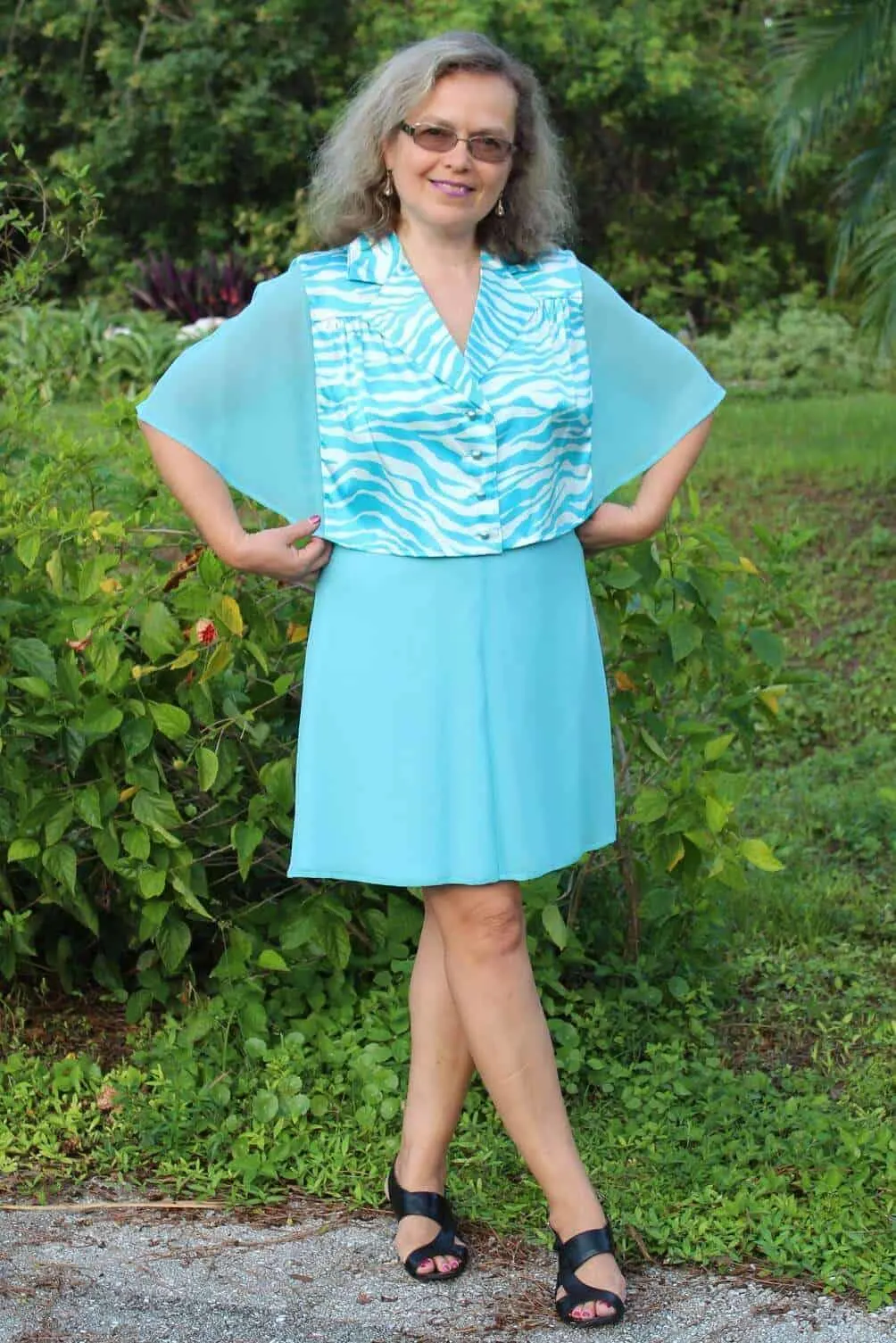 I prefer to use pure silk chiffon for clothing. But chiffon can be also 100% polyester. Actually, this is the chiffon fabric you can find in any retail fabric store like Joann fabric in USA and Fabricland in Canada. From time to time I use it to make curtains. But I don't wear polyester. You can find my thoughts about polyester and our health in the article "The chemicals we wear everywhere"
Note: Some of the links on this page are affiliate links. This means I will receive a commission if you order a product through one of my links. I only recommend products I believe in and use myself.
So, where can you buy 100% silk chiffon? I buy it online on Amazon.
This online store is filled with excellent natural fabrics that have been carefully selected, beautifully displayed, and properly described. And their prices are quite affordable.
Did you find this tutorial helpful? If so, save this pin (see below) on your sewing board so you can come to this tutorial later when you are ready to cut chiffon for your sewing project, and follow me on Pinterest for more tips, tutorials, and inspiration!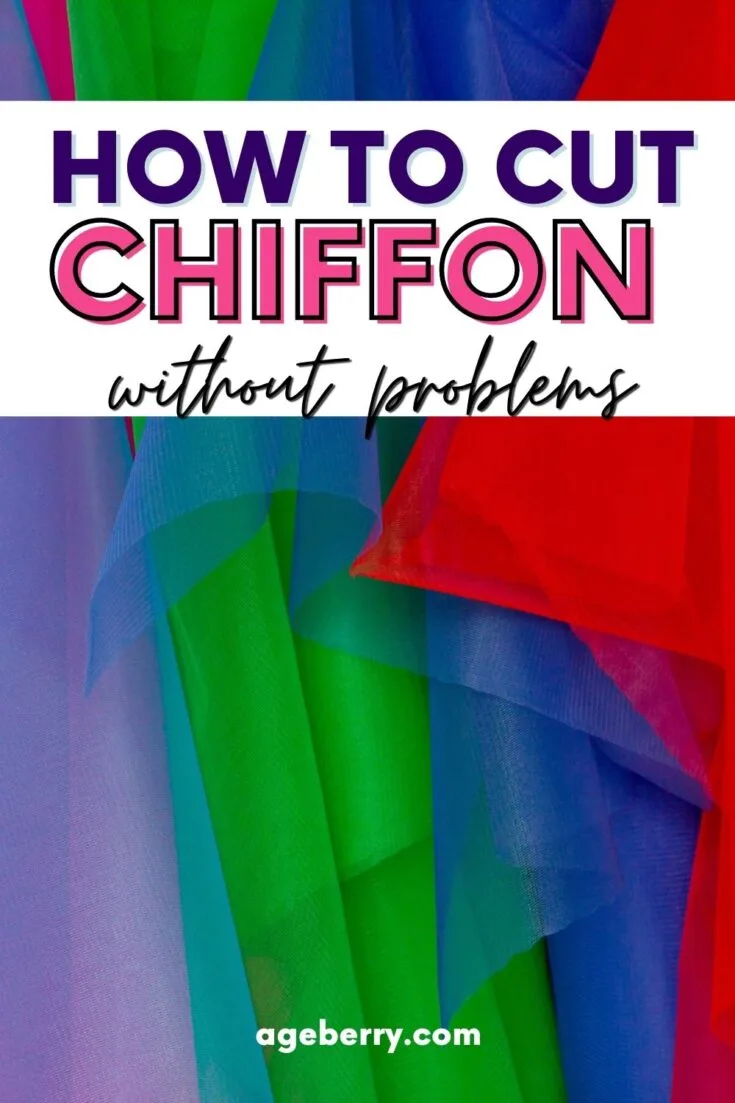 ---